Introduction
Having just visited Cabrillo National Monument near San Diego, CA, the 8th largest city in the US, we continued up the coast to Los Angeles - the nation's 2nd largest city with a population of around 4 million people.
And it's the proximity of such a large city on its doorstep that makes the Santa Monica Mountains National Recreation Area feel like such an escape! Around two thirds of the park is within Los Angeles County itself; the remainder in Ventura County.
Mediterranean Ecosystem
As the largest urban national park in the world, it boasts over 500 miles of trails for hikers, mountain bikers and horse riders alike. It is one of only 5 places in the world with a Mediterranean ecosystem - and the only such area in North America. Covering just 2% of the earth's land mass, these areas have a mild climate making them very popular - and sadly, increasingly under threat from human impact.
Santa Monica Mountains National Recreation Area is considered one of the best preserved examples of this Mediterranean ecosystem, rich in biodiversity and protected by its status.
History
The area has been occupied by thousands of years, since the Native American Chumash and Tongva tribes lived in the mountains, and later the Spanish Explorers. The Homesteaders Act of 1862 brought more people to live in the area and work the land.
The Santa Monica Mountains are full of reminders of the past - like Paramount Ranch (yes, like the movie studio) and Rancho Sierra Vista.
There is a long history of attempts to preserve this unique habitat, but following intense lobbying from the environmentalist movement in the 1960s and 1970s, the area was eventually designated as a National Recreation Area to be governed by the National Park Service on November 10th, 1978.
However, it is unique in that although the overall administration is managed by the National Park Service, much of the area is owned and operated by other agencies and private organizations. Santa Monica Mountains National Recreation Area spans over 156,000 acres, but just 23,000 acres is controlled directly by the National Park Service . 42,000 acres is owned by the California State Park system and the remainder belong to local agency parks, university study reserves and private property conservation easements.
Location
Santa Monica Mountains National Recreation Area spans a huge area, but it takes less than an hour to drive the short distance up the Pacific coast from Los Angeles, CA.
Video
Flora & Fauna
Thanks to its mild Mediterranean climate, the Santa Monica Mountains National Recreation Area is home to diverse wildlife - including over 450 vertebrate species.
Keep an eye out along the coast for dolphins, while further inland along the trails you might see everything from gophers and bobcats to mountain lions.
Mountain Lions
In fact, Los Angeles is one of only two megacities in the world that has big cats within its city limits - the other being Mumbai and its population of leopards.
Researchers believe there are as many as 75 mountain lions in and around the Santa Monica Mountains - their population stable....for now. But living on the edge of a major city threatens their long-term survival - and not just from traffic and rat poisons.
Hemmed in by freeways and the Pacific Ocean, their habitat is essentially an island. This puts an enormous pressure on the mountain lion populations, both from conflict between animals (mountain lions killing other mountain lions is the leading cause of deaths) but also in-breeding which is reducing genetic diversity. Mountain lions in the Santa Monica Mountains have the lowest genetic diversity of any mountain lion population ever documented.
Numerous efforts are underway to support long-term population health (research studies and a proposed wildlife crossing across US Highway 101 amongst them).
In the meantime, keep your eyes peeled for mountain lions if you're exploring in the area. However, sightings are incredibly rare, and the notoriously solitary animals are generally keen to avoid coming in contact with humans.
Itinerary
We visited Santa Monica Mountains National Recreation Area in mid-April 2019. Our journey brought us up from Anza Borrego Desert State Park, stopping for a few hours at Cabrillo National Monument near San Diego.
We drove with trailer in tow right through the heart of Los Angeles - we had to run an errand in downtown! We made it unscathed, but between the busy traffic and rough roads (I think the potholes gave our trailer's off-road suspension more of a work-out than most boondocking spots we visit!), I wouldn't recommend it though!
Regardless, we made it to Thornhill Broome Campground at Point Mugu State Park early on the Tuesday evening. We had given ourselves 2 full days to explore as much as possible.
Thornhill Broome Campground
We've stayed in some beautiful camping spots before, but our site at Thornhill Broome Campground is up there with the best!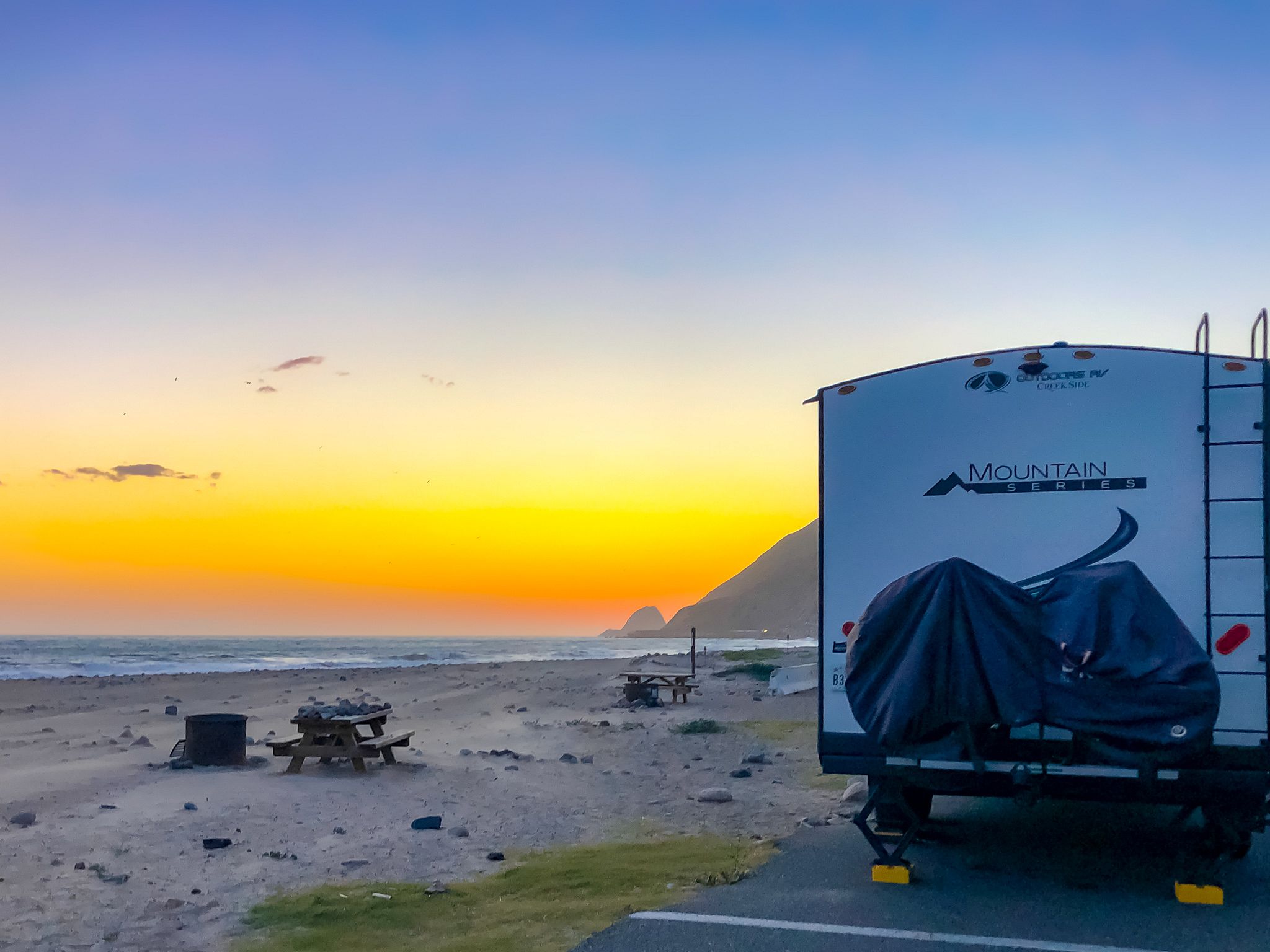 If you've ever dreamt of a home on the beach with sunset views across the Pacific, then this is the place for you! It's a no-frills campground - no electric, water or sewer at the sites, and no dump station on-site (although there is one just down the road at Sycamore Canyon Campground).
And the sites are....cosy! We only just managed to fit our 25ft travel trailer and truck in our allocated spot - parallel parked along the beach. If you have a big rig then you'd be well advised of doing your research before booking - make sure you can get in, and critically, get out again afterwards! We deliberately parked near the entrance so we could just reverse down the road to get in, and then drive straight out again afterwards.
Still, the views were sensational, and that's what we were really after!
Visitor Center
Wednesday was our first full day of exploring, and we wanted to pack a lot in!
Driving a little under 30-miles back along the coast through Malibu, we started our exploration at the Anthony C Beilenson Visitor Center at King Gillette Ranch. Operated by four partner agencies (National Park Service, California State Parks, Santa Monica Conservancy and Mountains Recreation and Conservation Authority), there is loads of information here about the whole area.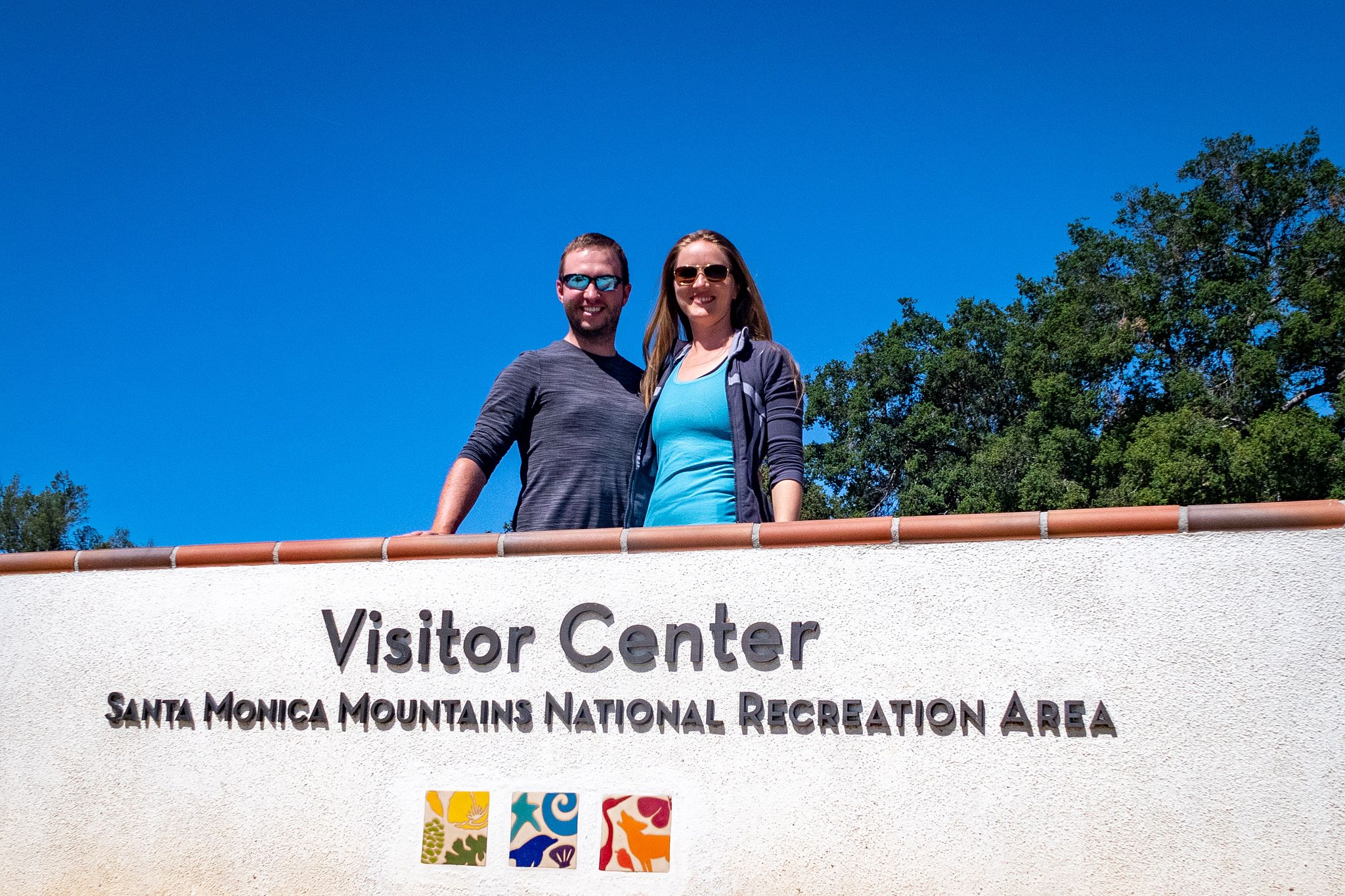 We spent a while learning about the area and, as always, getting our National Park Passport stamped! We also shared our plans with the Park Ranger and picked up a few pointers - always recommended!
One activity we learned more about was the Backbone Trail - a 70-mile trail that runs right across the Santa Monica Mountains from Will Rogers State Park to Point Mugu State Park. Because of its layout, through-hiking by camping is not particularly feasible - although apparently there are some accommodation options appearing on AirBnB that might facilitate this. Unfortunately we didn't have time to do this hike on our visit, but we've put it on our bucket list!
Gillette Ranch Loop Trail (Inspiration Loop)
Leaving our truck parked at the Visitor Center, our first hike was a short stroll around the Gillette Ranch Loop Trail.
This trail loops up into the hills around the King Gillette Ranch - yes, this was designed for razor magnate King C Gillette in the 1920s.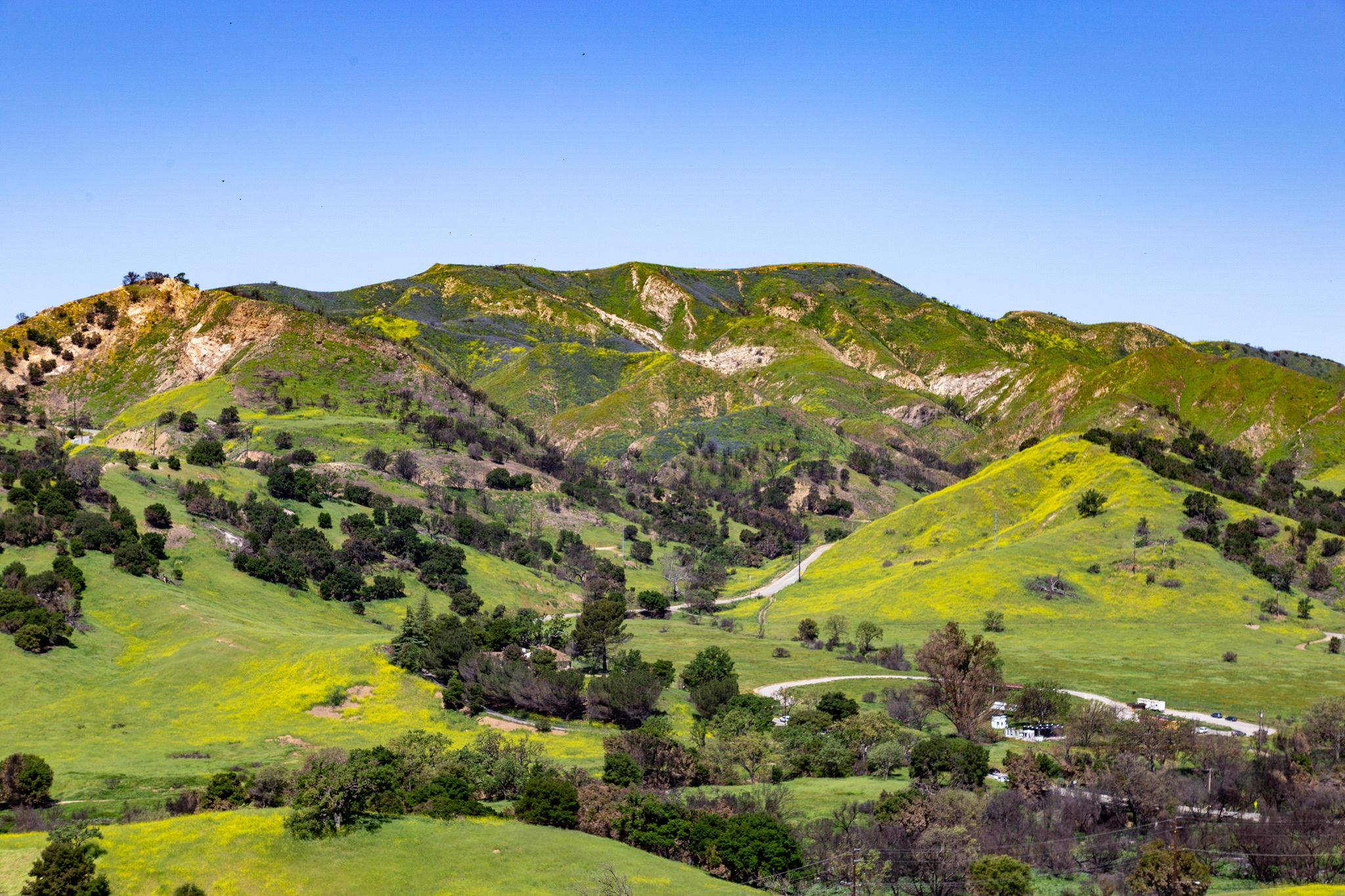 The short hike is a little steep in places, but leads up to Inspiration Point with incredibly 360-degree panoramic views of the area around. We had the trail to ourselves - except for a deer we saw bounding off into the vegetation.
Malibu
Having driven through Malibu a couple times since arriving, we decided to stop there for lunch on our way back through.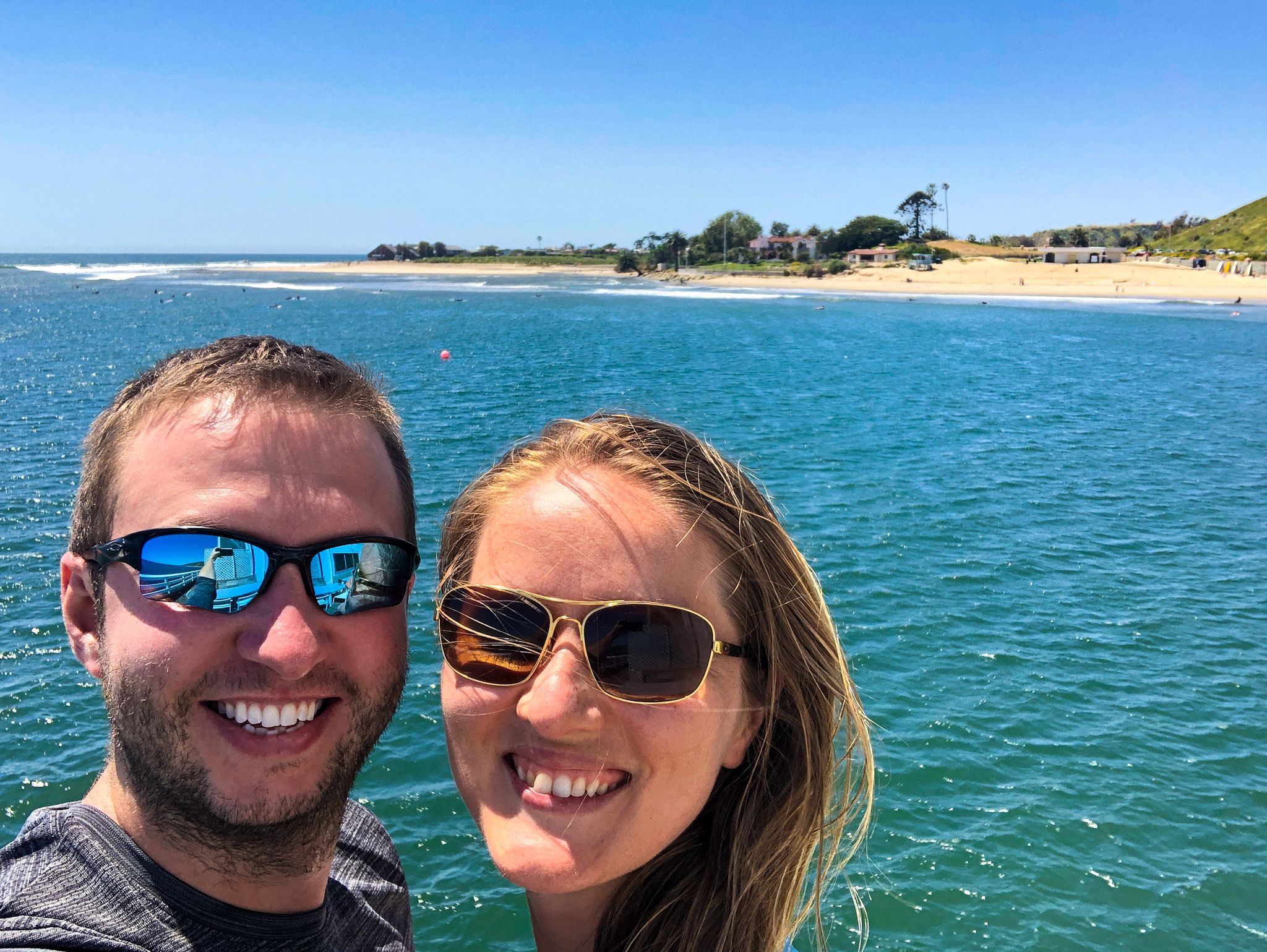 We parked up and walked down Malibu Pier to the Malibu Farm Pier Cafe. We'd been to Malibu Farm (its sister restaurant at the near end of the pier) before and had been impressed by the food.
Sure, the pier is predictably touristy and the food is expensive (even by California standards), but the brunch was good!
Paramount Ranch
When you're this close to Los Angeles, it's no surprise that there are signs of Hollywood around. And none more so than Paramount Ranch.
In 1927, Paramount Pictures developed the ranch on 2,700 acres of the old Rancho Las Virgenes to use as a movie ranch. As well as Old West buildings, Paramount Ranch played host to a replica of early San Francisco and a Welsh mining village.
Paramount Pictures sold the ranch in 1953, but it was bought by William Hertz who built a permanent western town. Although he sold it just 2 years later, filming continued at the ranch.
In 1980, the National Park Service restored the sets from old black & white photographs, and its life as a film set continued - including filming for the show Westworld.
Unfortunately, much of the ranch was destroyed in the Woolsey Fire in November 2018 - more on that later!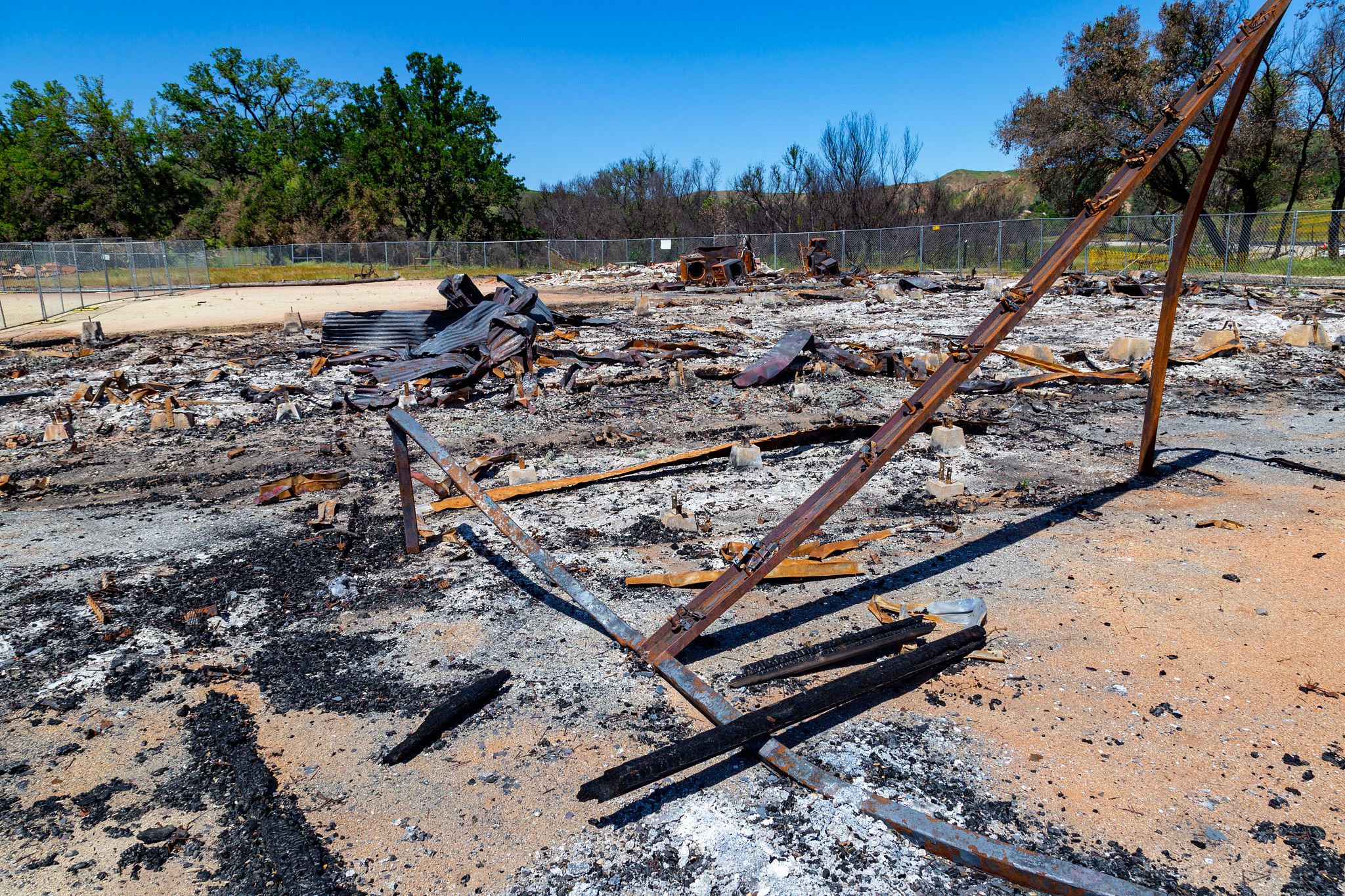 The damage to the ranch was incredible - many of the areas were fenced off and we were left to imagine what the buildings might have looked like previously. The exception being the Paramount Ranch Church, sitting apart on its own.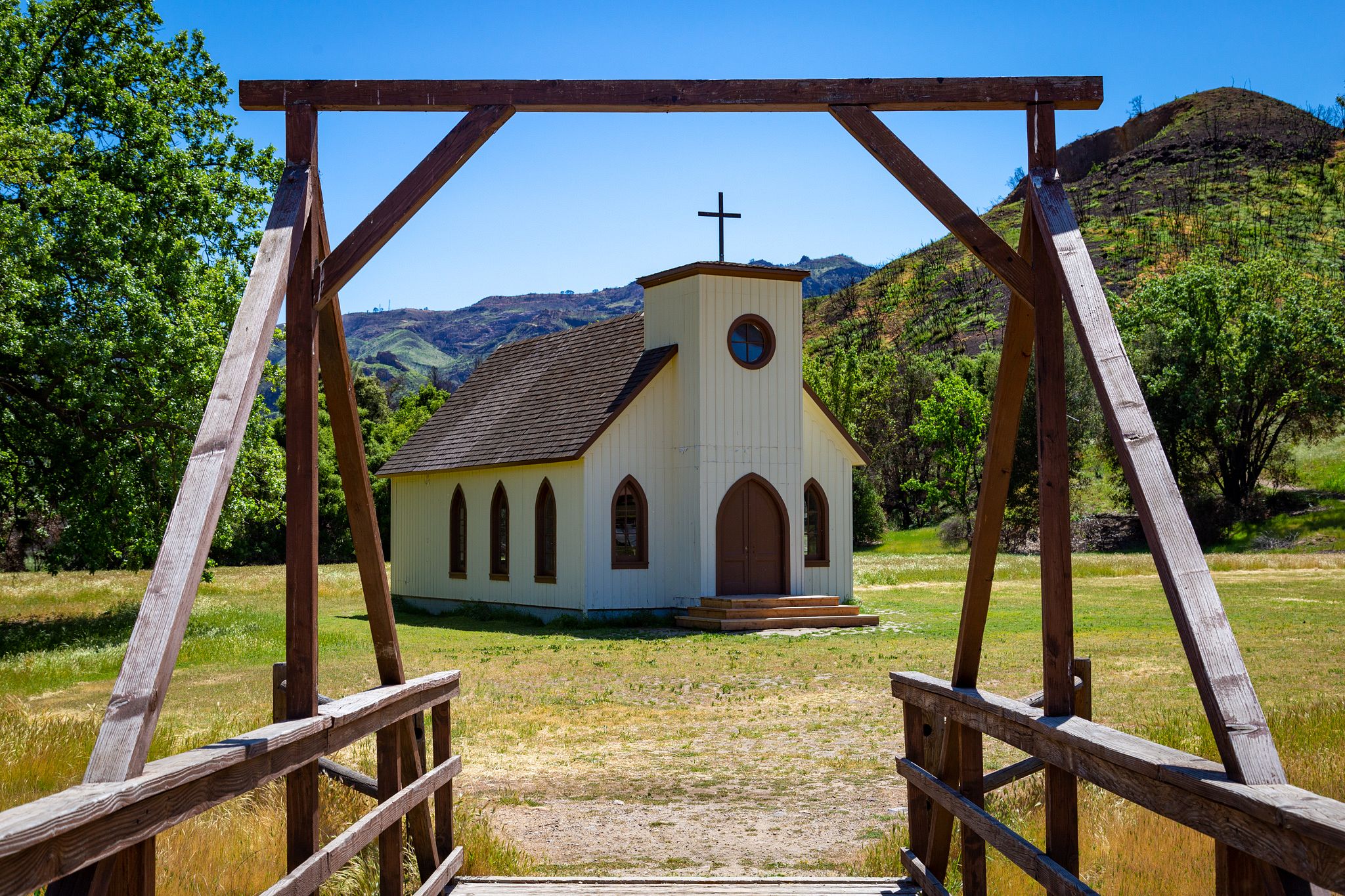 We took a short hike along the Coyote Trail - the blackened trees a lasting symbol amongst the blooming flowers of the fire that swept through this area just 6 months prior to our visit.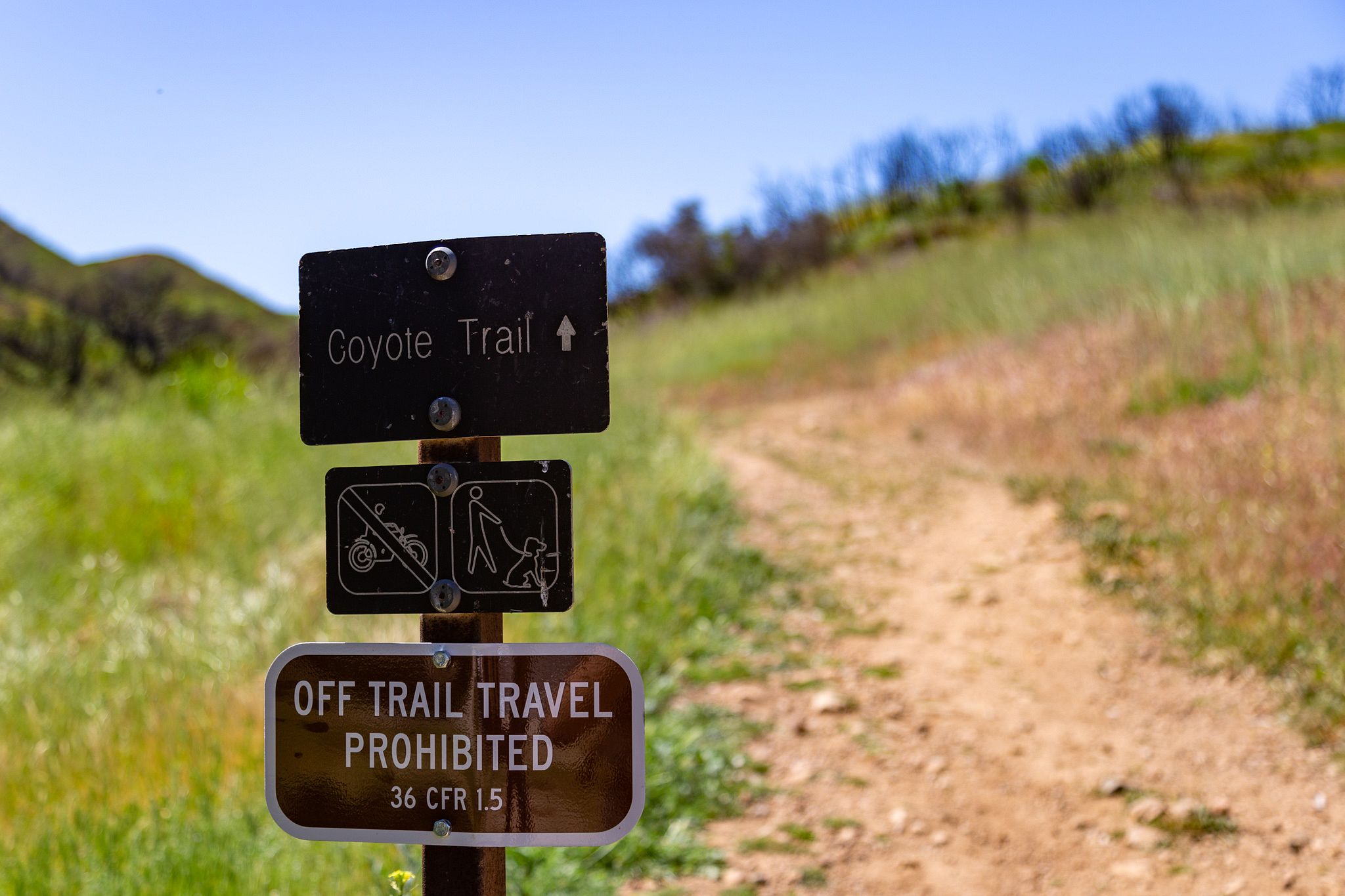 Ray Miller Trail
On Thursday morning we chose to hike along the Ray Miller Trail. The trailhead was just a short distance from where our RV was parked at Thornhill Broome Campground so we were able to hike straight from our RV.
The trail up through La Jolla Canyon is named after Ray Miller, known was the Guardian of the Canyon. He was the first official California State Park Camp Host and volunteered for 10 years until his death in 1989.
Even though we set off reasonably early (about 8:30am), we met lots of other hikers out on the trail - it was clearly a popular spot with locals!
We asked hikers coming the other way if they had seen any wildlife that we could look forward to seeing. Most reported nothing, but one trail runner had seen a rattlesnake just a short distance up ahead.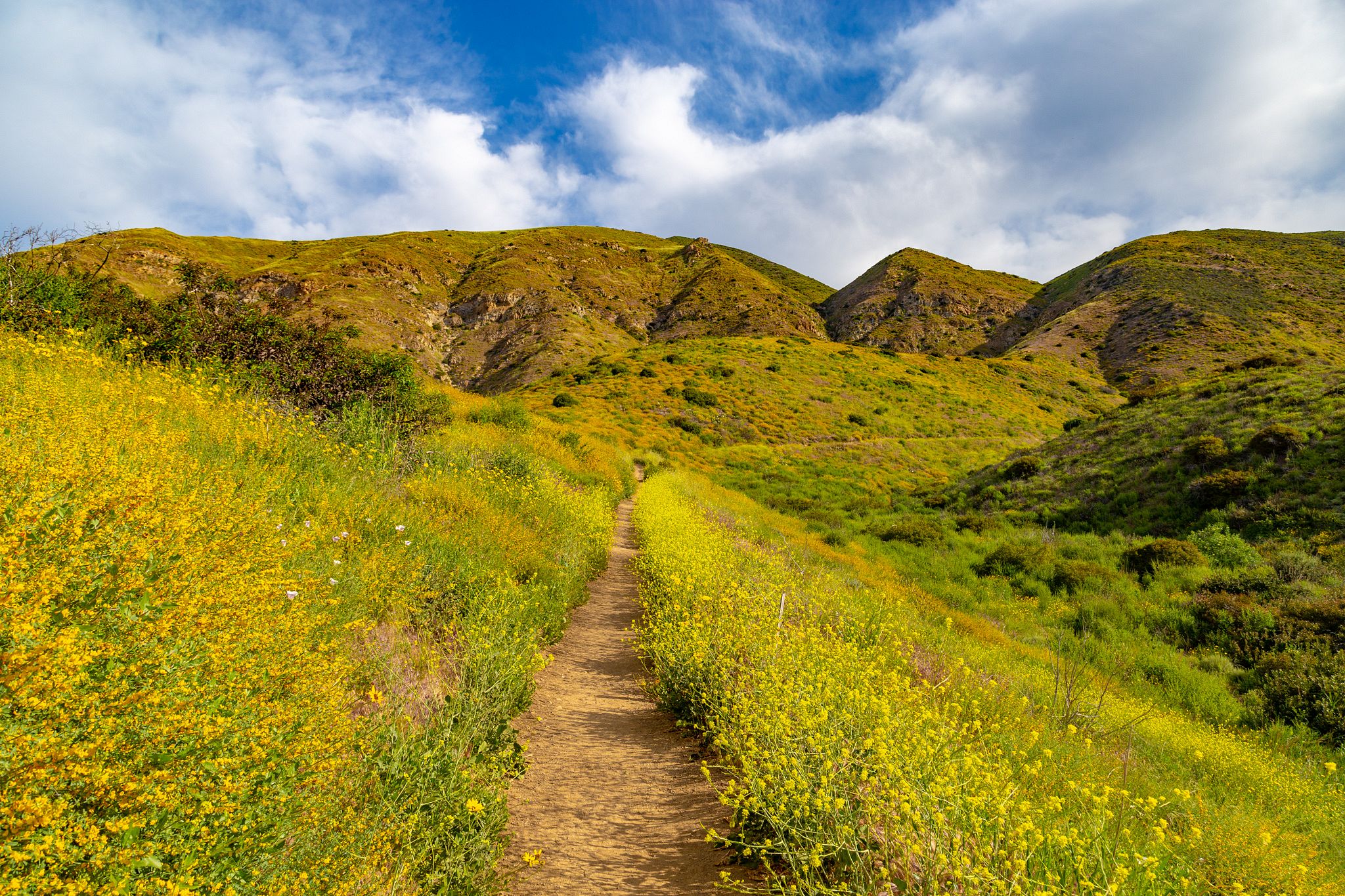 I've never seen a rattlesnake in the wild before, and I was OK with that record being maintained! Needless to say, we were particularly careful about watching our step as we hiked. Fortunately the only wildlife we saw was a few small lizards.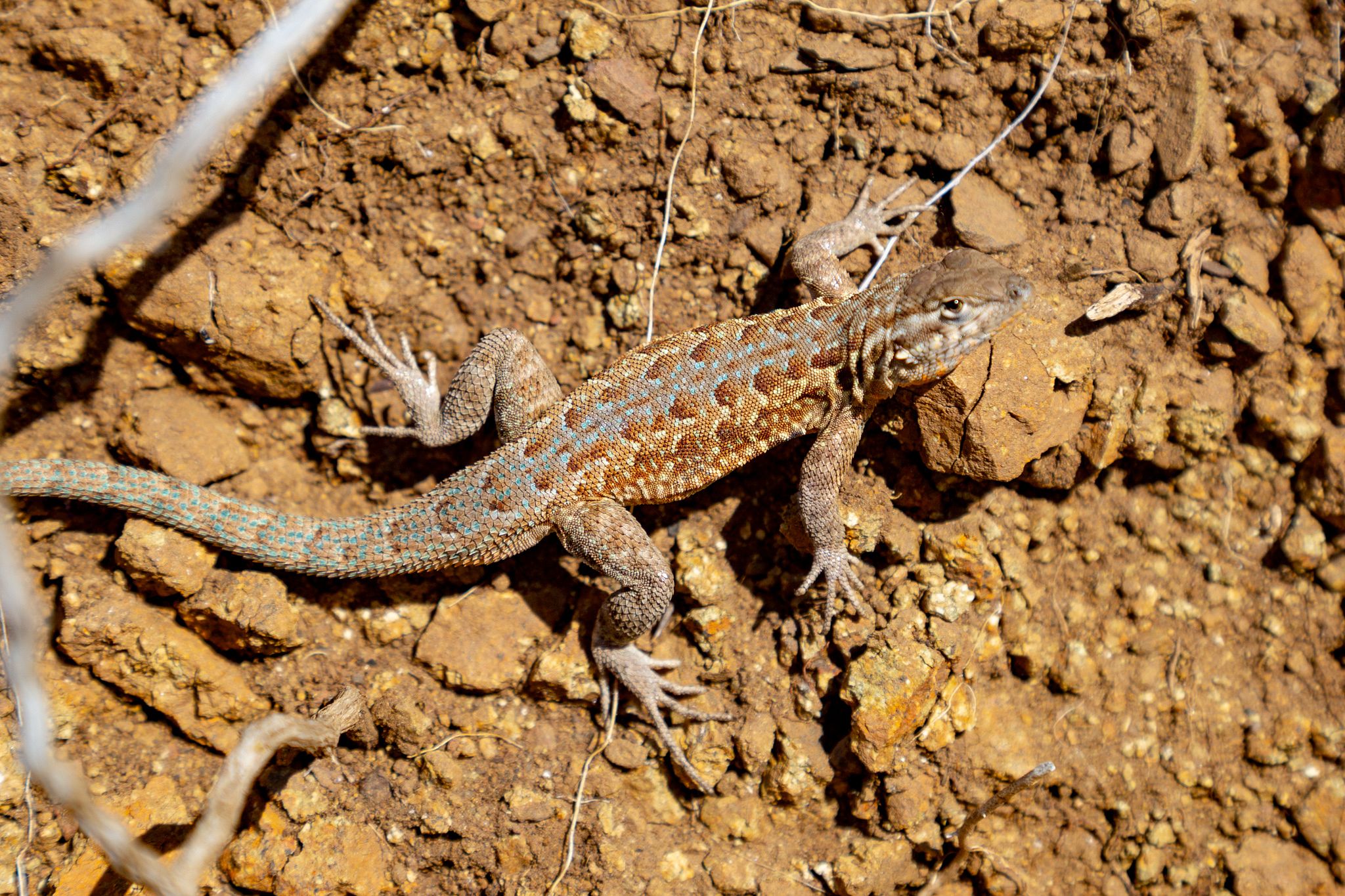 As we climbed higher and higher, the views opened up, and were simply magnificent! Whichever way we looked, there was something to see.
At one point while the trail wove parallel to the coastline, we managed to glimpse our truck and trailer at the campground far below - it really shows just how big (or small!) the spaces are!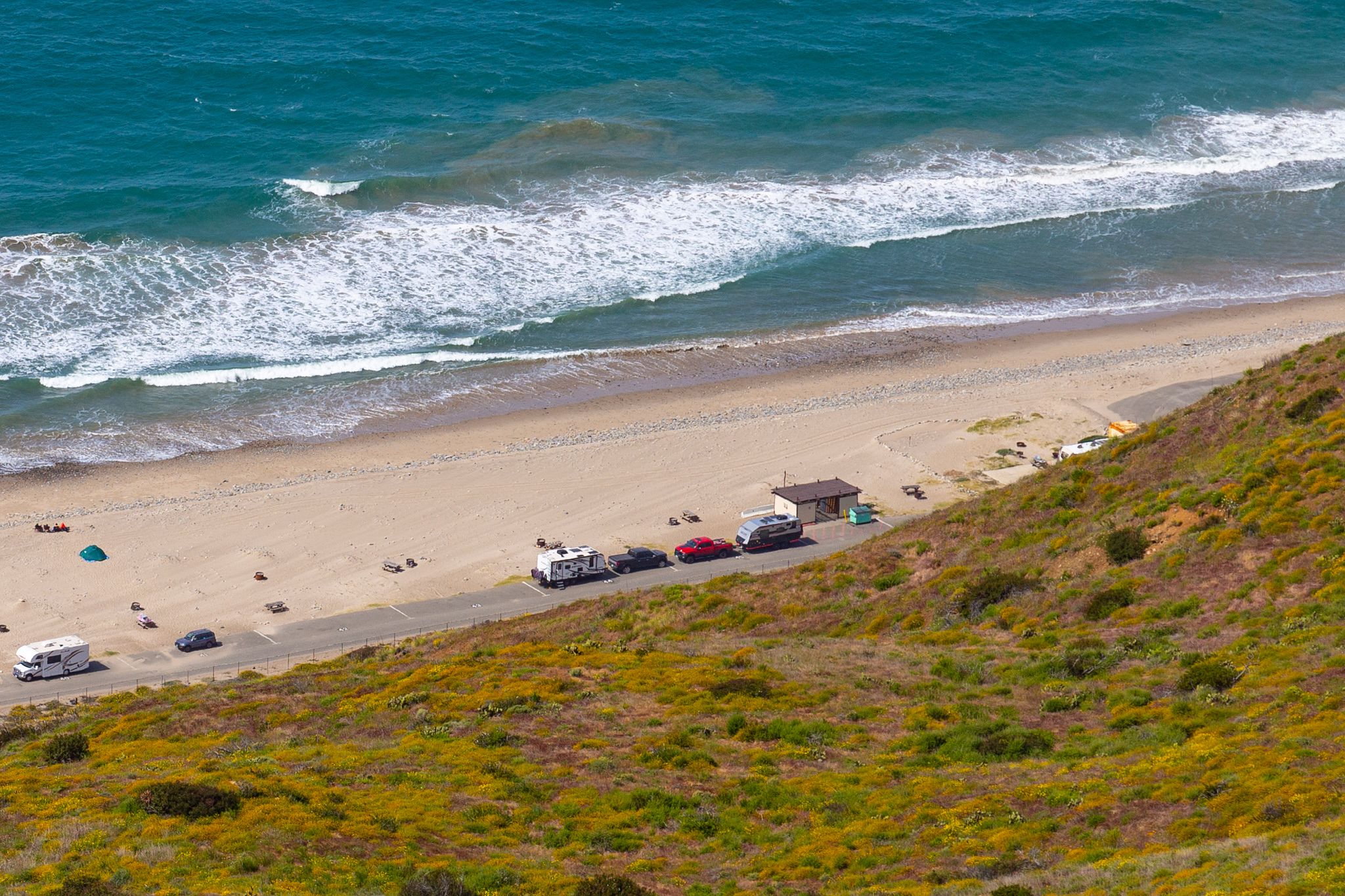 And off in the distance we could see an island out in the Pacific....that's the Channel Islands National Park, our next stop!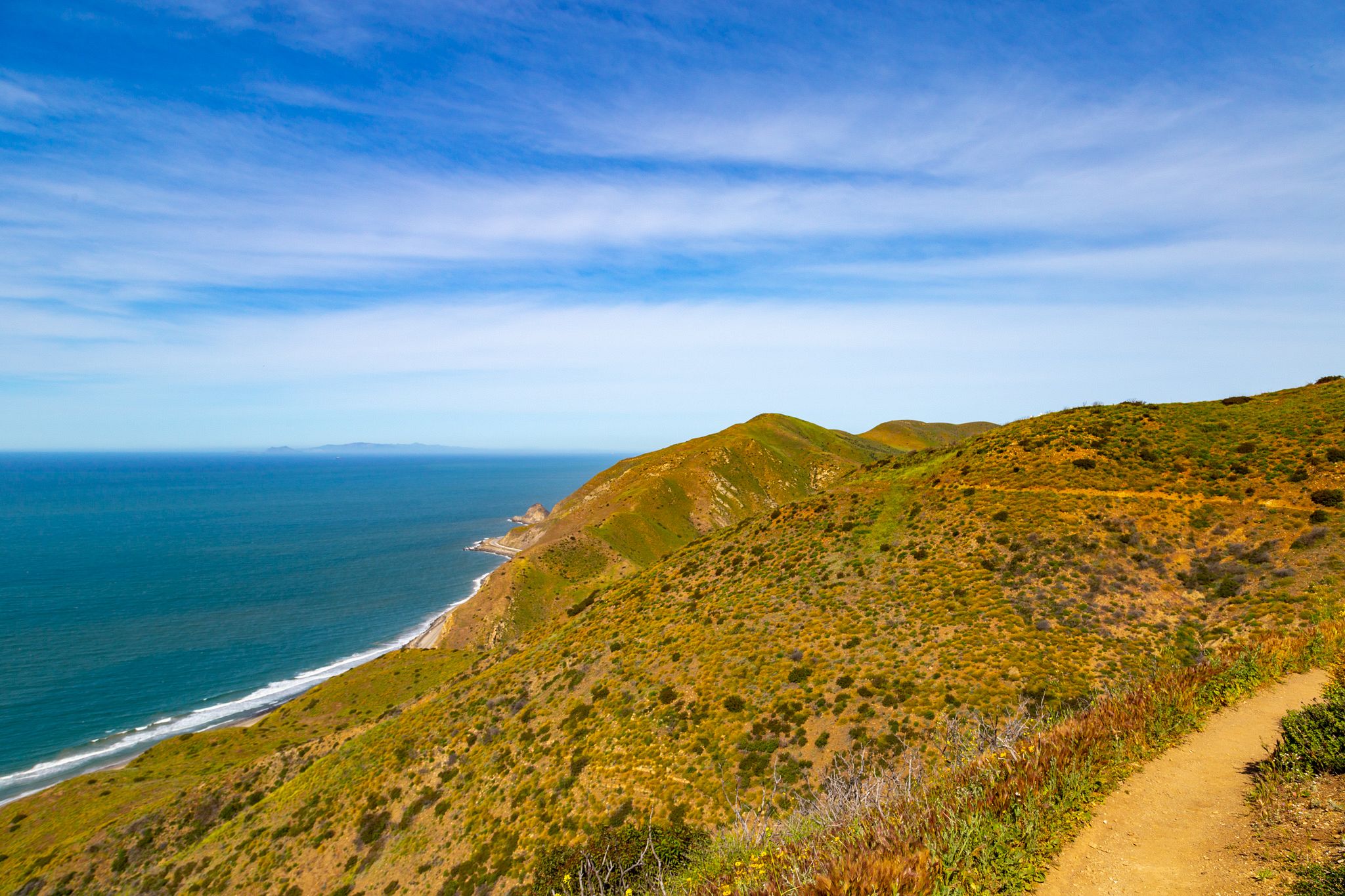 The hike is an in-and-out hike rather than a loop, so we hiked up to the intersection with the Overlook Trail before heading back down the way we came.
In total we hiked for a little over 3 hours, covering 6.5 miles and climbing about 1,100ft.
Camping
Although typically we prefer to boondock on public land, we couldn't find anything suitable close by. There were a few spots further out, but in addition to the drive time, many didn't look suitable for RVs like ours and reports suggested cell signal wasn't likely (although it wasn't great along the coast). For that reason, we chose to make use of the State campgrounds along the coast.
As I described earlier, if you can manage without any hookups, fit into the small sites, and excuse the high prices (we paid $113 for 3 nights), Thornhill Broome Campground is amazing!
We were only there for 3 nights, but we enjoyed going to sleep with the sound of waves crashing on the beach outside.
Although we only spent 2 days exploring Santa Monica Mountains National Recreation Area, we wanted to stay in the area for a few more days as Diana was attending a West Coast Swing dance tournament in LA. Because we were trying to make a relatively last minute reservation, we weren't able to book a site through the weekend too.
So on Friday, I dropped Diana off in LA and moved the trailer 30 miles up the coast to Emma Wood State Beach.
The setup here was very similar - fairly tight spots along the sea wall with no hookups but beautiful views! I highly recommend using Google Satellite view to help you choose the spot you want - some are definitely better than others!
From this spot, I saw dolphins playing in the ocean several times - very cool to watch!
What wasn't so cool was having our portable solar panel stolen from our RV. Despite the warnings, I had left it out overnight - albeit cable locked to the trailer. I woke the next morning to find the electric cable and lock both cut and the panel gone!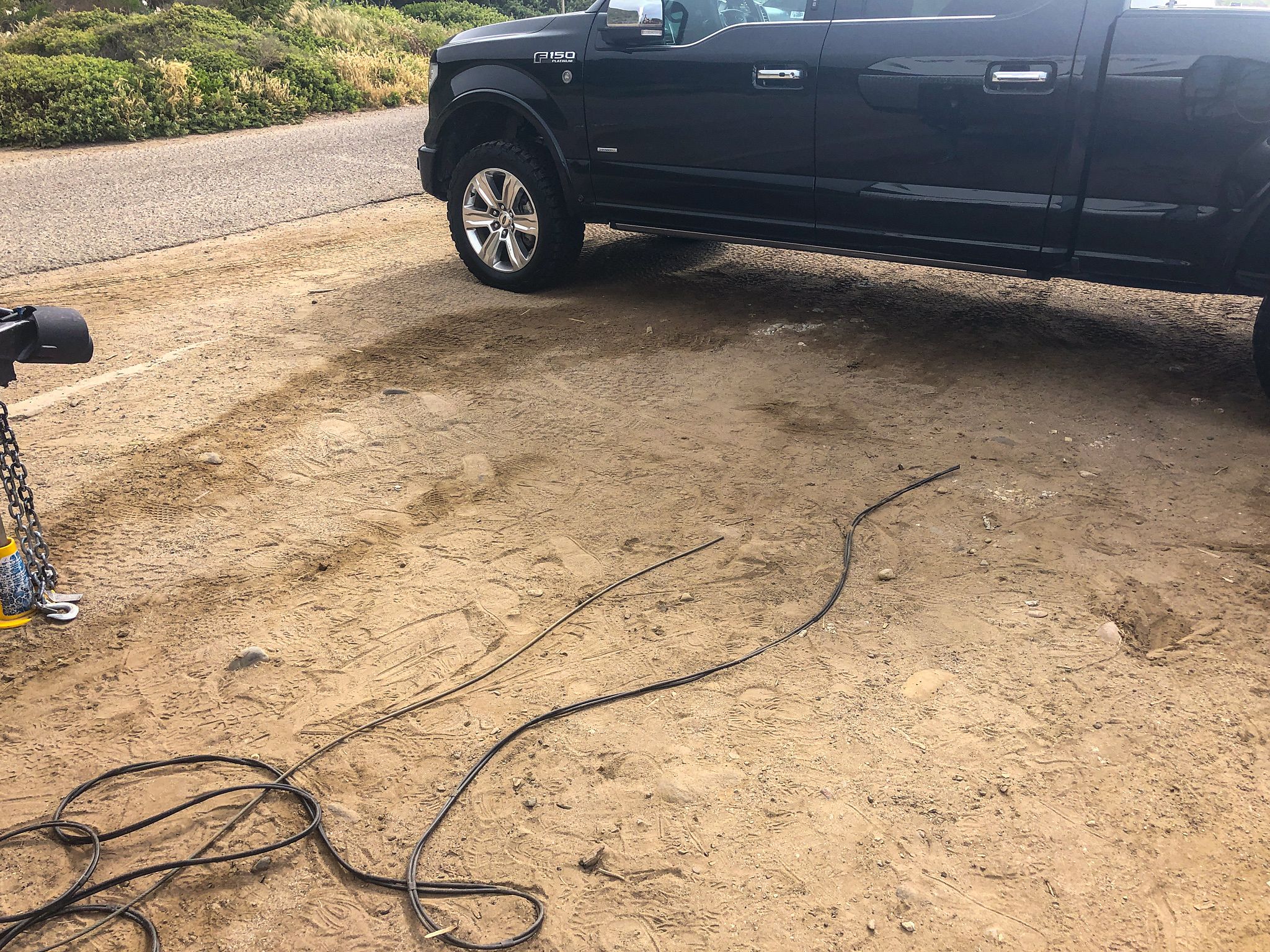 So let that be my warning to you - at Emma Wood State Beach in particular, do not leave anything valuable out overnight. It's a well known problem in the area, and speaking with the Ranger, thefts are an almost daily occurrence there.
Woolsey Fire
Earlier I mentioned the Woolsey Fire that swept through the area in November 2018. It really did sweep through the area - destroying 88% of federal land in the Santa Monica Mountains National Recreation Area.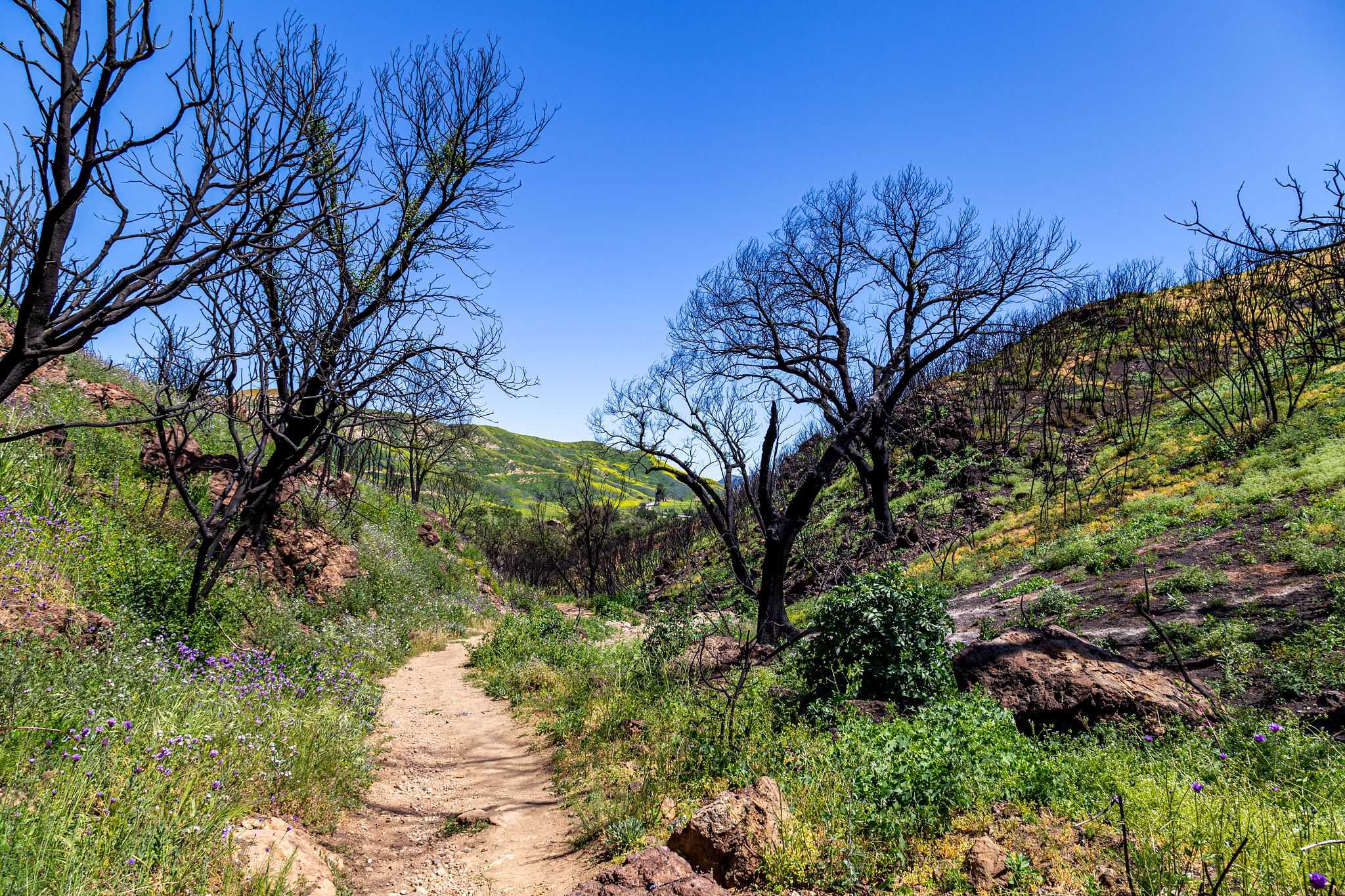 Fanned by the Santa Ana winds, it burned for almost 2 weeks covering almost 100,000 acres of land, destroying over 1,600 structures. Almost 300,000 people had to be evacuated, and sadly 3 people lost their lives.
Having not visited the area before, we had nothing to compare it to - except for the obvious damage at Paramount Ranch.
What we didn't realize until later is the significance of the yellow flowers. In our nativity, we were awestruck by the rolling fields of yellow flowers. Diana loves flowers and all things yellow, so particularly enjoyed it!
Later we learned that these flowers are a plant called black mustard. Black mustard is not native to North America, and is considered an invasive species on the Pacific coast. Unfortunately, it quickly established itself after the fire, threatening the native plants.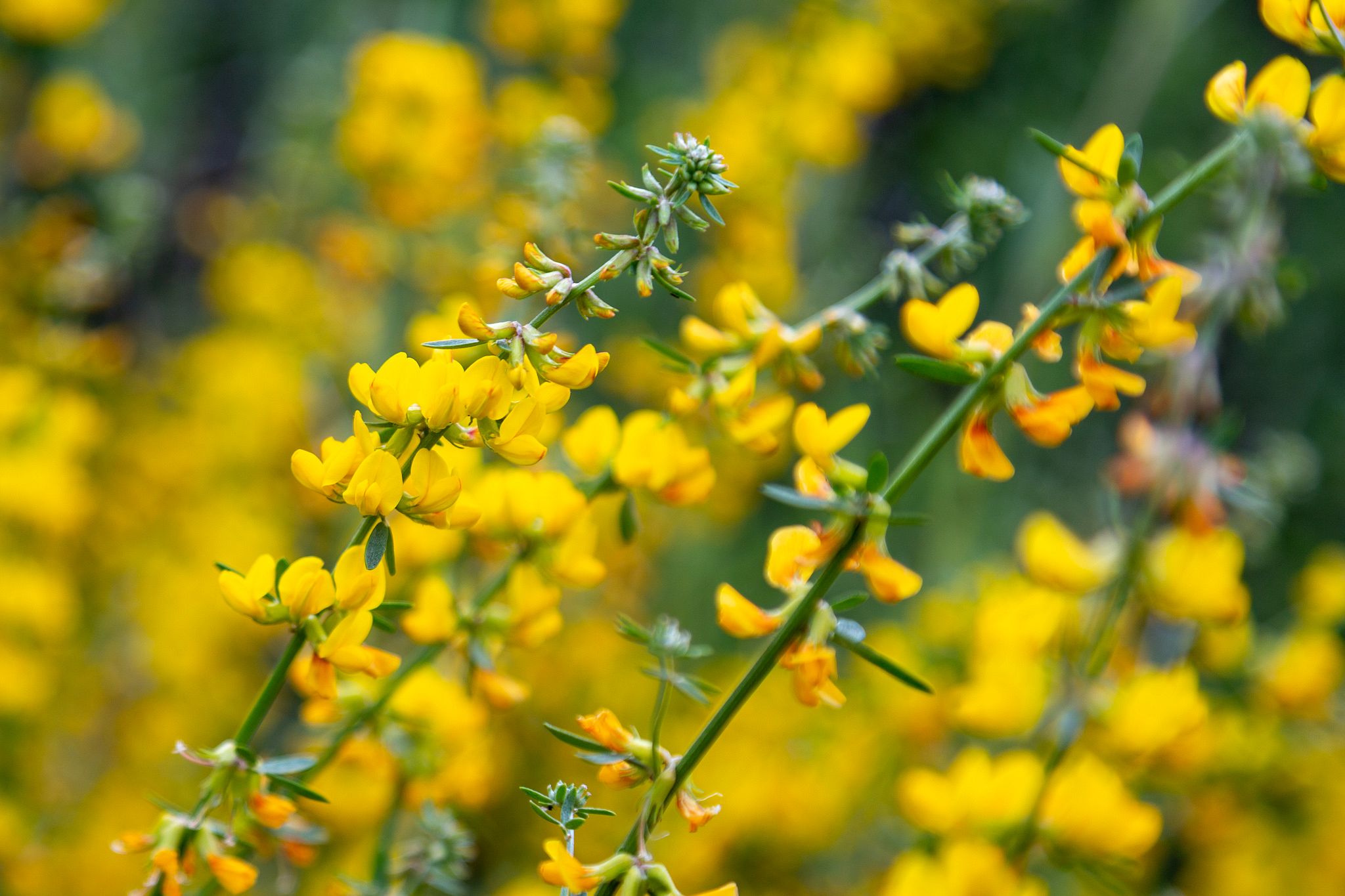 As part of the recovery post-fire, efforts are underway in some areas to pull the black mustard out by hand to help the native plants.
Conclusion
Santa Monica Mountains National Recreation Area is an oasis of calm outside the urban jungle of Los Angeles. With literally millions of people less barely an hour away, we were amazed it wasn't busier when we were there - visiting mid-week almost certainly helped!
With 500-miles of trails that you could spend weeks hiking new trails every day, but with the changing seasons it offers something new all year round.
In addition to hiking, there are opportunities for road cycling, mountain biking, horse riding, and of course all the seaside activities - from sunbathing on the beach to kayaking!
We'll see you next time in the Channel Islands National Park!