As an Amazon Associate we earn from qualifying purchases.
Before we arrived, we had settled on a high-level plan. We would start in Edinburgh (since it's easy to get to on the train), then rent a car for a circular road trip, ending up back in Edinburgh to finish with a day to see the sights there. The road trip would take us to Glasgow, Loch Lomond & The Trossachs National Park, the Isle of Skye, Loch Ness, and Cairngorms National Park.
With the skeleton plan in place, we kept the schedule fluid by only booking our accommodation a few nights in advance. We had great success using AirBnB and found some lovely guest houses along the way.
We also picked up a copy of a book called The Photographer's Guide to Scotland - Skye, Glen Coe & the Trossachs which turned out to be our secret weapon in planning where to go each day. It lists over 50 great photographing locations, and really helped us find some beautiful scenes.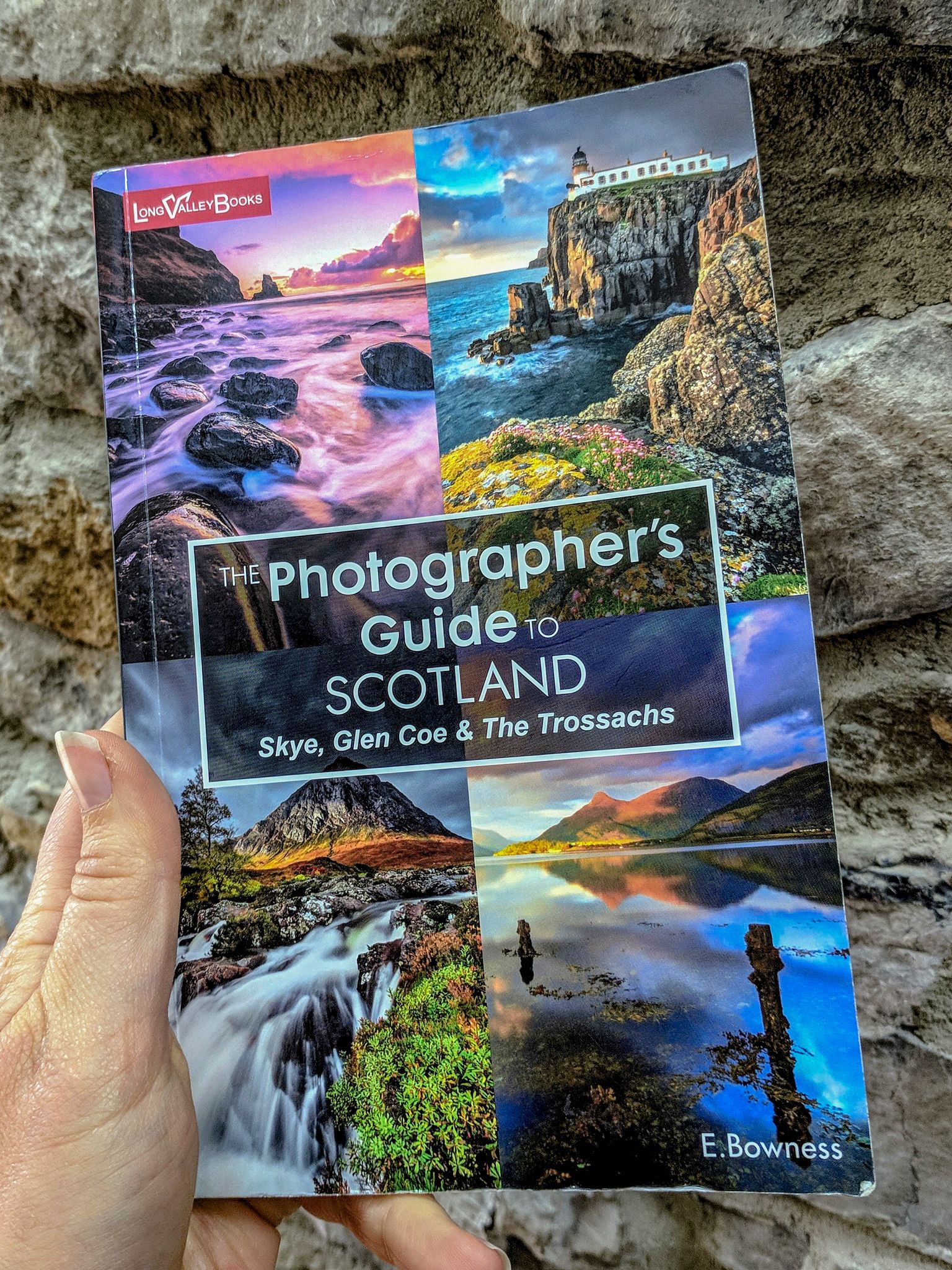 So if you too are heading to Scotland and are looking for a great way to see as much as possible in just over a week, then follow along with our 10 day road trip itinerary of Scotland. This is an action-packed itinerary that would be perfect for a young couple into photography like us.
Itinerary
Day 1: Arrive in Edinburgh
Day 2: Glasgow
Day 3: Loch Lomond & The Trossachs National Park
Day 4: Fort William and the Isle of Skye ferry
Day 5: Broadford, Elgol, Talisker and Sligachan
Day 6: Old Man of Storr and Neist Point Lighthouse
Day 7: Skye to Inverness
Day 8: Cairngorms National Park
Day 9: Driving to Edinburgh
Day 10: Edinburgh
Day 1: Arrive in Edinburgh
This is just a travel day - giving you time to get to Edinburgh. We chose Edinburgh as our starting point as we would be traveling up from York, and both cities lie on the East Coast Mainline from London. Ordinarily, this means lots of reasonably priced, fast and reliable trains.
Unfortunately, we however decided to start our visit to Edinburgh on a Monday, specifically Monday August 27th 2018 - also known as the last day of the Edinburgh Festival. We had no idea about this at the time we planned it (oops!), but it turned out fine anyway. We arrived around lunch time, so just spent the afternoon walking around Edinburgh, watching some of the street artists there for the festival.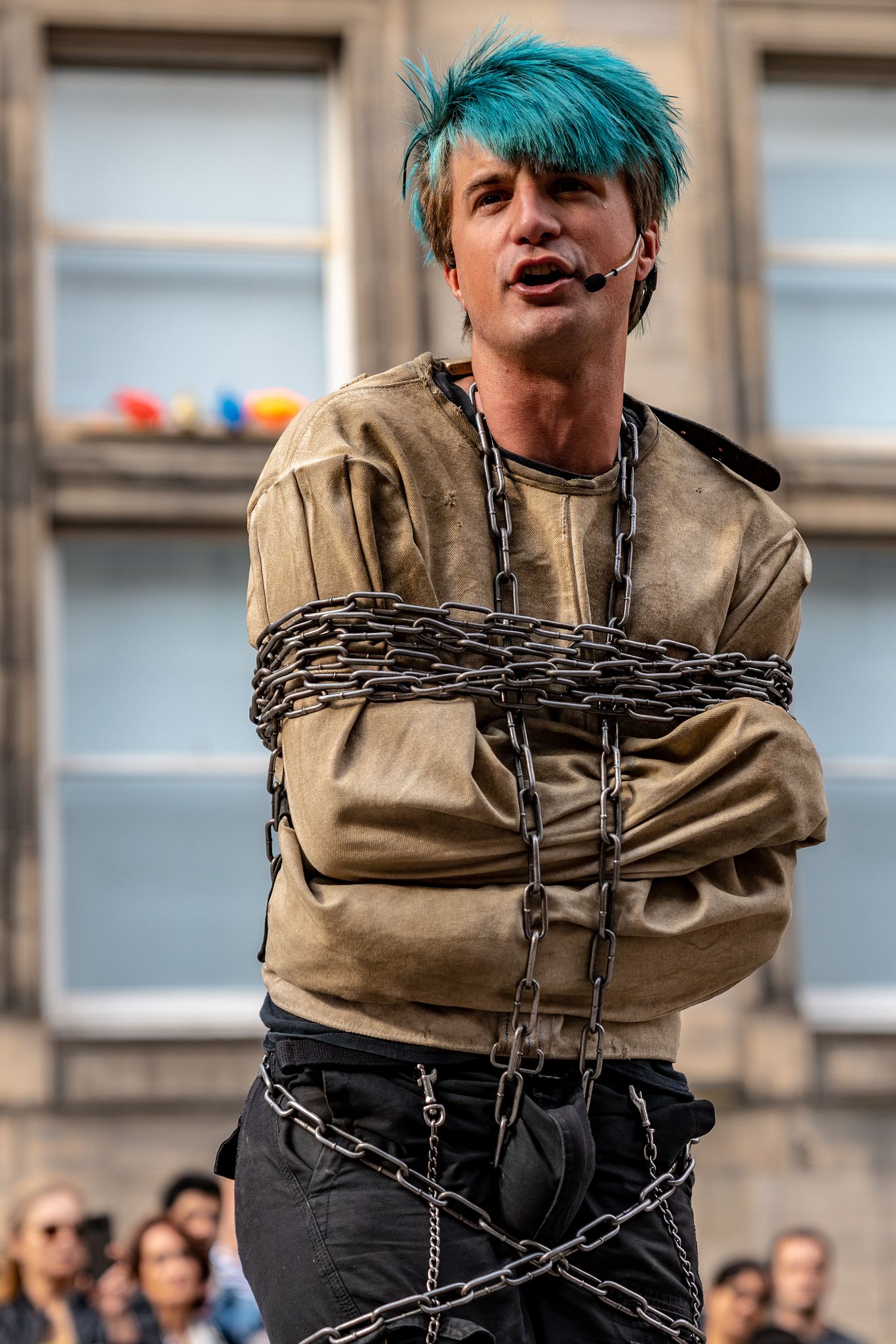 Adventurous Tip: Restaurants and eateries near Princes Street target the tourists and tend to be more expensive. Just go a few streets back to find some great food at much more reasonable prices.
Spend the night in Edinburgh at one of the many small guest houses or hotels - we stayed at the B+B Hotel, a listed building that offered basic amenities but a wonderful breakfast!
Day 2: Glasgow
Since this is a road trip, we had to rent a car. In contrast to our truck back in the US, we had rented a VW Golf from an Enterprise branch in Edinburgh. We picked it up shortly after they opened and headed to Glasgow - a drive of about 1 hour.
Since neither of us had ever been to Glasgow before, our first stop was the VisitScotland Glasgow iCentre (no, it's not an optician!) on Buchanan St. With just a few hours in the city, we chose to walk to the Glasgow Cathedral and the adjacent Necropolis.
The cathedral is particularly photogenic, and the view from the Necropolis is spectacular. We had some errands to run that afternoon (let's just say that clean clothes were becoming scarce), so we couldn't stay too long, but the afternoon is yours to sightsee around the city's many attractions.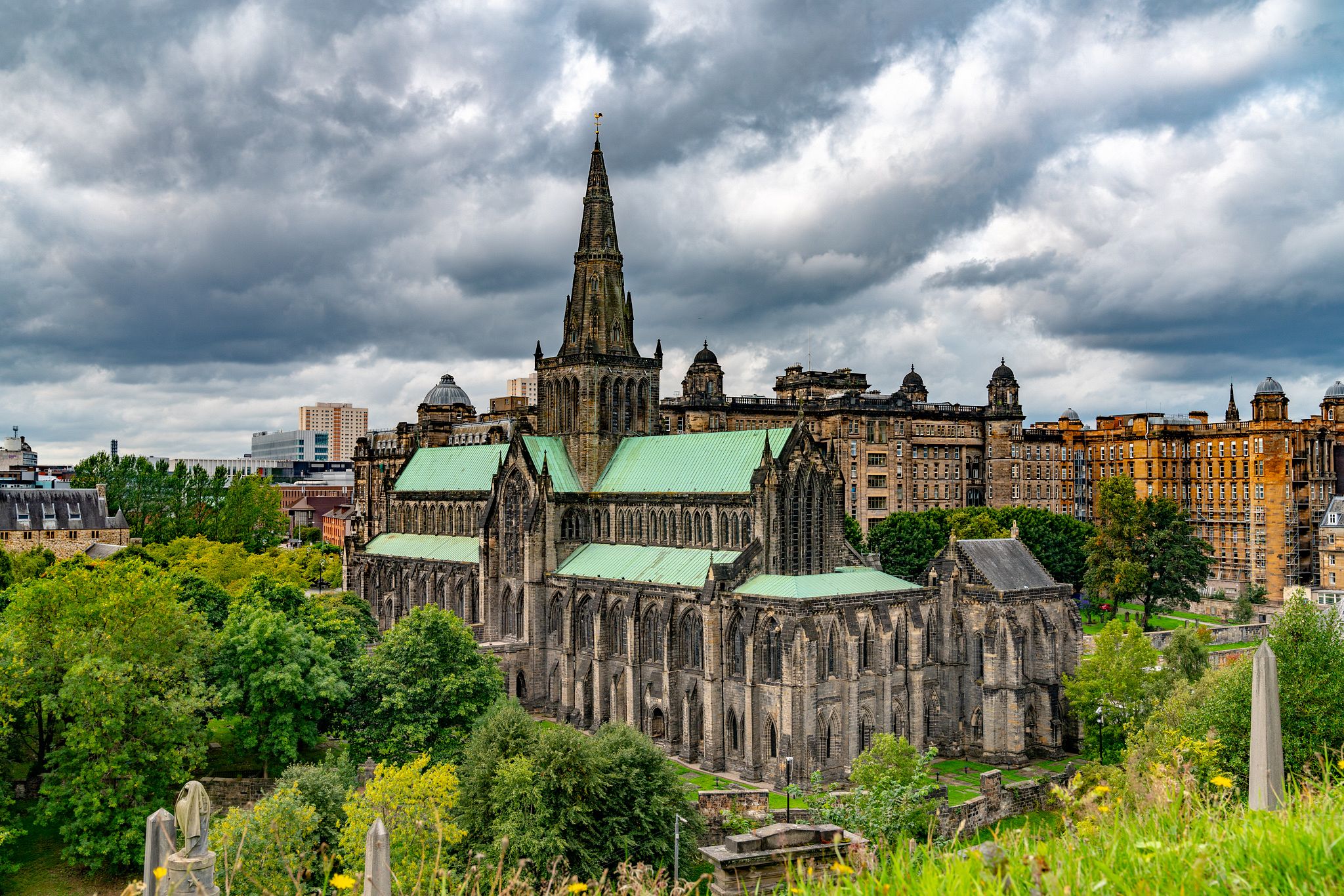 Adventurous Tip: If your camera has an HDR mode, Glasgow Cathedral is a great time to use it. The dark interior will cause the stained-glass windows to blow out entirely on your camera without it.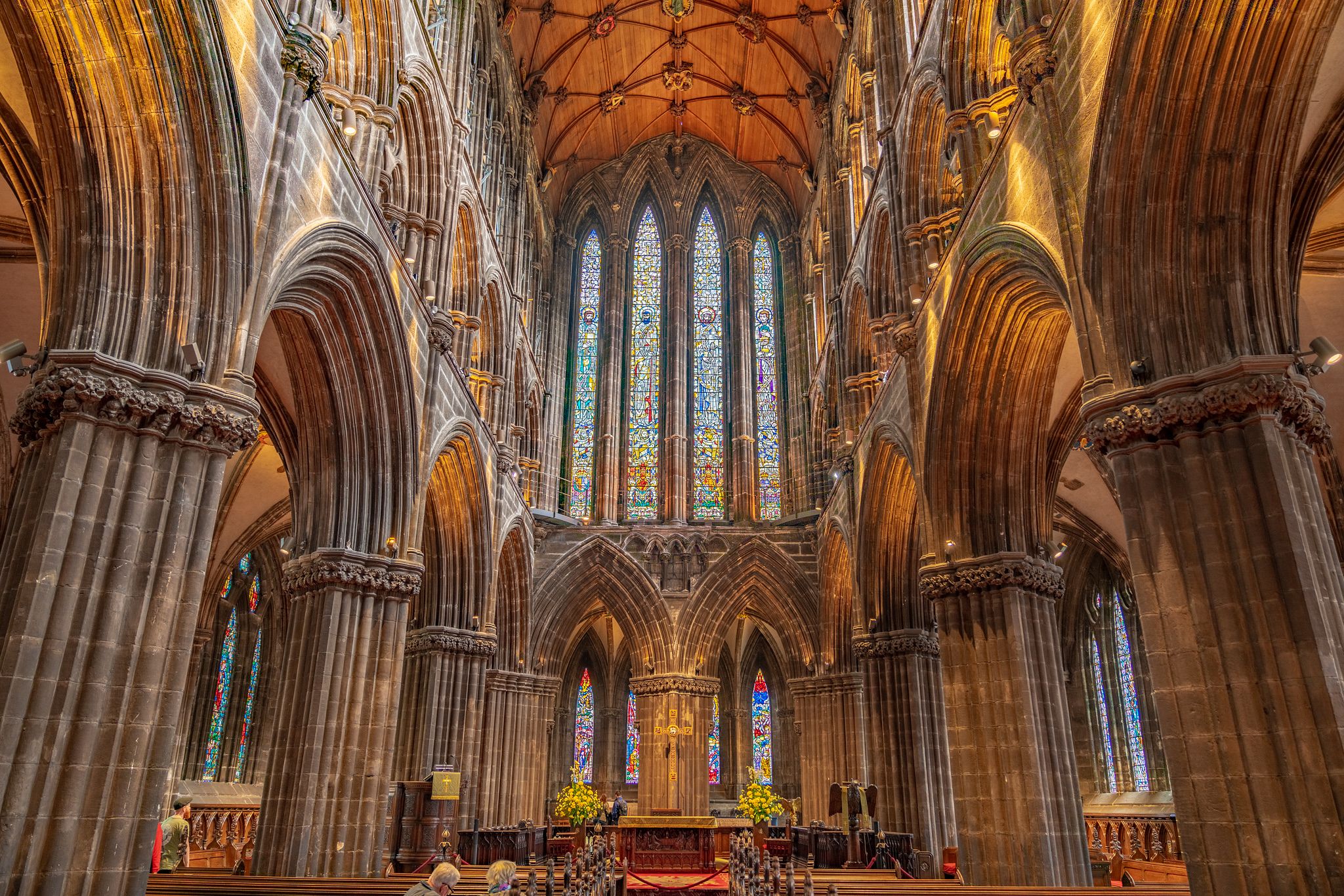 On Day 3, the itinerary heads North so we chose to spend the night at a guest house on the North side of the city for an early start the next morning.
Day 3: Loch Lomond & The Trossachs National Park
To go with the long name of this National Park, Day 3 is a long day - so we started early. Our final destination for the day was Fort William - a little over 100 miles which Google Maps claims you can drive in about 2 hours 30 minutes. No.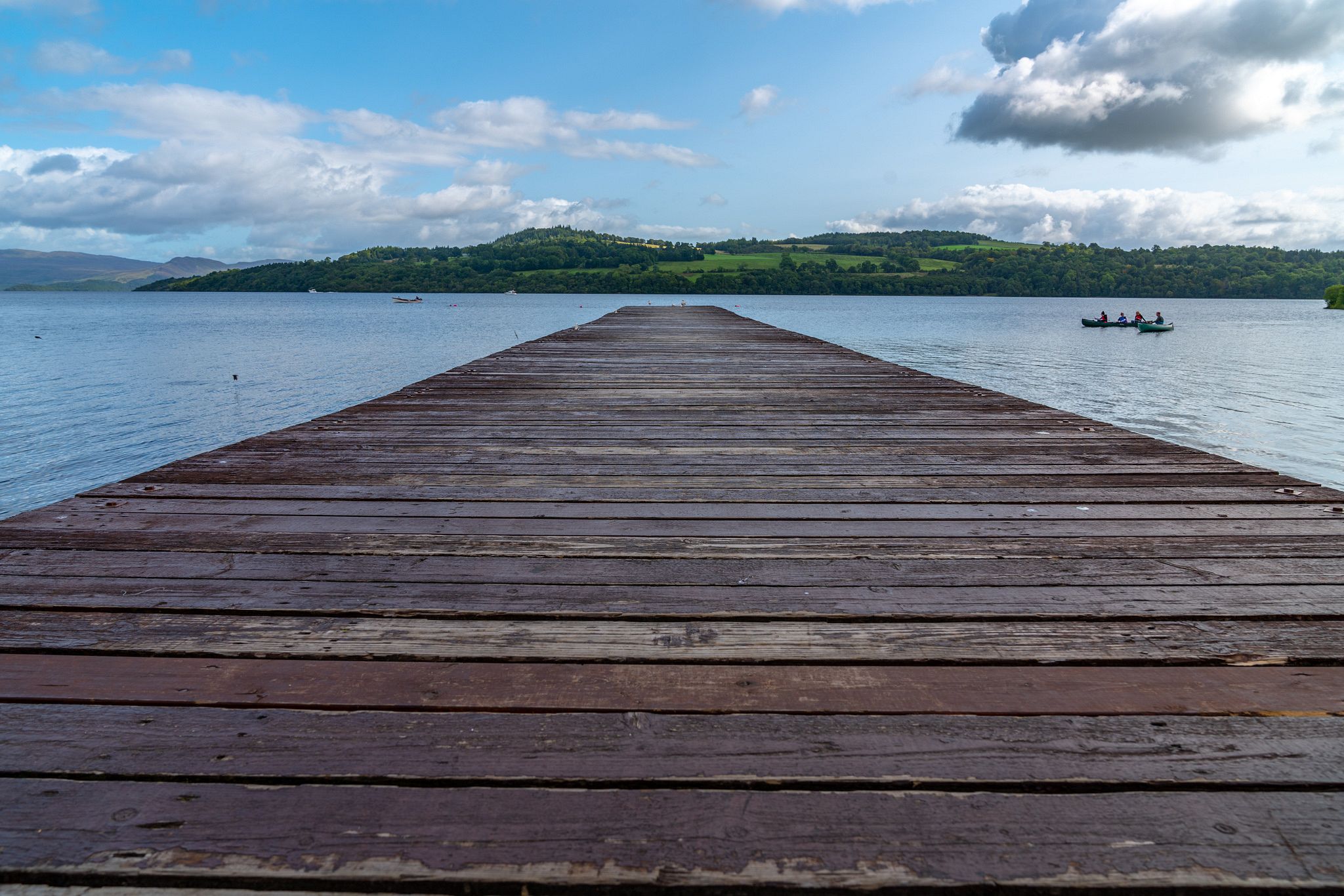 Between the narrow winding roads, and the endlessly beautiful scenery, this is a full day drive. We first stopped in at the VisitScotland iCentre in Balloch to get their recommendations on where we should aim to visit. With map in hand we set off, choosing several stops along the main road, and a detour up to the Falls of Falloch.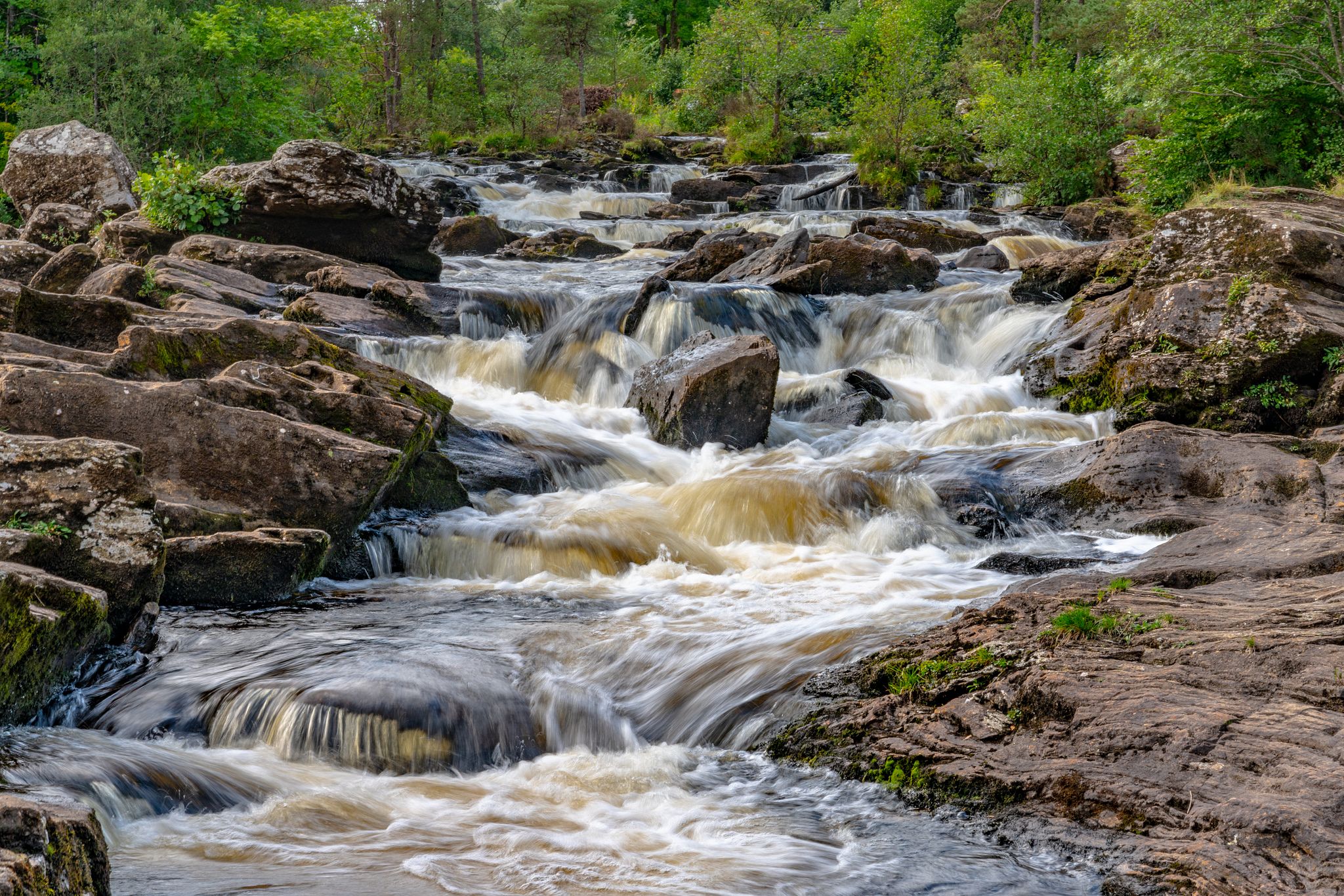 Adventurous Tip: There are definitely more things to see than you can fit in a day, so pick a few highlights and focus on those. If you try and do too much you'll rush and not get to enjoy it properly.
You'll want to keep your eyes peeled and your camera close at hand - the landscape is absolutely stunning and changes constantly throughout the day.
At first, you are constantly treated to new perspectives of Loch Lomond itself, and then later this gives way to wild terrain as you head up towards Fort William.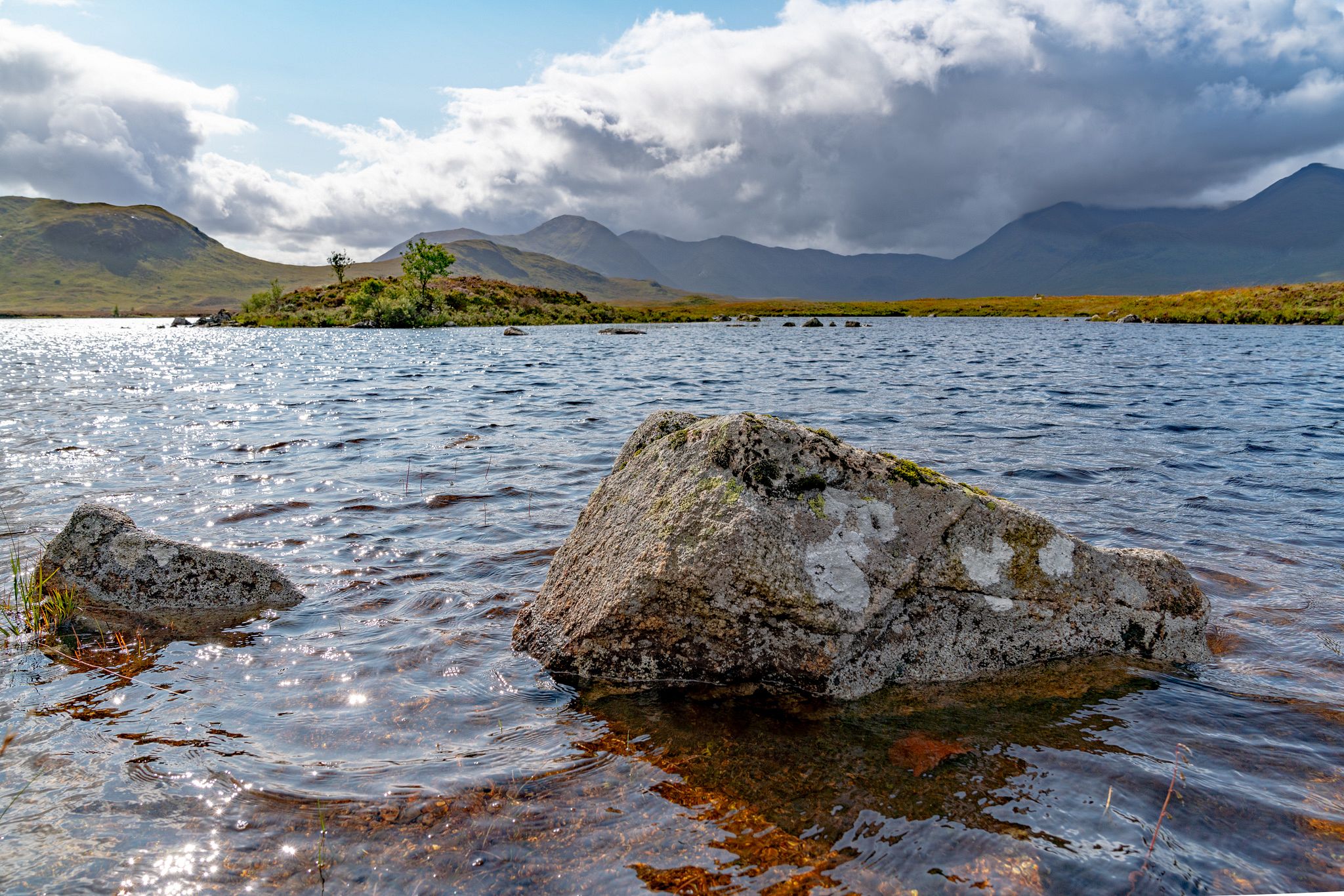 As a special callout, make sure to stop near the Bridge of Orchy for some amazing views, and Black Rock Cottage - another very iconic photo opportunity.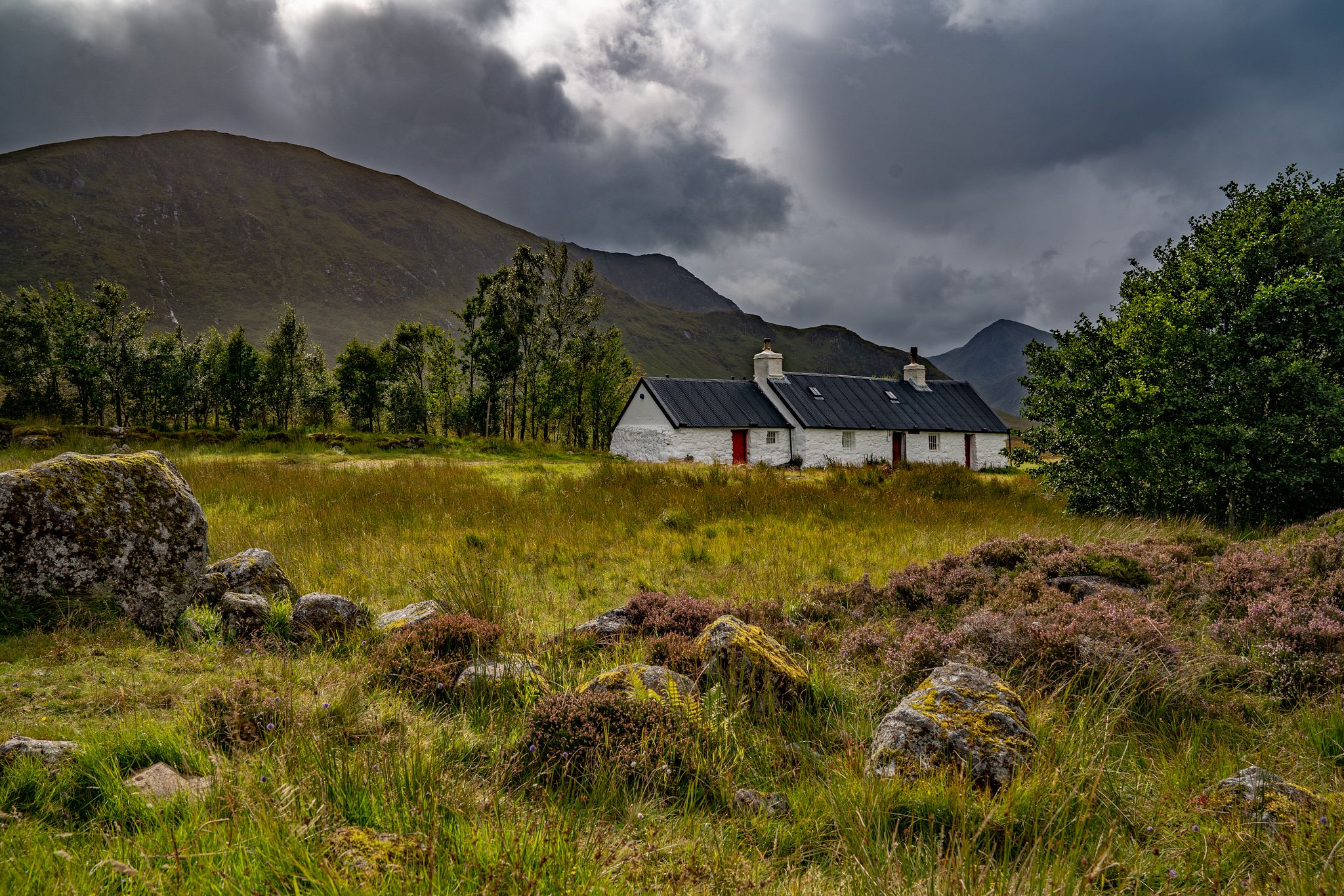 In general, we're not sharing too many specific accommodation details since there are so many places to stay and it really depends on availability. However, I would thoroughly recommend staying at Achintee Farm, a small guest house next to the Ben Nevis Inn. The lodging is basic but functional, and it's located right on the main hiking trail up Ben Nevis.
Day 4: Fort William and the Isle of Skye ferry
It was unthinkable for us to leave Fort William without hiking on Ben Nevis. Although we didn't have time to hike to the summit (which takes 7-8 hours round trip), we did a 2-hour hike in the morning at first light to wake us up - beautiful scenery and we'd definitely like to go back and hike to the summit in future.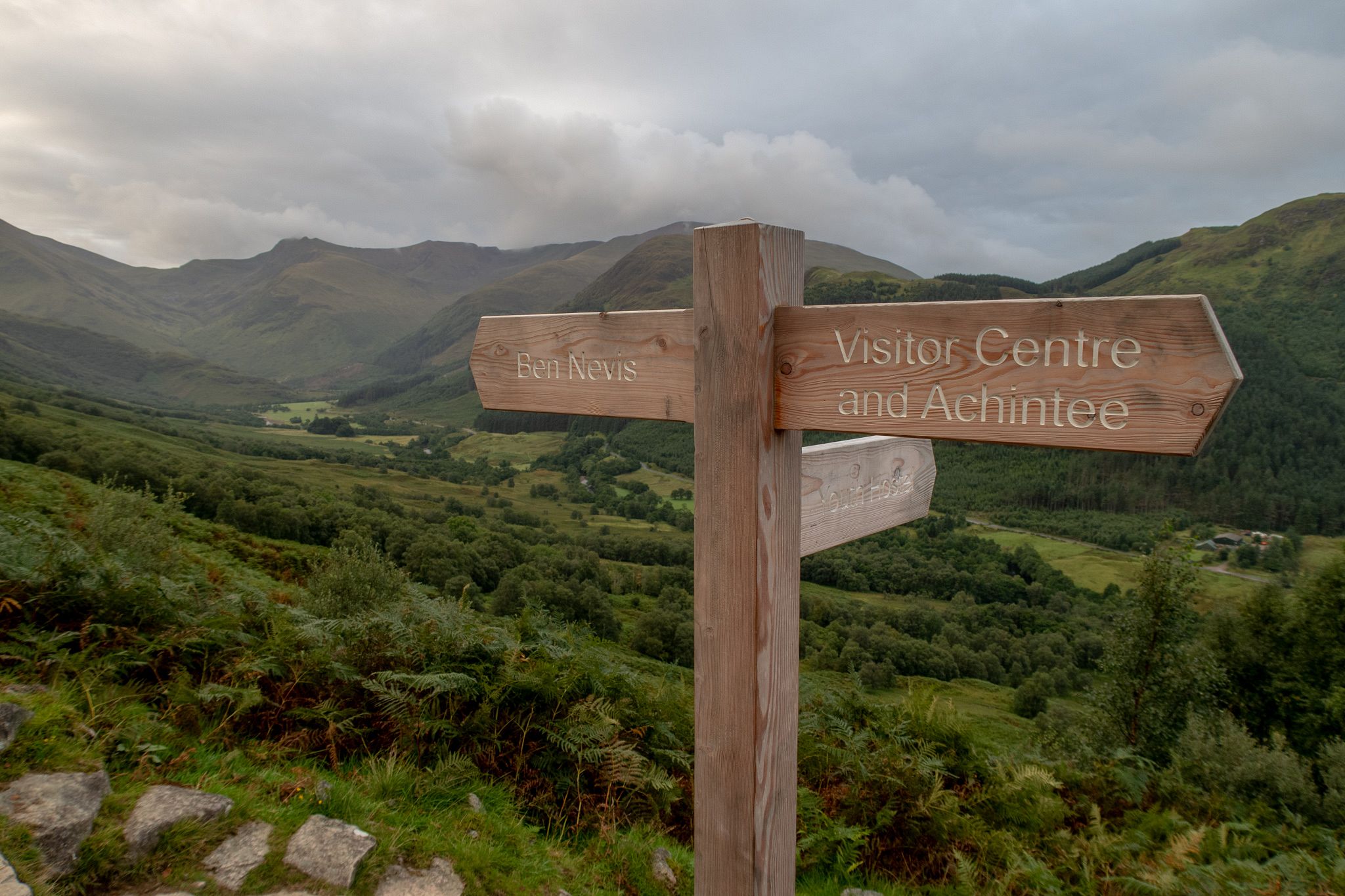 This is an example of where the photography book really paid for itself. Under its guidance, we drove to Glenfinnan to watch the Jacobite Steam Train (aka the Hogwarts train from the Harry Potter Movies) drive over the Glenfinnan Viaduct. We parked in Glenfinnan and then walked about 15 minutes up to the viaduct. Along with dozens of other budding photographers, we stood and watched the train pass by - it slowed on the bridge for us and let out a big burst of steam.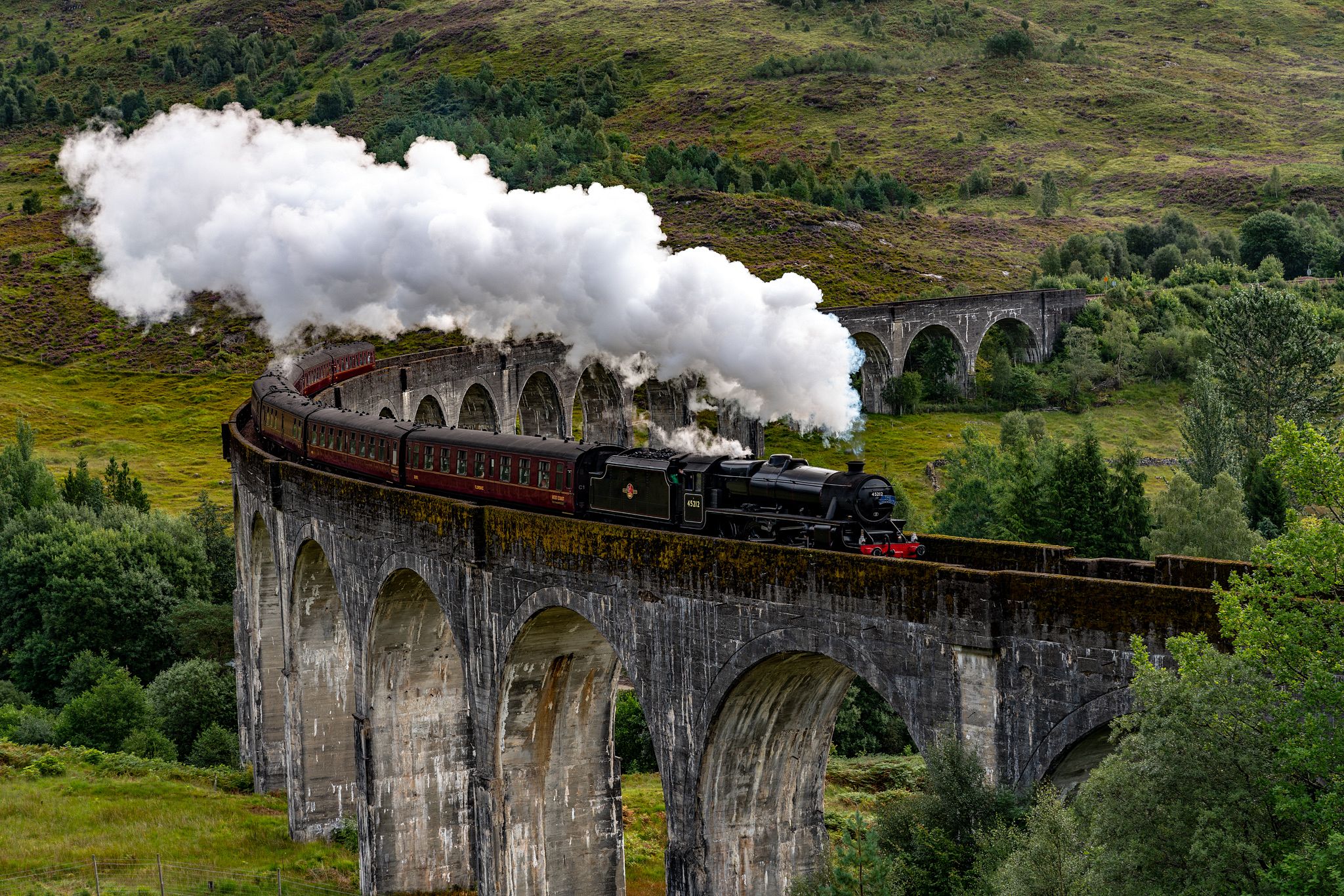 Adventurous Tip: Check the train timetable for the day and aim to be at the viaduct about 15 minutes after the train leaves Fort William (or 15 minutes before to catch it in the other direction). Make sure to leave time to find parking (which can be very busy) and walk up.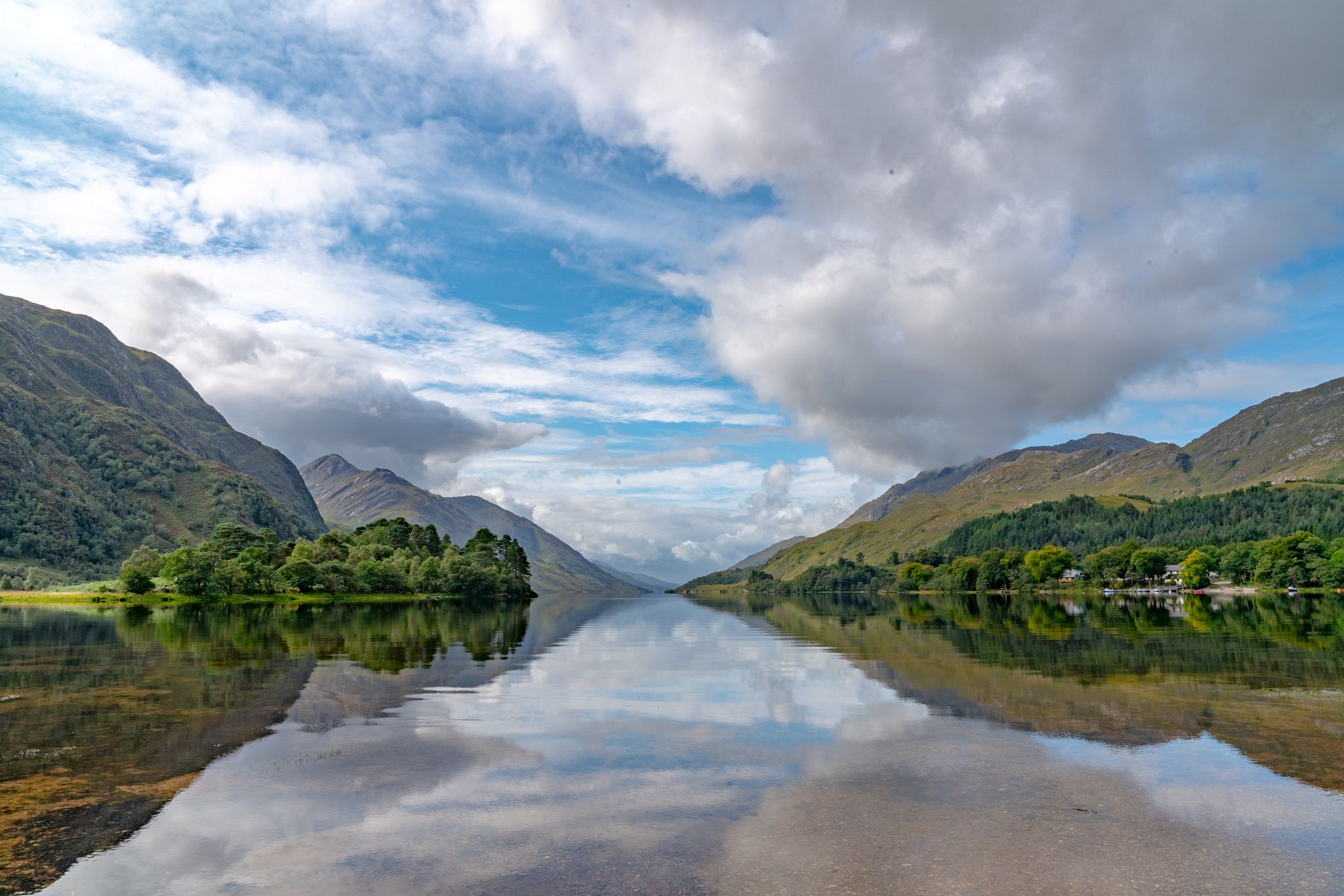 After another hour or so taking photos down by the Glenfinna Monument and Loch Shiel, we drove to Arisaig - a beautiful seaside village for some photos of boats in the water.
Our plan was to take the car ferry to the Isle of Skye, then head back to the mainland on the bridge later in the trip - this way we get to see both. The ferry goes from Mallaig, just a few miles up the coast from Arisaig. This whole area is beautiful though, so you'll want to give yourself time for photo stops. Mallaig itself has a small selection of cafes and restaurants - we had lunch (with free WiFi) at Mission Cafe.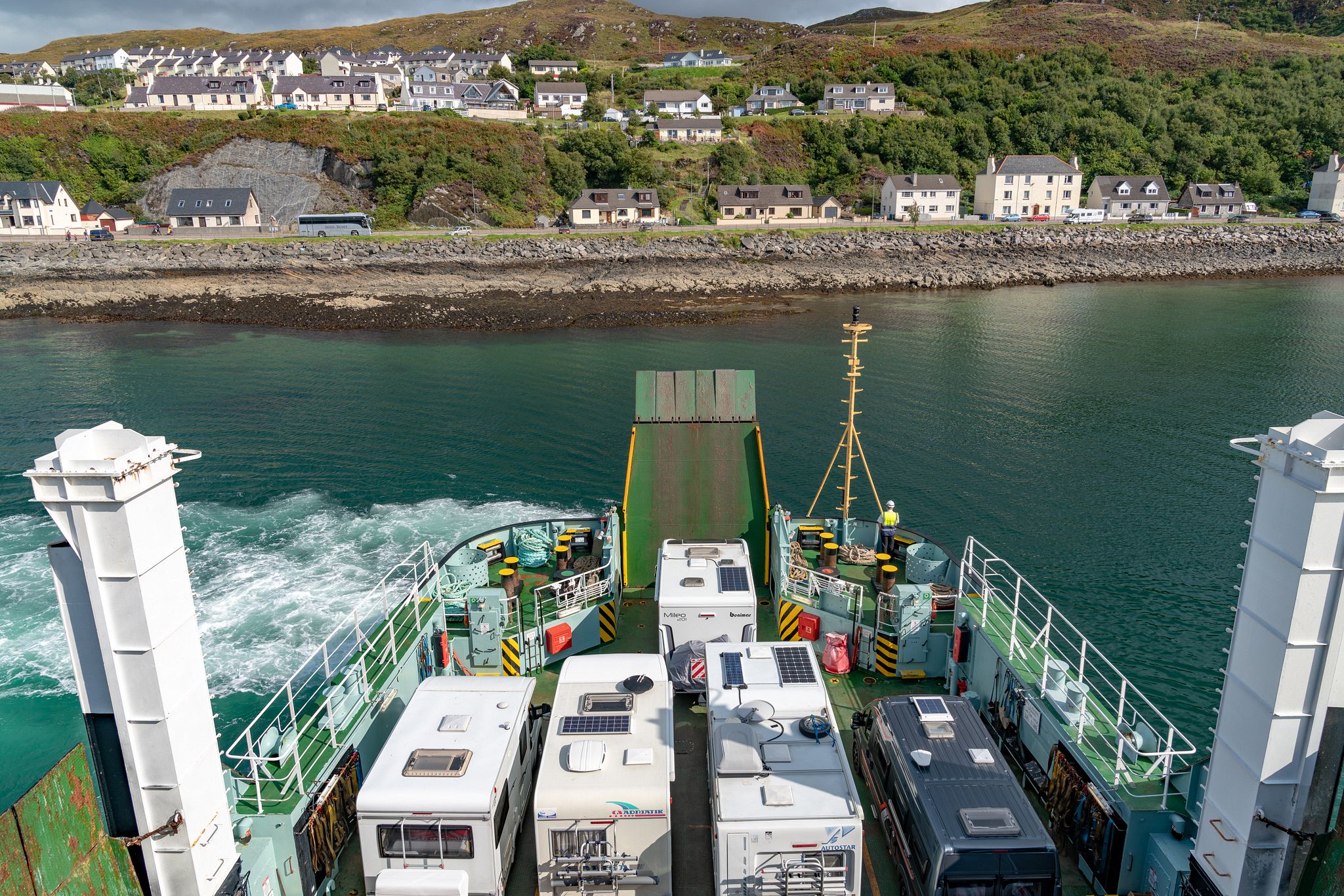 Adventurous Tip: Be sure to book the ferry at least a couple days in advance, especially in peak season, as it can book up.
Once safely back on terra firma on the Isle of Skye, we drove to Broadford where we spent the night in a wonderful guest house overlooking Broadford Bay. The Claymore Restaurant is a short walk along the bay for some amazing seafood (Diana says the lobster is some of the best she's ever had), but get there early or reserve in advance.
Day 5: Broadford, Elgol, Talisker and Sligachan
This also turned into a really busy day - we started early and didn't arrive in Portree, our final destination for the day, until 6pm.
Other than a list of places we might like to visit, we had no concrete plan - but our AirBnB host recommended we head out West to Elgol. We spent the morning driving to Elgol and back, stopping along the way for a short hike near Loch Slapin and too many photo opportunities to count.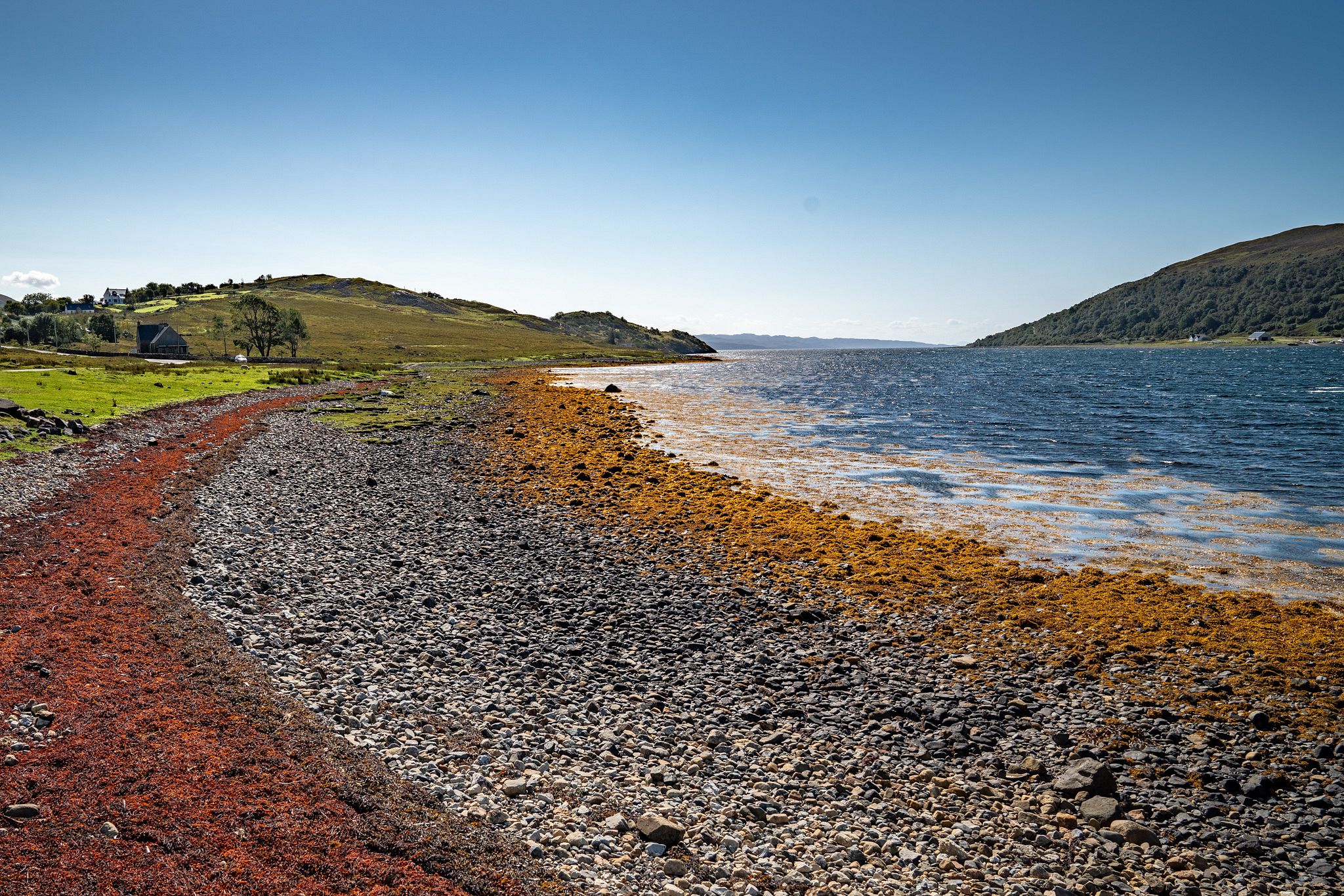 Adventurous Tip: We always speak with the locals to get the best advice on where to visit at the particular time of year we're there. They'll be able to recommend places most suitable for the weather, and may even make recommendations about restaurants and guest houses too.
Elgol itself has a small harbor with turquoise water that made me feel like I was in the Caribbean. I recommend taking a walk along the rocky beach to see the honeycomb cliffs.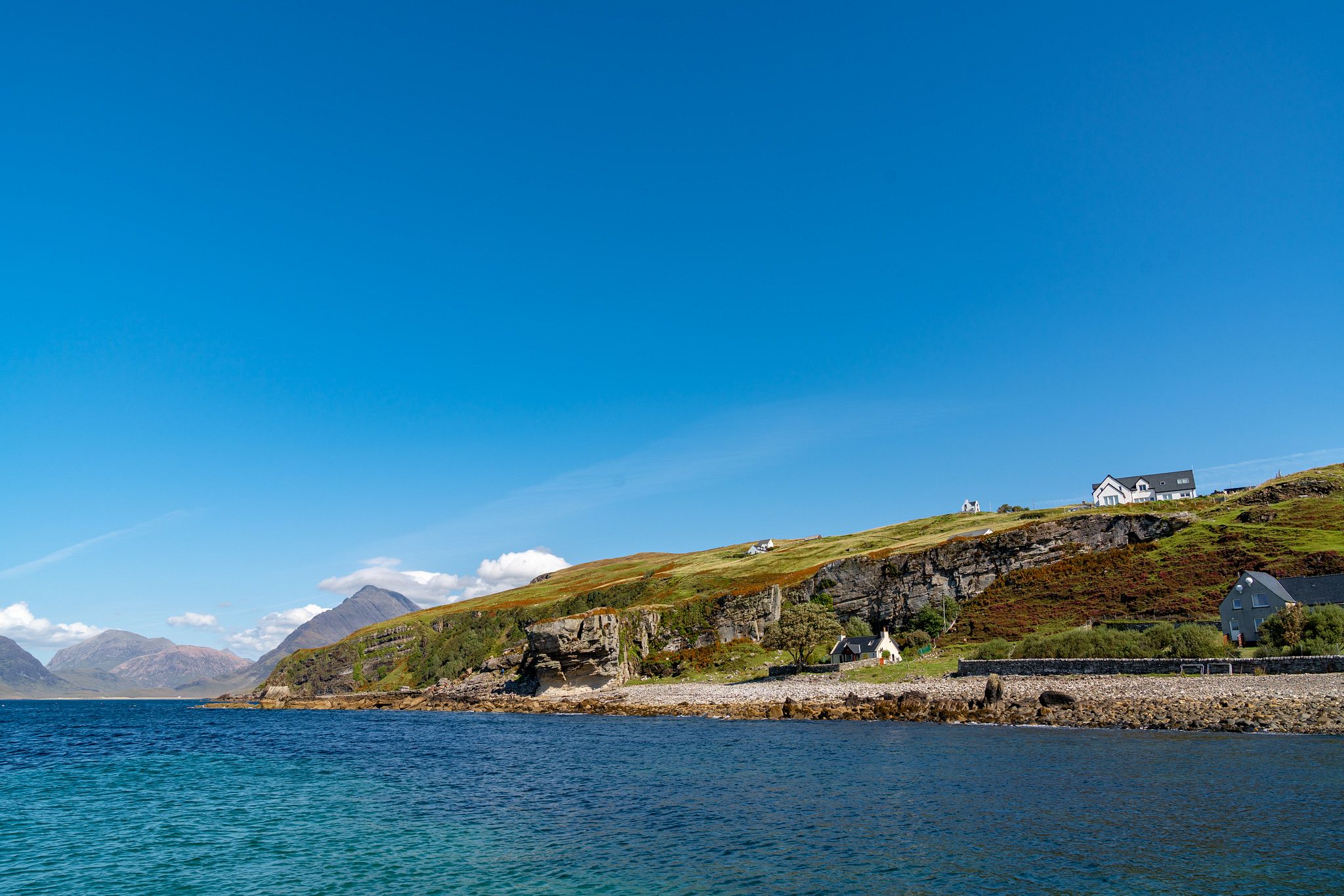 After heading back to Broadford, in the afternoon we drove out to Talisker Beach, passing the distillery for the famous whiskey that takes its name from this area. At the end of the road there is a small parking area with space for several cars - we hiked for 15 minutes or so down to the beach, taking photos and flying the drone at this huge but picturesque beach.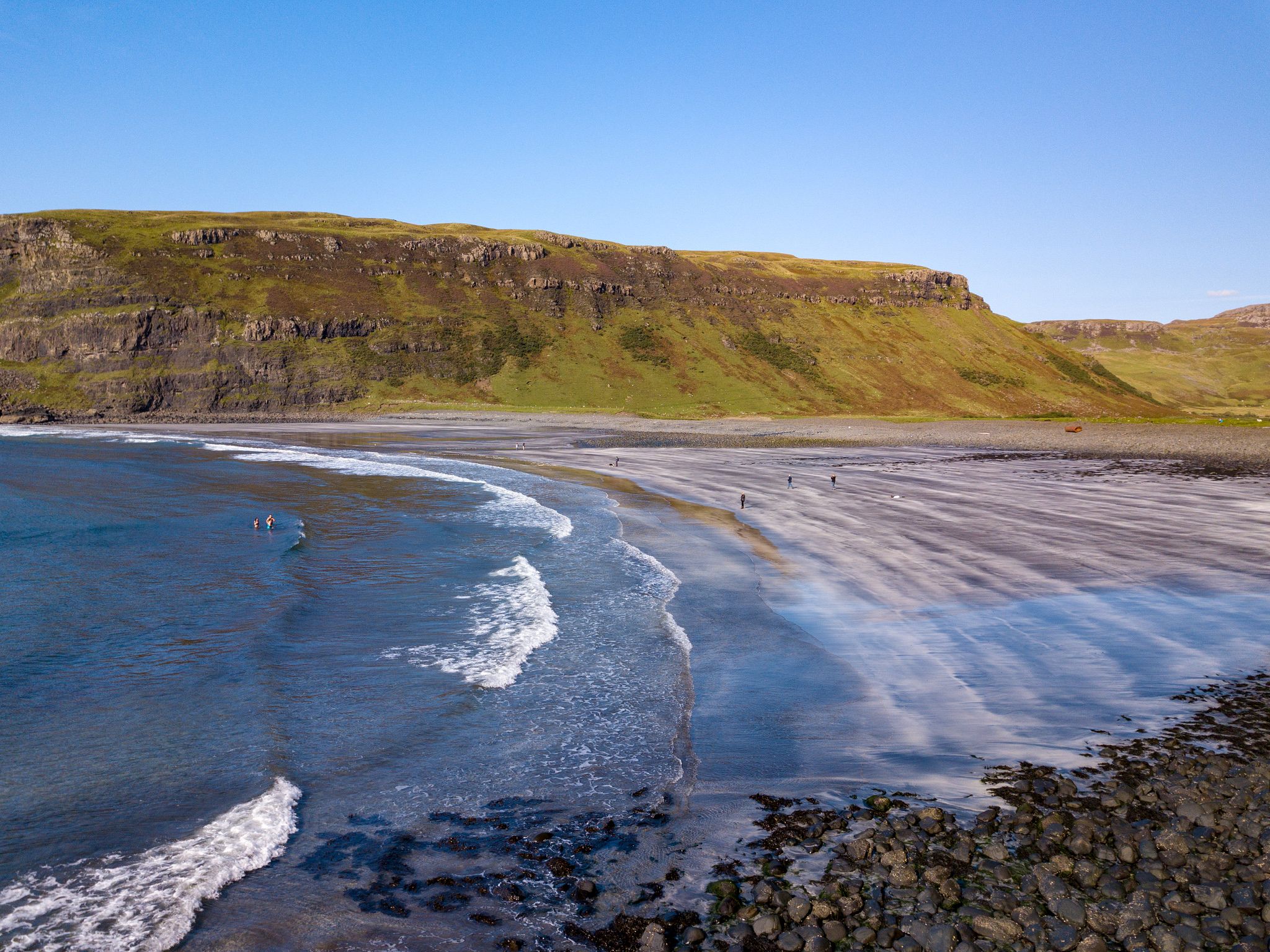 Arriving back at the car, we were greeted by a pair of male peacocks, loudly communicating with one another in the fields next to our car.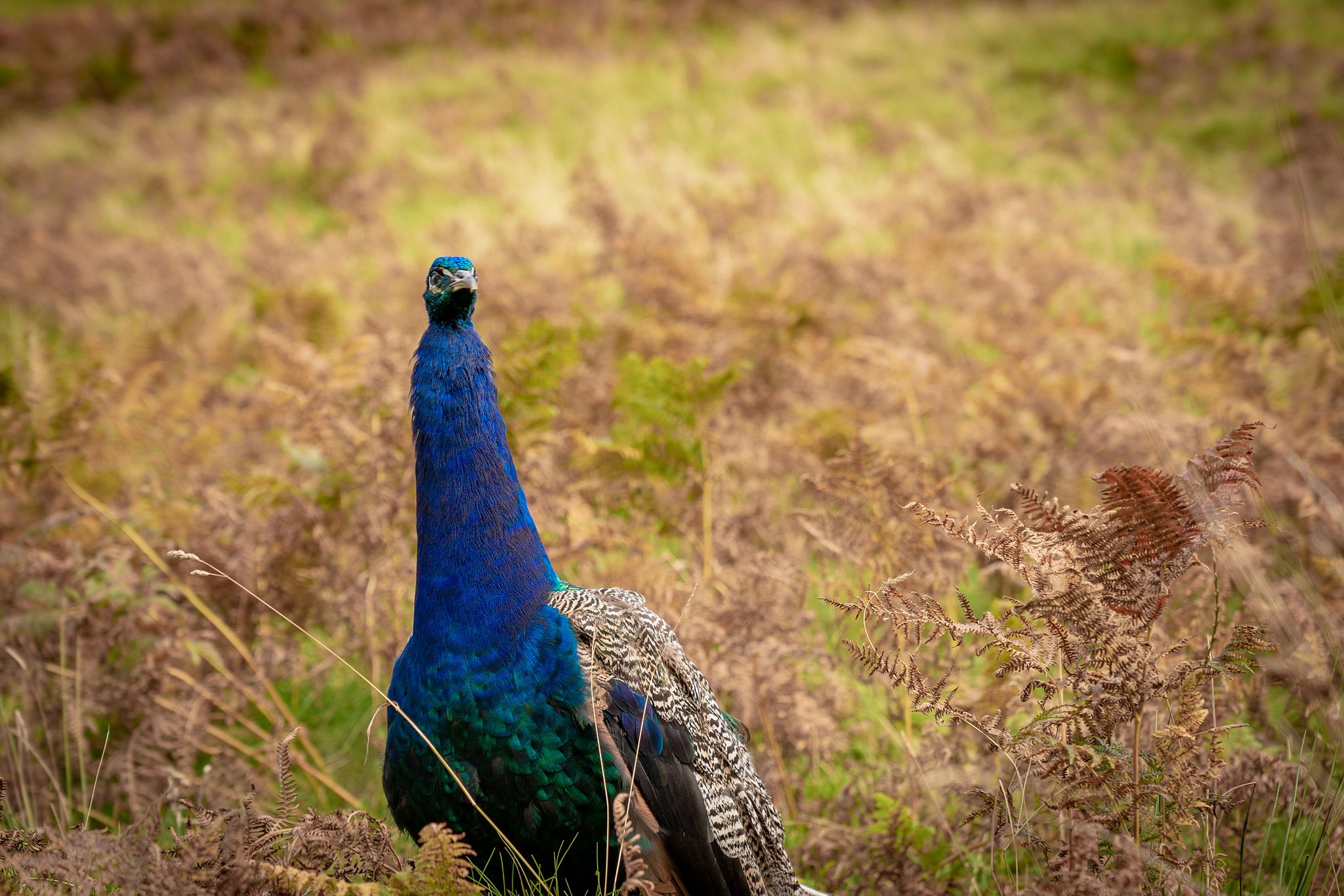 Our last stop of the day before Portree was also one of the photographic highlights of the entire trip - Sligachan Old Bridge. Also from our photography book, this stone bridge looked absolutely stunning against the late afternoon sky.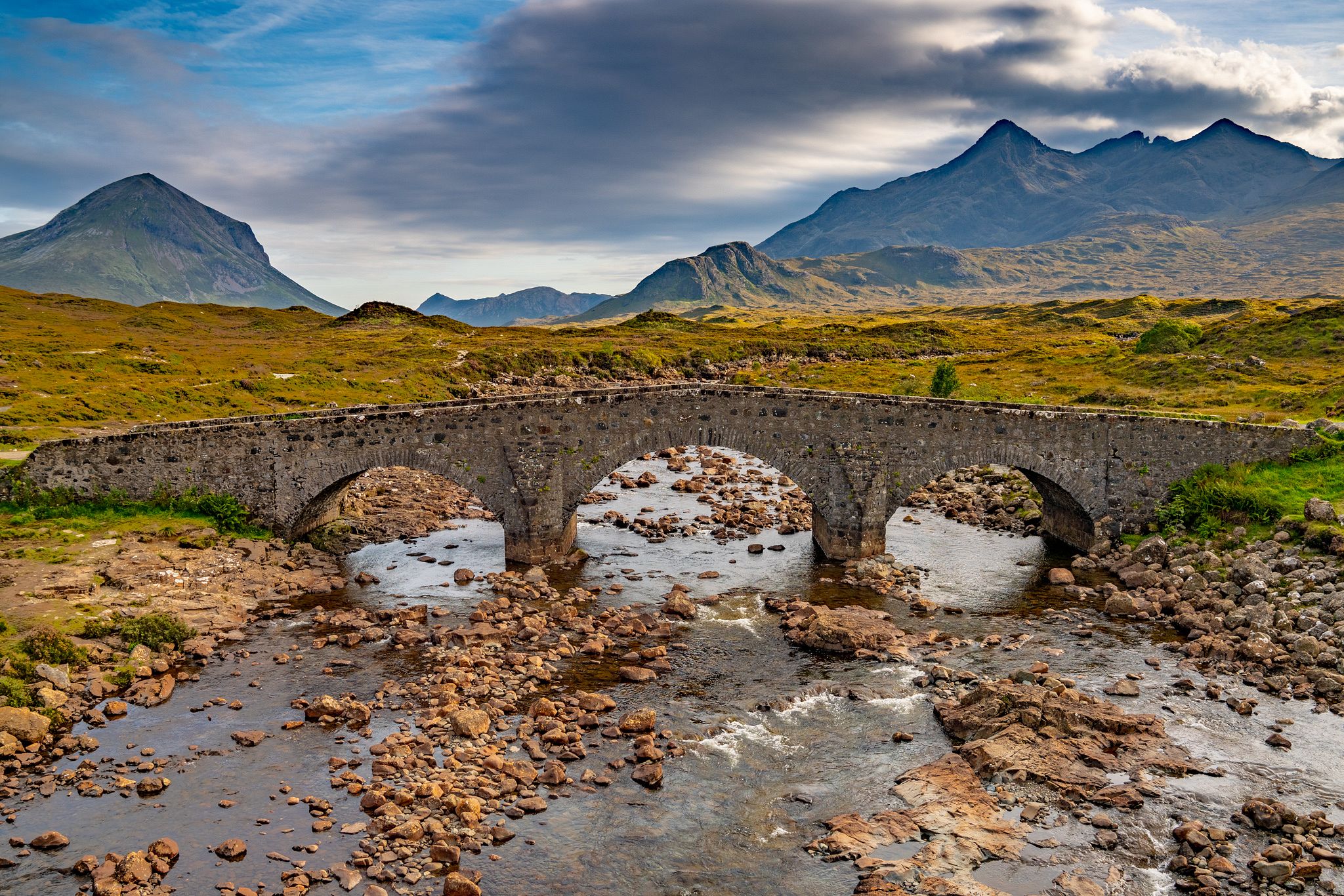 From here it was a short drive up the road to Portree, the largest town on the Isle of Skye. Since we were booking last minute, we had little choice on AirBnB. We chose to stay in a private room of a lovely AirBnB host, a short walk outside the town center.
Day 6: Old Man of Storr and Neist Point Lighthouse
A stunning rock formation, the Old Man of Storr is undoubtedly one of Skye's most iconic sights. And it's one that we've still never seen for ourselves - despite waking up at 4am, driving to the parking lot and hiking over an hour in the rain and fog to reach the summit before sunrise. We waited a half an hour to see if the fog would clear, but no. Soaked through, we begrudgingly trekked back down.
Adventurous Tip: If you can be flexible with your itinerary, check the forecast and if it looks good, make the most of it and make the hike up to see the Old Man of Storr at sunrise.
Showered, warm and clothed back at the AirBnB, we headed out for breakfast. We landed on The Red Brick Cafe @ Jans - an unlikely venue for a good eatery, inside a hardware store. However, the free WiFi, good cups of tea, and great food led us to stay there all morning - for both breakfast and lunch!
That evening we would be driving out to Neist Point Lighthouse to see the sunset - yet another recommendation from our photography guide. 33 miles (about an hour on the narrow roads)from Portree, Neist Point Lighthouse is the most Westerly point on the Isle of Skye.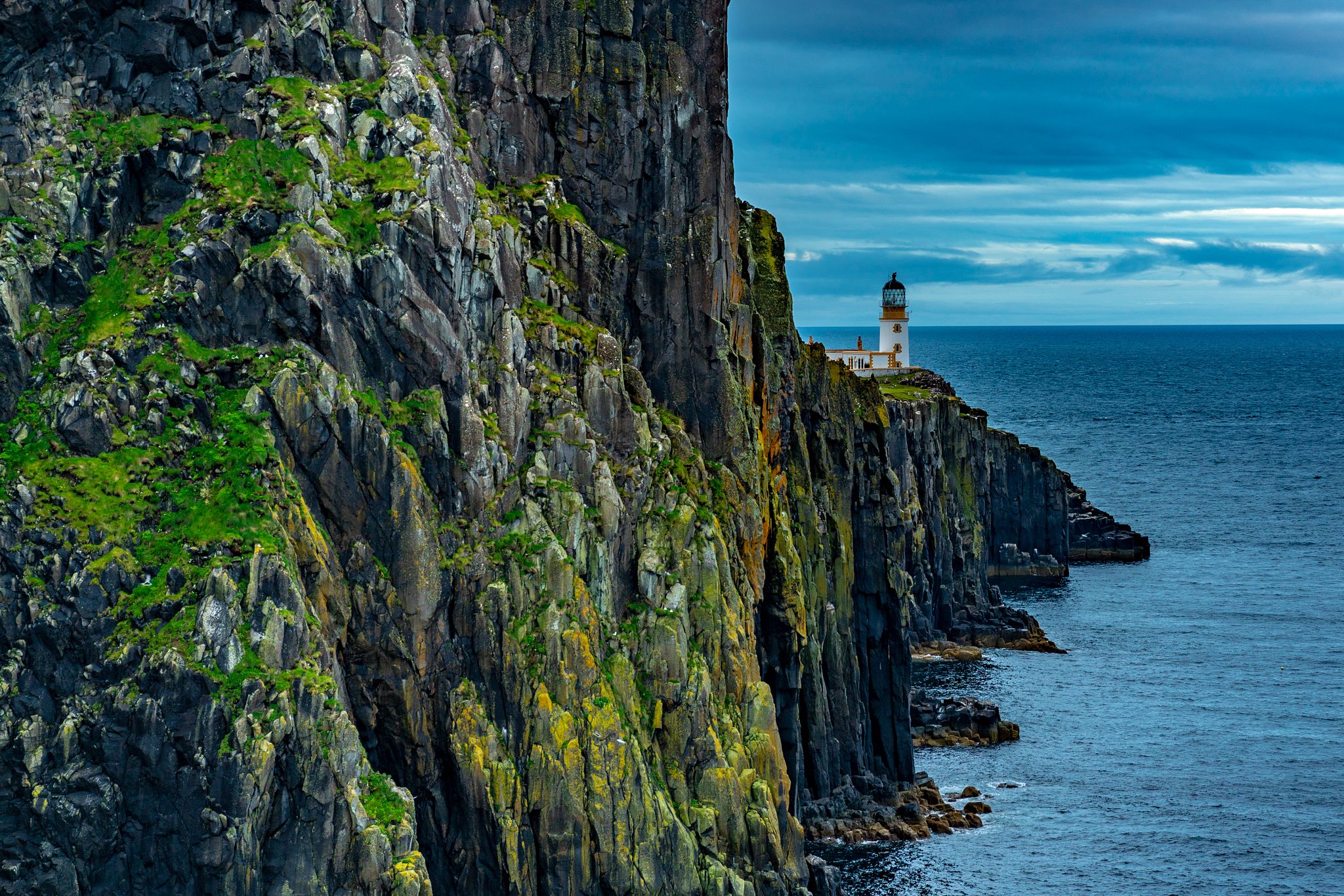 The walk down the cliffside path is steep but paved, and well worth seeing.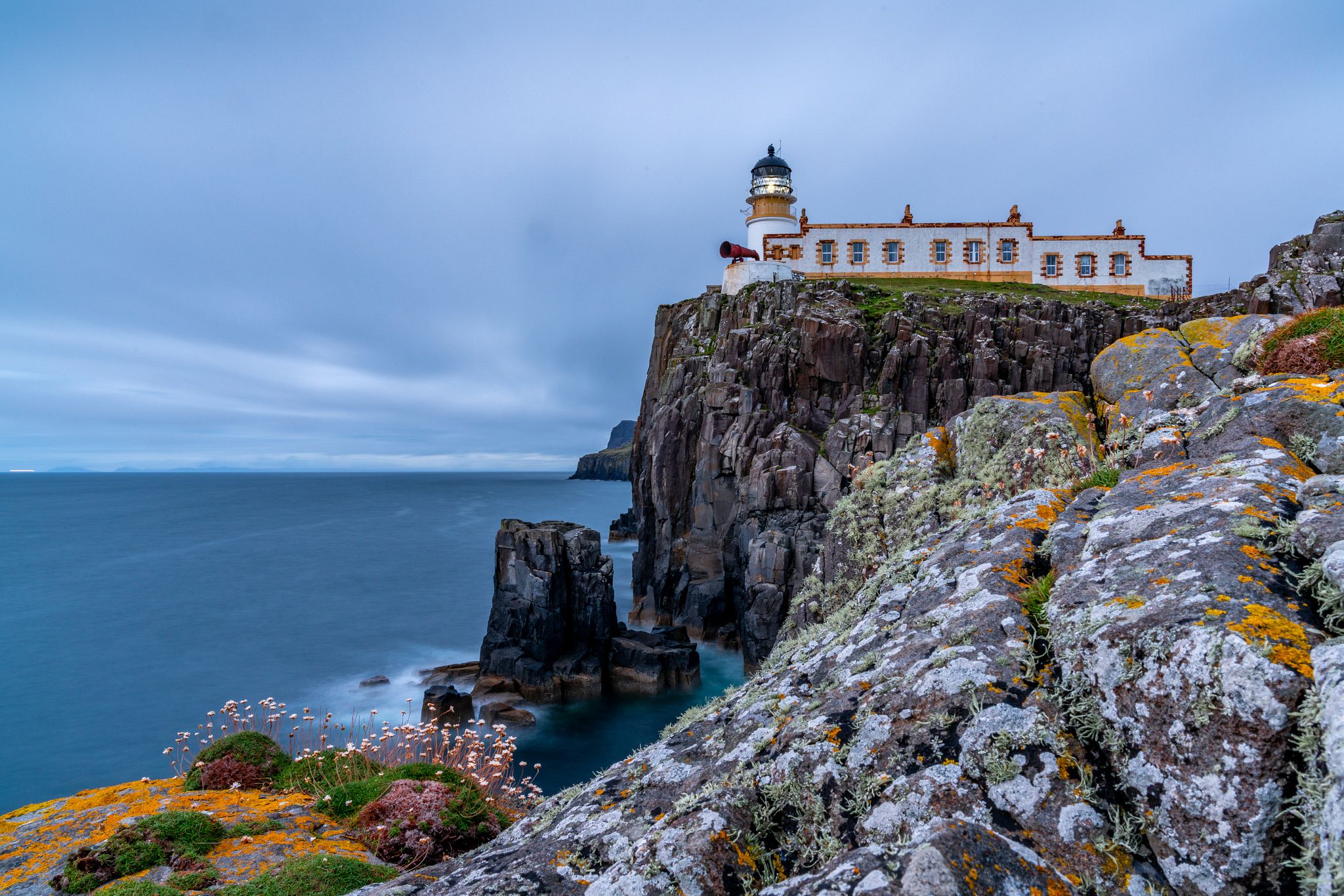 Adventurous Tip: When you get to the lighthouse, walk straight past it to get to the rocky cliffs behind. Here, surrounded by cairns, is where some of the best photographic opportunities lie.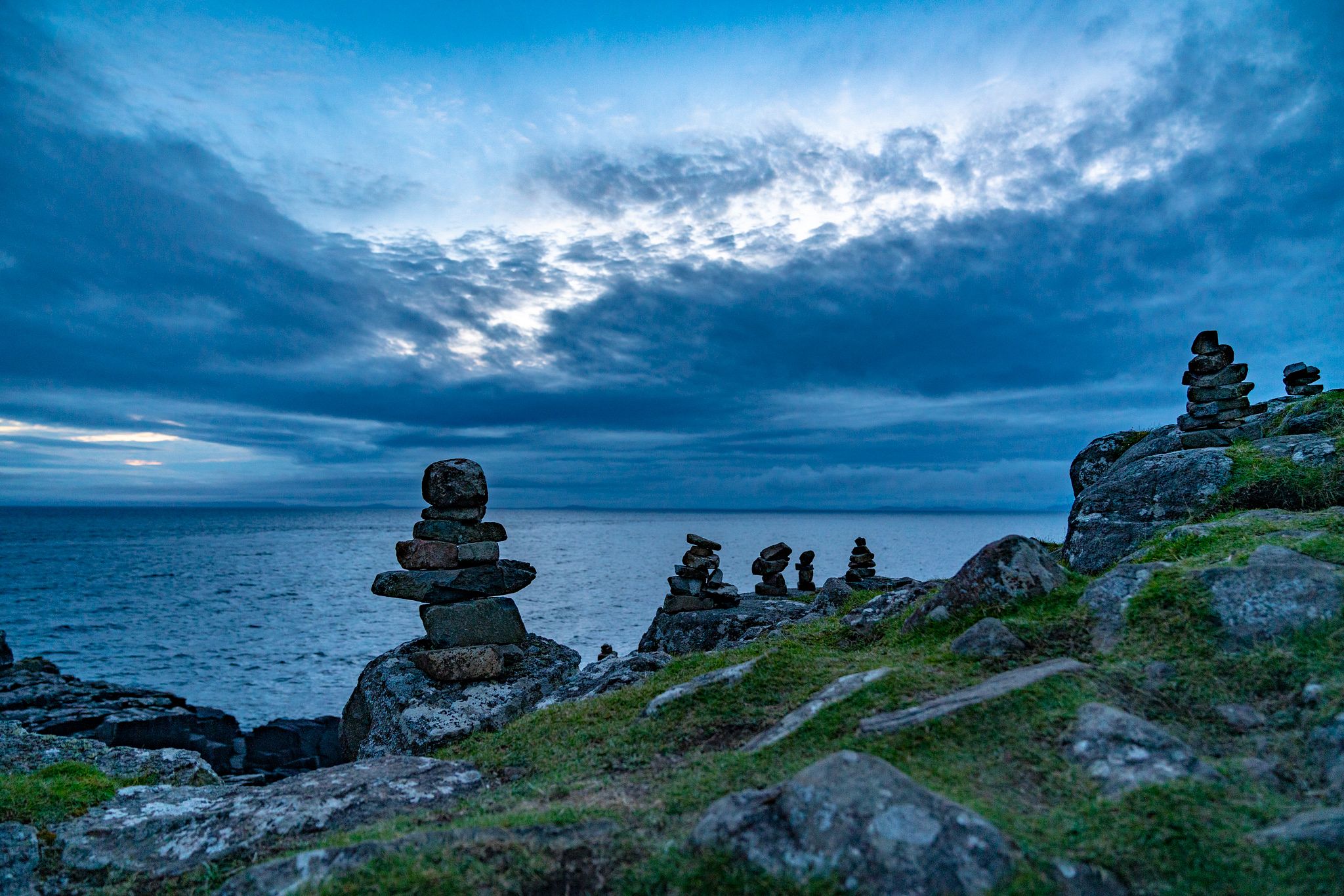 After the sun had set, we walked back up the cliff-path, and drove home in the dark, staying in Portree again for the night.
Day 7: Skye to Inverness
An early start to the day put us on the road soon after sunrise. Today we would leave the Isle of Skye via the Skye Bridge, rejoining the Scottish mainland, before driving up along Loch Ness to Inverness.
On the relatively short drive from Portree to the Skye Bridge, we experienced all types of weather - blue skies, thick cloud, rain, fog and wind. Typical weather apparently! We had arrived on the Isle of Skye by ferry, and now we'd be leaving on the road bridge.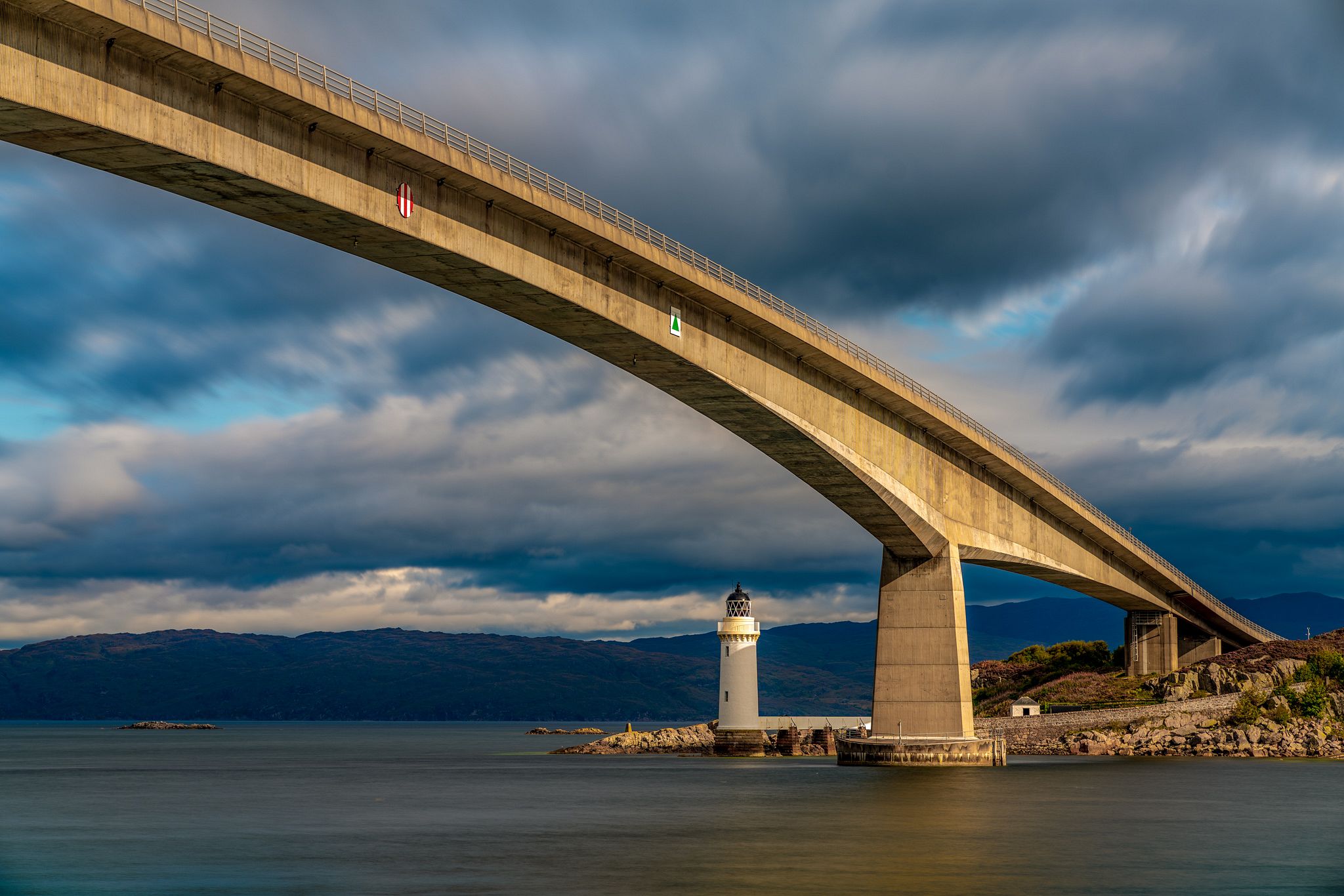 Just the other side of the Skye Crossing is Eilean Donan Castle. Although we didn't pay to tour the castle inside (no photos allowed apparently!), it was a lovely stopping point.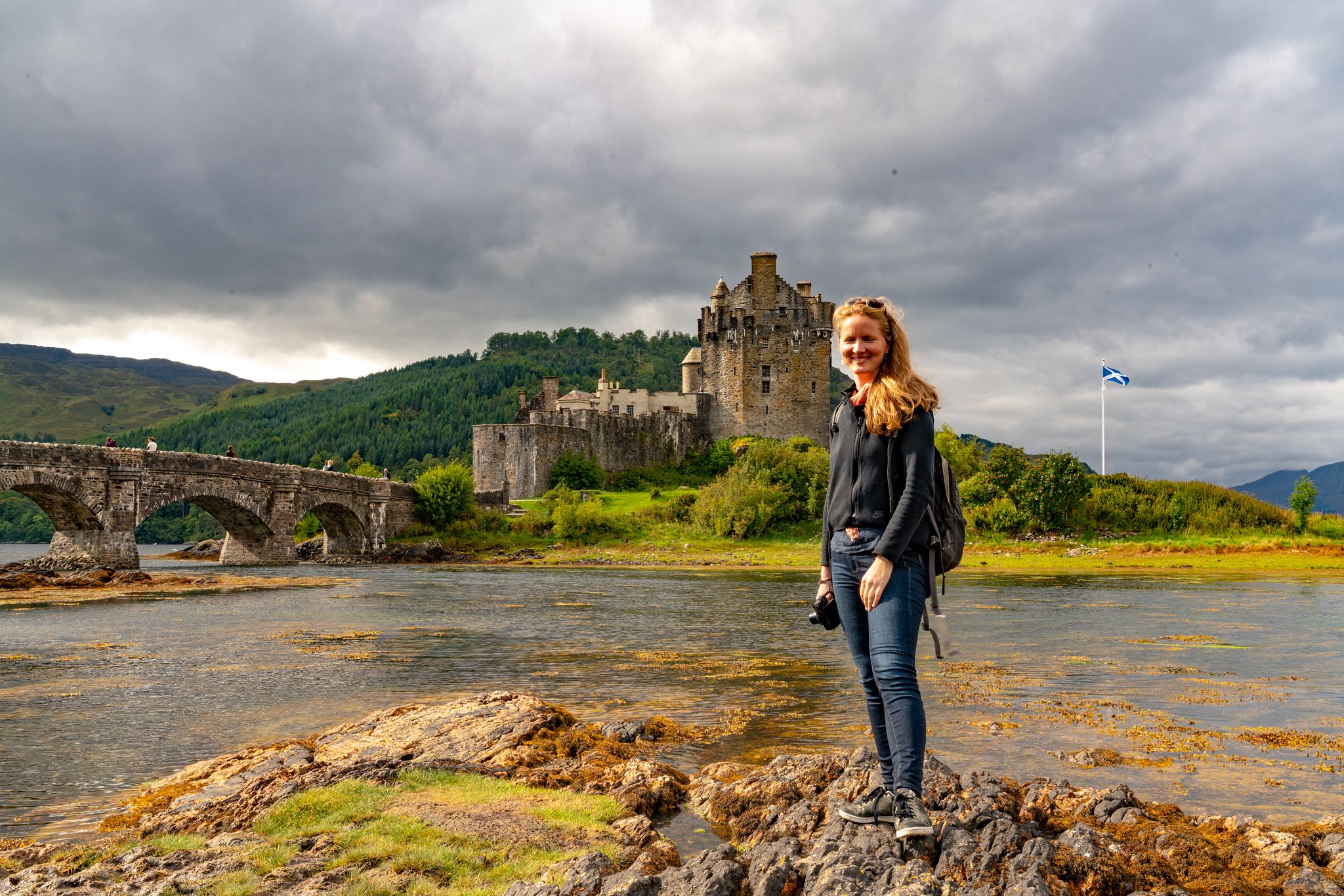 Further along our drive, we stopped at Urquhart Castle on the shores of Loch Ness. From first impressions, we were pretty disappointed - Diana loves castles and had been looking forward to this, but it just looked like ruins. But we decided to pay the entrance fee and look around anyway, and it turned out to be well worth it! The ruins are really well presented with lots of information, but what really made it so amazing was when we were approached by one of the staff members inside the ruins.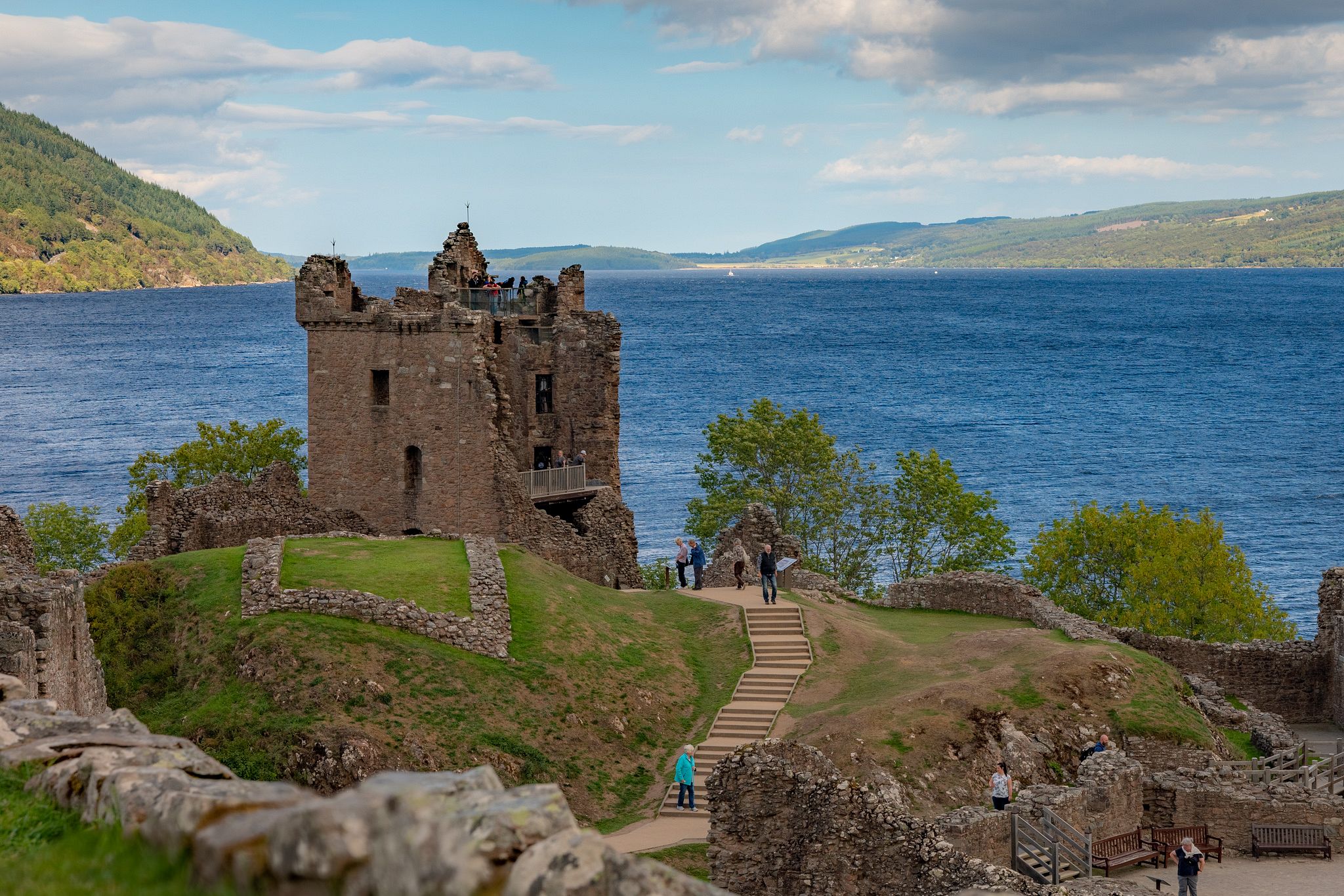 He approached us and asked if we had any questions. Perfect - maybe he could help me explain to Diana exactly what a "clan" is as I was struggling. We spent the next 40 minutes talking to Graham. He was ex-military and taught us so much about the history of the castle, the surrounding area and how it fits into Scottish history.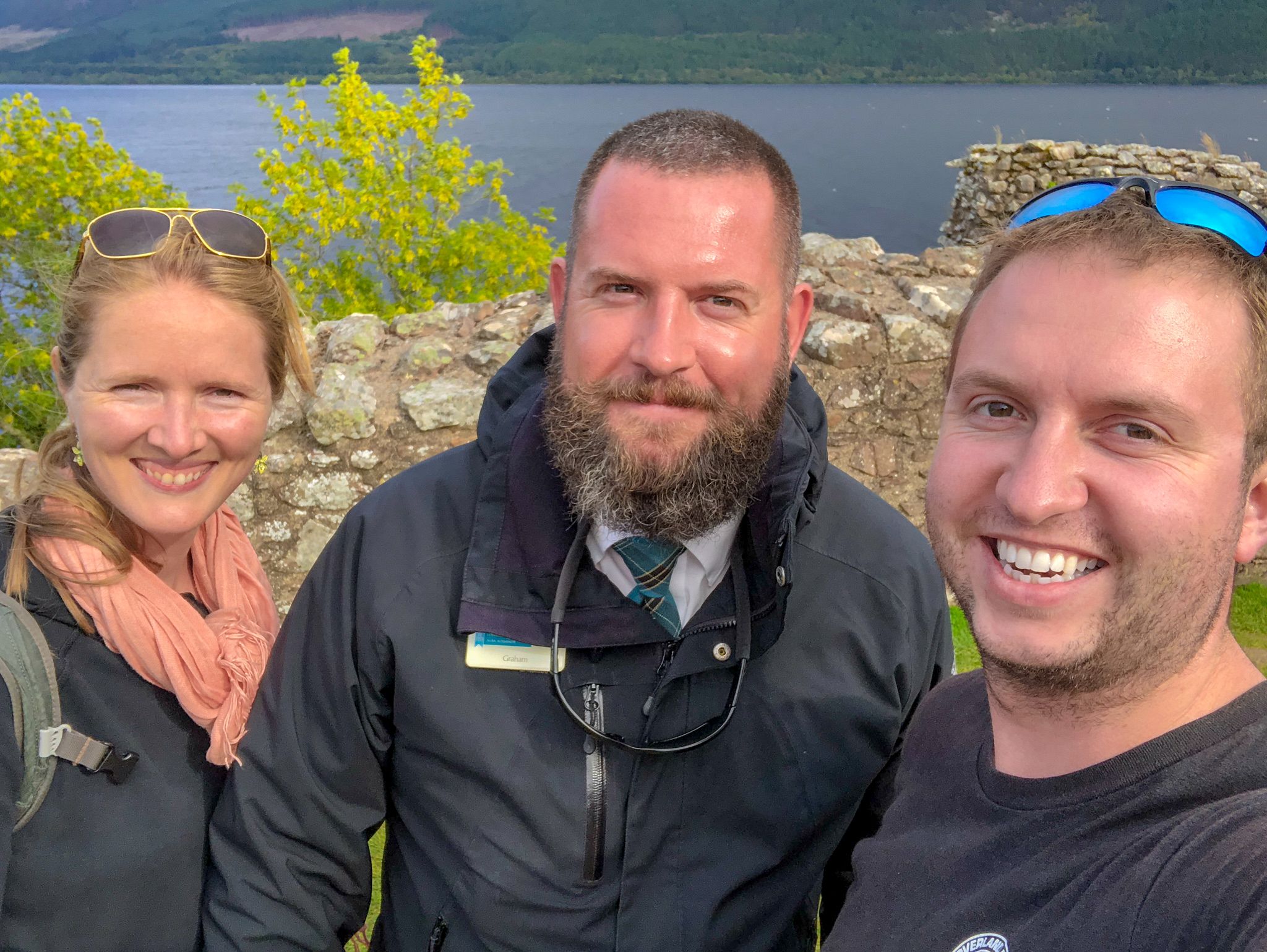 Adventurous Tip: Take the time to speak with the staff members and guides when you visit places such as these - they are often incredibly knowledgeable and are more than happy to share what they know with you.
Our last stop of the day was Inverness for some dinner. There are plenty of places to stay in Inverness, though we chose to stay at a guest house called An-sealgair that we found on AirBnb in Carrbridge, about 30 minutes South of Inverness.
Day 8: Cairngorms National Park
Carrbridge is a tiny village, but has some lovely woodlands and a couple of nice cafes for breakfast on the main street. We had a leisurely morning, enjoying the local area.
Adventurous Tip: The Carrbridge Kitchen Restaurant does an amazing cooked breakfast and has free WiFi - great if you just need some time to catch up on life!
Once again deferring to our guest house host for recommendations, we drove a short distance to hike to the summit of Meall a'Bhuachaille. Our host, Scott, told is in particular to look out for the bothy along the way.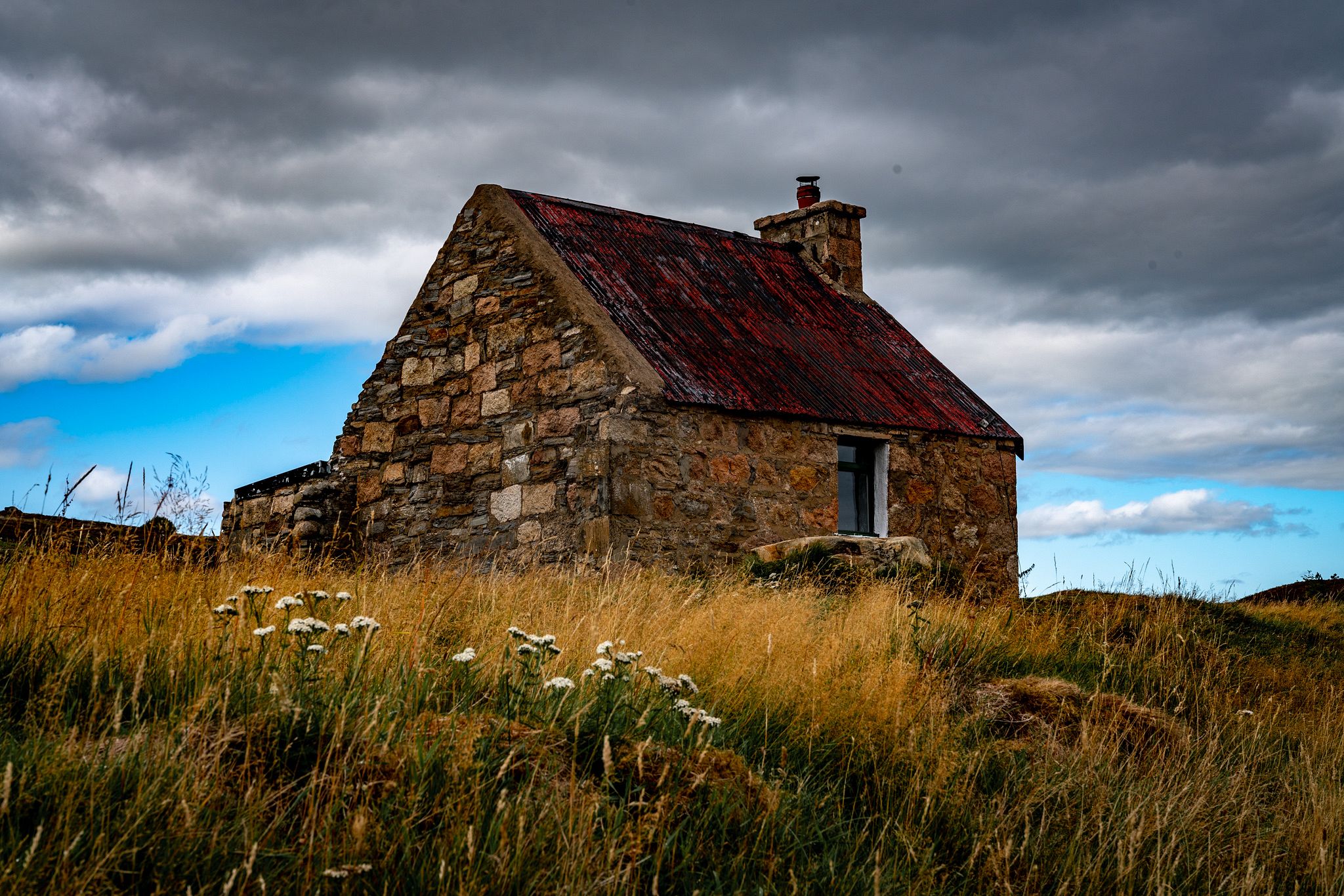 The hike is moderately strenuous with one significant climb, but it was totally worth it for the 360 panoramic views at the top.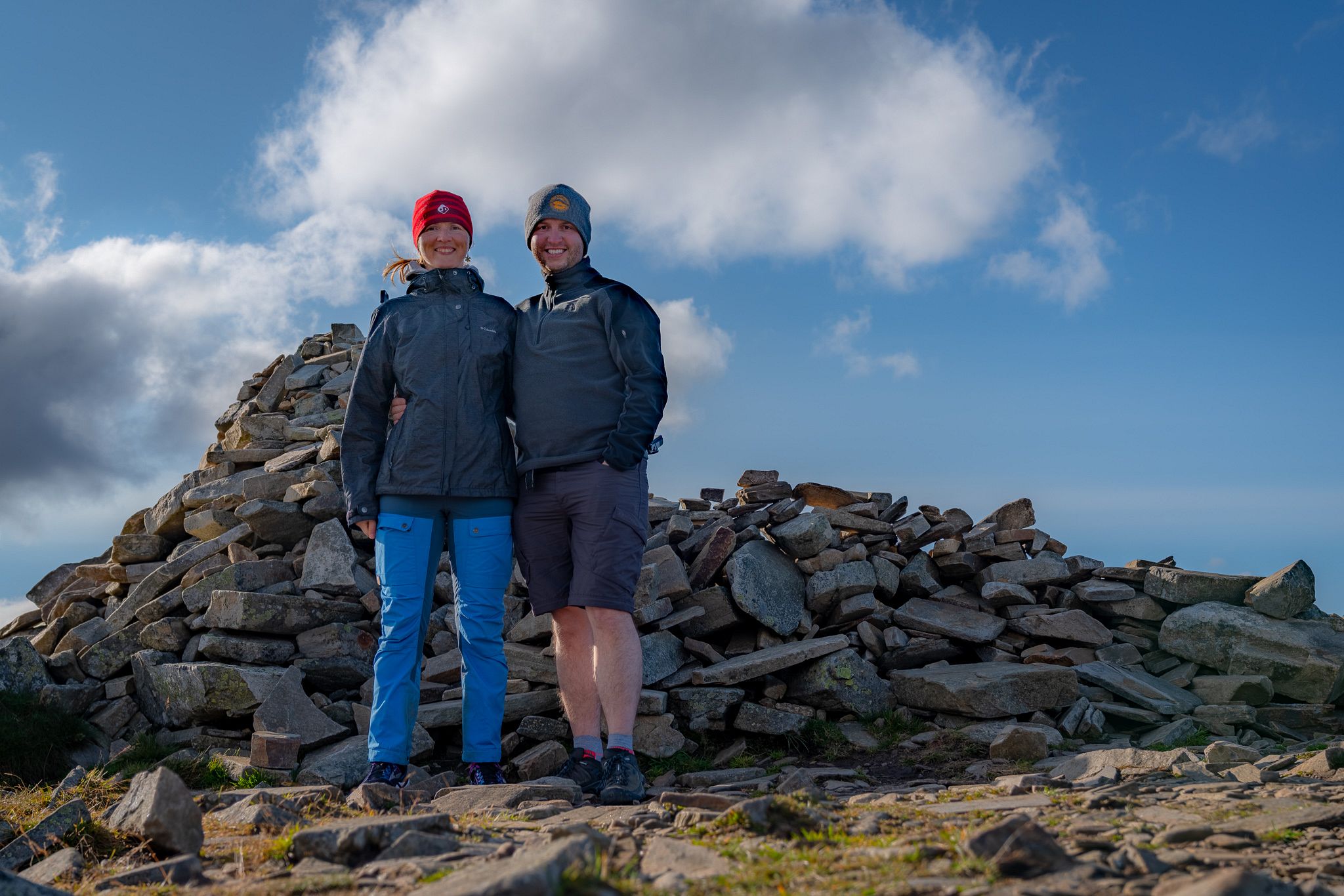 We spent a second night in Carrbridge at the guest house. It's only a short drive back to Inverness though if you want to stay there instead.
Day 9: Driving to Edinburgh
This is really another travel day, but as seems to be the case in Scotland, there's plenty to see. As always, Diana loves a castle, and Scotland rarely disappoints! Unfortunately, Balmoral Castle was closed as Her Majesty the Queen of England was in residence.
Not to be deterred, we drove just a few miles down the road to Braemar Castle, a 17th century castle owned by the chief of Clan Farquharson. We couldn't stop for long as we had lots to do, but we had a walk around the grounds and time for a photo!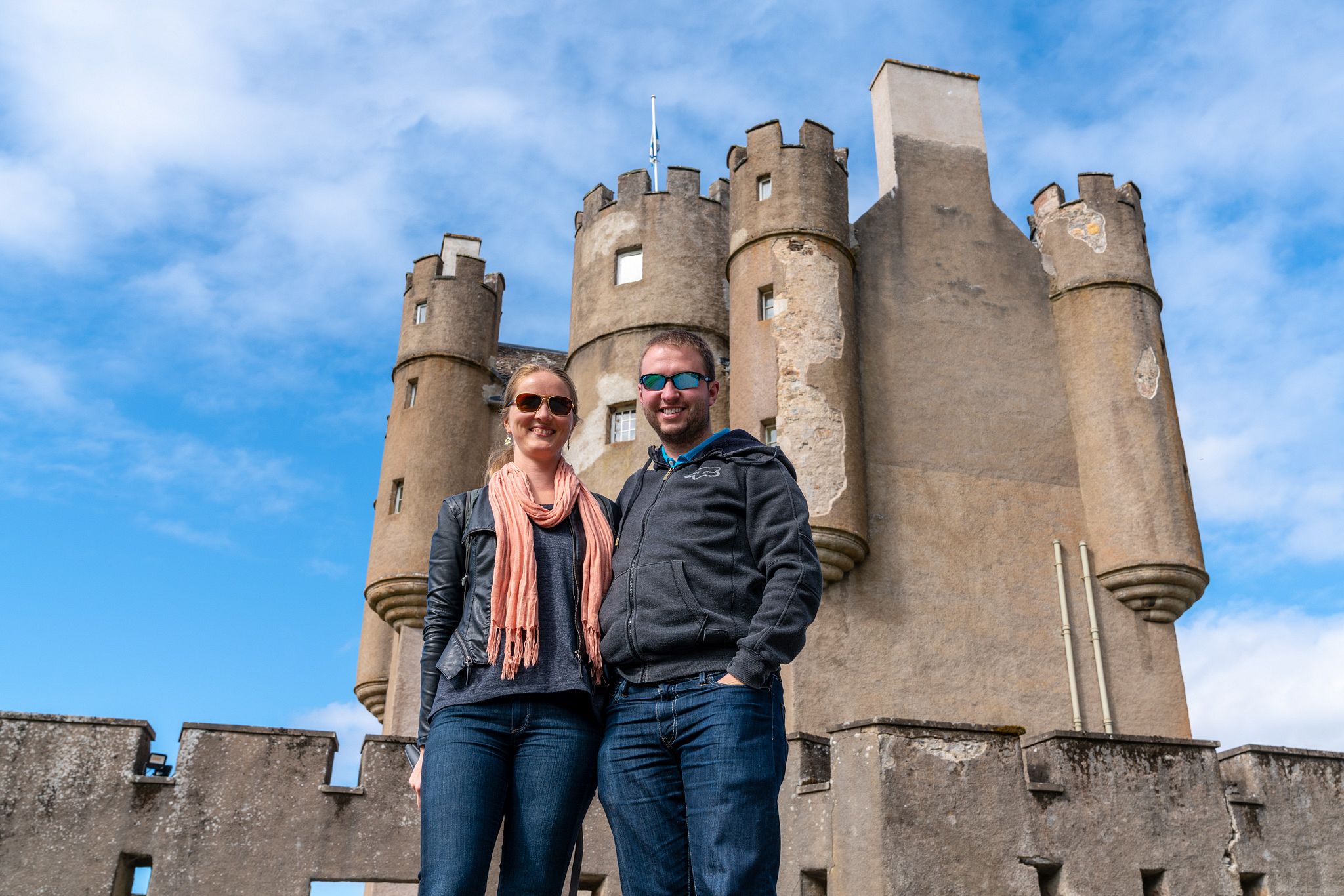 From here, it was a straight drive back to Edinburgh, where we dropped off our rental car. We chose to stay the night in an AirBnB about a 10-minute walk from the city center.
Our very gracious host gave us lots of good recommendations for places to eat, and we chose Ada Restaurant, a Turkish restaurant that we'd definitely go back to again.
Adventurous Tip: If by some chance you've made it this far through your trip around Scotland without tasting any whisky, then definitely check out The Scotch Malt Whisky Society on Queens St - they do a great sampler!
Day 10: Edinburgh
Our last day in Scotland, and for us the afternoon would be travel. The weather was looking good, so after breakfast we headed straight for Edinburgh castle. We were looking forward to touring the castle and then witnessing the firing of the One O'Clock Gun at, you guessed it, 1pm.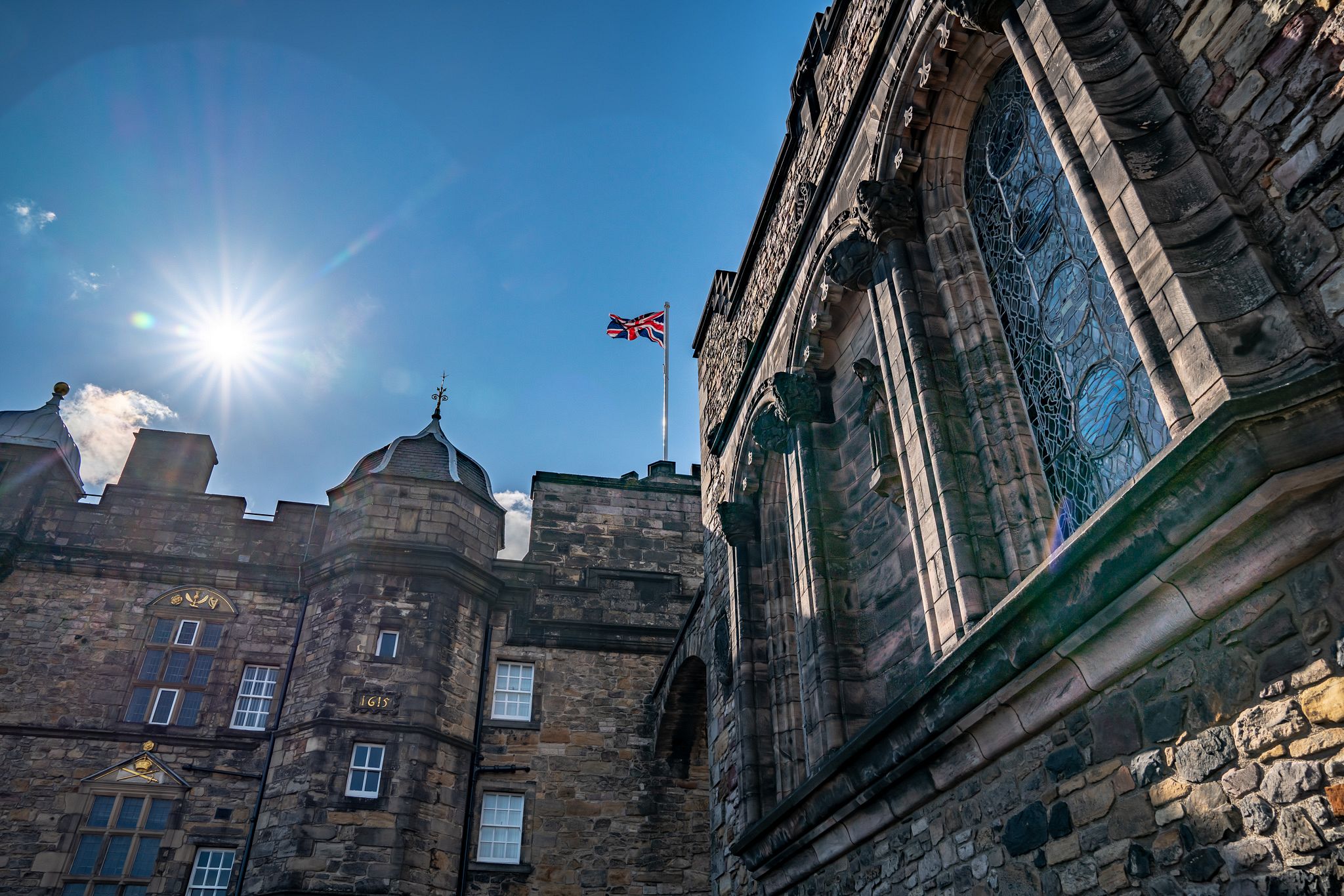 The sound of One O'Clock Gun can be heard every day (except Sundays, Good Friday and Christmas Day) ringing out from Edinburgh Castle. Originally established in 1861 as a time signal for ships in the nearby harbors, today the ceremony is a popular tourist event - we timed our visit to make sure we saw this.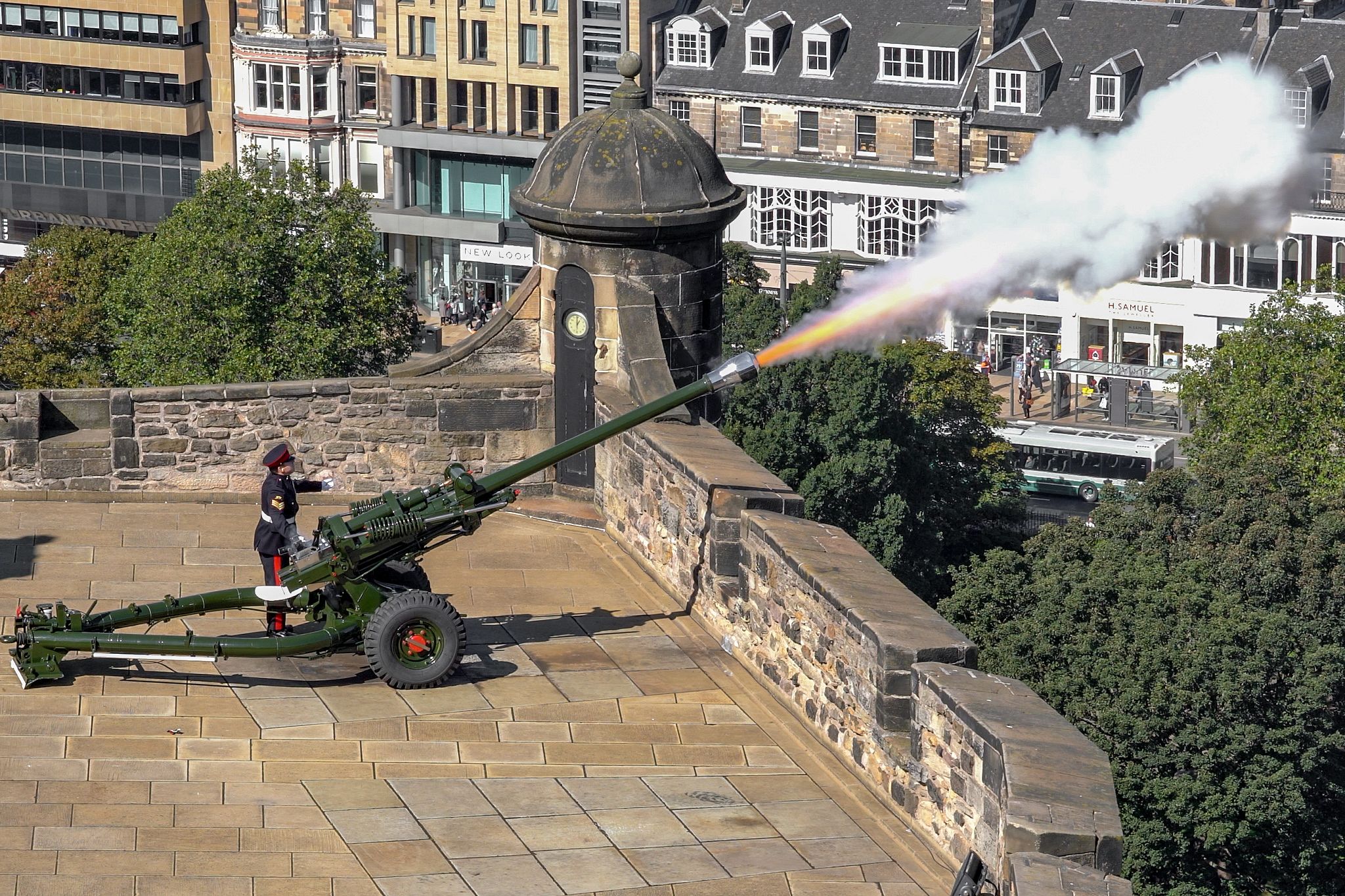 For us, that concluded our 10 days in Edinburgh - we headed out on the train that afternoon.
Conclusion
I hope you enjoyed reading about our trip to Scotland as much as enjoyed taking the photographs and sharing it with you.
If you're planning to visit Scotland, then maybe this has given you some ideas for an itinerary of your own.