Dropping Below 10°F
After last week's snowstorm, a few days of relatively warm (around 40°F) weather was enough to melt all the snow. My snow shoveling had been in vain - I guess it was just a warm-up (pun fully intended)!
But, this week the temperatures dropped low. Really low.
Yesterday morning, we awoke to single digit temperatures outside - 9.9°F. Even though this was somewhat warmer than the forecast had been (5°F), this was still the coldest we've ever had in the RV.
And it stayed cold, too. It hasn't been above 17°F since then, and the forecast doesn't show it climbing above freezing for another couple of days.
So how did we fare? Really well!
After some persuasion, I had finally relented and we chose to use the furnace rather than the portable electric heater overnight. The furnace is ducted to the underbelly which should help stop our tank valves freezing. This was clearly the sensible choice, but I had been interested in how we might fare without it.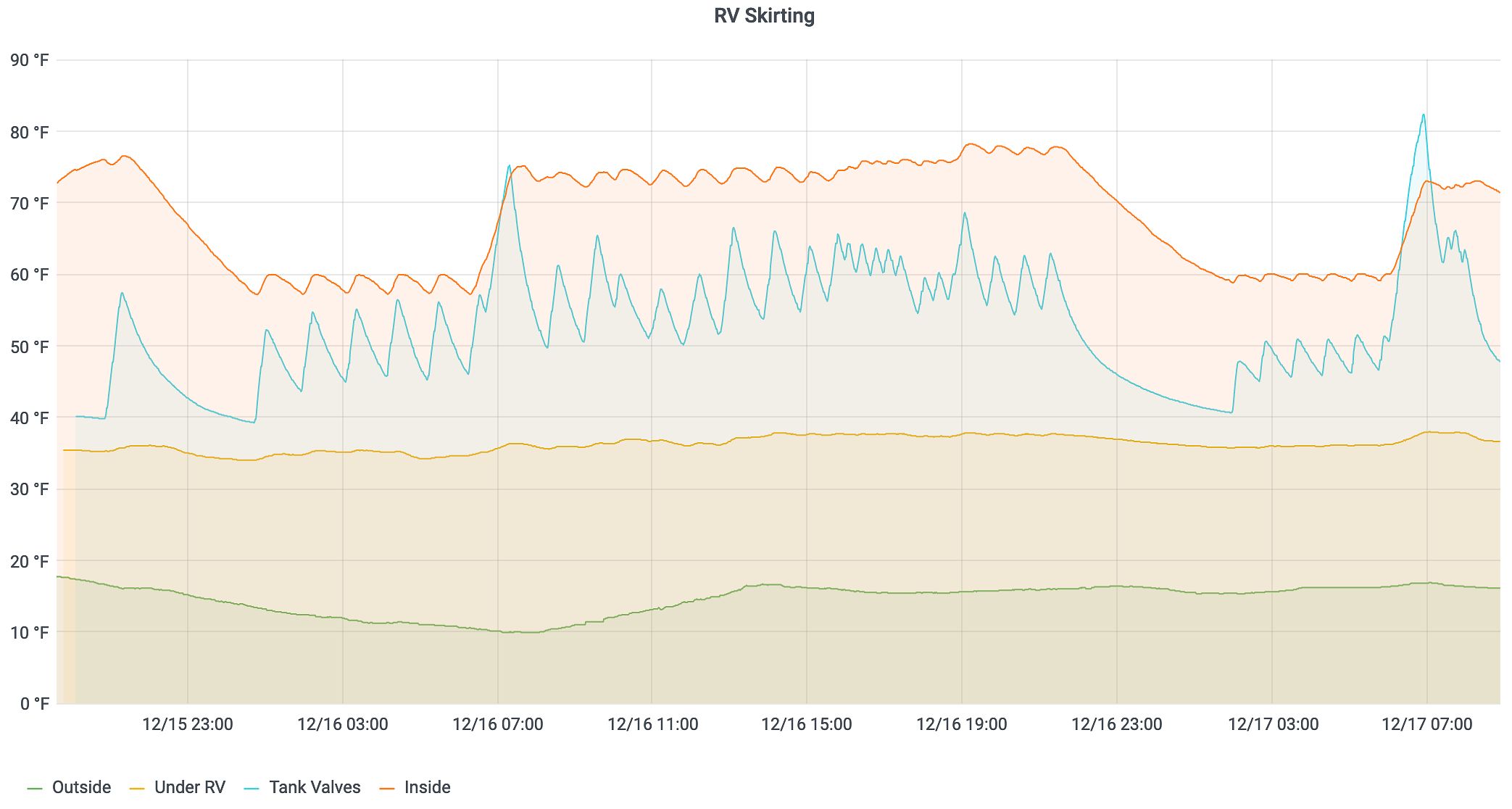 You can see this on the chart above. The red line is the inside temperature - it zigzags as the furnace turns on and off. The green line at the bottom is the outside temperature - yup, pretty cold!
Meanwhile, you can see how stable the orange line is - that's the temperature underneath our RV, behind the skirting. The skirting is obviously doing its job, keeping the temperature warmer than outside and relatively stable around 34-38°F.
The blue line is the temperature next to the tank valves. Even though I positioned the temperature sensor out of the direct path of the furnace duct, you can see how quickly it warms up when the furnace turns on - it spiked up above 80°F this morning. It also cools down pretty fast too, but has pretty much stayed above 40°F throughout the last few days.
This was a good first test of our preparations, and it was reassuring to see everything working as expected.
Nor'easter
Hot (cold?) on the heels of the low temperatures, a Nor'easter began sweeping through the area last night. We're on the northern edge of the storm and overnight it dropped about 3" with another inch or two due to accumulate today.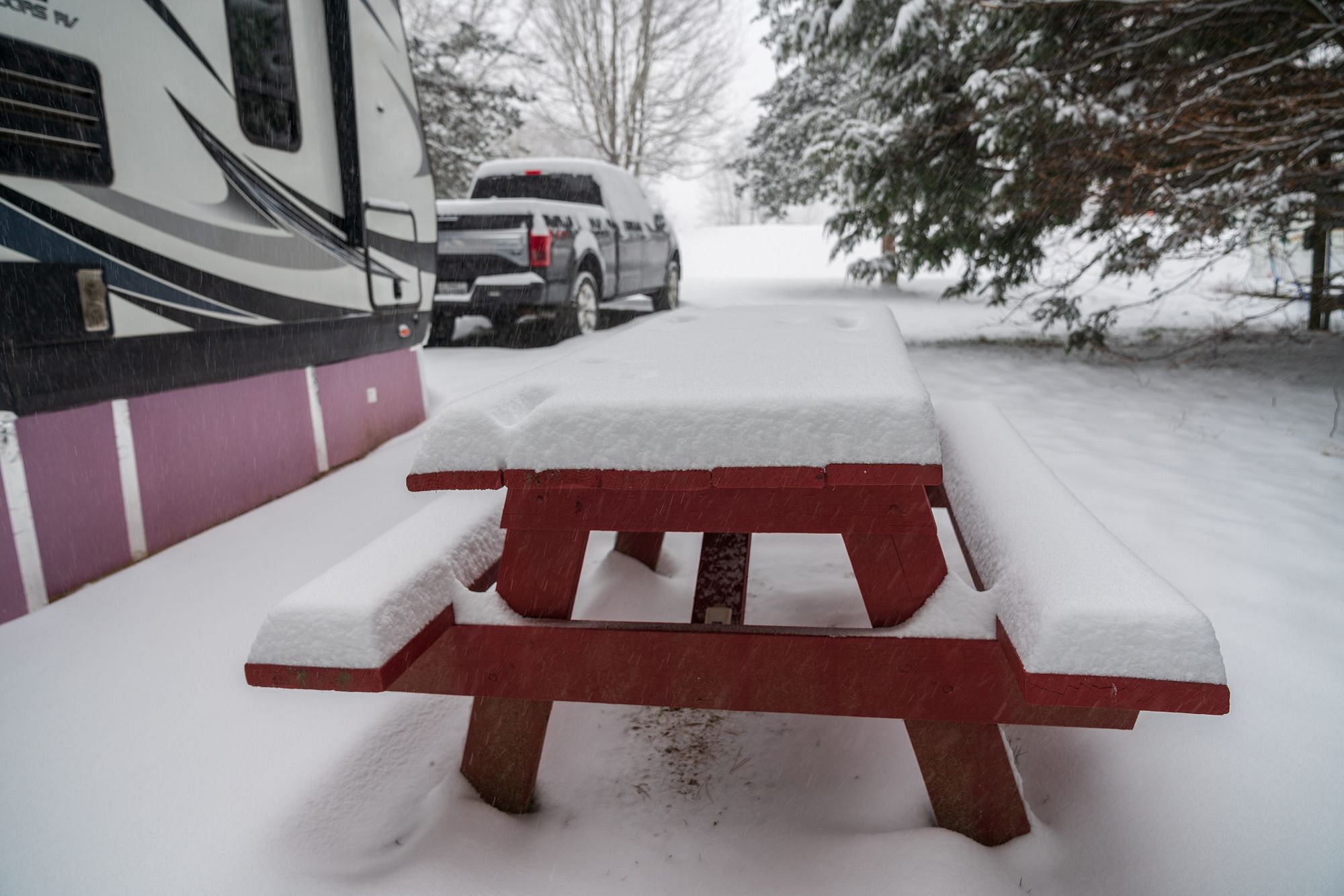 But, down at Killington Ski Resort, they had 10" overnight and are expecting another 3-5" today. And thanks to the cold weather, they've had their snow blowers running a lot recently.
I think our first ski trip might be be due soon...!
Electricity & Power Consumption
While we've typically prided ourselves on our ability to live off-grid using our solar power, that wasn't going to cut it this winter!
We have full hookups and a huge 100-gallon propane tank to get us through the winter. We're taking meter readings of our electricity roughly every two weeks, and our propane is refilled every 3 weeks or so. I thought it might be interesting to share how much electricity and propane we're using - to see how it changes through the winter, and how much it costs to camp in an RV in winter.
First, electricity. We took a meter reading on Monday, December 14, 13 days since the last reading on December 1. We had used 350kWh during this time, or about 27kWh per day. Extrapolated to a monthly equivalent, that works out at about 800kWh or $135 per month.
Our propane was filled yesterday, 3 weeks since it was last filled. The cost of yesterday's fill was $22.65 for 9.4 gallons of propane ($2.41 per gallon). Calculating that on a monthly (30-day) basis, that works out at about 13 gallons or $32 per month.
Until the last week or so, we've been relying largely on the portable electric heater and not the furnace - hence the relatively high electricity vs propane. Going forward, I expect we'll be using the furnace more, so we'll probably see propane costs rise and electricity fall (hopefully!).
Our monthly budget was $80 for propane and $150 for electricity, so we're coming in under budget so far. We expect January to be the coldest month, so that will be the real test!
Website
Last, we have been making a few updates on the website this week, and we have a few more lined up for the coming weeks. You may remember we did a major website update about 9 months ago, and since then the design hasn't changed much.
But, we've added so much content since then, that it was hard to find what you were looking for - even Diana and I were struggling to find blog posts!
So, we've updated the categories and navigation which should make it much easier (especially for mobile viewers) to find what they're after. In the next couple of weeks we have a few more changes to which will help even more, including a brand new search feature - stay tuned!