I've been to Bellevue, WA many times - almost always on business trips. From our office we have beautiful views across to Mount Rainier, but I have never been there before. This time, at the suggestion of a colleague, I had flown up on Saturday (rather than Sunday evening or early Monday morning as I would otherwise have done) so that we could go for a hike around Mount Rainier on Sunday. We would drive up to Paradise and hike the Skyline Trail from there.
Location
The Drive
So I was a little disappointed when I opened the curtains in my hotel room on Sunday morning to find that the weather outside was pretty grey and miserable - in contrast to the clear blue skies and warm weather the day before. Unfazed, my fellow hikers picked me up from the hotel and we set off to Paradise in Mount Rainier National Park - roughly a 2½ hour drive from Bellevue. We arrived shortly before 12 noon and quickly finished the lunch we had picked up along the way.
Inside the Paradise Jackson Visitors Center, we spoke with a friendly Park Ranger about our plans to hike the Skyline Trail - a scenic 5.5 mile circular hike up past the Nisqually Glacier. He gave us a map to show where a small portion of the trail at the Northern side was closed due to a snow field, but there was an alternative trail marked which didn't really change the overall distance. He also recommended hiking the Skyline Trail clockwise.
Starting the Trail
We hadn't walked 100 yards up the path before another Park Ranger, standing on the path, motioned to us to be quiet and approach slowly. Just off the path, hidden in the bushes, was a buck deer eating vigorously.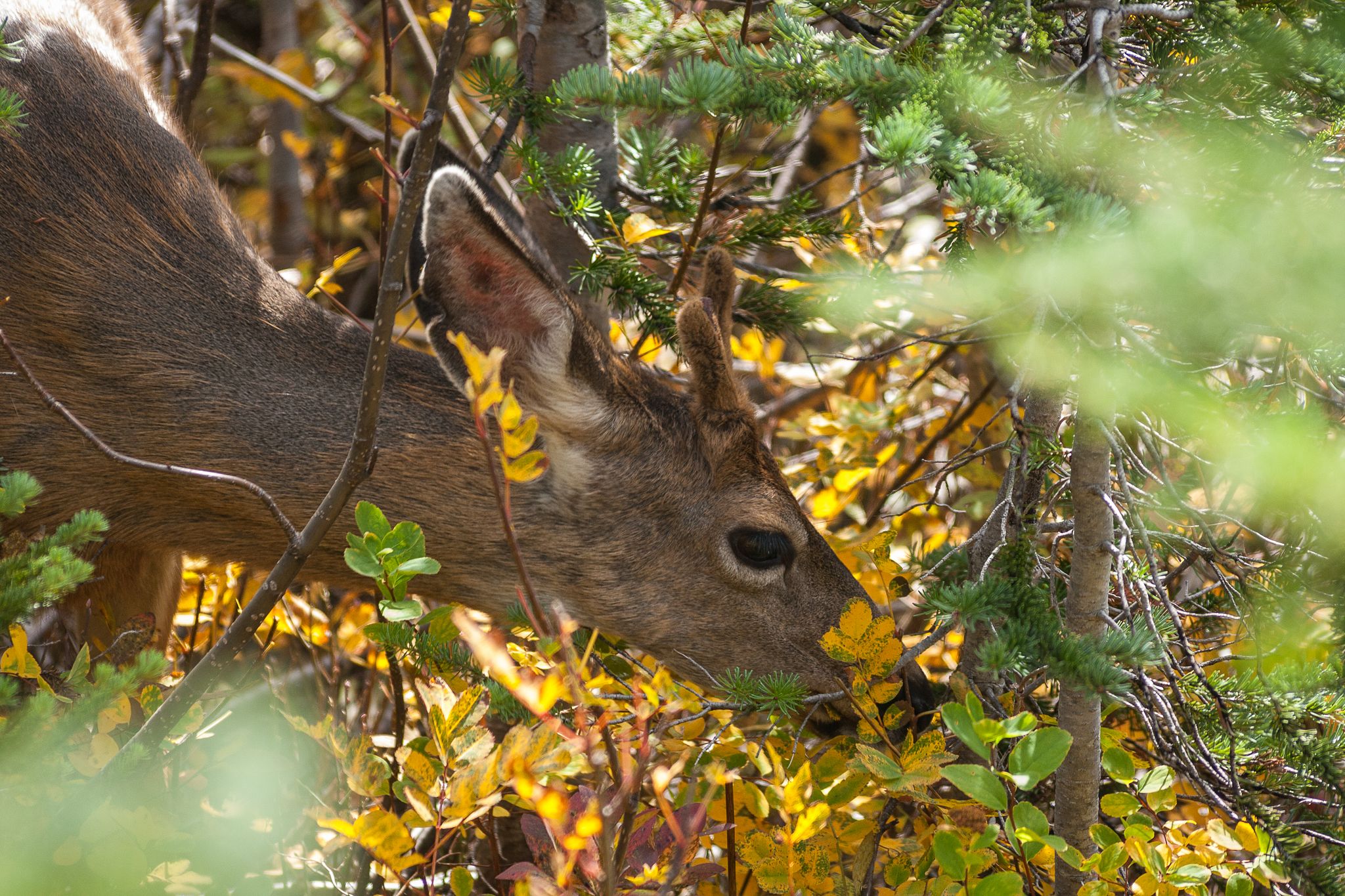 As we continued hiking, we saw lots of chipmunks running around near the trail. The chipmunks here were especially bold and would readily come up towards you if you stayed still for too long.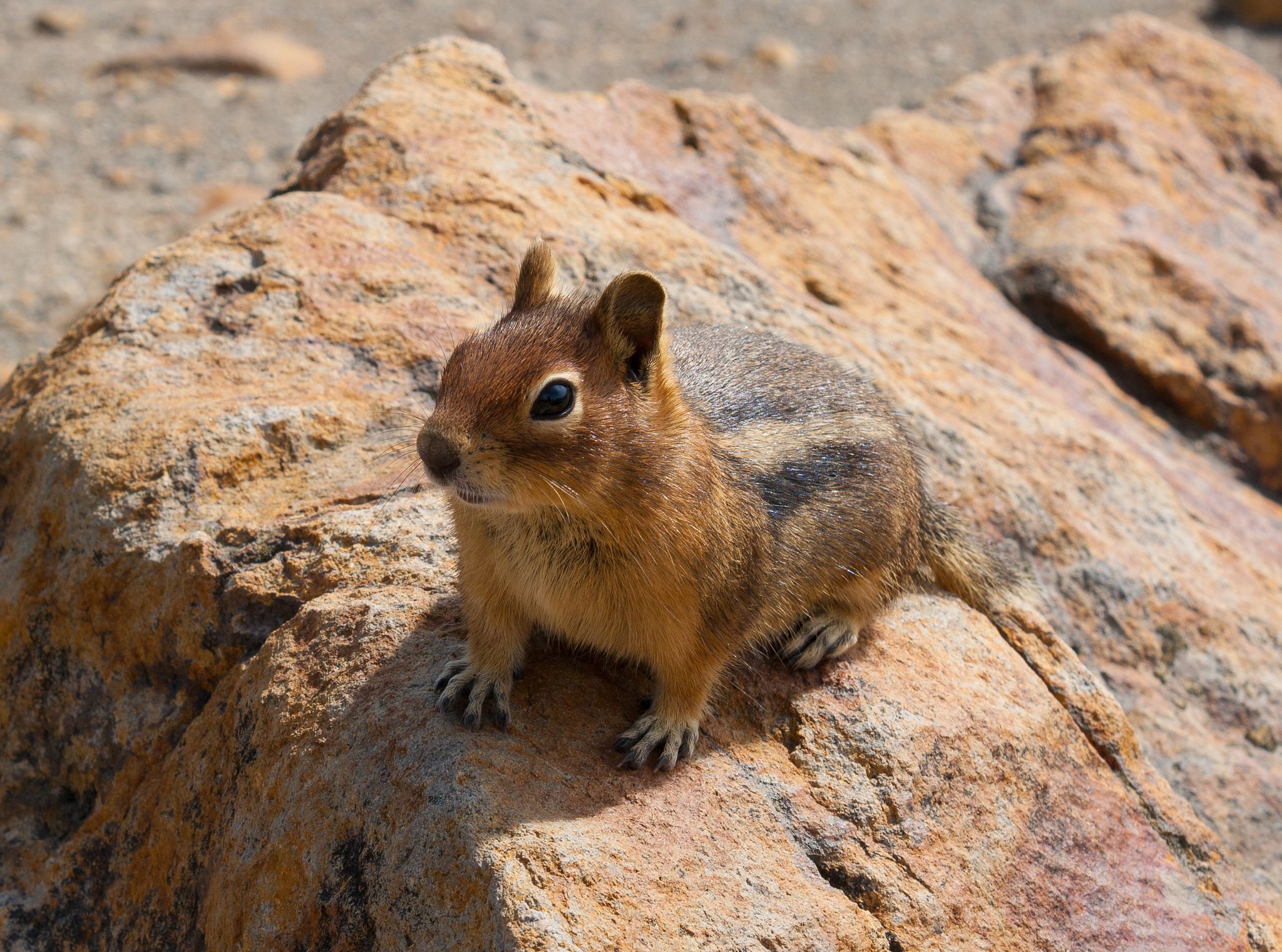 Further up the Skyline Trail, the views across to the Nisqually Glacier really began to open up. Higher still, and despite the hazy conditions, we could see across to Mount St Helens and Mount Adams - a truly stunning vista.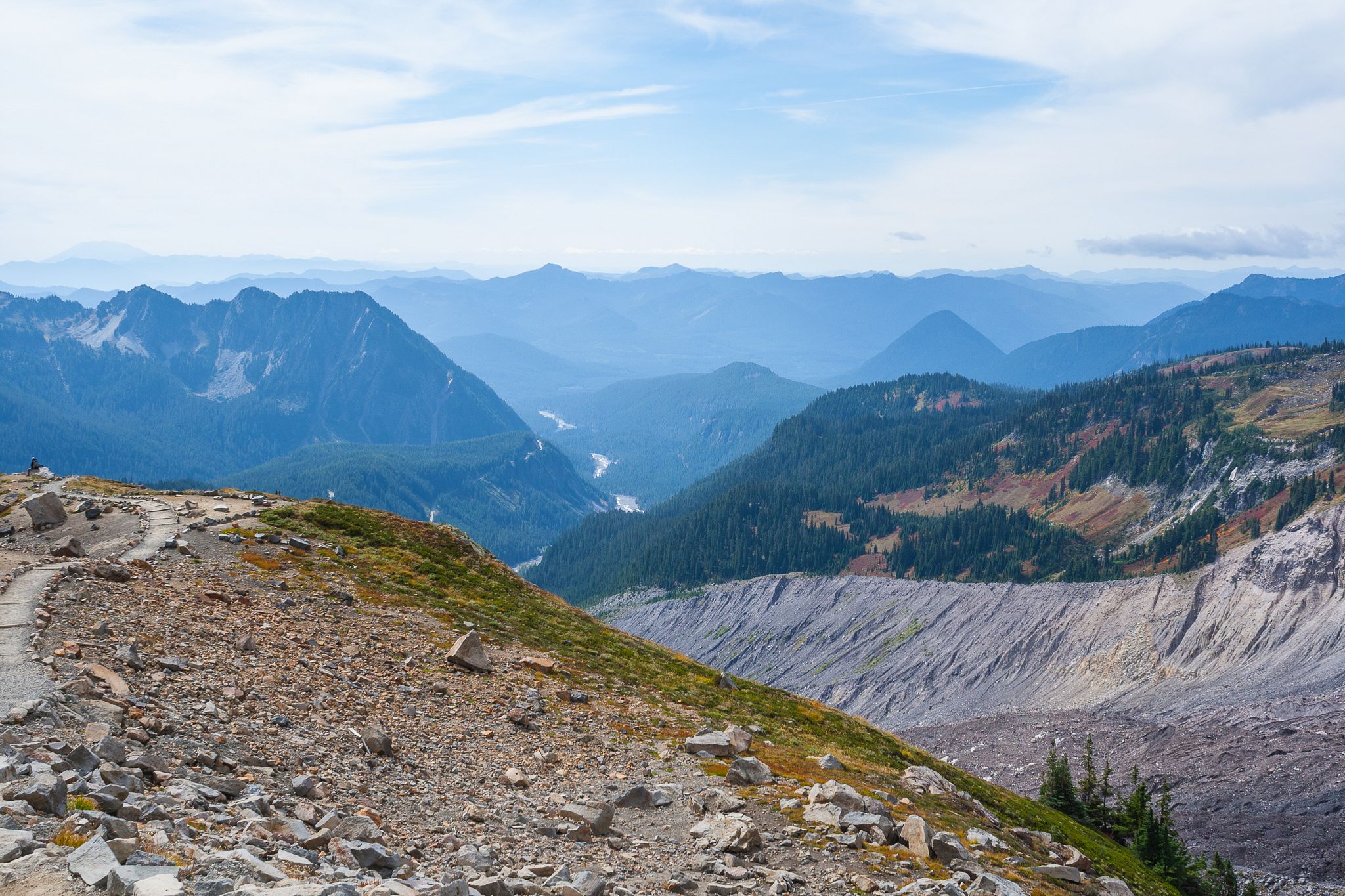 We were stopped by a couple who signaled us to be quiet - there was a marmot just at the entrance to its burrow. Unfortunately, despite trying out best to be quiet, it quickly disappeared inside as we moved closer. I hadn't see one in the wild before, so I was a little disappointed. I shouldn't have worried though - we saw several more on the remainder of the hike who had no concerns about our presence!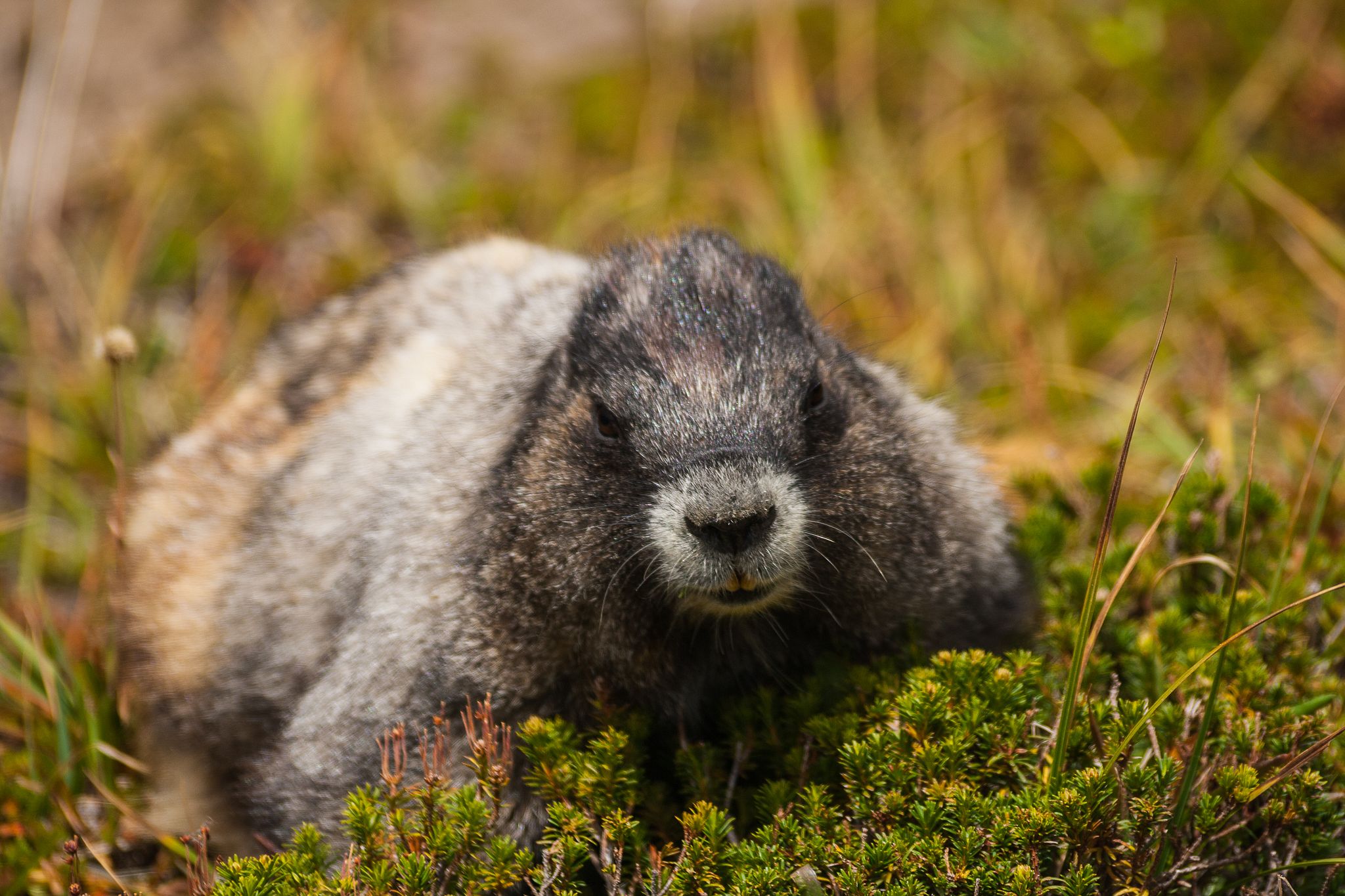 Flora
Although the fauna was great to see (and particularly cooperative for my photos!), it was the flora that really made this hike something special. I can honestly say that it was one of the most beautiful landscapes I've ever had the privilege of seeing.
We must have timed the trip to Paradise perfectly, as the slopes of the mountain were changing from their summery green to rustic, autumnal yellows, oranges and reds. I suspect if we had come a week earlier, or a week later, the view would not have been quite so magical - we were there on September 13th.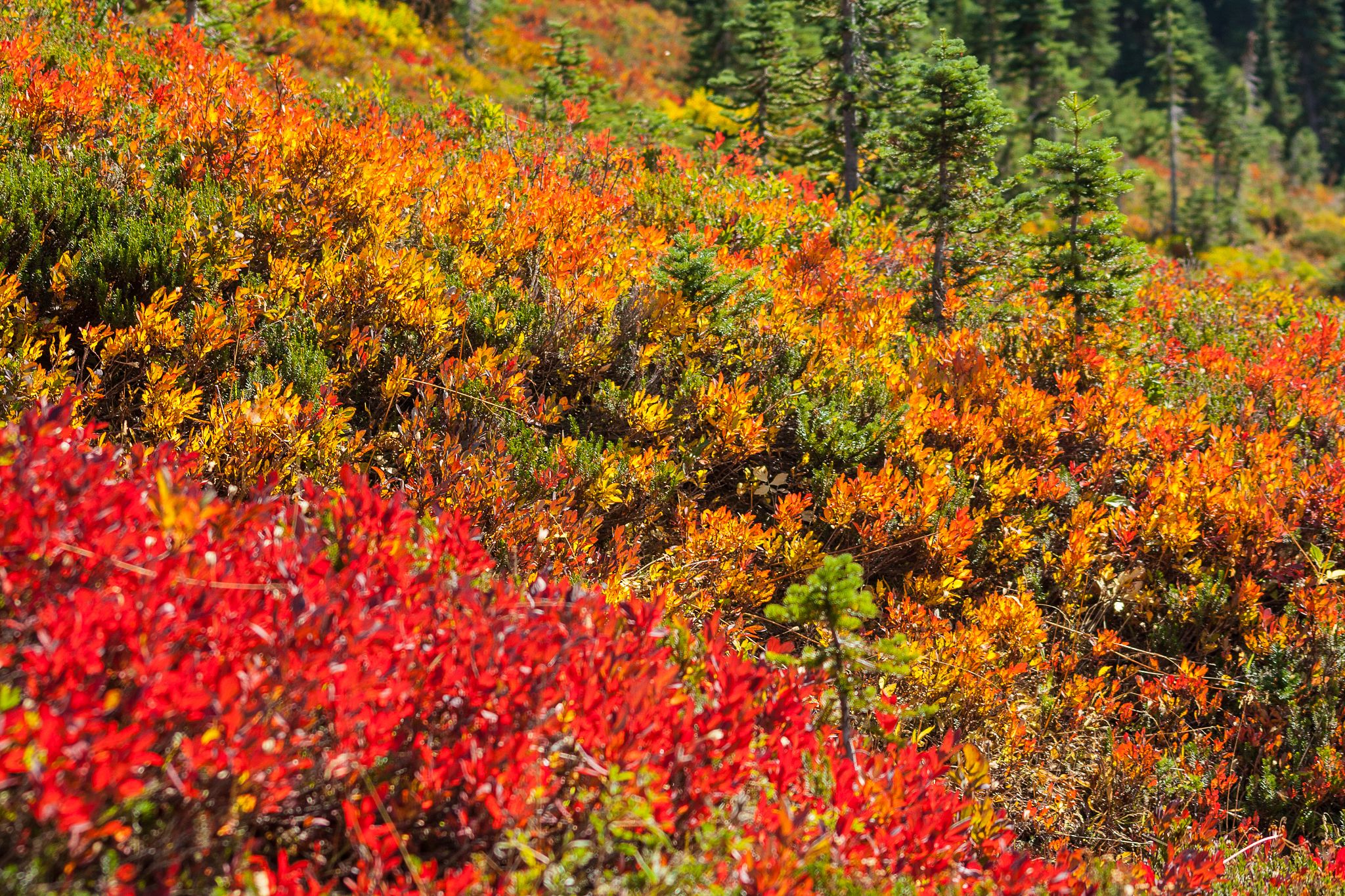 With the route that the Skyline Trail takes, the first half is uphill to the highest point, and then it's a gradual descent for the remainder. With the sun shining, and beautiful blue skies, we enjoyed a gentle hike back down the the Jackson Visitor Center, stopping to take lots of photos along the way!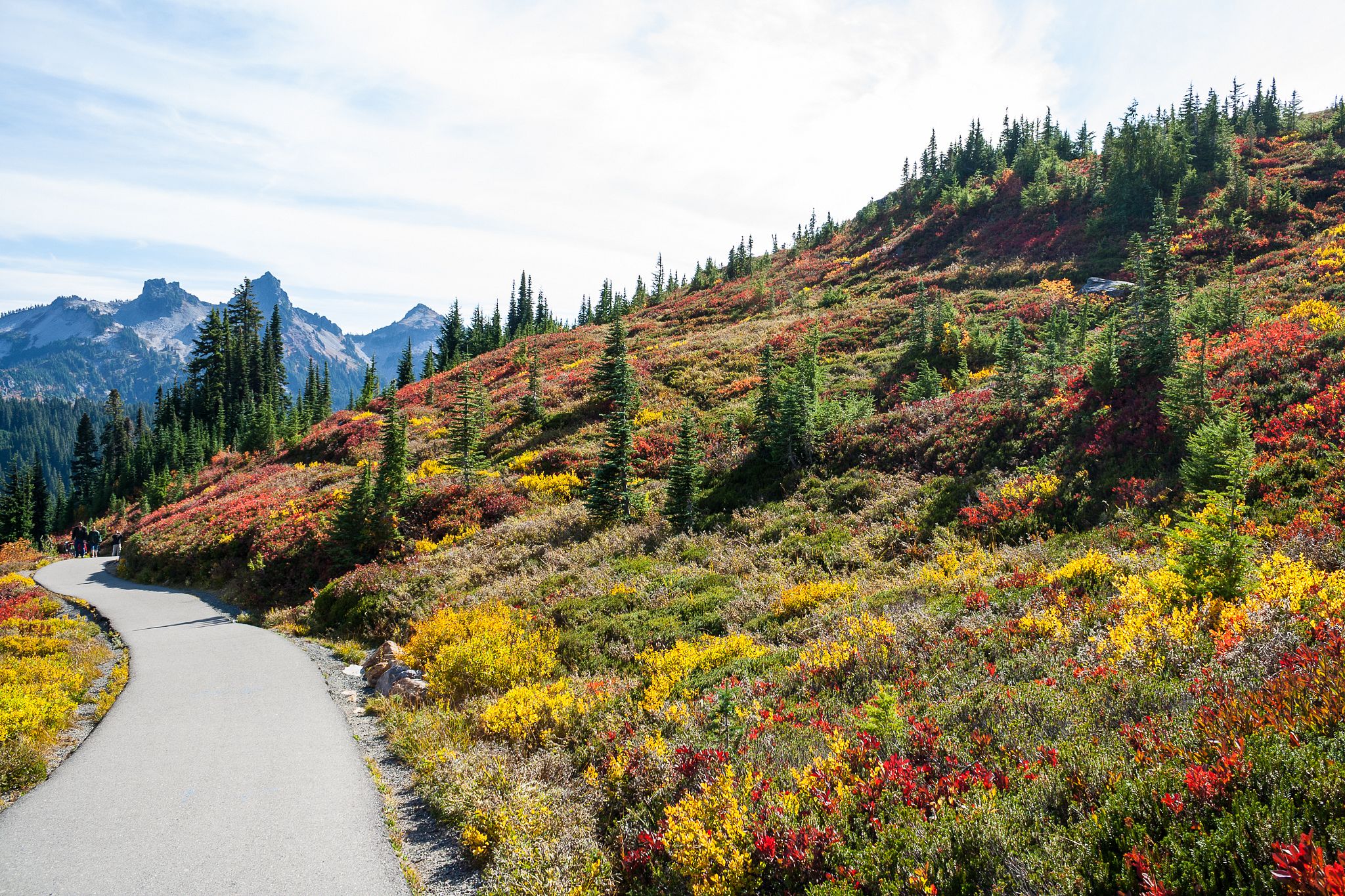 According to the National Park Service website, the trail will take you approximately 4 hours to complete. We ended up completing it in just over 3½ hours (2 hours 40 minutes moving time) - that was at a really leisurely pace with plenty of lengthy stops for photos. We had a fantastic time on the hike and I would thoroughly recommend the Skyline Trail if you're looking for a gentle hike in some amazing scenery.
This trip took place in September 2015.
Learn More
If you enjoyed this blog post and still want to learn more, visit our dedicated Mount Rainier National Park page with a map and links to lots more useful resources!
Finally, make sure to check out these videos on YouTube, and don't forget to subscribe to our channel to be notified when we publish new videos!