I'm writing this while sitting in our RV on our property. Yes, we made it to Vermont!
The last week feels like it has been absolutely non-stop - we've driven hundreds of miles through 7 different states, sleeping in the RV in 3 different states, but finally we've made it. It wasn't easy though....
We had been keeping a close eye on weather conditions and decided to pull our plans forward by a few days - it was a good job we did!
Sunday: Virginia to New York
Our goal on Sunday was to make it to our friends' house in upstate New York where we'd be spending the night - 500 miles away from the campground where we'd been spending the winter near Williamsburg, Virginia.
Knowing that the trailer was fully loaded and given the price of gas right now, we opted to do the drive at 55mph - meaning a long day of driving! We prepared the RV the night before and after our final checks on Sunday morning, we were on the road by 7:30am. It still took us all day, until after 6pm, to make it to our friends' house.
We saw the first snow around central Pennsylvania, and by the time we reached upstate New York there were a good few inches of snow on the ground. Fortunately our friends' driveway had been plowed and after a little shuffling, we made it in without too much difficulty.
Monday: New York to Vermont
Our neighbors in Vermont had been sending us regular updates on the road and weather conditions, so we knew our driveway was under almost a foot of snow, not to mention the plowed but unpaved town road leading up to our property. Snow and ice is one thing, but when the snow melts, the mud would make towing the trailer through impossible.
On Monday we left New York early, about 5:45am, and headed to Vermont, via our storage unit to collect a few items - including the battery for our tractor that we had kept in heated storage all winter. We didn't bring the RV with us, opting to visit first with the truck to make sure everything was ready for the RV the following day.
Arriving at the property at around 10:30am, we called the neighbor who had kindly offered to come and clear the bottom of our driveway with a tractor-mounted snow blower. He promptly arrived and set to work, and within half an hour he had cleared about 100ft at the bottom of the driveway.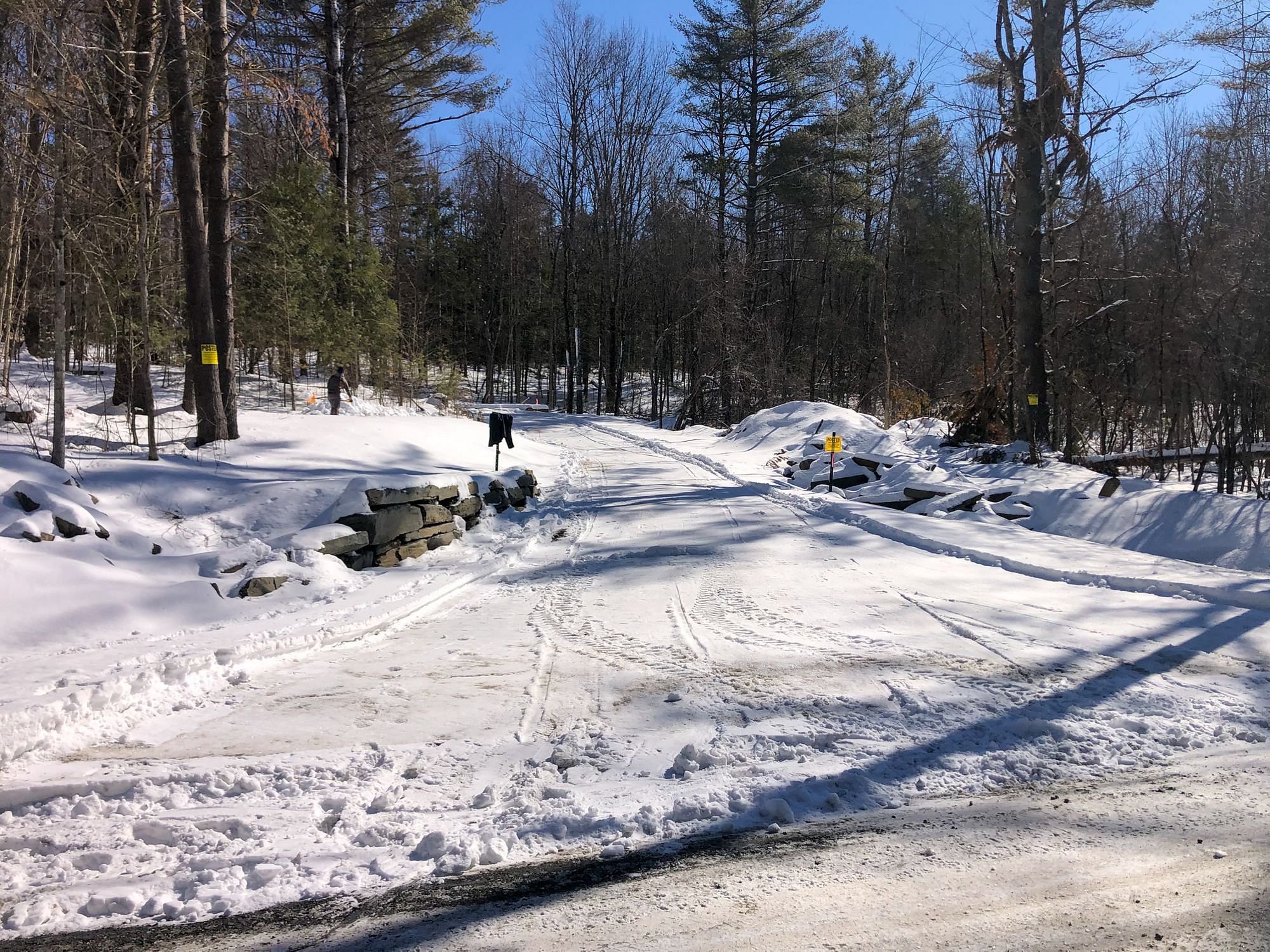 While I headed up to the shipping container to reinstall the tractor battery, do some maintenance checks, and get everything ready, Diana began shoveling snow by hand on the area we had covered with wood chips where we planned to park the RV - we were worried the big snow blower would make a mess of the wood chips!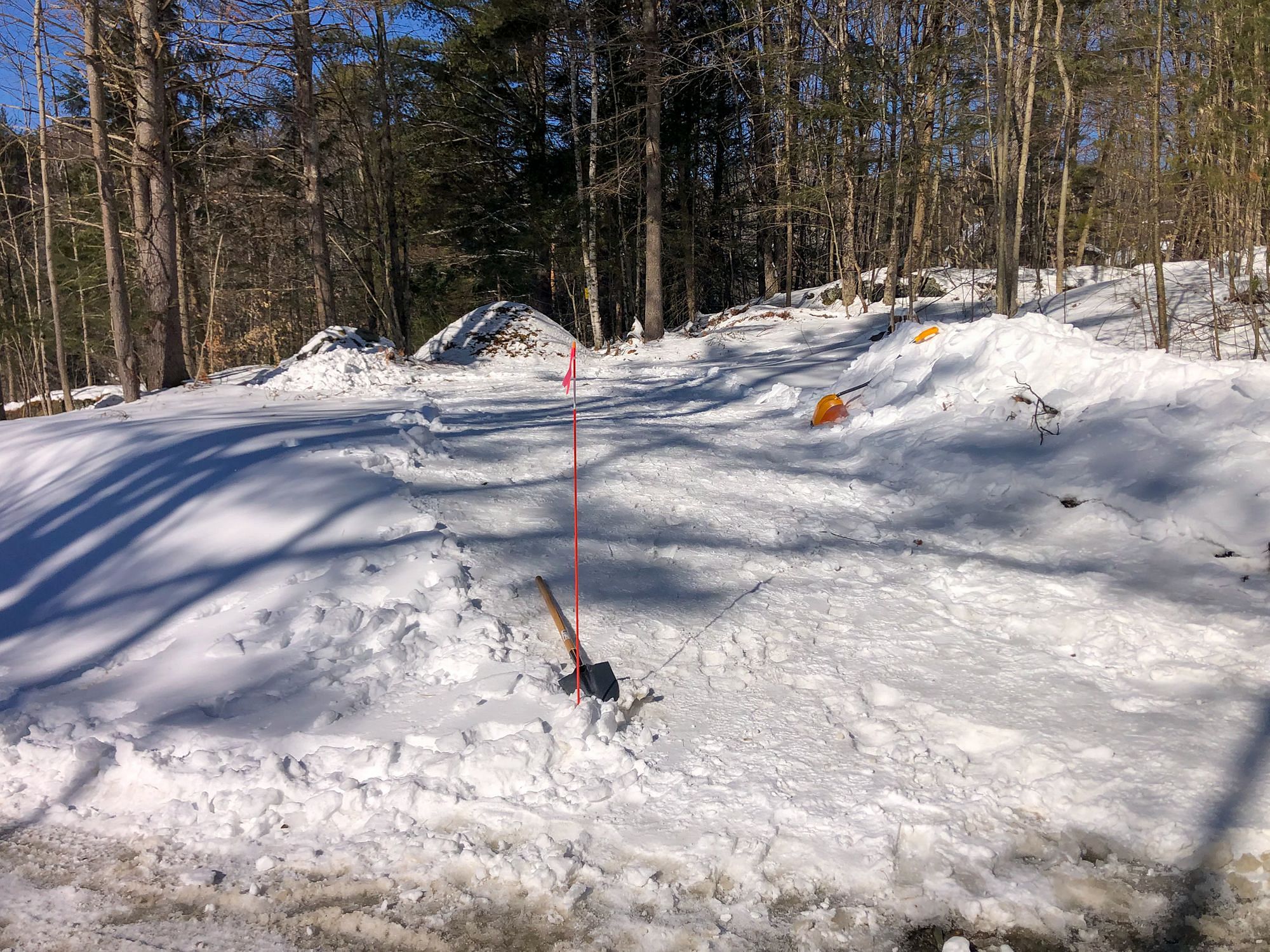 With the benefit of hindsight, we should have brought our RV with us on Monday. Conditions were perfect - clear blue skies and icy cold temperatures around 10°F to keep everything frozen and not melting. We had finished everything by early afternoon and it would have been plenty of time to maneuver the RV into position.
But, we had played it safe, not wanting to find ourselves caught out with the RV and nowhere to go, so we had to make the 200 mile return journey back down to New York.
Tuesday: New York to Vermont (Take 2)
If Monday was an early start, it was nothing compared to Tuesday - an alarm at 4am and by 4:30am we were on the road with the RV, beginning the 4 hour journey back to Vermont.
It hadn't snowed overnight but temperatures were cold, about 8°F (-13°C), ensuring the roads were frozen. But the forecast showed temperatures rising through the morning so we were keen to arrive early before the road turned to mud as it had the previous afternoon.
We made it down the unpaved town road to our property without issue, and after a brief pause at the bottom of the driveway to formulate a plan, we went for it. I put the truck in 4WD Low, and once I was on the driveway I engaged the rear locker.
With barely any indication of wheel spin, the truck effortlessly pulled the trailer about 100ft straight up the driveway - a testament to our new tires, but also the reason we had cleared the snow the day before!
But now the hard part - reversing the RV back into the spot we had cleared. It wasn't a particularly sharp turn, nor particularly steep, but it was just sharp enough and just steep enough to thwart our efforts. The truck just couldn't get enough traction and would slide sideways down the driveway as we tried to turn - not a nice feeling when towing your house!
Reluctant to go through the hassle of putting snow chains on when we were so close, we instead opted to air down our tires. This did the trick, but it still took us about 30 minutes to shuffle the RV back and forth, creeping it a little further around the turn each time, until we finally had it in the position we wanted.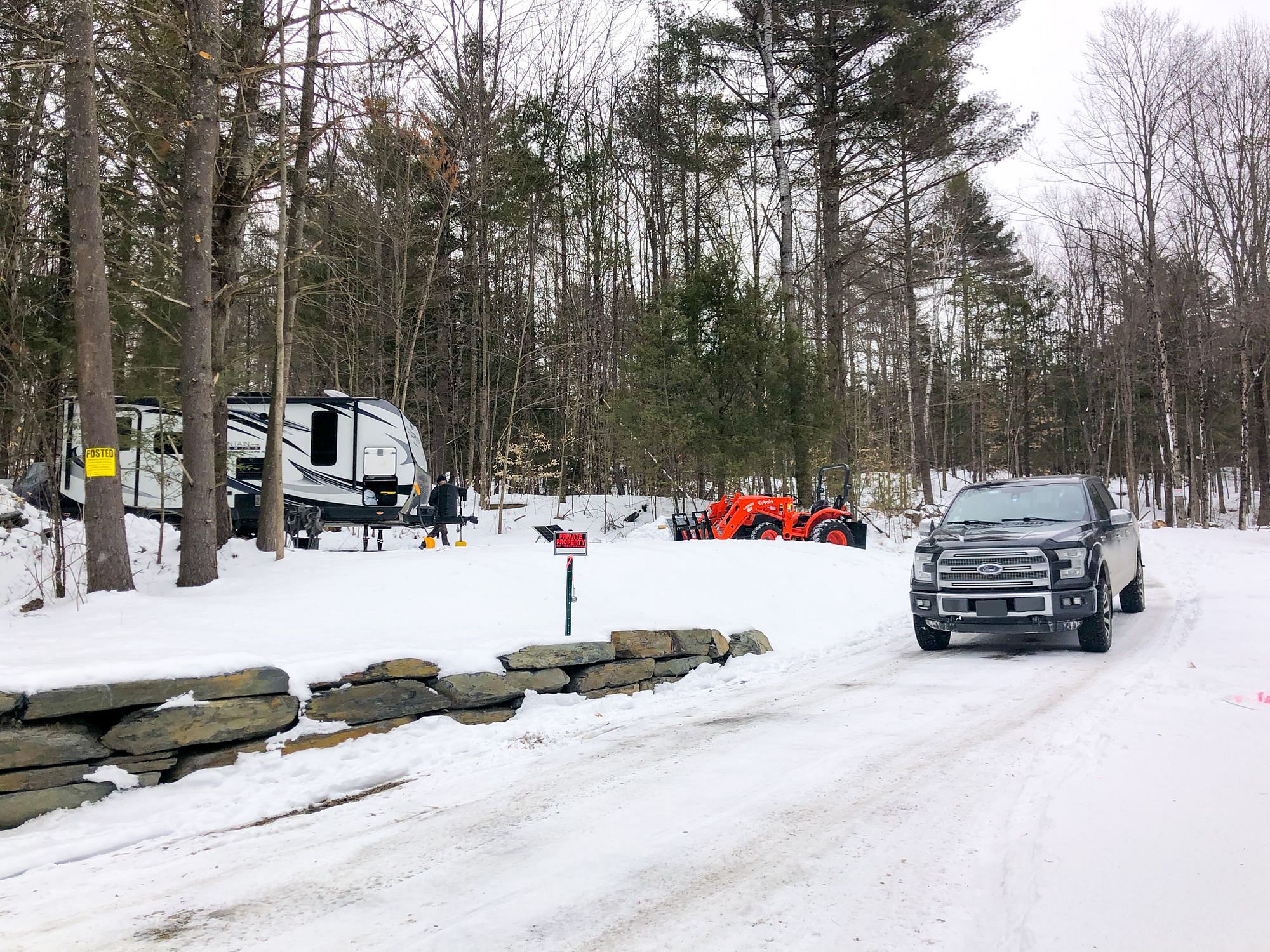 Making sure the trailer was really well chocked in place so it wouldn't roll, we unhooked from the truck, and leveled it as securely as we could. As the ground thaws, we'll almost certainly have to adjust the levelers some more, but we had done it.
We were home.
Moving the log
Before we had left for the winter, we had used the tractor to position a big log to block our driveway. It worked great, and there were no signs on our cameras or from tracks in the snow that anything had ventured up.
But, now we had to move it so we could get the tractor down. Our first thought was to use the tractor to push it, but we weren't sure how much traction the tractor would have in the snow.
So instead we opted to use the new front tow hooks on the truck that I had installed thinking of situations just like this one! The logs were frozen solid to the ground, and it took a little bit of work even with the weight of the truck to dislodge them.
With the log out of the way, the driveway was once again open for business!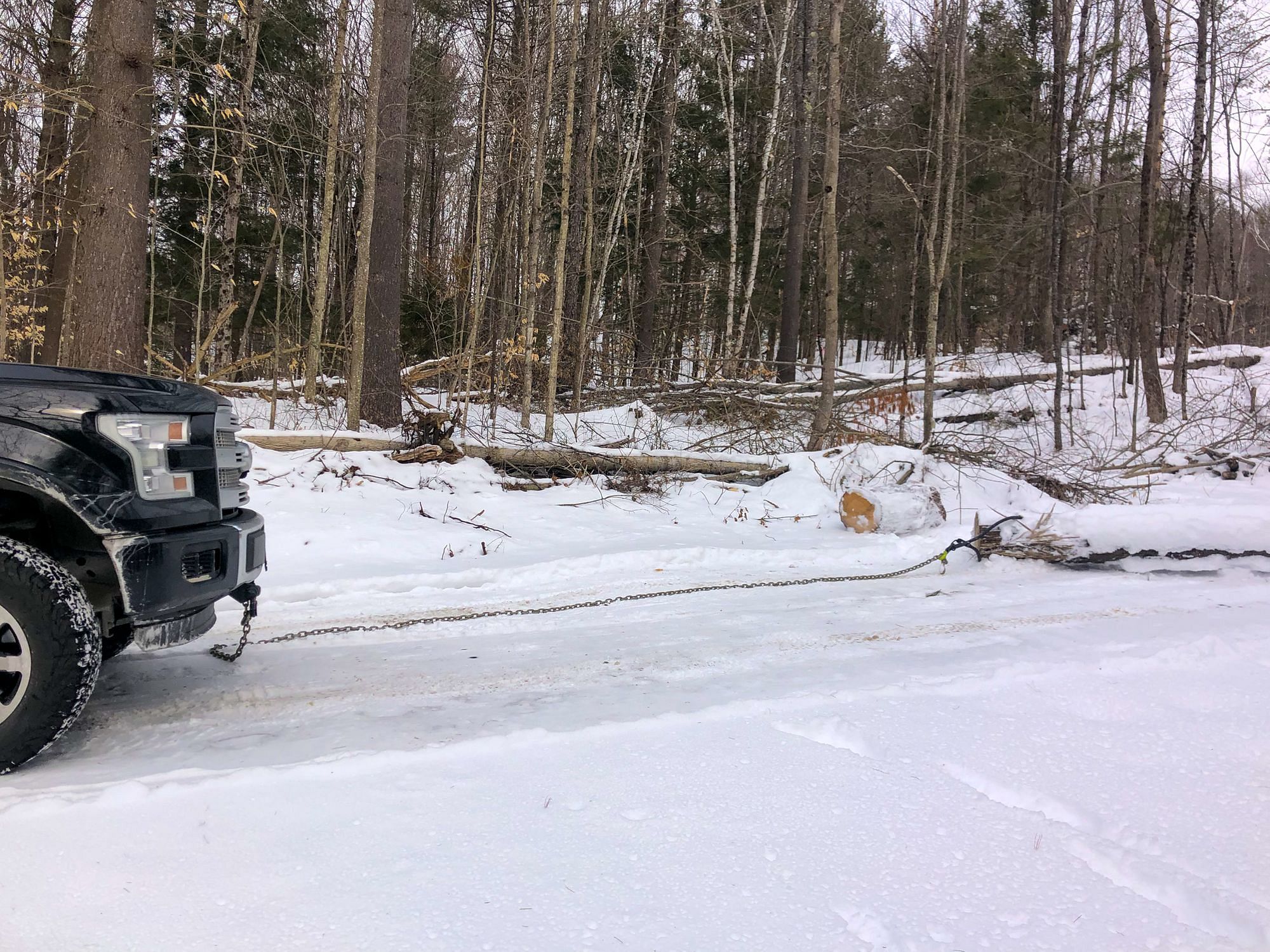 Solar panels
Our first night on the property was great. It's so quiet here, and after an early start and a long day, we slept so well!
However, on Wednesday morning we had to deal with the first of our utility issues - electricity. Our batteries had been fully charged when we had arrived the previous morning, but were now down to 35% due to the furnace (propane powered but still has an electric fan) and Norcold cold weather kit on our fridge running in the sub-freezing weather.
The previous evening we had retrieved the solar panels from our shipping container and brought them down to the RV, but realized the wiring was in our off-site storage unit. We made the trip over there on Tuesday evening, but it was dark by the time we returned so we put off connecting the panels.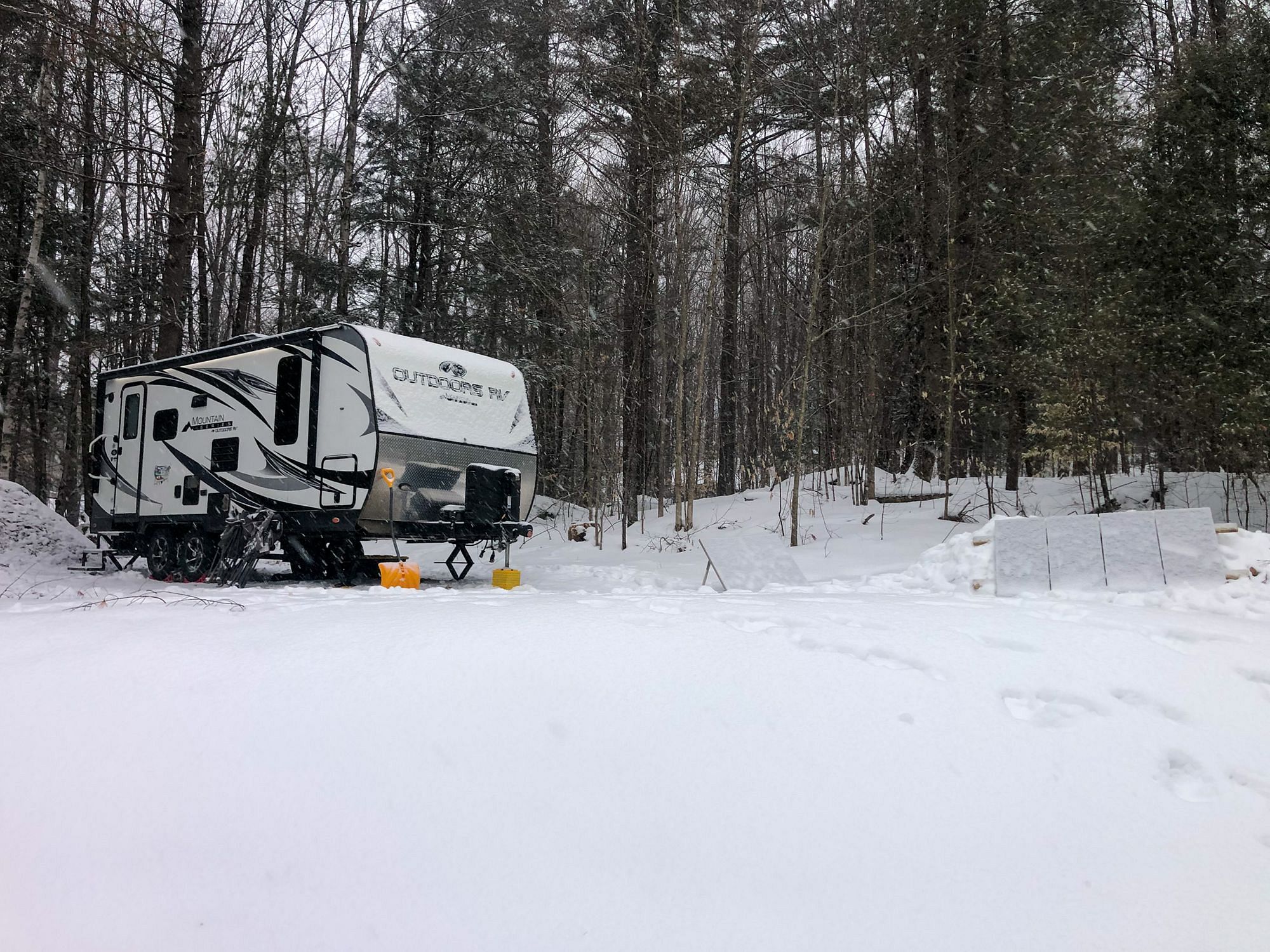 The sun rises before 6:30am so not wanting to waste good sunlight, I headed outside early to get the panels wired up. Soon enough, we were producing free electricity from the sun!
Over the course of the day we generated about 900Wh from 600W of solar panels - not bad considering the time of year and the frequent shading from trees.
Generator
But 900Wh in a day is nowhere near enough for us in the RV at this time of year, so it was time to give our batteries a boost with the generator.
A few weeks earlier I had broken in one of our two WEN generators, and on arrival we had plugged this in to make sure everything worked. Rather than using that one, I instead opted to break in the second generator so we had both generators available for use.
I followed the same break-in procedure as before, but rather than using a dummy load, I plugged it into our RV with a modest current limit to charge our batteries rather than waste that free power.
We don't love having to run a generator, but being completely off-grid here for the next few months, it's inevitable.
Snow plowing with the tractor
Yesterday, while Diana put the finishing touches on this week's video (yes, we're almost real-time on our YouTube channel now), I went to play work with the tractor. My goal was to clear an area around the shipping container so that I could take out the sawmill. With the sawmill out, we'd be able to start packing things in the shipping container without blocking the sawmill in.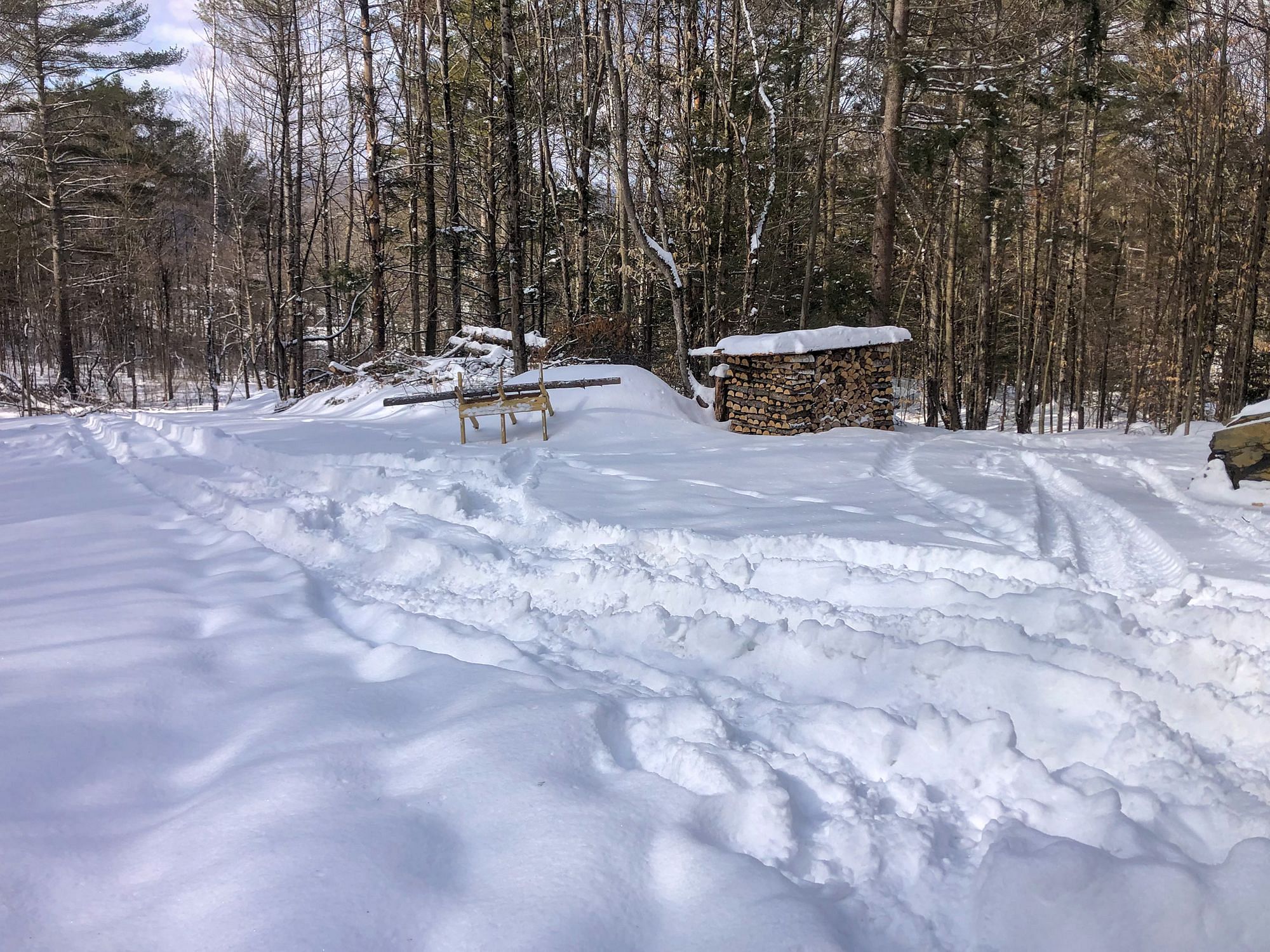 It's the first time I've ever cleared snow with a tractor, and we don't have a plow or blower so all I had was the bucket. Between my inexperience and using just a bucket, it was slow going, but surprisingly effective! It took me about an hour, but I managed to clear a good sized space on the driveway.
Finally we were able to hook the sawmill up to the tractor and tow it out of the shipping container. Rather than taking the sawmill back up to the top of the driveway where it was last year, we're going to keep it down near the shipping container for now.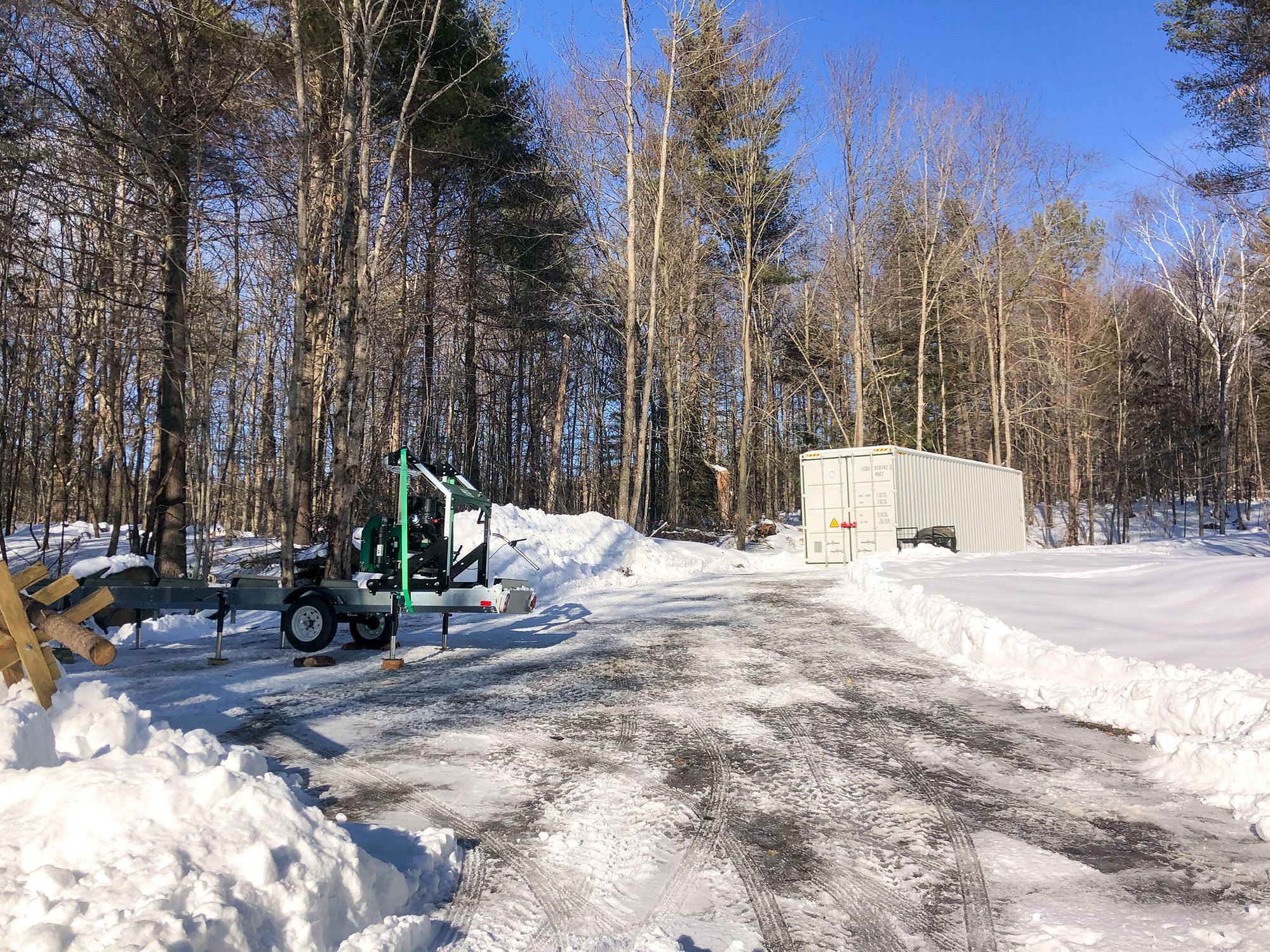 Over the next couple of months we're going to be clearing trees up at the house site near the top of the driveway, so we don't want any more obstacles up there than absolutely necessary!
Snowboarding down the driveway
When you see a 1,000ft snow-covered slope, what's the first thing that comes to mind? For Diana, it was snowboarding!
Before we cleared any more snow, Diana wanted to see whether it was possible to snowboard down our driveway.
After trekking all the way up (we don't have a chair lift), she strapped onto the board. The snow was really powdery (we don't have a grooming machine) so the board was sinking in pretty deep, but soon enough she was off - snowboarding down our driveway!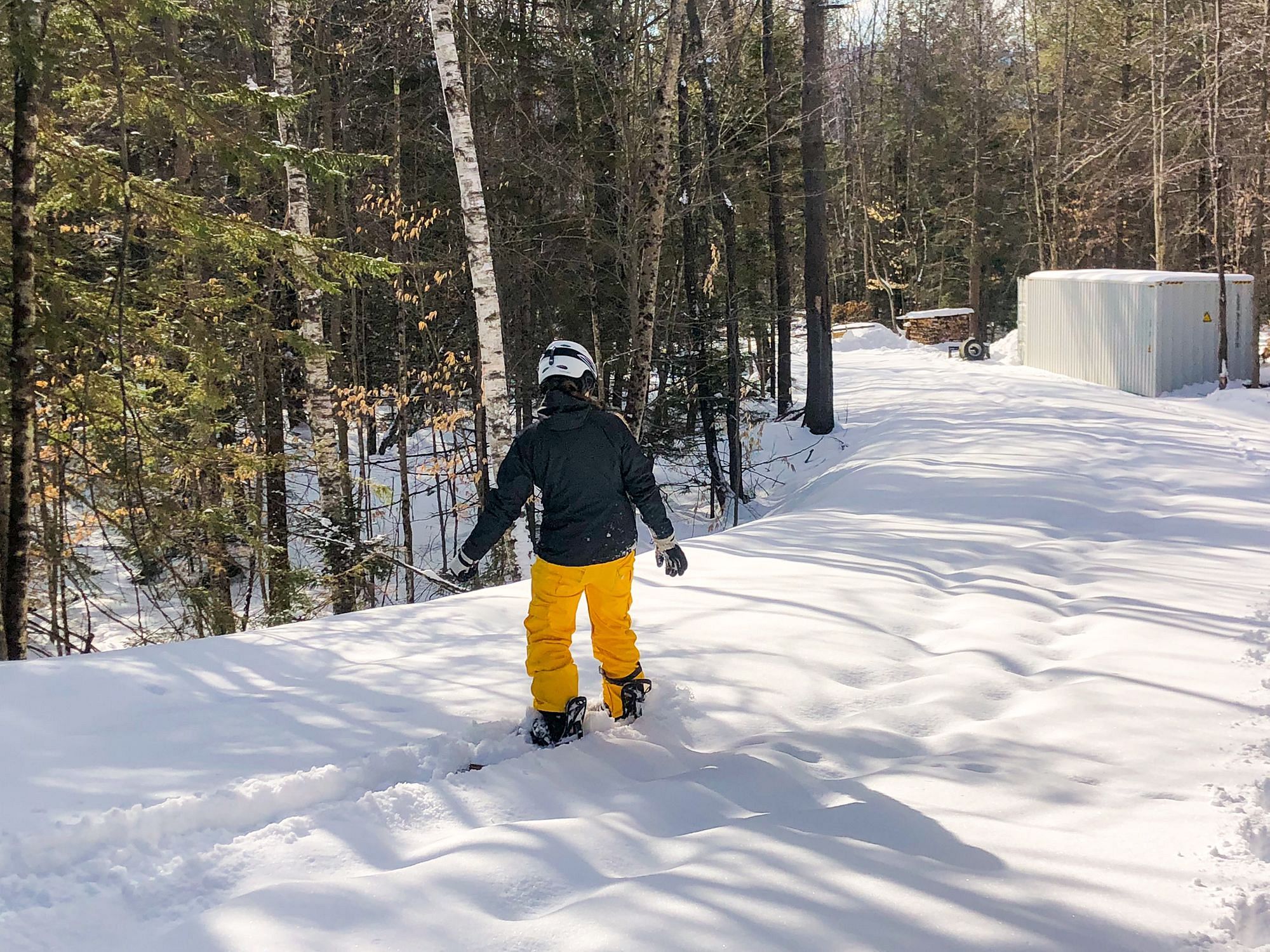 She didn't set any speed records, but I think that's a good thing! As far as driveways go, steeper isn't better, so I was relieved to see her struggling to pick up speed.
After a few days of hard work getting our RV all the way from Virginia to Vermont, it was nice to have some fun and play in the snow for a bit.
Next week
We're beginning to feel settled in here, but there's lots still to do. It snowed again last night (I'm sensing a trend here!) so this morning I'm heading out to clear our solar panels, and use the tractor to move some more snow.
Once again our batteries need charging, which means running the generator, and later today I need to take our water bladder to our neighbor's house to fill up our dwindling fresh water supplies (we arrived with the tank almost empty to save weight).
We've also decided not to get a big propane tank since the local supplier wants to charge almost $5 per gallon! We can get it for a little more than half that price by refilling our own 30lb tanks, so we're going to try doing that instead.
Tomorrow I'll be collecting our new Woodland Mills WC68 Wood Chipper for our tractor. Notice I say "collecting" rather than "have delivered". Given how bashed up the packaging was last time, and road conditions meaning a delivery truck wouldn't be able to make it to our property anyway, we've decided to collect the wood chipper from the Woodland Mills warehouse...in Buffalo, NY, about 400 miles away!
It's going to be yet another long day of driving, almost 800 miles, but after that, hopefully the long driving days will be done for a little while.
We're so happy to be here on our property. While the next couple of months of off-grid camping in cold weather will be tough at times, there's nowhere we'd rather be.
Now, time to go and clear some snow....