As an Amazon Associate we earn from qualifying purchases.
It's crazy to think we've already been at the hotel for 3 weeks, which means there's just 1 week left until we set off on our long drive from Vermont to Oregon to get our trailer repaired. Time has flown, and while we've had some good days skiing at Sugarbush, we've also been using the opportunity for a little spring cleaning too!
Storage Units
We're going to tow the trailer to Oregon almost completely empty for several reasons:
Because of the mold, we won't be sleeping or cooking in the RV;
We don't want our possessions in the trailer if there's a chance that mold spores are in the air, or may be disturbed during travel;
An empty trailer will be easier for the staff at the factory to work on, and again, keeps our things safe in case the repair work disperses any mold spores;
An empty trailer weighs a lot less, and that will help with our fuel economy on the 5,400 mile round trip.
This means we need somewhere safe and dry to store our things while we're gone, so we've decided to rent not one, but two storage units here in Vermont.
One of these is a 10 x 5 ft climate-controlled unit. We'll be putting almost all our stuff into it - clothes, electronics, bikes, kitchen appliances, etc - and we'll only keep this for a month or so, emptying it once we return from Oregon.
The second unit is a smaller 5 x 5 ft unheated storage unit. We'll be using this while we're gone to store some of the bulkier but not climate-sensitive items - e.g. some of the items we've been storing under the RV this winter.
I'm also debating whether or not to remove our rooftop solar panels before we leave since they'll have to come off anyway - I'd leave the brackets attached to the roof and just remove the panels from their brackets. On the one hand they need to be removed, but on the other it's not going to be a fun job in snow and freezing temperatures! If we do take them off, we can store those in the unheated unit too.
Our intention is to keep this unheated storage unit longer term, since we're now planning on staying in Vermont to buy land and build our house.
We already have a climate-controlled storage unit in Texas, and had contemplated bringing those items up here to Vermont. But the reality is that storage is SO much cheaper in Texas - well under half the price of equivalent storage here - so we'll leave it there until we need it!
This week we rented the two storage units, but we also had to find a good lock. Check out our blog post about why we chose to go with the Abus 20/70 Diskus lock.
Boxing Up
With the units now ours, it was time to fill them! Since most of our items are going into the climate-controlled unit and they'll only be there for a couple of weeks or so, we're not going too overboard on how everything is stored - carefully packed in cardboard moving boxes is fine for this.
By way of contrast, when we downsized to move into the RV and put everything in storage in Texas, we were very diligent about the process. We actually used a U-Haul U-Box to ship our things from California to Texas as that was the cheapest option, but did mean we had to move things twice - once into the U-Box, and then at the other end from the U-Box into the storage unit.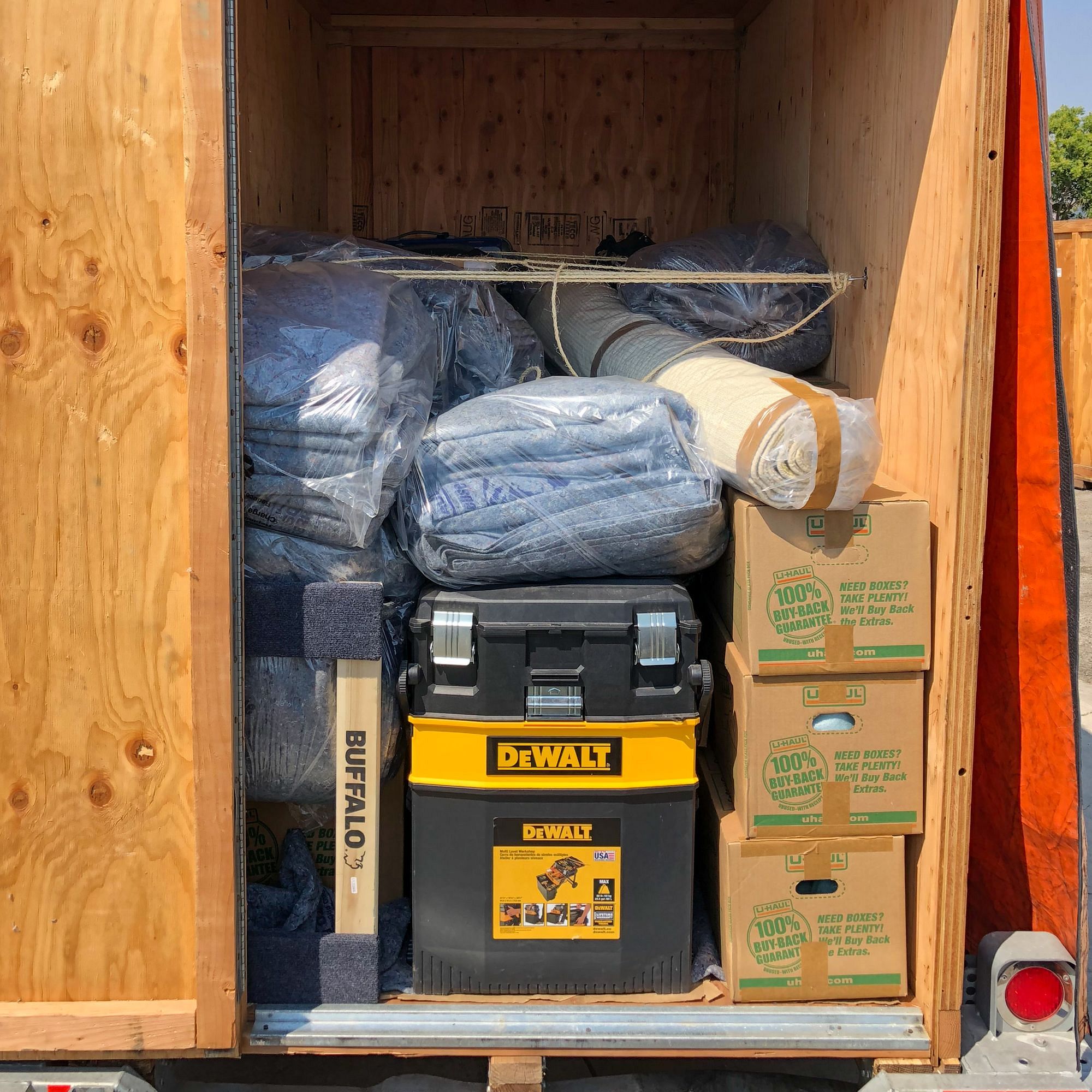 To make sure everything would be safe, we carefully wrapped everything in packaging material inside cardboard boxes, taped them up securely, and used packing blankets to protect things. That unit has everything from our full home-theater / AV system, furniture, glassware and even a telescope!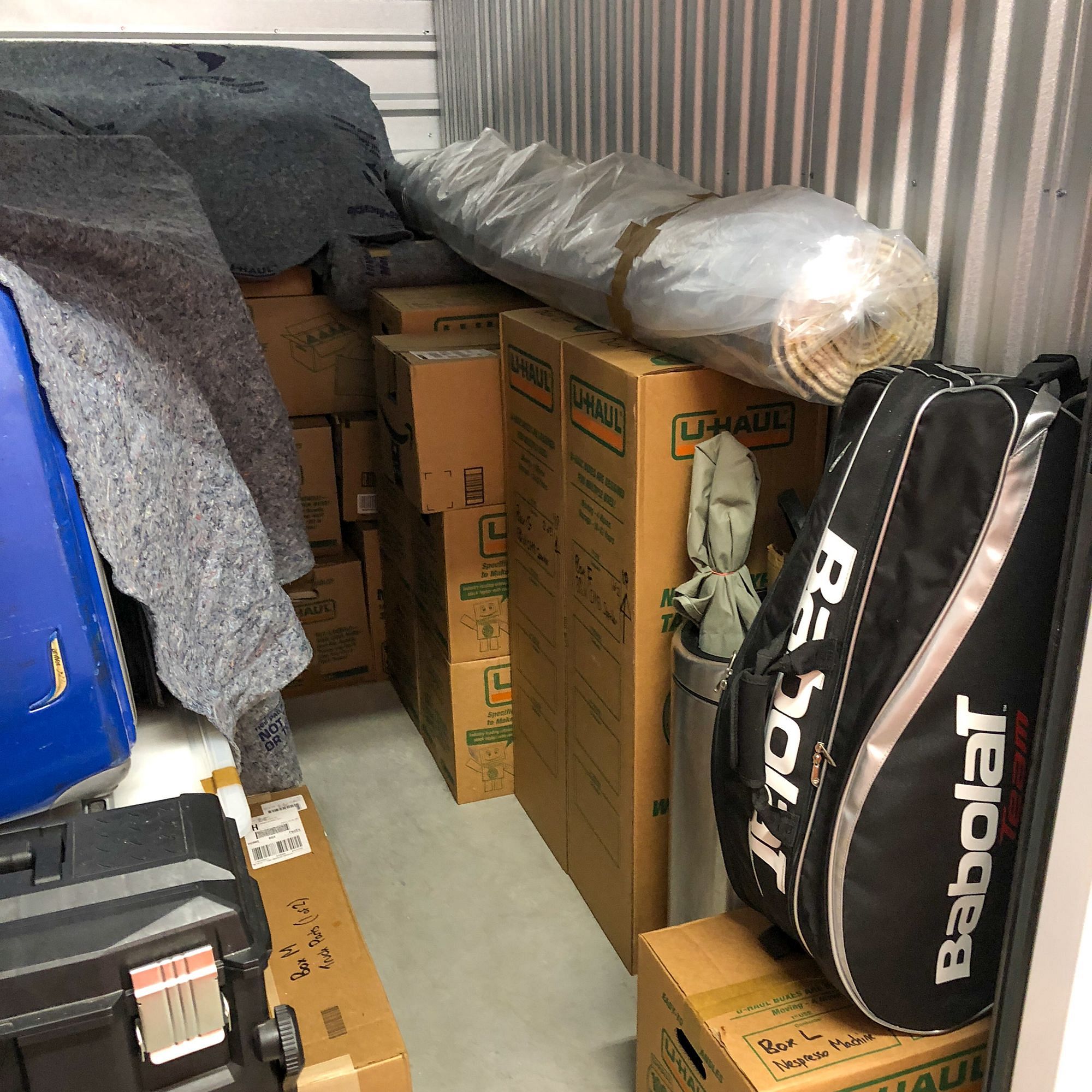 We used a Google Doc to inventory every single item in every numbered box - right down to power cords, remote controls and fittings. It's amazing how quickly you forget what's in a box once you've sealed it up, but thanks to this system, even over two years later, I can quickly find out exactly what's in a particular box, right down to the model and serial number.
Clearly that wasn't necessary this time, but if you are looking to store things longer term (perhaps you're considering full-time RV life) then it's an approach I'd highly recommend.
We did however use the opportunity to sort through things before boxing them up, in particular looking for things that we could discard, recycle, shred, donate or simply mark for longer term storage and not needed in the RV. Last, we still took the time to number each box, write briefly what was inside it, and take a photo of the contents.
Mud Guards
We bought our Ford F-150 in California, where the weather was mostly dry. And to be honest, we've not really spent that much time driving it in wet climates...until now!
The problem is that the roads aren't just wet, they're covered in salt and other chemicals to melt the snow. All that sprays up onto the truck, not only making it look dirty but also potentially causing corrosion. It's already visibly rusting the lug nuts.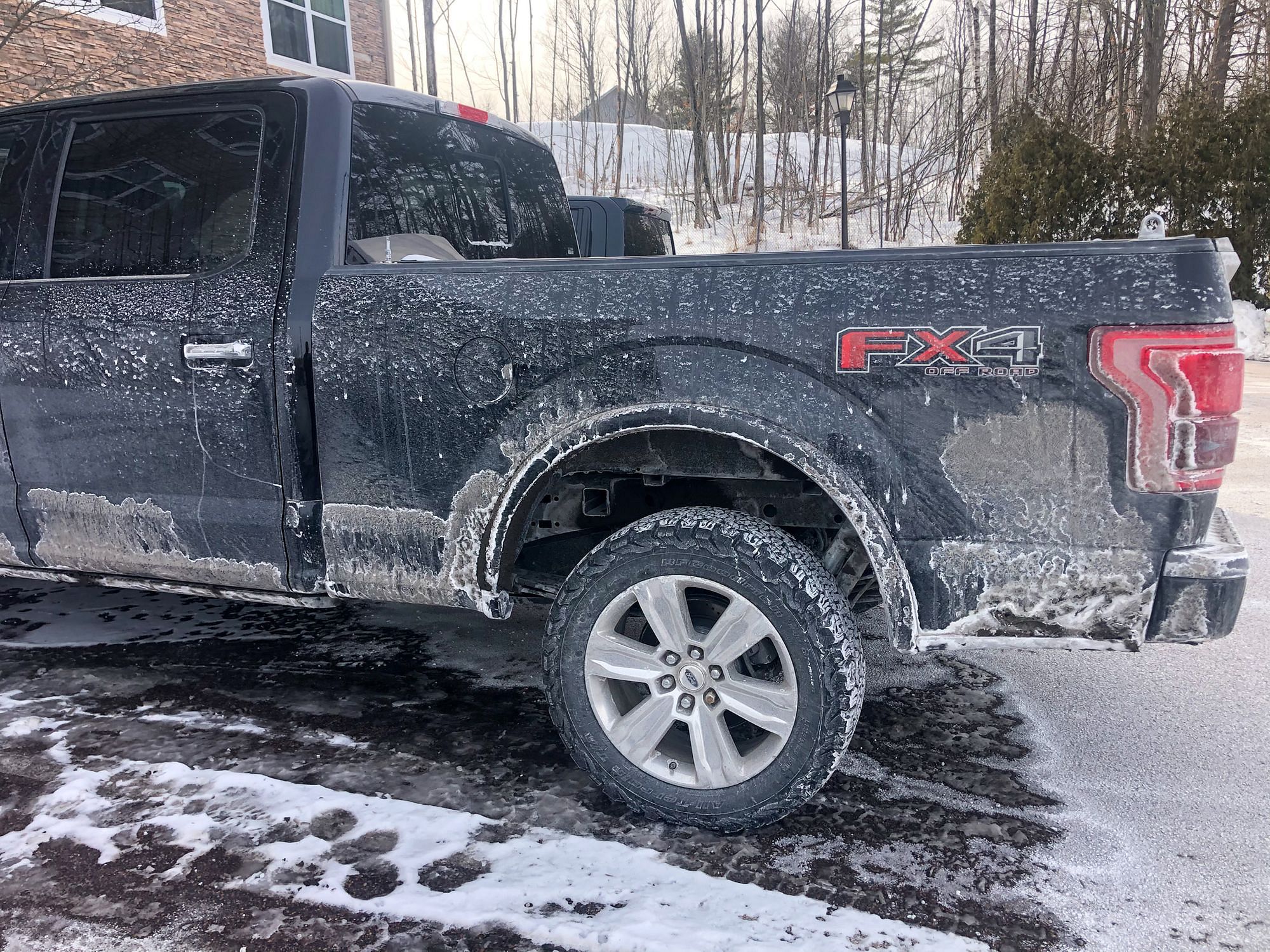 Given the long journey we're about to do with the trailer, I decided to add some mud guards to hopefully reduce the amount of road spray that hits the front of the trailer. I realize they won't prevent the spray entirely, but every little helps, right?
I considered the Rock Tamer Mudflaps which mount on the hitch itself and hang low to help protect the trailer. These are pretty expensive though, and still do nothing to protect the truck itself.
Instead I chose the Husky Liners Front & Rear Mud Guard Set which is much cheaper and provides at least some protection around all four wheels. Installation was straightforward - after a trip to the car wash to get the truck clean, it took me less than an hour with just basic tools. The hardest part was attaching the metal spring clips, but the mud guards are really secure. They look great and hopefully they'll help reduce the road spray a little.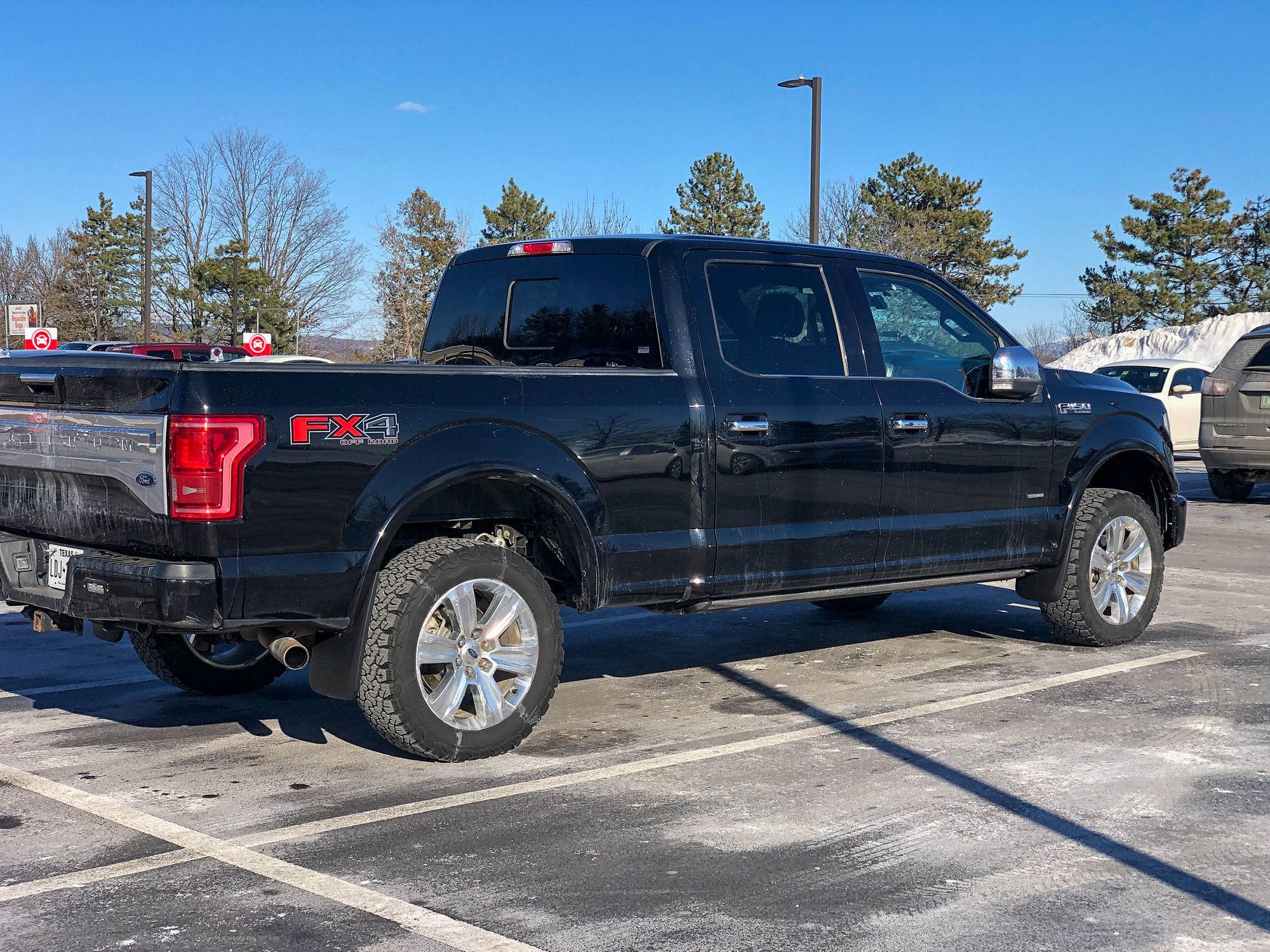 Mold Testing / Cleaning
Last week we used a mold test kit to swab a sample of the mold in the RV attic space and sent it off to a lab for analysis. We've had confirmation that our sample has been delivered, so now we're just waiting on the results - hopefully it should just be another couple of days.
In the meantime, we've also been looking at options to ensure that there are no mold spores left behind in the RV once the roof has been replaced.
A couple of people recommended we contact BioCide Labs, and we've done just that. Working with them, we've chosen a selection of products that should leave us with a super clean RV.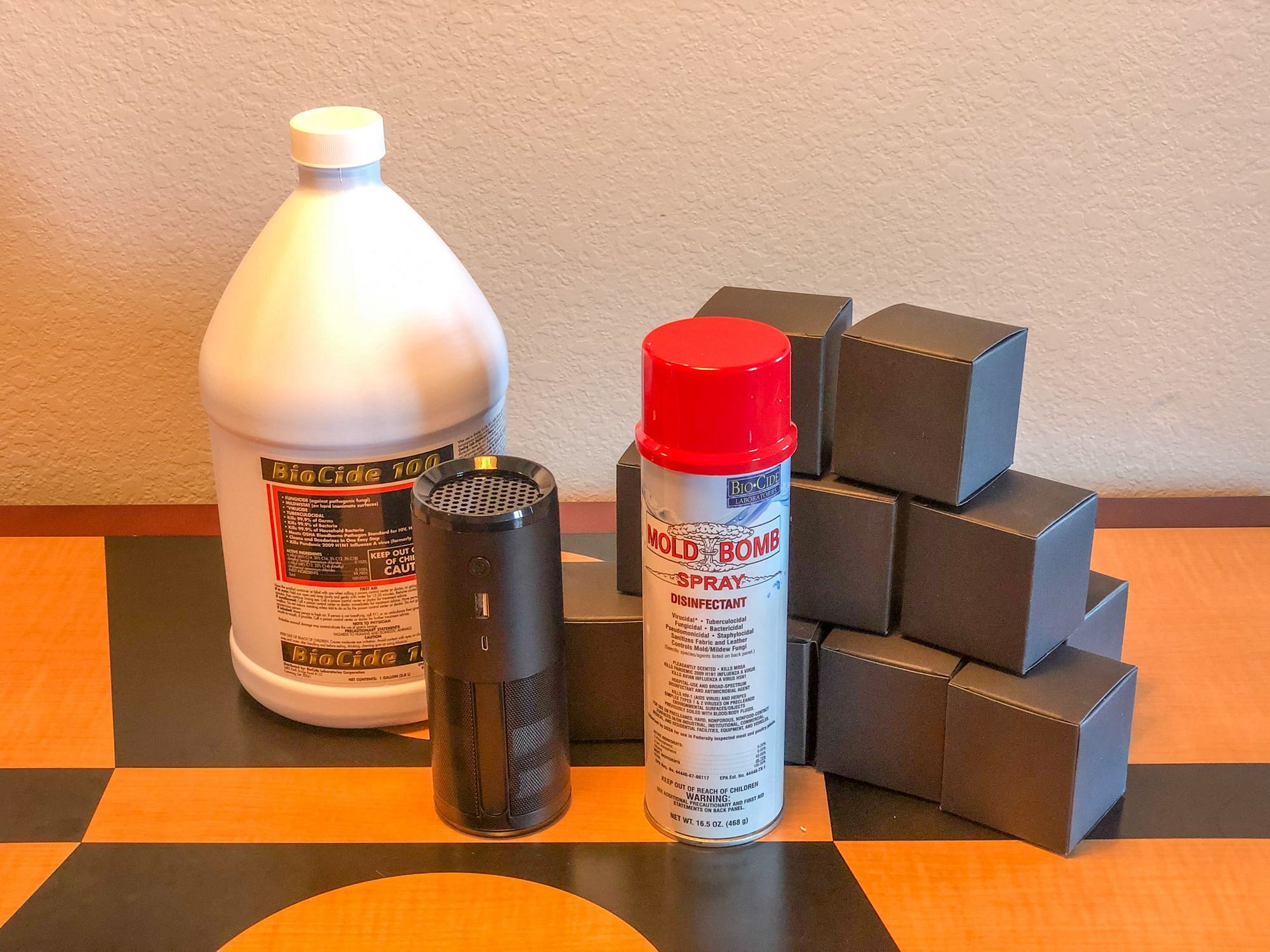 These are some pretty hardcore products, used by professionals and registered with the EPA for hospital-grade mold cleaning solution. But despite this, they're suitable for use in residential homes and vehicles (including RVs) and shouldn't damage anything and the space will be safe to re-enter after just a few hours.
The items just arrived today and we're going to wait until the roof has been replaced before using them so once we've had a chance to use them, we'll be doing a full review.
Preparing to Leave
If all goes to plan, this time next week we'll be on the road again. Since the RV isn't safe to sleep in at the moment, we'll be staying overnight in hotels and have planned out a tentative route that should let us cover the 2,700 mile journey in 5 days. Obviously we'll be watching the weather closely in case we need to modify our route or itinerary.
While driving such a long distance isn't what we'd like to be doing, it's by no means the first time we've done a journey of this sort, and I'm sure it won't be the last.
What I'm more anxious about is hooking up the RV again!
The RV has been parked in that same spot for almost 4 months, and is pretty well bedded-in right now! Between the skirting, heated hoses, 100-gallon propane tank and things stored underneath, there's quite a lot we need to do before we can move the trailer.
Fortunately, it looks like the weather next week isn't too extreme, so our plan at the moment is to go and get the trailer ready on Monday. This means clearing the snow, removing all the skirting, disconnecting the hoses and moving everything under the RV into the storage unit.
Then on Tuesday, we'll disconnect the propane line and cable internet, do some basic maintenance and checks (e.g. tire pressures, hitch lubrication, etc) and take it on a short test drive. That gives us a some time on Tuesday and Wednesday in case there's anything we need to address before picking it up and leaving early on Thursday morning.
We're hoping to avoid winterizing the RV for the journey across so that we still have access to the bathroom. While we'll travel with very little water in the fresh tank (just enough for flushing the toilet and washing hands), that does mean we'll have to keep an eye on the tank temperatures to ensure nothing freezes on our drive - our trailer has a 12V heating pad on the fresh tank, so it'll be a good test of that system!
The next few weeks is going to be a little crazy, but if all goes to plan, we'll land back in Vermont in the same camping spot - with our propane tank and cable internet waiting for us! The RV park owners have been incredibly understanding and helpful during this time, which has made this whole ordeal much less stressful than it otherwise could have been.