As an Amazon Associate we earn from qualifying purchases.
Christmas Day
We're crazy, they said. It'll be cold and snowy, they said. Why on earth would we want to spend winter in our RV in Vermont?
Well, aside from the land shopping and the skiing, we thought it'd be fun to experience a snowy Christmas Day in our RV. But this year, it wasn't to be.
We awoke on Christmas Day morning to this tweet from the National Weather Service, just down the road from us in Burlington, VT: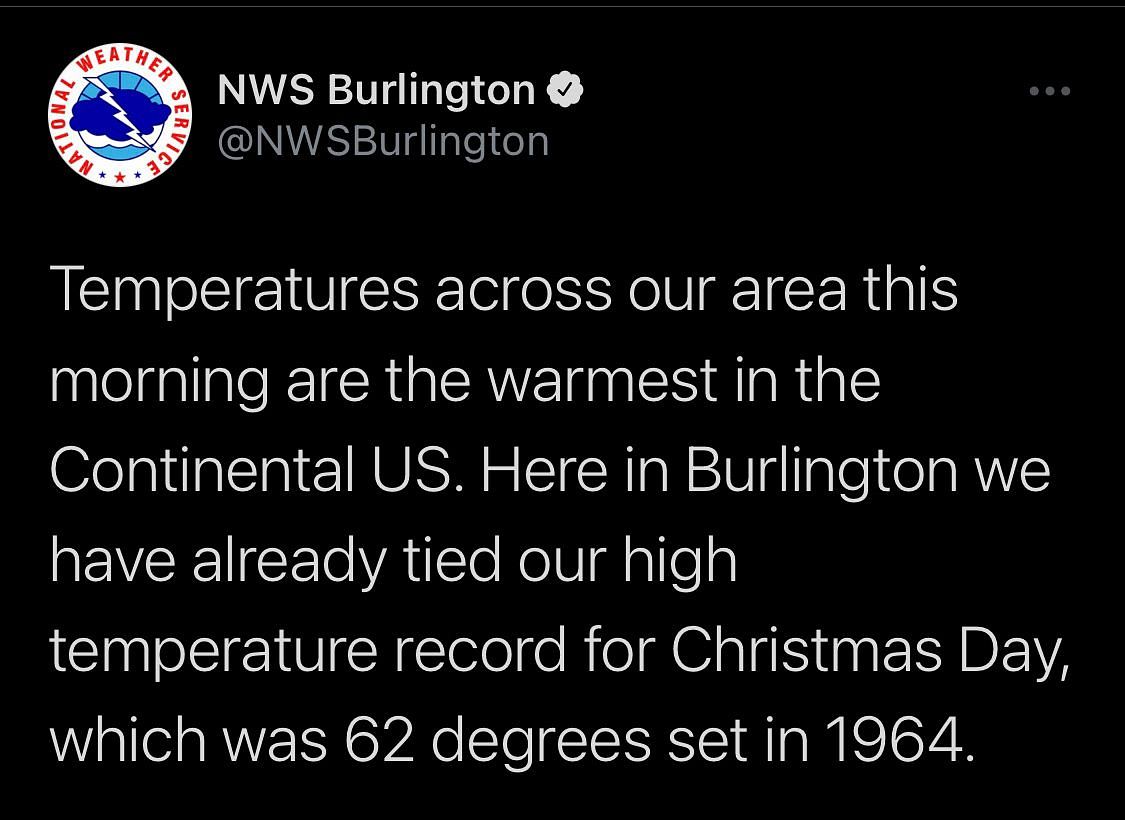 That's right, at 8am local time on December 25, 2020, Burlington, VT was officially the warmest place in the entire lower 48 states!
Skeptical? We were too! We spot checked several places - Miami, FL, Phoenix, AZ, Los Angeles, CA - and every one was at least several degrees cooler than here in Vermont! Crazy huh? In fact, according to our own temperature monitoring, it stayed above 50°F almost all day long!
Like many others, we spent the day cooking and eating. Our giant 7lb turkey breast turned out amazing. After brining it for 24 hours, we cooked it in our Instant Pot with the Air Fryer Lid - it took almost 3½ hours, but turned out juicy inside with crispy skin on top.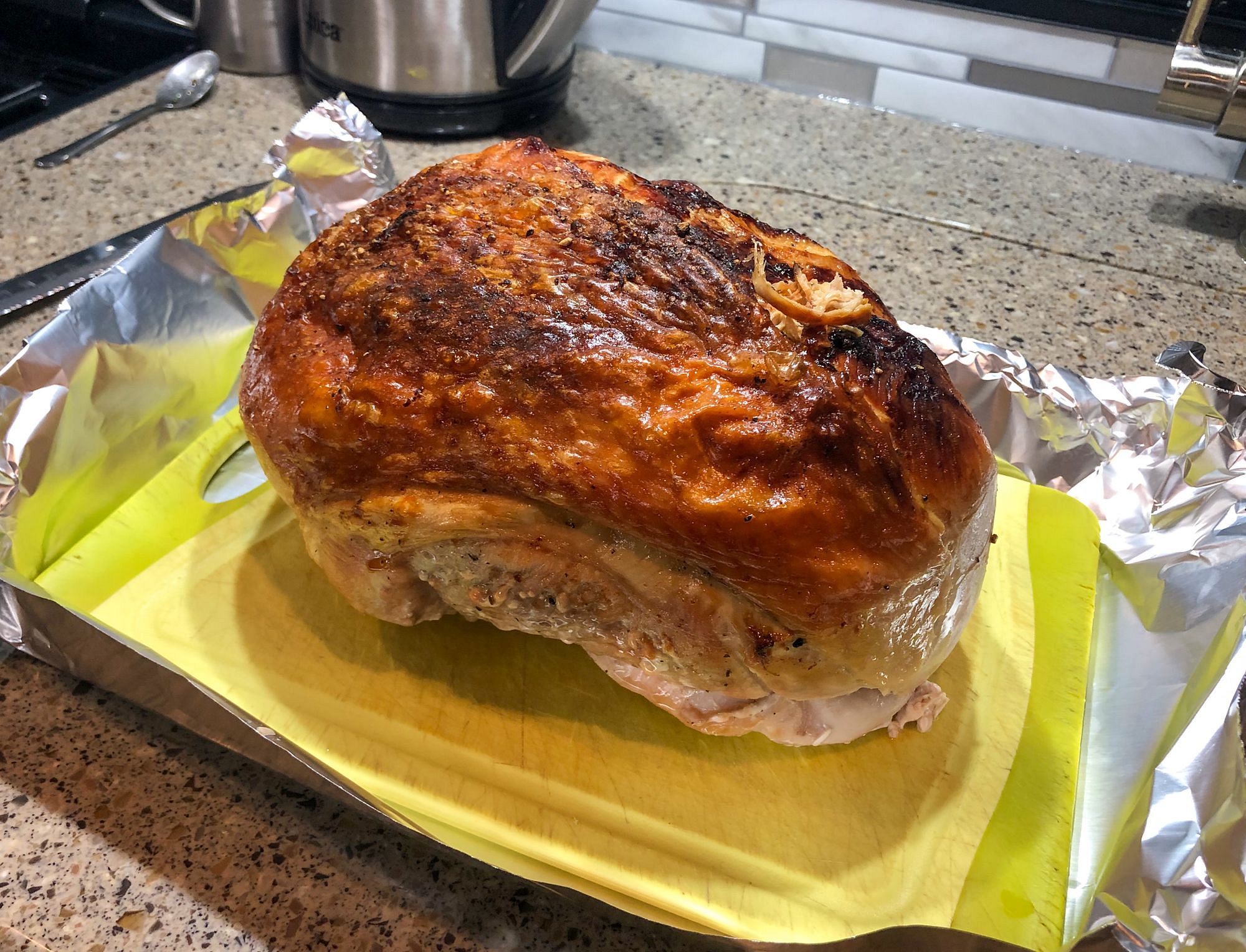 We used our MEATER+ to monitor it - a wireless thermometer that stays in the meat during the entire cooking time and connects to your phone via Bluetooth. Not only does it track the temperature for you so there's no risk of under- or over-cooking the meat, but it estimates the time remaining making it really easy to have everything ready at the same time.
And if you're a complete data geek like us, the temperature graph is pretty cool too!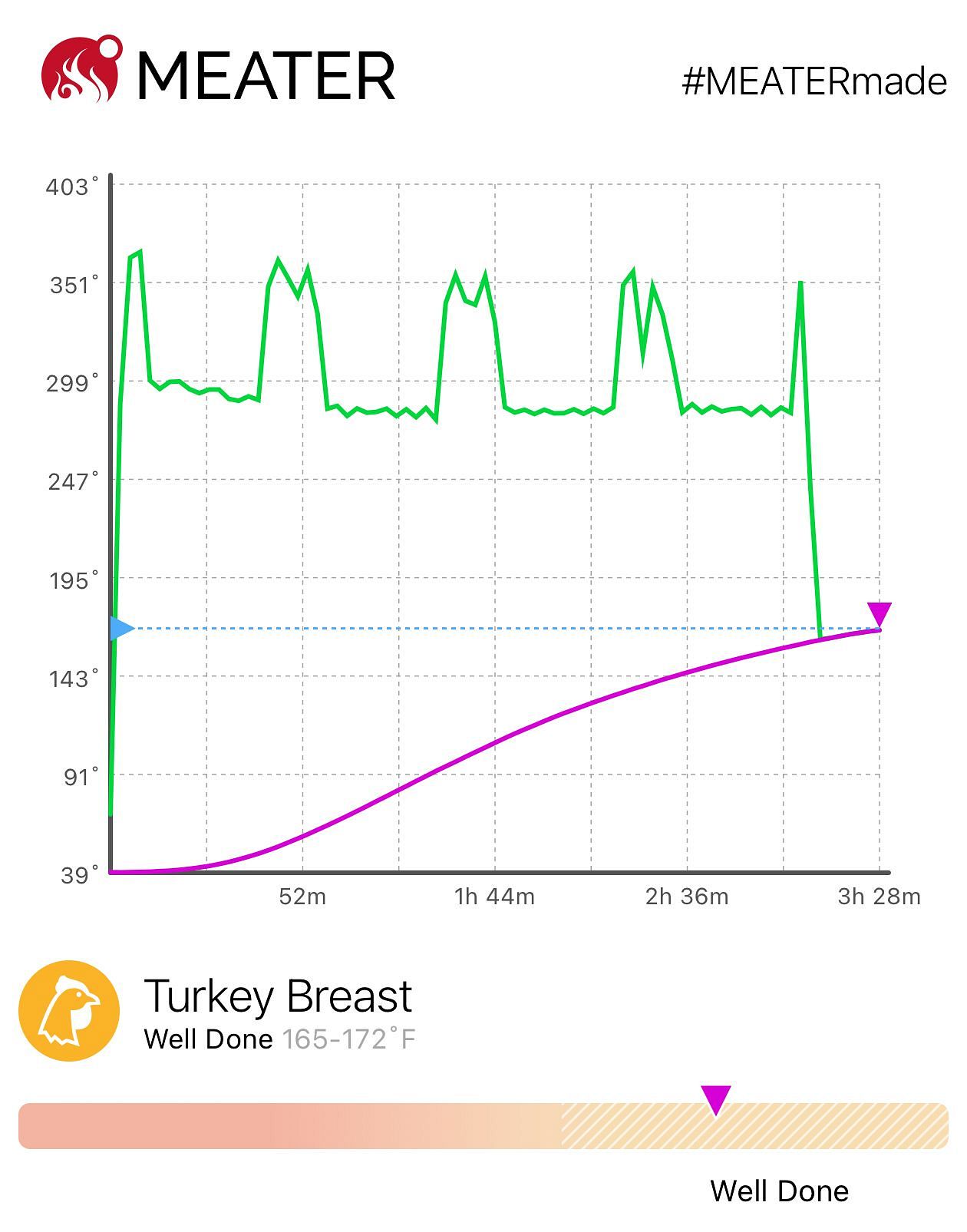 Although the MEATER+ is designed for meat and fish, we tried using it to cook some sourdough the other day and it worked surprisingly well! Fresh sourdough and leftover turkey sandwiches :)
The warm weather (and accompanying rain) quickly melted all the snow here at the RV park, although we're hoping the ski resorts didn't struggle too much! Diana has been taking full advantage of the warm weather and lack of snow by getting out to do some runs around the local area.
The forecast for the next week continues to be relatively mild - daytime highs above freezing each day, and overnight lows in the 20°s. Apparently it tends to be about 10°F cooler in the mountains (i.e. at the ski resorts) than here, so we're looking forward to some more skiing!
Happy New Year
Well, here we are - the end of 2020, a very strange year!
I hope you enjoyed our Christmas video last week where we looked back on 2020 and some of the things we managed to accomplish despite its challenges.
This week we were planning a video about what we have lined up for 2021, but you'll have to wait a little bit longer for that. Instead, we thought we'd switch things up and share a short video about our first ski trip of the season at Killington Ski Resort.