Introduction
We spent a few days recuperating after our 3-day overloading expedition across Mojave National Preserve followed by our long drive east with the RV. We arrived late in the evening at a crowded boondocking spot along A1 Mountain Road, just west of Flagstaff, AZ.
This would be our base for a little over a week while we visit 5 National Monuments, all just a short drive away.
The first, Sunset Crater Volcano National Monument, was our 19th stop on our quest to visit ALL the National Park Units in the US. We visited in April 2019.
Location
Video
History
While we often think of geological events as having taken place millions of years ago, events at Sunset Crater Volcano took place much more recently.
San Francisco Peaks
Sunset Crater is the youngest volcano in the San Francisco volcanic field - a string of volcanoes near the San Francisco Peaks north of Flagstaff, AZ.
They are what's left of the former San Francisco Mountain - a stratovolcano that was active between 1.4 million and 400,000 years ago. It may once have towered 16,000ft high, but its summit collapsed creating a large caldera. The tallest peak in the range is Humphreys Peak at 12,633ft, also the highest point in Arizona.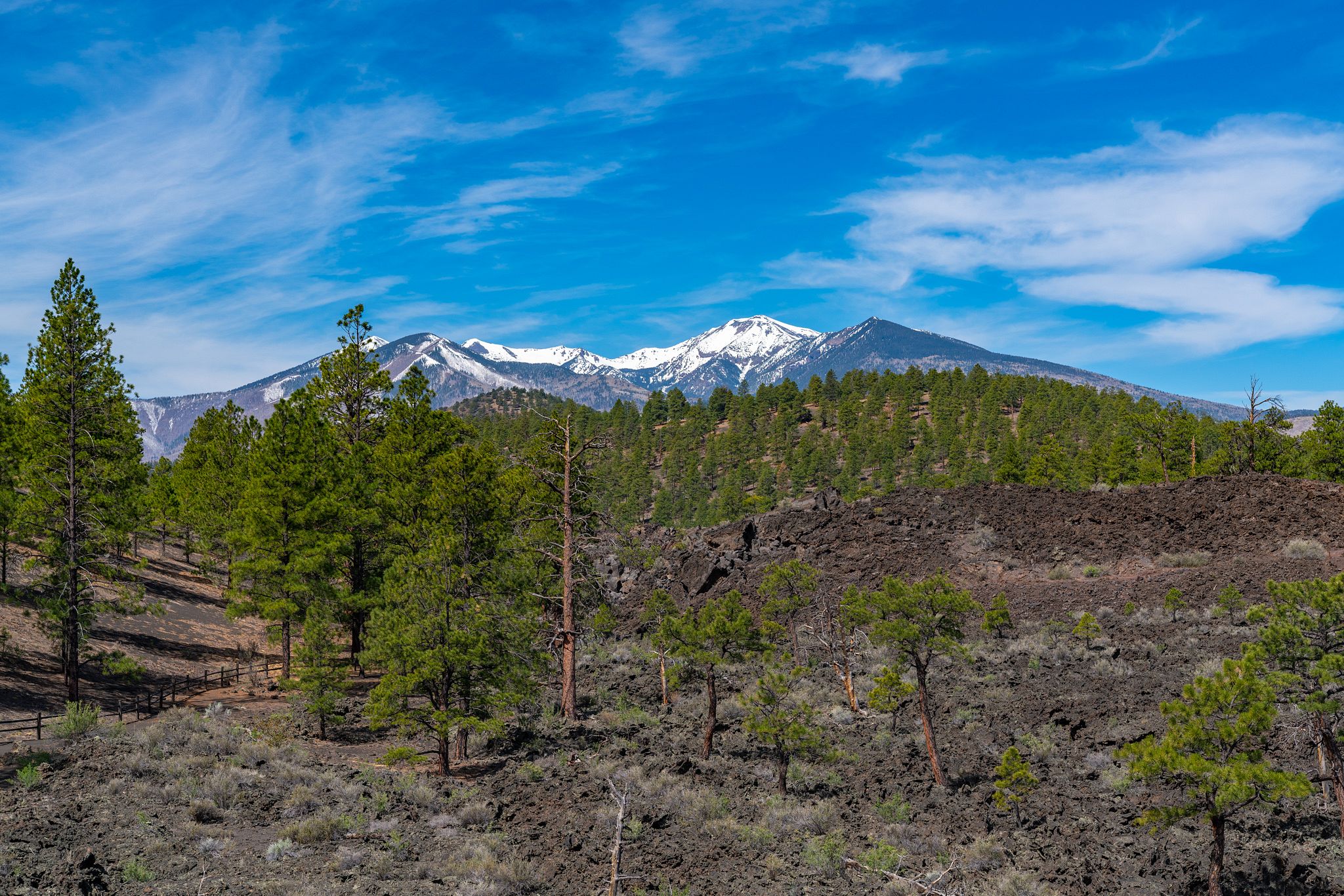 The volcanic activity in the area left rich, fertile soils which were farmed by ancestral people who lived in pithouses dug into the ground in scattered groups around the area. Although we don't know what they called themselves, archaeologists consider them associated with the Sinagua culture.
Eruption
Less than a thousand years ago, around 1085 CE, Sunset Crater Volcano erupted, spewing red-hot rock and fire up to 850 feet into the air.
The eruption had a profound impact on the surrounding area. Runny basalt magma had mixed with water underground, and when this reached the Earth's surface the water transformed to steam, causing the liquid rock to explode into the air.
As these droplets of rock cooled in the air, they solidified, falling back to earth as tiny rocks known as lapilli, or cinders. It is these cinders that form the iconic cone-shaped volcano - the Sunset Crater Volcano cinder cone that we see today.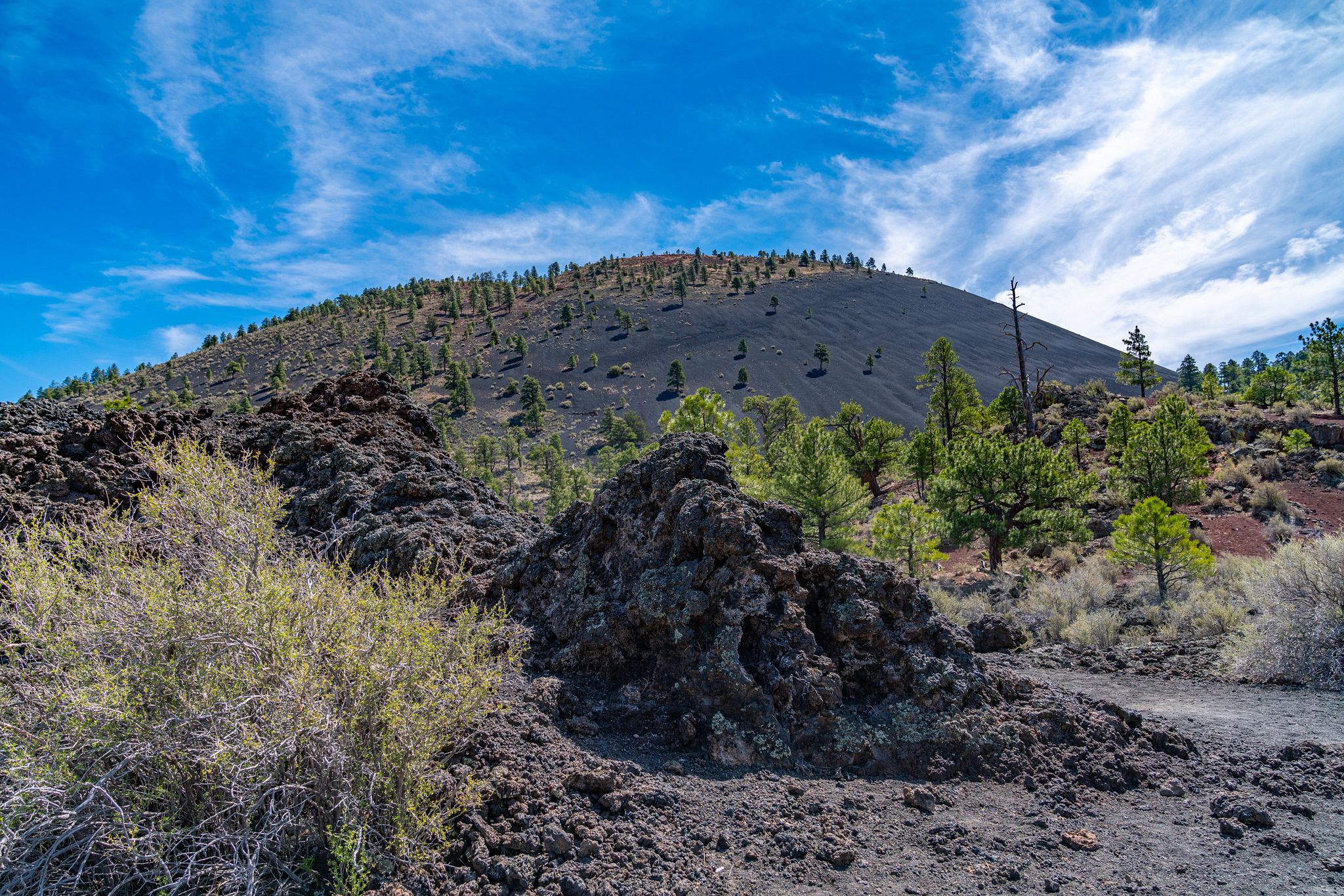 The eruption was so forceful that ash and lapilli debris covered an area of over 800 square miles!
Larger chunks of rock called lava blocks (solid rock) and lava bombs (molten rock) were ejected too. Yet more lava poured out forming the Bonito and Ka'naa lava flows that extend 1.6-miles northwest and 6-miles northeast respectively.
Although dramatic, it's thought that the people had plenty of warning - no evidence has been found that people died as a direct result of the eruption. But the event torched the surrounding area, rendering it barren and devoid of life, burying their pithouses and fields under rock and ash.
With the area no longer farmable, they relocated - including some to nearby Walnut Canyon and Wupatki. Here, the ash was thinner and actually helped retain moisture in the soil. While they only stayed here for around another 100 years, their descendants, including the Hopi and Zuni still live in the area.
Sunset Crater Volcano is considered extinct, but the San Francisco volcano field overall is considered active. In fact, a future eruption elsewhere in the volcano field is a statistical certainty.
Regrowth
It took over 400 years for the first plants to return to the area around Sunset Crater Volcano. As the rock slowly weathers, it mixes with bits of organic matter to form tiny amounts of soil that plants need.
This fragile process is a very long, slow process. So much so, that it's still very much underway today, almost 400 years later. Biologists are keenly studying Sunset Crater Volcano to understand more about the biological processes at play here.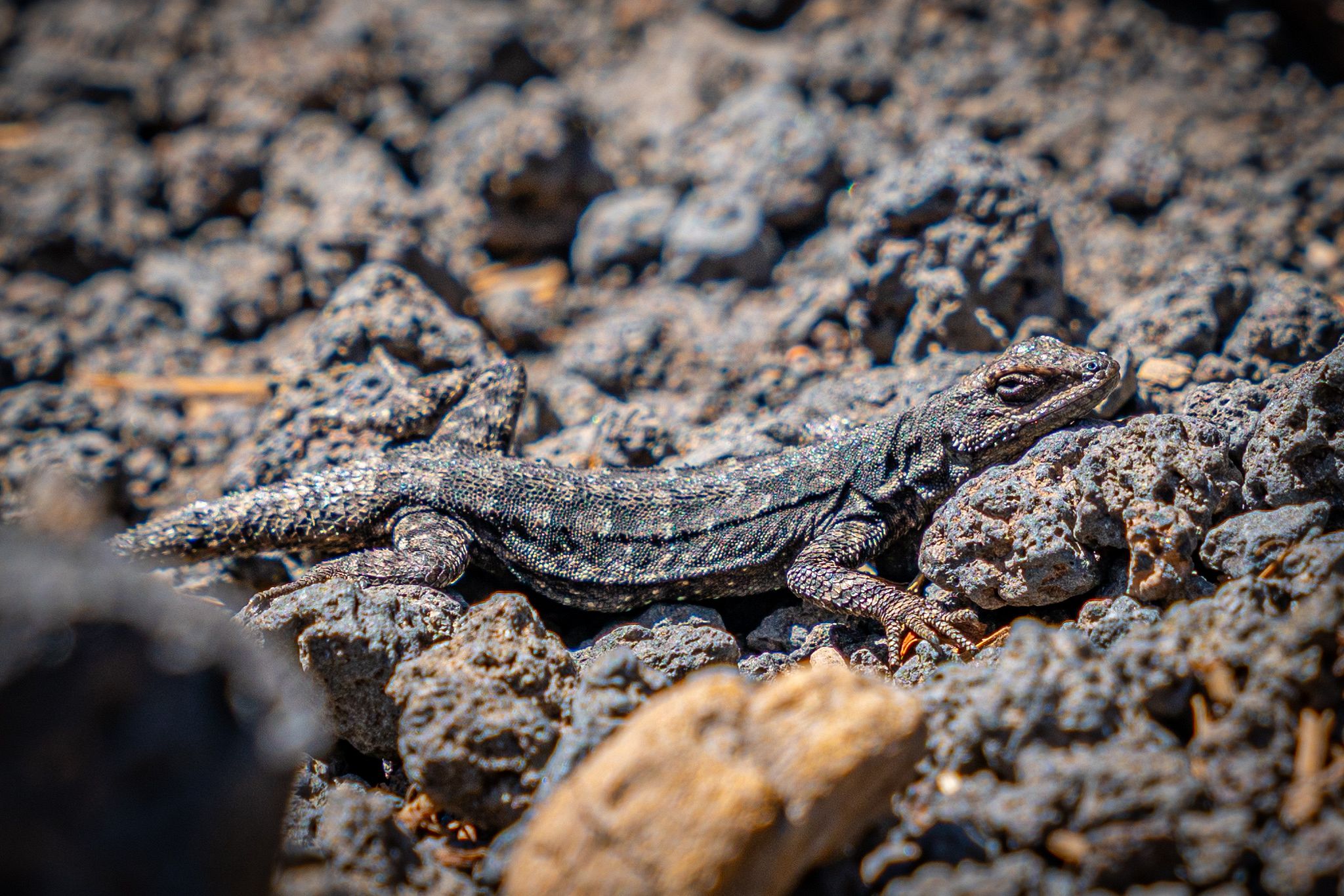 Despite its inhospitable appearance, today the rocky volcanic scenery is home to wildflowers, Ponderosa Pines, lizards and rodents. The pine forests around are home to a wide range of animals including squirrels, coyote, bobcats and mule deer.
National Monument Designation
It's thought that Sunset Crater Volcano was given its name by John Wesley Powell, the first modern-day explorer of the area. In 1892, he named the mountain Sunset Mountain in reference to the red and yellow colors of its rim.
The 19th century also brought ranching, logging mining and tourism to the area. In 1928, a Hollywood film company (Famous Players-Lasky Corporation) wanted to blow up the crater to create a landslide for their film Avalanche.
Public objection to the irreversible damage eventually halted the plan, and on May 26, 1930, the area was designated as Sunset Crater National Monument by President Hoover. It was redesignated on November 16, 1990, to include the word "Volcano" giving us the Sunset Crater Volcano National Monument we know today.
Lenox Crater Volcano
While the National Monument was named after Sunset Crater Volcano, the 3,040 acre site includes another cinder cone - Lenox Crater Volcano.
Now filled with ash and cinder, the crater looks like a gentle depression in the landscape.
Itinerary
Sunset Crater Volcano National Monument is just a half hour drive from our boondocking spot in Flagstaff.
The drive from Flagstaff is north up US-89 - the same direction as for Wupatki National Monument. So we decided to try and visit both in the same day - Sunset Crater Volcano National Monument in the morning, followed by Wupatki National Monument in the afternoon.
That meant an early start - arriving at the National Monument before the Visitor Center opens at 9am.
Lenox Crater Trail
Our first stop was the Lenox Crater Trail - a circular hike up to the summit overlooking Lenox Crater.
We arrived at about 8am and parked the truck opposite the trailhead in a small parking area. Our plan was to get some hiking done before the Visitor Center opened.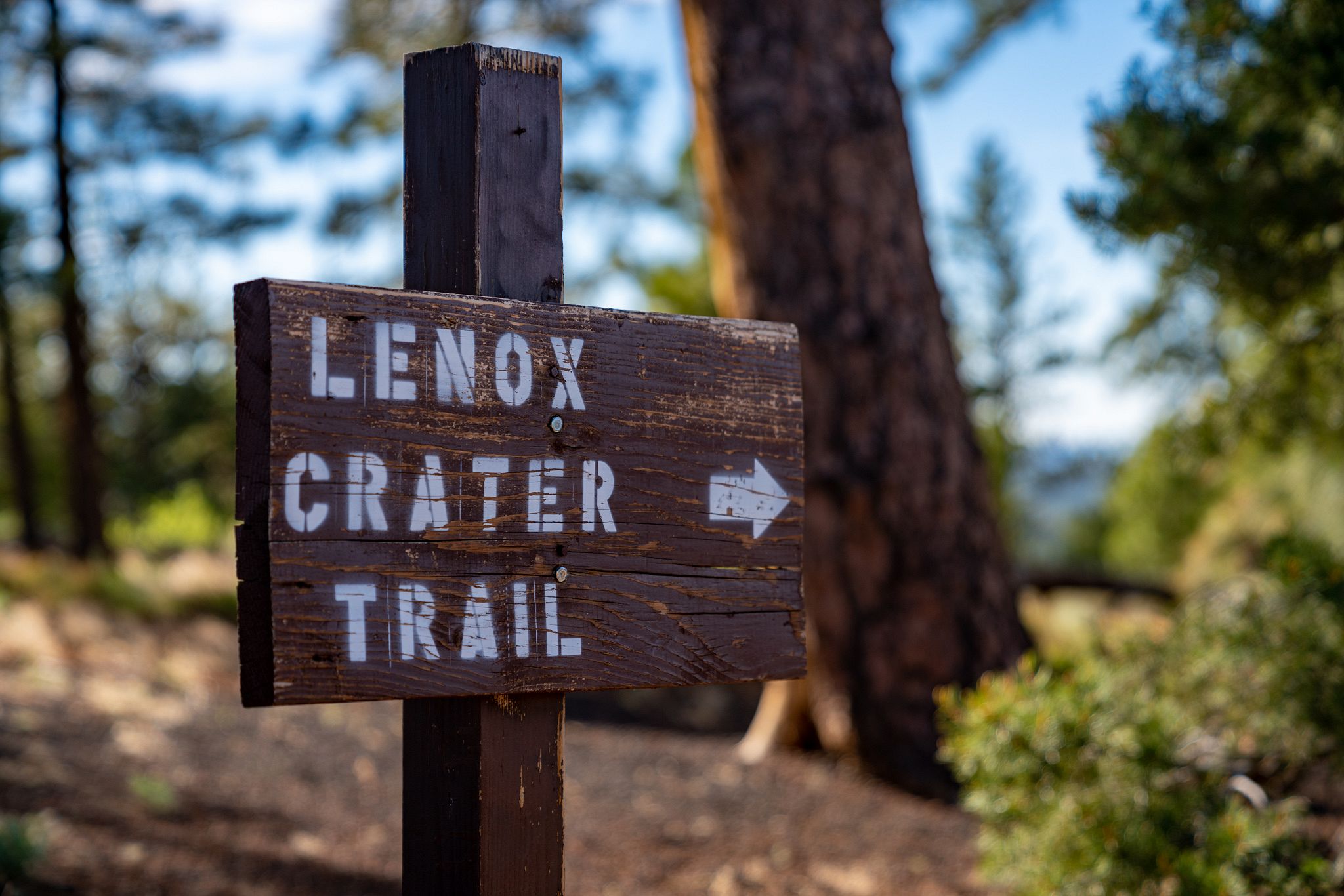 The trail is a dirt track, but conditions were good and the trail is fairly smooth. It starts parallel to the road and climbs steadily up through the Ponderosa pine forest.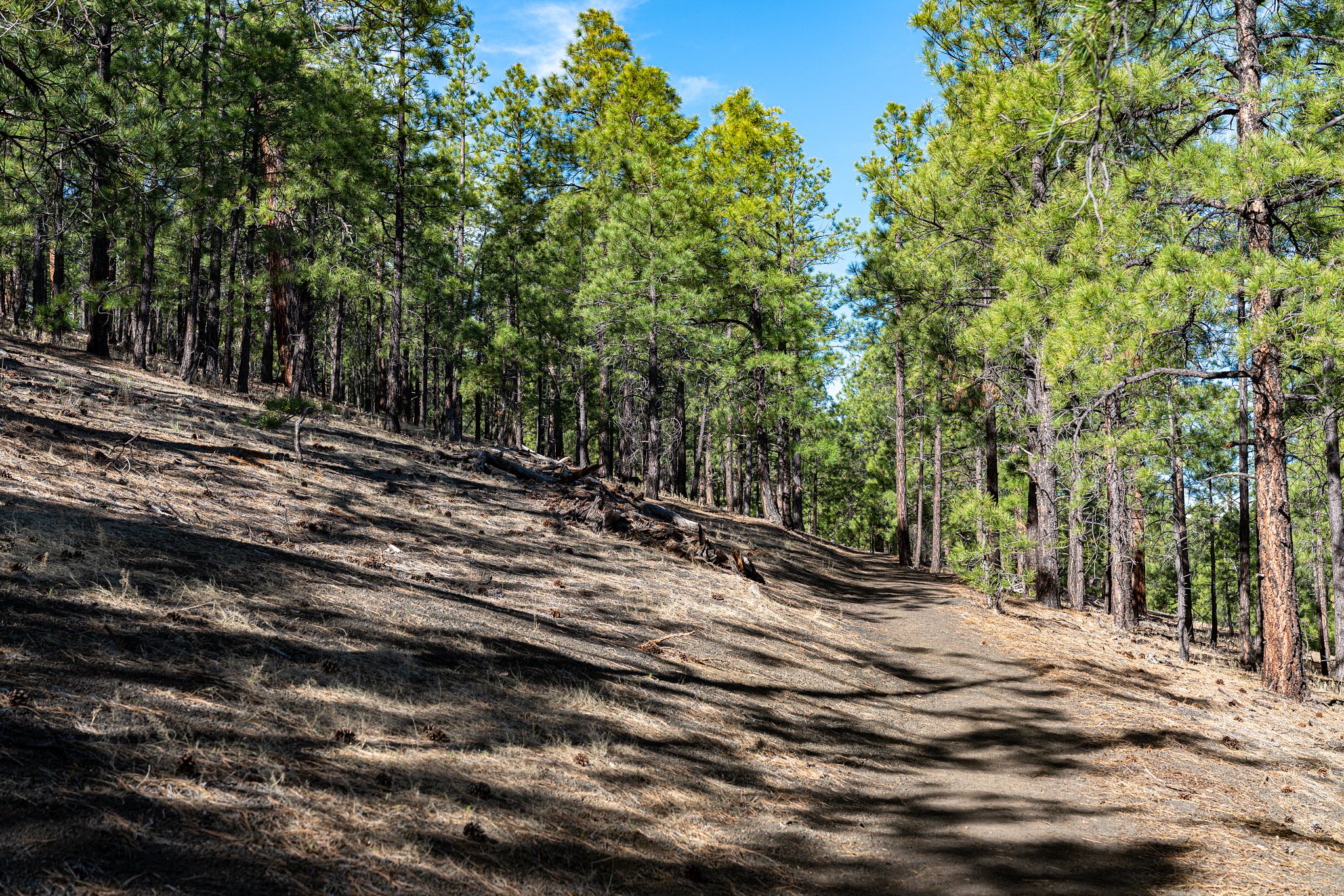 From the trail we had some great views of the Bonito lava flow and O'Leary Peak, as well as, of course Sunset Crater and Lenox Crater. At the summit we had stunning views of the San Francisco Peaks.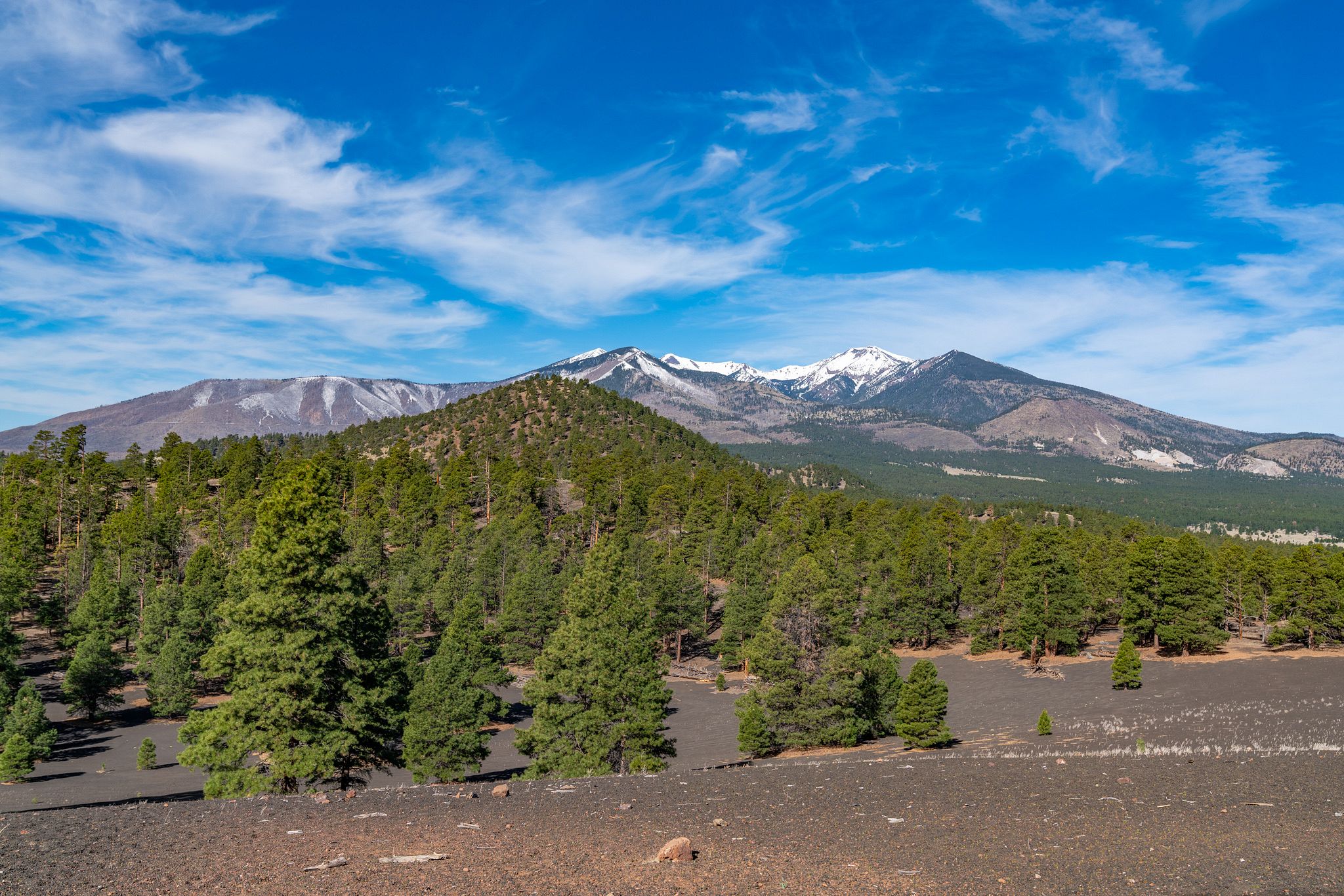 According to the NPS literature, the trail is a 1.6-mile loop with 200ft elevation gain and we should allow 1.5 hours. However, according to our GPS watches, we recorded it as a 1.2-mile trail with 292ft of elevation gain. We were walking for just 29 minutes and with 12 minutes of photo stops, it took us a total of 41 minutes.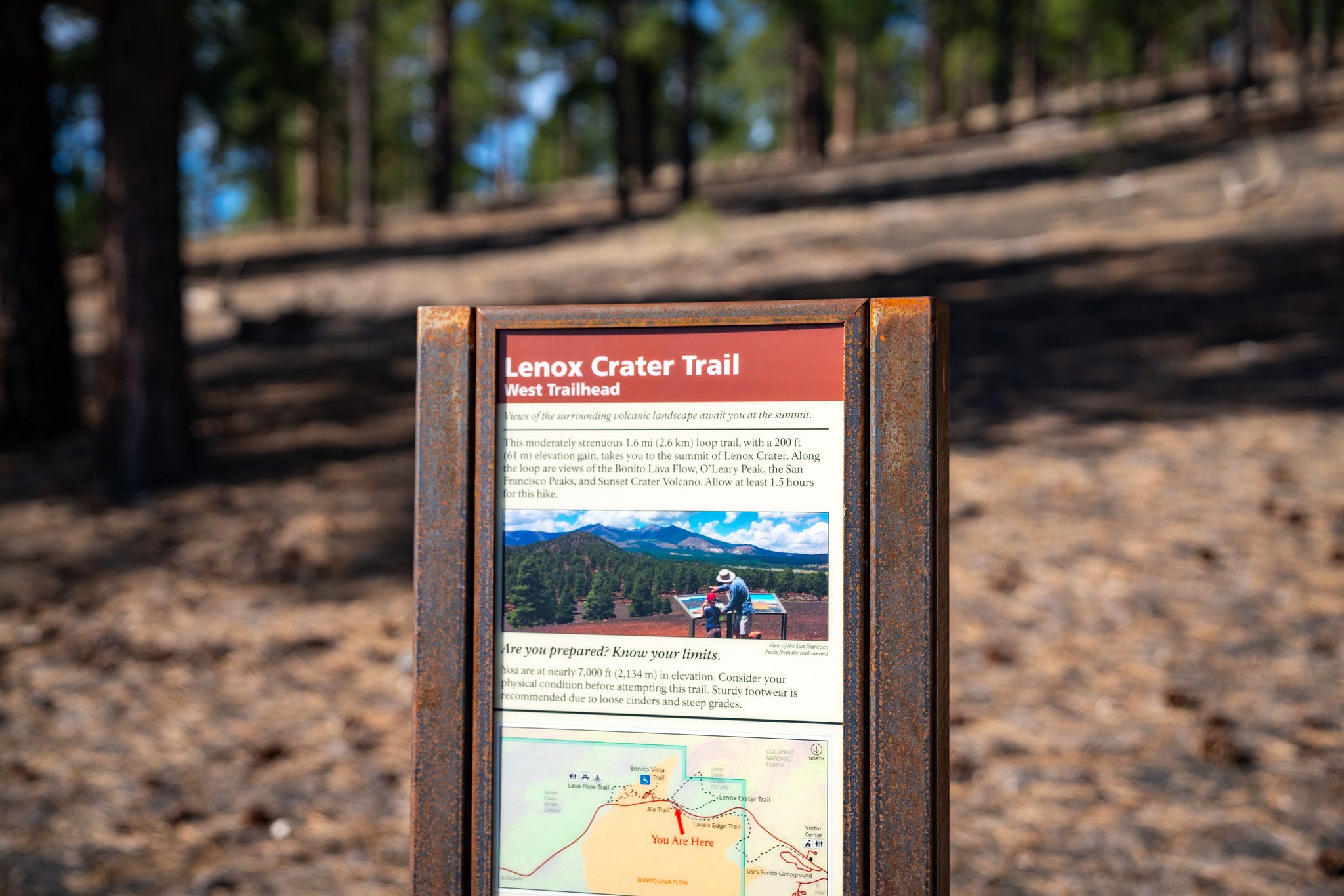 Looking at our GPX track, it looks like we followed the route perfectly, so not sure why the discrepancy there! But either way, we found it to be a nice, easy-going hike.
A'a Trail
Still with a little time left before the Visitor Center opened, we decided to hike the A'a Trail. The trailhead is right next to where the car is parked, and the loop is just 0.2-miles long.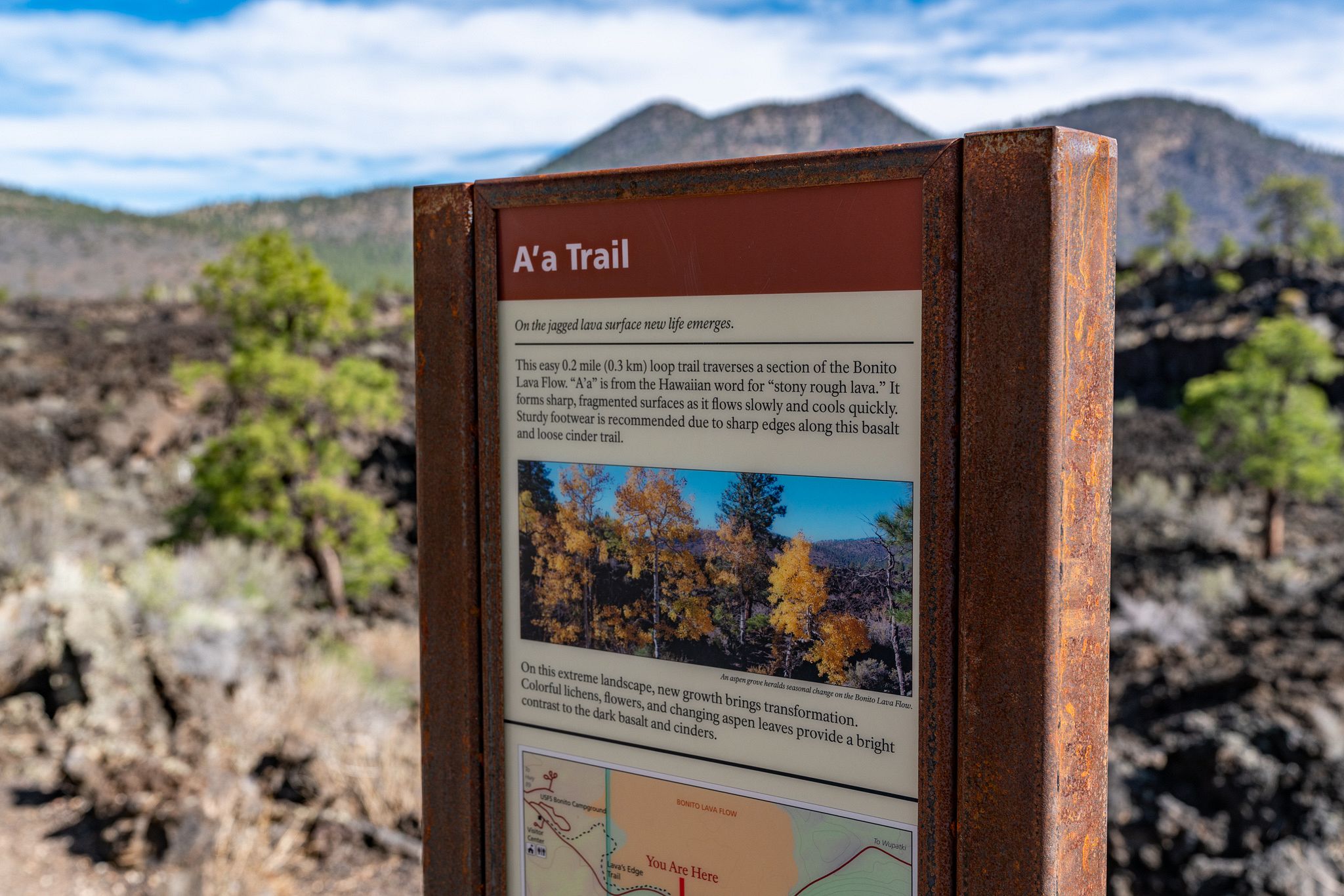 A'a is from the Hawaiian word for "stony rough lava". Yup, sturdy footwear is definitely needed for this trail!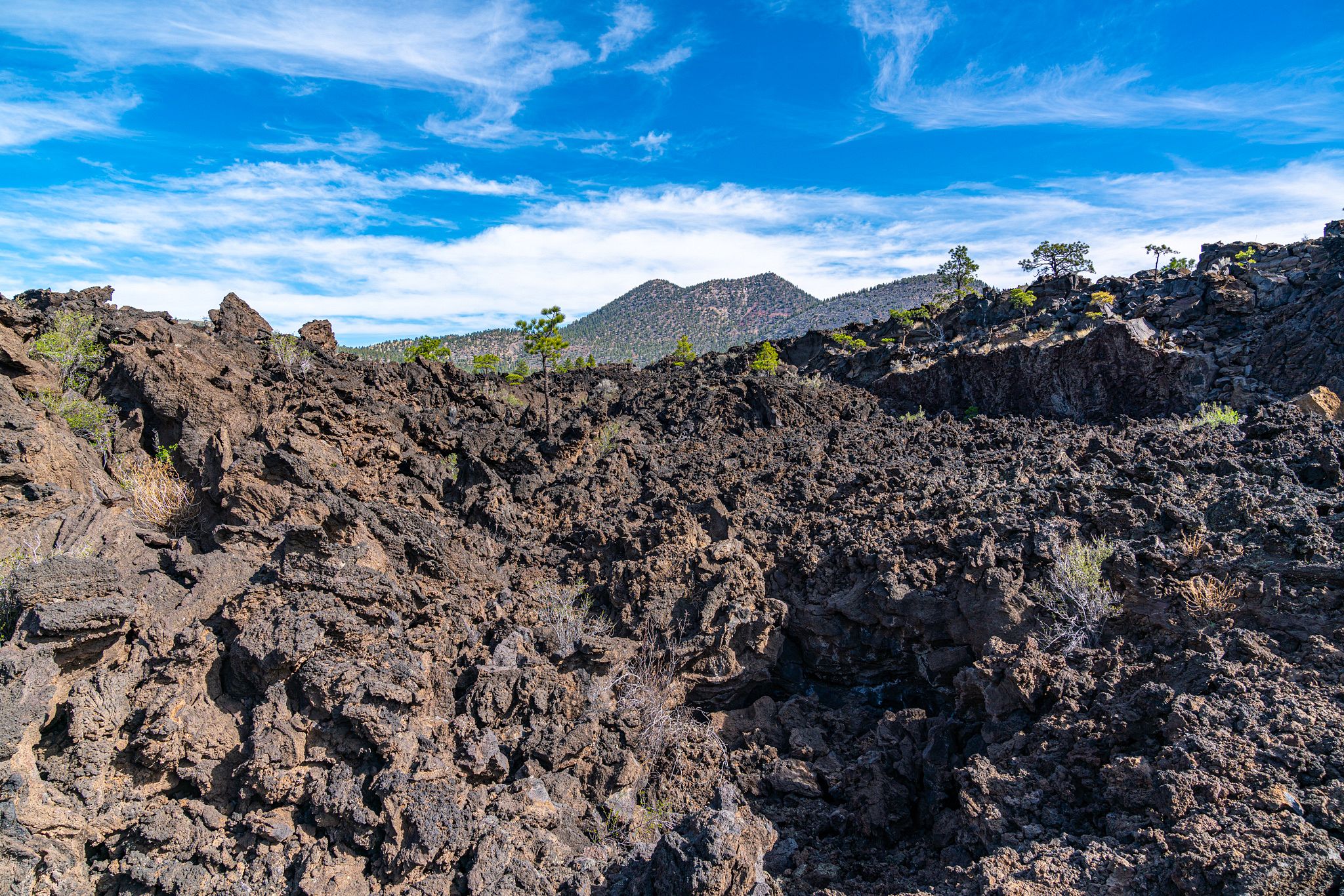 It only took us 10-15 minutes or so to walk around, but we were keeping our eyes peeled for any signs of life in this barren landscape. And it paid off - we saw a tiny lizard, almost perfectly camouflaged in amongst the volcanic rock!
Visitor Center
Back at the trailhead, we drove the short distance to the Visitor Center - primarily to get our Park Passport stamp, and of course, a sticker!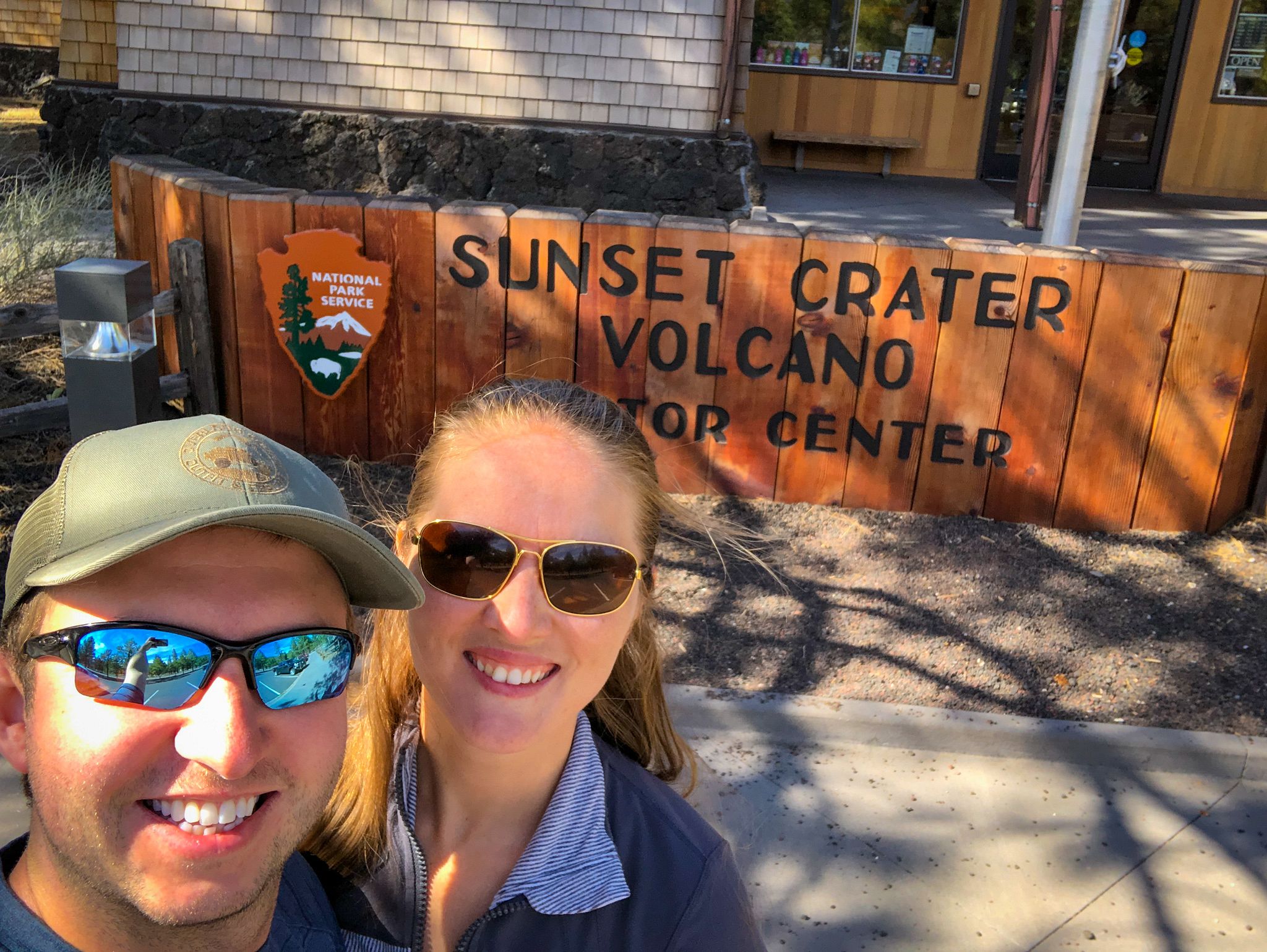 We arrived to find a car parked in the parking lot, with the driver clearly mid-way through trying to change a tire. After getting our stamp inside, I offered my assistance to the owner of the car with the flat tire.
He had bought the car used and the wheel with the flat tire had non-matching lug nuts on it - and his lug nut wrench didn't fit! Fortunately, I had my full socket set with me and found one that fit. Unfortunately, the lug nut was seized tight. Very tight!
So much that we ended up breaking the socket while trying to remove the lug nut - oops! There wasn't much more we could do to help, so he resigned himself to paying the call-out fee for a tow truck.
Lava Flow Trail
Our last hike of the day was the Lava Flow Trail - a 1-mile loop hike around the base of Sunset Crater Volcano.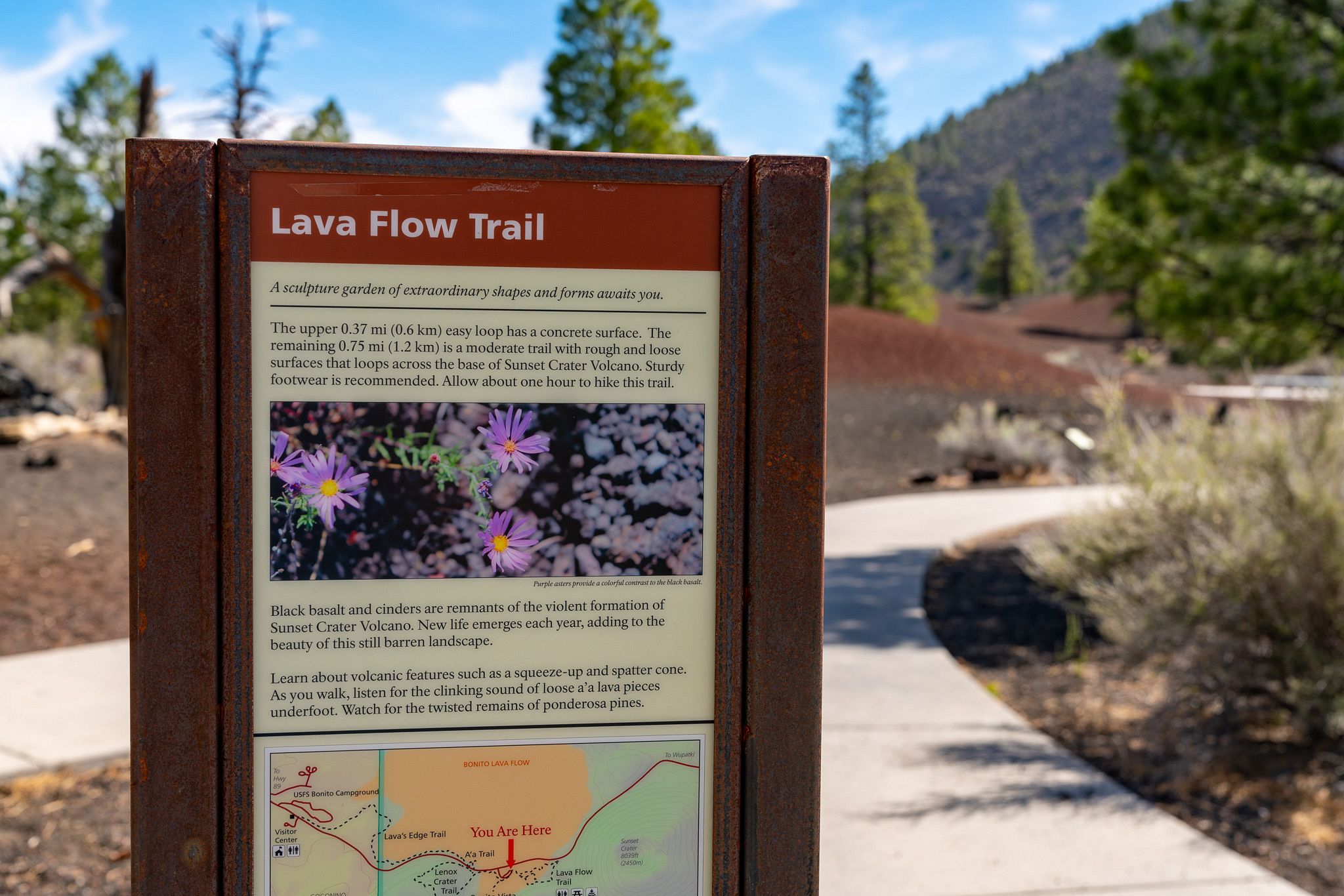 While it used to be possible to hike to the summit, this trail was closed in 1973 because of excessive erosion caused by hikers. Nowadays, the Lava Flow Trail is as close as you can get to Sunset Crater Volcano.
Part of the trail is paved, but it's generally easy going. There is also an accompanying guide book with numbered markers as it weaves its way around various formations - we picked one up at the Visitor Center.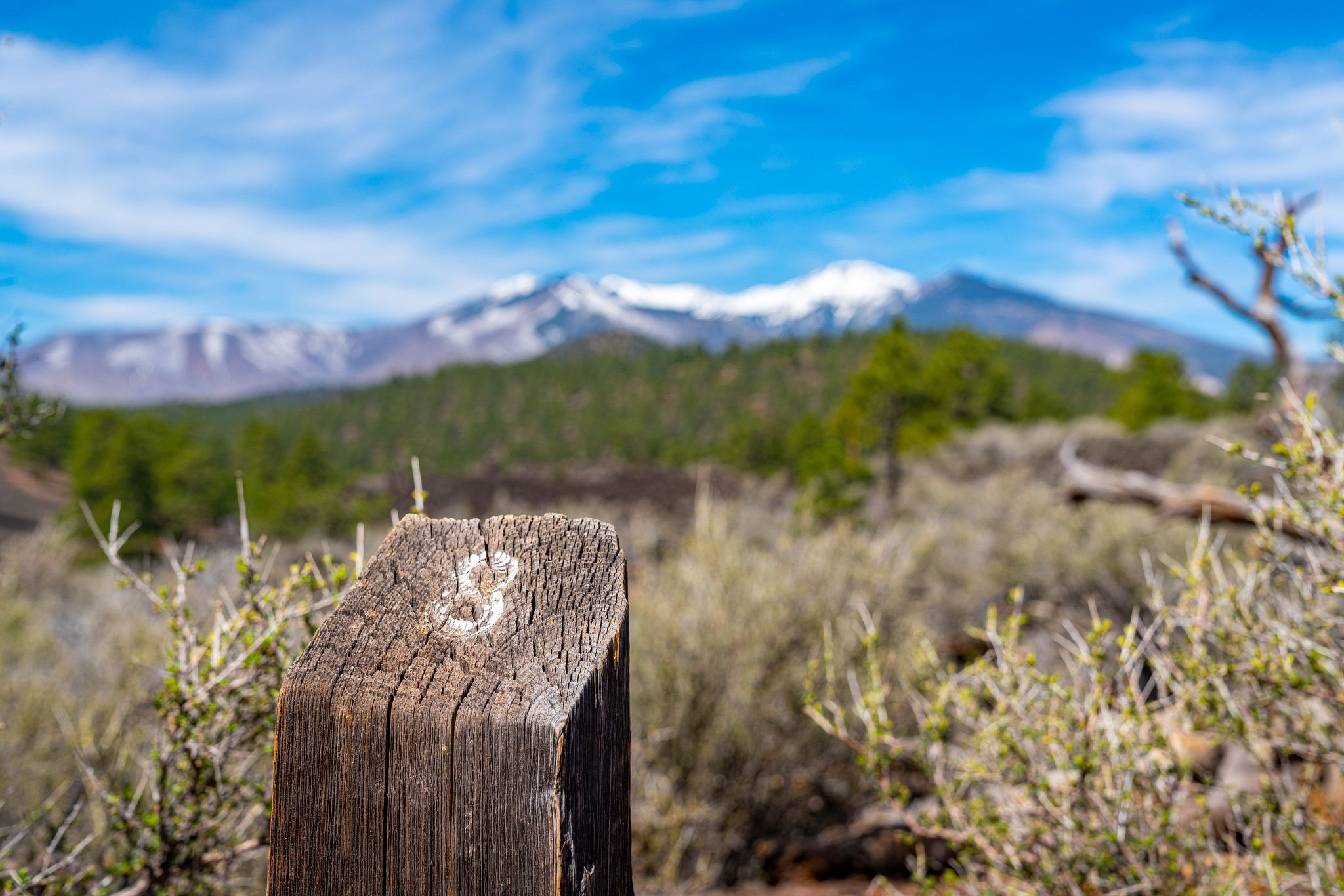 One such feature is an ice cave - a former lava tube that contains permanent ice year-round and from which cool air emerges. Visitors used to be able to go inside, but that's no longer allowed - you can just view from the outside.
There are also spatter cones and other volcanic structures. The area is otherwise barren rocks - it's hard to remember that almost 1,000 years have passed since the eruption! About the only vegetation is the occasional Ponderosa pine.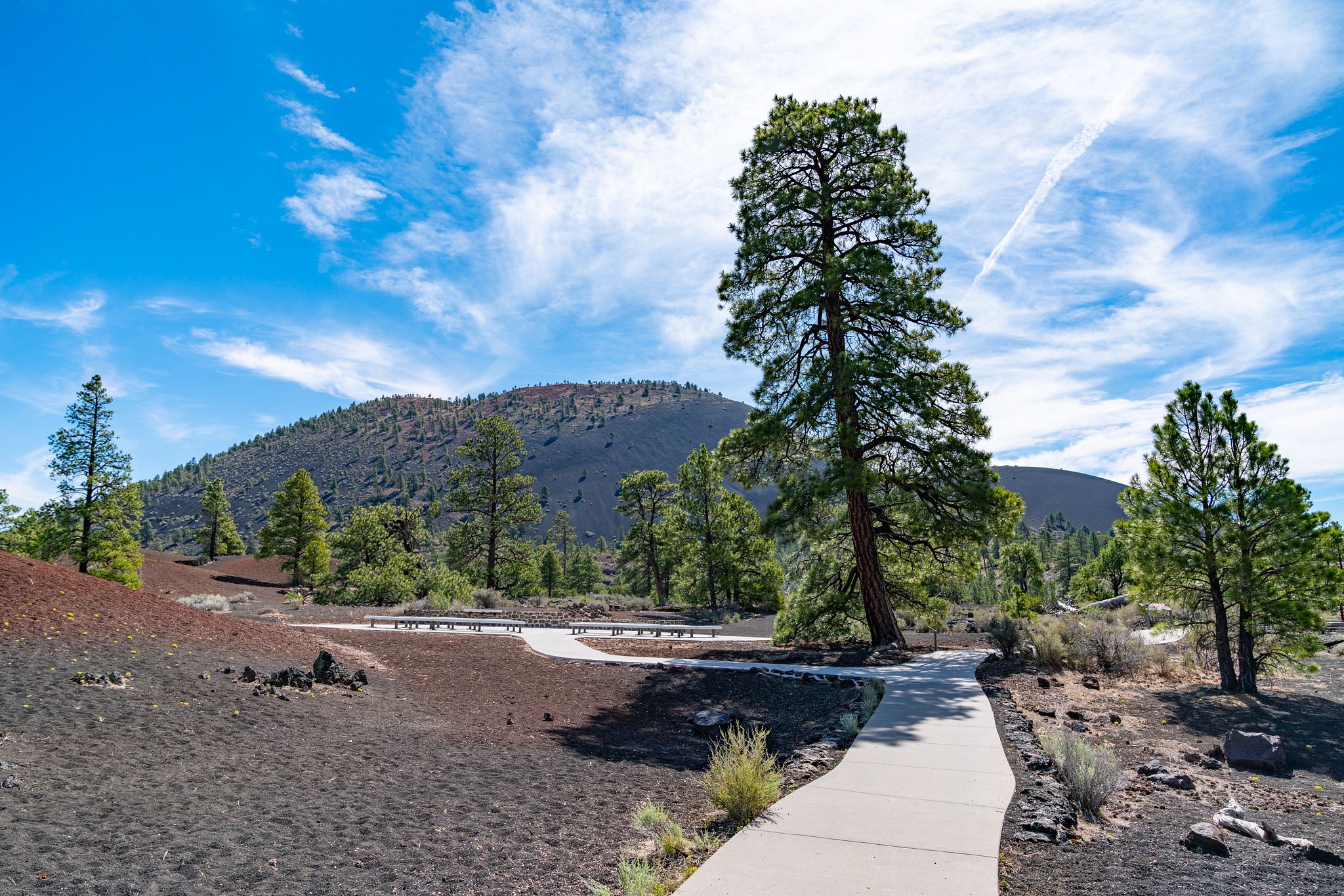 If you want to learn about the geology of Sunset Crater Volcano, then I'd highly recommend picking up a trail guide from the Visitor Center and hiking the Lava Flow Trail.
Cinder Hills Overlook
Our final stop at Sunset Crater Volcano was at the Cinder Hills Overlook - a beautiful vista point along the road as we drove up to Wupatki National Monument.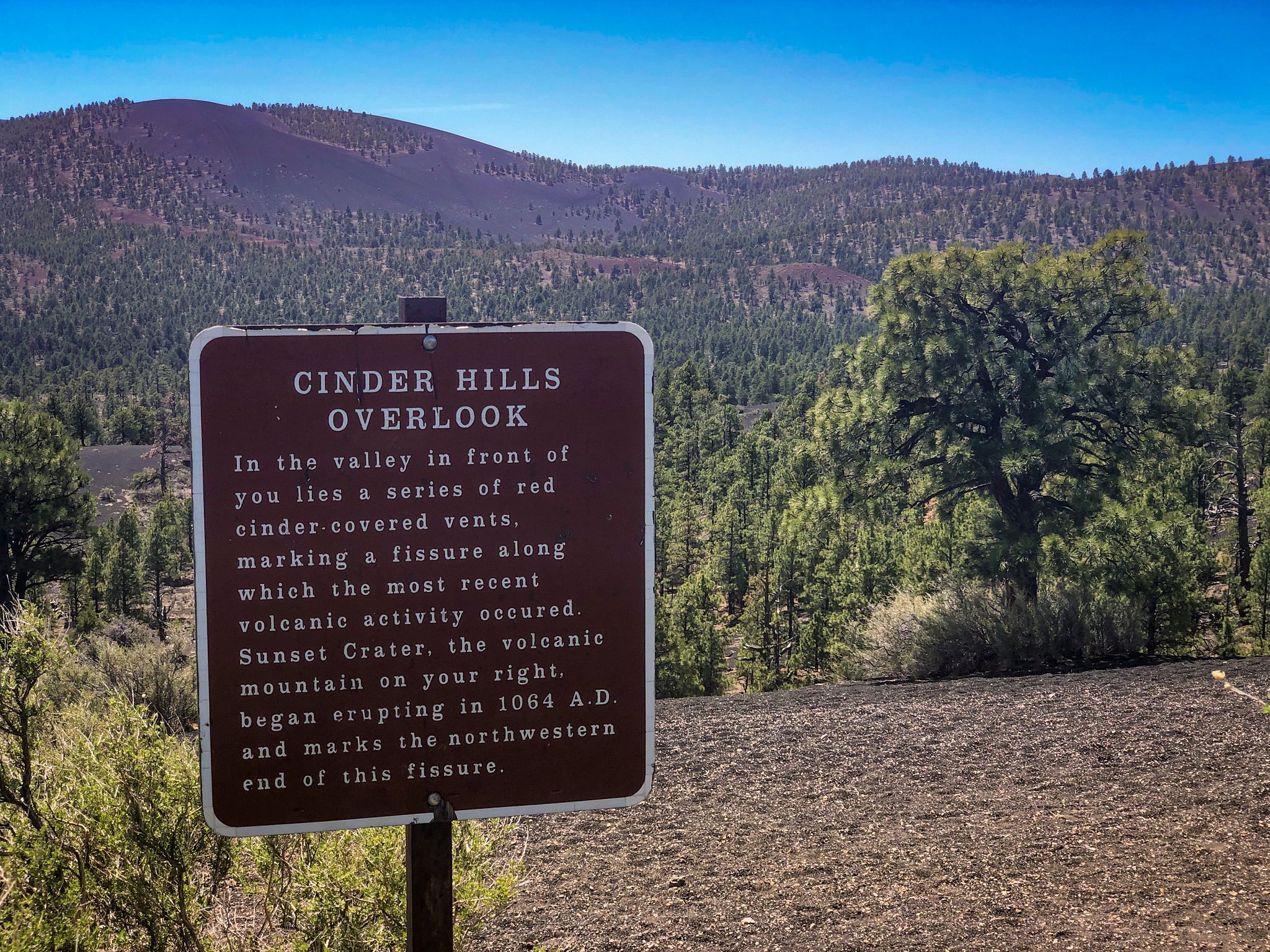 Interestingly, the sign says the eruption began in 1064 CE. This was initially believed to be the case based on tree-ring dates, but more recent geological and archaeological evidence revised that date to around 1086 CE.
Conclusion
Our visit to Sunset Crater Volcano National Monument had been short - just a couple hours - but fun and informative!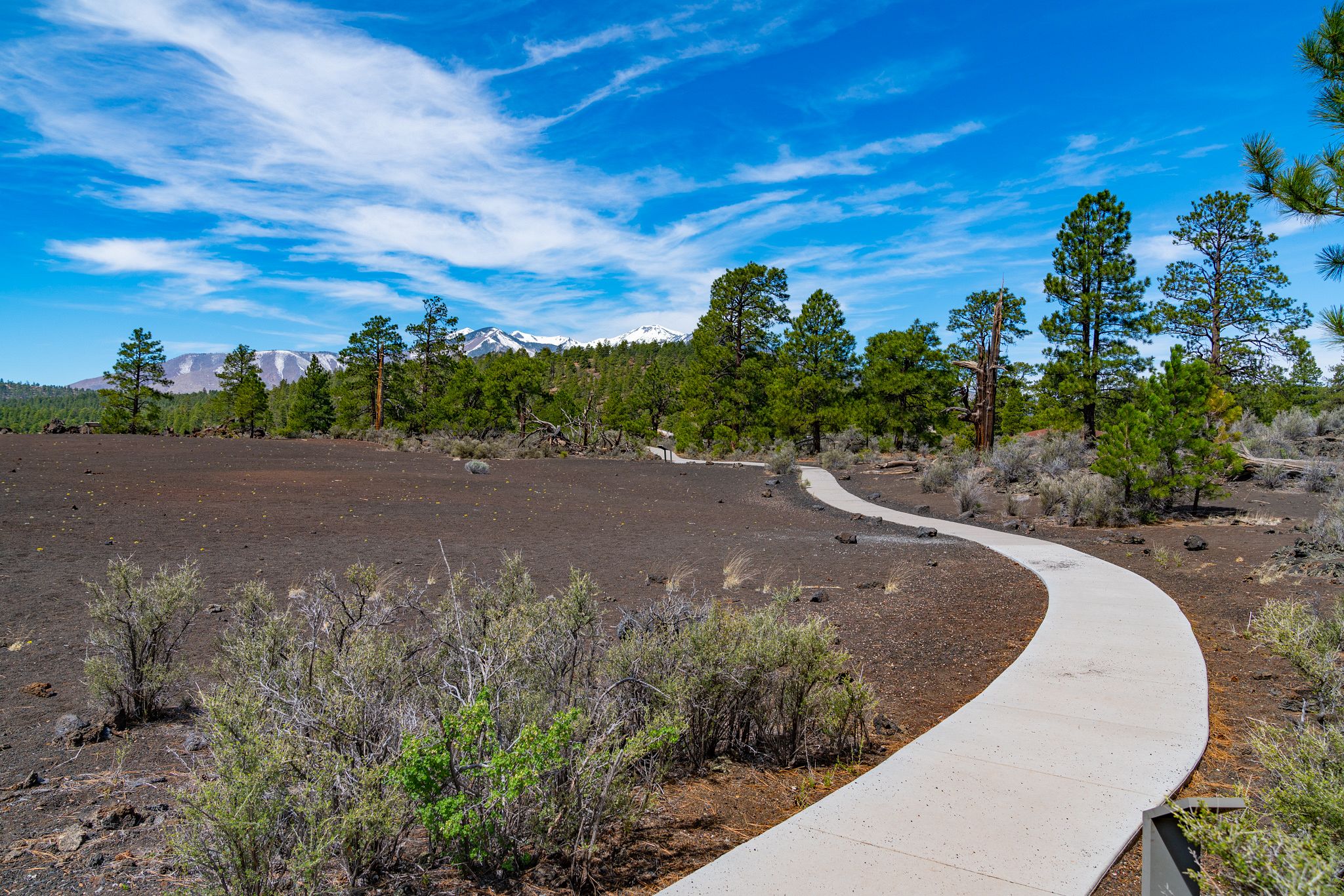 Although you can't hike up to the summit of Sunset Crater Volcano, the hikes we did do gave us an opportunity to witness the devastating impact that the volcano, almost 1,000 years ago, had on this landscape.
Situated so close to Flagstaff, AZ at the confluence of I-17 and I-40, I'd recommend Sunset Crater Volcano National Monument as a great stop on your journey!
Our journey is continuing - this time just 15-miles north as we head to Wupatki National Monument!