As an Amazon Associate we earn from qualifying purchases.
What a week this last week has been! Sitting here writing this now, it seems like so much has happened - and last Thursday seems so long ago!
We left our friends in Durango, CO and headed north, up to a new camping spot about 30 miles west of Grand Junction, CO. We had the choice of either taking the Million Dollar Highway through Silverton, or through Moab, UT to the west. We drove through Silverton a few weeks ago, so this time we chose to go via Moab.
Wow, it was hot! The truck dashboard showed it at 102ºF as we drove through Moab.
Grand Junction, CO
Unfortunately, our boondocking spot at McDonald Creek Cultural Area was pretty much the same. There was a strong breeze blowing which helped some, but even so, the heat was pretty crazy. We were staying there for 4 nights while we visited Colorado National Monument.
The camping spot was on BLM land, but it was much more strictly managed than others we've seen. Camping was only allowed in clearly signed spots, they had a 7-day stay limit and a pack-in-pack-out policy - including human waste and campfire ashes! There were lots of other spots which, despite having fire rings, you weren't allowed to camp in - although we saw plenty of cars parked there overnight regardless. In fact, early on Saturday morning, we were flagged down by one camper whose car wouldn't start - our lithium jump starter batter (similar to this one), had his engine running in 30 seconds.
We found a great spot, Site S3, nestled in the canyon. It was a mile or two down a rough dirt road, not technically challenging but not for the faint-hearted either! But it was quiet and secluded, and cell signal on Verizon was good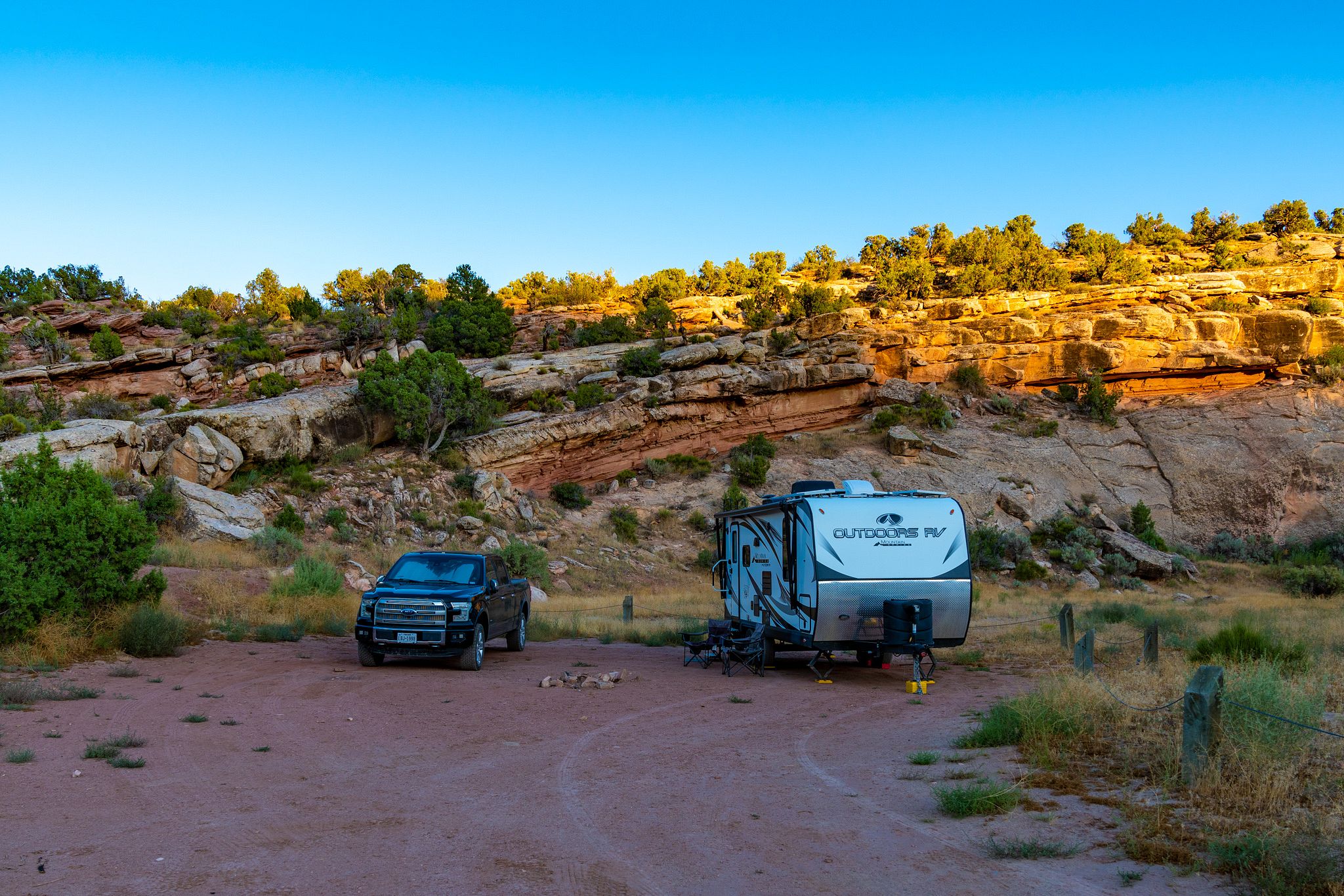 In hindsight, a better option may have been to camp at the James M. Robb - Colorado River State Park in Fruita, just down the road from the Monument. But we didn't check availability in advance, and at $30 per night, we saved ourselves some money - although we probably spent it on gas driving to and from Grand Junction each day!
One of the reasons we chose our Outdoors RV 21RBS was because of its excellent insulation. Each morning before sunrise, we'd open all the windows, turn on the fan and chill the trailer as much as possible. Then, just as the sun started to appear, we'd seal ourselves in - close the windows, line them with Reflectix, and close the blinds. We'd cocoon ourselves in our little insulated box.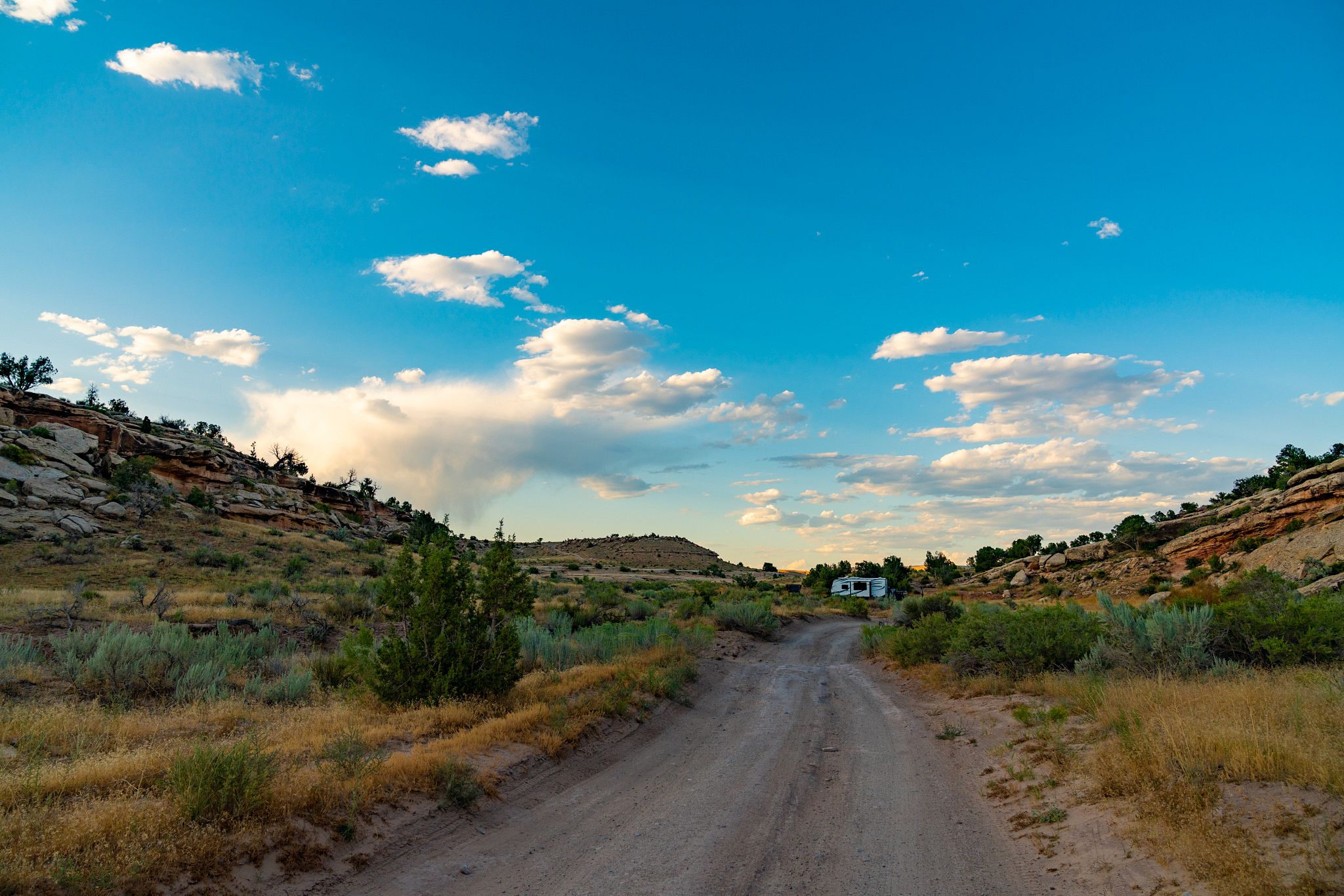 Honestly, this worked well until around noon; even the best insulation has its limits! So after a productive Friday morning, we decided the best thing to do was to head off in search of air conditioning. We drove into Grand Junction, and I went to watch a movie (Hobbs & Shaw) while Diana spent some time in Barnes & Noble. It's always risky letting Diana loose in a bookstore, but we survived!
On Saturday and Sunday, we explored Colorado National Monument. You'll have to wait for our YouTube video and blog post about it for all the details, but I'll share one little spoiler. On Sunday, Diana cycled the entire Rim Rock Drive loop - a 33-mile loop through Colorado National Monument. She managed it in 3 hours 40 minutes. I'm super proud of her - it was a tough ride but she nailed it!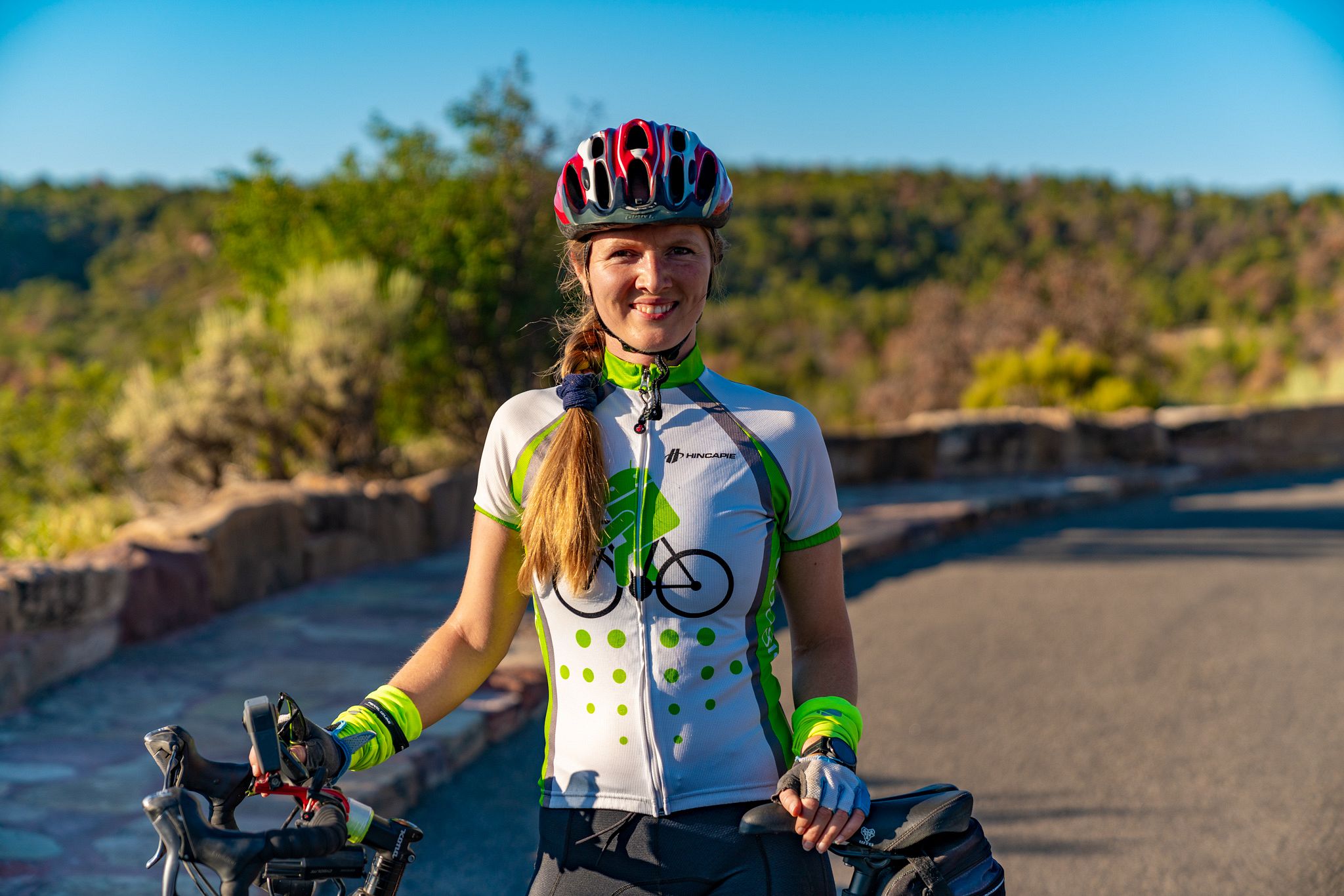 We celebrated afterwards by visiting the Palisade Farmers Market just down the road. We had learned about this while enjoying Hibachi Sushi in Grand Junction the previous night, and had been chatting with a family from Bayfield, CO. They were staying in Grand Junction just to visit the Palisade Peach Festival that was happening that weekend. We were too late for the Peach Festival, but not the Farmers Market!
Dinosaur, CO
On Monday, we escaped the heat and headed north towards Dinosaur, CO to explore Dinosaur National Monument. This straddles the state border between Utah and Colorado, and we've spent the last few days camping nearby.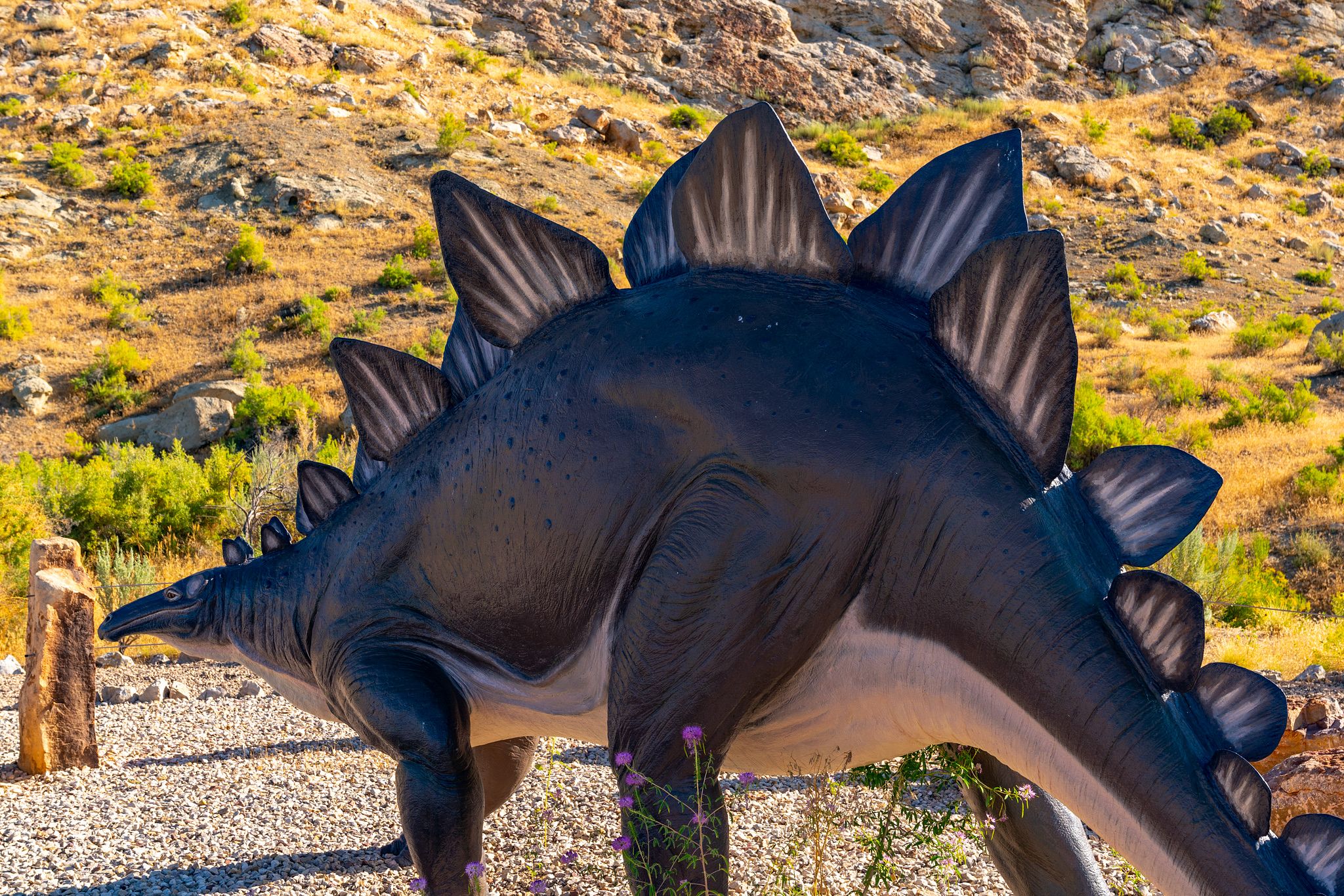 Again, we'll put all the juicy details in our blog post and YouTube video, but, we went rafting this week!
That's right, what better way to visit a National Park Unit than by rafting down the river through it? That's the adventurous way, right?!
I can honestly say that Dinosaur National Monument is one of the most surprising units we've been to. Based on the name, you'd be forgiven for expecting to see dinosaur fossils. And you will. But you'll also learn about ancient cultures, hear stories from modern history, see a rich paleontological record, and fascinating geological wonders. Put it on your list!
Milestones
We've been really getting stuck into blog posts and videos the last few weeks - working hard to produce some great content for you all.
Spending hours on end writing articles and editing videos is hard work, but it can be really rewarding. We've had some lovely comments and emails from our watchers and readers in the last few weeks, and it's really motivated us! Thank you, we love to hear that you enjoy following our journey!
One of the most rewarding things is to see how our audience is growing. This week we hit a big milestone - 1,000 followers on Instagram. We also tipped over 600 followers on our Facebook page, and we're incredibly close to 2,000 subscribers on YouTube (1,958 at the time of writing).
Our goal is to inspire people to get out and explore our beautiful National Parks, show them how to make the most out of their visit, and educate them how to do so responsibly. We want to spread that message far and wide, so if you enjoy following us, please share us with your friends and family so they can follow along too!
Next
We've had a temporary respite from the unbearable heat by camping at slightly higher elevation, but that won't last long. From here we're heading up through Salt Lake City, UT and then up into Idaho as we head towards Oregon.
I think we're going to spend a few nights in campgrounds or RV parks, so we have electrical hookups to power our Air Conditioning and escape the heat.
But after that, we're hoping to get back to boondocking ready for the Labor Day weekend next weekend. Let us know in the comments if you have exciting plans for the Labor Day weekend!