Introduction
Tonto National Monument was the 12th stop on our journey to visit all 419 National Park Units in the US. Having previously visited Gila Cliff Dwellings National Monument, Tumacácori National Historical Park, and most recently Casa Grande Ruins National Monument, this would add yet more detail to the story of this area around 700 years ago.
We've also visited Tonto National Monument once before - a couple years ago, before we hit the road in our RV. We were excited to visit again.
Update: I'm sad to share that at the time of writing this (August, 2019), Tonto National Monument is currently closed due to the Woodbury Fire. It is a temporary closure and hopefully the site will reopen soon.
Video
Location
Tonto National Monument is about 75 miles west of Apache Junction, AZ, or about 110 miles west of central Phoenix, AZ. It's remote, and there's not much around, but getting there is easy if you take US-60 followed by AZ-188. Alternatively, you can make a road trip out of it by following the directions below.
Itinerary
Last time we visited Tonto National Monument, we were doing a big road trip around the southwest for Thanksgiving 2015. We had driven down from our home in San Francisco, CA, stopped to visit the Grand Canyon National Park for a few days, before heading on down to Phoenix, AZ. While in Phoenix, we decided to go and visit Tonto National Monument.
As an Amazon Associate we earn from qualifying purchases.
But rather than just driving straight there and back, we chose to make a bit of an adventure of it. We chose to take a drive from one of our favorite road trip books, The Most Scenic Drives in America. Drive 48 in the book is the Apache Trail - a 145 mile round-trip from Apache Junction, AZ, stopping at a number of places including Tonto National Monument.
The road trip was great, so we decided to do it again this time!
Road Trip
If you follow Drive 48 from The Most Scenic Drives in America, it starts from Apache Junction. We were camped near Tortilla Flat, so we decided to start our drive from there - since it's a loop, it doesn't really matter!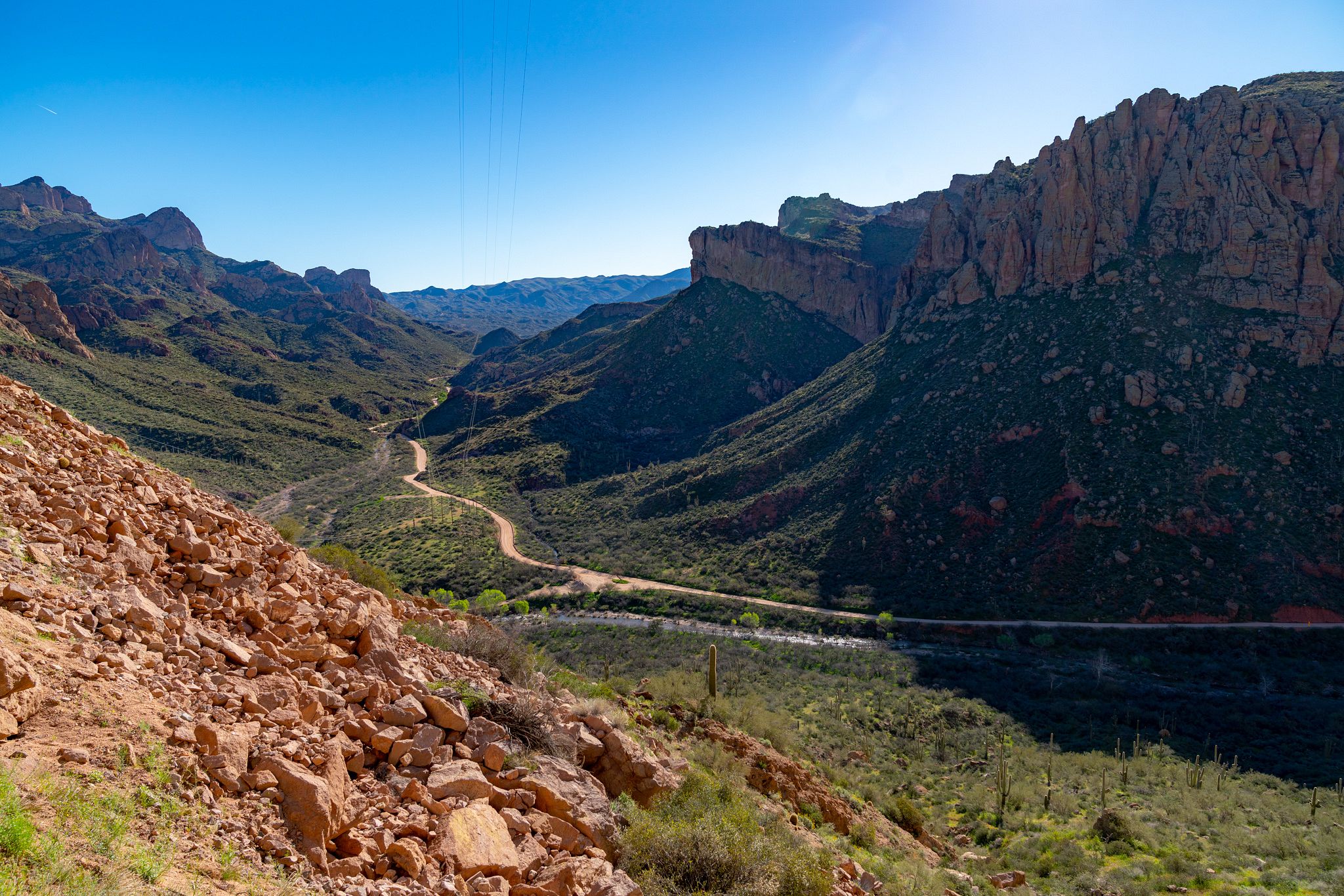 Just a few miles from Tortilla Flat, the pavement turns into a dirt road - but nothing that a 2WD sedan couldn't easily manage, it's just dusty more than anything. For the next 22 miles, the unpaved road weaves its way up Fish Creek Hill before descending back down towards Apache Lake. The views are incredible, with colorful rocks and cacti dominating the landscape within Tonto National Forest.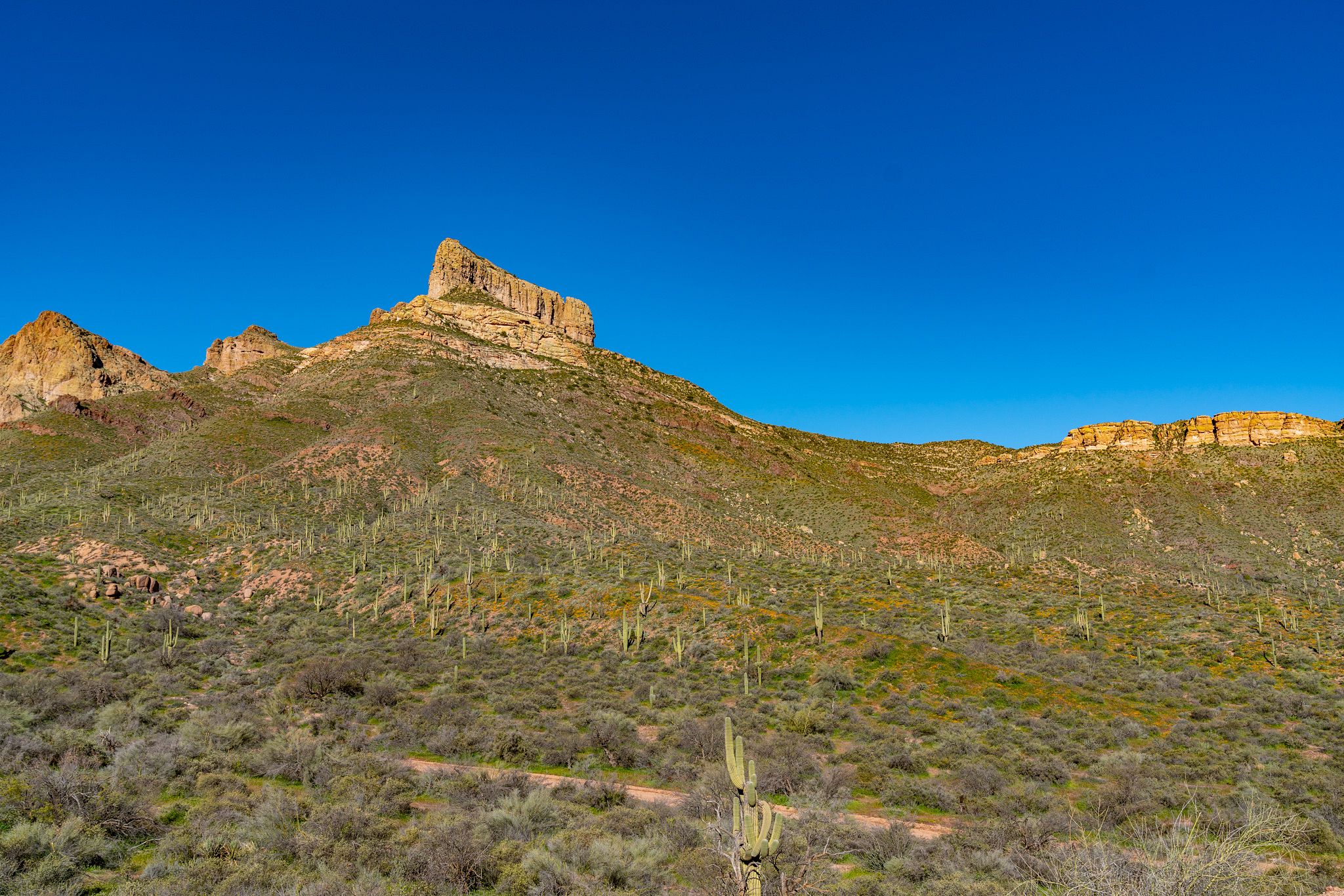 The pavement returns as the road reaches Theodore Roosevelt Dam - at one time the largest masonry dam in the world, built in 1911. In fact, the dam is the reason the Apache Trail exists at all - the trail was used to transport materials and equipment from the nearest railroad to the dam construction site with 20-mule teams.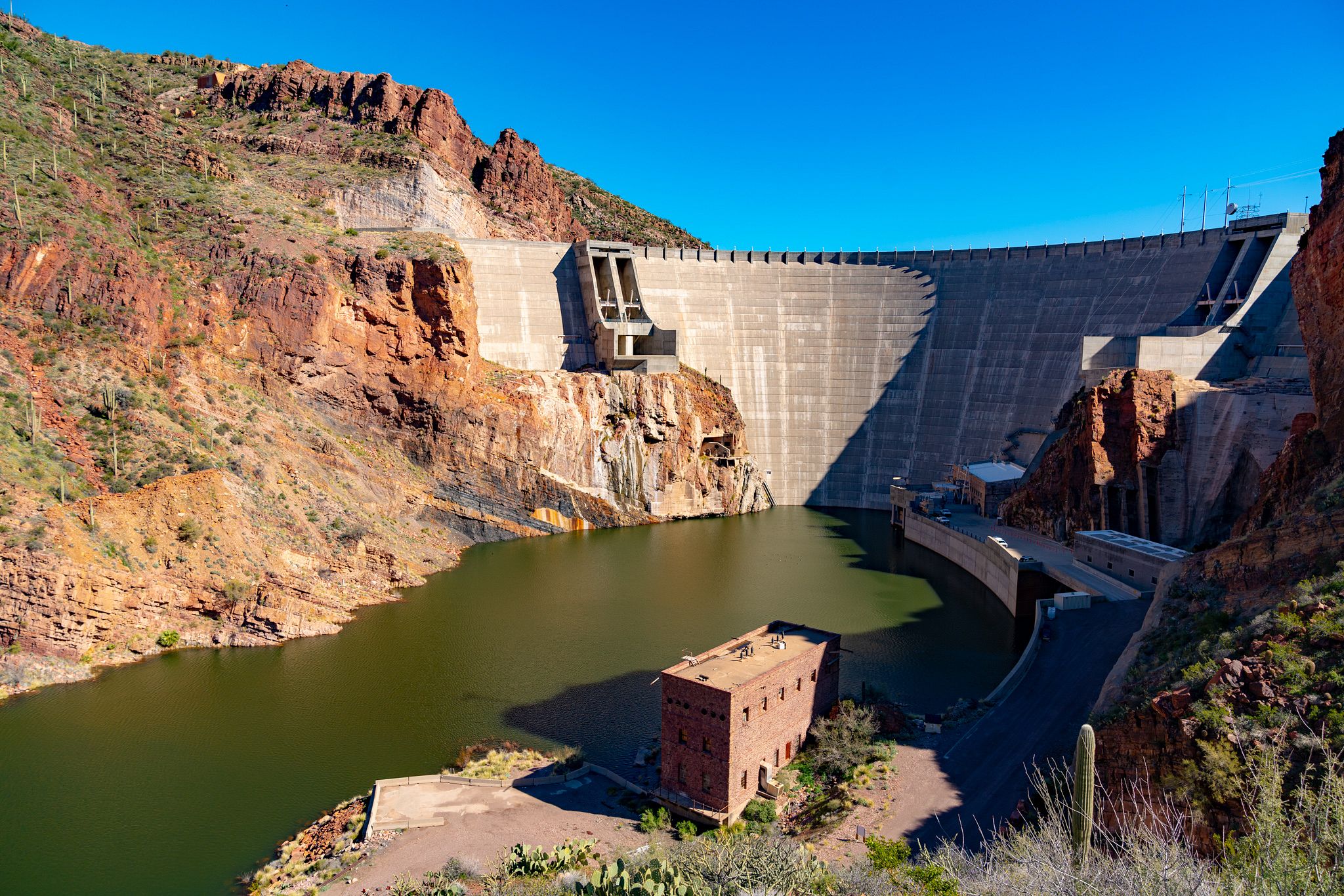 Just beyond the dam lies Theodore Roosevelt Lake, the oldest and largest of the six reservoirs constructed and operated by the Salt River Project. It's also the largest lake or reservoir located entirely within Arizona - although Lake Mead and Lake Powell are both larger, they lie partially within the Nevada and Utah respectively.
Driving now on SR 188, the road now crosses the Roosevelt Lake Bridge. Built in 1990 to redirect traffic from driving over the top of the Roosevelt Dam, the $21.3M bridge spans 1,080ft across Roosevelt Lake, making it the longest two-lane, single-span, steel-arch bridge in North America. Pretty cool!
Tonto National Monument is just a few miles further down the road from the bridge. If you're in the area, I highly recommend picking up the book The Most Scenic Drives in America, as it provides far more interesting information about the drive - including the remaining 100+ miles of the route back to Apache Junction.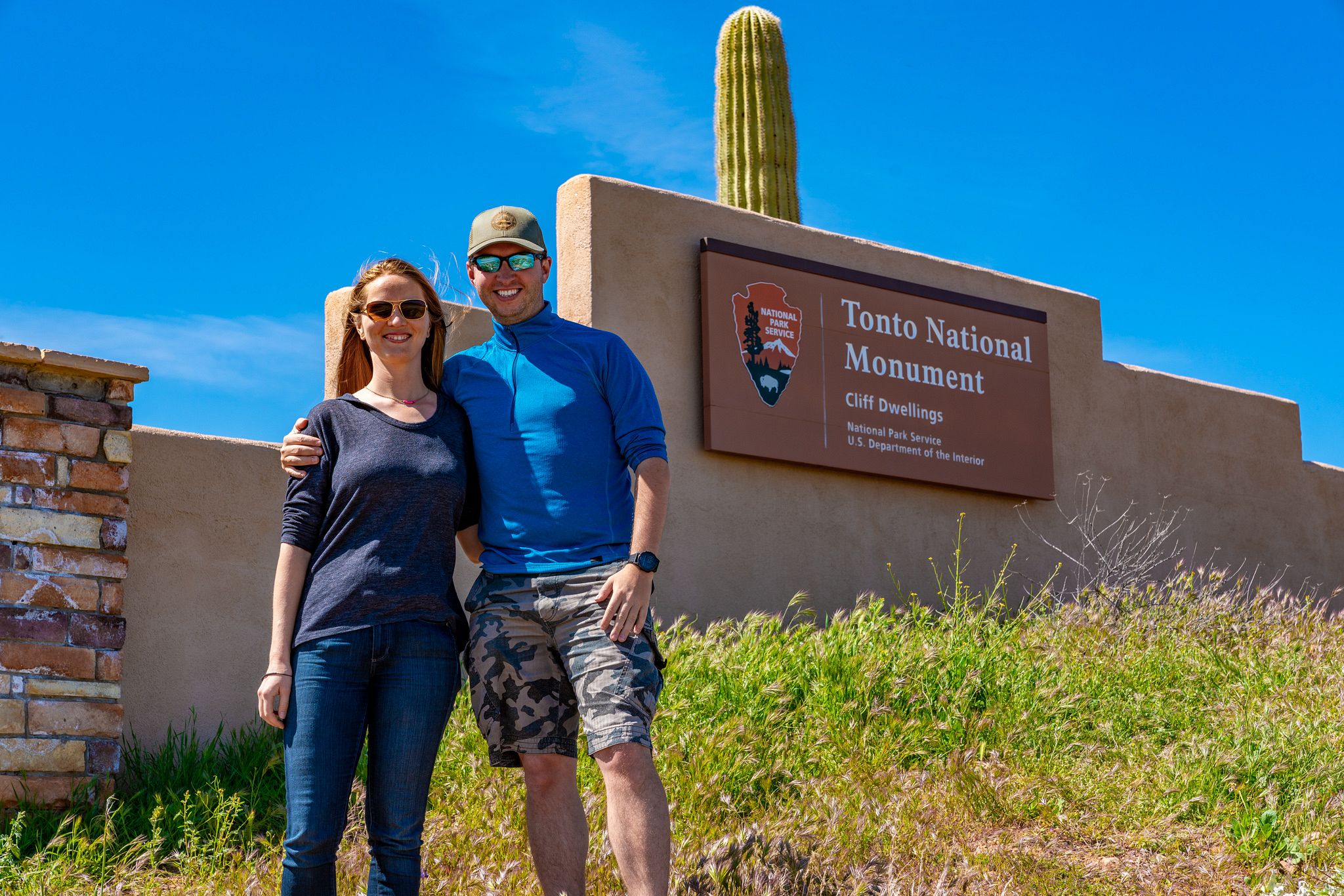 Visitor Center
This is not a place I'd want to visit with the RV in tow - they do have a few longer spots, but nothing large enough even for the combined length of our truck and 25ft travel trailer. In fact, parking at the Visitor Center is pretty limited in general. If the parking is full, you may want to take advantage of the picnic area just a little further back down the road - grab some lunch and then try the Visitor Center parking again later.
The parking lot is not only the place to park for the Visitor Center, but it's also the trailhead for the hike up to the Lower Cliff Dwelling. Fortunately, we arrived fairly early one Friday morning in March, so parking was no issue for us - the parking lot was almost empty!
As is the norm for us, we headed inside to stamp our National Park Passport and check with the Rangers inside if there's anything we should know. Nope, all good!
Inside the Visitor Center is also a museum - this is full of displays and exhibits, showing what life would have been like for the people who lived here 700 years ago.
Lower Cliff Dwelling
The Lower Cliff Dwelling is the only dwelling that you can explore self-guided. Although it's called the Lower Cliff Dwelling, everything is relative - it's still a steep, 0.5-mile hike with around 400ft of elevation gain to reach the dwelling.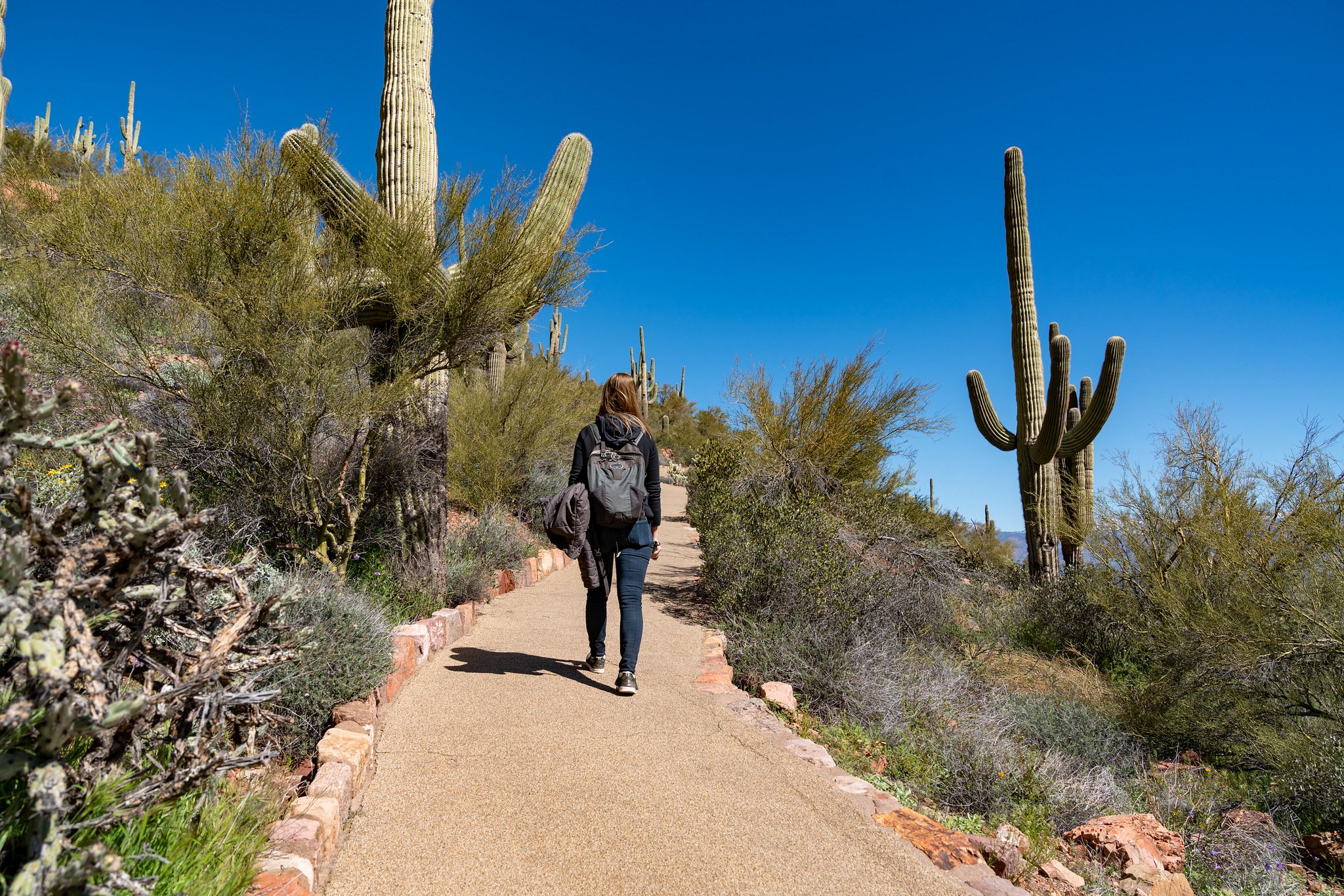 Although steep, the trail is well paved making it easier to hike. The National Park Service recommends 1-hour for the round trip up to the Lower Cliff Dwelling and back. We found that pretty accurate - actually, we spent 57 minutes according to our Strava log (yes, we totally claimed that as a hike)!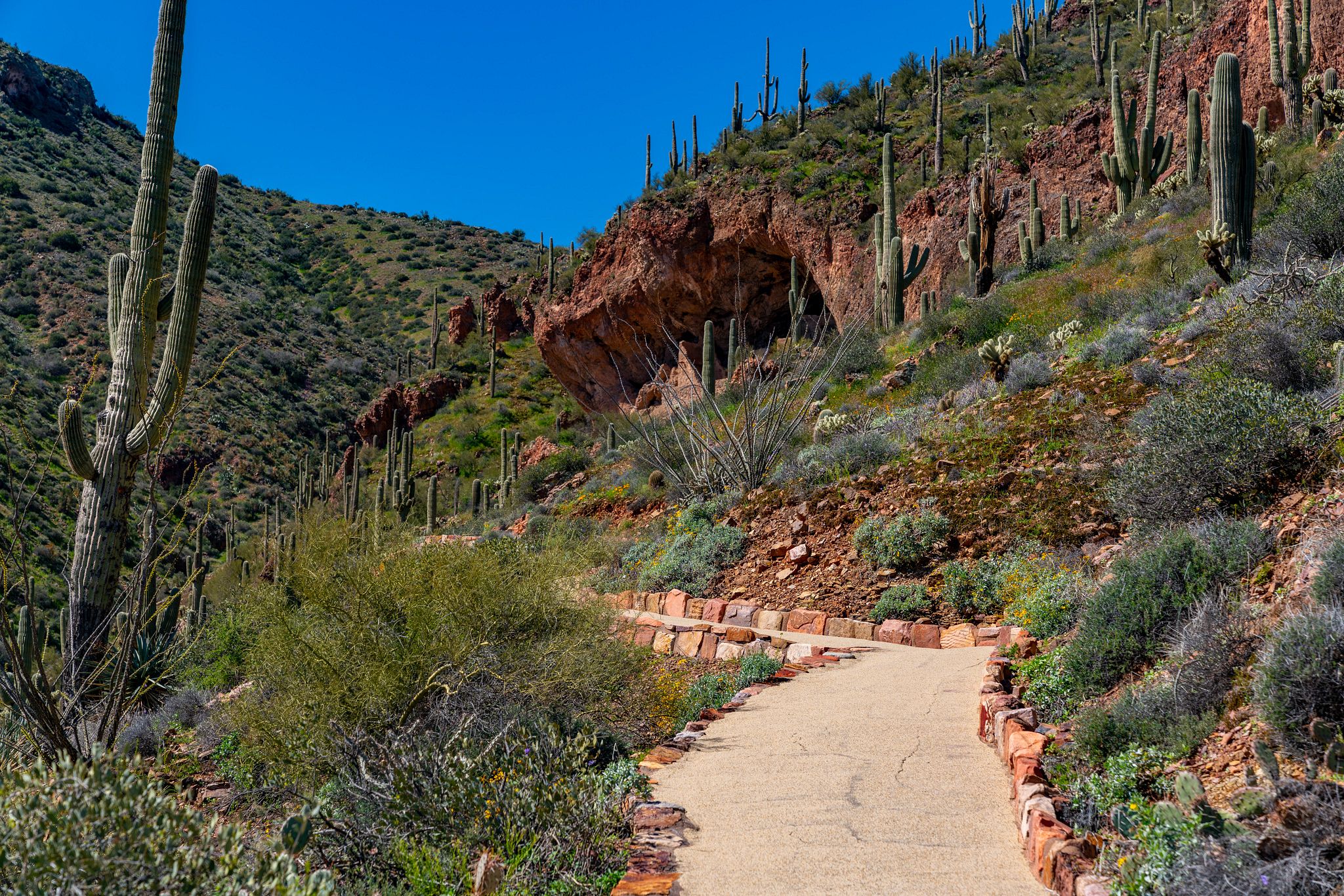 The cliff dwellings at Tonto National Monument were inhabited by people of the Salado culture - a group living in the Tonto Basin between 1250CE and 1450CE. The archeological data tells us of a diverse community, made up of groups of people from the Ancestral Puebloan, Ancient Sonoran Desert People and the Mogollon who all moved into the area. Having recently visited other areas where these individual groups of people lived, it was fascinating to imagine how they had all come together in one area to live.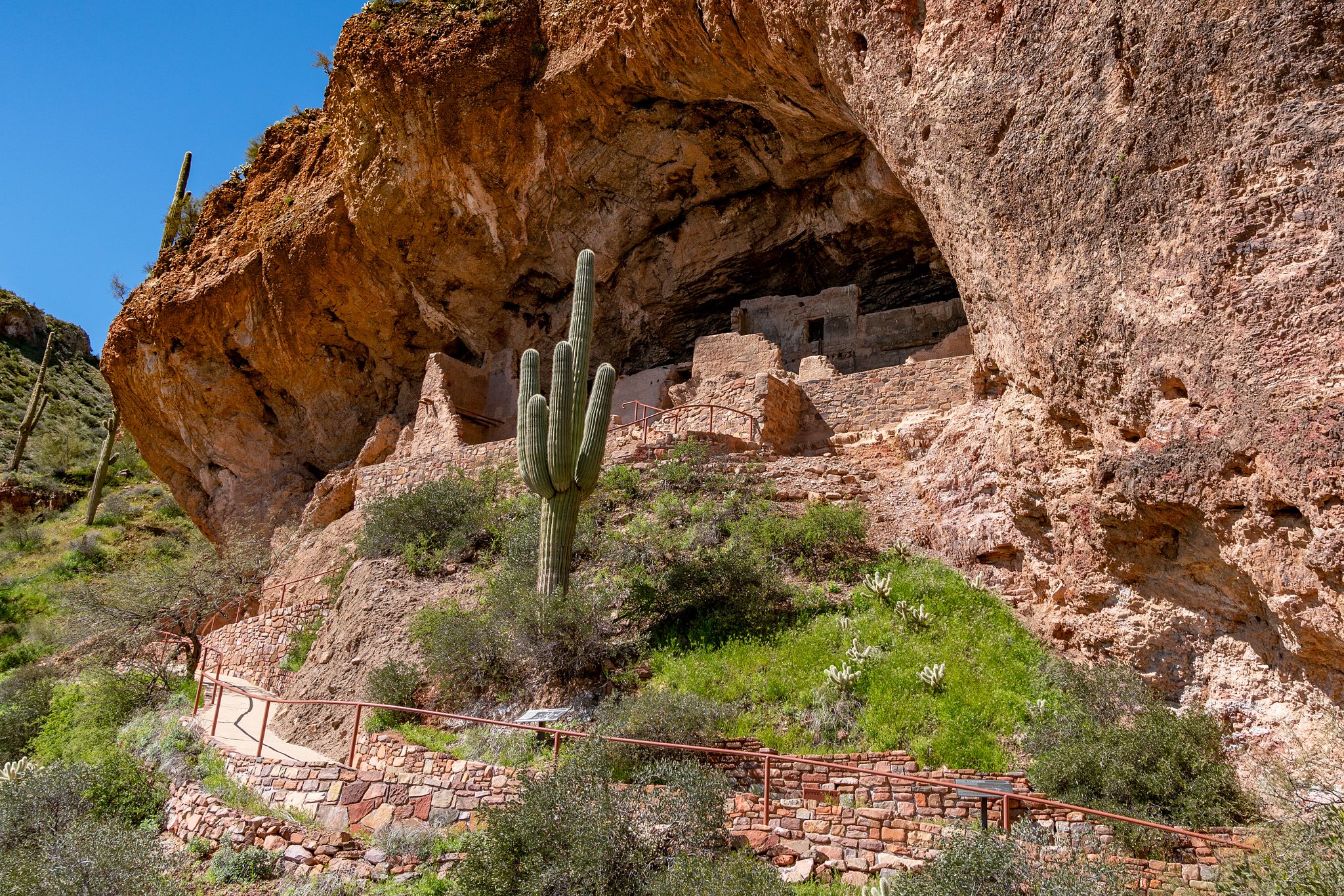 In the first half of the 14th century, the Salado took advantage of the rich desert environment - hunting, gathering and farming. Water was available at an ancient spring, and the Salado people were generally in good health. They created elaborate pottery and were expert weavers - shown by the rich archeological record.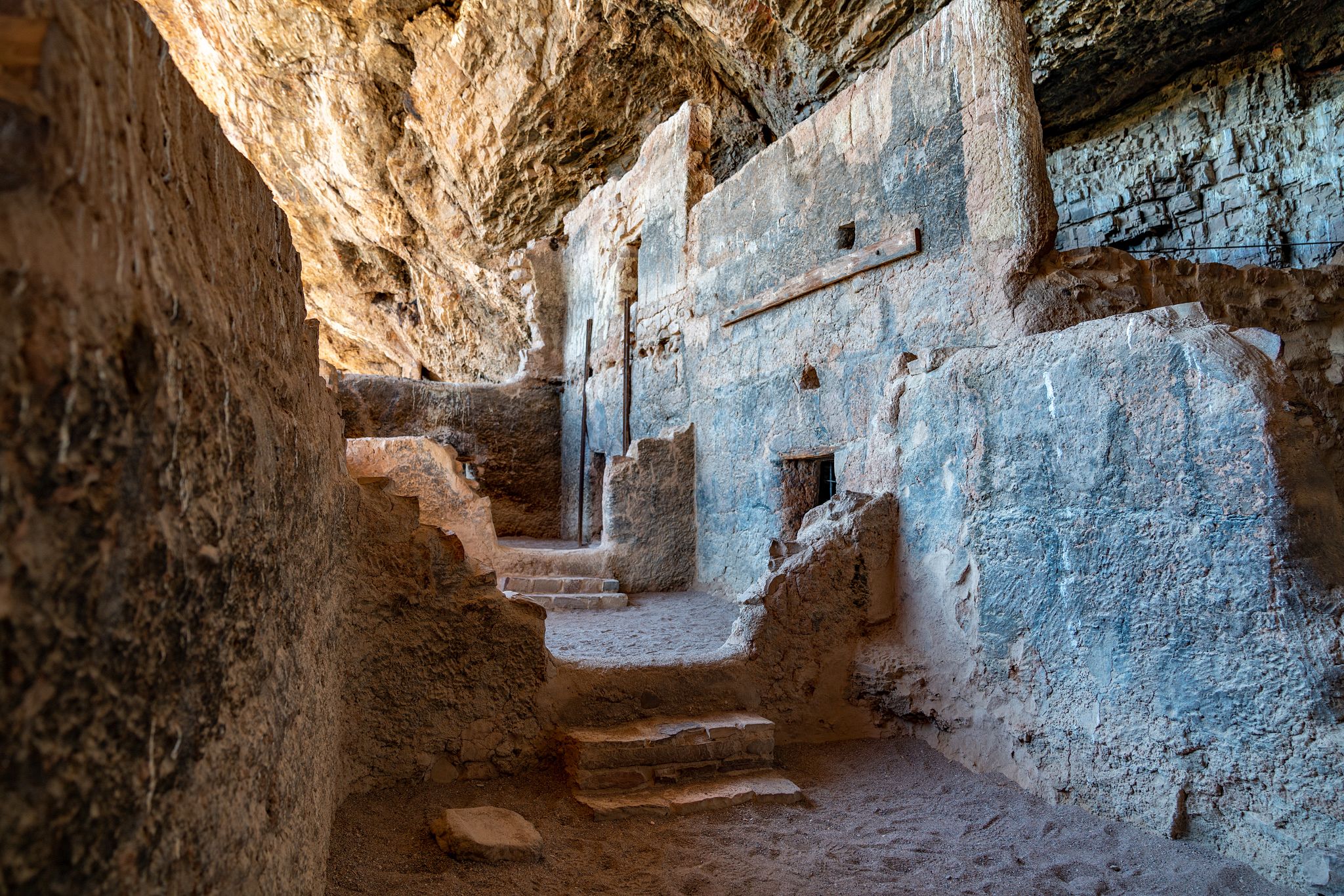 But between 1350CE and 1450CE, life became harder. The region became more arid, the water table fell, and the area was ravished by a pattern of alternating floods and droughts. As the resources that the people relied on began to deplete, the inhabitants moved from small villages into larger consolidated communities. But eventually it became too much, and the once fruitful Tonto Basin was all but uninhabitable. According to the oral history of associated tribes, their ancestors migrated away from the area, eventually ending up in places that their descendants now call home.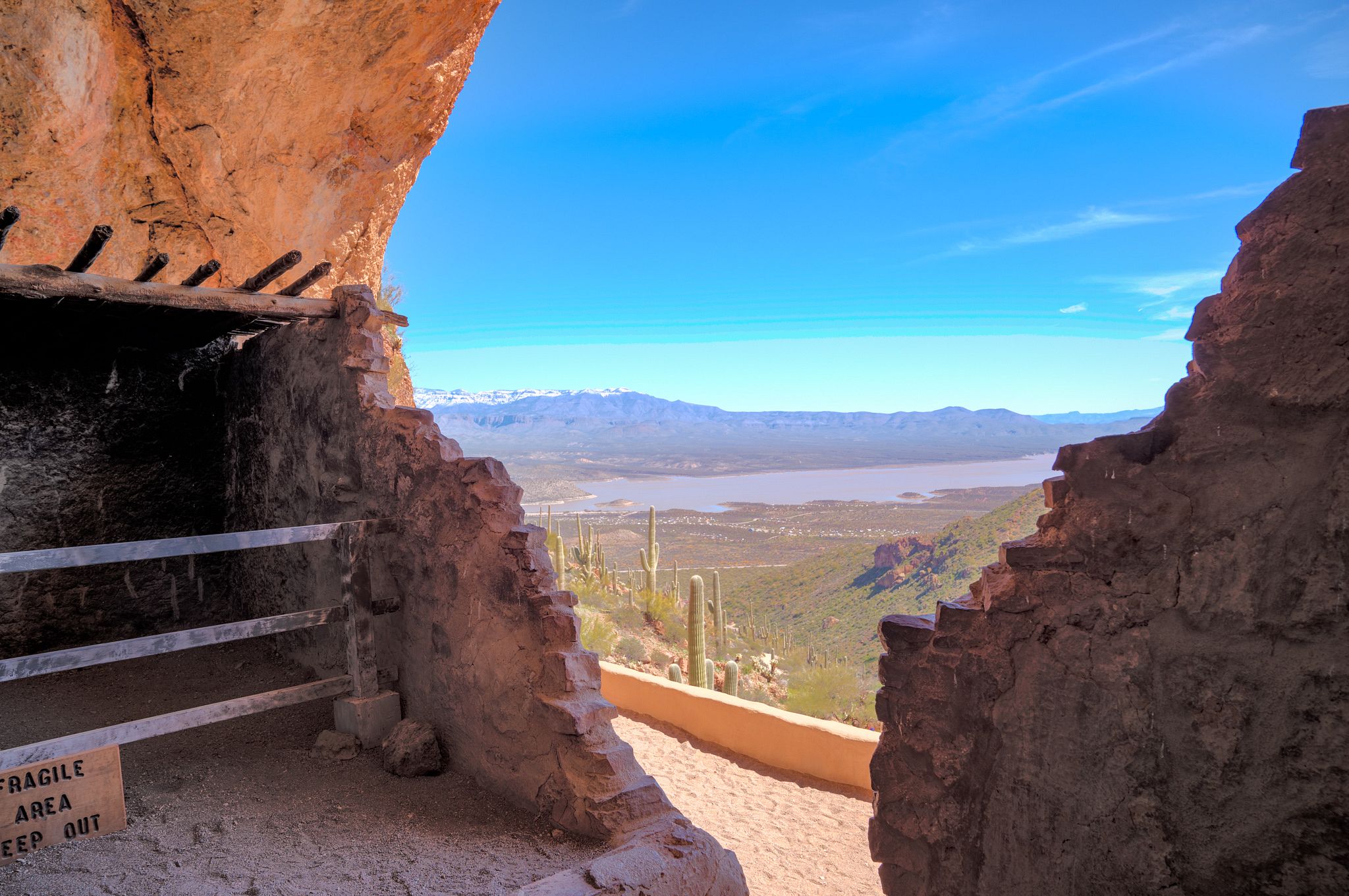 Upper Cliff Dwelling
Unlike the Lower Cliff Dwelling, the Upper Cliff Dwelling isn't available to visit unattended. It can only be visited on guided tours which run every weekend from November through April - stopping for the hot summer season. The tours are limited, so be sure to contact the National Park Service in advance to reserve your place.
Unfortunately for us, we were visiting on a Friday, so there were no tours operating. The site we had been boondocking at near Tortilla Flat had absolutely no cell signal whatsoever, so we hadn't been able to check it out in advance. The tour up to the Upper Cliff Dwelling takes 3-4 hours, so if you're planning to do this then come prepared.
I guess we'll just have to return another time to do the tour and check out the Upper Cliff Dwelling!
Camping
As I mentioned earlier, while in the area we stayed at a location known as Tortilla Flat Boondock that we found on Campendium. This site was absolutely beautiful - quiet, secluded, surrounded by plants with a creek just a short walk away.
However, there are a couple things you should know about this camping spot. First, it's remote - really remote. It's about 18-miles from Apache Junction, east on AZ-88, but most of that road is very low speed limit so the drive takes about 35 minutes. When we reached the small community of Tortilla Flat, we had to ford the creek which flows across the road - we were nervous about doing this with the trailer, but it turned out fine.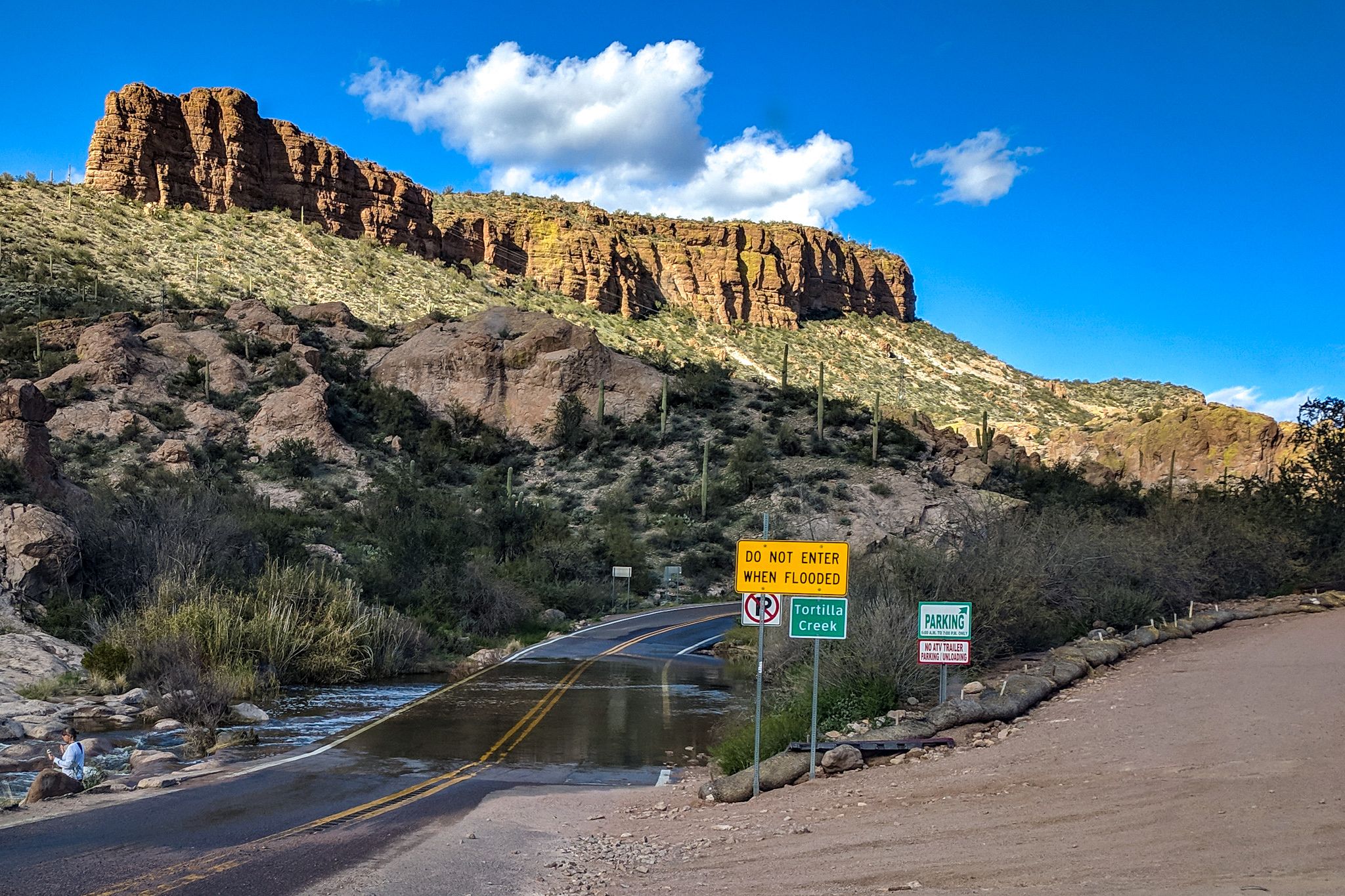 Because of its remoteness, forget about cell signal - we had nothing in the trailer on either AT&T or Verizon. If I drove to the top of the hill between the camping spot and Tortilla Flat, I could get 1 bar of 3G - just about enough to check emails. Other than that, you won't get any meaningful signal back until you're within a few miles of Apache Junction.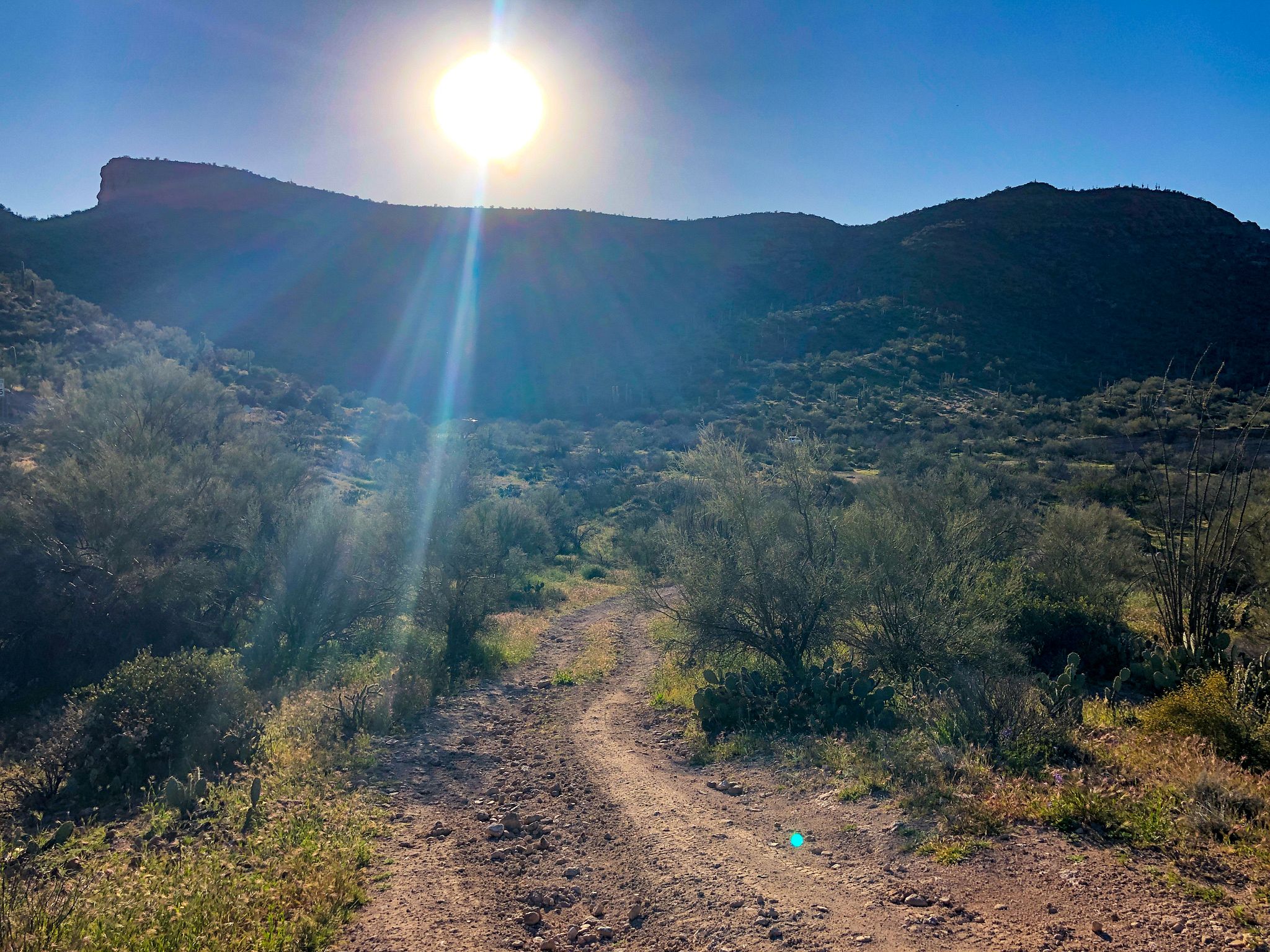 Lastly, the boondocking area is small and the access roads are very tight. There are several clearly demarcated camping sites, but to get to most of them means taking your RV down a rough dirt road with vegetation tight on both sides. We made full use of our 4WD and the high clearance on both our truck and trailer to make it through - and to reduce Arizona pin-striping, Diana had to put a tarp over some of the branches to hold them back.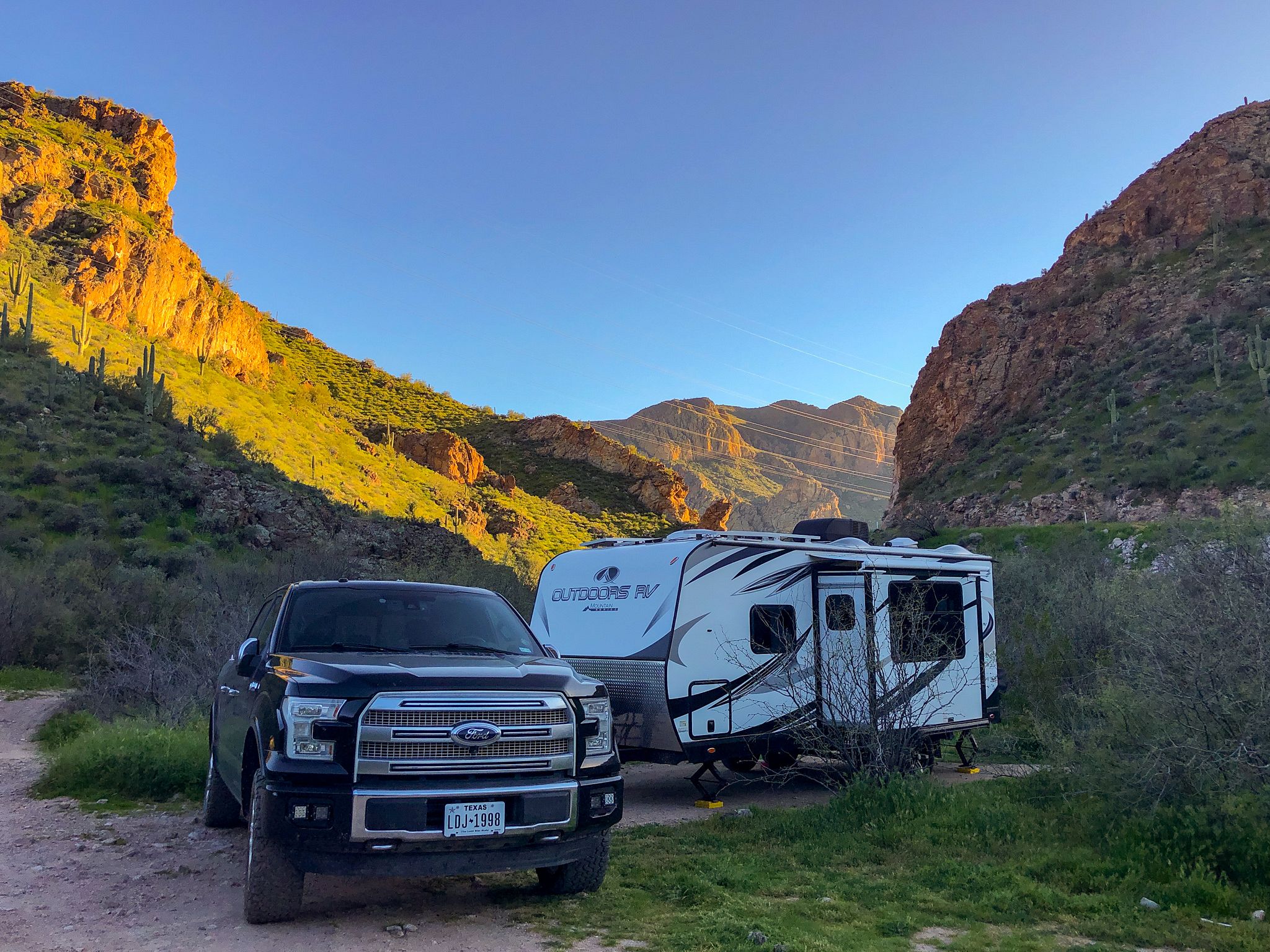 Despite those challenges, if cell signal isn't an issue for you and you have a smaller RV (van or small trailer), then it's a great location!
Conclusion
Tonto National Monument is remote, but the drive around the Superstition Mountains and Tonto National Forest is almost an attraction unto itself. We recommend taking the scenic route through Tortilla Flat, AZ, following the directions for Drive 48 in The Most Scenic Drives in America.
If you visit mid-week, then a couple hours is plenty to explore the museum in the Visitor Center and hike the round-trip up to the Lower Cliff Dwelling. However, if you're able to reserve a space on one of the guided tours to the Upper Cliff Dwelling, then allow yourself a half-day to make the most of your visit.
The proverbial melting pot of people that made up the Salado culture makes this a fascinating archeological site, so if that's something you're interested in then this is a must-visit.
We'll be continuing our journey, learning more about the ancient people who lived in this area as we head to explore Hohokam Pima National Monument - but there's something a little different about that, so stay tuned!