Introduction
After Coronado National Memorial, Tumacácori National Historical Park was 9th stop on our quest to visit all the National Park Units in the US. It was also our final National Park Unit visit on our loop through south eastern Arizona. It was an easy stop on our journey up I-19 (the 4th shortest 2-digit interstate in the US) to Tucson, AZ where we planned to spend Christmas.
The Tumacácori (which means "rocky, flat place") missions were originally designated as Tumacácori National Monument in 1908, and listed on the National Register of Historic Places in 1966. In 1990, it was re-designated as Tumacácori National Historical Park - now expanded to include the Guevavi and Calabazas missions. These missions are not open to the public, but they can be visited on staff-led tours. Unfortunately this is not something we had the chance to do.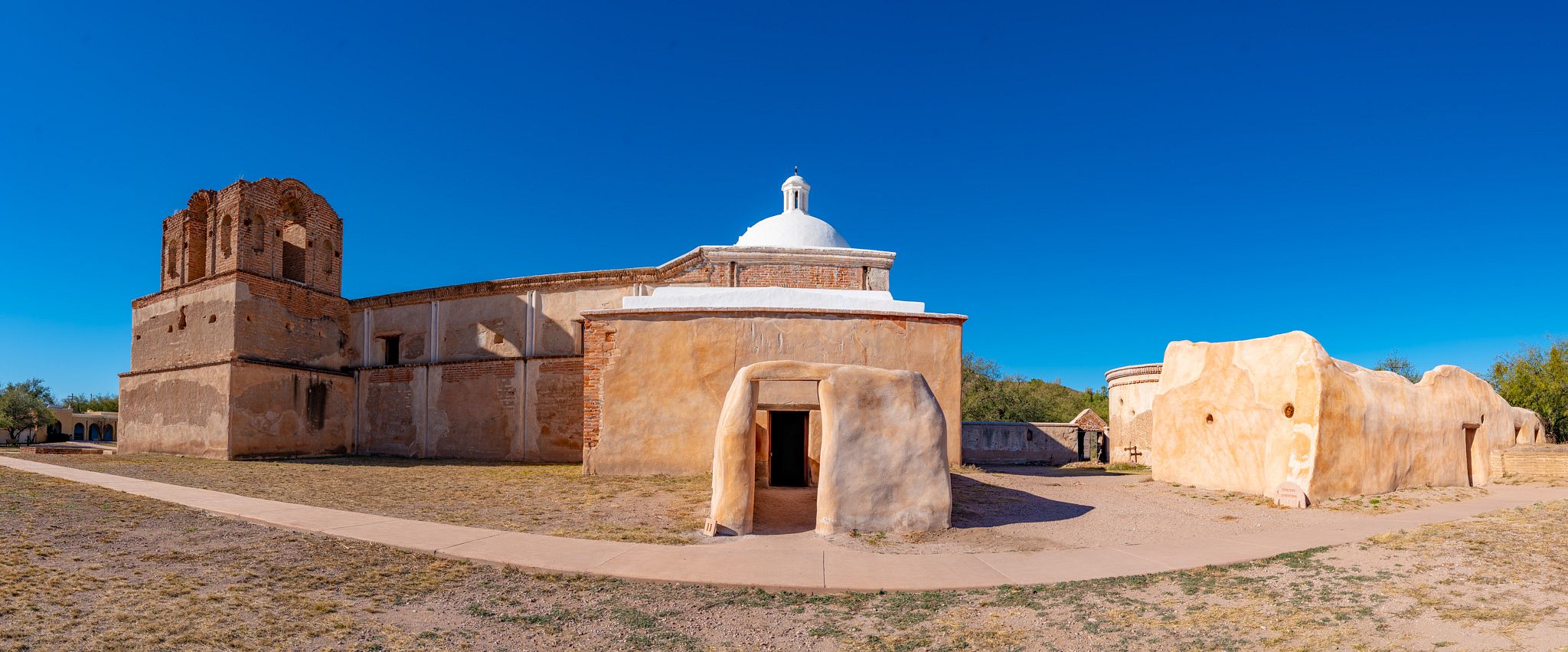 The unit also contains a 4.5-mile section of the Juan Bautista de Anza National Historic Trail which follows the route of the first Spanish overland expedition to Alta California.
With plenty of history and a relaxing river walk, Tumacácori National Historical Park is worth a visit.
History
In 1691, Jesuit Eusebio Francisco Kino arrived from New Spain, finding themselves in the territory of the O'odham people. They were known by the Spanish as the Pima. Here in the Santa Cruz River Valley, Kino established Mission San Cayetano de Tumacácori on the river's east bank. This makes it the oldest mission in southern Arizona.
Just. Because the very next day, another mission, Mission Los Santos Ángeles de Guevavi was established 15 miles up the river!
Following the Pima rebellion in 1751, the Tumacácori mission was moved to the west side of the river and renamed Mission San José de Tumacácori in 1753. A third mission, Mission San Cayetano de Calabazas was built just a few years later in 1756.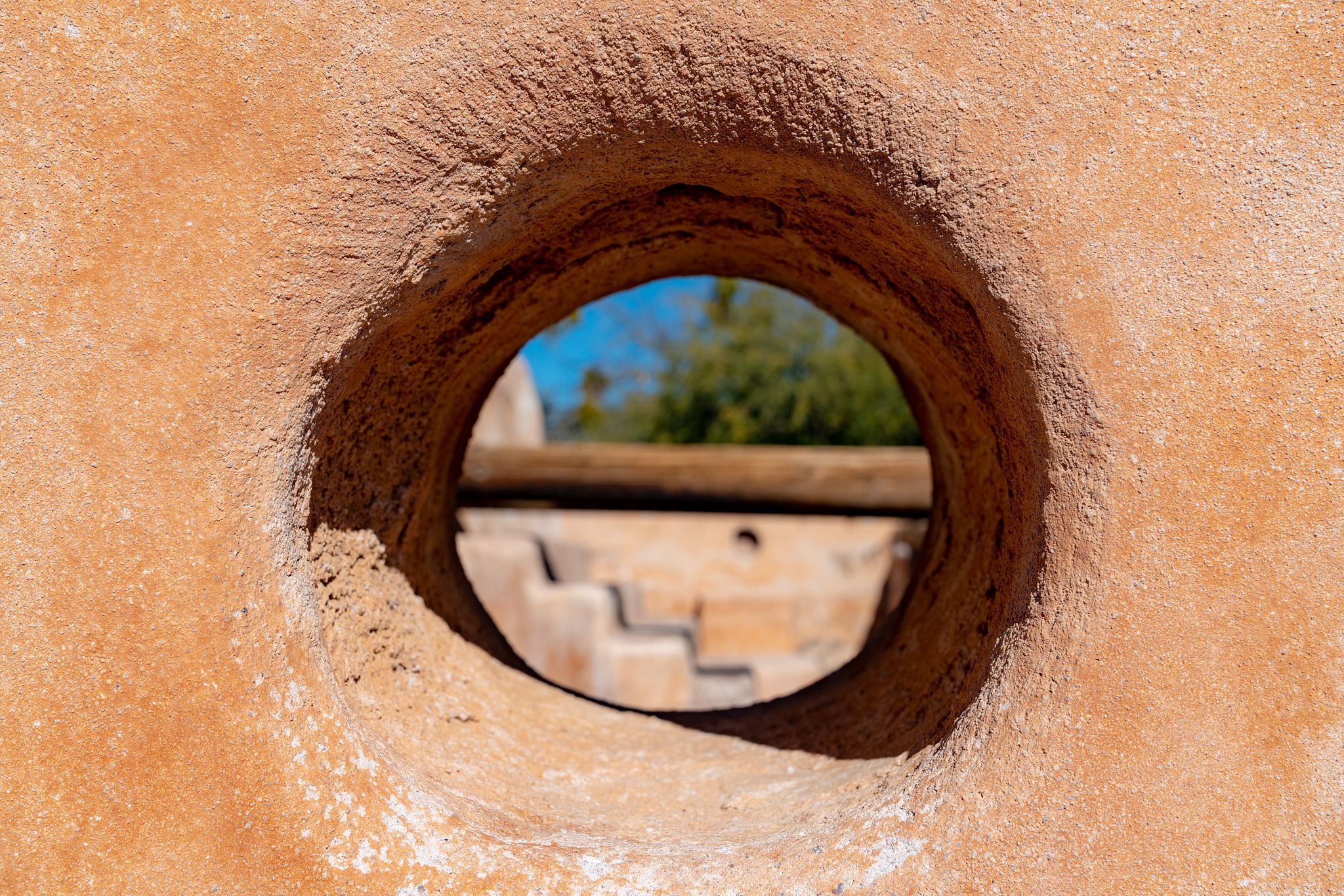 Amid rumors that the Jesuit priests in New Spain were becoming rich and powerful, in 1768 King Carlos III of Spain banishes the Jesuits from all Spanish territories. Responsibility for the mission passed to the Franciscans. But through disease, lack of funding and conflict with local Apaches, the population dwindled and by the mid 1780s, only 100 Native Americans remained at Tumacácori.
Despite attempts by Fray Narciso Gutiérrez to construct a larger church, Tumacácori failed to recover, his efforts hampered by the Mexican wars for independence. In 1828, a Mexican decree forced all Spanish-born residents to leave the country, and by 1848 the mission was abandoned.
As part of the Gadsden Purchase in 1854, it became part of the US Arizona Territory. This ultimately resulted in its designation as Tumacácori National Monument in 1908, when stabilization and restoration efforts began.
Our Visit
As always, we had a plan. And as with the best of plans, it changed when we arrived and spoke to the Park staff.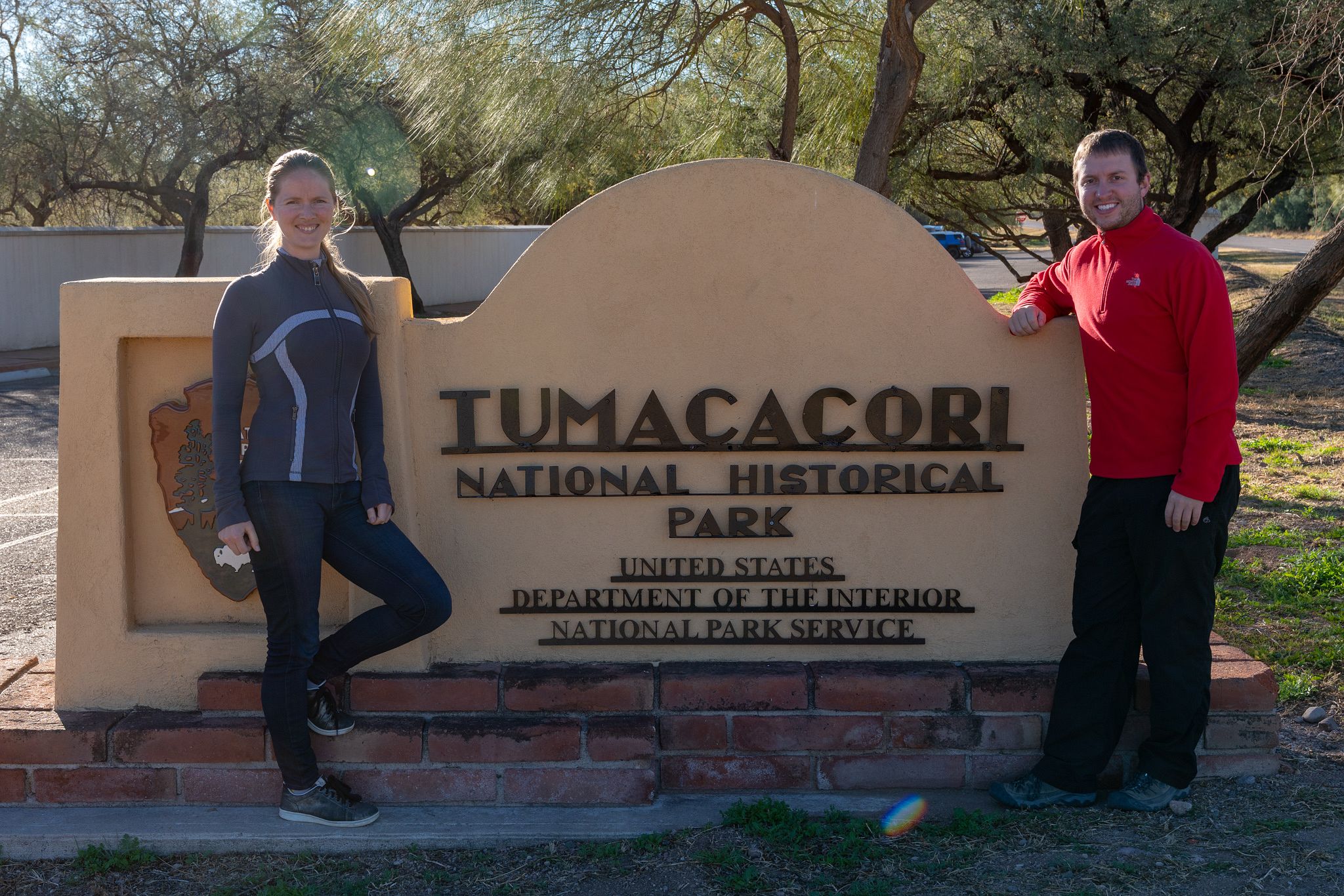 Our plan was to spend some time exploring the Tumacácori museum to learn about the history, then tour around the church and grounds at Mission San José de Tumacácori. So far so good. But then we had planned to hike on the Juan Bautista de Anza National Historic Trail along the Santa Cruz River to Tubac for lunch. Tubac is actually beautiful, artisanal town whose name unfortunately translates into English as "rotten" (awkward!). However, the river had flooded in recent rains and made parts of the trail impassable - more on that later though.
Museum
Let's start with the museum though. We arrived early, and the museum was almost empty. We quite enjoy taking the time to watch the short films that many National Park Units have. Tumacácori is no different. The film walked us through the history, and helped set the scene for what we would see later.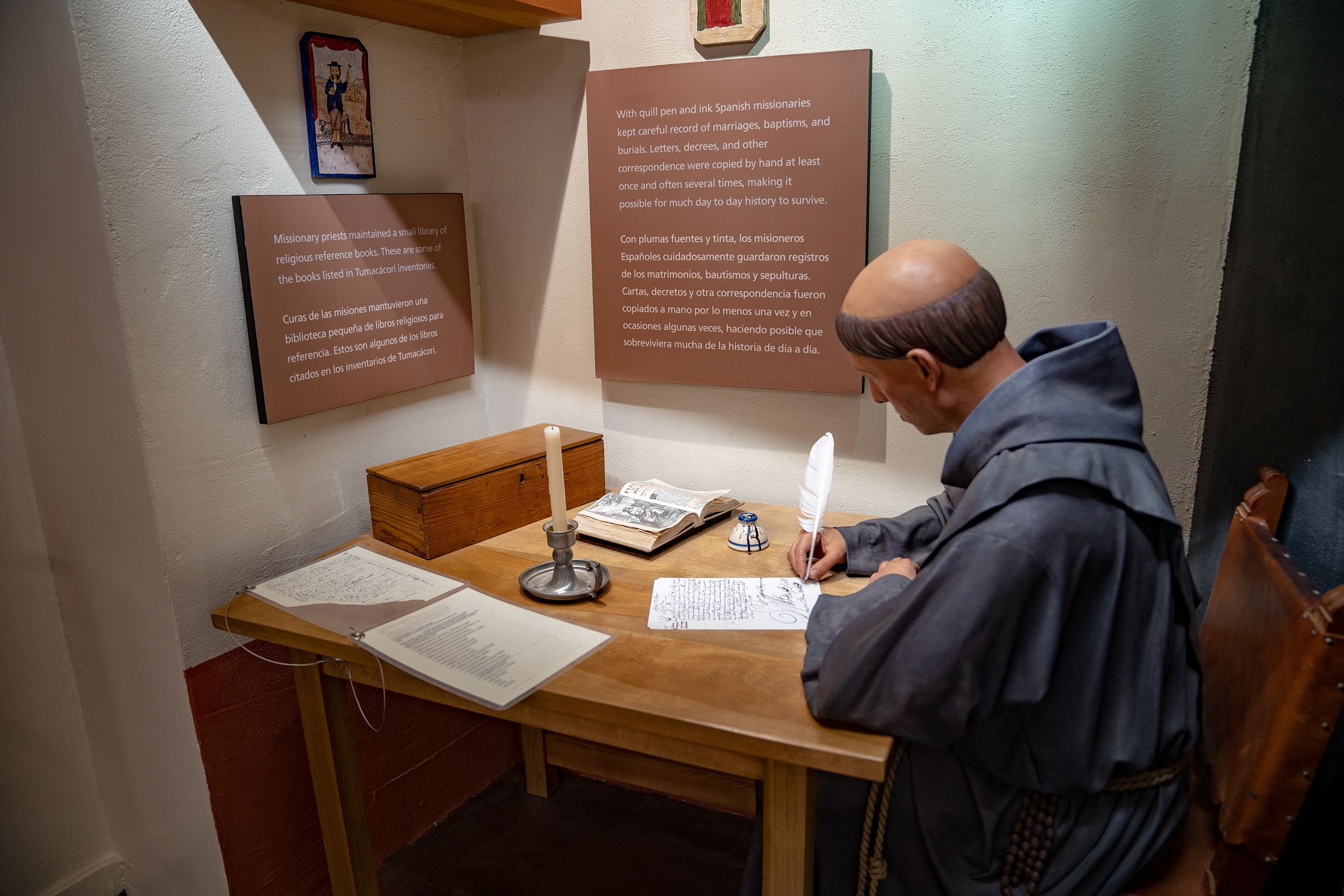 After the film, we went into the museum. It's only small, but we were really impressed! The displays looked new, and complete with life-size models really helped bring the narrative to life. There's a lot of information to absorb, and we didn't try to remember everything - but it's always good to get a sense for the timeline of events.
Church & Grounds
With the history fresh in our minds, we headed out into the grounds to see the mission itself. Although guided tours are available, we just took our time to stroll around. You can walk through the church itself, as well as the orchard, cemetery and a few other buildings. It was fun to try and reconcile what we had learned in the museum with what we were seeing, and imagine what it would have been like in its heyday.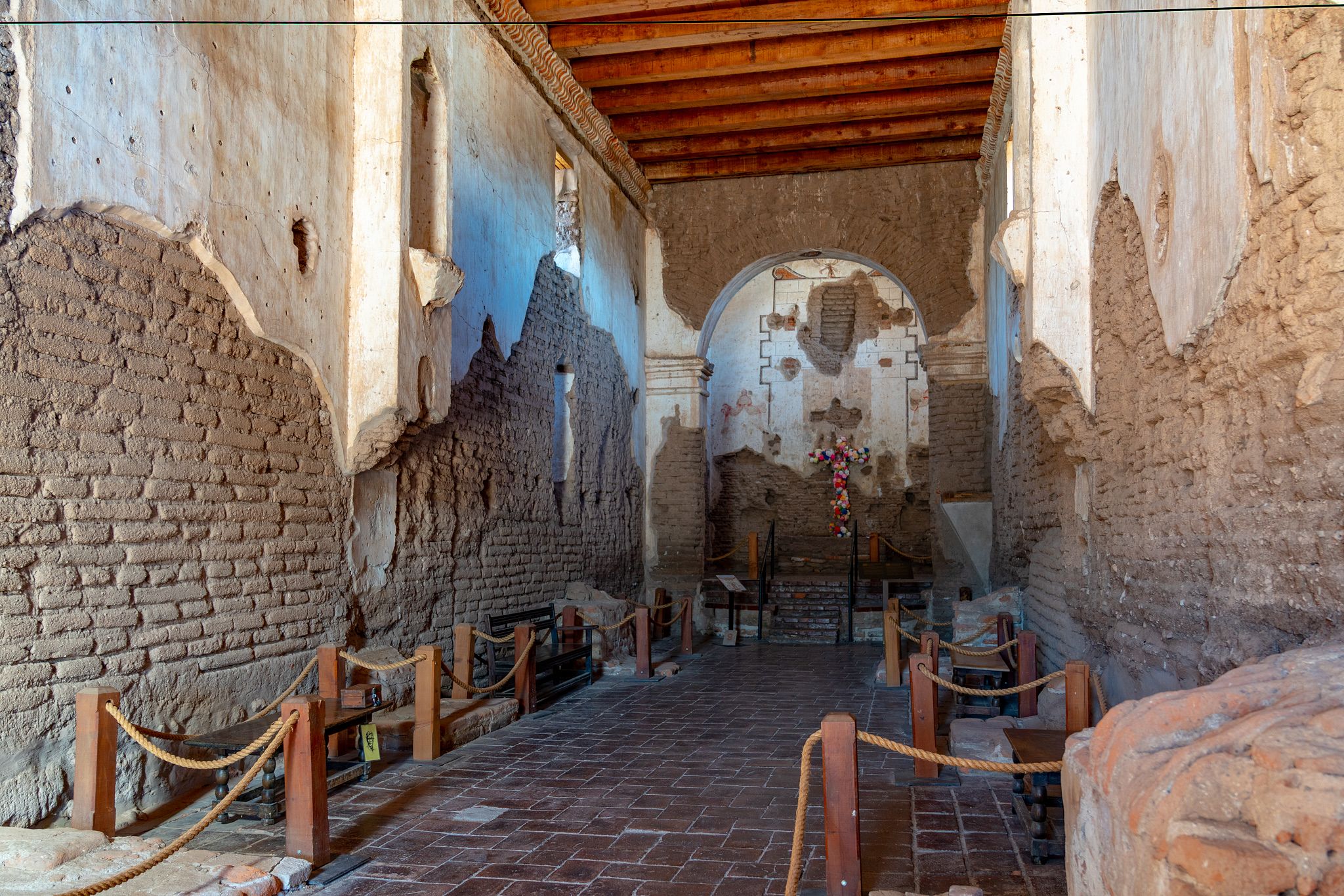 Although it had rained recently, we were lucky enough to be visiting with clear skies and sunshine. We made the most of it. The white and orange mission contrasted beautifully with the bright blue winter sky behind it.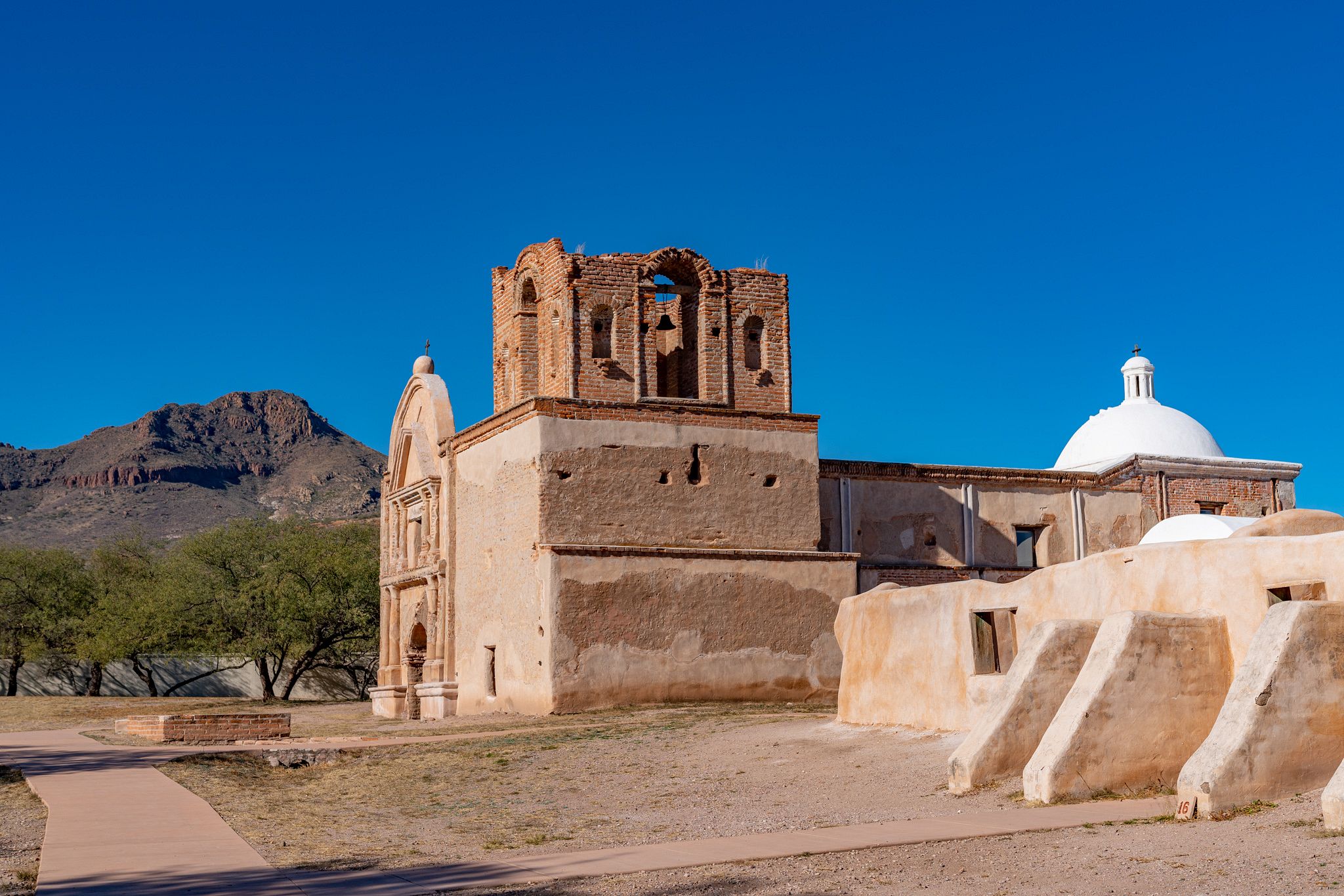 We even managed a few artsy-fartsy shots with the sun peeking through!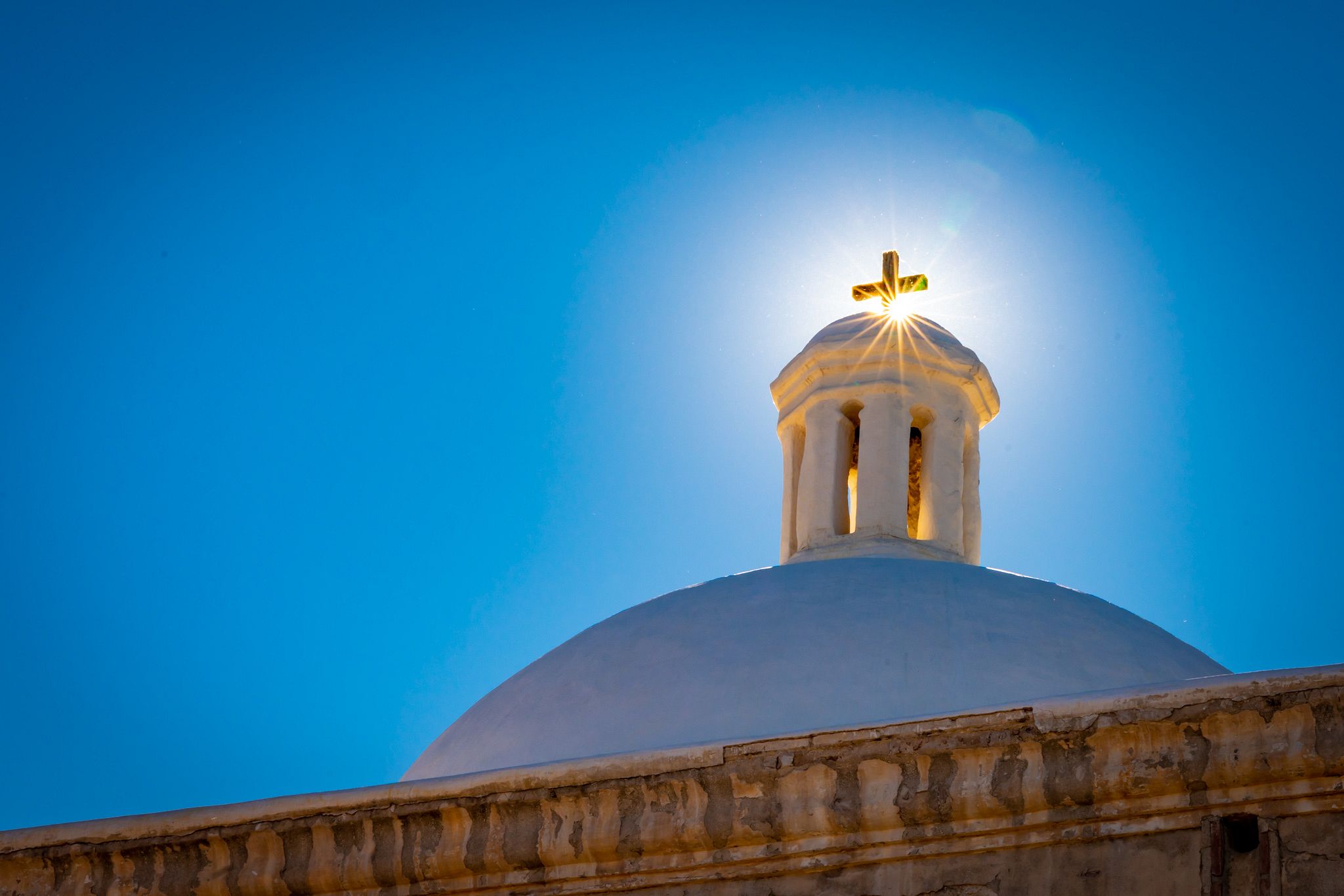 Juan Bautista de Anza National Historic Trail
This incredible trail is 1,210 miles long. It extends from Nogales in southern Arizona all the way to San Francisco, CA. It is considered by the National Park Service to be a "Related Area". In other words, it's not one of the units we're tracking on quest to visit them all, but it does have some NPS oversight.
We certainly weren't going to hike the entire trail (phew!), but if you are interested in learning more, the National Park Service has guides for driving, hiking and visiting places along the way. This official NPS website for the trail is a good starting point if you're interested.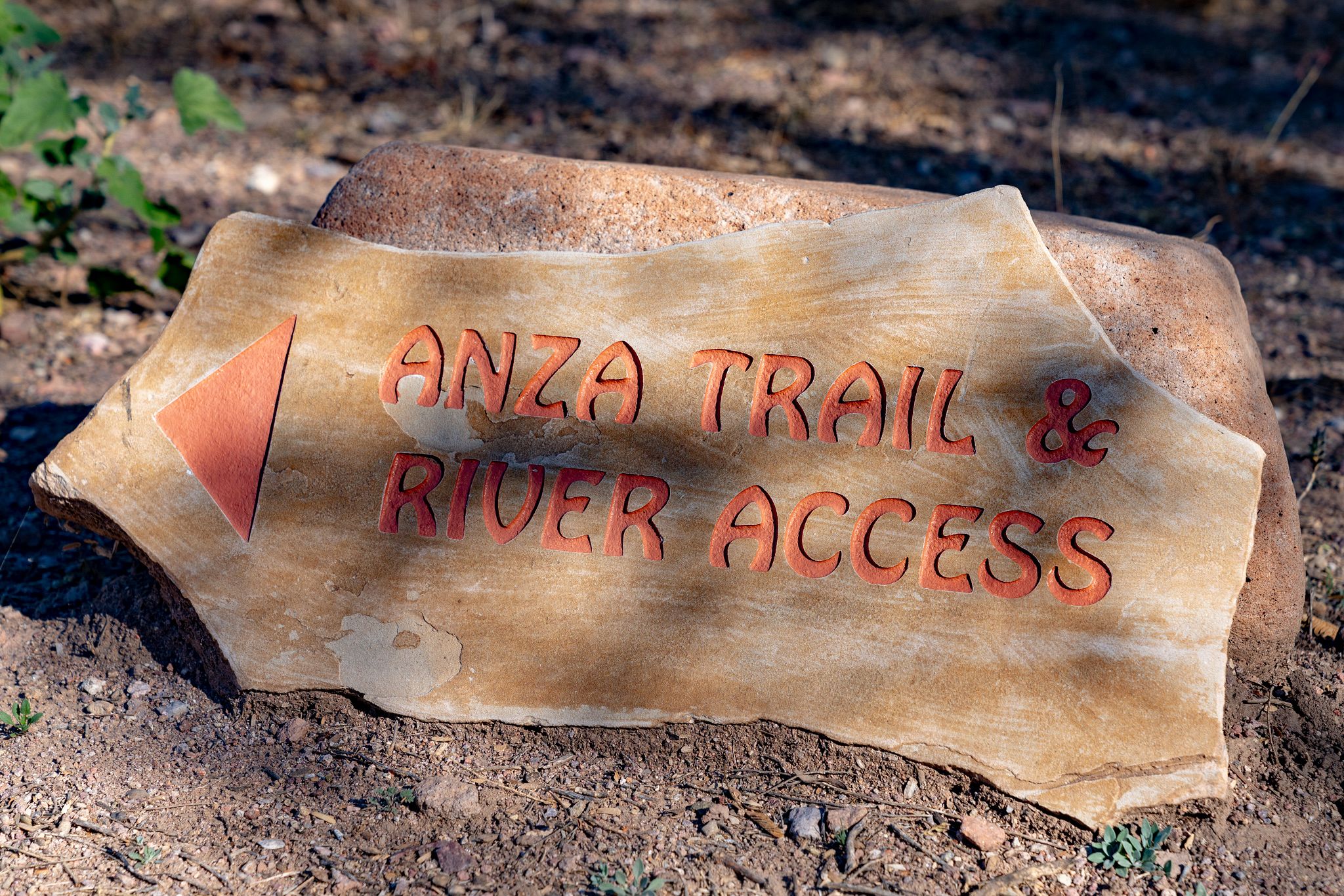 Our ambitions were slightly more modest - hike around 3.5 miles along the river to find lunch in nearby Tubac. Unfortunately Mother Nature had other ideas, and a stretch of the Santa Cruz river a couple miles north of Tumacácori had flooded, making the trail impassable.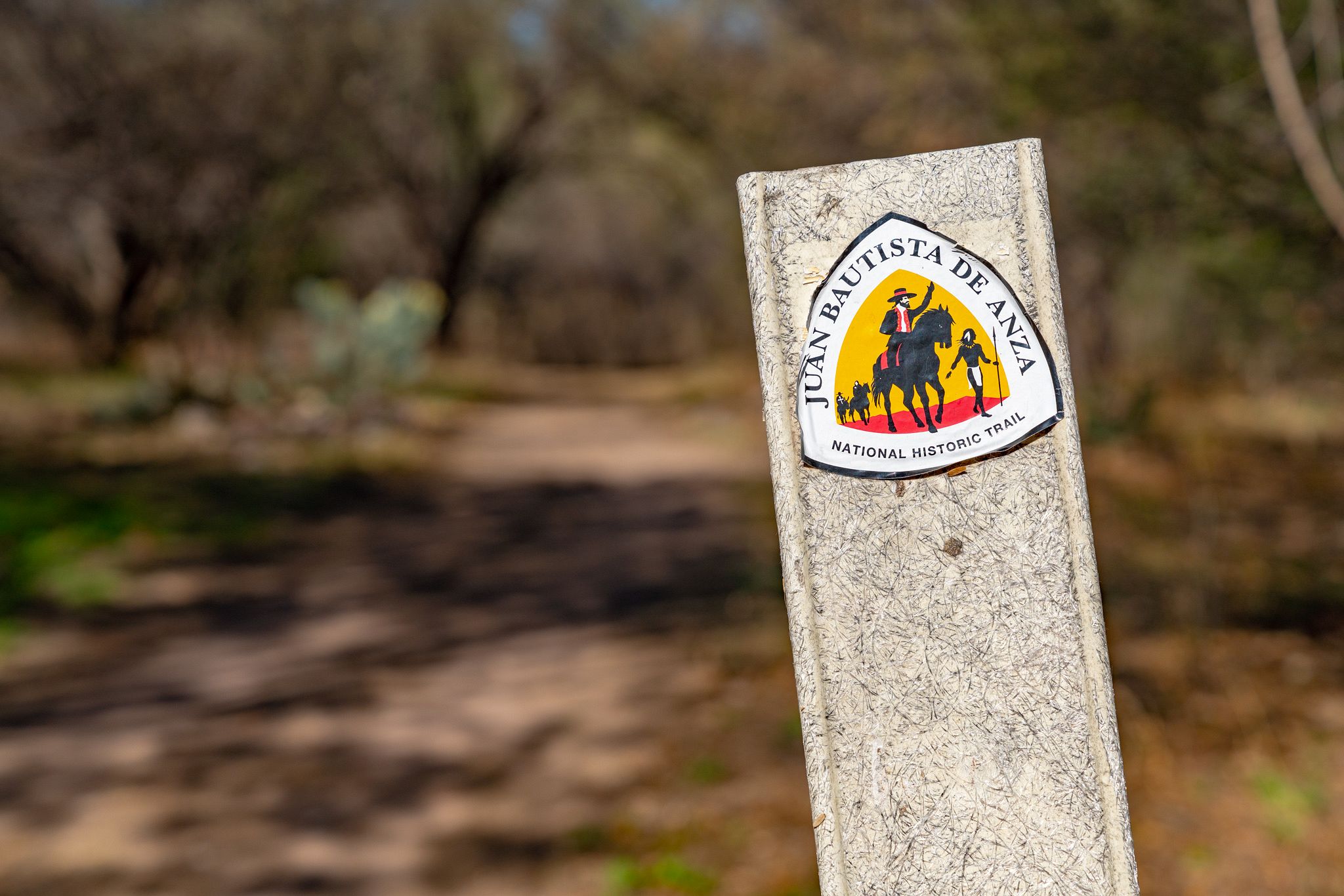 The Park staff had advised us of this when we arrived, but they had also advised we don't try and wade through the water. Why? Well, since 1972, treated effluent has been released into the river by the Nogales International Wastewater Treatment Plant in Rio Rico. In fact, regardless of flooding, the advice from the NPS is to avoid contact with the river water and if you do come into contact with it, wash the affected area as soon as possible! Got it - don't touch the dirty water!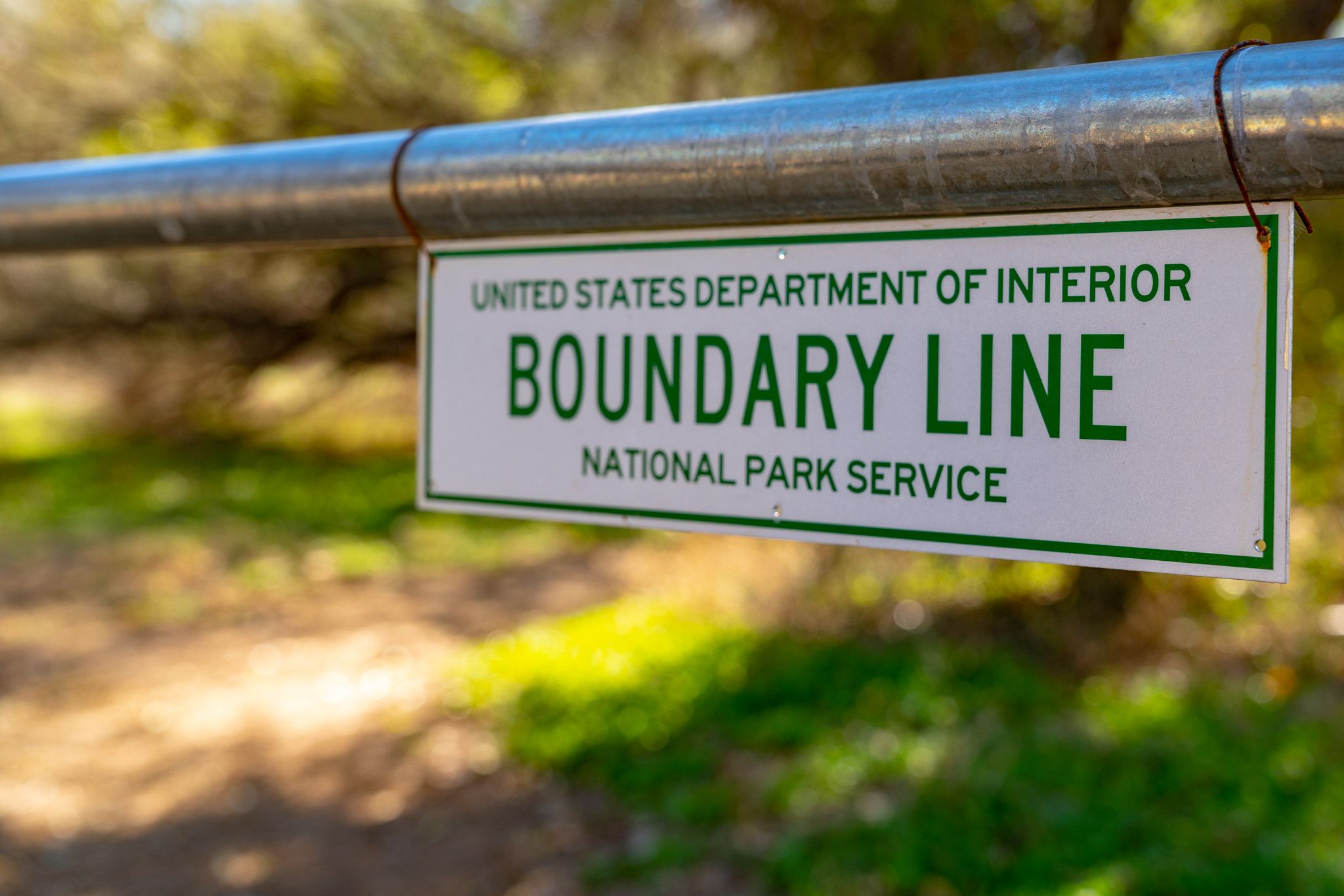 But with a few hours left before lunch, and the prospect of a riverside hike still available, we figured we'd hike as far as we could. Who knows, maybe the water had receded a little.
Nope. We made it about 2-miles up the trail, passing several people coming the other way who assured us the trail was impassable. Sure enough, we reached a point where the entire trail was underwater, with no way around it.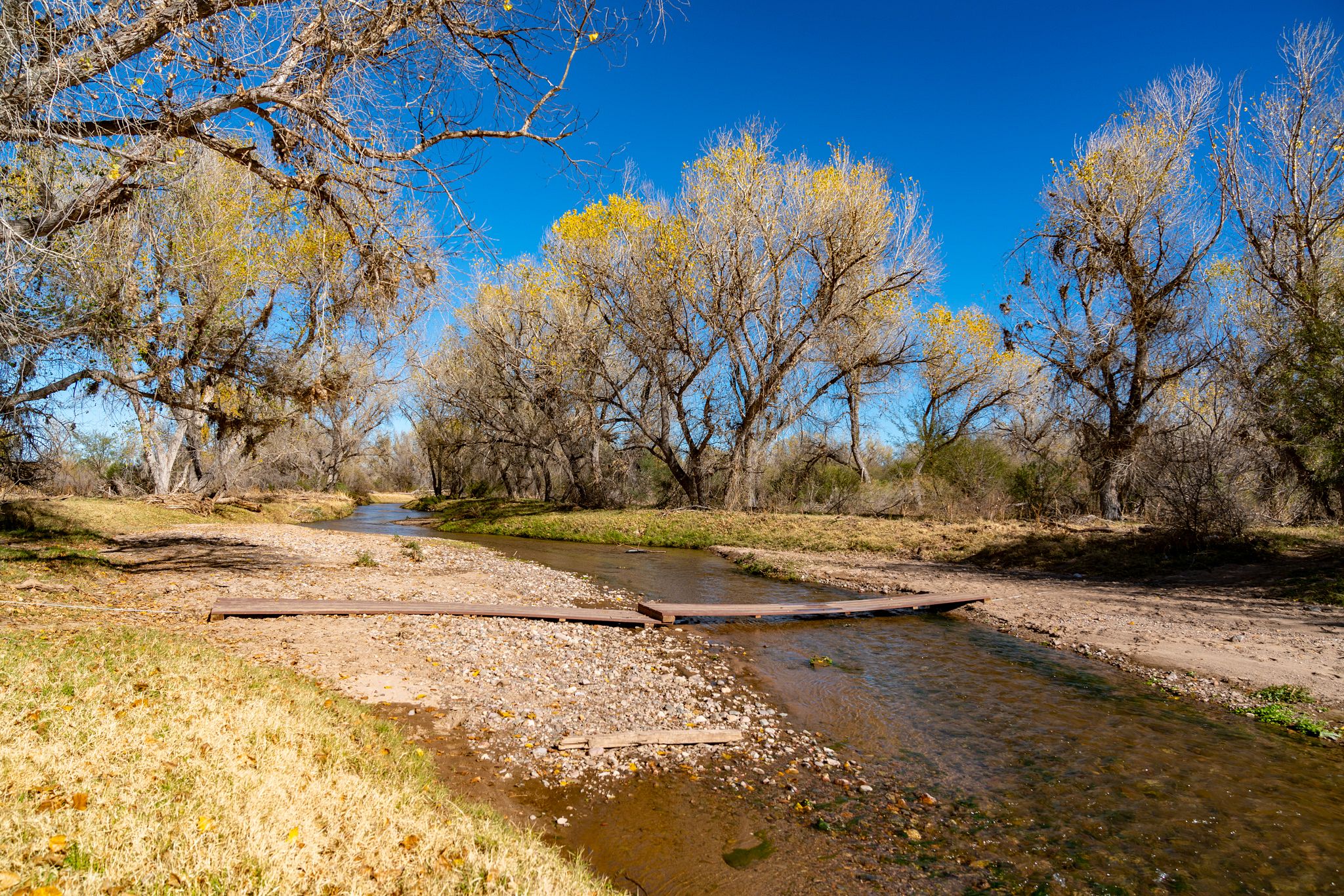 Not to worry, plan B! Hike back to the mission, jump in the truck and drive to Tubac for lunch!
Tubac
I know this isn't strictly about Tumacácori, but if you're in the area then it's worth stopping in at Tubac. It's an artistic community - which basically means there are all sorts of boutiques and craft shops selling a plethora of artwork. Everything from candles, to chocolates, from sculptures to furniture.
As occupants of a 21ft RV, we were only shopping with our eyes and enjoying looking at the wares.
But they have also have some nice restaurants and cafes - there we were definitely shopping with our stomachs. Feeling like we deserved a nice lunch after our morning of culture, history and hiking, we settled down at Wisdom's DOS for a burrito. There are plenty of places to choose from, but we enjoyed it there - good food and service.
Conclusion
Tumacácori National Historical Park is one of those great little gems in the National Park Service. It's easy to get to - just minutes off Interstate I-19, about 45 minutes south of Tucson, AZ. With history, culture, and hiking at the grounds, as well as arts and food at nearby Tubac, I'd recommend this as a fun and easy day trip from Tucson, AZ.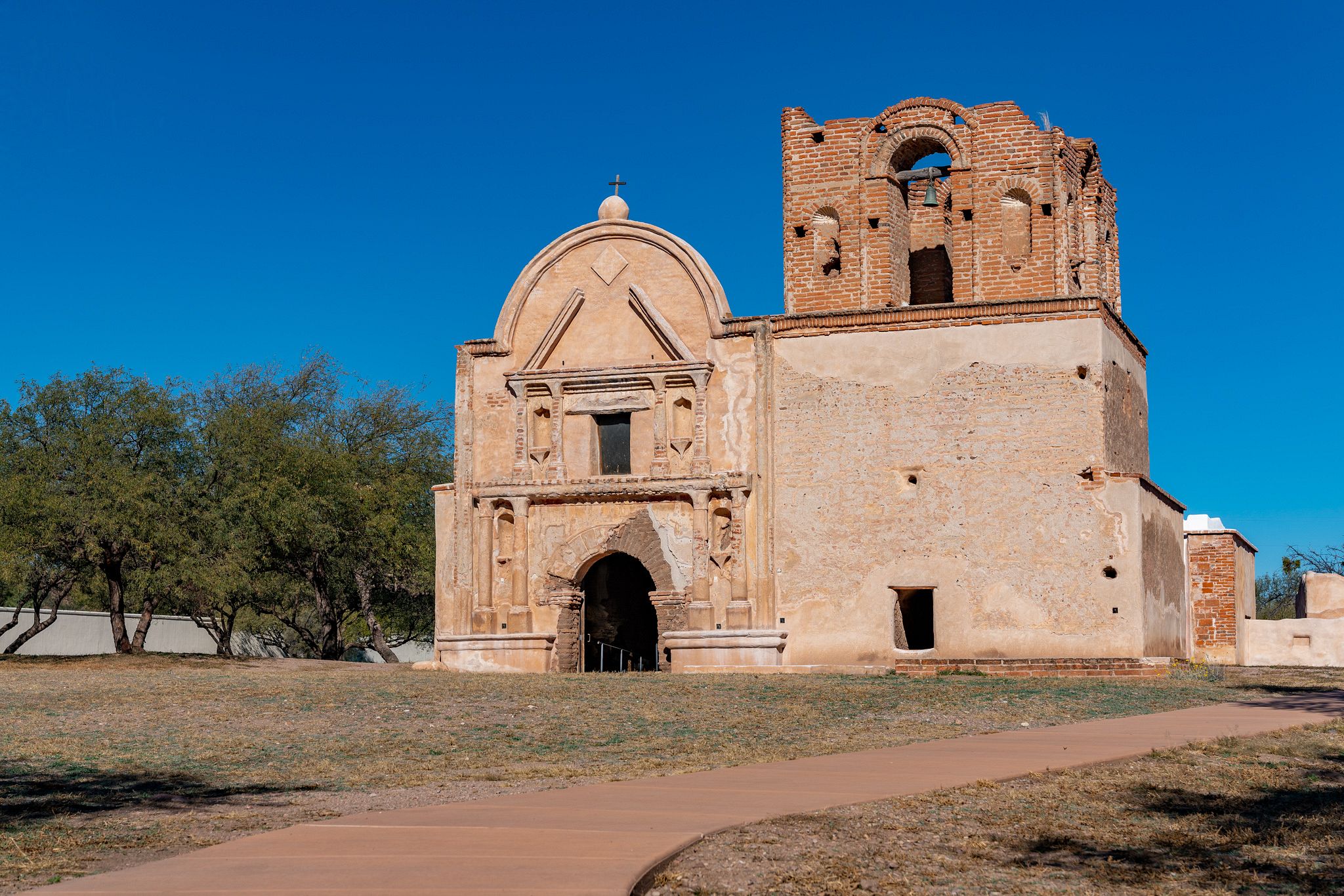 But if you do have more time in the area, be sure to check out nearby Patagonia (another artist community), as well hiking opportunities in and around Madera Canyon. Or if you're interested in going a little further afield, Coronado National Memorial is a couple hours to the east.
We visited Tumacácori National Historical Park in December 2018, just days before the government shutdown. Our next stop was Tucson where we planned to spend Christmas, before heading to Quartzsite, AZ for some events with the Xscapers group of full-time RVers, before our 10th National Park Unit: Saguaro National Park.