There are loads of great articles and blog posts online, sharing all sorts of information about the event. The official website for the AIBF also has really useful information on, so I highly recommend checking that out. We've been to the balloon fiesta for the past 2 years, and we think we've picked up a few tips we've not seen elsewhere. All of the information here is based on what we've experienced first hand, as well as heard from other people - obviously things can change for future years, but this should be a good starting point.
Since there's a lot of information here, I've broken it down into several sections. If you're not an RVer, or you're not planning on taking your RV to the event, then feel free to skip those sections, but you might find the rest useful.
Video
Overview
The balloon fiesta runs over a 9 day period, starting the first week in October. In 2018 it ran from Saturday October 6th until Sunday October 14th, with the opening weekend being the most popular time to visit. In 2019, the event will run from October 5th to October 13th.
On most days there are 2 sessions - one around sunrise and one at sunset. Balloons will only launch in the morning sessions, and for the evening sessions the balloons just light up on the field - still a great display to see!
Each morning session starts early - the pilots' briefing is at 6am, followed by the launch of the Dawn Patrol balloons at 6:30am. The Dawn Patrol is a smaller group of balloons - around 10 or so - that launch shortly before sunrise so other pilots can see what the wind conditions are at different elevations. The rest of the balloons start launching around 7am, and typically by 9:30am, most of the ballooning fun has finished for the morning - balloons either landing back on the field or elsewhere.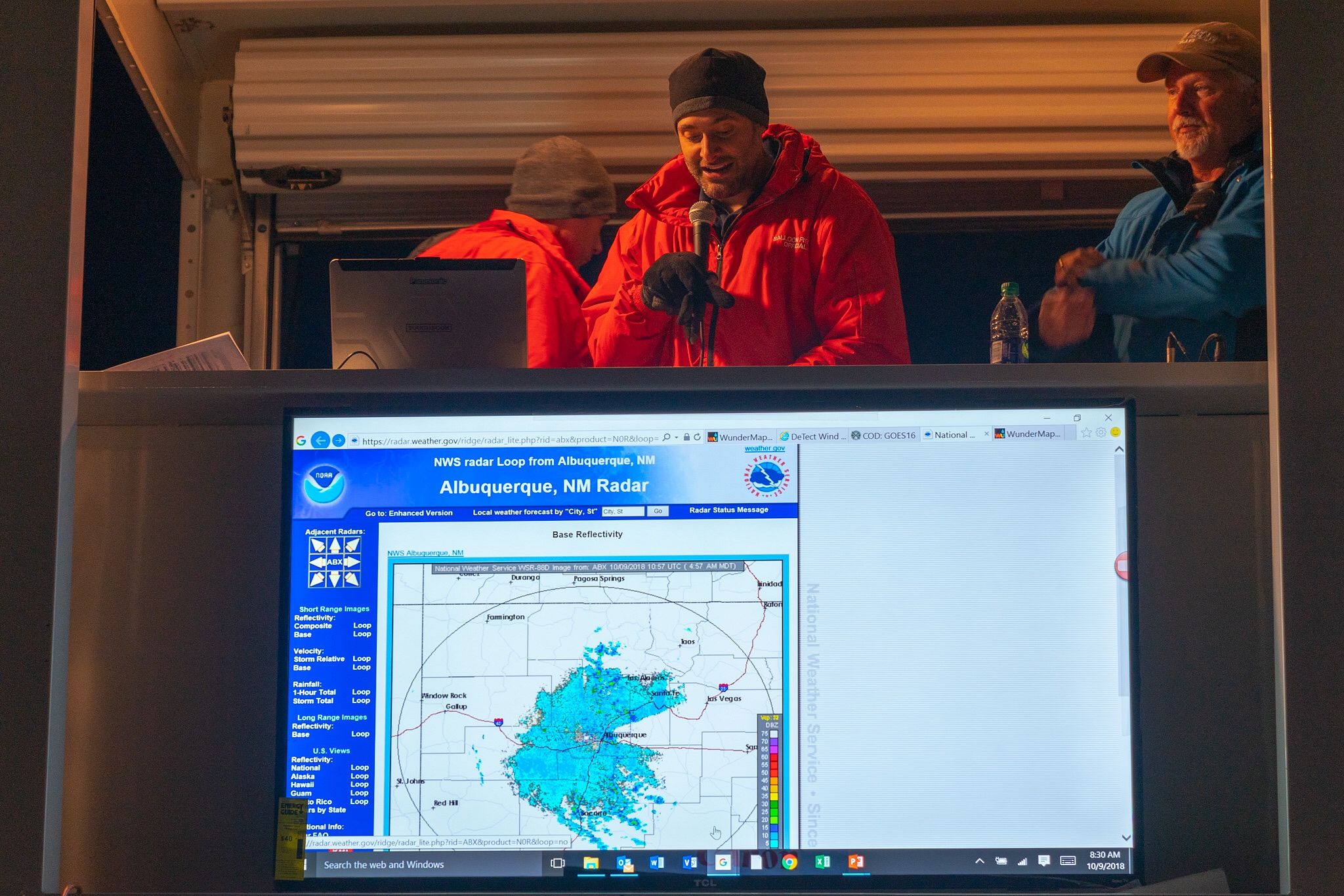 Adventurous Tip: If you want to know the latest weather conditions and general updates on the balloon fiesta, attend the pilots' briefing at 6am on the far side of the field. We found it great for predicting where the winds would carry the balloons, and hence where to stand / point our cameras. It's supposed to just be for pilots though, so if you do attend, keep a low profile!
One of the reasons that Albuquerque makes such a great location for hot air ballooning is "The Box" - a special set of wind conditions that form around sunrise. The nearby hills to the North East help to create a circular flow of air - moving in one direction at lower elevation and the opposite direction at higher elevation. When this forms, it allows pilots to take off from the balloon field, fly away, and then return back to the field - one pilot we spoke to managed to fly the box twice in one morning before landing back just a few hundred yards from where he launched.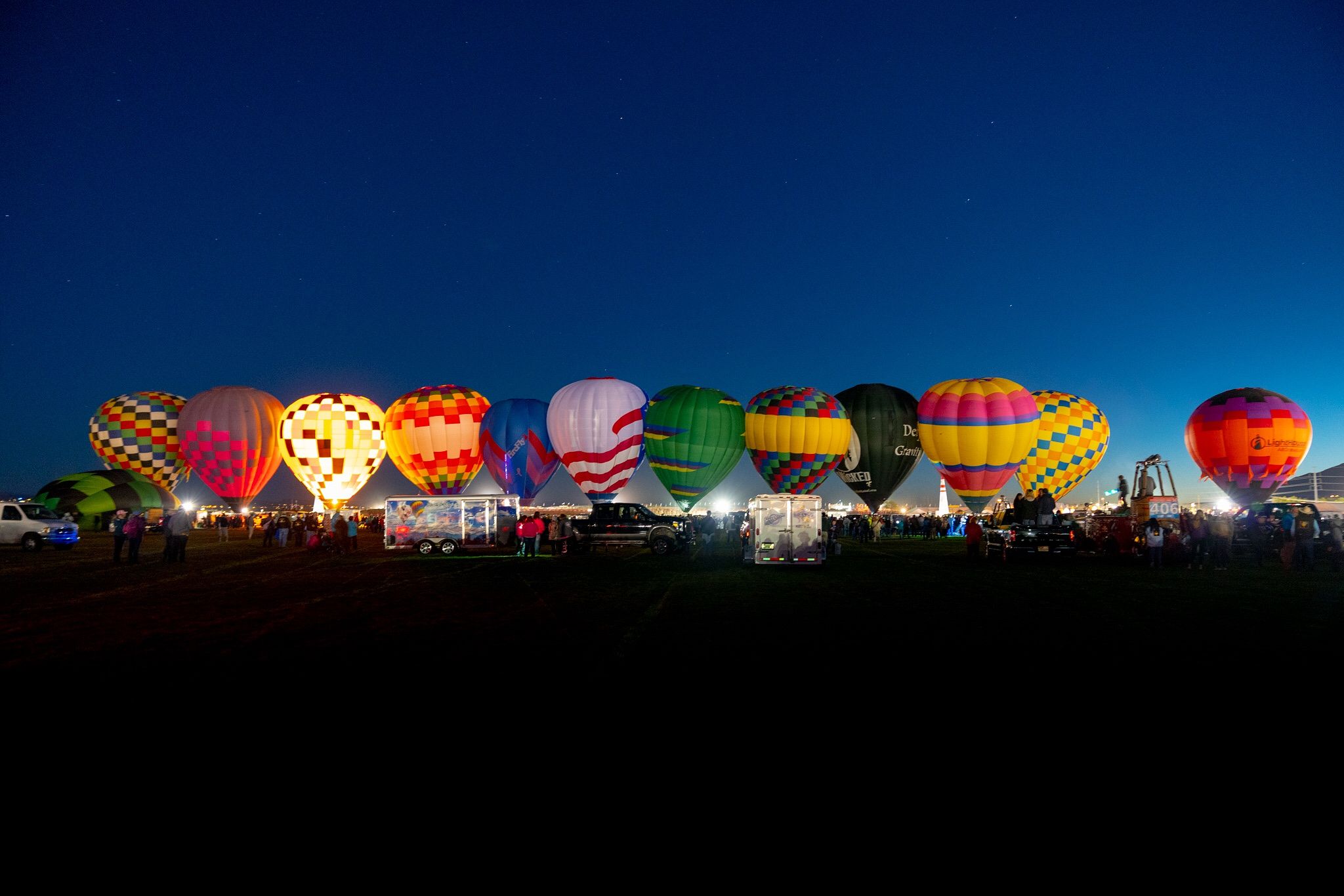 However, like any outdoor activity, the ballooning is weather dependent. Don't expect the balloons to launch every day - although they'd love to launch, the reality is that the weather can prevent launches. This year a couple of morning sessions were canceled due to bad weather. This is typically due to wind, but rain or poor visibility can also stop the event. For this reason, I strongly recommend attending for as long as you can - the longer you're there, the more successful launches you're likely to see.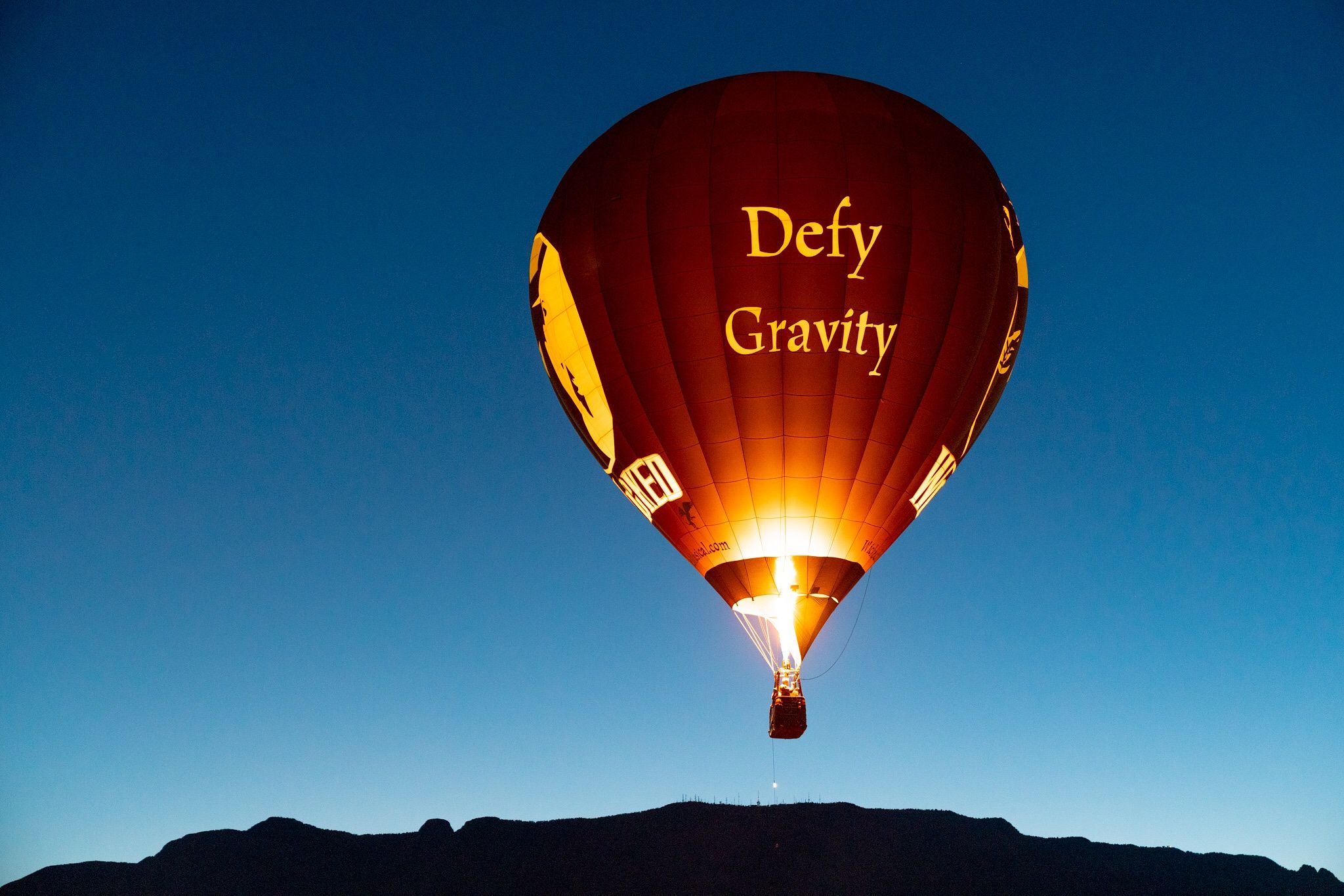 The evening sessions take place around sunset - starting around 6pm and typically finishing with fireworks at around 8pm. The main event on the field is the Balloon Glow - pilots inflate and stand up their balloons, then light them up with the burners in the fading light. This is also dependent on similarly good weather as the morning sessions, and this year several glows were unfortunately canceled.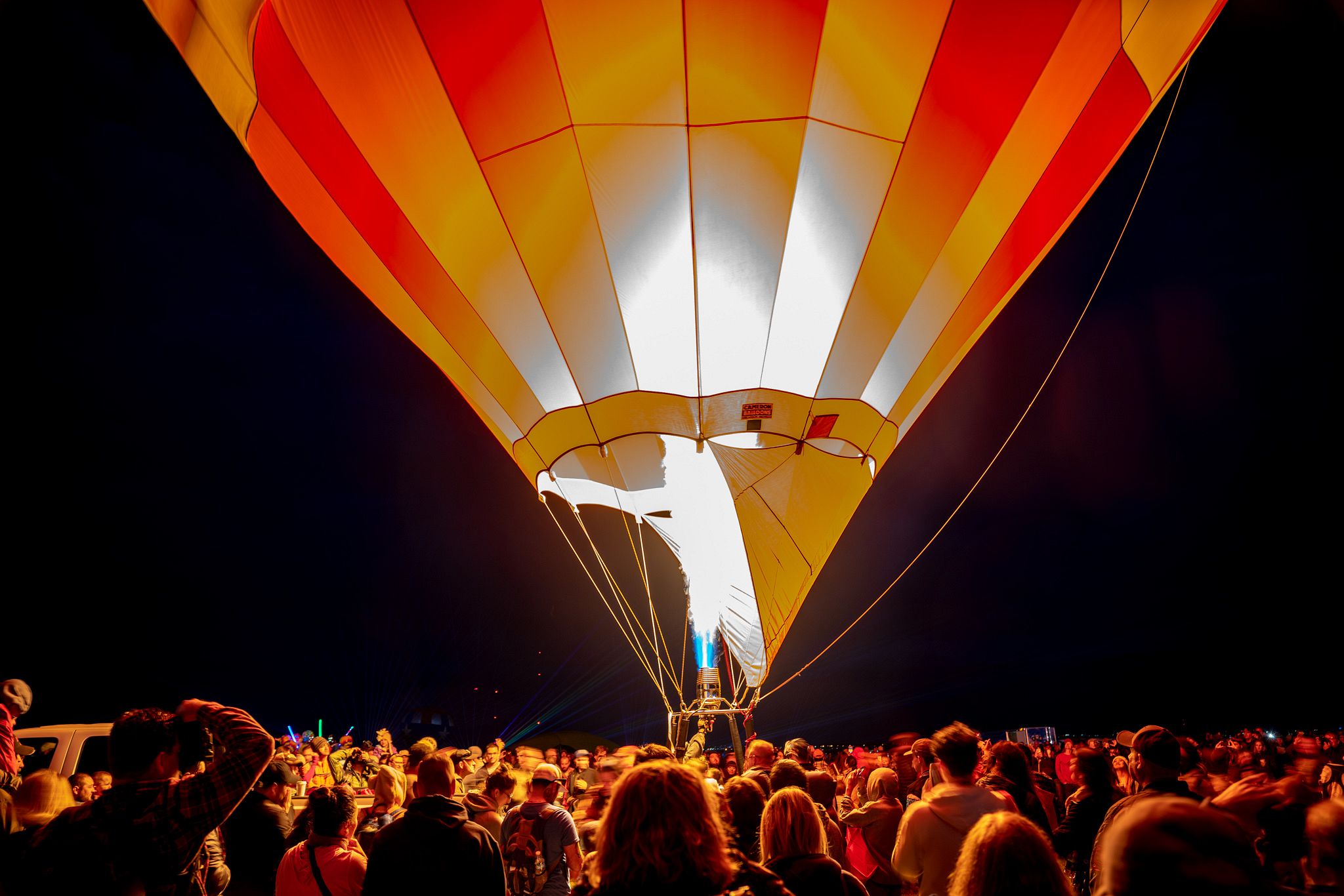 Although there is a morning session scheduled every day from Saturday until the following Sunday, there are no evening sessions on Monday - Wednesday during the week.
The official AIBF schedule also includes various events - from competitions where pilots demonstrate skill by hitting various targets with scoring markers to sessions dedicated to the special shape balloons (keep reading for more).
Launch Field
All the action happens out on the Launch Field. But with over 500 balloons (there's a cap at 600 nowadays, but in 2000 they had 1,019 balloons!) and up to 100,000 people each day, it gets busy out there.
One of the things we love about this balloon festival though, is that you can walk anywhere you want on the field. You can walk up and shake hands with the pilot, and even touch the balloons - but make sure to give them space when they're setting up.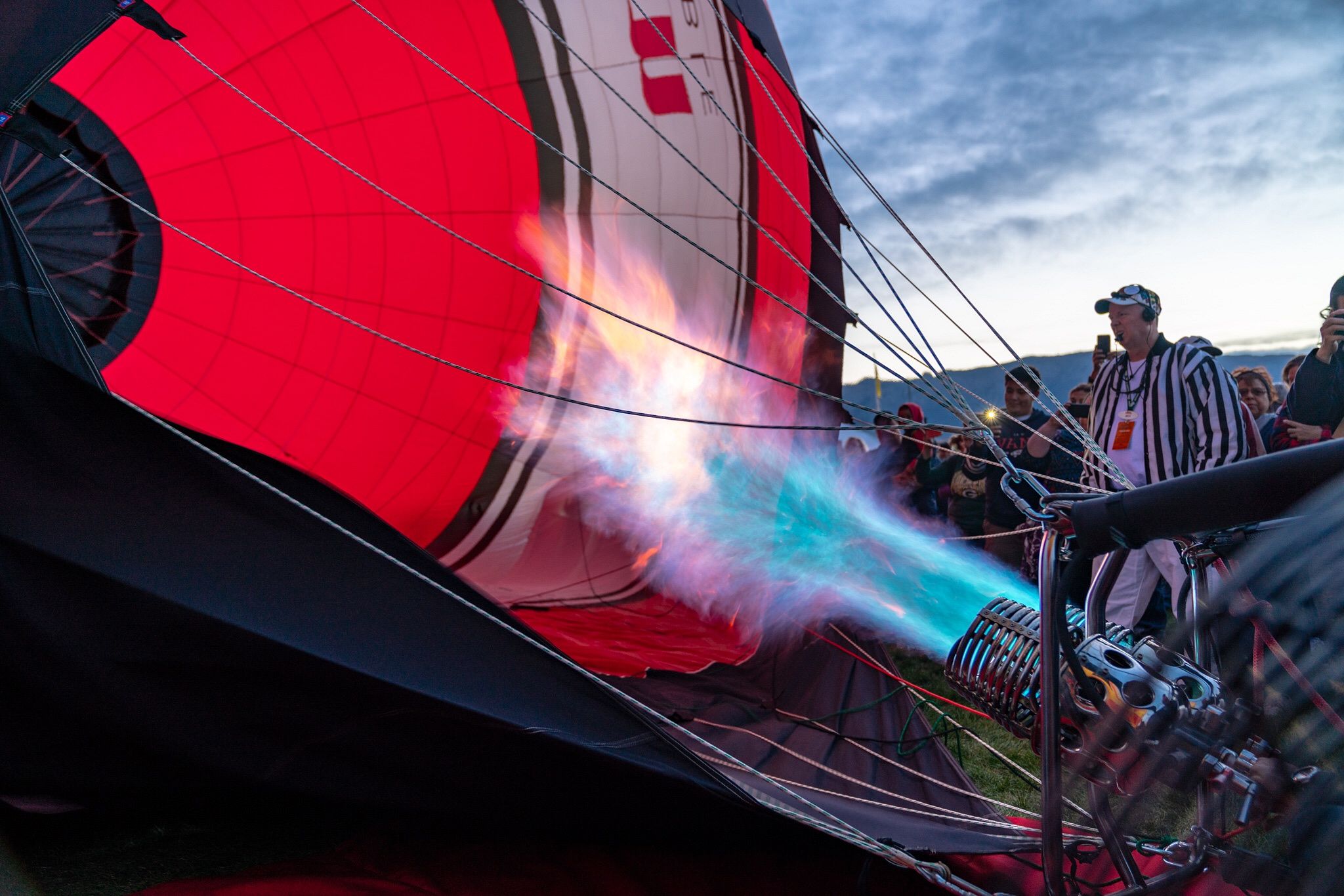 The field itself is laid out as a grid - letters running lengthways and numbers running across. These are shown on the field with white markers - knowing these is a great way to orient yourself, or arrange to meet people. For example, we helped crew a balloon (more on this later) in G5 - just knowing the grid square helped us navigate directly to the balloon.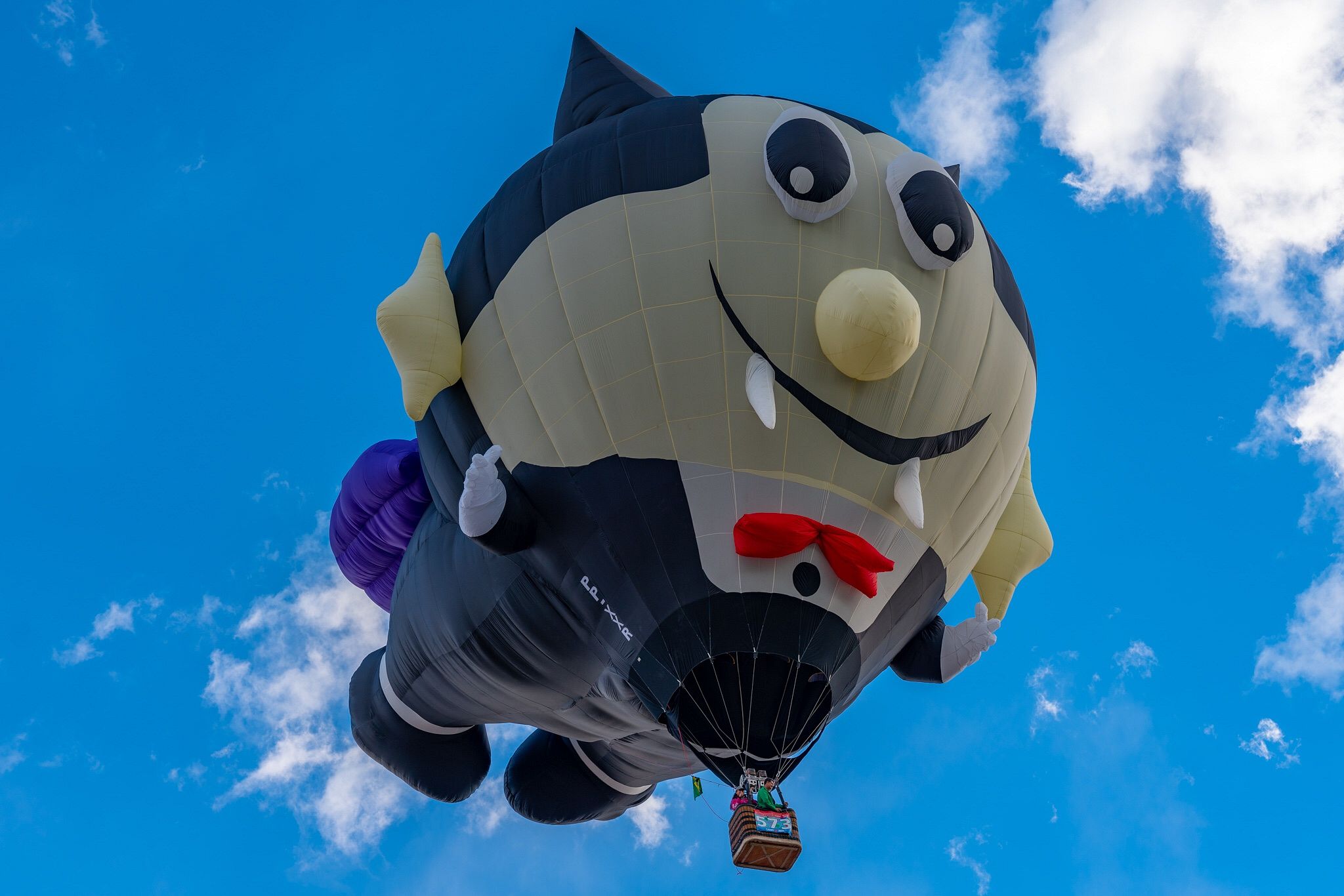 Although lots of the balloons are the typical balloon shape, there are many more in amazingly creative shapes - I always wonder how they come up with these ideas. Who thought up having a balloon in the shape of a stork breaking out of an egg?! During the festival, there are several sessions dedicated to these special shapes - including a morning ascension and the "Special Shapes Glowdeo". I would say that this is an event worth seeing if you have kids, but let's be honest, special shape balloons are cool no matter how old you are! If this is something you're interested in seeing, make sure to check out the schedule so you don't miss it!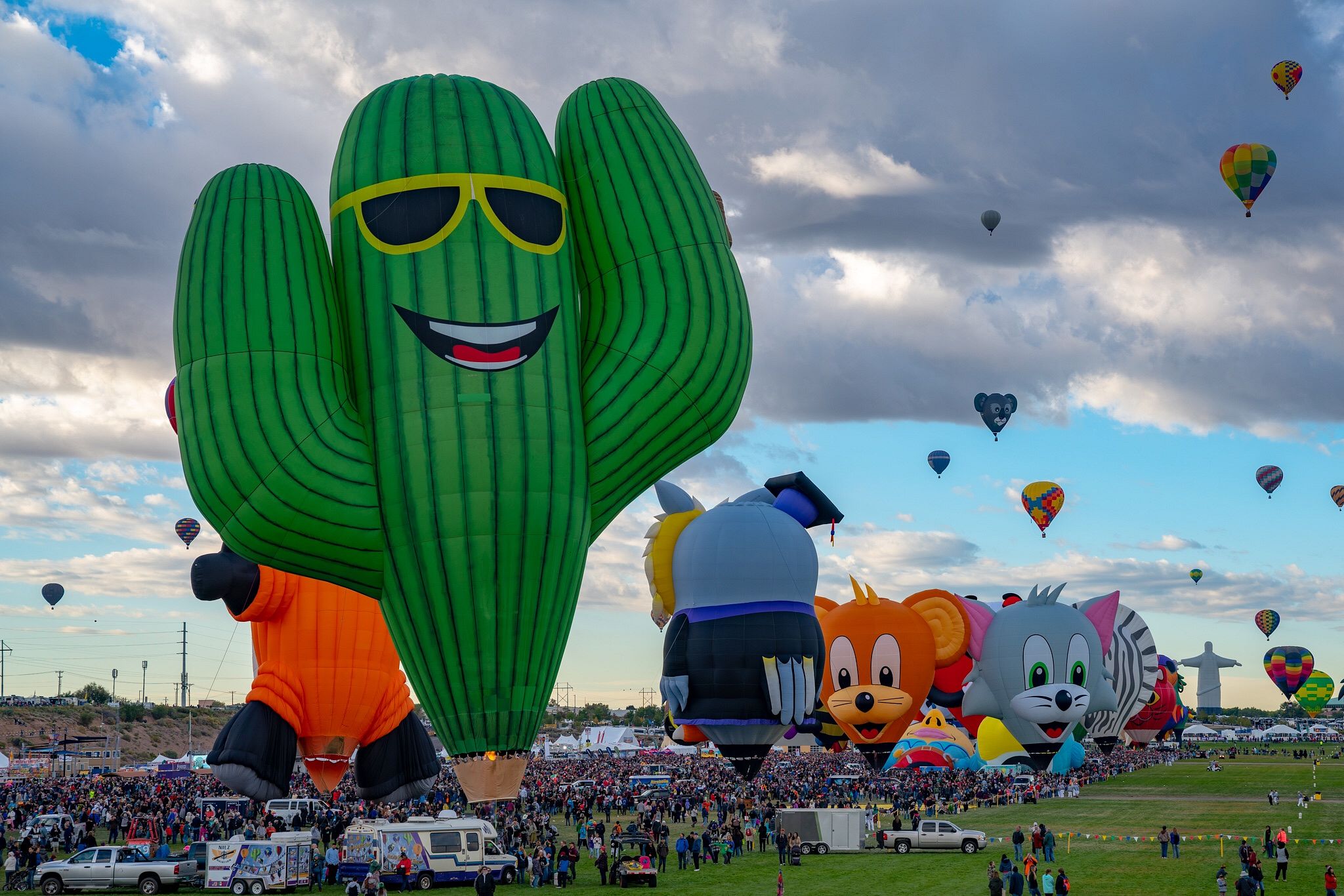 Earlier I mentioned that many events are weather dependent. The status of the session is indicated by a flag flying near the main stage next to the field - you can see it wherever you are. The flag will be either red, yellow, or green. As you might guess, red means the session is canceled, yellow means it's on hold right now and officials are monitoring, and green means it's a go! Keep an eye on the flag to know what to expect.
Adventurous Tip: Watch which way the flags are flying to get a sense for which direction the balloons will likely move in when they first launch, but know that they might change direction as the ascend higher up.
All of these balloons launching in such a short timespan takes a lot of coordination - this is managed by the launch directors, more commonly known as "zebras". You can easily spot these folk - as their name implies, they are dressed in black and white striped outfits. Their job is to help coordinate the launch of each balloon - the pilots can't take off without their approval. In addition to being important, they're also super friendly. They love having their photos taken, and they usually have up-to-date information on conditions, but just respect the fact that they have a job to do and give them space when necessary.
Event Tickets
There are two types of tickets you might need for the festival - event entry tickets to the sessions on the field, and campground / RV reservations.
Let's start with the event tickets first. You'll need one ticket per adult (that's anyone 13 or over, but children under 13 go free) per session - i.e. one for each morning and one for each evening session. You can buy these on the door for $10 each - there's no need to pre-book / reserve, and from what we saw, there was rarely a line to buy them.
However, our advice is to buy them in advance online. We bought ours through Costco where a pack of 4 was priced at $27.99 - that's just $7 per ticket, or a $3 per ticket saving over the regular price. The tickets aren't dated so you can buy a pack of 4 and use them at any session.
You can buy them online, and within a couple hours you'll receive an email with a link to a PDF. This PDF contains your tickets - one per page. You do not need to print them, just show the tickets (they scan the barcode) on your phone - and keep a track of which ones you've used!
We did hear of some people having issues with tickets purchased through Costco not being recognized by the scanners used by the entrance staff. We didn't have any problems ourselves, and from what we understand, nobody was denied entry.
One important thing to note is that if an event is canceled after you've used your ticket to enter, you can reuse the ticket again for another session. We successfully used one ticket 3 times after two events were canceled. If the scanner shows your ticket has already been used, just explain to them that you had attended a canceled event.
Adventurous Tip: Buy tickets in packs of 4 from Costco as needed - you'll save $3 per ticket and not end up with unused tickets at the end due to canceled sessions.
For this reason, I recommend not buying loads of tickets up front, since unused tickets can't be refunded (just reused). We ended up using 16 tickets in total for 2 people, even though there were 14 sessions which should have needed 28 tickets in total (we also skipped one or two sessions). If the final session on Sunday is canceled, then that ticket can be rolled over to next year!
Campground Reservations
Now let's talk about campground reservations. Unlike the session tickets, these do need booking ahead of time - the earlier the better! Reservations for 2019 open on Tuesday October 23rd 2018 @ 9am MDT, and the most desirable sites will likely sell out fairly quickly. When we tried to book an RV site in early August this year, we found that the entire reservation system had been taken offline so they could process cancellations. They told us to keep checking back on the site, and sure enough, one morning in mid-July it reappeared. We managed to score a booking, but within hours everything had gone.
Adventurous Tip: Book your campground reservation as early as you can to avoid disappointment. If your plans change, you can cancel before July 14th 2019 for a refund minus a $10 fee ($12.50 fee for President's Compound).
There are four different campgrounds within the Balloon Fiesta complex - although you can stay at offsite campgrounds or RV parks, we highly recommend staying at the official campgrounds if you can. It's easy to walk or take free transport (more on this later) to the field from all of these, and you won't have to worry about parking.
We stayed in the "cheap seats" - a Standard site in the South RV lot. This is dry camping with no electrical, water or sewer hookups. You will be pretty tightly packed in here, and the sites are cleared dirt but aren't super level - we saw some impressive stacking of leveling blocks in some sites! These sites cost $35 per night, but the price for 2019 has gone up to $40.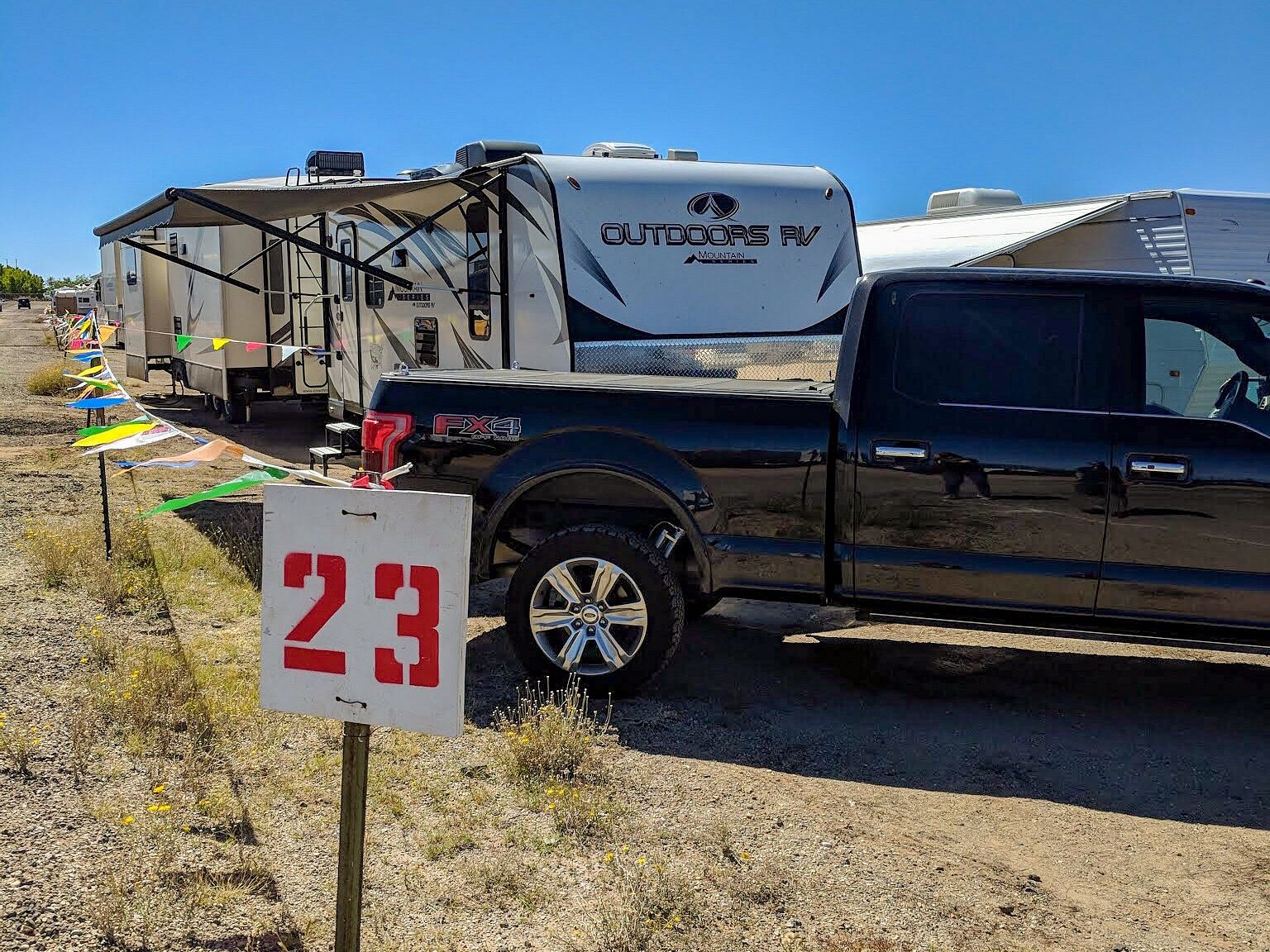 That being said, we'll almost certainly book the same again next year. There is a pumping service where, for $30, a truck will come and pump out your grey and black tanks, regardless of size - you don't even need to be in your RV when they do this. There's also a water truck if you need more potable water - we didn't use it, but I believe this is also $30.
In various forums, I saw a lot of confusion around generators - they specifically ban "loud, contractor generators" and say that generators must be raised 2 feet off the floor. In reality, any standard RV generator would be fine, and you can just put it on a box, table or your truck bed to raise off the ground.
The Premium sites in the South RV lot do include 30 Amp electrical and water hookup, but no sewer. In 2019, these will cost a whopping $95 per night - so you're paying $60 extra per night for water and electric. If you stayed for the full 9 nights of the event, you'd be spending an extra $540 for a premium site - that's enough to buy yourself a new generator, some fuel and plenty of water!
Oh, and just in case you were thinking "I'd prefer to stay in a Premium site so I don't have to listen to the sound of generators", then think again - the Standard and Premium rows are spread out throughout the South RV lot, so you'll be surrounded by generators wherever you are. We have no generator and instead just rely on our 300Ah of batteries and a 100W portable solar panel (that we installed during the Balloon Fiesta) so we had to get used to the sound of generators around us.
Adventurous Tip: For $40 per night, I think the Standard sites in the South RV Lot offer the best value for money. Tank pumping and fresh water is available for a fee if necessary, and there's free transportation to the field (see the Transport section).
There are also Box View sites within the South RV lot - these are still dry camping sites, but they back onto a big open space rather than other RVs. These are $10 more than the Standard sites, and are quite an attractive option, especially if you have kids or pets.
Although we attended most of the sessions, you don't need to. Some people we spoke to attended very few, and enjoyed watching the balloons from their RV. In fact, we stayed back on Friday morning (that 4:45am alarm clock was taking its toll) and the balloons came directly overhead - quite a few landed in the RV park, including one in our row!
The two VIP sites (VIP East & VIP West) are also dry camping, but are closer to the main launch field. Even with the included 2 entry passes (total value $20), this is a hard sell unless you really want to be close to the launch field.
By far the most exclusive sites are in the President's Compound - these premium spots cost $250 per night, including 30-50 Amp electrical and city water (along with a total of 4 entry passes worth $40). If money is no object, then these sites up on the ridge overlooking the field are where you'll want to be - but book early before they sell out. This is a private area where only people with a President's Compound pass are allowed in - unless you know the secret (read more in the Photography section below).
Finally, all sites are filled on a first-come-first-served basis - in other words, get there early! We arrived at 10am on the Friday morning before the start of the event, and we had to wait about 45 minutes to get in. There were already hundreds of RVs there, and hundreds more poured in during the day. This year they unfortunately overbooked on the first Saturday, so some people were really squeezed in tight. I'll say it again - get there early.
Caravans
This year we attended as independent visitors - not a part of any group or caravan. Walking around the RV lot, there were several big groups of RVers who were attending as part of an organized party - Escapees HOP, Fulltime Families, Fantasy RV Tours to name just a few.
Most of these groups had a big marquee or other gatherings with social events. If you're a part of one of these groups, then definitely check out whether that works for you. The Escapees and Fulltime Families groups had really great locations within the RV lot, and are something we're definitely considering for next year.
Adventurous Tip: Check to see if any groups you're a part of are organizing an outing to the AIBF in 2019. Everyone we spoke to said they were amazing.
Transportation
Whilst the morning and evening sessions are running, the main road between the South RV Lot and the Launch Field is carefully traffic managed by police. It gets insanely busy. The request from the organizers is not to try and get in or out of the RV park during these times since the traffic flow is optimized to try and get people in and out of the parking lots. As an aside, parking is $15 per session, and like the entry tickets, the parking ticket is reusable if the session is canceled.
If you really need to, there is an unofficial way out of the South RV Lot along the main access road into the industrial estate behind. These roads don't appear on Google Maps (but they are on satellite view), and some sections behind are blocked off during events - but I did manage to use this a couple of times when I had to sneak out.
Let's talk about getting to / from the field. If you're staying in the VIP or President's Compound, you are very close to the field already and there are golf carts floating around that you can flag down for a free ride (and tips are not accepted). It's definitely walkable though - it takes just a few minutes from the near-side of those areas to the launch field.
From the South RV lot, you have a few options. From somewhere in the middle of the lot, it's about a 30-40 minute walk to the launch field, depending on how fast you walk. During the events, they also use local school buses to shuttle people to / from the RV lot to the launch field free of charge. These run regularly and take just a few minutes from the RV lot to the launch field.
Adventurous Tip: School buses arriving at the South RV Lot to pick up will be empty, but will drive all around the RV lot before leaving. Buses heading towards the exit will therefore be quicker, but may be full.
Another option is the golf carts they run as shuttles. These run between the launch field and Alameda Road, just outside the South RV Lot - but they cannot cross the road or enter the RV lot itself. These free shuttles are run by volunteers and you just need to flag them down.
The last option is to cycle - there is a large bike valet area near the Balloon Museum where you can securely leave your bike. We chose not to cycle, because it would have meant cycling in the dark - on the way to the field at 6am in the morning, or the way back from the field at 8pm in the evening.
Our preferred option was to start out walking and then jump on a school bus or golf cart shuttle if one was passing. On the way back, we'd often use the golf carts, but we preferred the school buses if we had heavy camera gear as they would drop us right at the door of our RV (our site was on the end of the row).
In summary, although you're further away from the field in the South RV Lot, the free transportation options work well to shuttle you back and forth.
Communication
What do you get when you put 100,000 people including thousands of RVers in one location? Crushingly slow cell networks!
Yes, fairly predictably, cell signal did suck for us. We found little sections where it improved, but for the most part it was pretty terrible. It was just about enough to buy tickets and check emails, but don't expect to be streaming video.
Adventurous Tip: Planet Fitness is just a couple blocks from the Balloon Fiesta and has super-fast, free WiFi for members. We used this to a) motivate ourselves to go to the gym, and b) download lots of YouTube videos to watch back in the RV!
There is a WiFi Zone on the launch field at the far end, but it seemed pretty intermittent when we tried it - I'm sure they'll keep improving that, it's always going to be busy so don't expect too much.
As far as communications about the event, there are multiple ways to stay updated. We found the most reliable way to be Twitter - follow the official @BalloonFiesta account for updates on weather conditions and flag changes.
There is also a way to sign up for SMS updates if you want to try that too. This year we simply had to send a text with the word BALLOON to 96000 - that may change next year. I think this is intended for pilots to use, but it still worked for me.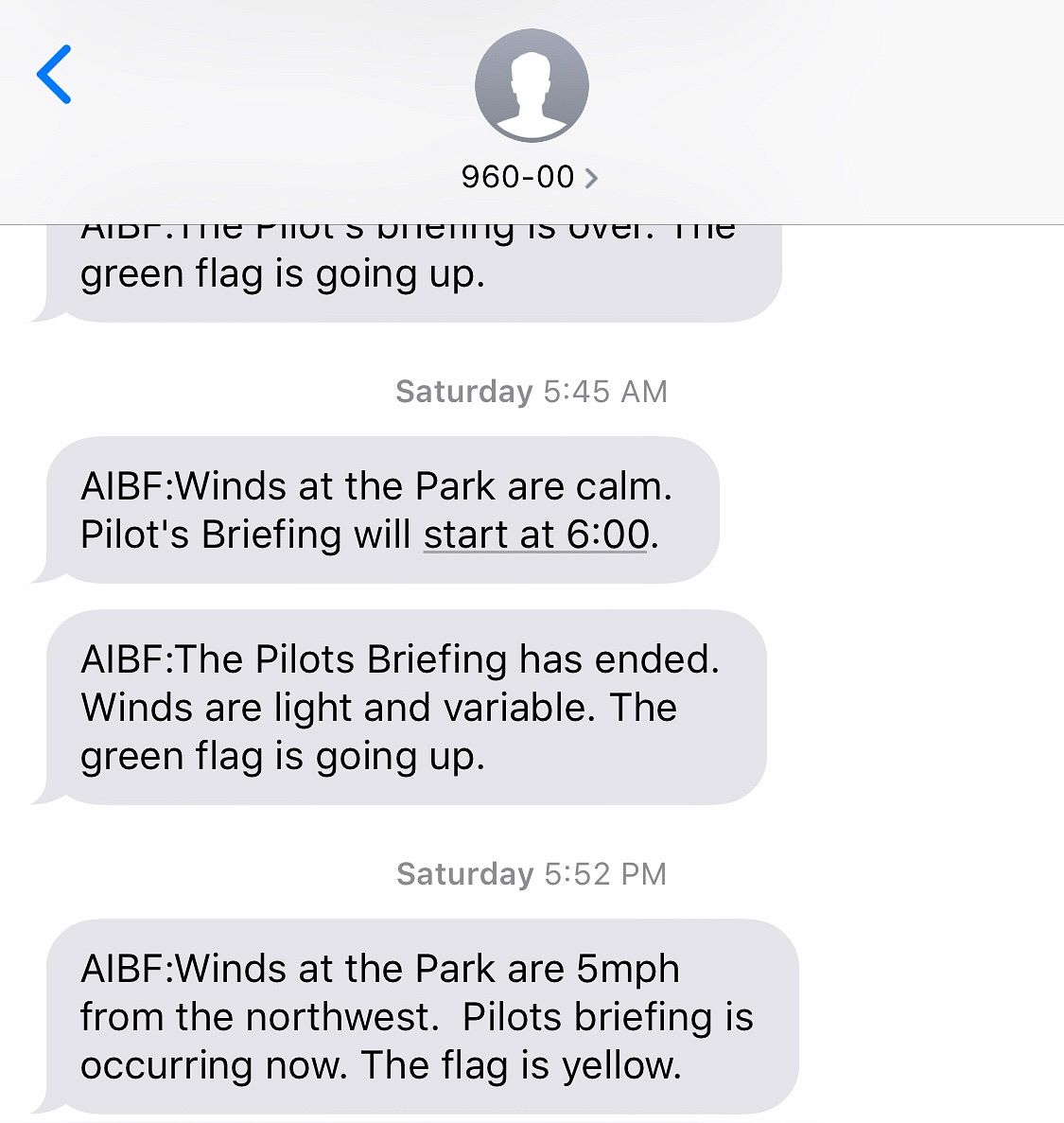 If you're into more alternative forms of communication, a HAM Radio will let you tune into various frequencies for weather updates and more. Check on the official Balloon Fiesta website in their Operations Guide for more details.
Photography
The Albuquerque International Balloon Fiesta is supposedly the most photographed event in the world, so it's no surprise that it used to be sponsored by Kodak and is now sponsored by Canon.
If you're interested in photography, then this is an amazing place to be. As keen photographers ourselves, we wanted to share some tips we have picked up from our visits to the event.
First, let's talk about where to photograph from. Put simply, I'm not sure there are any bad locations. It really depends on the shots you want to get. Out on the field, you are right underneath the balloons so wide angle lenses can be super fun to shoot with here. But with so many people around, close-ups can produce some amazing results.
Adventurous Tip: You'll be shooting a lot in low light conditions, so wide aperture lenses are your friend here!
We really enjoy taking timelapses at this event - seeing the balloons bounce around in the sky just looks amazing. We had great success with a spot up on the ridge at the very far end of the field, behind the tents. Alongside maybe a dozen other photographers, we were able to shoot wide angle shots across the whole field, with balloons side-lit by the rising sun to the left.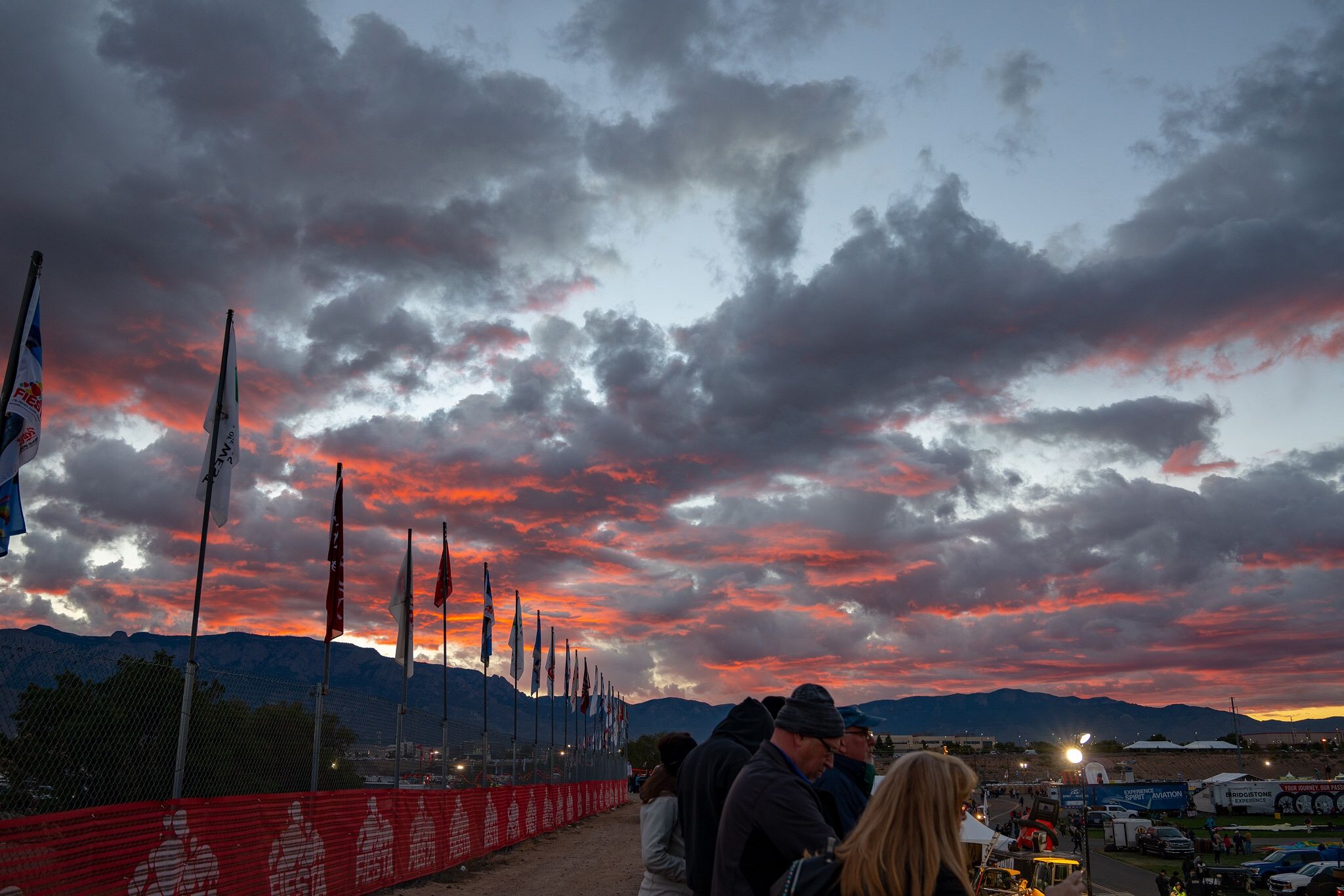 As the main sponsors of the event, Canon goes all in - talking to their reps, this is by far their biggest event on their sponsorship calendar. They also offer some amazing services for visitors - all from their big tent that you can't possibly miss.
First up is the camera cleaning service. If you're a Canon Professional Services member then you're already familiar with this, but essentially you can drop in your DSLR camera and one lens at their tent, and they'll clean it free of charge for you. Enquire early about this as they only have limited slots available, but we had no problems last year getting the our Canon 6D cleaned. Note they will only clean Canon cameras (duh!) and only digital ones - I tried to see if they'd clean my 35mm Canon EOS Elan 7, but sadly no joy!
If you don't have a camera, you've handed yours in for cleaning, or maybe you just want to try out a new camera, then Canon's free equipment borrowing service is what you need. They have everything from point-and-shoot cameras up to the Canon 5D Mk IV and the brand new Canon EOS R, as well a wide selection of lenses. Obviously the most popular items go fast, so get there early if you want those.
Each person can borrow one camera body and one lens completely free of charge, and you just borrow it for one session. So if you're too late one day and they've run out of the item you wanted, try again earlier the next day. Or try something new every day! Last year we borrowed the Canon G7X Mk II (that we ended up buying later because we liked it so much), and this year I tried out a 70-200mm lens on my Canon 6D.
Adventurous Tip: Bring your Canon DSLR for cleaning and borrow a new camera for free from them whilst they're cleaning yours!
Canon also offers free photography walks during each session. Surprisingly few people we spoke to seemed to know about these, but they're fantastic. We did one last year and enjoyed it so much we did a couple more this year. If you're new to photography, the Canon reps will teach you how to use your camera - how to navigate the controls, and what settings you should be thinking about for different types of shot. If you're an expert photographer, then you're in good company and they'll just let you get on with it.
Aside from the advice and coaching, we loved it for one main reason - they take you to a super secret special location to take photos. OK, it's not that secret, but it is exclusive. When weather permits, the tour heads up to the President's Compound - normally only accessible with a pass - and you can take photos from the ridge. We particularly like this location for photographing the evening glow sessions. This is a definite recommend for anyone interested in photography!
Adventurous Tip: Borrow a free camera from Canon and bring it on one of their free photography walks and learn from the experts how to use it!
As a final point on the subject of photography, I should mention drones. I would hope it's no surprise to anyone that given the large number of flying objects, drones are explicitly banned from the event and the surrounding area. As a drone operator myself, I know how frustrating it can be when drones are banned from events like this, but that's how it is. And in case you were thinking of ignoring this warning, know that the Balloon Fiesta this year contracted with a company called Aerial Amor to identify unauthorized drones - on the first day alone they had detected 65 drones and were working with the FAA and event officials to trace them. You've been warned.
Volunteering
At the near-end of the balloon Launch Field is a small tent where you can register to join the crew for a balloon pilot. You can volunteer for one session or all week - it's entirely up to you. We volunteered for one morning, but joined them again another time, and generally stayed in touch with them during the week in case they needed help.
Absolutely no experience is needed, and it's a great way to meet some fun new people, learn all about hot air ballooning, and help out at the same time! For a balloon launch, you help set up the balloon, inflate it and get it into the air. Then depending on where the pilot wants to land, you may need to jump in the pilot's truck and chase the balloon - the pilot will have a crew chief to organize all this, so don't worry!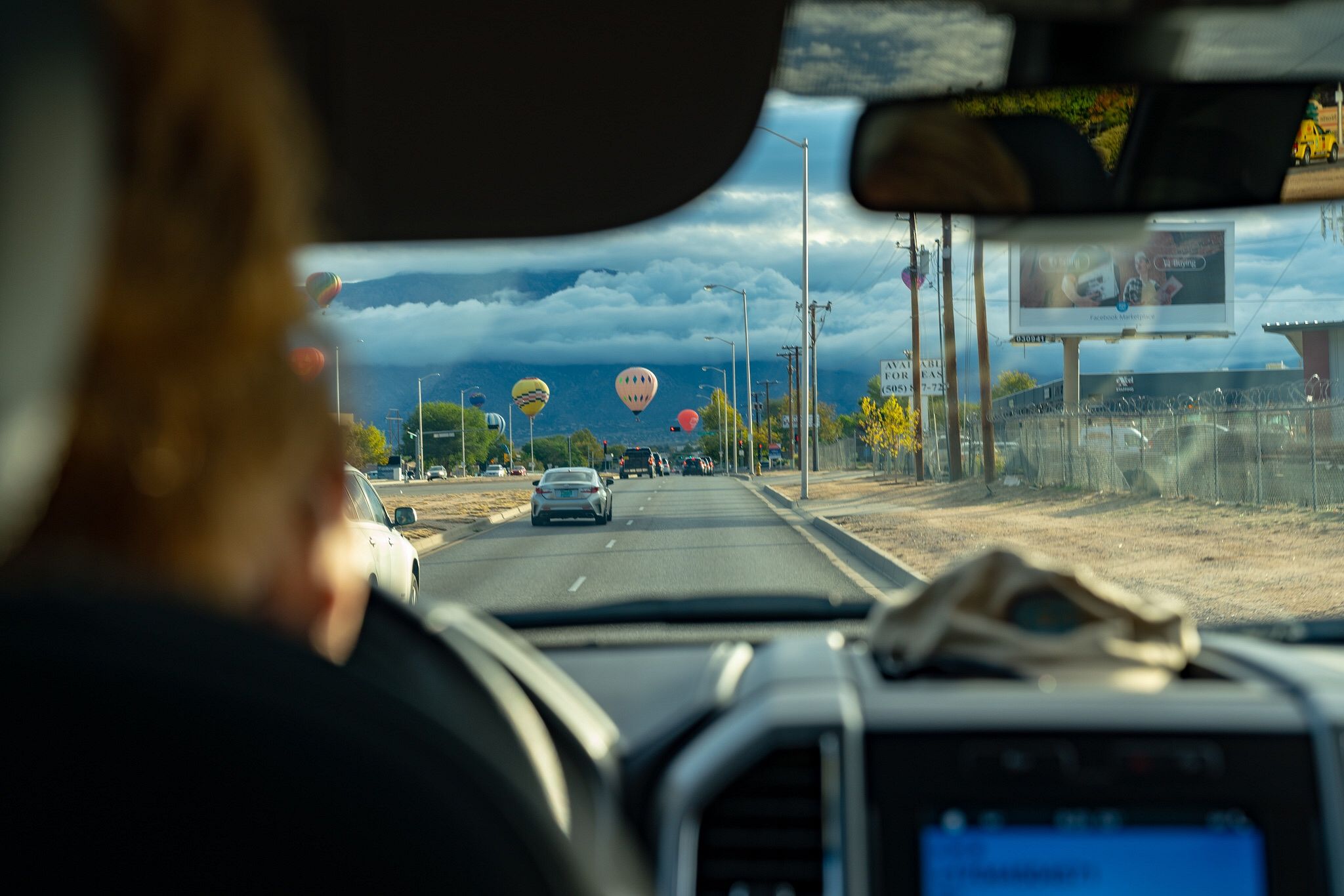 It's customary that pilots will thank their crew with champagne afterwards, and we've heard reports of pilots taking crew members up in the balloon sometimes. I certainly wouldn't go into it expecting either of those things, but if you're lucky then maybe!
Regardless, I'd highly recommend registering to join a crew if you can. They're always in need of crew members, and joining Patrick Grogan's crew to help launch the Pat-O-Lantern balloon this year was a highlight of our trip.
Adventurous Tip: Sign up early on during the Fiesta to join a crew, and if you like it, you can arrange to do more later on in the week.
There are also opportunities to volunteer to support the event itself. All sorts of roles are available - scanning tickets at the entrance, driving the golf carts, signing up crew members, parking attendants, and more. Although they have minimum hours, many of these include perks such as free RV parking for the duration. If this is something that interests you, check out the official website for more information ahead of time.
Food & Drink
Alongside the field is a long bank of tents - many of which are food huts. It's exactly the kind of fare you'd expect at any large outdoor event - everything from donuts to hot dogs.
Given we're trying to be healthy (and save some money), we brought a Thermos flask of hot tea down to the field, and avoided food down there - choosing instead to eat back at the RV. But if you want food, there are many options.
In terms of grocery shopping, Albuquerque is a large city and has all the stores you'd expect. Whilst we were there, we visited Costco, Trader Joe's, Whole Foods, Target & Walmart - you won't have any problems here.
Adventurous Tip: There are two Whole Foods locations in Albuquerque that have Amazon Lockers, so if you're a full-timer and have been waiting for an opportunity to get an Amazon delivery, this could be a good time for you.
What to Pack
Albuquerque is at relatively high elevation (5,312ft), and the weather can be quite varied. This year was relatively mild, with daytime highs in the mid-70s and overnight lows just dipping into the high-40s. However, last year some mornings were into the 30s, and I'm writing this the day after the 2018 fiesta in a campground about 45 miles East of Albuquerque where it snowed last night and temperatures dipped to 27°F last night!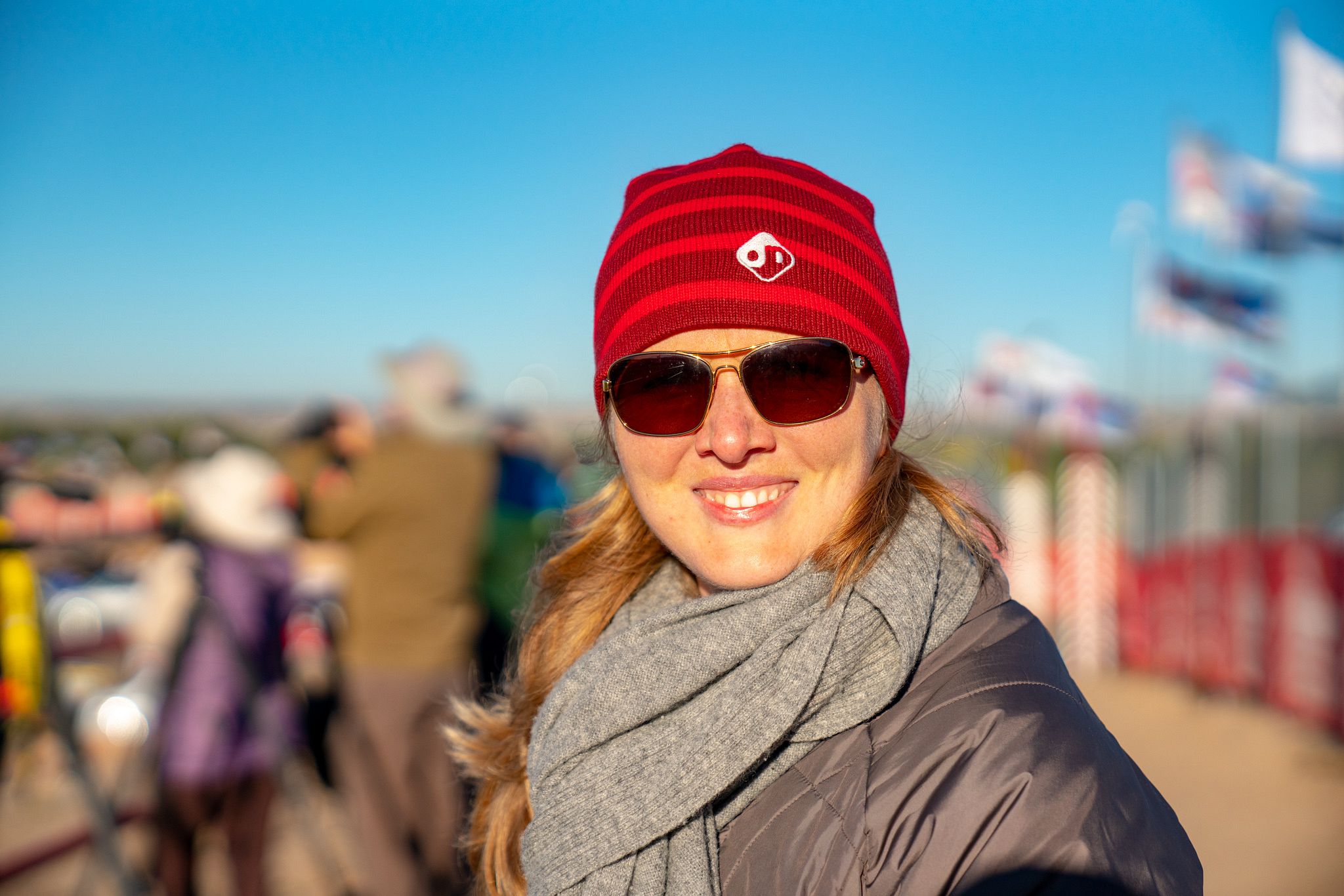 I guess what I'm saying is, bring layers. In the mornings we were wearing several layers including microfleeces and jackets, as well as hats, gloves and scarves - we were standing still for timelapse photography though, and that can get particularly chilly! During the daytime back at the RV, I was in shorts and t-shirt most days.
Adventurous Tip: We were keeping a close eye on the weather forecast, but it changed almost daily - it would forecast sun for the following day and then change to rain later, or vice versa. Be prepared!
The Launch Field itself is quite large and you'll be walking on grass which may be wet depending on weather - so bring appropriate comfortable walking shoes.
If you're bringing photographic equipment, then I'd definitely recommend wide aperture lenses and spare batteries given the cold conditions. With so many people around, a tall tripod can help get some great shots over people's heads.
Adventurous Tip: Bring a flask of your favorite hot beverage for those cold mornings. You can thank me later.
Conclusion
The Albuquerque International Balloon Fiesta is an amazing event. Unlike so many big events nowadays that keep spectators held back behind a cordon, this encourages people to get up close with the balloons.
Whether you have kids, or like us you enjoy watching the balloons, I think there's something here for everyone. And whether you're just attending for a day or two, or you want to spend 10 days at the festival, I hope we've given you some useful information.
See you there next year!