One of the most common questions we get asked is: "when will your house be ready to move in?". Well, the reality is...not for quite a while. Because we don't even plan on starting building it for at least a year. We have another building to construct first - the utility building. Let me explain.
We are trying to develop our property in a very logical, phased approach. Along the way there'll be mini (and not so mini!) projects that each delivers a tangible benefit for us. And after each one is a logical stopping point where we can pause, go traveling, change direction or choose to continue.
For the last 4 years we've been living full-time in our RV. We've made it our own and are very comfortable in here. So although we're excited to build our house, we're also not going to rush the process.
But for almost the last 6 months, we've been living off-grid in our RV on our property - hauling water in from a neighbor, having our tanks dumped once a week, and running primarily off solar power with a couple of generators for backup.
The biggest quality of life improvement we could make right now would be to have hookups here on our land. And that's where the utility building comes in.
Purpose of the utility building
Our property is 40+ acres of forest in rural Vermont, and while we have electric and fiber at the road, our house site is 1,000ft from the road and we have no municipal water or sewer to connect to - we'll be using a well and on-site septic system.
Many people pull utilities in directly to their house - perhaps to a mechanical room or basement. But there are two reasons we chose not to do that.
First, it necessitates having a house, and we don't want to wait that long to have hookups for our RV! In the world of product management, our so-called Minimum Viable Product (aka MVP) is simply having electricity, water and sewer connections for our RV, not a full house!
Second, because of the modular way in which we plan to develop our site, we plan to add multiple buildings in future - perhaps a barn, workshop, accessory dwelling unit, etc. Each of these will require utilities too, and that would mean pulling them from the house - each time meaning excavation and more thermal bridging into our primary residence.
Instead, we chose to adopt a hub-spoke model for utilities. We are constructing a dedicated utility building where we'll terminate our electricity and fiber internet wires, house our well-related equipment (e.g. filters, boost pump, etc) and then redistribute these around the property.
This has several big benefits:
This will weatherproof and winter-proof the utilities so that they can be used year-round for the RV even in our cold climate;
The utility building will be much quicker to build than a house, so we can have fully working utilities on-site much sooner;
If we need to pull utilities to a new building in future, we won't have to excavate the main house itself, just the dedicated building designed with that in mind;
The purpose-built utility building keeps noisy and bulky equipment out of the house where it could be a nuisance;
We'll have a chance to "practice" building on this structure before the main house!
Utilities
Let's take a minute to look at our utilities - although I'm going to deep-dive into these in separate blog post series for each one.
Electricity
I've talked in the past about some of the decisions we faced around our electrical grid connection, and in a future blog post I'll go through in detail exactly why we're choosing to take the route we are.
But, in essence we are planning on a 400A electrical service from the grid, coupled with solar panels and battery backup for cost savings, self-sufficiency and redundancy during outages.
This means the utility building needs to house not only the meter and main load panel, but also all the equipment associated with solar and batteries - charge controllers, inverters, batteries, disconnect switches, monitoring, etc.
Additionally, the building is oriented east-west, giving it a south facing roof, the pitch of which we have designed as a compromise between the aesthetics, practicalities, and solar potential.
Fiber internet & networking
One of the reasons we bought the property we did is because it is served by 1 Gigabit symmetric (1Gbps download & 1Gbps upload) fiber internet at the road. The fiber connection obviously needs somewhere to terminate, and for us, that will be our utility building.
But, we're also planning on having an extensive home networking and automation system on-site at the property.
This will include 40Gbps fiber networking infrastructure connecting the buildings, PoE cameras for security and monitoring, centralized self-hosted services for file storage, backups and website hosting, as well as an extensive home automation system for remote control and monitoring of almost every aspect of our property.
This will likely take the form of a series of rack-mounted servers and switches, connected to a plethora of wired and wireless devices. These produce heat and noise, and the utility building once again is the perfect place to house all this.
Water
Our property is not served by municipal water so we have to source water ourselves on site - in other words, we need a well! Vermont is a fairly wet climate, so generally speaking, finding water isn't usually too difficult. Better yet, the water in our area is incredibly good - very few of our neighbors do anything more than just basic sediment filtering to treat the water from their wells.
A typical setup would be to have a submersible well pump installed in the well shaft, operated by a pressure switch and connected to an inline pressure tank. The pressure tank would keep the water pressure between a low and high value (30/50psi and 40/60psi are common configurations) and the well pump would turn on to supply water as required.
While we could have gone that route, we have chosen not to. Instead, in the utility building we'll be installing a large water tank - likely 250-300 gallons. Our well pump will turn on as necessary to fill the tank, cycling it between low and high thresholds. From there, a boost pump and pressure tank will pressurize the water and distribute it around our property.
Building layout
With these in mind, we came up with a design for the utility building that would not only accommodate our utilities but also provide secure, dry storage. This storage will be extremely useful in the short term, but even long term will provide a lot of benefits.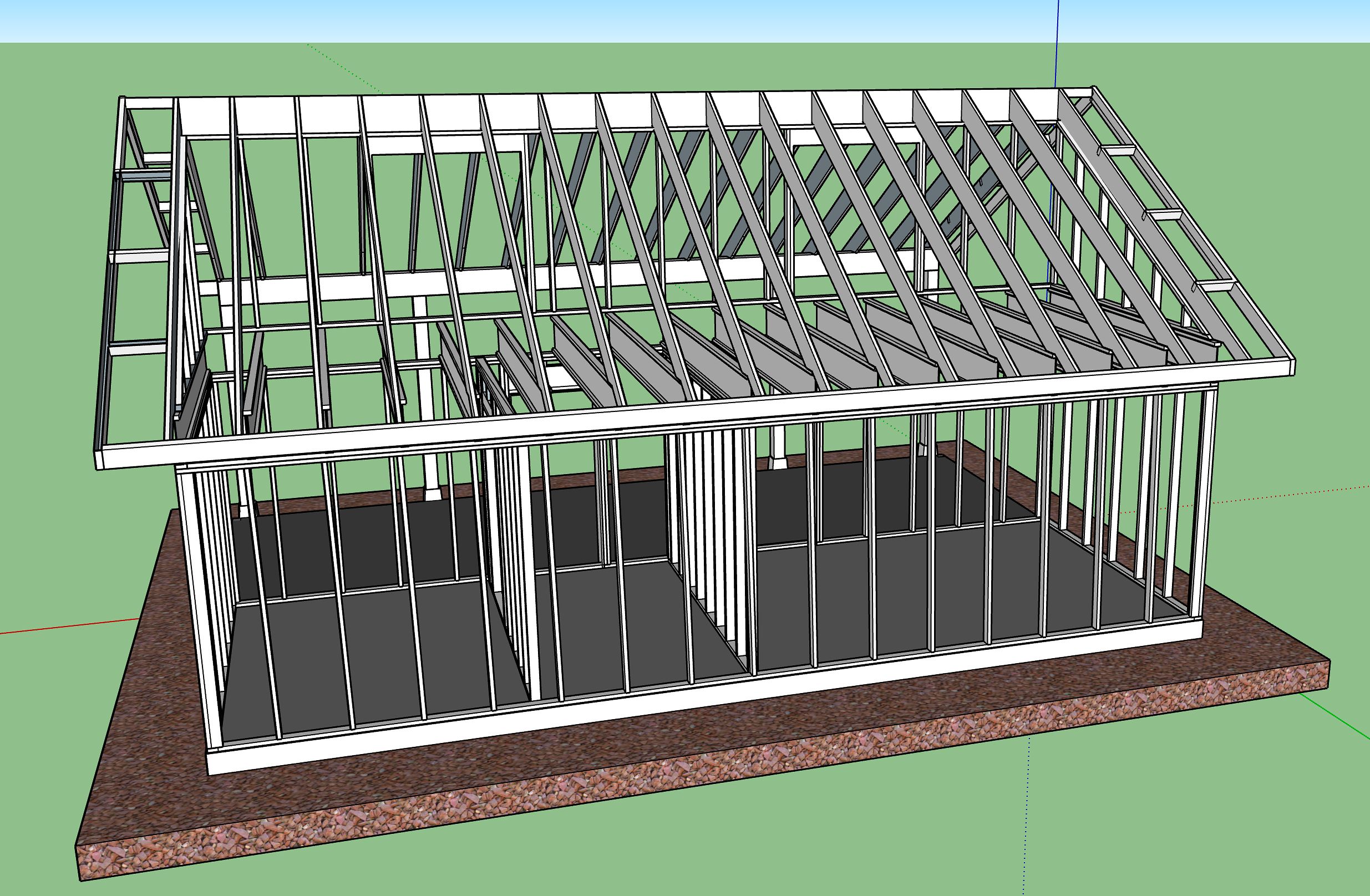 Internal rooms
The main part of the utility building is a 12x32ft rectangular construction, split into three rooms. One room, the storage room will occupy exactly half of the building, while the remaining half will be split into the the electrical and water rooms. Each of the two halves of the building will be accessible by its own external door.
The storage room will, in the short term, serve double duty for us as a utility space. We plan to install a utility sink, washer, dryer and fridge / freezer in the room to give us a little more space than we have in the RV.
Covered space
Adjacent to the rooms will be a covered space, also spanning 12x32ft. This provides a protected area we can use for outdoor storage of things like our tractor and attachments, as well as a working space in inclement weather.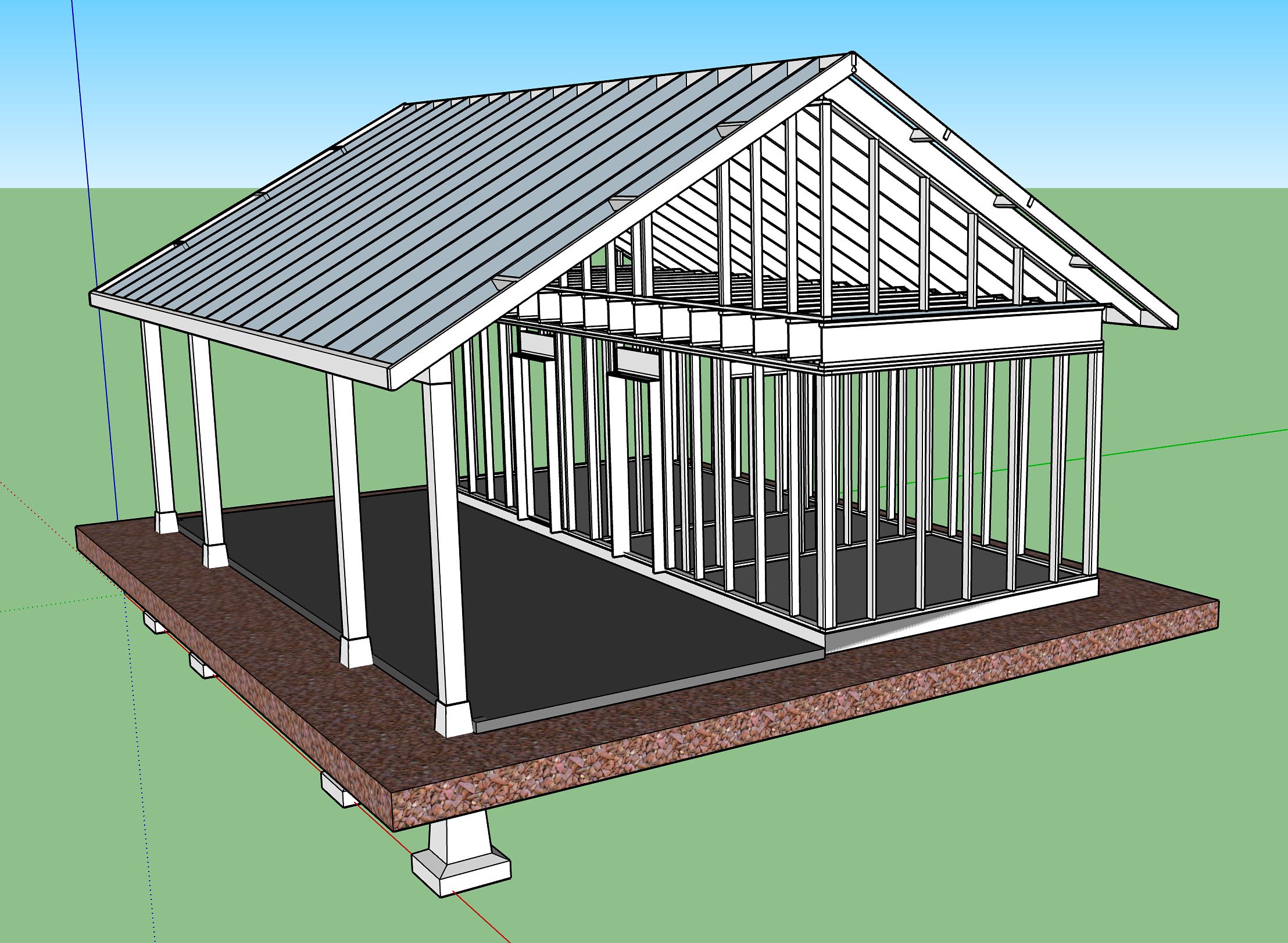 Additionally, after much deliberation we chose to go with flat (rather than vaulted) ceilings, but rather than wasting that roof space will instead be using it as unconditioned storage space accessible from outside.
Construction
Since the building will house sensitive electronics, water-related equipment and potentially climate-sensitive possessions in storage, we need to make sure that the building is environmentally controlled - i.e. it doesn't freeze, overheat or suffer from excessively high humidity.
As such, we are constructing this building to the same exacting standards (or higher!) than a brand new high efficiency home. This is not a simple shed - it's a fully insulated, air sealed and climate controlled building.
As a "my first building" there are at least some things that make the construction a little easier for us. The building shape is a simple rectangle, it's a single floor building and there are no complex roof lines. There are two external doors and no windows.
Nonetheless, we have spent huge amounts of time poring over minute details of the building, ensuring we maximize the current and future utility of the space. This includes everything from sizing the rooms based on the equipment they'll house and laying out the rooms to keep the most-temperature sensitive equipment furthest from external walls, to minimizing the complexity of utility runs from the building.
In fact, we're so keen to make this building as performant as possible that we even worked with a Passive House Consultant on some energy modeling to calculate the insulation it would need to achieve our goals and calculate the expected heating loads.
We'll talk more about the specifics of the insulation and HVAC systems in future, but the goal is to have around R-20 below the slab, R-25 in the walls and around R-60 in the ceiling.
Summary
Specific construction details are still evolving, but I hope this article has given an overview of what it is we're planning to build and why.
It's easy to think that what this first building is a simple shed or well house, but I hope in this article I've given you the context to see that it's much more than that. This is the keystone at the heart of our entire build - a single, central place where we can manage all our vital utilities.