As an Amazon Associate we earn from qualifying purchases.
Our land is completely forested except for an old logging trail that runs through it. There's a patch of forest on our property where several trees have fallen down, leaving a clearing full of dead trees.
This clearing also happens to be nice and flat - well, except for all the dead trees. We spent a few days clearing these dead trees until we were left with an empty space and few slash piles and a few more piles of logs - mainly spruce.
Since most of the trees were either dead and starting to rot, or too small to be of use for much else, we chose to chip these. We figured this would at least give us enough wood chips to spread in the area and help prevent it being quite so muddy and slippery.
Chipping slash is one thing, but big logs is a whole different ball game!
We called up Essex Equipment and asked their advice. They recommended their 9" wood chipper, the Vermeer BC900XL.
Disclaimer: Essex Equipment are helping to support our project with a discount on this equipment rental. That said, all opinions in this blog post are our own.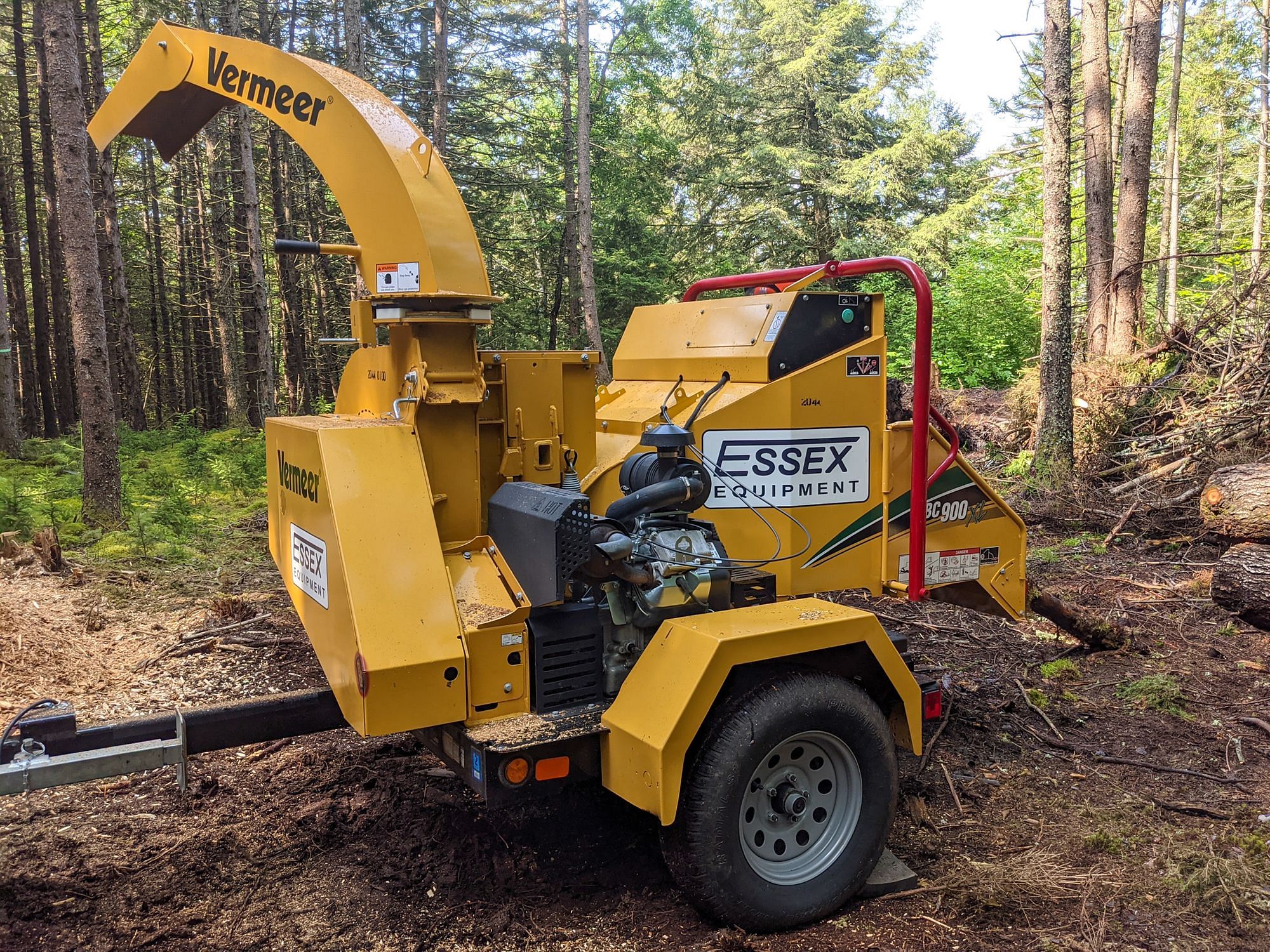 Renting Vermeer BC900XL
The Vermeer BC900XL Brush Chipper is a towable chipper, weighing in at 3,100lbs. It has an opening width of 14" and can chip logs up to 9" in diameter thanks to its air-cooled 35hp Briggs & Stratton Vanguard gas engine.
We picked it up for a 2-day rental at 7am on Thursday morning from Essex Equipment in Berlin, VT. It came with a pintle lunette ring on the front, and Essex Equipment were able to supply a pintle hitch for the 2" receiver on our Ford F-150.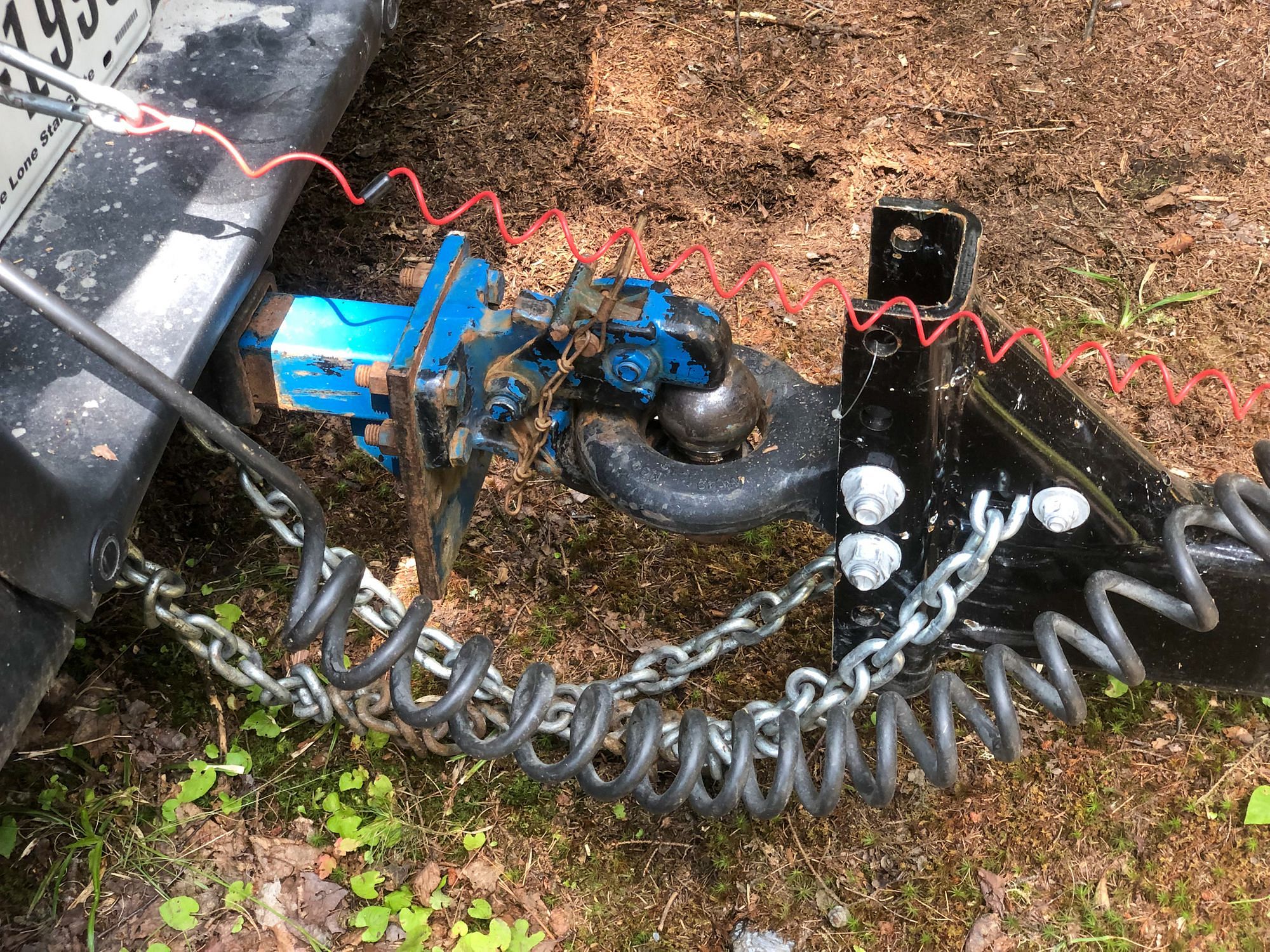 We've never used a wood chipper like this before, so we were given an orientation of the machine - covering everything from starting the engine to its safety features.
Hooking the chipper up to our truck was easy, and soon enough we were on the road.
Having been full-time RVers for the past 3 years, we're no strangers to towing - the 3,100lb trailer towed nicely behind the truck on the drive to our property. We stopped briefly at a gas station to fill our 5-gallon gas can with Premium 91 ethanol-free gasoline.
Pro-Tip: There can be up to ~1½ gallons of gasoline in the hose from the previous customer, so we filled our truck gas tank first to be sure that the gas we put in the 5-gallon gas can was Premium 91 ethanol-free.
One reason we chose to rent the 9" chipper and not the 12" or even 15" chipper was weight (they weigh 4,900lbs and 8,900lbs respectively). In particular, our ability to tow the chipper up the logging road on our property which has one steep section, but in 4WD our truck had made it up the steepest section without issue.
Slash Pile
Since this was our first time using such a larger chipper, we decided to start easy - with the two smaller slash piles near the logging trail. With the chipper still connected to the truck we lowered the feed table and fired it up.
The engine was a little tricky to start - it took a few attempts balancing the choke and throttle but soon enough it was up and running.
Woah, this thing is loud - very loud! Diana and I both wore our forestry helmets and were appreciative not just of the face screen but also the hearing protection. Without hearing protection, even yelling from a few inches away we couldn't hear each other within about 10ft of the machine.
The Vermeer BC900XL comes with a SmartFeed system - a hydraulic infeed roller that will automatically pull in material at the right speed, and even reversing if necessary to remove blockages.
It's worth noting that the infeed system will only operate when the engine is at full speed so don't think that just because you're only chipping slash that you can get away with a lower speed.
We tentatively fed in the first branch and watched as the BC900XL instantly pulled it in and spat it out of the chute as tiny chips. No problem.
We began feeding it more and more slash - mainly small branches we had lopped off the logs. As fast as we could feed the beast it would shred the branches and spit them back out. For anything under about 4" in diameter the feed wheel would continue at full speed, unfazed by leaves, branches and logs.
Only when fed logs more than 4" or so would the feed wheel slow to allow the chipper to keep up. Even so, within about 45 minutes we had completely cleared two good-sized slash piles and reduced them to nothing but a pile of chips.
Using the tractor we spread the chips out, as had been our plan, to firm up the entrance to our clearing. The entrance is still a little too tight for our truck, so we unhooked the chipper from the truck and connected it to our Kubota L3901, using the 2" receiver in the back of our Titan Ballast Box. We maneuvered the chipper into place next to our next pile.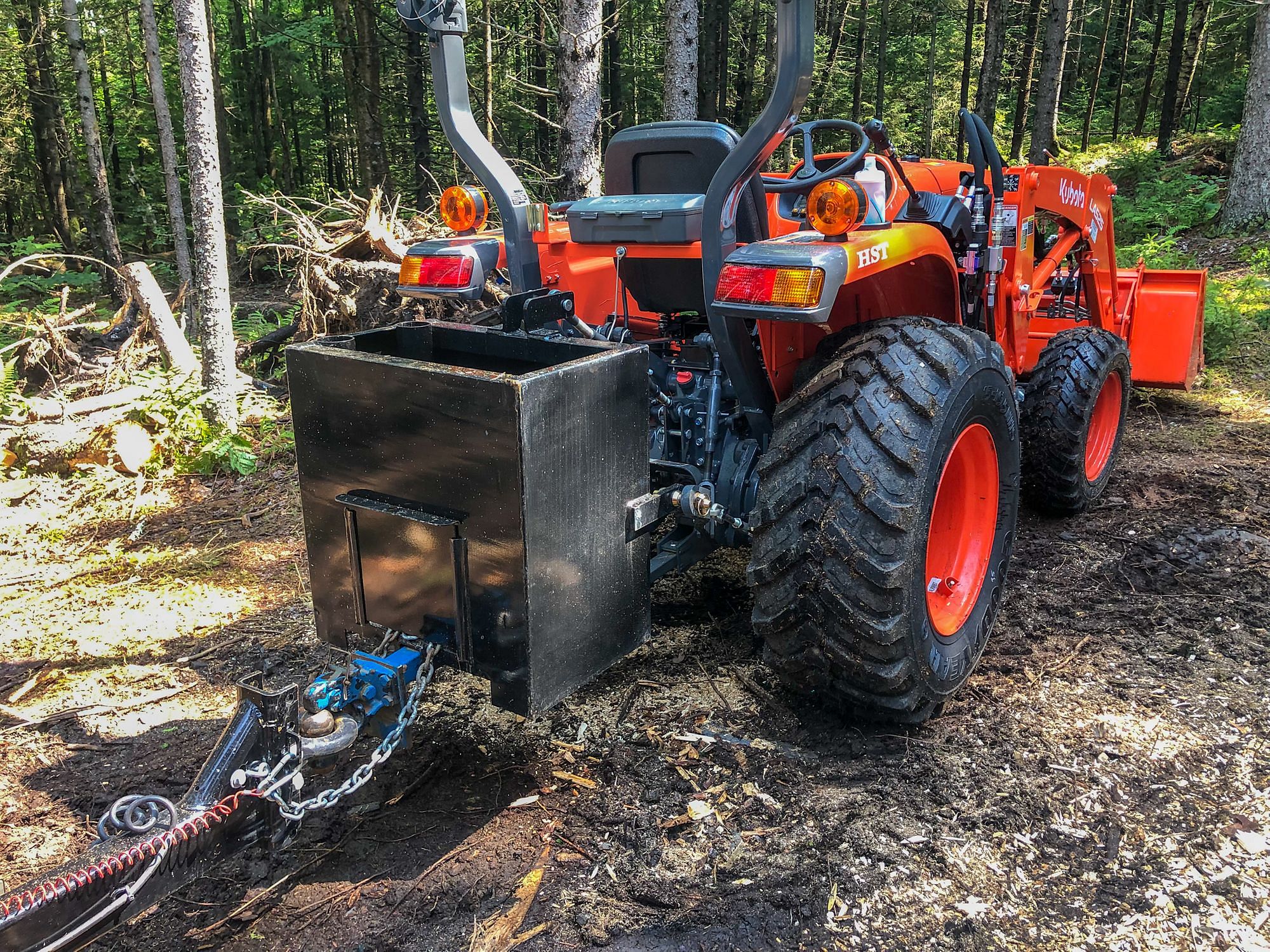 Pro Tip: You don't want to stand directly behind the chipper when it's operating in case larger chunks are thrown back out, so try and position it such that you can easily load it from the sides.
Chipping 9" Logs
As we had cleared the trees in this area we had bucked most of them into logs about 6ft long and piled them up. They varied in diameter from about 4" to around 9-10".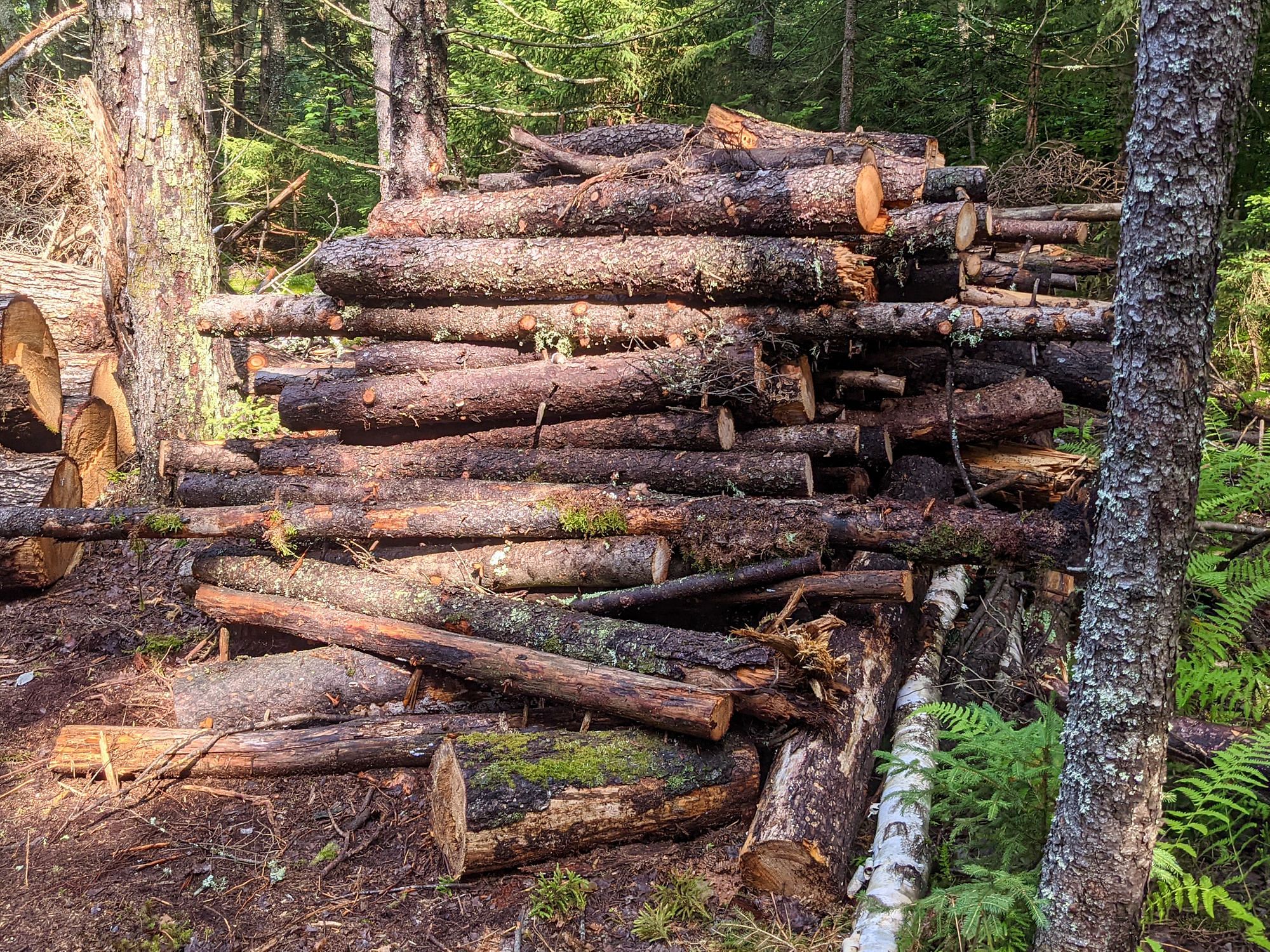 One by one we fed them into the BC900XL. Depending on the size, species and how green they were, the logs would either get pulled through at full speed or the SmartFeed system would pull them in a little at a time until they were completely gone. We didn't time them, but if I had to guess I'd say even the slowest 6ft logs were gone in about 20 seconds.
We were making incredible process - far faster than we thought we would - so we decided to see if we could get everything done in 1 day and save ourselves a 2nd rental day. The priority was the huge slash pile so we paused on the logs and moved to that, repositioning the chipper closer to that pile.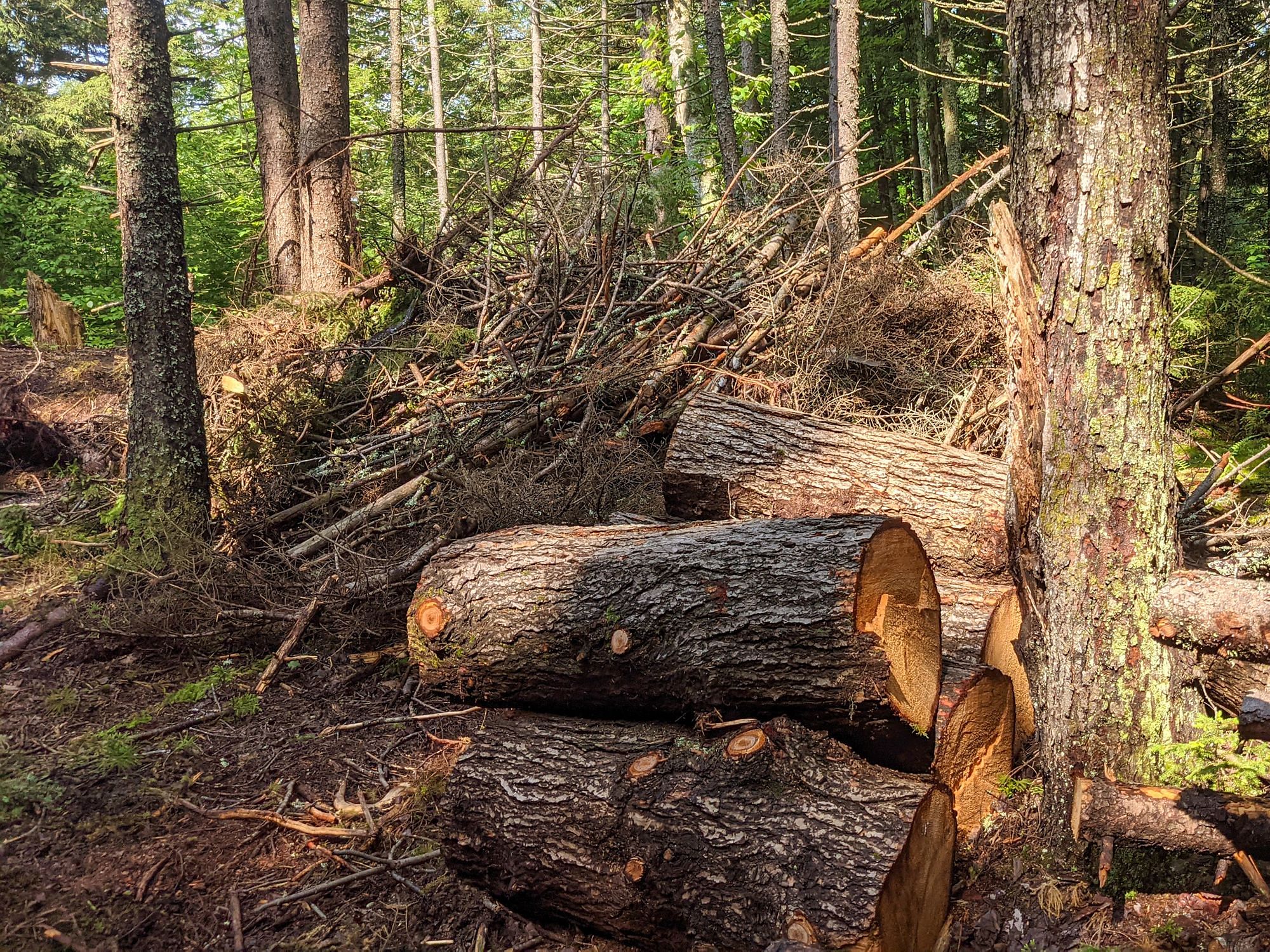 It took us about 2 hours to get through the giant slash pile - we had compressed it with the tractor bucket so it was really dense and the branches were all caught up with one another. The morning's fog had cleared but it was now about 75°F and probably over 90% humidity - it was hard, sweaty work!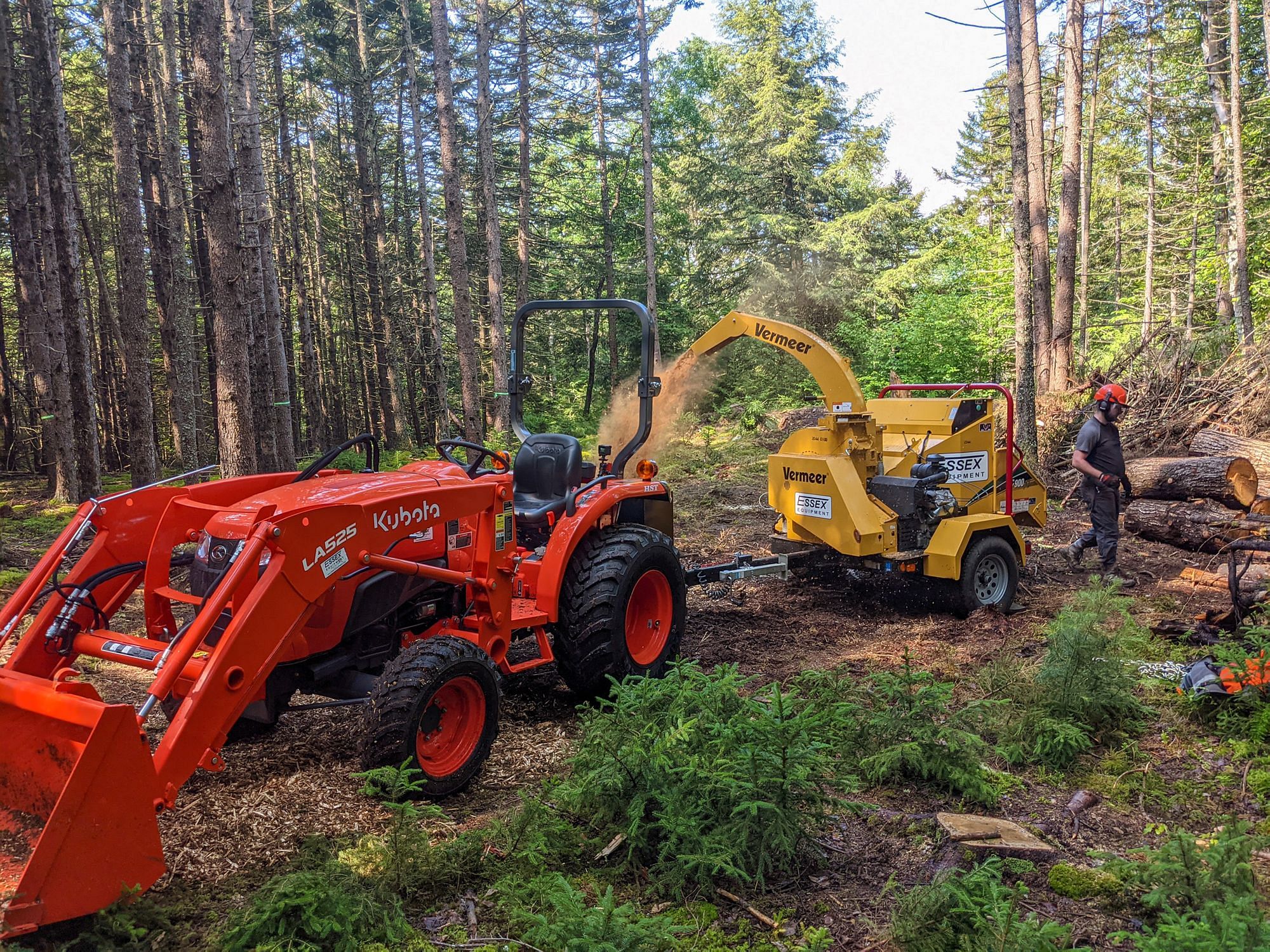 By noon we had finished with the slash pile, and after a 20 minute break for lunch we repositioned the chipper to finish off the 6ft logs we had started earlier. 9 times out of 10 the logs fed through without issue, but on some of the larger logs it would occasionally get hung up at the very end.
The machine would clog, and dust then smoke would appear out of the chute. Quickly pushing on the red bar would stop the feed wheel and reverse it. Most of the time I was able to back the wheel off just a bit, let the flywheel come back up to speed, then drive the wheel forward again. On two occasions during the day this didn't work and I had to eject the butt end of the log - not bad going though!
Our final log pile for the day was a collection of about a dozen logs. We had picked these out as better quality logs from live trees that were straight and true - we had cut them into 12ft lengths with diameters of around 5-9". Originally we were thinking we might be able to use them as poles, or perhaps mill them. But we've got plenty more trees so we decided to chip these too.
Because the chipper was connected to the tractor, Diana and I had to lift these ourselves so we put the chipper as close as possible to the pile. It only took us about 15 minutes to clear the pile.
We had started chipping soon after 8am and by 2pm we had chipped everything that we had expected would take us 2 days to complete.
With a quick game of musical chairs to shuffle the vehicles around, we connected the chipper back to our truck and delivered it back to Essex Equipment long before our 5pm cut-off. We hadn't refuelled the chipper all day so did that when we dropped it off - it took almost exactly 5 gallons to fill it up.
Summary
The end result of all this chipping was a HUGE pile of wood chips, in addition to the pile we had already spread in the entrance to the clearing. If I had to guess, I'd estimate we probably produced about 8-10 cubic yards of wood chips. Not bad for two novices in just 6 hours!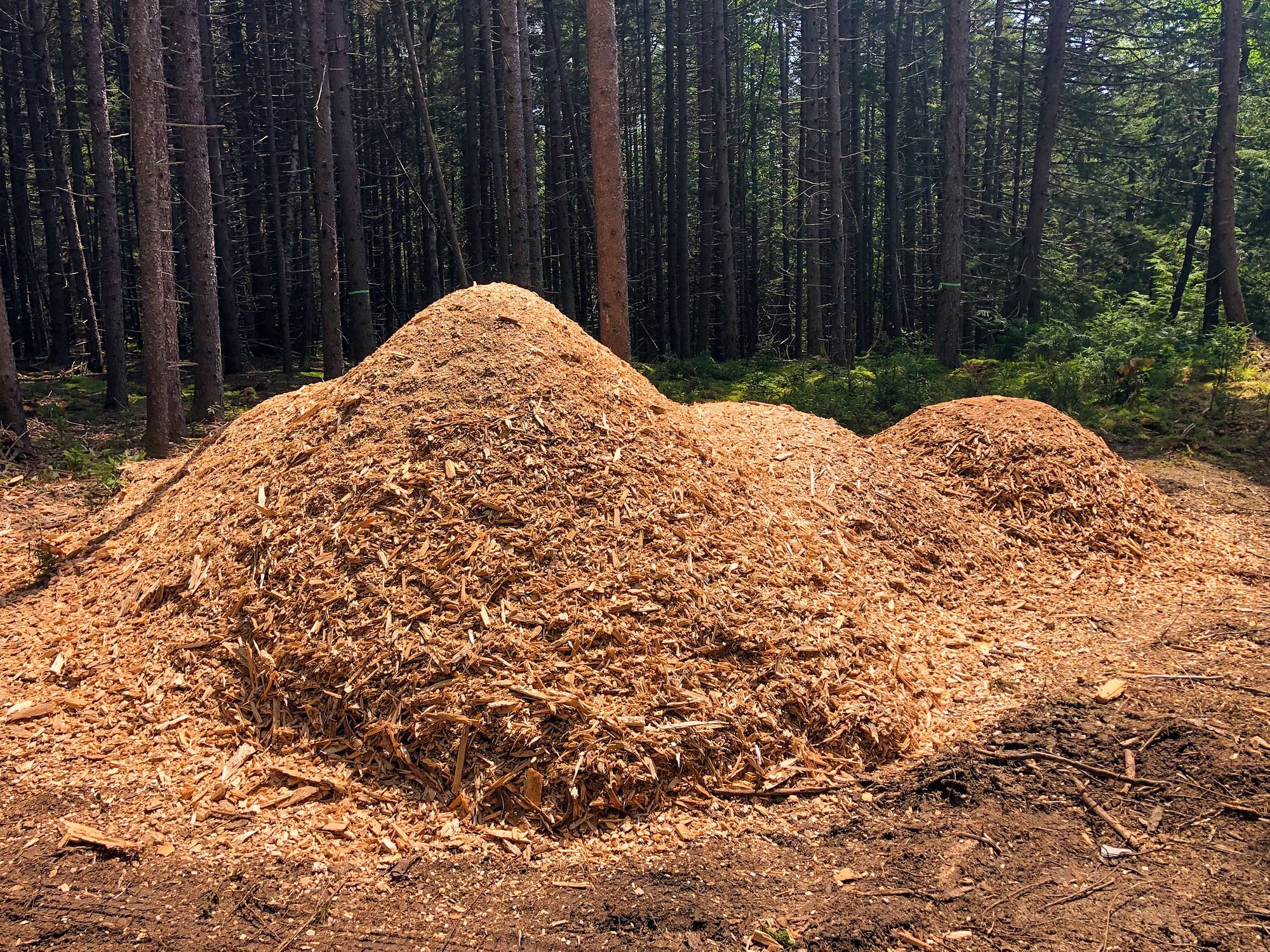 When working through the piles of logs, one person was able easily to keep up with the chipper as its SmartFeed system would throttle the infeed rate. But on the slash piles, it never bogged down as fast as the two of us could load it.
For us, this rental was an experiment. We wanted to see if the Vermeer BC900XL could live up to its claim of chipping 9" material, and how much we could chip in 2 days.
On the first part, we had no problems chipping 9" logs with it - if it would fit through the 9x14" infeed opening, the Vermeer BC900XL handled it! That said, if time is critical to you and you have a huge pile of large logs to chip then one of the larger models would likely do the job faster. For our piles of slash and mixed logs it was the perfect machine.
As for our pace, we processed our slash and log piles much faster than we expected. The hydraulic feed made the process really easy and it was really just a question of how quickly we could deliver material.
One lesson we learned from this experiment is to not limb the tree tops any more than we have to - the BC900XL will happily suck in and chip the tops with all their branches, and it's much faster that way than limbing them and feeding in the slash.
Overall our experiment was a success - the rental process from Essex Equipment was incredibly straightforward, the Vermeer BC900XL exceeded our expectations and helped us get the job done in less than half the time we had estimated!
Now what to do with all those wood chips....