As an Amazon Associate we earn from qualifying purchases.
Introduction
A month ago we discovered mold in the roof of our RV, and after conversations with our manufacturer, we decided to take our RV back to the factory to get it repaired. The only problem is that we've been spending this winter in Vermont, and the factory is in Oregon - time for a road trip!
We spent several days preparing our truck and trailer for the journey, including removing the skirting, emptying all of our belongings out of the RV and ensuring everything was ready to go!
We took our RV out of the campground a couple of days before our trip, and took it on a short test drive to make sure there were no unexpected issues. Rather than trying to re-park it in the snow at the campground, we instead parked it outside our hotel for 2 nights.
We had a rough route planned out, but nothing booked - we wanted to reserve the flexibility to change our destination each day, due to weather conditions or just based on how we were feeling.
Day 1: Vermont to Ohio
With most of our possessions in two storage units, we would be traveling light to Oregon. We packed as much as we could into the truck the night before, but still had several bags and cases to take down on Thursday morning.
We set our alarms for 5:30am, and by shortly after 6am we were on the road. Destination: Oregon!
Before we left Burlington, we had one quick stop to make - our storage unit. We had finished packing two boxes the night before, and had to drop them off. A few minutes later and we were back on the road, heading west.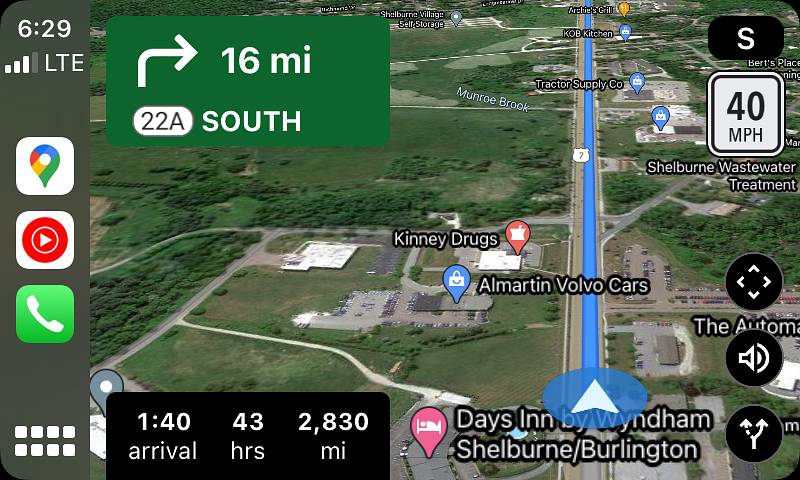 Driving conditions were poor - it was snowing and we were driving into a pretty strong headwind. Even with the trailer being empty and hence lighter than normal, I could really feel the wind trying to push us around. We took things steadily though, and made it through without issue.
We finally made it to our destination, Cleveland, Ohio at about 6:15pm after driving 659 miles in about 11.5 hours of driving time. We were exhausted, and after moving things into our hotel room, we walked across the road and picked up Chipotle for dinner - our first time in a very long time!
In the truck we set up our Wyze Outdoor cameras to keep an eye on things overnight. We've been using these this winter as security cameras on our RV, but being wireless and battery operated, they're really quick to move around.
Since the RV wasn't winterized (so we could use the bathroom en route) we left the heating set to 45°F overnight to make sure nothing froze.
Day 2: Ohio to Iowa
Another early start and once again we were rolling shortly after 6am. The day's destination was Des Moines, Iowa - a drive of 675 miles!
The miserable weather of the previous day had gone, and it was a very easy driving day - clear blue skies and almost no wind to deal with. We chose a route through Elkhart, Indiana that avoided the toll roads, but that meant slightly slower progress than the previous day.
Combined with one missed exist as we passed by Chicago, it meant we were driving for almost 13 hours. Since we knew we'd be arriving a little later at the hotel, we stopped to pick up food (and fill up with gas) at a Costco along the way.
Fun fact: the Costco in Coralville, IA is the only Costco in the US with a covered parking garage. Most Costcos are in purpose-built buildings, but when they bought this site it already had a warehouse on it so they decided to reuse it for a parking garage. The entrance to the store is from inside the warehouse too!
Day 3: Iowa to Wyoming
Our original plan for day 3 was to make it to Cheyenne, WY - a drive of about 630 miles. We had clear blue skies yet again, and with some fast speed limits we knew we'd be able to cover a lot of miles.
However we were once again battling a strong headwind, and the interstate climbed relentlessly through western Nebraska, leading to an alarmingly low fuel economy of less than 6mpg as the twin turbo 3.5L EcoBoost engine in our F-150 sat in 4th gear for hours on end.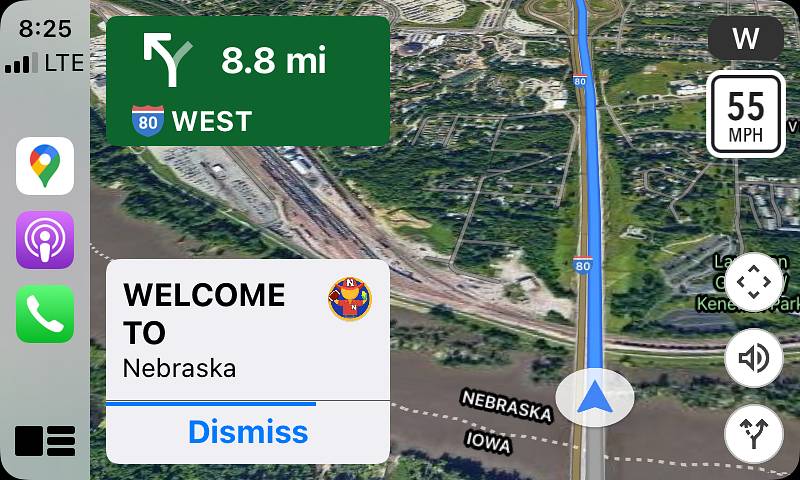 During the early afternoon the temperature outside reached an incredible 73°F - clearly unseasonably warm since all the lakes and ponds alongside the road were covered in ice still.
As we closed in on Wyoming, we realized that stopping at Cheyenne would mean starting with a big climb up towards Elk Mountain the next morning. Instead, since we were making such great time, we decided to press on and climbed up and over the summit, stopping for the night at Laramie, WY.
We had covered more miles than any other day - 682 miles. The faster speed limits definitely took their toll on our fuel economy, but we had managed the drive in around 11 hours. Since we had crossed another timezone boundary, we found ourselves at the hotel by 5:30pm.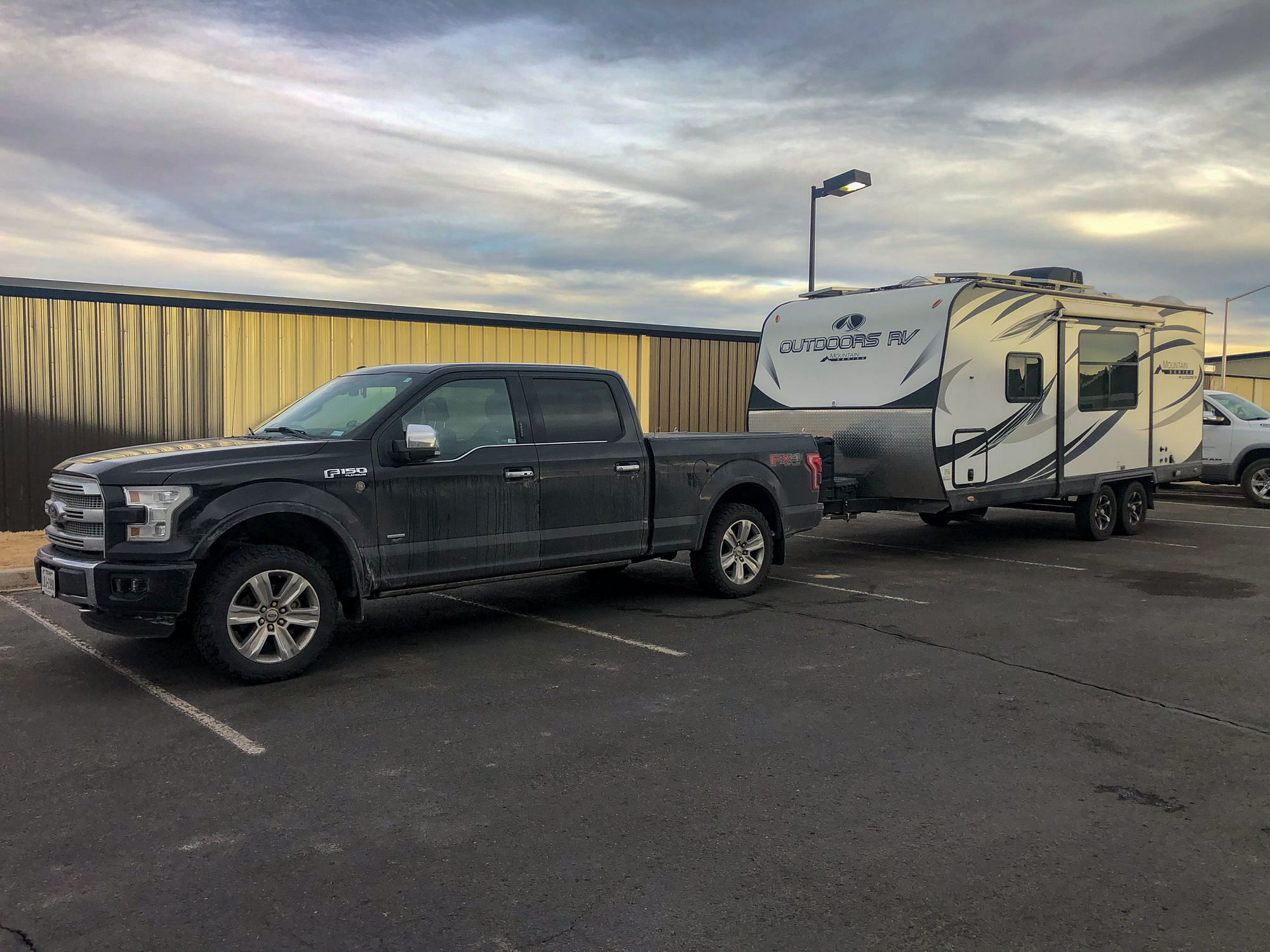 We considered going further, maybe another 100 miles or so to Rawlins, WY. Unfortunately there was a strong wind advisory until 7pm between Laramie and Rawlins, so we decided to play it safe and stop at Laramie.
Day 4: Wyoming to Oregon
Wanting to capitalize on our timezone change, we woke the next morning at 4:30am to try and get some serious mileage under our belts.
Unfortunately it was a false start, and the previous night's advisory was still in effect - the interstate was closed to all high-sided light vehicles. Fortunately by 6:30am it had cleared, and we were on the road again.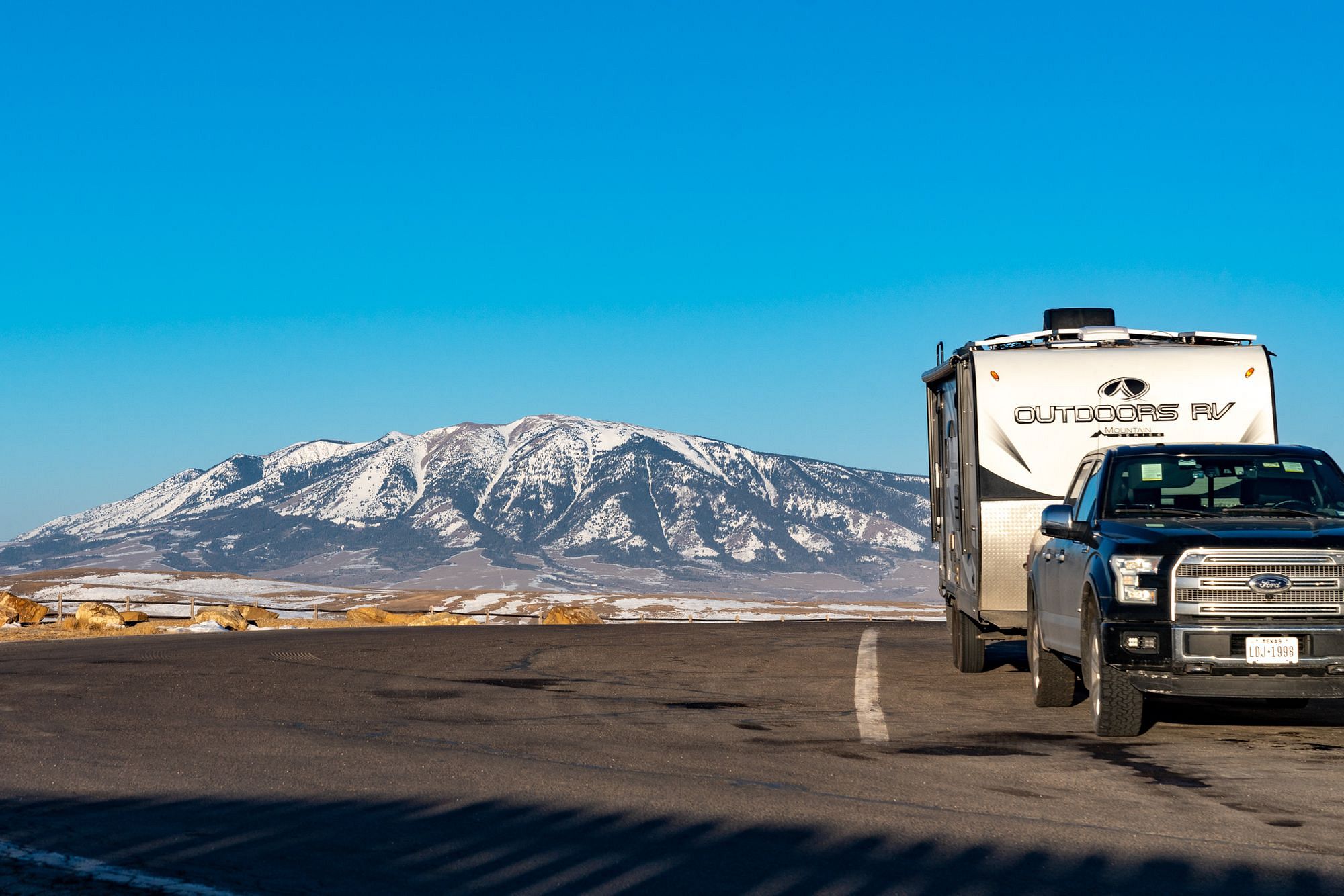 Originally we had planned to make it to Twin Falls, ID, but could we make it all the way to Oregon?
The towing speed limits for most of the day were fast, only really slowing when we reached Idaho. We were also dropping in elevation and there wasn't any significant wind, so we were making great time.
Although our final destination was La Grande, OR, we didn't want to make it there all in one go as we wouldn't know how many nights we'd want to be in the hotel for until Outdoors RV had looked at our trailer.
Instead we planned to stay in Baker City, OR. We found a hotel, and called them to confirm they had space for a truck and trailer (as we had with hotels on the previous nights). Despite repeated calls, we never managed to get through to them, and unable to find a reasonably-priced alternative, we decided to stop instead at Ontario, OR.
It was strange to drive past Boise, ID. We spent several months there last year while we remodeled our RV, and here we were again after almost lapping the country - Idaho to Washington to New England and now back to Idaho.
This was our longest day of the journey - a massive 768 miles in 12 hours, but no timezone change to help us. Funilly enough, the last time we drove to Boise was a long drive too!
Day 5: La Grande, OR
Knowing it would take a little over 2 hours to drive the 120 miles to La Grande, OR we woke early. We wanted to arrive as soon after the factory opened at 7am as possible so that the team would have as much time as possible to work on the RV.
Despite some snowy weather, we were making great time until we reached La Grande. We stopped in town to fill up with gas, and the box truck in front of us wouldn't start. They were trying to jump start it with a car, but what they needed was a truck engine. So with the trailer still in tow, we maneuvered around the gas station to help him jump start his van.
Unfortunately it turned out not to be the battery - my guess is his starter motor had failed, but whatever the root cause, it was beyond our ability to help. He thanked us and we continued on to the factory, finally arriving at 7:35am.
Summary
2,904 miles later, we had made it from Burlington, VT to La Grande, OR.
While our truck has no problems with power to tow our trailer, fuel economy really suffers at high speed when the turbos spin up. This is why we normally tow at 55mph, but on this journey we were keen to get to Oregon as quickly as we (safely) could - ideally by Monday morning so that the team would have a whole week to work on our RV.
We used just over 400 gallons of gas on this drive, meaning an average fuel economy of just 7.2mpg! Our owners manual recommends using 91 octane fuel while towing, and combined with the high winter fuel prices, this was not a cheap journey!
Diana and I often joke that long road trips are where we come up with our craziest ideas! In fact, a road trip around Utah's National Parks is where the idea to begin full-time RVing was born!
Despite 2,900 miles of driving, we only played about 3 hours of music and listened to 3 episodes of a podcast. The rest of the time was spent planning our upcoming adventures...it's going to be exciting!