As we were searching for where we wanted to build our dream home, one of the many criteria we had was to find an area with a relatively relaxed permitting process.
It's not that we want to get away with building a poorly constructed house - far from it! Rather, we have every intention of building a house to standards well in excess of the minimum required standards (i.e. building code), and simply want to be free of bureaucracy, red tape, and restrictions.
Permits in Vermont
The permits you require in Vermont vary not just by county, but by town! This meant our land search process was incredibly laborious as we had to individually research each town's requirements - to see if it either had no zoning requirements at all, or comparing them against our list of criteria to make sure they wouldn't restrict us from doing what we wanted to do.
While zoning laws vary by township, there is one permit that is almost universally required across the state: the Wastewater Permit.
This permit is required to install a septic system on your property, and since none of the properties we were looking at were connected to municipal sewage systems, we knew we would need a septic system. Applying for this permit requires two major steps:
Soil testing
Septic system design
Soil Testing
As is normal in Vermont, during the buying process one of our contingencies was that the property was able to pass a soil test to show it was suitable for a septic system.
Once our offer was accepted, we contracted a soil testing engineer who organized for a local contractor with an excavator as well as the state inspector to visit the property with us and dig some test pits. The state inspector isn't required to be present, but it can help speed up the process later on.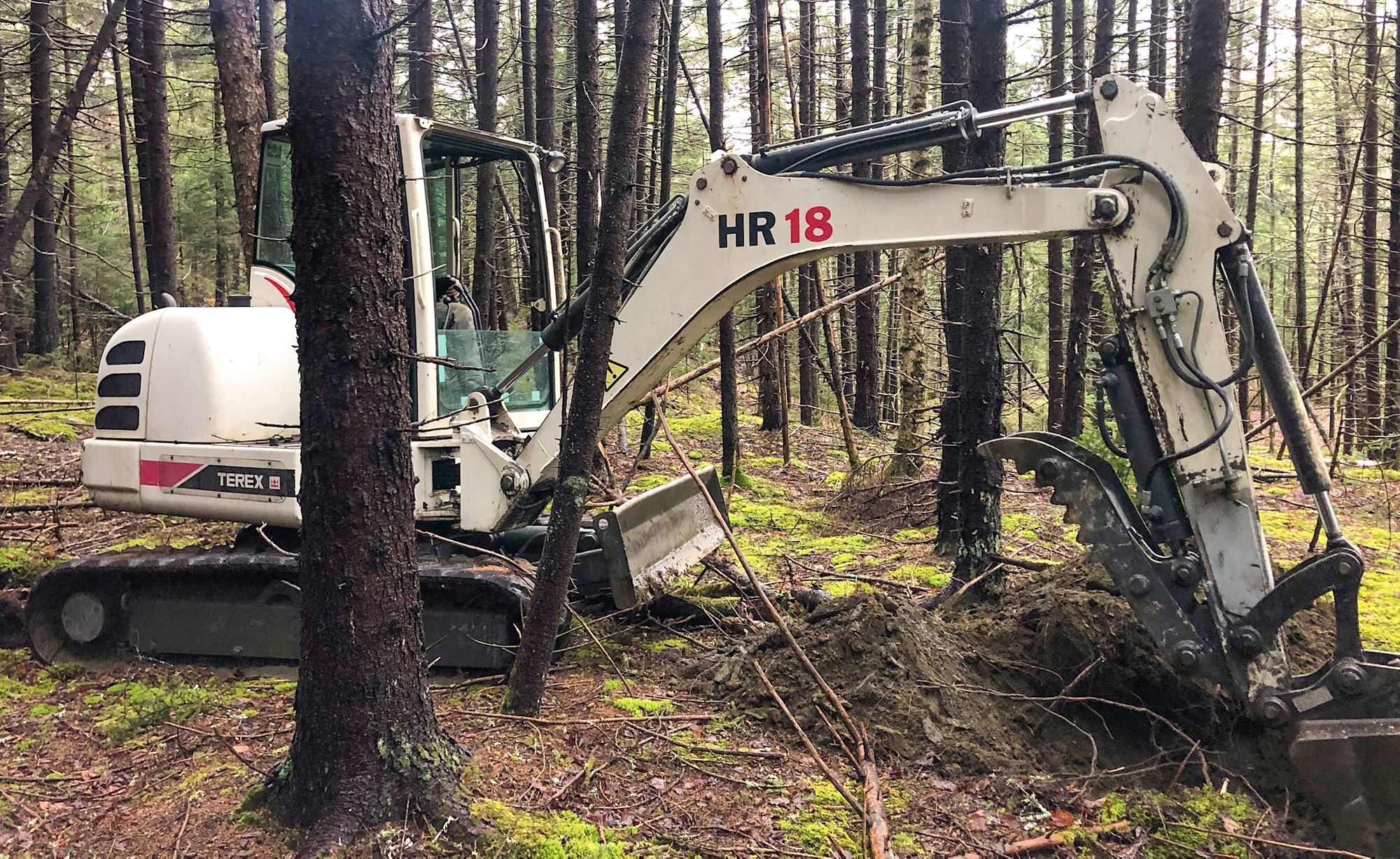 We knew going into it that our soil type was conducive for a septic system, but that our soil layer would likely be very shallow. In the end we had to dig 13 test pits before we found an area with enough soil depth for a septic system!
Septic System Design
The Wastewater Permit isn't just a generic "you can put a septic system on the property". Instead, it's a very specific, "you may build this very specifically designed system which will be inspected to ensure you build what it says in the application".
That means you need a septic system design. In our case, the same engineer who did our soil testing undertook the work to do the actual septic system design. The first step was surveying the property - not the full 40+ acres, but about 8 acres or so, encompassing the entire house site and surrounding area (we asked for it to cover a little more than strictly necessary).
To design the system, the engineer needed to know what buildings we'd have, where they'd be situated, how many bedrooms, etc - basically a site plan and a rough idea of how big our house would be. We worked with our architects to come up with these details, and after some back and forth with the engineer, we settled on a plan.
Between crazy schedules last year and the various iterations back and forth, it wasn't until late December that we were ready to submit the application - about 6 months after we bought the land!
We paid the fees and our engineer submitted the application to the state in early January. The process can typically take 3-5 weeks but this week, just 7 days after submitting the application, we had a response - our permit has been approved!
Septic System Design
So, what is our septic system going to look like?
Well, even though we're only planning on building a 3-bedroom home, we decided to oversize our septic system. Our system design is for a 5-bedroom house with a maximum wastewater flow rate of 560 gallons per day.
Given we're used to living in an RV where our combined 80 gallons of waste tanks can last us 2 weeks, 560 gallons per day is more than enough - actually, it's almost 100x more than we're used to!
We oversized our system for three main reasons:
An oversized system (within reason) will last longer;
It gives us room for future expansion (e.g. a workshop with a bathroom, guest accommodations, etc);
We can easily have RVer friends to stay and not worry about them dumping their tanks.
As for the design of the system, well, there are a few quirks.
First, as we knew would be the case from our soil testing, our septic system will be a mound system. Because we don't have enough soil depth for the wastewater to percolate out safely, we have to build an above-ground mound of sand and gravel. These systems are obviously more costly, but we really don't have much choice.
Second, unfortunately, the topography of our property really restricted where we were able to locate the septic leach field. In our case, there was nowhere downhill from the house for us to locate it, so our leach field is actually uphill from the house...
"Ewww" I can hear you saying! But don't worry, it's not as bad as it sounds. First, the leach field is around 100ft from the house, but second and more importantly, the grade of the land means the leach field actually slopes away from the house.
But there's still the issue of how we get wastewater from the 1,000 gallon septic tank near the house to the leach field if it's uphill. The answer is we pump it under pressure. Although this does introduce more complexity to the system, pressurized septic systems aren't necessarily a bad thing - the regular "flood-drain" cycle can actually lead to an overall healthier leach field.
Building our Septic System
Although designing the septic system is very much a job that should be (and usually must be) left to the professionals, building it is something we can do ourselves. I was somewhat surprised when I asked our engineer about the feasibility of us building it ourselves, and he had no concerns whatsoever.
There are some elements we'll need help with - such as installing the 1,000 gallon concrete septic tank - but a lot of the labor is in the construction of the septic leach field, almost all of which we should be able to do ourselves.
Building the septic system is going to be one of the first big projects we tackle, so we're trying to plan everything out really carefully. But one of the first steps will be to clear trees in the area around the leach field.
Based on the design, that means clearing about 0.2 acres (about 7,000 square feet) of trees, so that should keep us busy for a while! Our plan at this point is to try and get back to the property in early March so we can start clearing trees while the ground is still frozen - while the trees aren't yet full of water and we can skid them along the frozen ground.
Next Step: Zoning Permit
Before we can truly start construction on the property though (clearing trees is OK), we need one more permit - our Zoning Permit. For this we have to apply to the town with a description of what we're planning to build and, critically, our approved Wastewater Permit - the reason this is such a big milestone!
We have everything we need for the Zoning Permit so we're hoping to submit as soon as possible. So far the town has been incredibly responsive and we're keeping our fingers crossed that we'll have our Zoning Permit in hand by the time we return to the property in March. Wish us luck!