Bear Sighting
After a week of rain, we've been treated to some much sunnier weather recently, with temperatures well up above 70°F. We've been making a point of going out for a walk each day, giving us a break from work and letting us stretch our legs.
The campground we're staying in backs onto a large forested area with short hiking trails running through it - perfect for our daily stroll. On Sunday evening, we went out for a short hike on one of those trails.
We were walking along, chatting away with one another, when we heard a noise in the undergrowth not too far away. We stopped and listened.
We're used to encountering wildlife when we're out hiking - more often than not it's deer, but this sounded different. Deer tend to spook quickly and then flee, but this noise was just a short rustling sound and then it stopped - definitely from a larger animal though.
As we looked more closely in the direction of the noise, we saw it. A beautiful black bear was staring right back at us. It was about 50ft from us, back in the undergrowth up on some rocks. We could clearly see it, and it was a pretty large animal!
Diana has run across bears on trails before, although I never have - but both of us having lived in California, we knew what to do. We stayed calm, and started talking loudly but not shouting. It watched us for a few more seconds, then moved away from us.
Fortunately our trail continued in the opposite direction from the bear, so we hiked on, watching the bear until the trail rounded a corner and we were out of sight. Far from being frightened, we felt privileged to have seen the bear!
We notified the park owner after our hike so that he was aware and could alert other guests. He said while they know there are bears active in that area, he has never seen the bear up there himself - I guess we were very lucky!
Bike Ride
In addition to some short hikes, the weather is also perfect for cycling. We had taken the bikes off the back of the RV a few weeks ago, but this week we took them out for a ride.
It's an embarassingly long time since I last went on a bike ride, and honestly, it felt great to be back in the saddle. The first ride was short - just to make sure everything on the bike was working well. It was successful so we're looking forward to many more bike rides this summer.
Fully Vaccinated
This Monday we both had our second dose of the COVID-19 vaccine, which means that by the end of this month, we'll have completed the 14-day period after which we'll be considered fully vaccinated!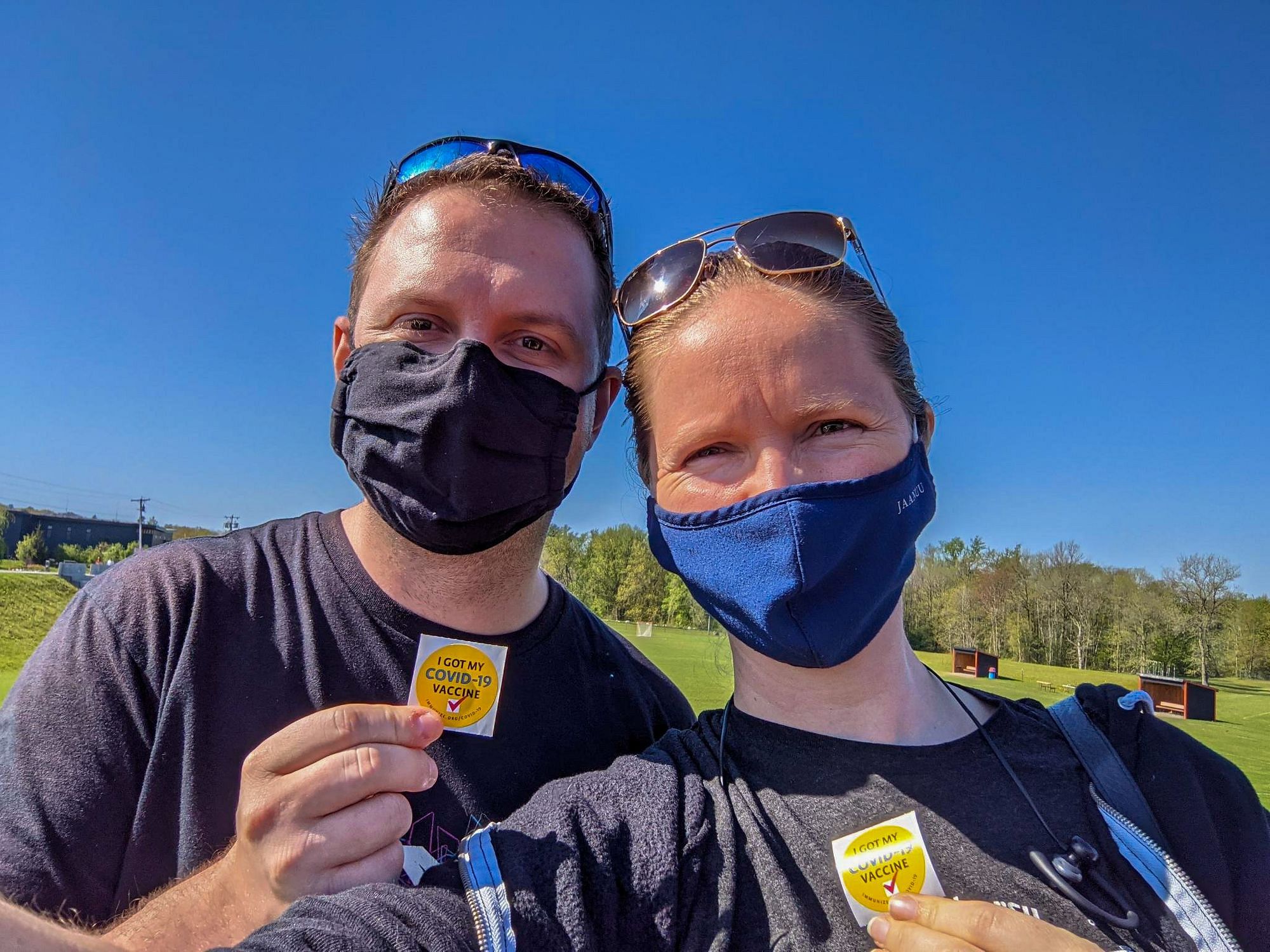 Vermont is doing really well with its vaccination efforts - around two thirds of Vermonters have had at least one dose, and almost half are fully vaccinated.
We're keeping our fingers crossed that it's effective and cases continue to drop. Vermont is well known for its small, local community businesses and organizations, and we're looking forward to getting out and exploring them.
Battle Born Battery Upgrade
At the end of April, Marc and Julie Bennett (aka RV Love) hosted a virtual summit called Hit the Road. Diana signed up and attended several of the sessions, including one about starting a "work from anywhere" business by Alyssa and Heath Padgett.
Just for signing up, we were also entered into a raffle. We've never had much luck in raffles, but this time we scored big time - we won a brand new Battle Born lithium battery!
We already have three Battle Born batteries in our RV, so we've been wondering what to do with it. We did think about using it when we get our property as a backup power system, but in the end we've decided to upgrade our RV's battery bank.
One of the many advantages of the Battle Born lithium batteries is that it's straightforward to add capacity. They say you can add a new battery up to 3 years later...our batteries will reach their 3rd birthday in August this year, so the timing is perfect!
Stay tuned for more details on how we get on.
Tractor Shopping
Last but not least, if you haven't seen it yet, check out our latest video about our recent experience shopping for a tractor.