As an Amazon Associate we earn from qualifying purchases.
It's been a while since we last had a real vacation, a time to completely switch off from work, and not work on any blog posts or videos (or building a house!). A long while - not really since before we started RVing when we went to Europe for a month to travel around and see family.
We had a few free hotel nights that needed redeeming before the end of the year, so we figured we'd use them for a weekend getaway. But to where?
When we arrived in New England last fall, we had desperately wanted to visit Maine - neither of us have ever been! Unfortunately travel restrictions and quarantine requirements at the time made it too difficult, so we stayed in New Hampshire before heading to Vermont for winter.
So two weeks ago, in late September 2021, we booked ourselves an impromptu last-minute weekend in Portland, Maine.
New Hampshire State Home Show
Although we didn't have much of an itinerary for our weekend vacation, there was one thing we had planned - visiting the New Hampshire State Home Show in Manchester, New Hampshire.
Manchester is about a 3-hour drive from where we are in Vermont, and thanks to our Uni Toll Pass, we were able to make use of toll roads on the way without worry.
The New Hampshire State Home Show was being hosted at the Doubletree by Hilton Downtown Manchester, and given we're in the process of building our own home, it seemed like an obvious event to check out.
We spent a couple of hours wandering around the show, checking out all the vendors and what they had on offer. We're very much in the "research and planning" phase of our build right now, but it was great to see a lot of the products on offer.
It was particularly interesting to see how many companies are making products to fix faulty buildings - wet basements, leaky roofs, poor ventilation, etc. For us, it was a reminder of how more time spent researching up front and focusing on a quality build should pay dividends by avoiding these problems further down the line.
We also had a great conversation with a representative from GDS Associates, a New Hampshire based company offering residential energy audits. Given our plans to build a Passive House, it was great to learn more about their experience in the area.
City Farmhouse Kitchen & Bar
After the show, we headed north into Maine and followed the coast to the Portland Sheraton at Sable Oaks in Portland where we would be spending the next 3 nights.
Tired after several hours of driving, we elected to have dinner in the hotel restaurant - the highly acclaimed City Farmhouse Kitchen and Bar. The food was delicious and the service was prompt - a thoroughly enjoyable meal.
Sebago Lake
The next morning we headed out to do some sight-seeing - first stop, Sebago Lake, about a half hour drive from our hotel. We stopped in at the Sebago Lake Landing Station where we watched a couple of boat owners load boats back onto their trailers, and enjoyed the stunning views out across the deepest and second-largest lake in Maine.

The weather forecast for the weekend had given non-stop rain for 3 days, but as we've come to expect in New England, the weather forecast is unreliable at best!
Old Orchard Beach
After Sebago Lake we headed out to the coast, this time the Atlantic coast and not the Pacific as in the past. In fact, it's the first time we've seen the ocean in a long, long time! Our truck has now been to the west coast (in California, Oregon and Washington), the south coast (in New Orleans, LA) and now the east coast.
We stopped at Old Orchard Beach, a quaint little seaside town. I guess because of a combination of the time of year and the pandemic, many places were closed - including the end of the wooden pier that stretches out 500ft into the Atlantic.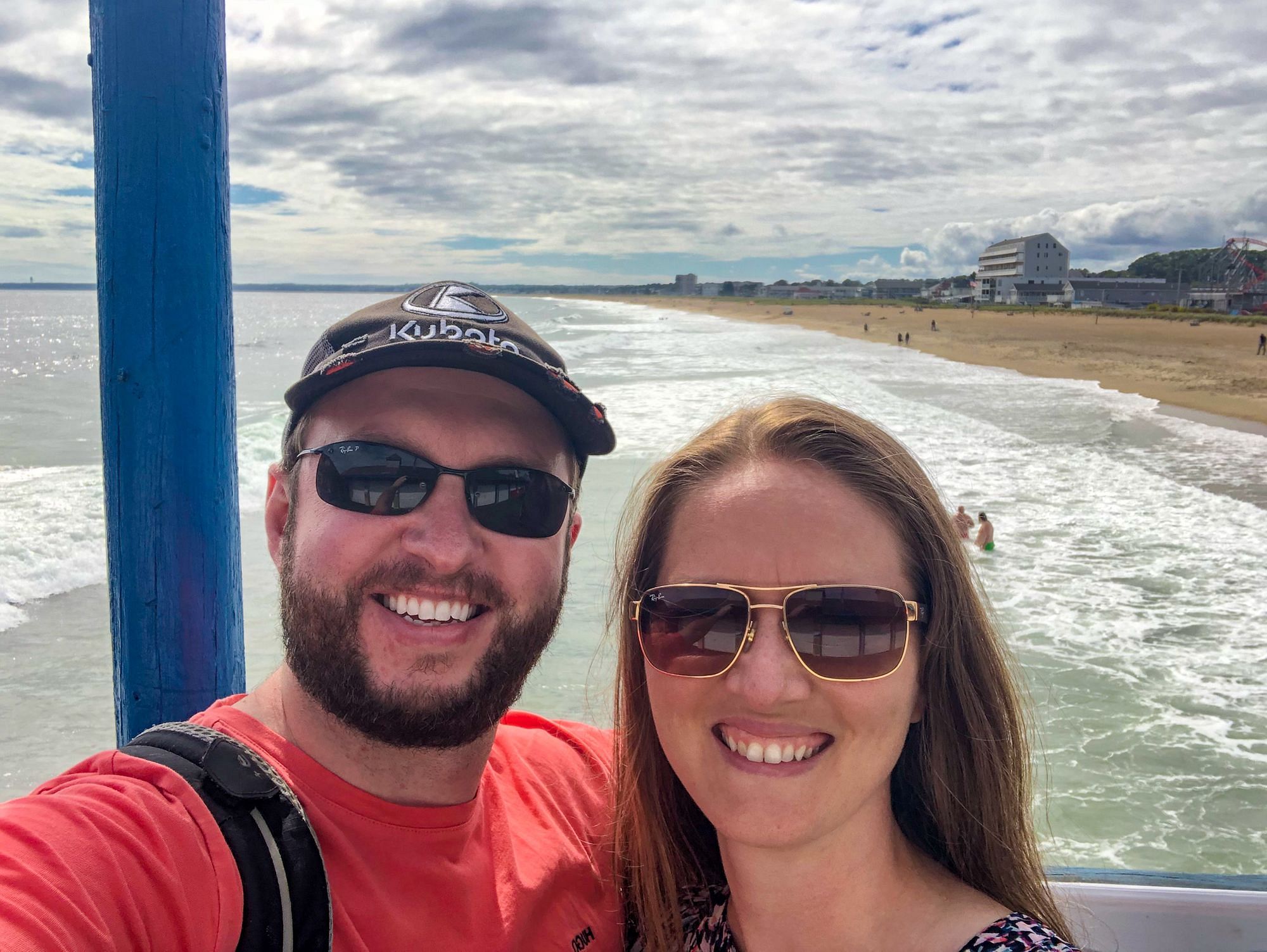 Speaking of which, no trip to the coast is complete without a walk on the beach! We weren't brave enough to go for a swim (although we did dip our hands in the water and it wasn't as cold as we were expecting), but we did point to Europe across the water!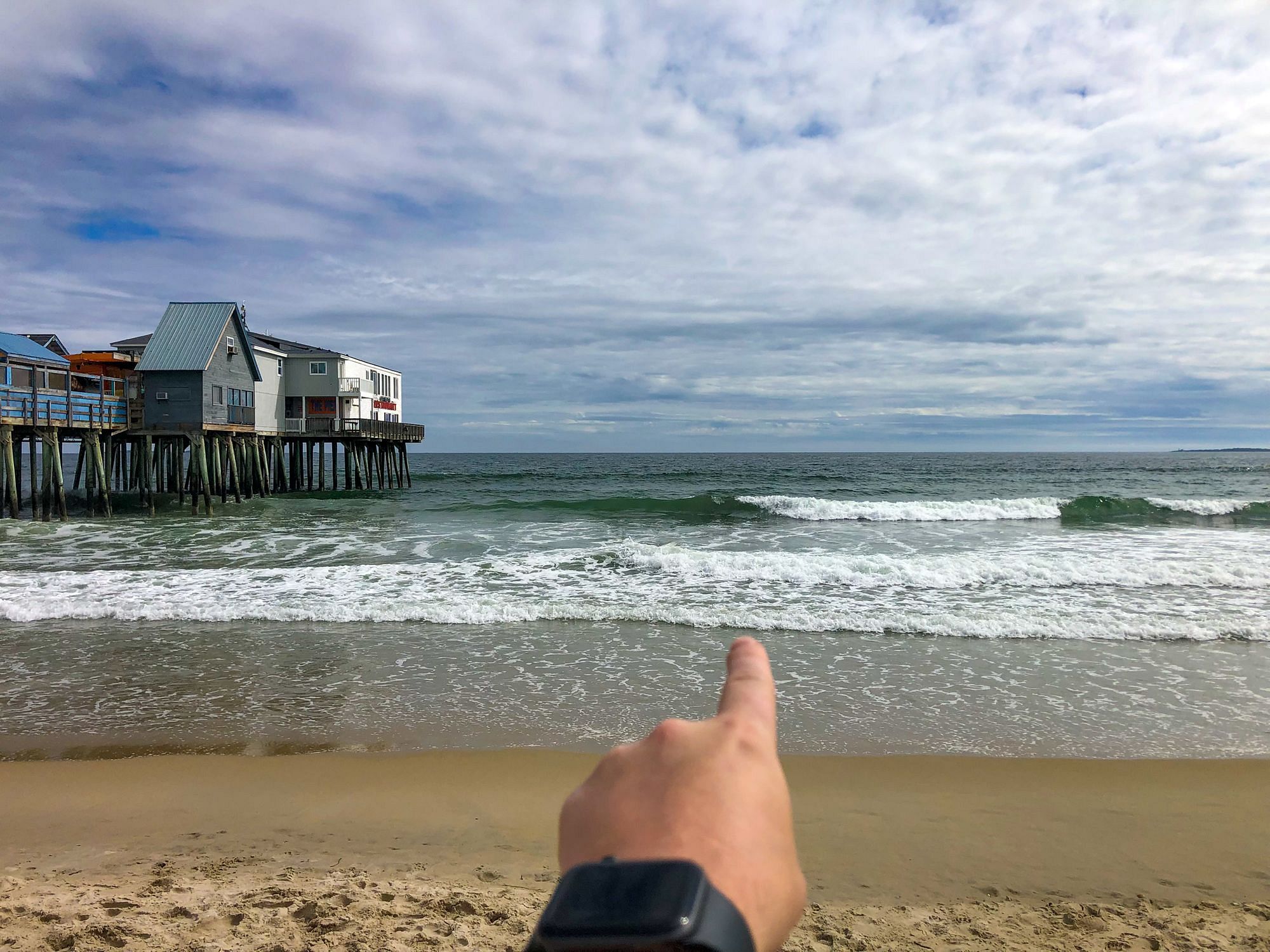 Bayley's Lobster Pound
In one of our weekly email newsletters a few weeks ago, we had asked for suggestions on places to go while visiting Maine. One of subscribers (thanks, Tom!) had recommended we stop at Pine Pointe Lobster Pound, just a few miles north of Old Orchard Beach.
Unfortunately Pine Pointe Lobster Pound didn't seem to be operating, and the Stern Seafood Restaurant next door was closed - I think they're only open for dinner.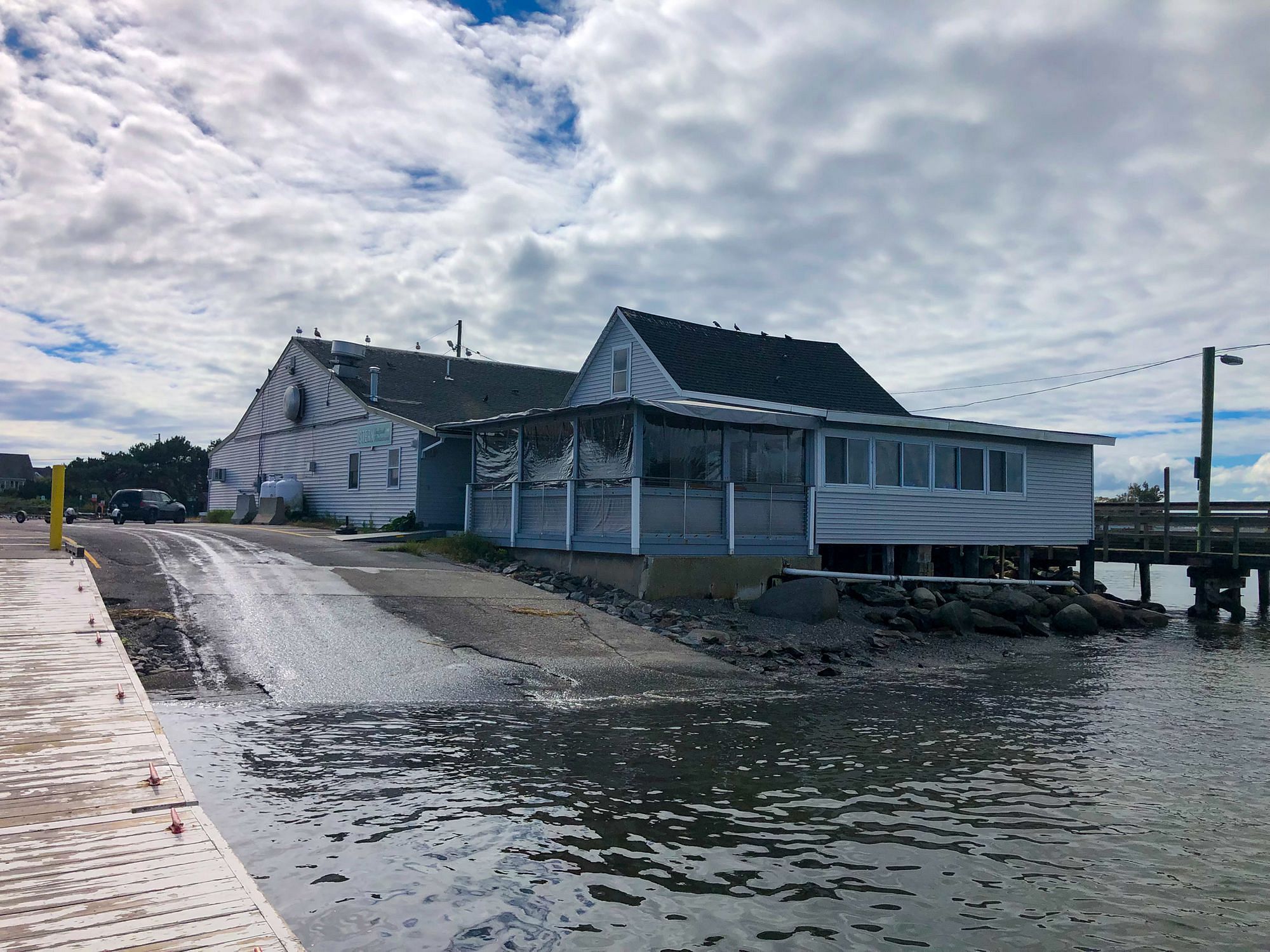 No problem though - we headed just around the corner for a delicious (if slightly expensive at over $30 each!) lobster roll at Bayley's Lobster Pound. Arguably no trip the the coast of Maine is complete without a lobster roll: check!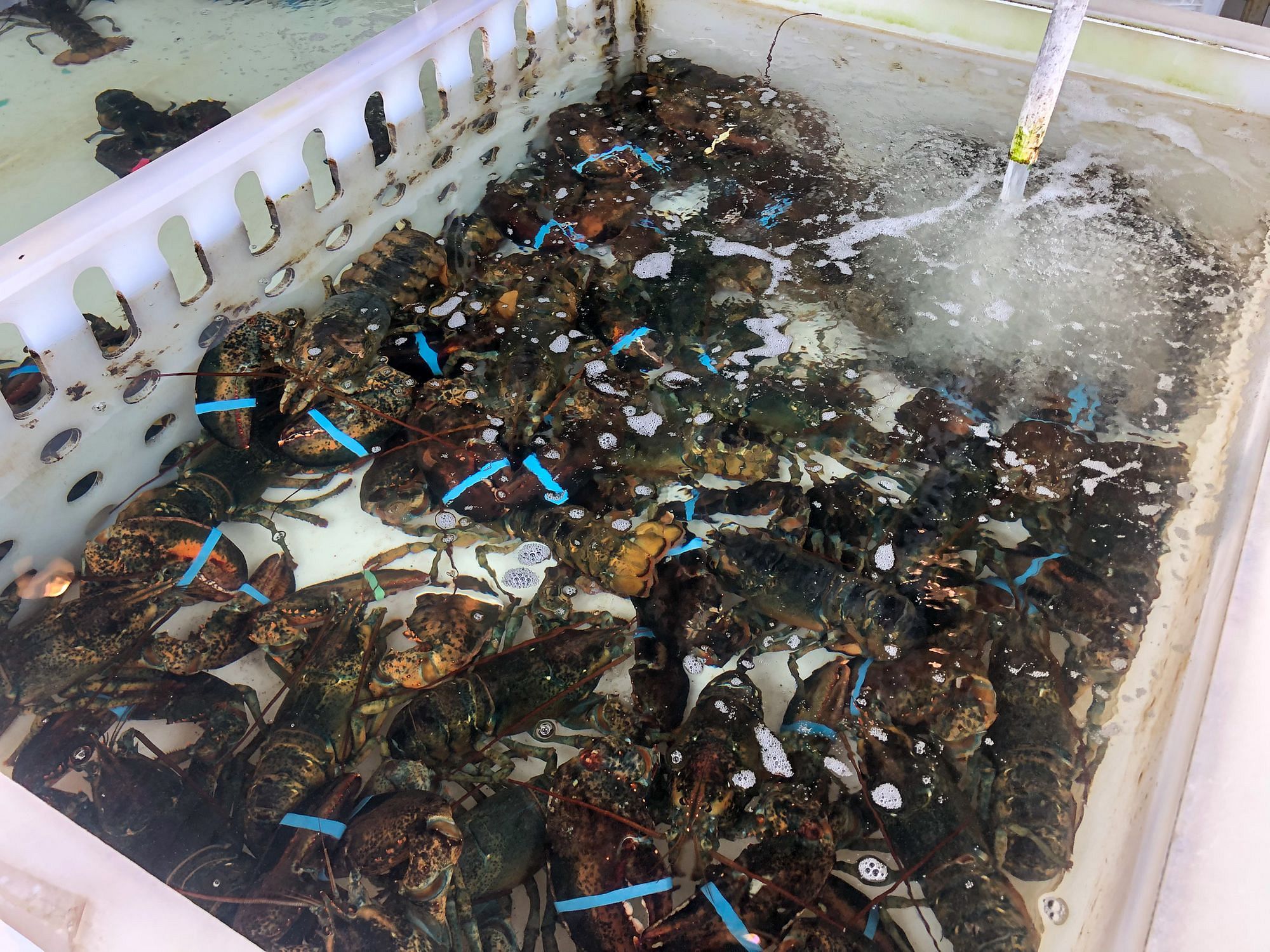 Fort Williams Park & Portland Head Light
Perhaps one of the most iconic sights in Maine is Portland Head Light - a historic lighthouse completed in 1791, making it the oldest lighthouse in Maine.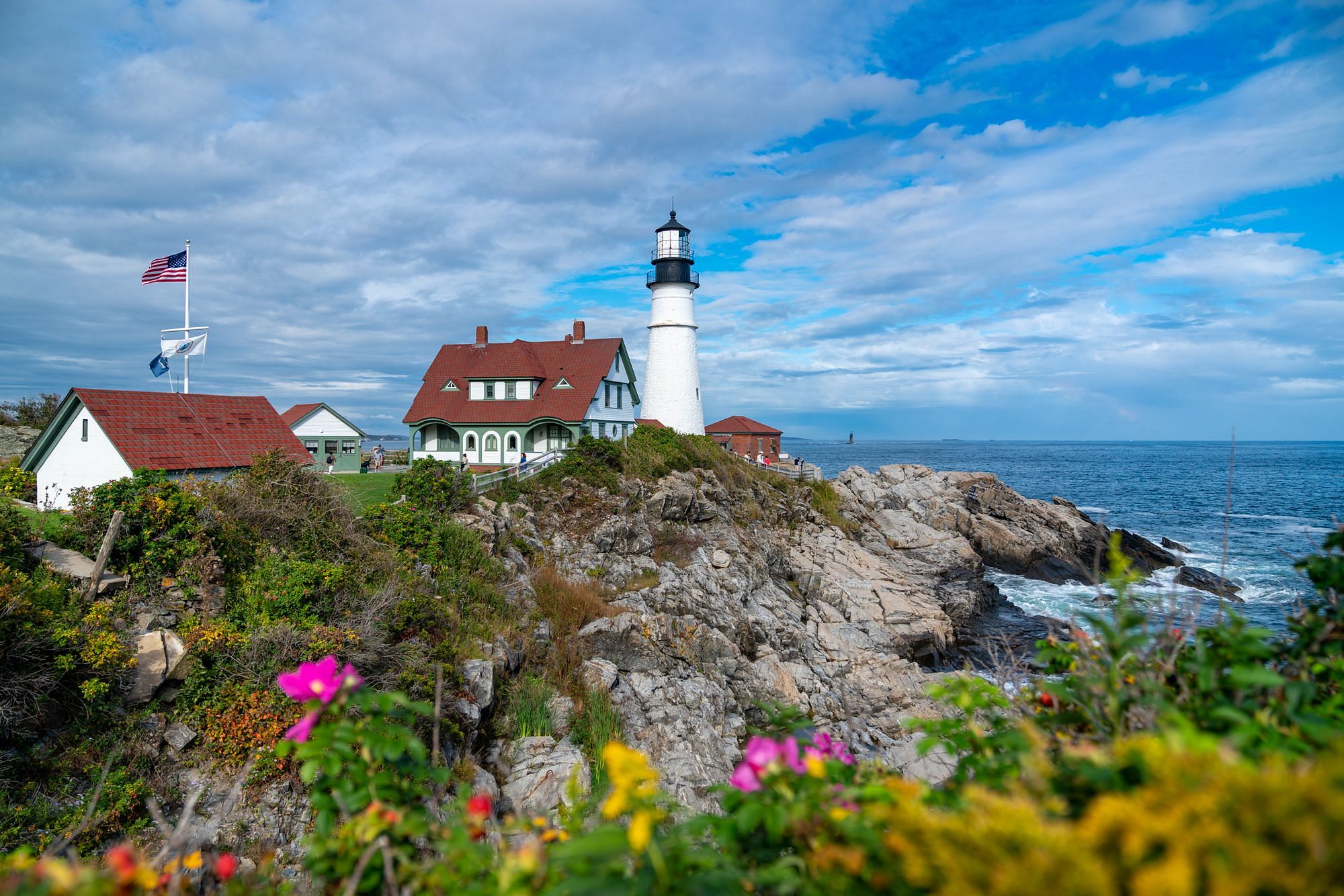 We parked in Fort Williams Park and had a leisurely stroll around the grounds, again enjoying the beautiful weather in stark contrast to the rain that had been forecast.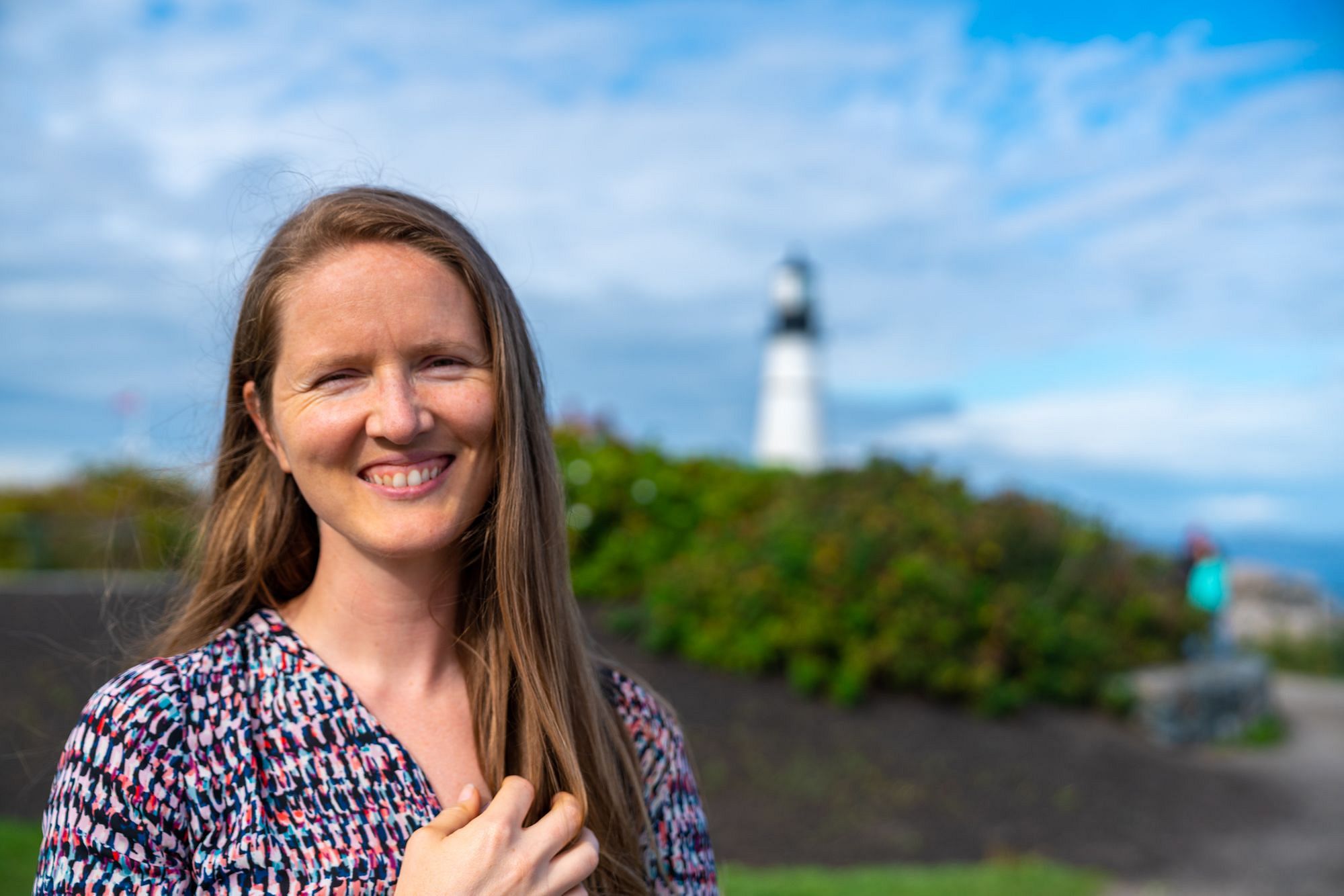 While Fort Williams Park is not managed by the National Park Service, it gave us a glimpse into the history we can look forward to learning in the area as we read about Battery Blair and its role as harbor defense during the early 20th century.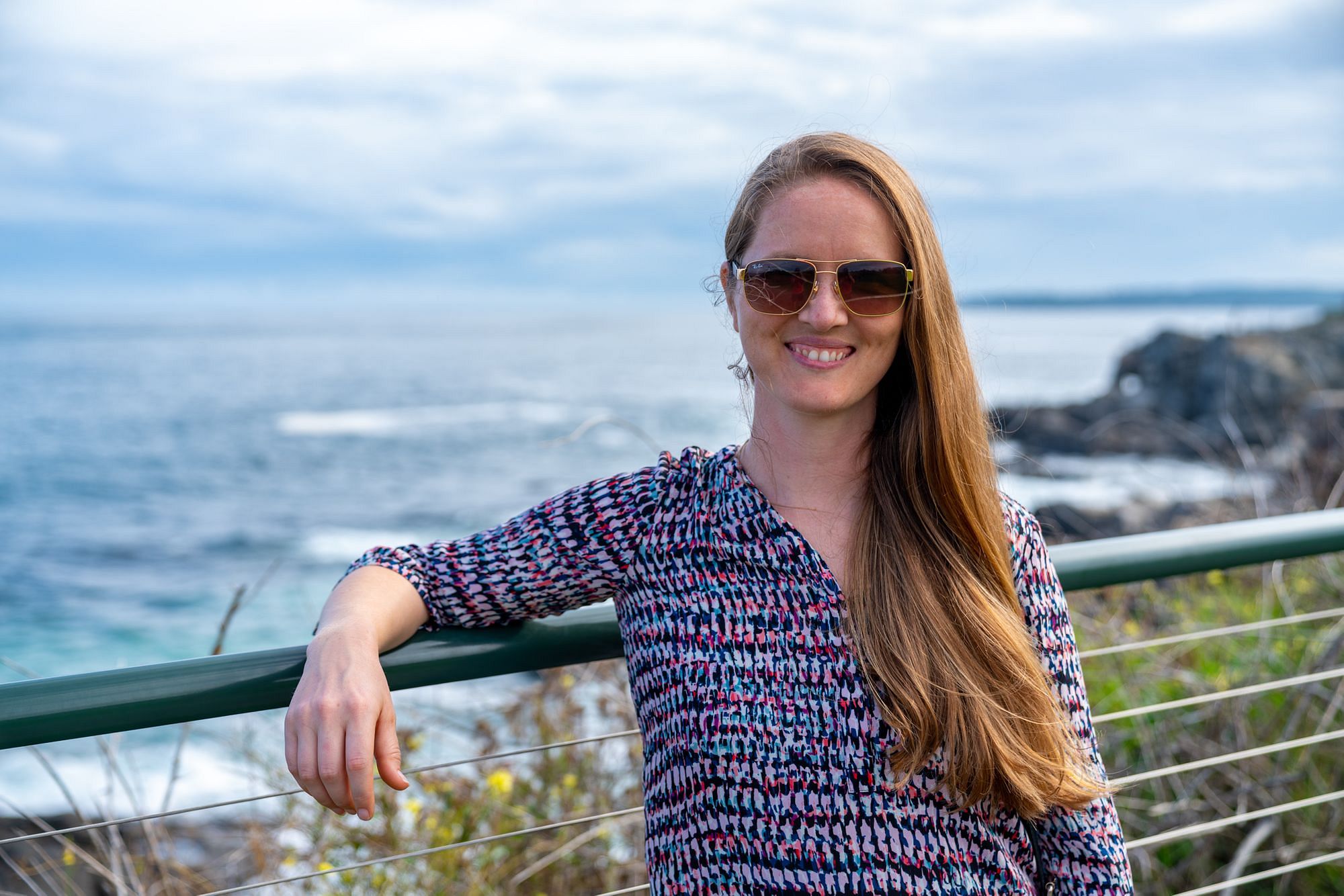 After a day of sightseeing, we headed back towards the hotel; a store had caught my eye the previous day and I wanted to check it out before they closed - Rockler. If you haven't heard of Rockler before, it's a woodworking store that sells everything from tools to materials. I've never found myself near a store, and since we're about to build and furnish a house, this seemed like perfect timing! I won't bore you with the details, but needless to say we spent about an hour looking around and talking with the staff - we'll definitely be back!
We chose to eat once more in the City Farmhouse Kitchen & Bar - I just couldn't say no to trying their rib eye steak which turned out to be fantastic!
Artemisia Cafe
On Sunday morning we headed out later than planned, looking for somewhere in downtown Portland for brunch. We tried both Bayside American Cafe and Becky's Diner, but both had a wait time of well over an hour for a table. In the end we settled for a 30 minute wait at the Artemisia Cafe.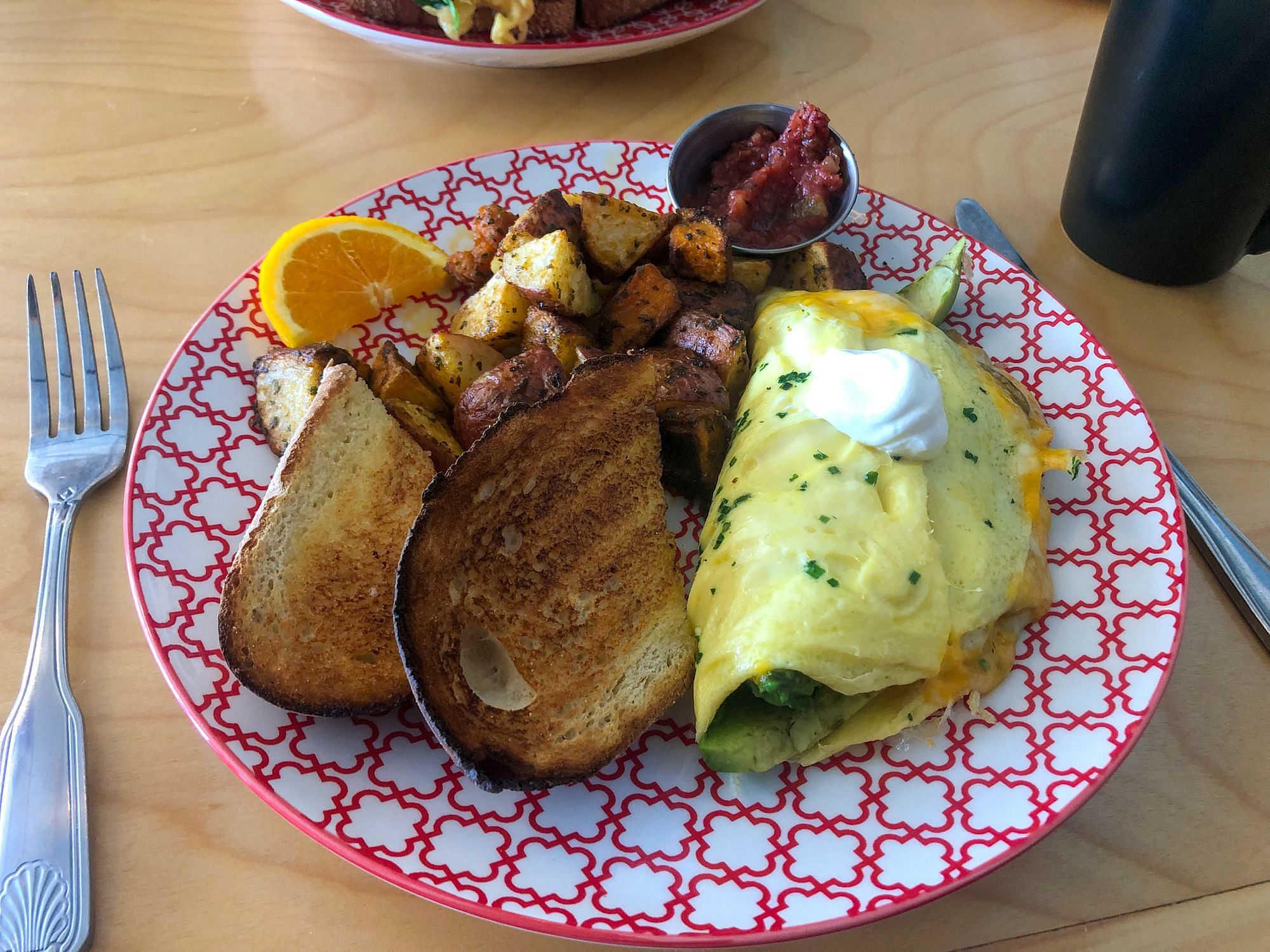 Here we enjoyed a leisurely brunch - I had the Cali Omlet while Diana had the Pesto B-Sand. Both were delicious and went down nicely with fresh coffee.
Harbor Fish Market
I suspect because it was a Sunday in late September, as well as the pandemic, downtown Portland seemed relatively quiet - apart from the queues for brunch! We took advantage of the calm streets for a leisurely stroll down to the sea front.
We particularly enjoyed checking out the Harbor Fish Market, with some of the freshest seafood you could hope for!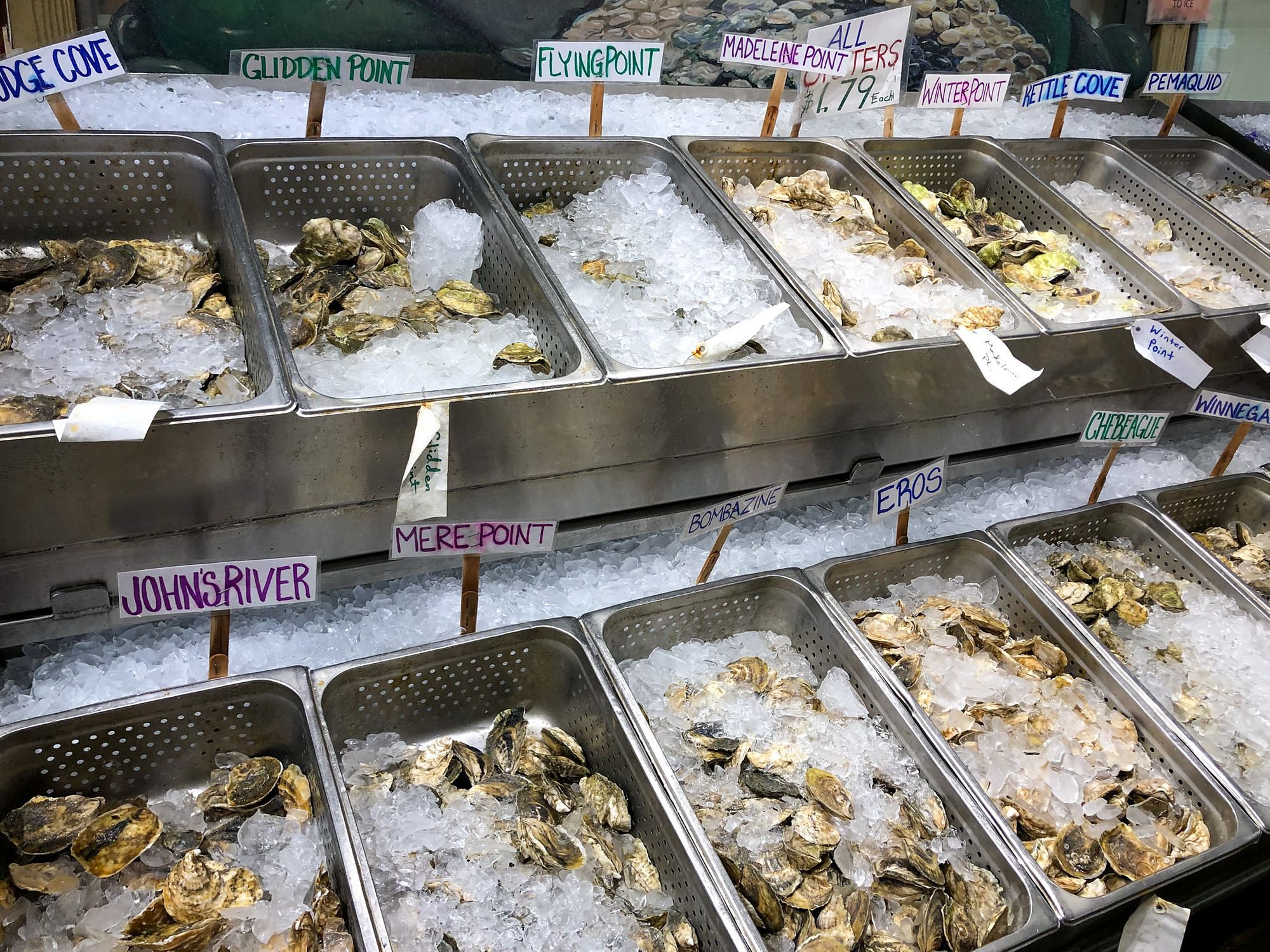 If you head down that way, take a walk behind the store along the piers - the views are incredible!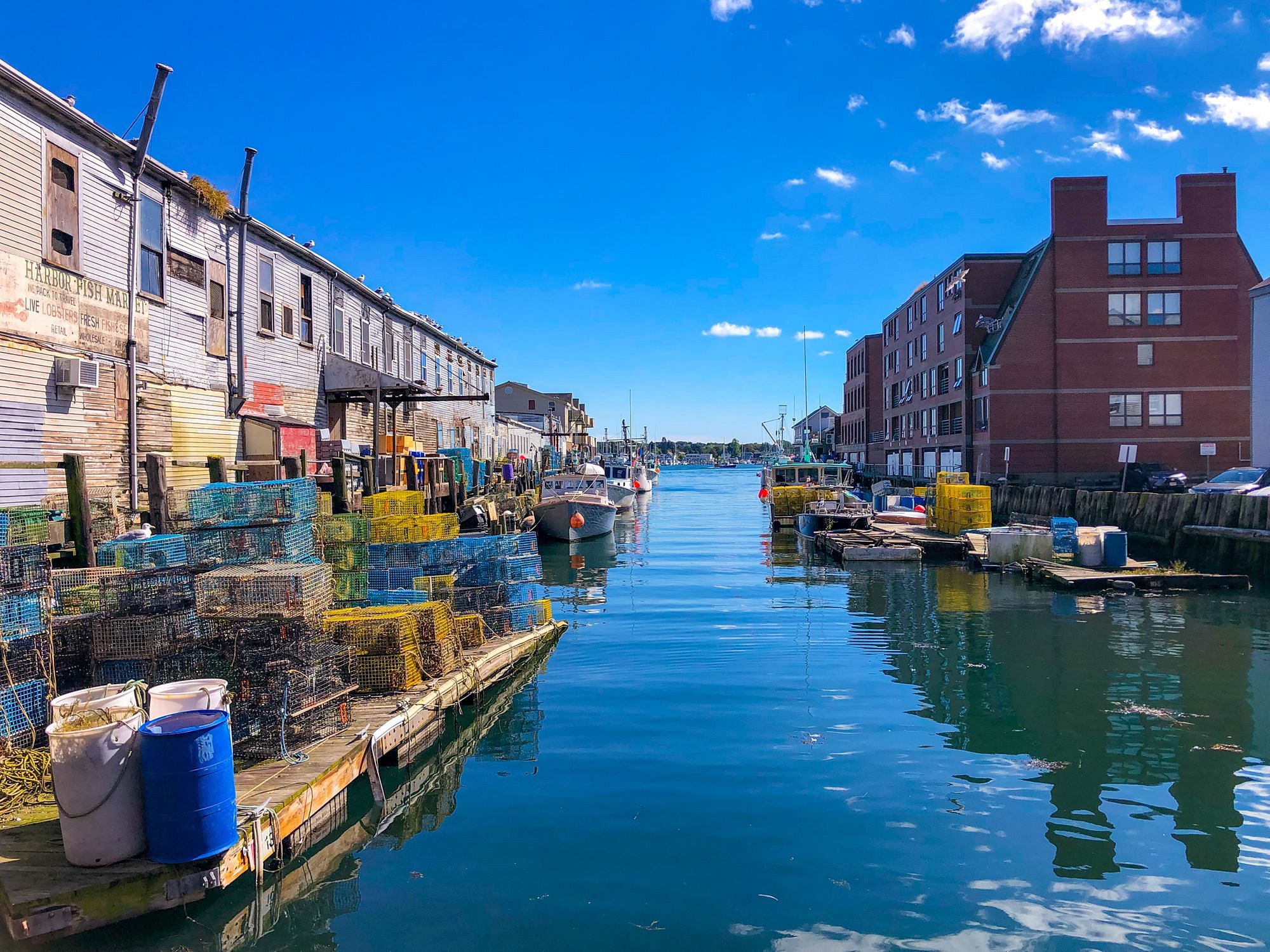 Books-A-Million!
One of Diana's true passions in life is books - she can easily while away hours perusing books in a good book store. So when we saw that Books-A-Million! was just across the road from our hotel, well, I knew we were going to end up there eventually! Plus, after my detour to the Rockler store the previous day, now it was Diana's turn.
I brought my laptop inside and made myself comfortable with a coffee in the cafe while Diana seemingly checked out the entire store. Three hours later we finally left, somewhat remarkably with just a single book: Housebuilding: A Do-It-Yourself Guide, Revised & Expanded by R. J. DeCristoforo.
Diana had had this book in her Amazon wishlist for a while, but after seeing the illustrations inside decided to buy it there and then. And I'll be honest, after looking through it myself I think it's going to be really useful - it's full of detailed drawings covering everything from foundations to finishing details, recently updated with the latest in energy efficiency and environmentally friendly materials.
Tuscan Table
While Tuscan Table may not have been the most quintessentially local choice for our final dinner in Portland, ME, it was convenient and the food was delicious. We decided to splurge and have the oysters to start, and they were so good - I'd forgotten how much I like oysters!
The next morning we had an early start to drive 2 hours to be in Boston for an appointment by 8am, so eating close by let us get packed up and have an early night.
Summary
We had an amazing time in Portland, Maine. The weather forecast promised clouds and rain but we lucked out with dry weather all weekend and plenty of blue skies!
We joked that had we ended up in Maine not Vermont last winter, there's a good chance we'd have fallen in love and ended up buying somewhere in Maine - it's a truly beautiful state.
Knowing that Portland is just a few hours away from our property in Vermont, I know for sure it won't be our last time visiting. We were a little early for the fall colors this year, but there's always next year! If you haven't been, I would highly recommend it!