As an Amazon Associate we earn from qualifying purchases.
The last two weeks has been non-stop, but in such a good way - a relaxing weekend vacation, some progress at the property, the warmest of welcomes to our new neighborhood, and seeing some old friends! Let's catch you up.
Weekend vacation in Portland, Maine
Two weeks ago we booked an impromptu last-minute weekend getaway to Portland, Maine. We had an appointment that meant we needed to be in Boston at 8am the following Monday morning, and we had some free hotel nights that needed using up before the end of the year, so we figured we might as well might a weekend out of it.
Despite the weather forecast promising almost non-stop rain all weekend, it was completely dry and we had plenty of blue skies.
We had a wonderful vacation - check out our blog post about our weekend in Portland, Maine to read more about the home show we went to, the sights we saw, and how I almost lost Diana in a book store!
Shipping container
You may remember a little while ago we posted a video in which we talked about why we decided not to get a shipping container.
Well, things change - last week we had a shipping container delivered to the property!
However, the difference is that we decided to rent, not buy - rental prices are much more reasonable than the astronomical prices to buy right now. We also chose a 40ft container rather than the smaller 20ft container we had previously been considering.
Find out more about how to choose a shipping container, why we opted for a 40ft container, and why we had to make some last minute changes to the delivery in our blog post all about renting a shipping container.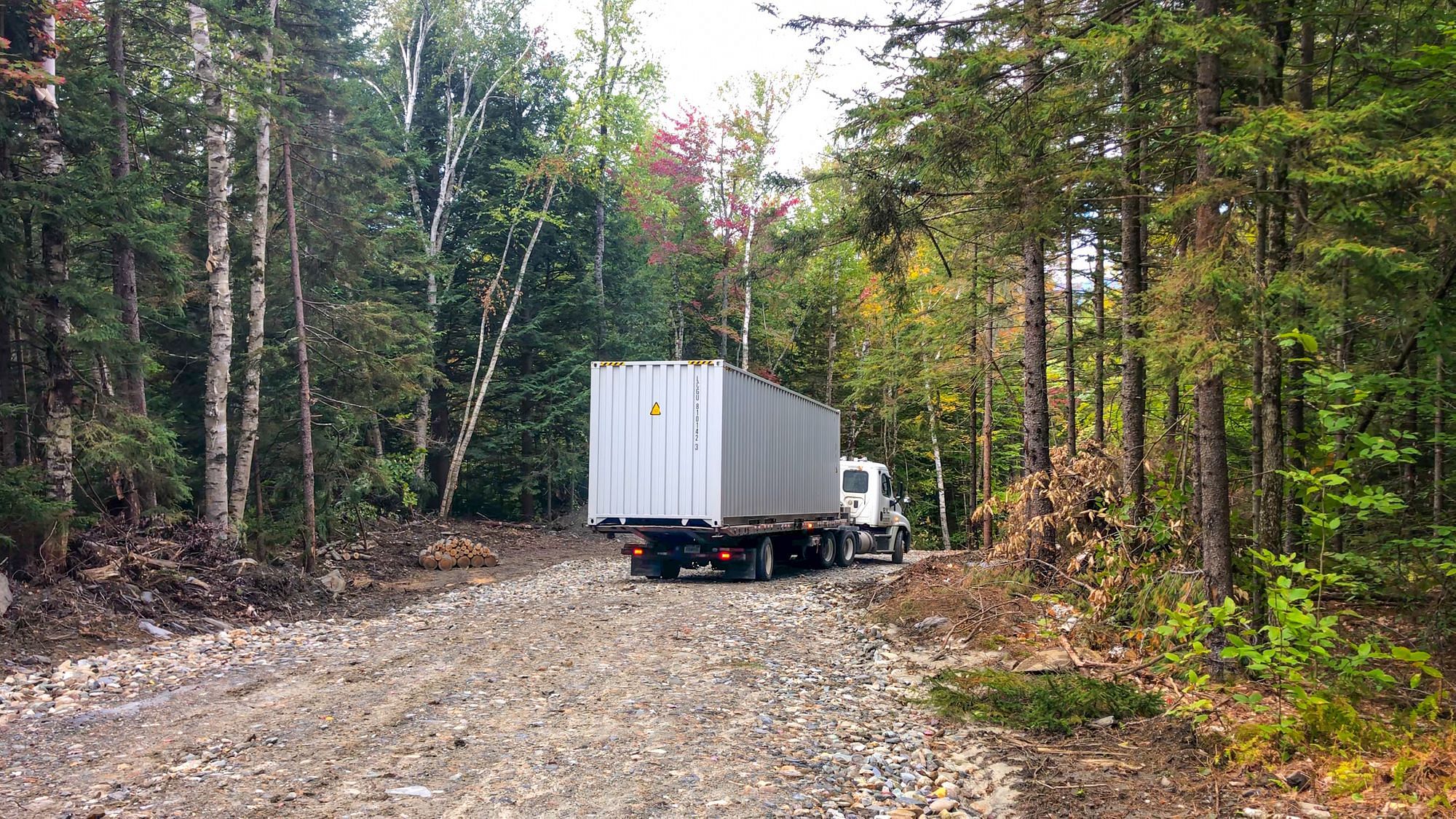 Welcome to the neighborhood
But the big news this week is that we have officially become Vermonters!
Last Friday, October 1st 2021, we began the process of switching over our address to Vermont from Texas where we have been domiciled for the past 3 years as full-time RVers.
It wasn't just a formality though - last Friday we moved our RV for the first time in 6 months and drove it to our property. We still don't have utilities on our property (no electric, fiber internet, water or sewer) but we're no strangers to dry camping.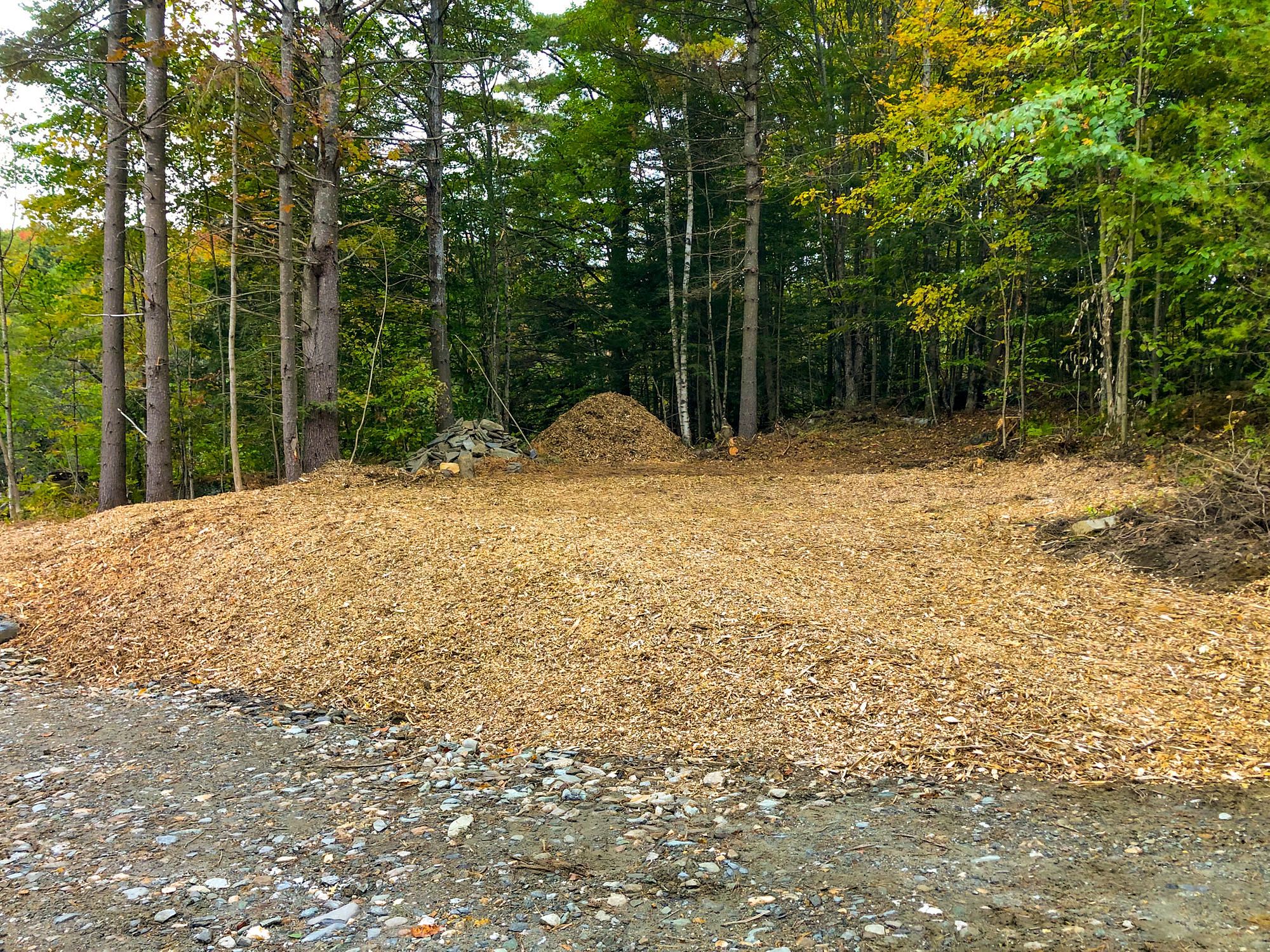 The reason for taking the RV to our property this weekend is that some of our neighbors (you know who you are!) had very kindly offered to throw us a welcome party. They had invited all our neighbors within about a half mile, including some who were themselves new to the area and hadn't met many people yet.
In the end we had about 20 people turn up. Our neighbors hosted all the food at their house, including hot dogs, coleslaw, beans and a Latvian potato salad that Diana made.
Afterwards people walked across to our property where we had set up chairs, tables and a large gazebo in case of rain. We did a round of introductions, learned a little about everyone, and shared a little about ourselves and our plans for the house build.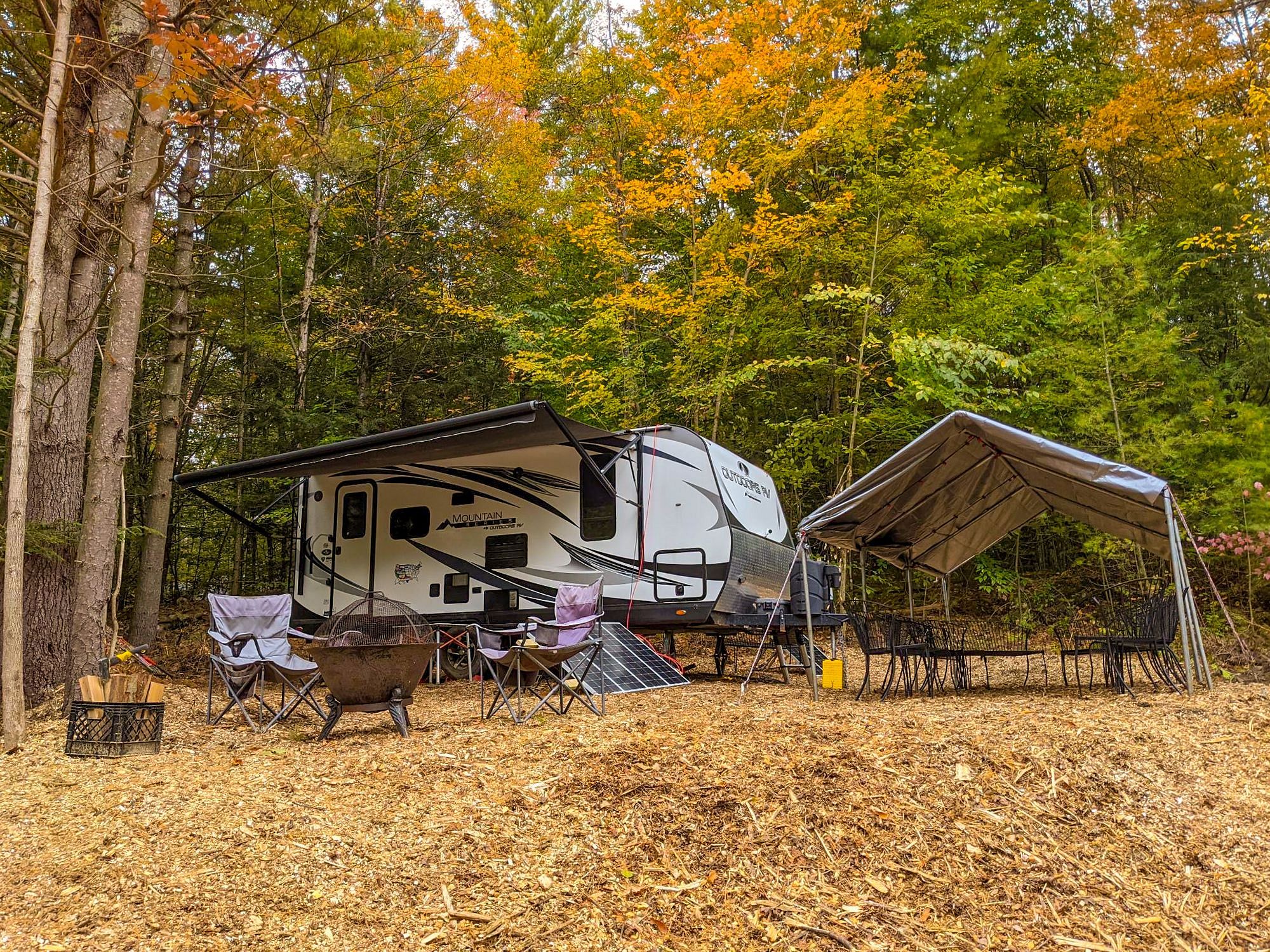 In my opinion, a good community is just as important (if not moreso) as having a nice house - and our neighbors are wonderful! Everyone is so friendly and has made us feel so welcome.
I particularly enjoy being part of a rural community where there is clearly a strong sense of sharing and bartering - we were given several beautiful bouquets of flowers people had picked from their own gardens, and had offers of fresh eggs, apples and other produce, as well as tools and equipment we might need during the build. I really look forward to finding ways in which we're able to contribute back as well.
After lunch we gave some tours of RV, sharing some of the things we've learned from living in such a small space for over 3 years and how that might help us in the house build - everything from our off-grid solar system to our remodel and custom desk.
From there, a group of about 10 of us took a walk up our new driveway and along our trails, and we were able to show them how we are planning to lay out the buildings to optimize for views and solar potential. What I enjoyed the most is that a couple of the people had lived in the area for more than 50 years and knew our property well - they seemed happy about the way we are viewing the land and our plans.
It was so nice to sit around a campfire that evening - our first campfire on our own land! The quiet crackling of the fire was disturbed only by two barn owls who swooped in and landed on the tall pine just near us before heading out to hunt. Very cool.
Seeing friends
Purely by coincidence, we happened to have some friends visiting the area from out of state that weekend. On Friday, a couple of Diana's former colleagues stopped by during a brief weekend vacation from San Francisco.
We had planned to visit San Francisco last spring, but then the pandemic came along and put a stop to those plans, so it's been a long time since we last saw friends from back in California!
Then on Saturday, I happened to see that some of our RVer friends, Will & Sushila were barely an hour down the road from us, visiting from their home in Colorado to attend a friend's wedding. They were able to meet up with us on Sunday - first for a quick tour of our property and then lunch nearby.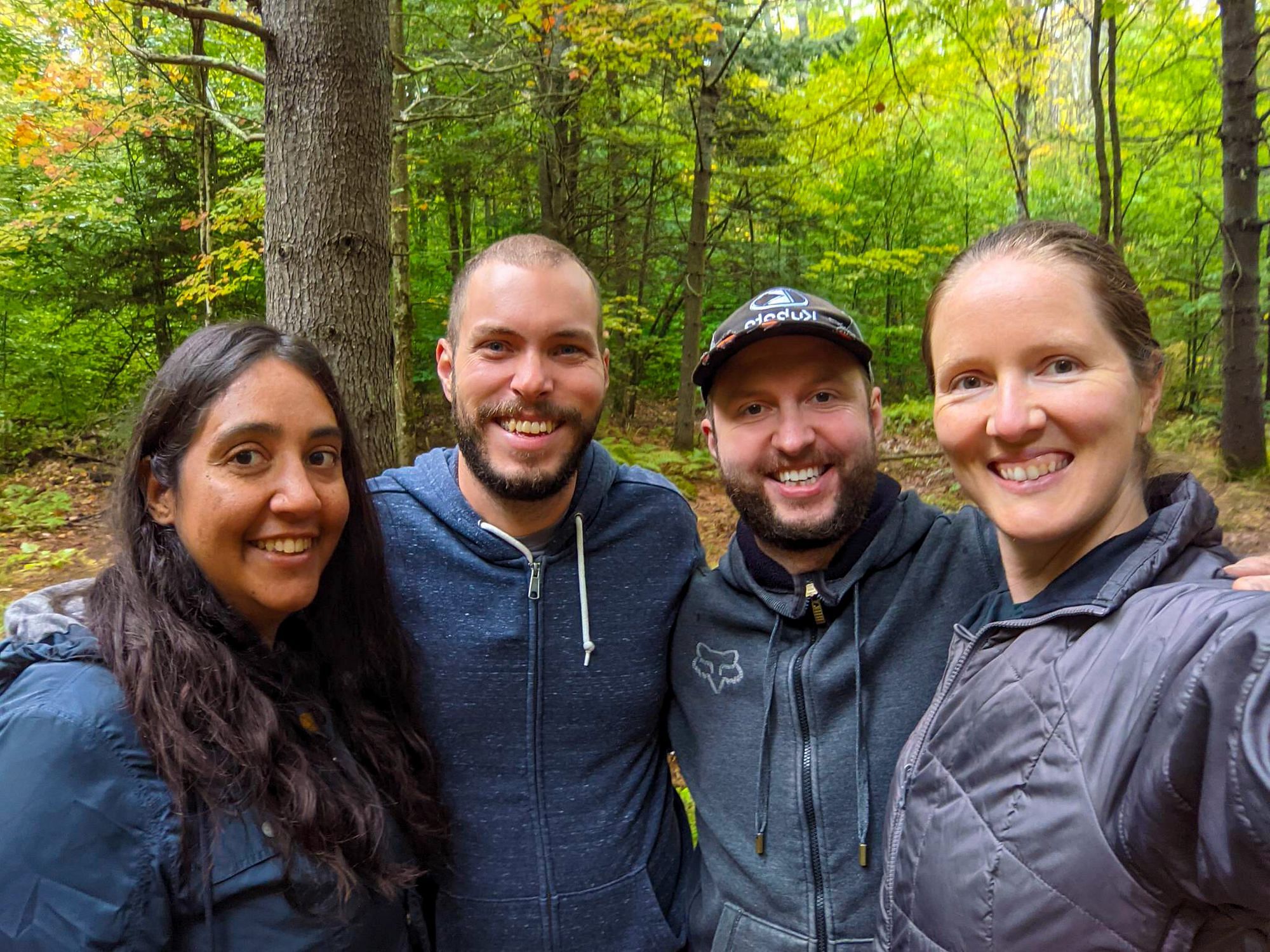 Again, we realized that they're the first RVer friends we've seen since we left the west coast more than a year ago, so it was awesome to hang out with them, even if just for a few hours.
Ground deploy solar panels
If there was one negative about last weekend, it was the weather. Bookended by sunny weather before and after, the weekend itself was dominated by thick cloud and the perpetual threat of rain - rarely materializing in anything but the lightest drizzle.
Since we had our roof replaced earlier this year, we no longer have any rooftop solar on our RV. With no power on-site and no generator, that means we're not really well set up for dry camping at the moment!
Although the panels are no longer on the roof, we do still have them in storage. A couple of years ago, we built a portable ground deploy array using the exact same panels as we had used on the roof.
The rationale for using the same panels is that we could always put them up on the roof if we wanted, but the inverse is also true - we can use the panels from the roof to make more ground deploys!
I've been really happy with the design of my DIY portable panel, so I set about making another one. Unfortunately I didn't quite have time to get it done before last weekend, so instead we went for a simpler approach - we just bolted four panels to a couple of pressure 2x4s and leaned them up against a stump.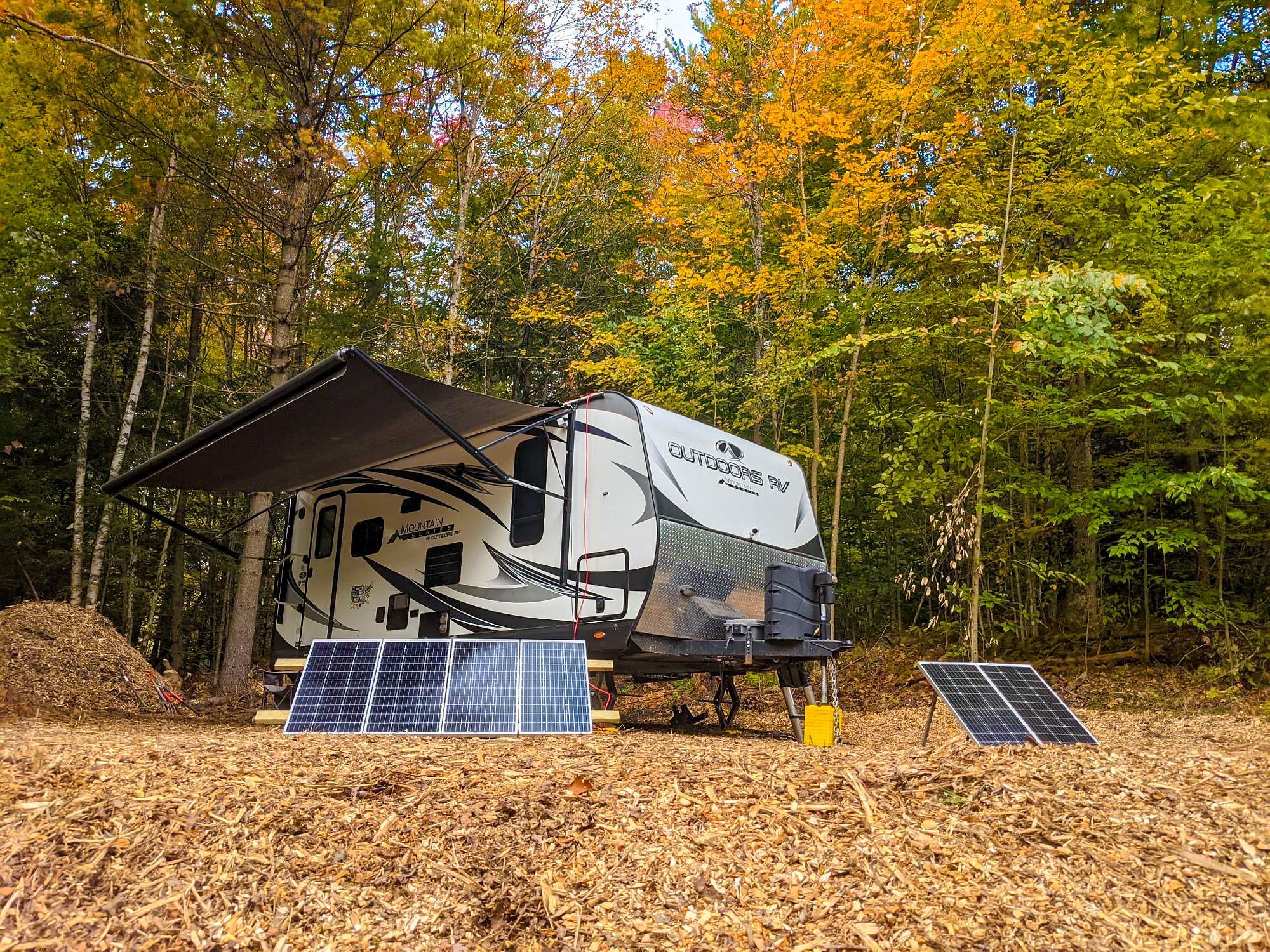 To do this, I picked up an MC4 crimper, a load of MC4 connectors, some Y-connectors, and a 30ft MC4 extension cable. Rather than hardwiring the panels together, I joined them with MC4 connectors.
This is important as it means I can connect them in series for about 80V which our Victron 100/50 solar charge controller can handle no problem. Alternatively, I can connect them in parallel for the MPPT input on our REDARC BCDC1240D which can only accept up to 32V.
And if you're wondering how we plug them into the Victron, we went for the simple option - I put a couple of MC4 connectors on the combiner box up on the roof which is still connected to our Victron 100/50.
Unfortunately, there was so little sun that even with 600W of tilted ground deployed solar panels, it wasn't enough - on Saturday we generated just 70Wh (about 1.5% of our battery capacity) and Sunday wasn't much better at 190Wh (about 4% of our battery capacity).
By Monday morning, we had run out of power. Without a generator, we resorted to our last-resort - idling the truck for an hour or so while plugged into our REDARC DC-to-DC charger to give us some juice back in the batteries. Not ideal, but it works in a squeeze!
With empty batteries, we decided to head back to our RV park later on Monday morning after finishing a few errands on the property. Even without solar, we had spent 3 nights on our land and it felt amazing - it was so quiet and peaceful!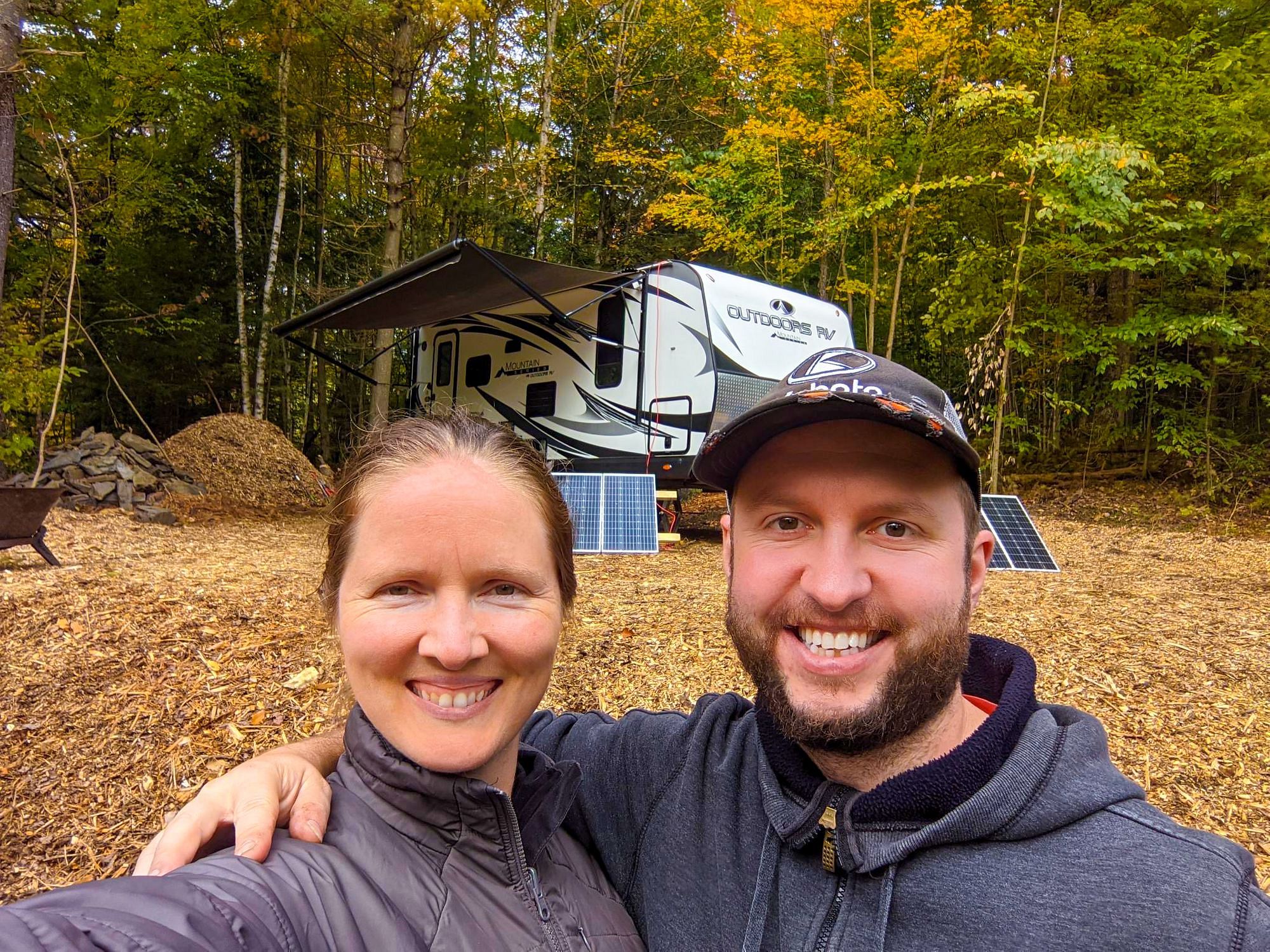 Although we're planning to head south for the winter, when we return to Vermont next spring we're thinking about heading straight to our property. For this, we'll need a generator for power, as well as solutions for our other utilities, but we have a few ideas.
For now, we're just thankful to have had such a lovely weekend on our property, meeting our wonderful new neighbors as well as some old friends!