As an Amazon Associate we earn from qualifying purchases.
We've been full-time RVers since July 2018, and we spent the first 2 years boondocking and dry camping as much as we possibly could.
Yet despite our proclivity for being off-grid, we've never owned a generator. Instead, we upgraded the electrical system on our RV with Battle Born lithium batteries, solar panels and a large inverter to let us run our RV using free power from the sun, not a noisy and expensive generator.
This winter we've been in an RV park in Virginia, but in about a week we'll be returning to Vermont where we plan to dry camp on our property which has no utilities whatsoever.
Given the weather in Vermont (it was 6°F / -14°C there last week), frequency of cloudy days, and the fact that we need to charge and operate power tools to build our house, it was time to finally relent and buy a generator.
Well, not just a generator - two generators! I shared a blog post about how we chose a portable generator and why in the end we settled on the WEN 56235i portable inverter generator.
In this blog post I'll share my initial impressions from unboxing the generator, and the procedure I used to break it in and hopefully help it run optimally.
Disclaimer: We purchased the generators and all the accessories at full retail price with our own money. We have not been sponsored for anything in this blog post, and all opinions are our own.
Unboxing
Although we purchased two of these generators, we've left one in our storage unit in Vermont and just brought one back to Virginia with us to make sure it's ready to go as soon as we land on our property.
We bought the generator and accessories from Home Depot online and had it shipped to store. The generator was packed in a sturdy cardboard box which had a few knocks but nothing significant.
Inside the box the generator was firmly secured in place with plastic packaging. Rather than being the typical bubble-wrap type packaging, this was much sturdier heavy-duty pressurized material - not something I've seen before, but very effective.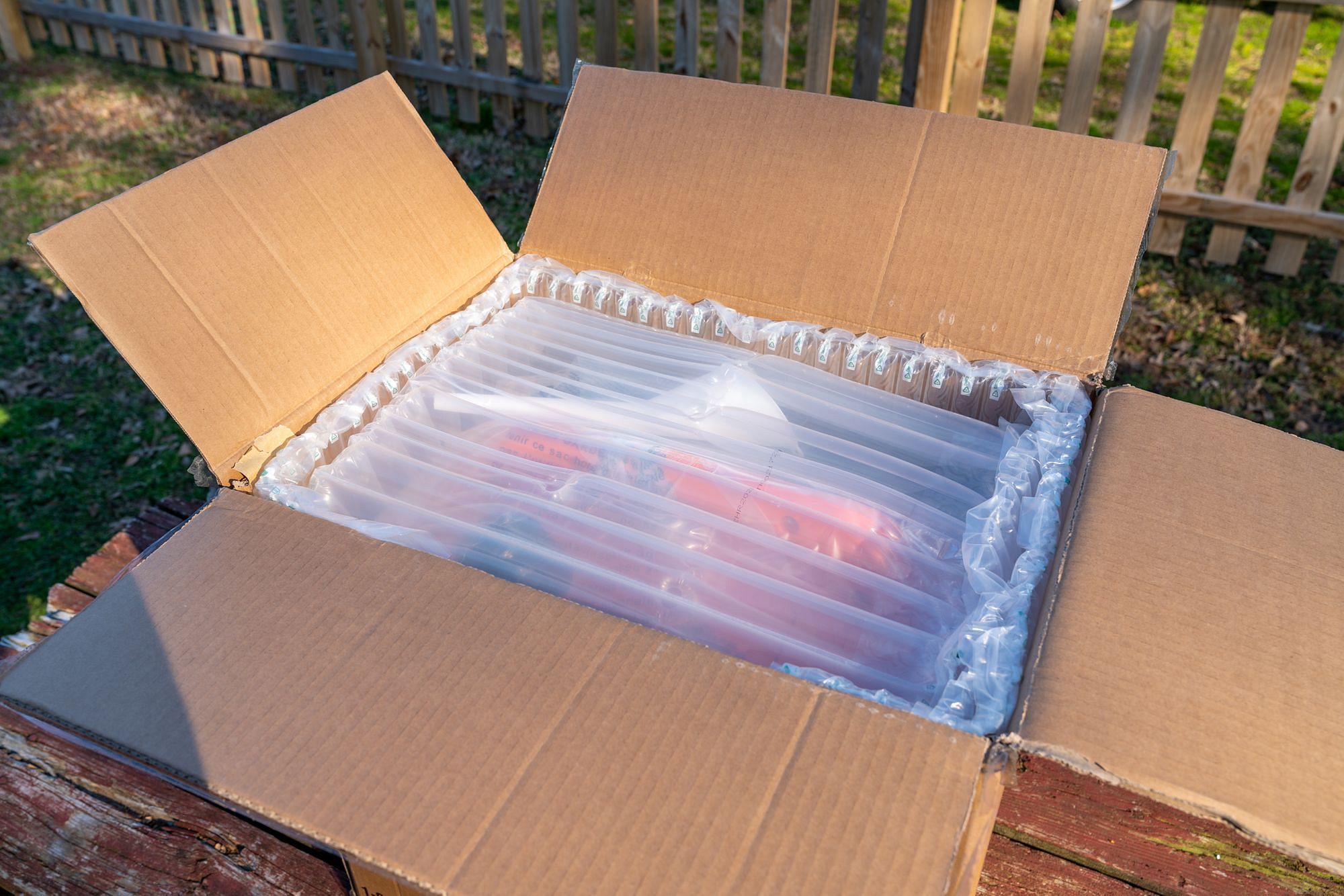 The packaging wasn't just to hold the generator in place, but had an integral pocket where a number of generator accessories could be found.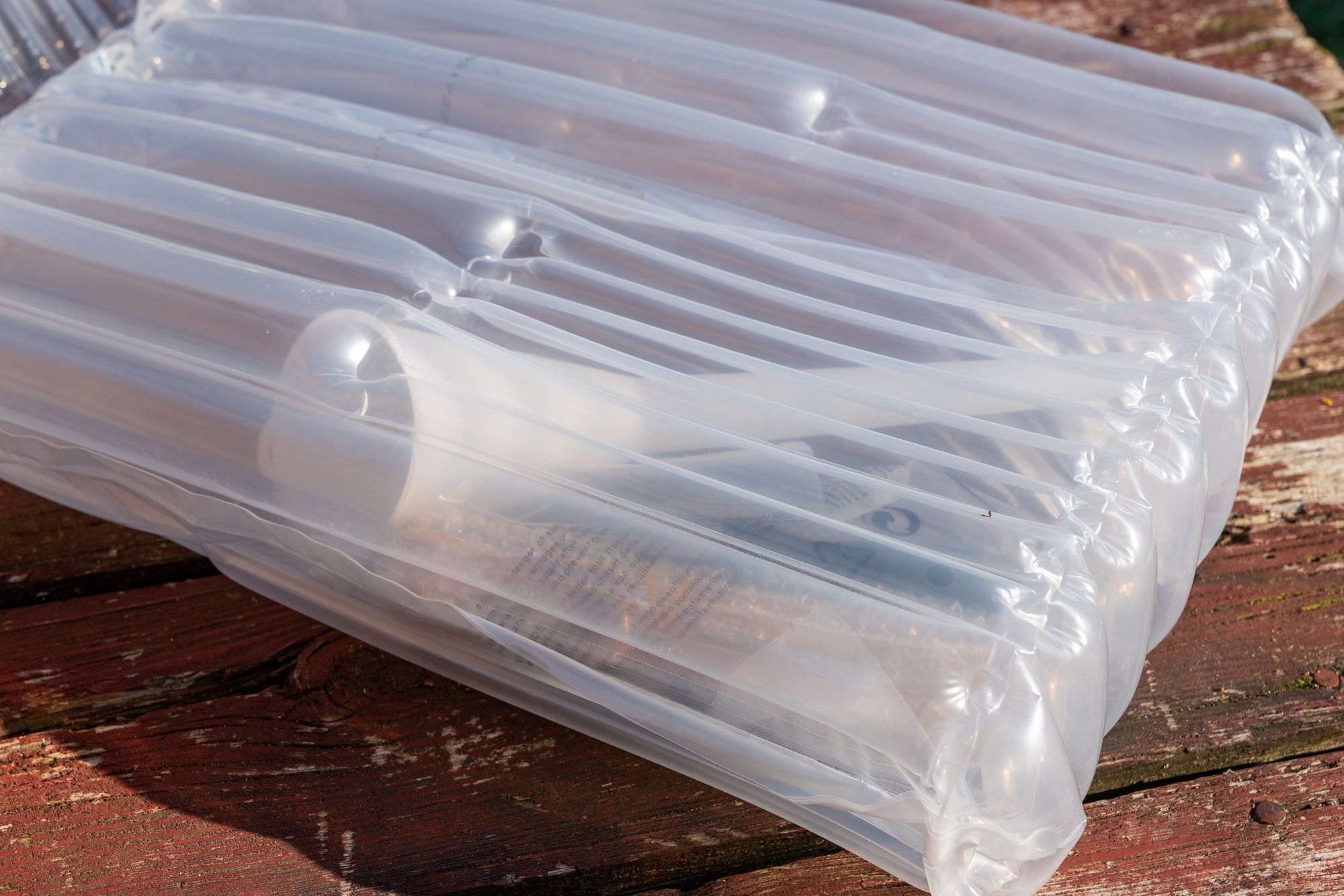 Removing this packaging revealed the generator underneath, inside a protective plastic bag, held in place by two small wedges of packaging material and yet more of the heavy-duty bubble wrap.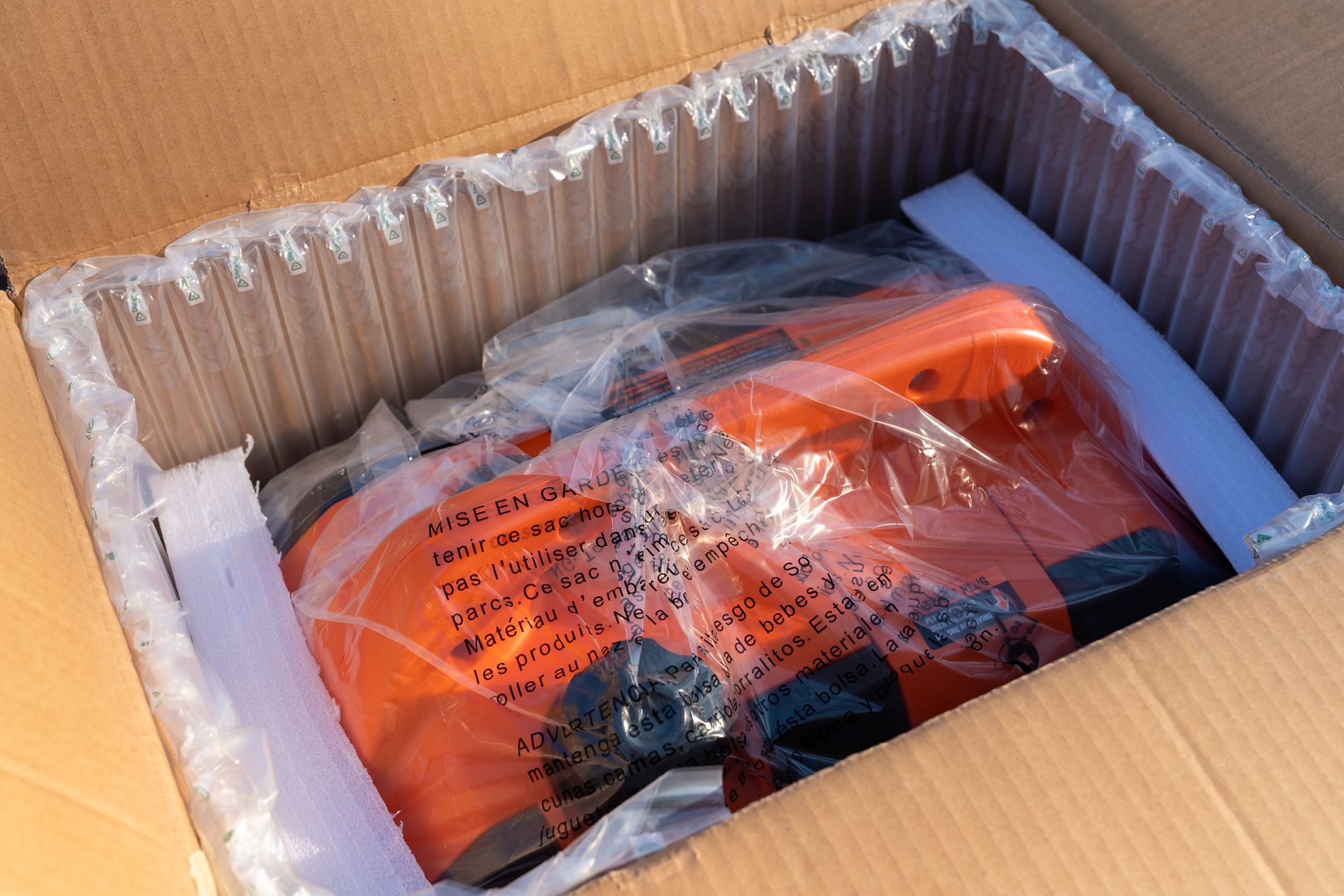 Although this may seem like a lot of packaging, in reality it felt like a lot less than one would normally expect. It was actually a pleasant surprise not to find a box full of Styrofoam or polystyrene, and the heavy duty bubble wrap did a great job of protecting the generator.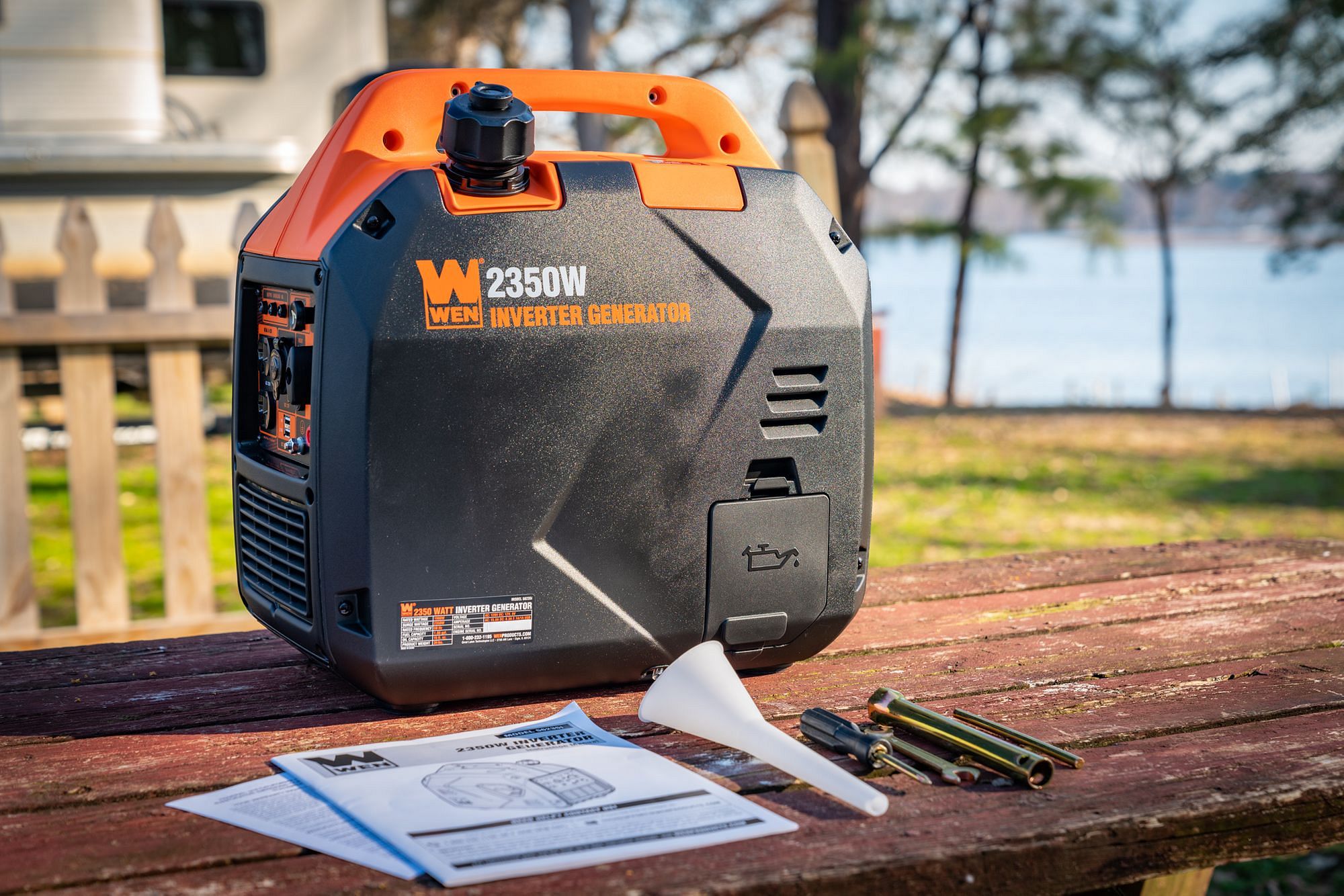 Specifications
The WEN 56235i is a portable inverter generator, rated at 1,900W of running power with a surge wattage of 2,350W. The sticker indicates it can provide 15.8A at 120V AC - perfect for running power tools or charging our RV batteries.
Weighing in at 39lbs, it's actually 8lbs lighter than the Honda EU2200i at 47lbs. Its 1.06 gallon fuel tank is also slightly larger than the Honda's 0.95 gallon tank.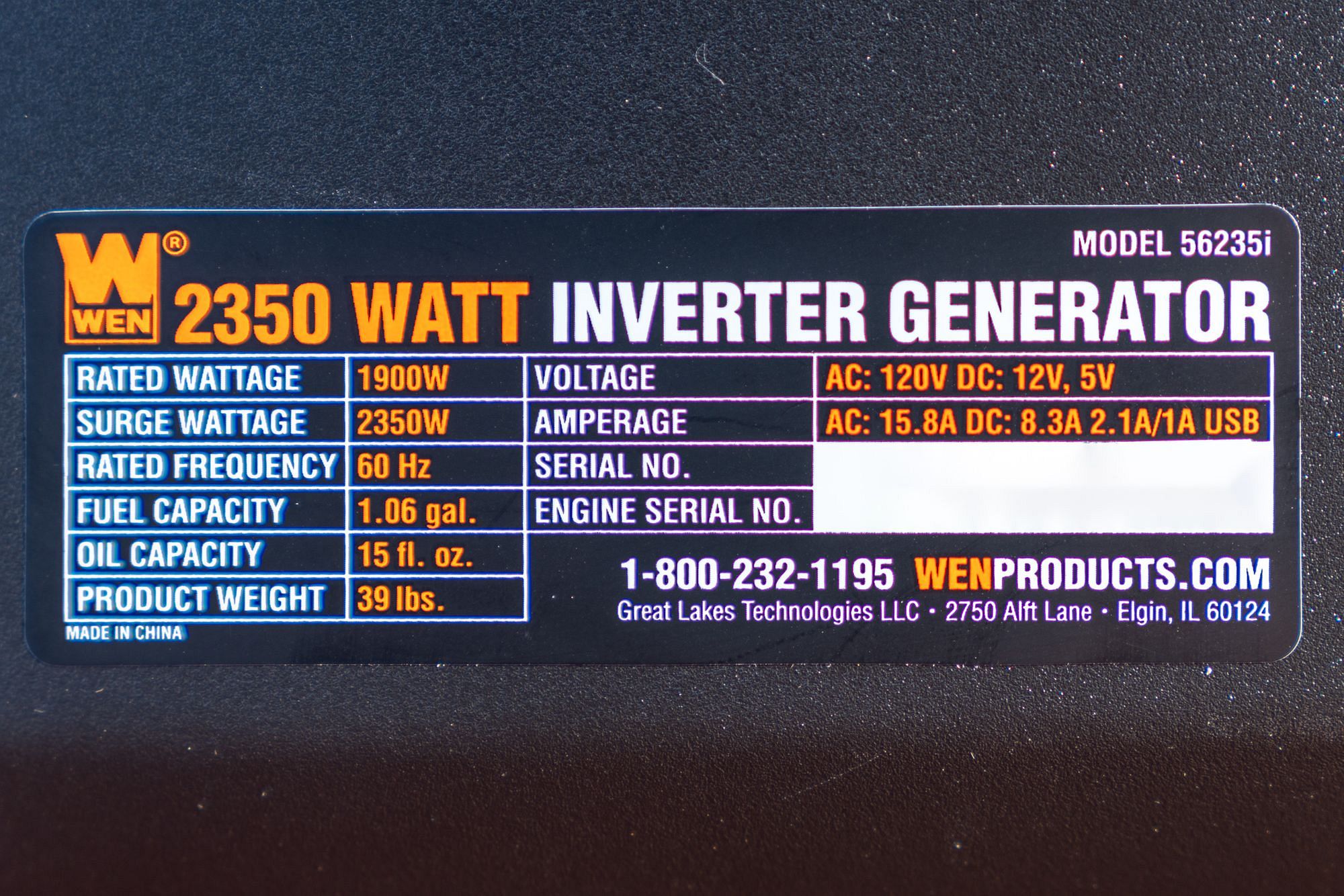 In addition to the AC outlet, it can also provide 8.3A at 12V (100W) and has two 5V USB outlets - one 2.1A and one 1A. While running a generator just to charge your phone from a USB outlet is more than a little excessive, it's a nice bonus to be able to charge those devices while the generator is running other AC appliances.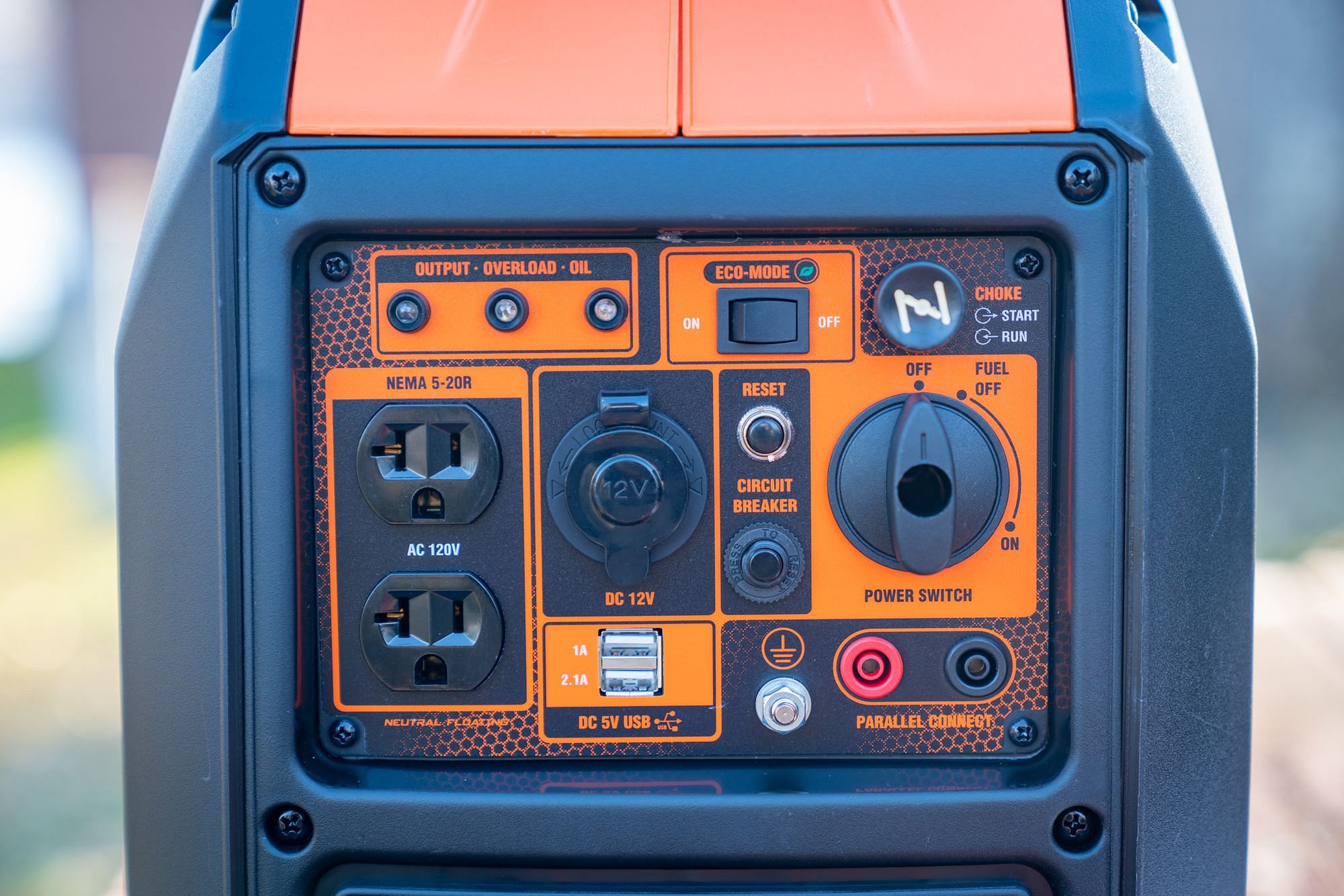 Eagle eyed viewers may notice from the photo above that the generator offers two NEMA 5-20R outlets. This is because although the generator can only provide 15.8A continuous output on its own, when used in conjunction with the 20A parallel kit, you can draw up to 20A from them instead (although still not exceeding the combined output of the two generators).
Being an inverter generator means it has an Eco Mode (see the switch in the top center of the control panel) which allows the engine to throttle down to match the load requested, rather than having to spin at full speed the whole time to maintain the correct output frequency.
The WEN 56235i is a no-frills generator - a manual recoil start instead of an electric start, and a simple choke to get the engine running smoothly. One useful feature it does include is a low oil check - to prevent damage, the generator will fail to run and display a warning light if the engine has insufficient oil.
Magnetic Oil Dipstick
When we bought the generator, we also decided to purchase the optional WEN 55201 Magnetic Oil Dipstick. This replaces the plastic oil dipstick that comes with the generator, with an all-metal dipstick including a strong magnet at the tip.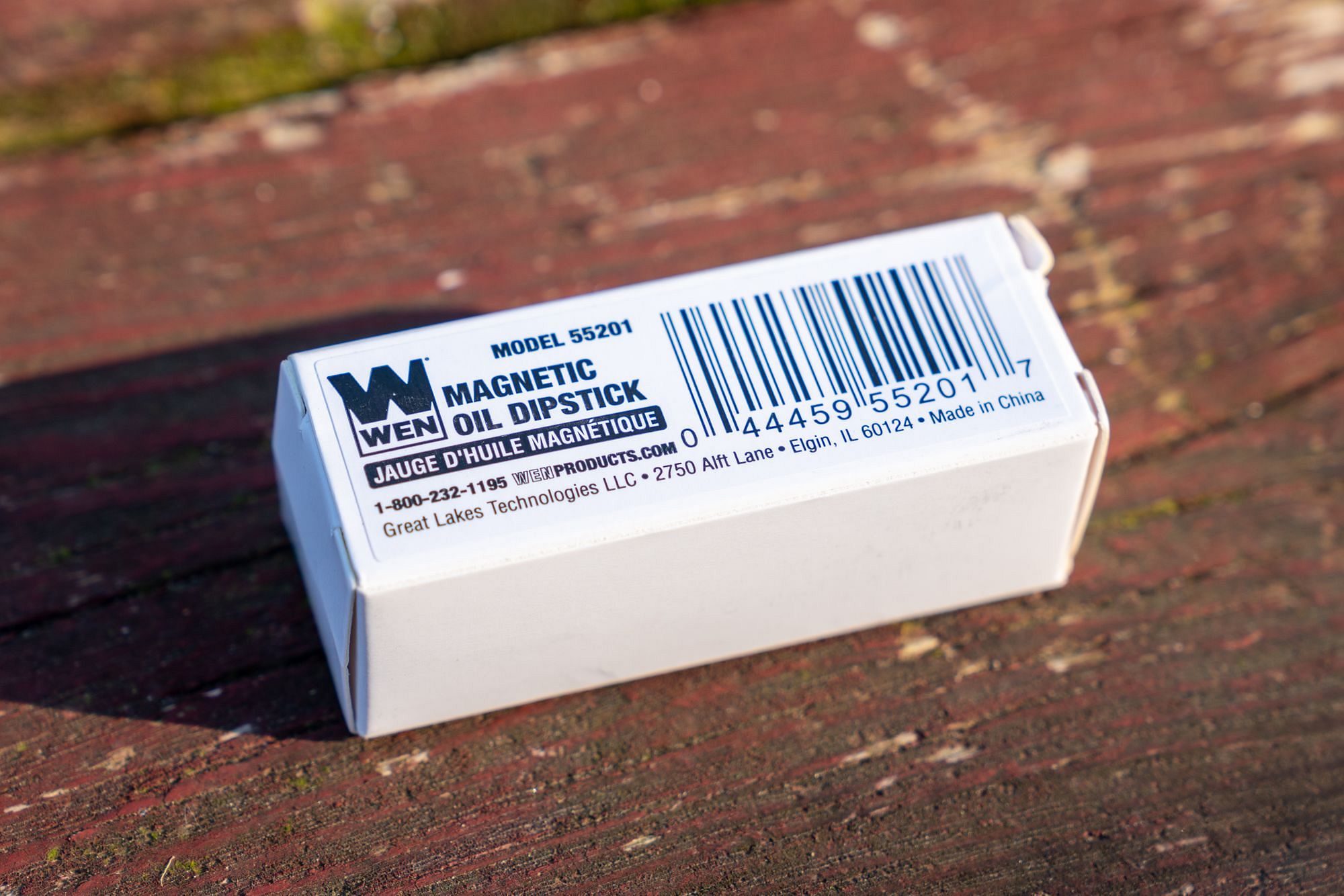 The idea is simple - any ferrous metallic particles in the oil will be attracted to the magnet on the dipstick so they can be easily removed, protecting the engine from their damaging abrasive effect.
The magnetic dipstick is not unique to this specific generator, and in fact fits a number of different generators including some not made by WEN.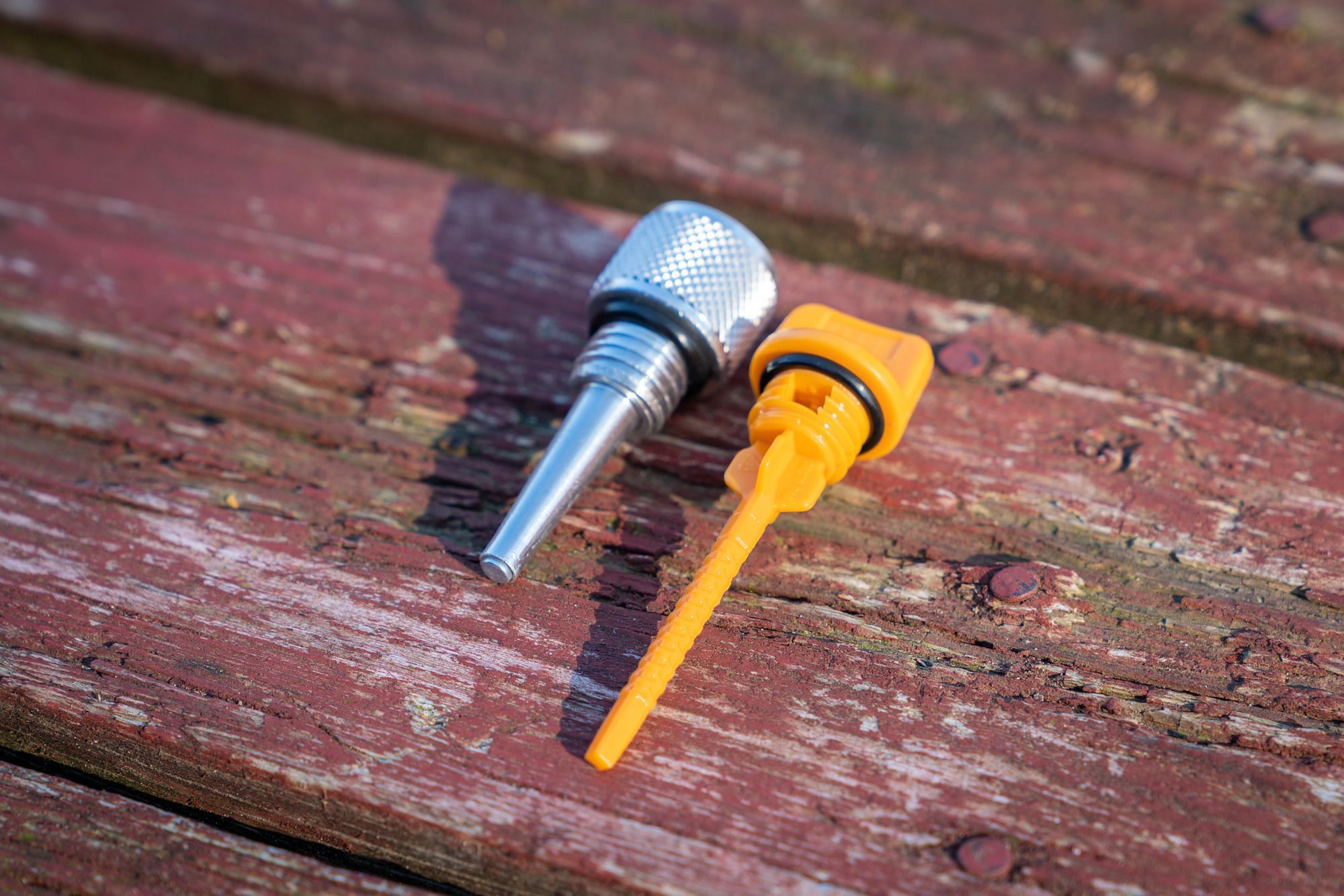 The magnetic oil dipstick is somewhat shorter than the plastic one that came with the generator, and doesn't include markings for checking the oil level unlike the plastic one - you can see the comparison of the two side-by-side above.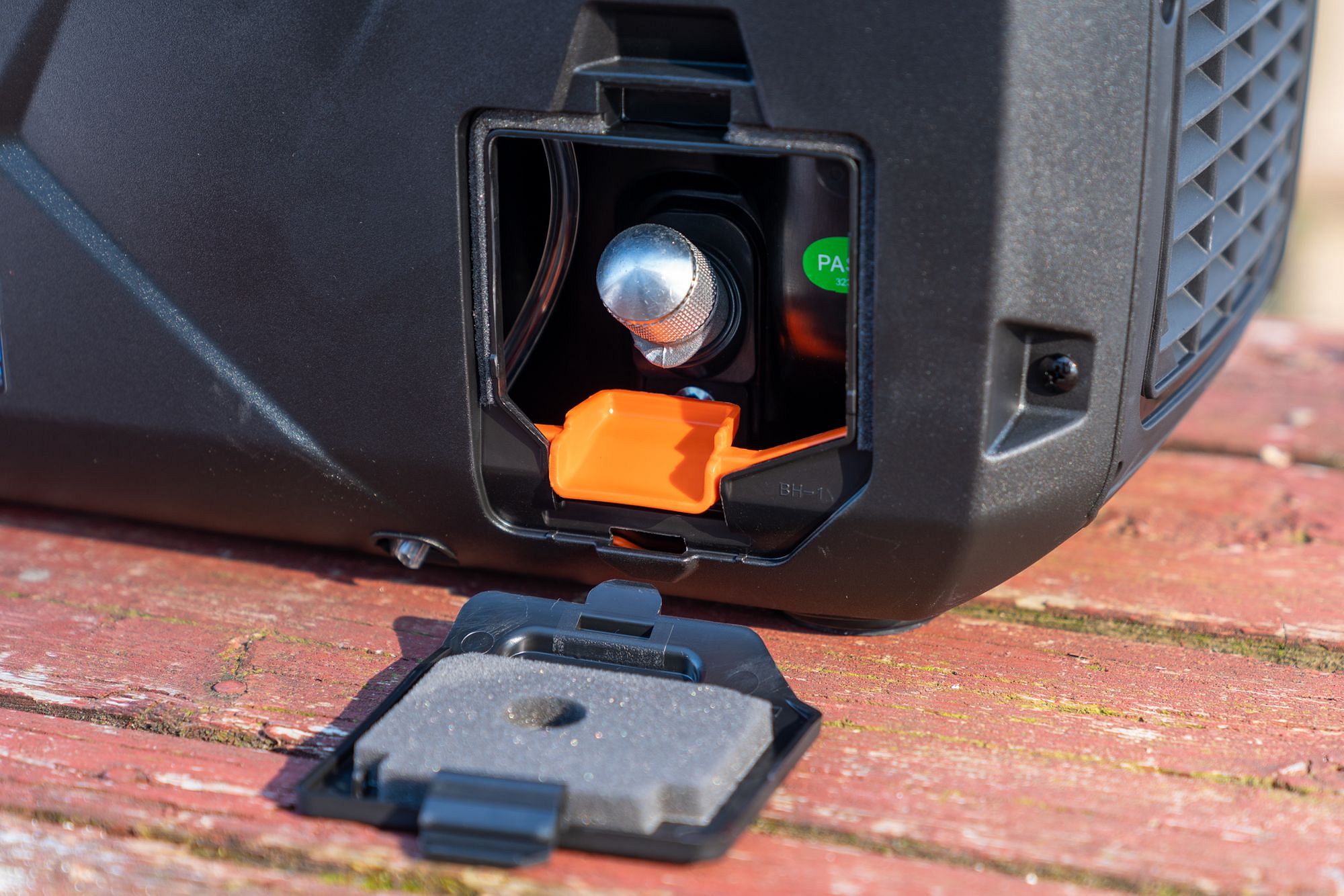 The metal cap on the magnetic oil dipstick is also significantly larger than the plastic one. On the WEN 56235i generator there were no clearance issue and the oil cover still fits on without any issues, but bear this in mind if you're considering the magnetic oil dipstick for a different generator.
I had read some reviews indicating that the magnetic oil dipstick gets hot during use because it's more thermally conductive than the plastic one. From my testing the metal cap did indeed get warm, but not sufficiently so to cause any issues.
Break-In Procedure
Breaking in an engine is a procedure designed to ensure its smooth operation and longevity by exposing it to reduced load and frequent oil changes while the engine is brand new and is settling in.
The WEN product manual for the generator doesn't include any specific instructions for breaking in so I used a simple procedure:
Fill with oil and idle for an hour
Replace the oil and idle for another hour
Replace the oil again and run under moderate load for an hour
The manual recommends full synthetic 5W-30 for use in all temperature conditions, and since the WEN 56235i requires less than a pint (15 fl oz) of oil, I really don't see any reason not to use a high quality full-synthetic oil.
I chose to use Pennzoil Platinum SAE 5W-30 which I found on offer with a rebate at O'Reilly Auto Parts. This 5 qt container cost just $25 (including the rebate) and is enough for 10 oil changes of the generator, so each oil change costs just $2.50.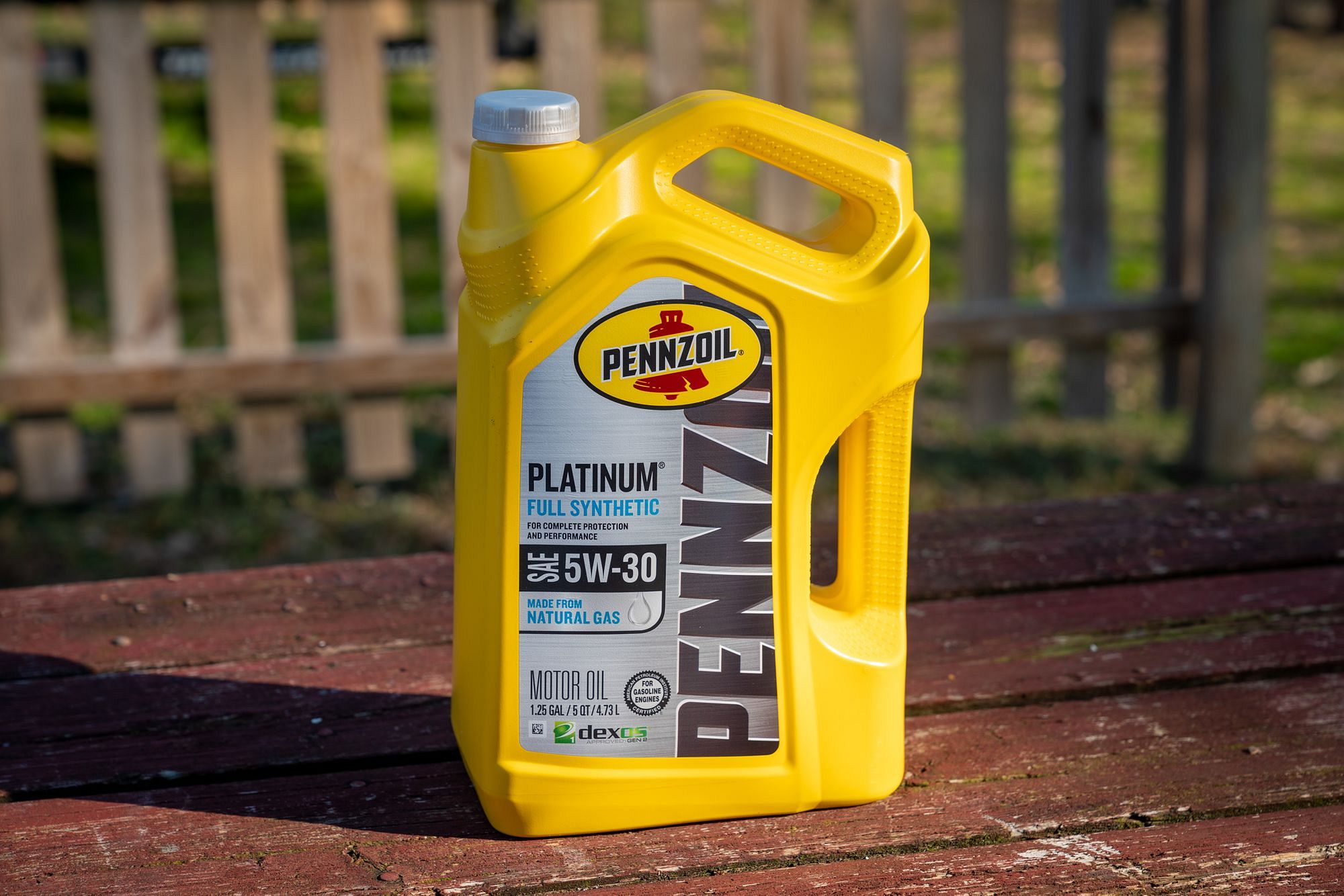 I filled it with oil, installed the magnetic oil dipstick and added a little under a gallon of fresh 93 Octane gasoline. Per the instructions, I pulled the choke lever out, turned off Eco Mode, turned the Power Switch to its On position, and the generator started on its second pull.
I switched on Eco Mode and left the generator to idle, not connected to any loads, to run for an hour. After the hour was up I shut off the generator for an oil change.
I found the easiest way to drain the oil was to prop the generator up on the picnic table, and then tilt it towards me using a plastic funnel to direct the oil into a small plastic bottle.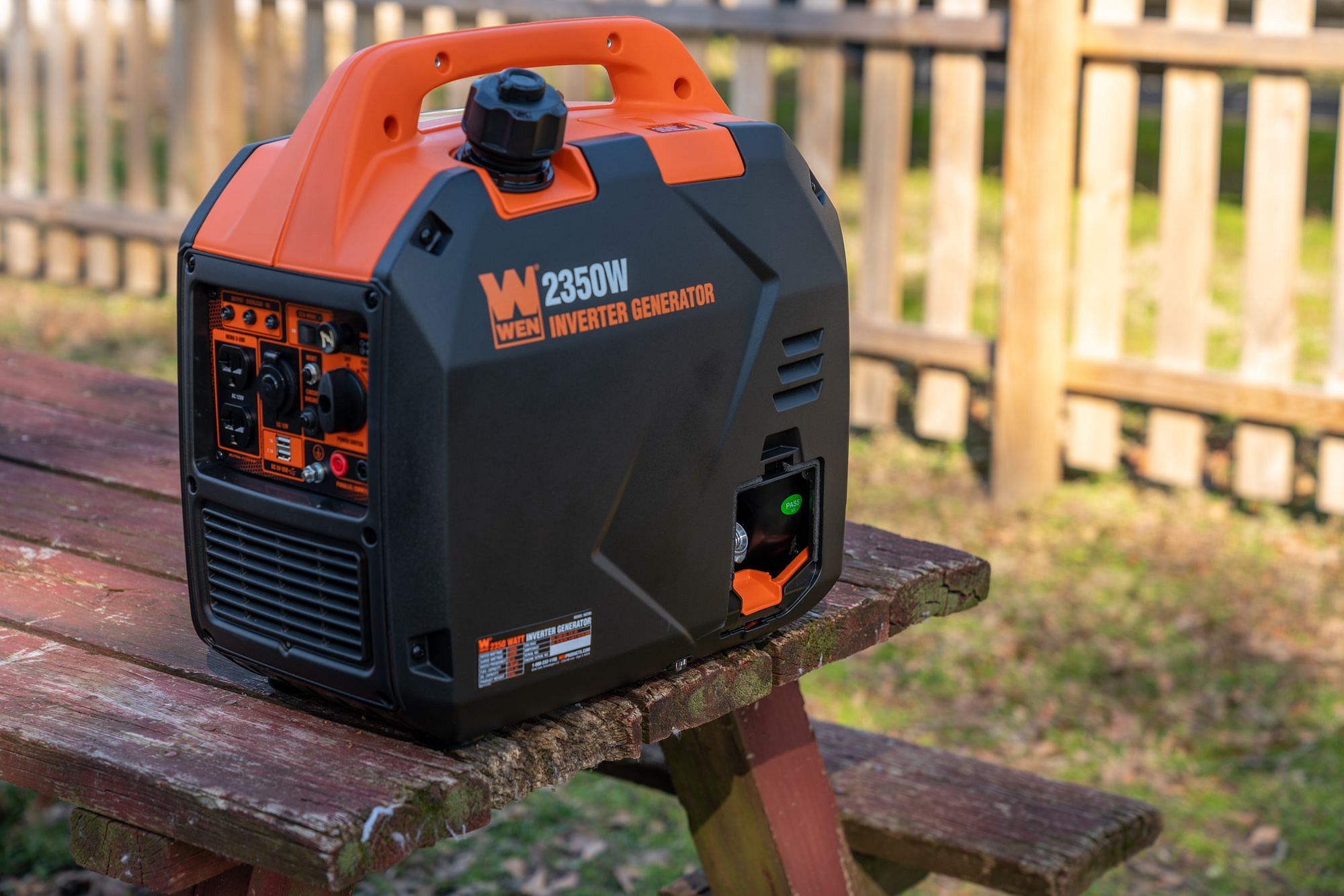 As expected, the oil coming out was fairly dirty and there was some ferrous residue on the magnetic oil dipstick so that was clearly working too!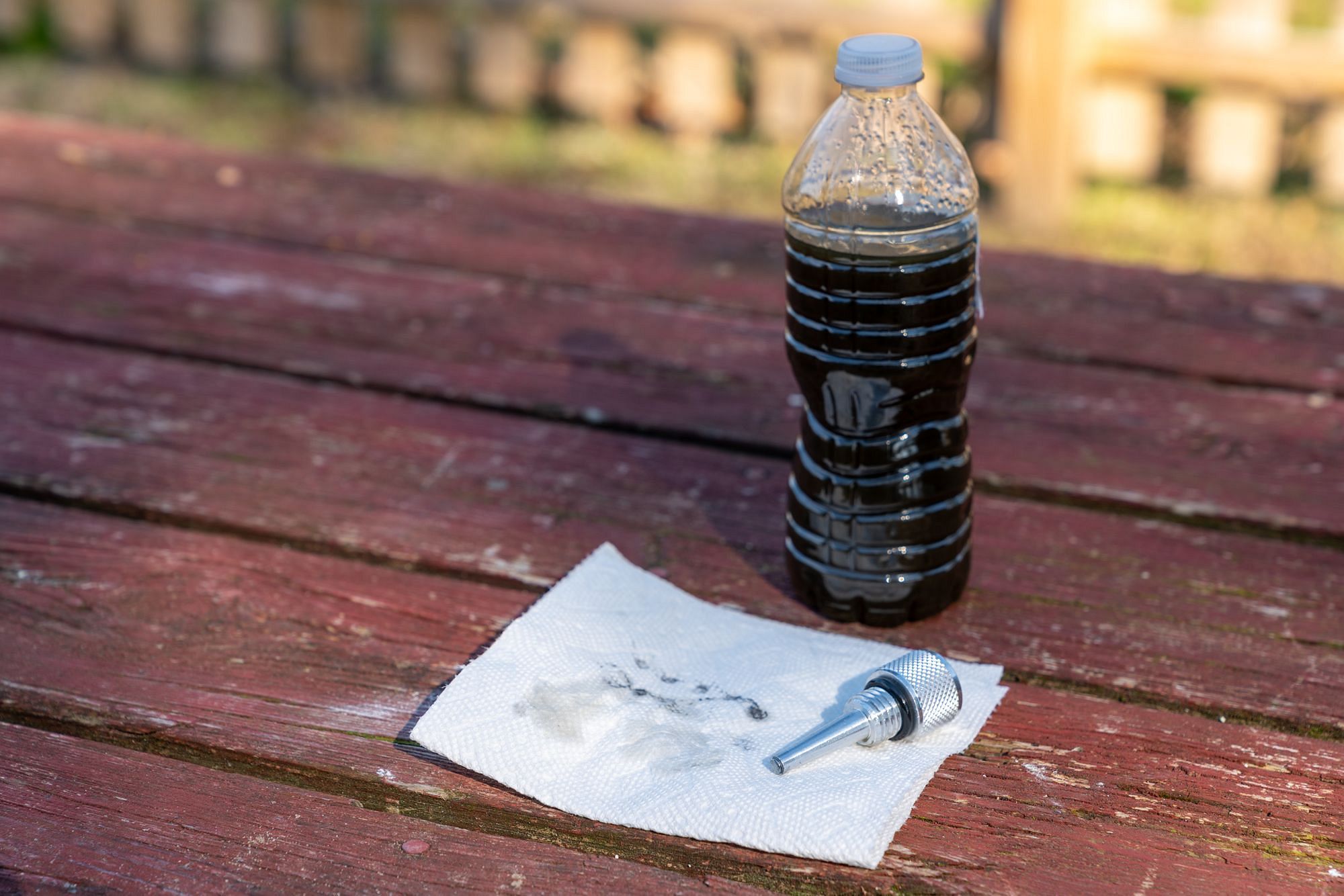 With new oil added, I repeated this procedure, allowing it to idle for another hour after which I changed the oil again.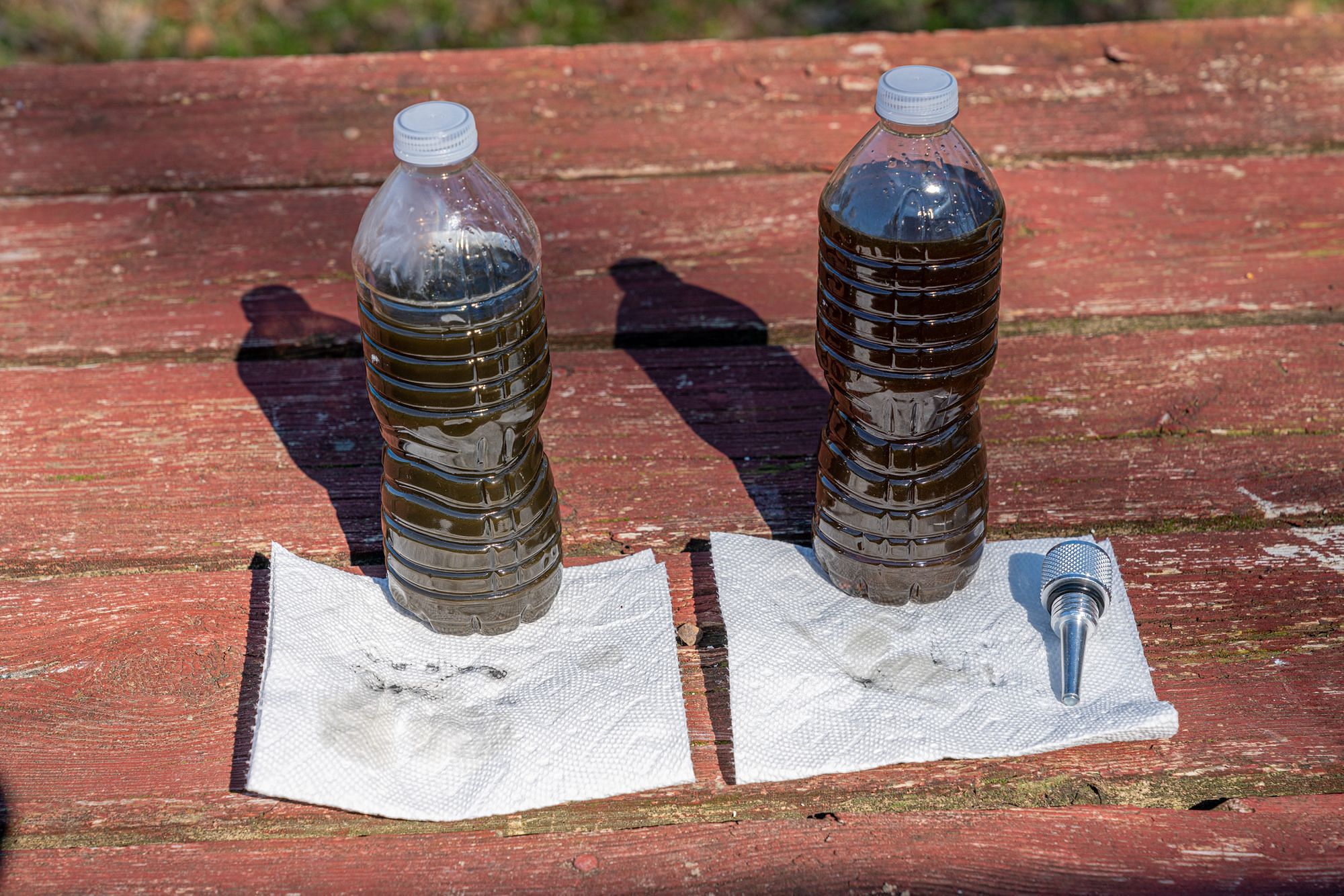 The oil coming out this time was significantly clearer (albeit still darkened from the heat), and there were far fewer metallic particles on the dipstick.
With fresh oil added once again, it was time for the final hour of break-in. For this step I plugged in a small GFCI extension cord to run our portable electric space heater. I connected the heater via a smart plug integrated with our home automation system so I could monitor not only the power used by the heater, but also the voltage output from the generator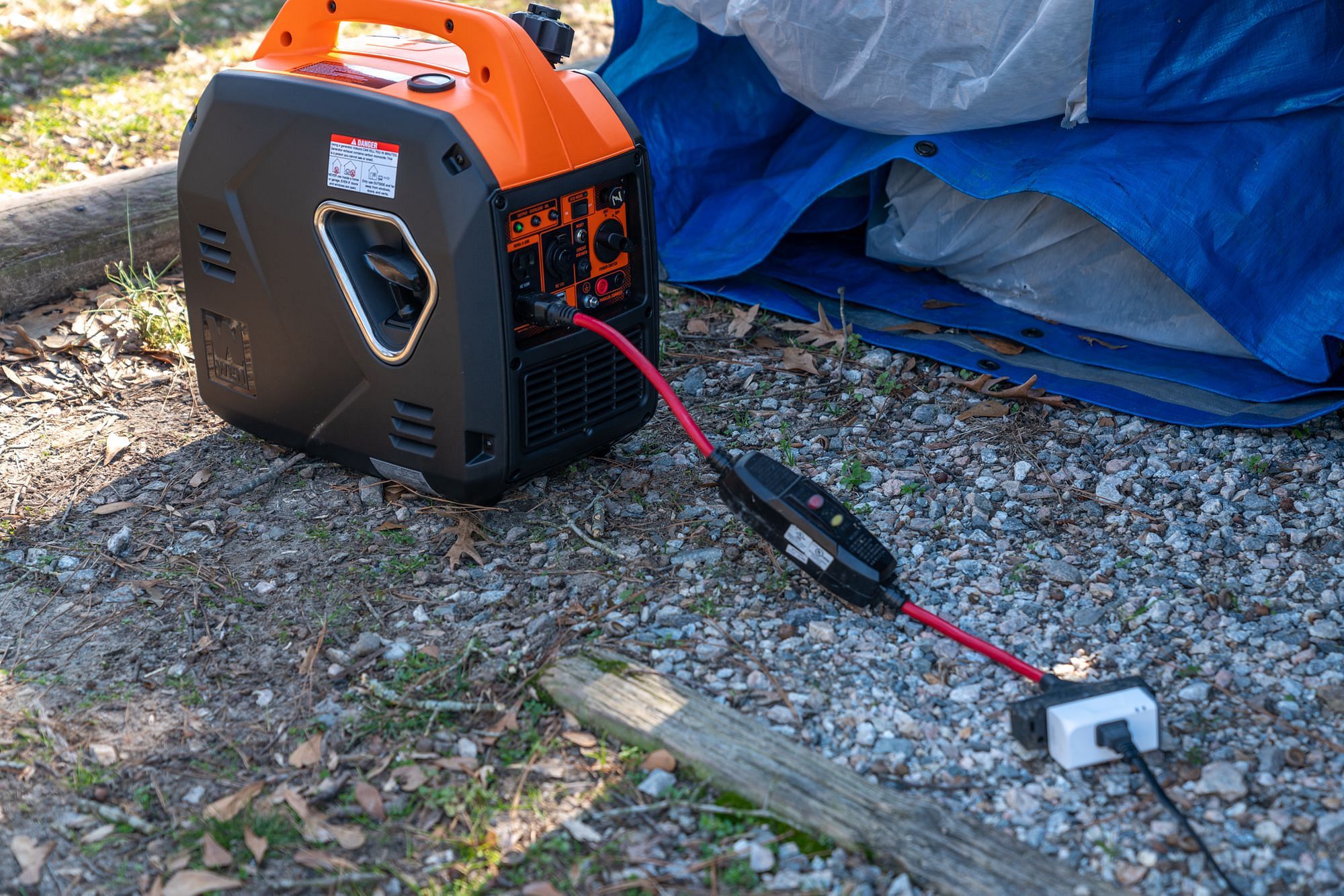 I allowed the generator to stabilize for a few minutes before turning on the heater.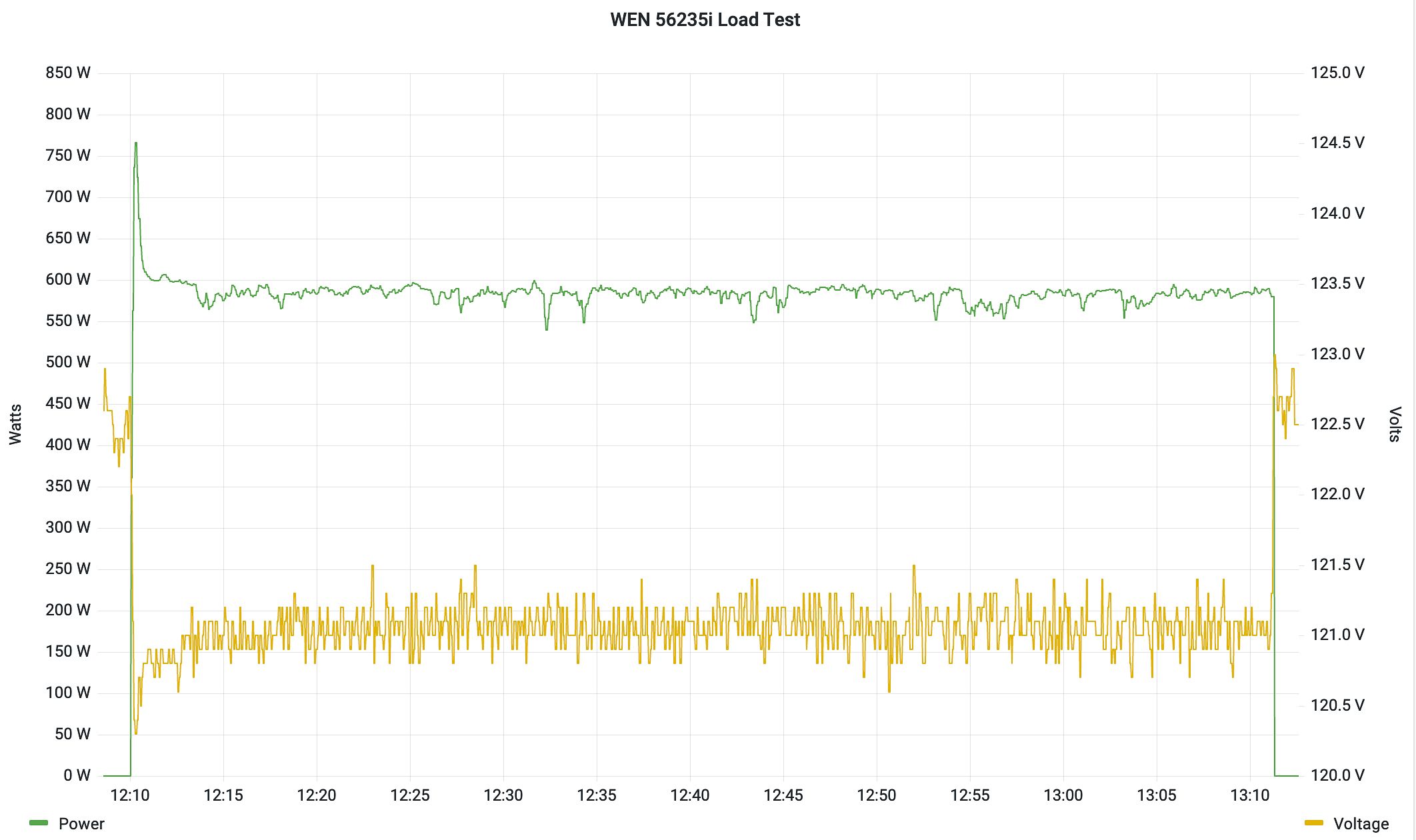 As the chart above shows, the heater initially pulled a peak of 766W before dropping to a fairly steady value a little under 600W. With no load applied, the generator was providing around 122.5V which dropped to 121.0V when the heater was running.
This step was running the generator at about 1/3rd load, so nothing too strenuous, but the generator performed flawlessly with no issues. For reference, the ambient temperature outside at the end of the test was 66°F.
Draining Fuel
Between this test and returning to Vermont, our generator will be unused for about 2-3 weeks, and the manual says to "[d]rain your carburetor after each use and before storage to prevent it from clogging".
Draining the fuel for just a few weeks is probably unnecessary, but I figured I'd go through the process anyway. The manual says to drain the fuel tank by draining all of the gas from the tank through the carburetor drain valve, but warns "it may take a few hours for your tank to drain completely".
I opted for a slightly faster alternative....
First, with the generator running, I turned the Power Switch to the Fuel Off position, starving the engine of fuel and forcing it to burn only what was already in the fuel lines. It took a couple of minutes for the generator to begin stuttering and eventually shut off.
Next, I opened the fuel cap and carefully poured the gasoline directly from the fuel tank back into my fuel contianer.
Last, I removed the side cover from the generator and loosened the carburetor drain screw, which allowed maybe a teaspoon or two of fuel to drain out through the small plastic hose and into my container underneath it.
One thing to note - I was unable to loosen the screw using the Philips screwdriver provided, and since it has a hex head, I ended up using a small crescent wrench to avoid stripping the screw.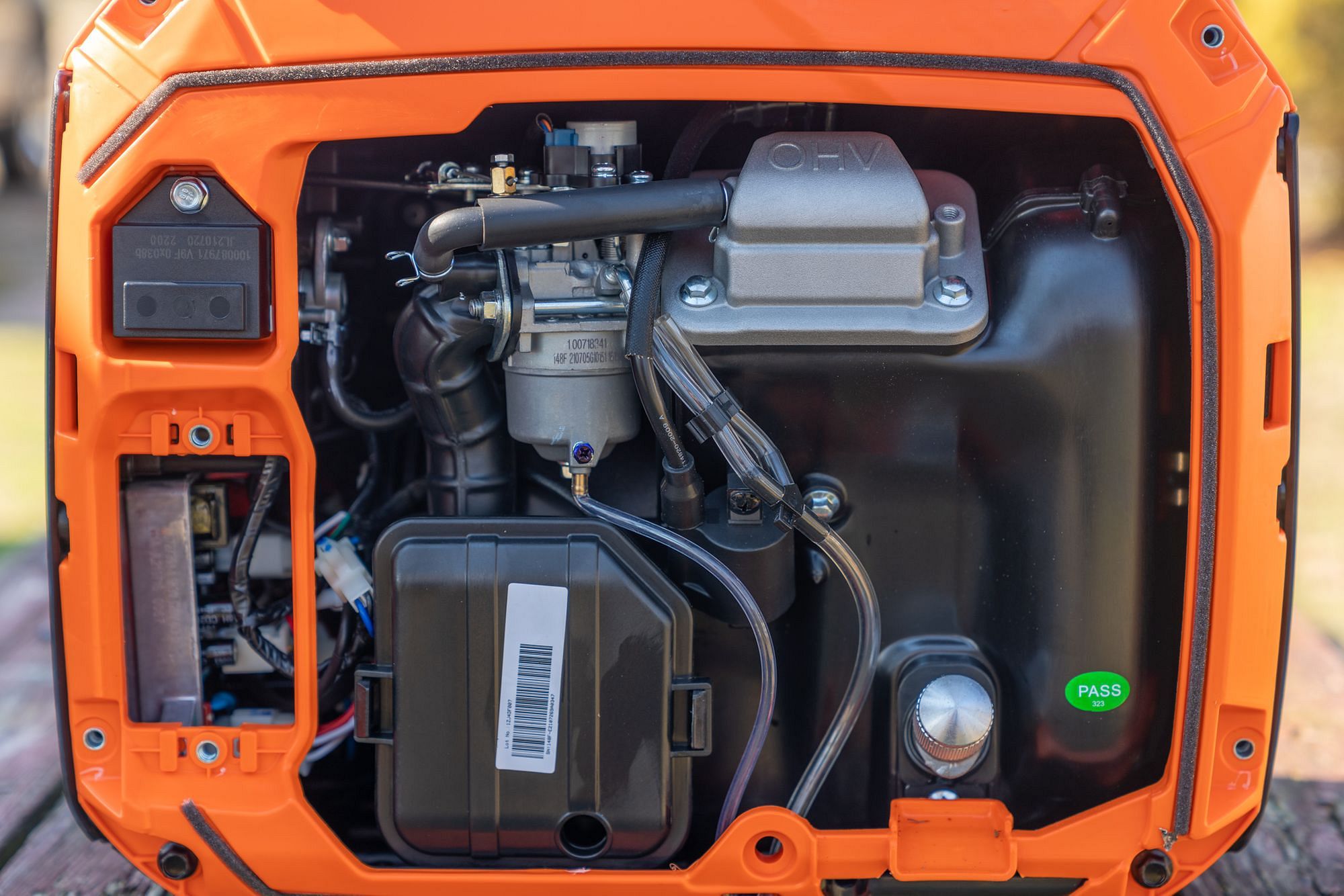 This process should have done a pretty good job of removing most of the fuel from the tank, fuel lines and carburetor. With the testing all complete, all I need to do in a couple of weeks is add fuel and fire it up when we need power!
Parallel Kits
Earlier I mentioned that we bought two of these generators, one of the reasons being that they can be run in parallel. WEN actually makes two different parallel kits, and we opted to buy both of them.
The first is the WEN GNA25i 25A Parallel Cord which is simply 3 wires with connectors at either end to connect the parallel outlets and ground terminals on each generator together. This essentially increases the output available from either generator panel, allowing you to, for example, use the full 20A on one of the outlets.
We also bought the WEN GNA36i 30A Parallel Connection Kit. This consists of a box with cables which plug into the parallel connectors on each generator, and exposes two 30A outlets - a TT-30R and L5-30R. The TT-30R is what we're used to as RVers, so will allow us to plug in our RV as though we had full 30A shore power.
Why did we choose to buy the GNA25i when its bigger brother, the GNA36i can do everything it can and more? A few reasons:
It's inexpensive, compact and quick to get up and running
It gives us a 20A outlet without needing a 30-20A adapter
It means we have a backup for parallel operation if necessary
Having repaired the parallel plugs on a friend's generator, I consider this cheap insurance to have a couple of spare plugs available if needed
Summary
We purchased the two generators, two magnetic oil dipsticks, two covers and the two parallel kits for under $1,000 - saving around $300 vs the MSRP of just one Honda EU2200i without any accessories!
Will the WEN generators perform as reliably as the Honda would have done? Only time will tell, but if our friends' experiences are anything to go by, we are optimistic that these will work for us.
As a long-time RVer and experienced electrical systems designer and user but first-time generator owner, my initial impression of the WEN 56235i is very positive. It was well packaged, accessories like the funnel were provided, the build quality seems solid, and it performed flawlessly throughout my initial break in procedure.
Performing a proper break-in procedure is essential to help ensure the longevity of any engine, and the process above took me just a few hours and was a good opportunity to learn how everything worked anyway.
We keep all our maintenance logs on a self-hosted wiki (paid version also available) so we can make sure we stay up-to-date. While the generators will be used for the next few months to keep our RV lights on and power tools running, hopefully with some simple maintenance they'll last for many years.