Introduction
If you've seen any of our National Park videos or read any of our National Park blog posts, you'll probably have seen us stamping our visit in a book. What exactly is it, and why are we doing it?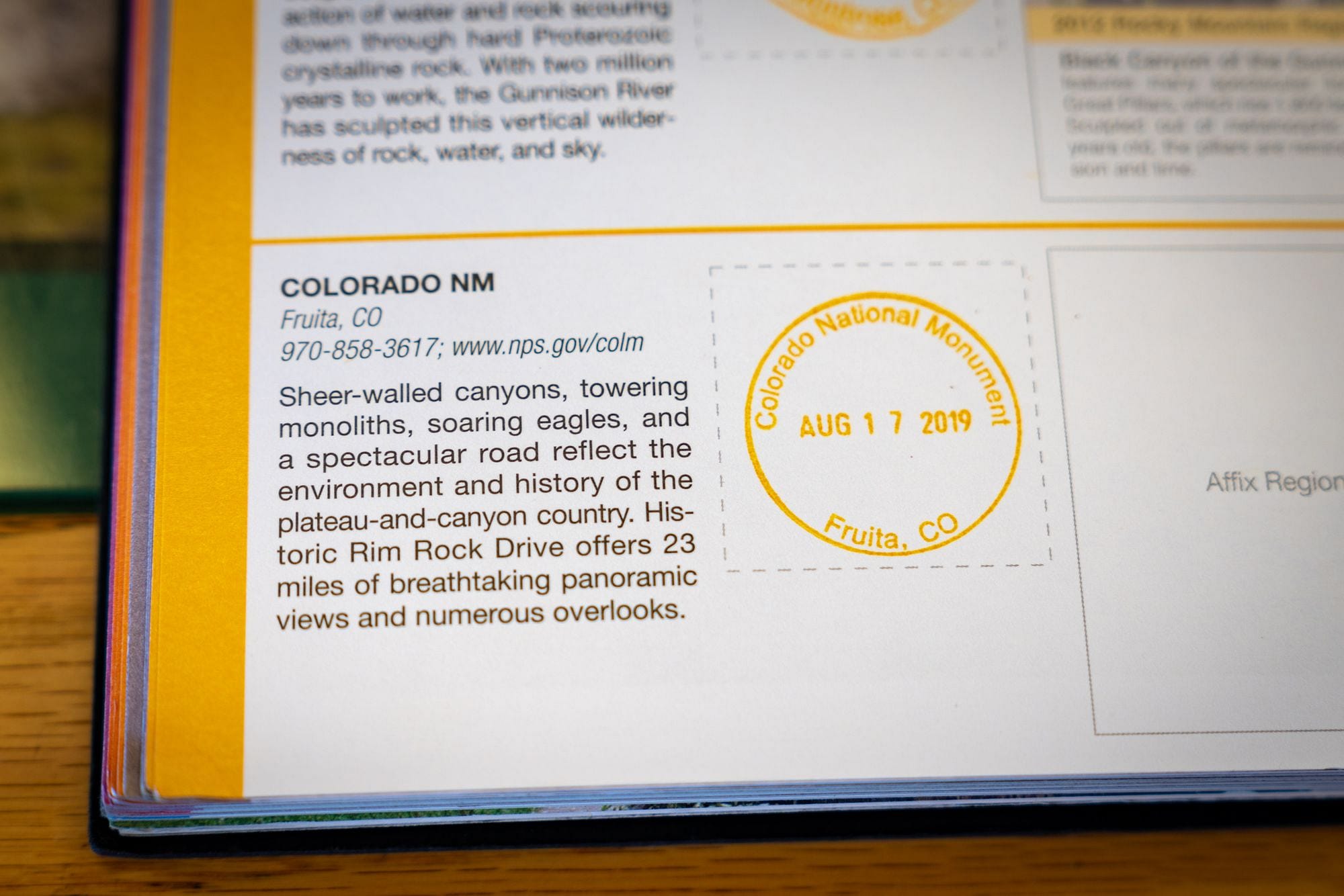 In this blog post, I'll explain everything!
What is a National Park Passport?
A National Park Passport is a book where you can collect free cancellation stamps to record your visits to National Park Units.
In 1986, an non-profit organization called Eastern National created a program called Passport to Your National Parks.
The idea was for National Park visitors to record their visit with a free cancellation stamp in their National Park Passport - much like stamps in a conventional passport. These free stamps can be found at ranger stations and visitor centers throughout the National Park system.
The program is still going strong today and has even spun out a non-profit club, the National Park Travelers Club, who not only hold conventions but also run a website where you can track your stamps online.
Why do I need a National Park Passport?
It's just for fun! There are no prizes or rewards - other than the enjoyment it brings to add new stamps to your passport.
But there are some really good reasons why you should get one.
Most obviously, it serves as a permanent reminder of where you've been, and when! Years later it may be hard to remember what time of year you visited a particular National Park, or even just keep track of which ones you've been to and how many times! As well as regular cancellation stamps, from time to time there are also special event stamps - keep your eyes peeled for those!
Once you've bought the passport, the stamps themselves are free! That makes it a really good, low-cost way of remembering your trip - much cheaper than gift shop souvenirs.
It doesn't take up much space. Particularly important for us as RVers since space is a precious commodity. We used to collect fridge magnets for places we had visited but it wasn't long before our fridge filled up! The passport is nice and compact. This is also super useful if you're flying somewhere too - no excess luggage fees to worry about!
It comes with a map showing all the National Park Units - did you know there are 419 National Park Units in the US and that number continues to grow. You may well find there's a National Park Unit near where you live or where you're traveling that you didn't even know about!
Collecting the stamps becomes addictive. At first you start collecting stamps at the places you visit. Then you begin looking for National Park Units near where you're traveling to collect more stamps. And before you know it, you're planning your itinerary to collect as many stamps as possible in each National Park Unit! Trust me, we've been there!
Lastly, the passport books themselves include interesting information about each region - history, geography and more!
Which National Park Passport edition is best?
At time of writing, there are four different National Park Passport editions. So which one is best?
Passport To Your National Parks® Classic Edition
The Classic Edition is the basic passport - for just $9.95 it's probably the one that most people buy, or at least start with. And that's exactly what we did!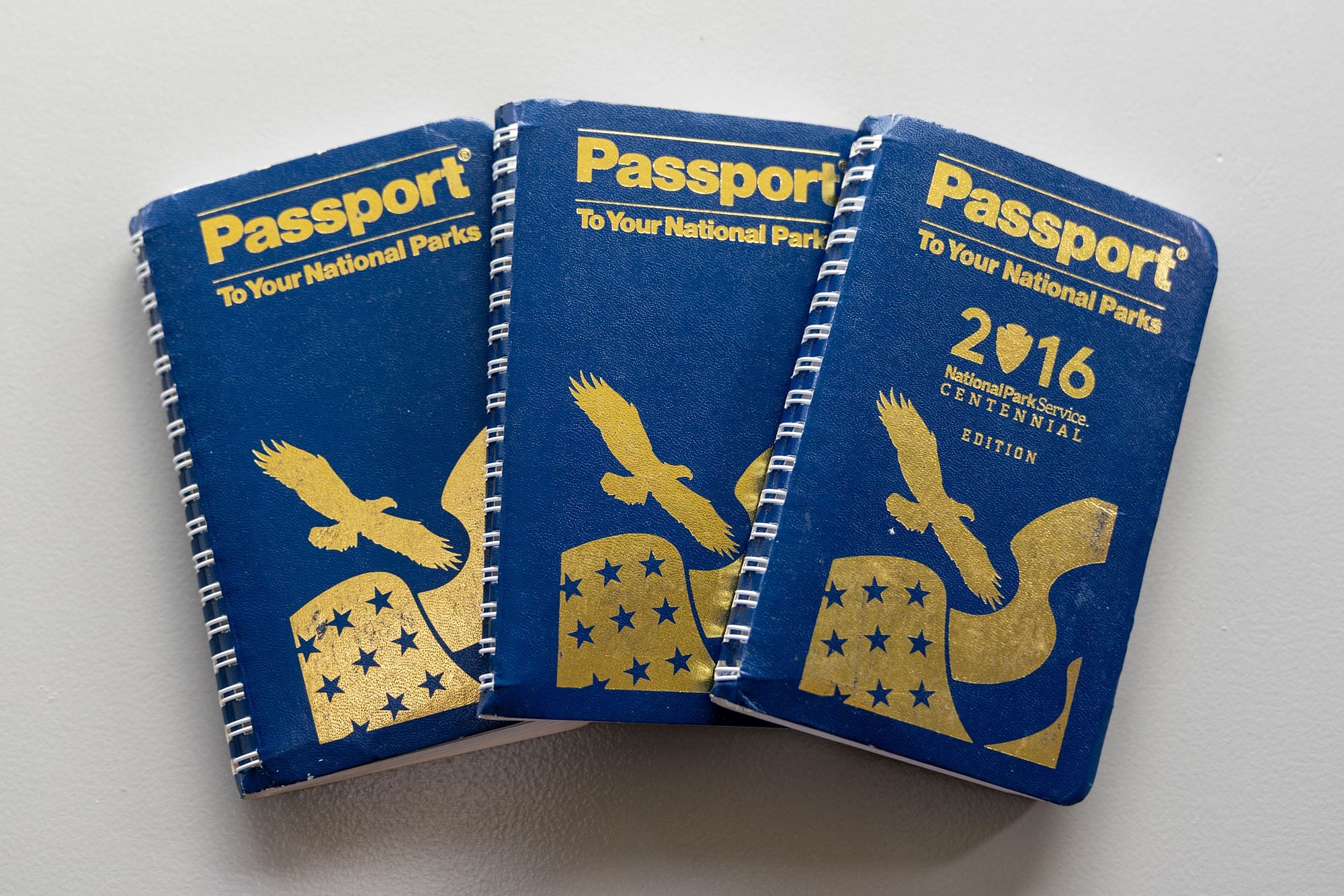 The 6" x 4" softcover, spiral-bound classic passport has 112 pages and is small enough to fit in your pocket. Despite its size, it's well made and durable so it's easy to through in your backpack without worrying. It comes with a folding map of all the National Park Units and is split up into nine color-coded regions, making it easy to use.
The pages contain space for cancellation stamps as well as the stickers you can buy at National Park gift stores; since they aren't named for the National Park Units, it won't become outdated as National Park Units are created, changed or renamed.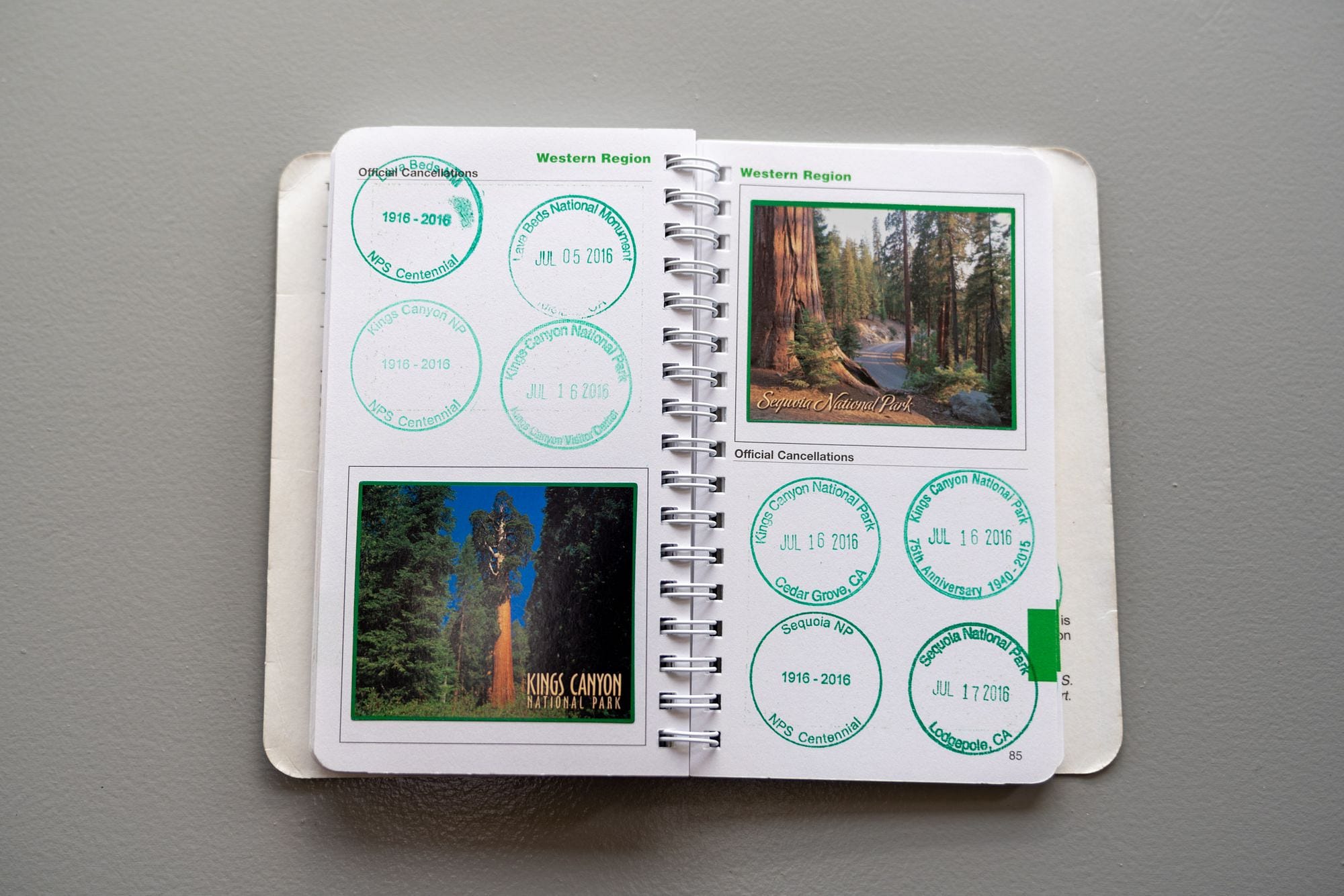 However, because it's smaller, you might find yourself running out of space. That's what happened to us - we ended up with 3 of them since most of our travel was concentrated in one region and we kept running out of space for stickers. There are some blank pages at the back but we liked keeping the stickers in the regional sections.
You can add extra pages with the Classic Expander Pack, but at that point you might want to consider something larger.
But if you're just getting started, or you're looking for a gift for a National Park lover, then for $9.95, the Classic Edition is a great option.
Passport To Your National Parks® Collector's Edition
Ready to step it up a level? Then check out the Collector's Edition! This is the one we use now.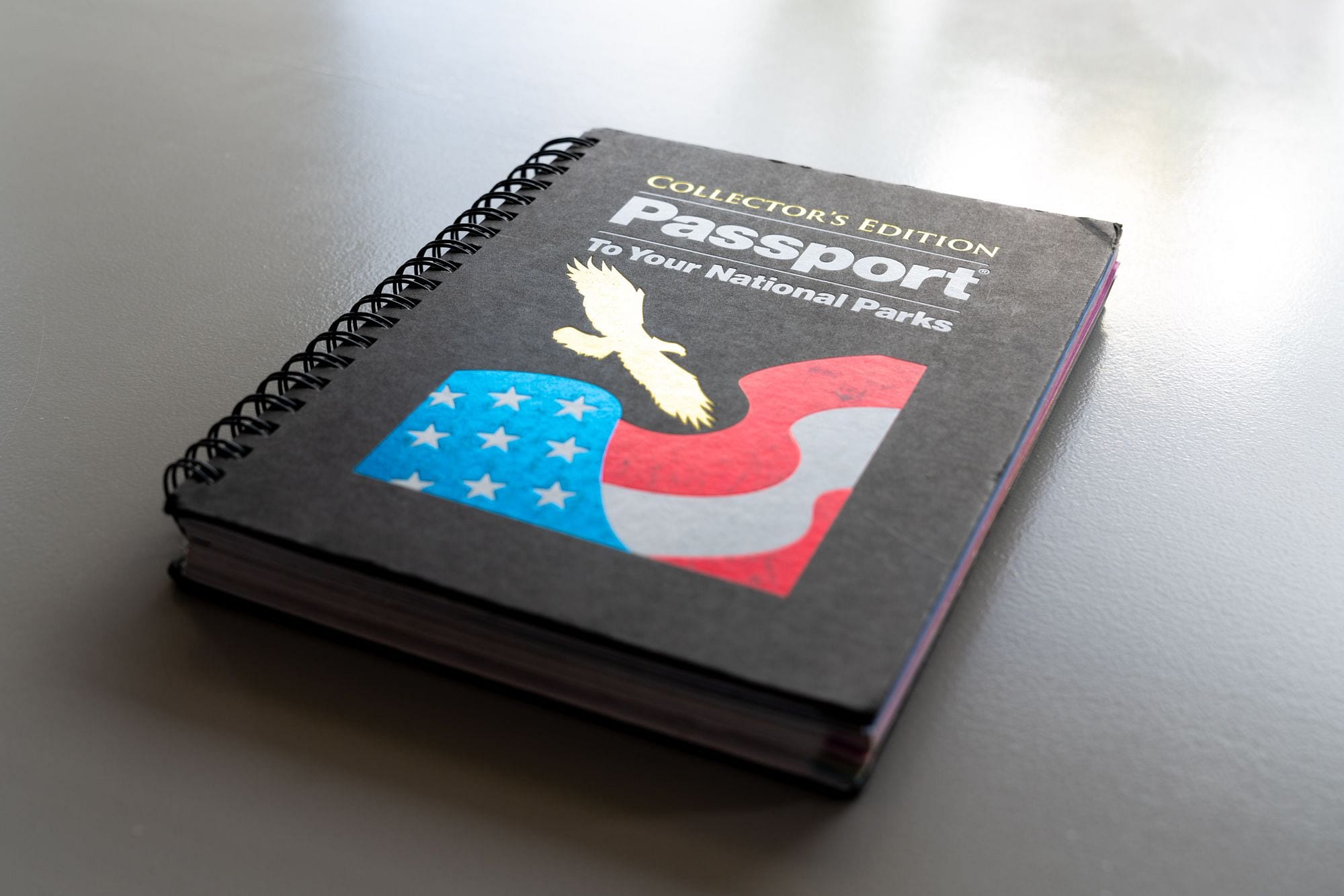 Larger than the Classic Edition, the 7½" x 10" Collector's Edition is a hardcover spiral-bound book with 192 pages. This one won't fit in your pocket and nor would you want it to - this is one nice book!
It has a dedicated space for one cancellation stamp and one sticker per National Park Unit. Not just the National Parks, but all the units - National Monuments, National Historical Parks and the rest! Each entry is accompanied by a brief summary of what you can expect when you visit.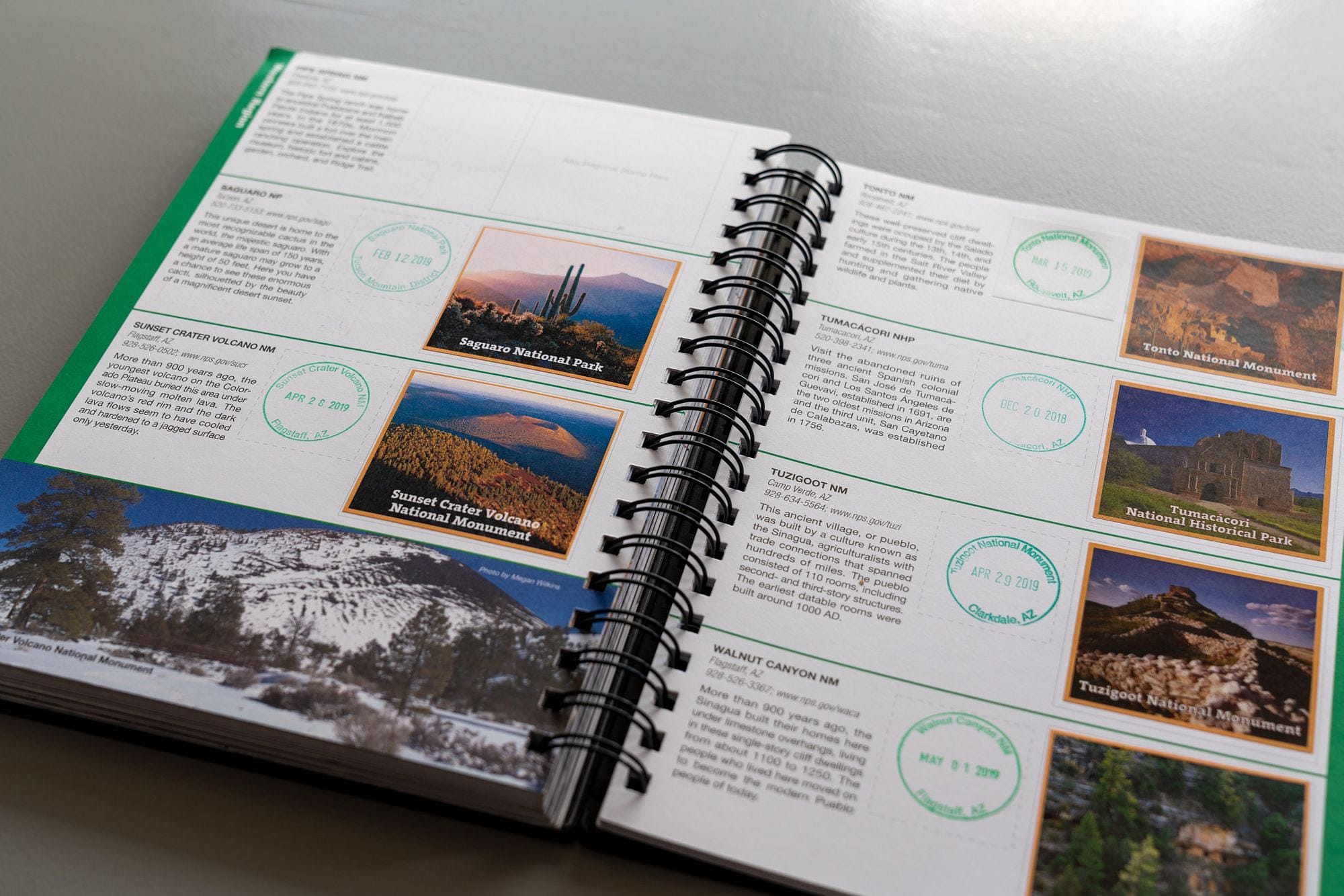 And in case new units or created or existing ones change, there are blank pages at the end of each regional section that you can use. These pages are also useful for extra stamps or return visits.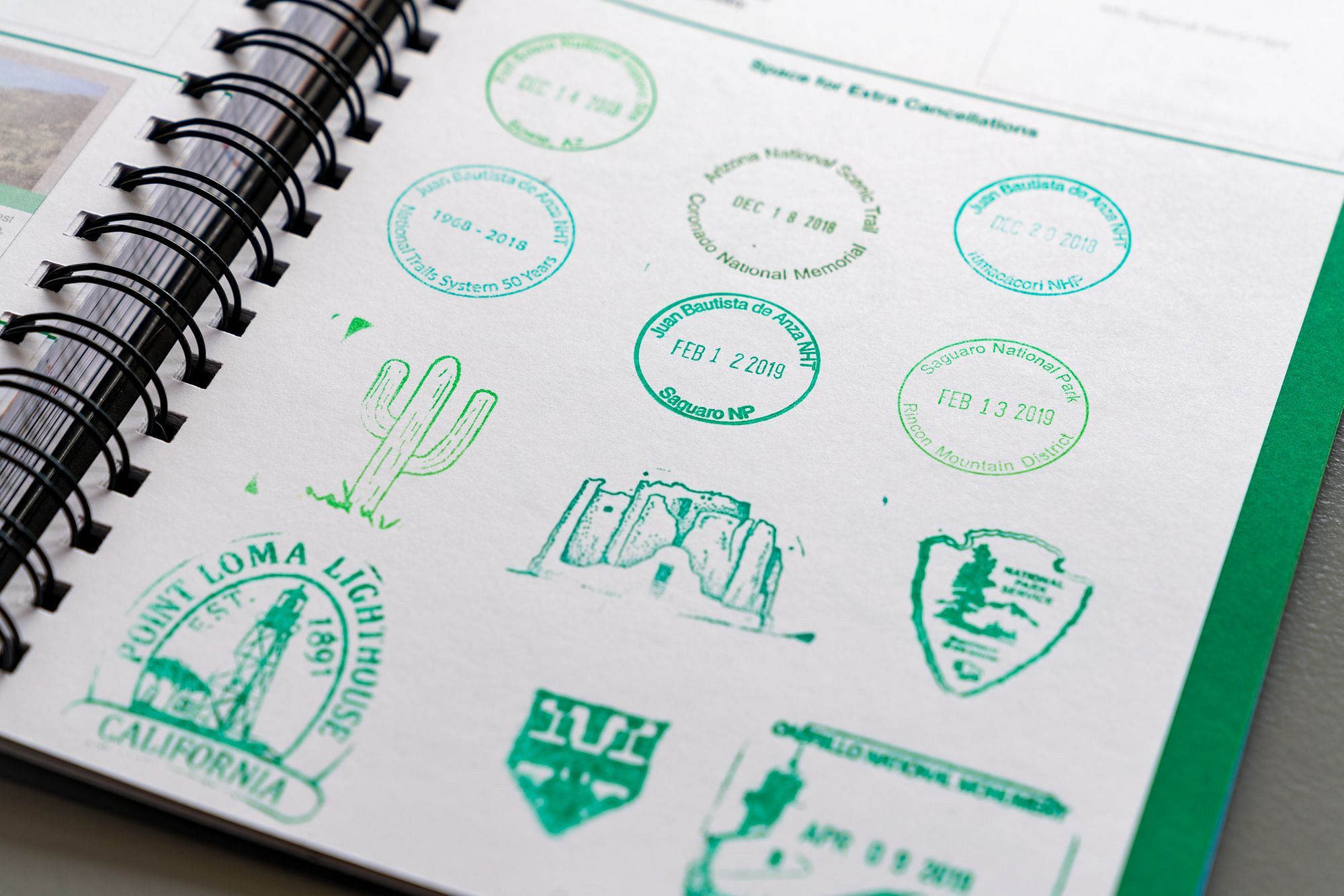 On the downside, it is larger and you'll want to keep it protected so the cover and pages don't get damaged. We keep ours in a large Ziplock bag in the truck so we've always got it nearby! Unfortunately there's no way to add extra pages, but so far that hasn't been a problem for us.
At $24.95, it's more expensive than the Classic Edition, but since it has all the space you'll need to record your visits, the Collector's Edition represents great value for money!
Passport To Your National Parks® Explorer Edition
The granddaddy of them all, the Explorer Edition is the ultimate National Park Passport. It's also the most expensive, costing $59.95. But you get a lot for your money!
This 5-ring binder is mounted inside a protective, weatherproof outer cover with a zipper. There's even space inside for a pen holder and mesh pockets to keep a couple of small souvenirs inside. And since it's a 5-ring binder, it's easy to expand with the Explorer Expander Pack.
Beware that at 9" x 8½" and weighing in at almost 2lbs, the Explorer Edition isn't the most backpack friendly. Also, some people have commented that the pages fill up pretty quickly and there's only so many extra pages that you can fit in the binder before it's full.
Passport To Your National Parks® Junior Ranger Edition
If you have a Junior Ranger in the family then they might appreciate their own National Park Passport. That's where the $14.95 Junior Ranger Edition comes in!
With 100 spiral-bound pages in a soft cover, this 9" x 7" passport has space for your Junior Ranger to collect all the official cancellation stamps plus special Junior Ranger stamps too!
Illustrated by renowned artist Dave Klüg, it also comes with a set of stickers and is full of educational content.
While fun for kids, if this is the start of a life-long journey of National Park exploration, maybe they'll outgrow this one and want to move onto another edition.
Where can I buy a National Park Passport book?
You can buy all the National Park Passport editions online at America's National Parks. Alternatively, you can find them for sale in most National Park gift shops and book stores.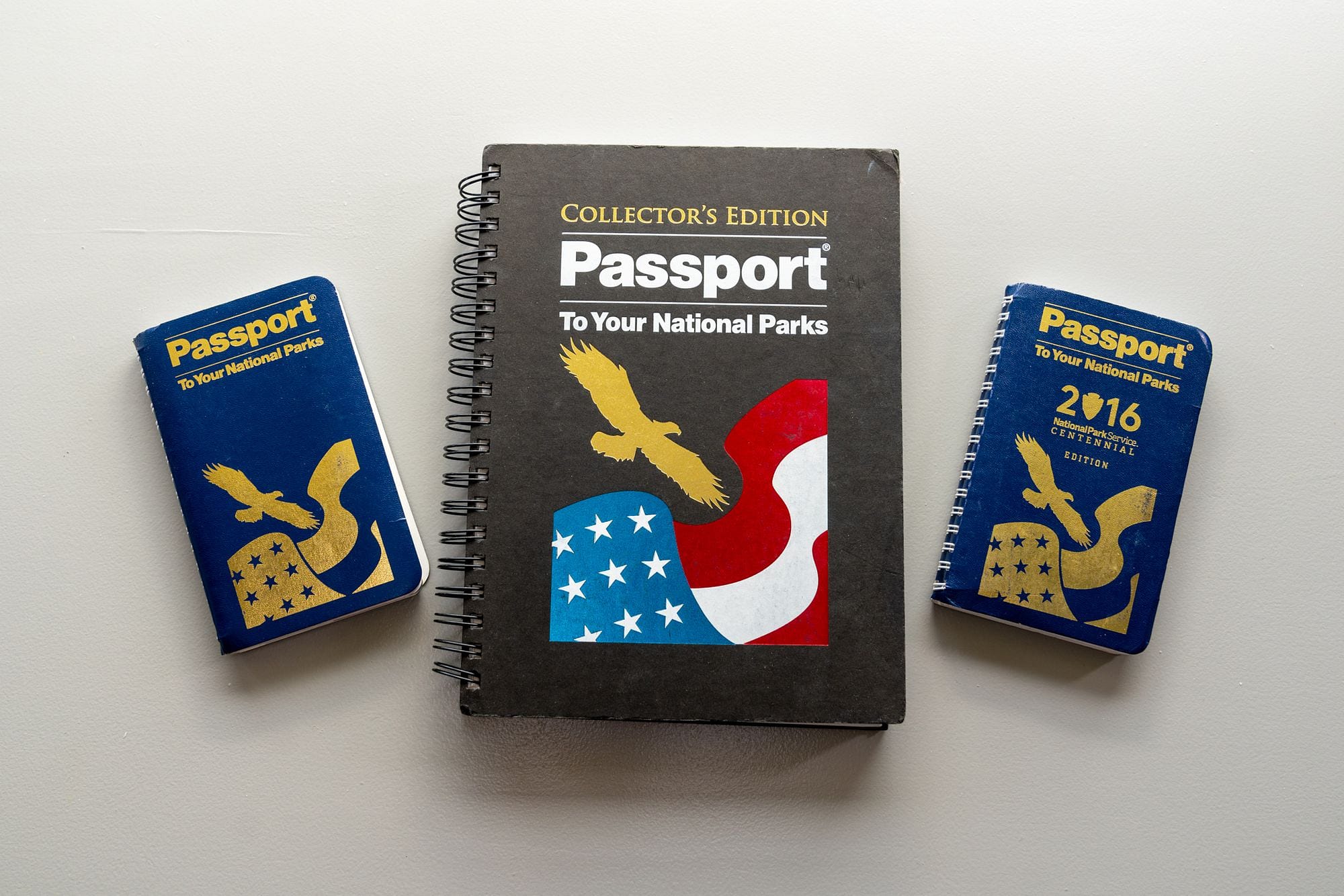 Can I make my own National Park Passport?
Absolutely! While the official National Park Passports are a great way to collect cancellation stamps, they're not the only way.
If you enjoy scrapbooking, then collecting the stamps is a great way to remember your National Park visits. As well as the official cancellation stamps, many places also have special stamps too; oftentimes, we've asked the staff and they have extra stamps hidden away behind the desk!
Another great option is to put the stamp on the National Park pamphlet and map that you can pick up in most National Park Units. A lot of people choose to collect these, and the stamp is a great way to record exactly when you visited.
What if I forget my National Park Passport?
Don't worry, we've all been there! Maybe you left it at home, or perhaps you chose not to bring it on a long hike.
At many National Park Units, there's often a stack of small paper squares nearby that you can stamp, and then glue these into your National Park Passport (or scrapbook) later on. We've done it once or twice!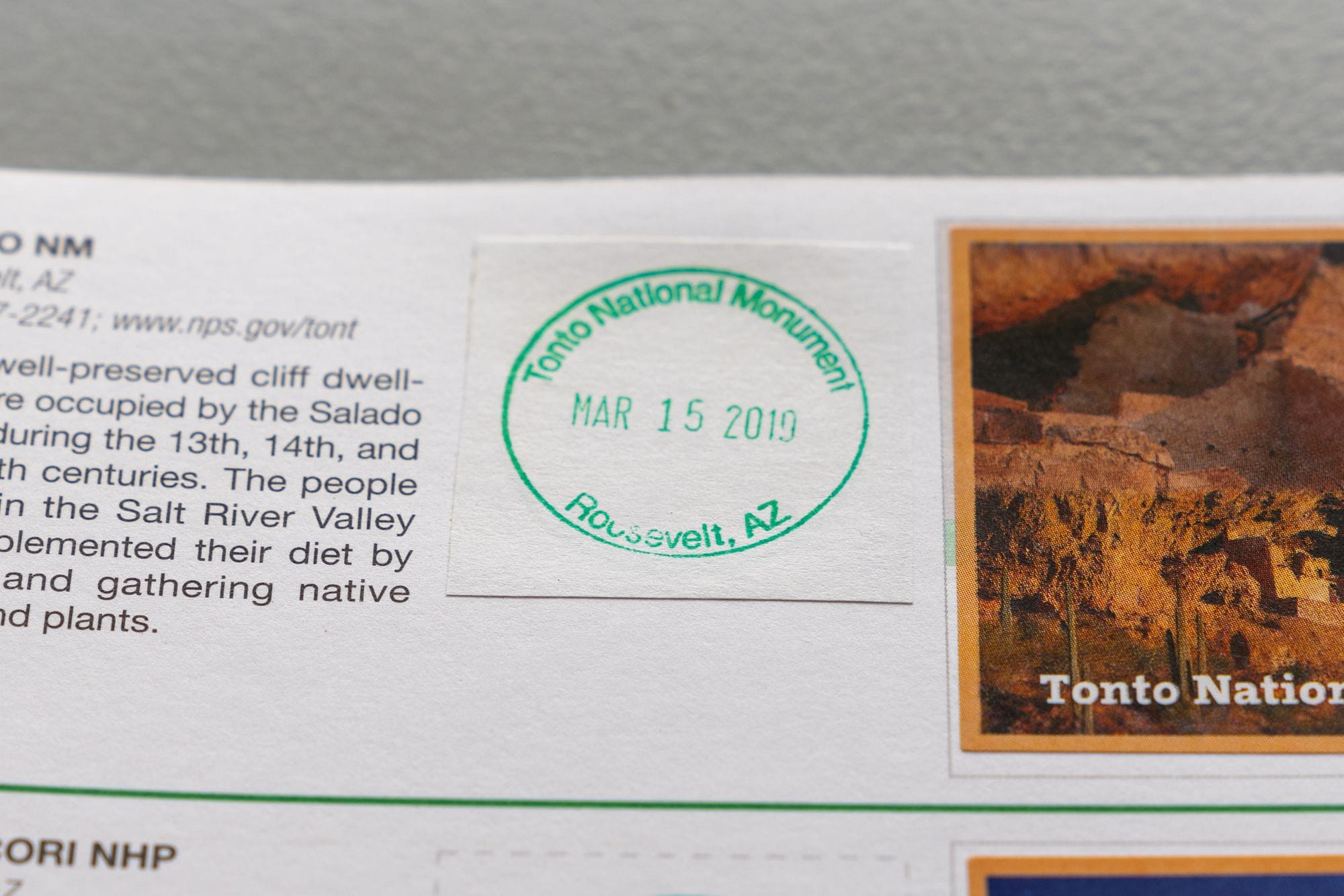 What about stickers?
As well as cancellation stamps, many National Park Units also have stickers. There are a few different sizes and styles out there, but most are pretty standard and will fit the available spaces in your National Park Passport.
However, some of the smaller National Park Units don't have stickers - at least, not for sale on site. Sometimes you can find them in packs of stamps sold online, or if you're lucky, you might find them for sale individually at a larger, nearby National Park Unit.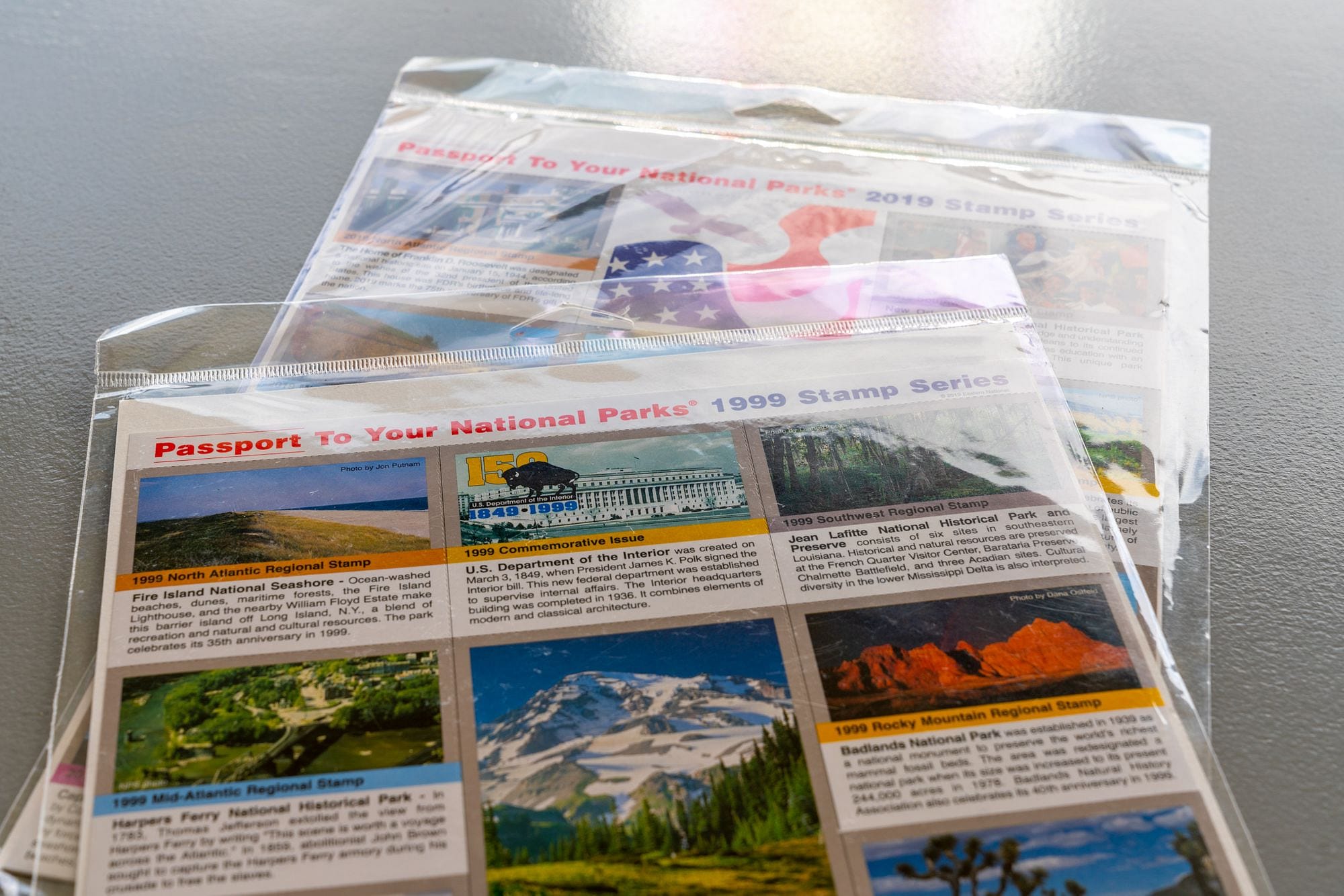 If we're visiting a few National Park Units in one area, we'll look in each gift shop for stickers for any of the places we're planning to explore, and buy them all if we see them.
Summary
The National Park Passport program is just for fun, and we love it! Collecting the cancellation stamp in our National Park Passport is nearly always the first thing we do when arrive at a new National Park Unit.
As well as the official stamps, there are some great novelty stamps out there too. Which is your favorite National Park stamp?