As an Amazon Associate we earn from qualifying purchases.
We've been full-time RVers since July 2018, and while our Outdoors RV 21RBS travel trailer often gets all the attention, our Ford F-150 plays a huge role in our travels too.
I bought the F-150 in 2016, long before we even thought about RVing. At the time I wanted a truck for hauling my ATVs around without having to tow a little utility trailer behind my Ford Escape. It quickly became our adventure vehicle too, taking us long road trips around the country to visit National Parks - the inspiration that ultimately led us to hitting the road with an RV in the first place!
We often get questions about the truck, and its suitability for towing our 7,500lb GVWR travel trailer. The honest answer is: it's complicated. We have a blog post all about it, as well as some of the many, many mods we've done to it!
In addition to mods, we've also accessorized it with a plethora of gear to try and help keep us safe and having fun while off-roading.
But recently, on our epic road trip from Virginia to Florida, Texas, Vermont and finally back to Virginia, our truck rolled over 100,000 miles. To celebrate this big milestone, we decided to treat the truck to a series of upgrades so that, hopefully, it'll be our faithful travel companion (and house-building hauler!) for many years to come.
We also wanted to recognize the fact that although we still consider ourselves full-time RVers, a big focus for us in future will be building our house in Vermont. We need a truck that's well set up for the Vermont climate.
Cabin Air Filter
The first of these upgrades was something that we probably should have done a long time ago - replace the cabin air filter!
Since buying our Airthings View Plus air quality monitor, we've become a lot more aware of the air quality, so we opted to replace the OEM cabin air filter with a HEPA grade filter.
Front Tow Hooks
Our truck is 4WD and the Platinum trim came with chrome tow hooks on the front. Honestly, they look pretty good and functionally they work too. But having used them several times over the years, there are a couple of issues.
First, the chrome plating inevitably starts to chip and get damaged - not helped by how low the tow hooks are on the front of the truck. When the chrome plating is damaged, it allows the steel underneath to start rusting which, if nothing else, doesn't look great. Second, the hooks are fixed and in a recovery situation I find it much easier dealing with D-rings so you can loop straps or chains through quickly.
So, we decided to replace the chrome OEM front tow hooks with a Rough Country tow hook shackle mount kit and black powder coated D-rings.
I think the end result not only looks good, but adds a lot of useful capability in a recovery situation which, now that we're Vermonters, could be very useful in winter!
100,000 Mile Service
Over the years we've tried our best to look after the truck - staying on top of routine oil changes, being diligent about general maintenance, and fixing things when necessary.
But at 100,000 miles the truck is due for a major service, replacing spark plugs, checking and changing fluids, and a full bumper-to-bumper inspection.
As full-time RVers, we're always moving from place to place and finding a good, reputable and trustworthy dealership who will look after us even knowing we're just passing through can be a challenge.
This week we bit the bullet and dropped off our truck at CMA's Williamsburg Ford in Williamsburg, VA. Check out the blog post below to see what work had to be done and how much it all cost!
Wheels & Tires
I'm saving the biggest and most expensive for last - we replaced all four wheels and tires on our truck! After leaving the Ford dealership following the service, I drove straight to Discount Tire where our new wheels and tires were waiting.
Not only is this one of the most significant changes we've ever made to the truck aesthetically, we also hope the new wheels and tires will be better suited for our needs than the OEM ones.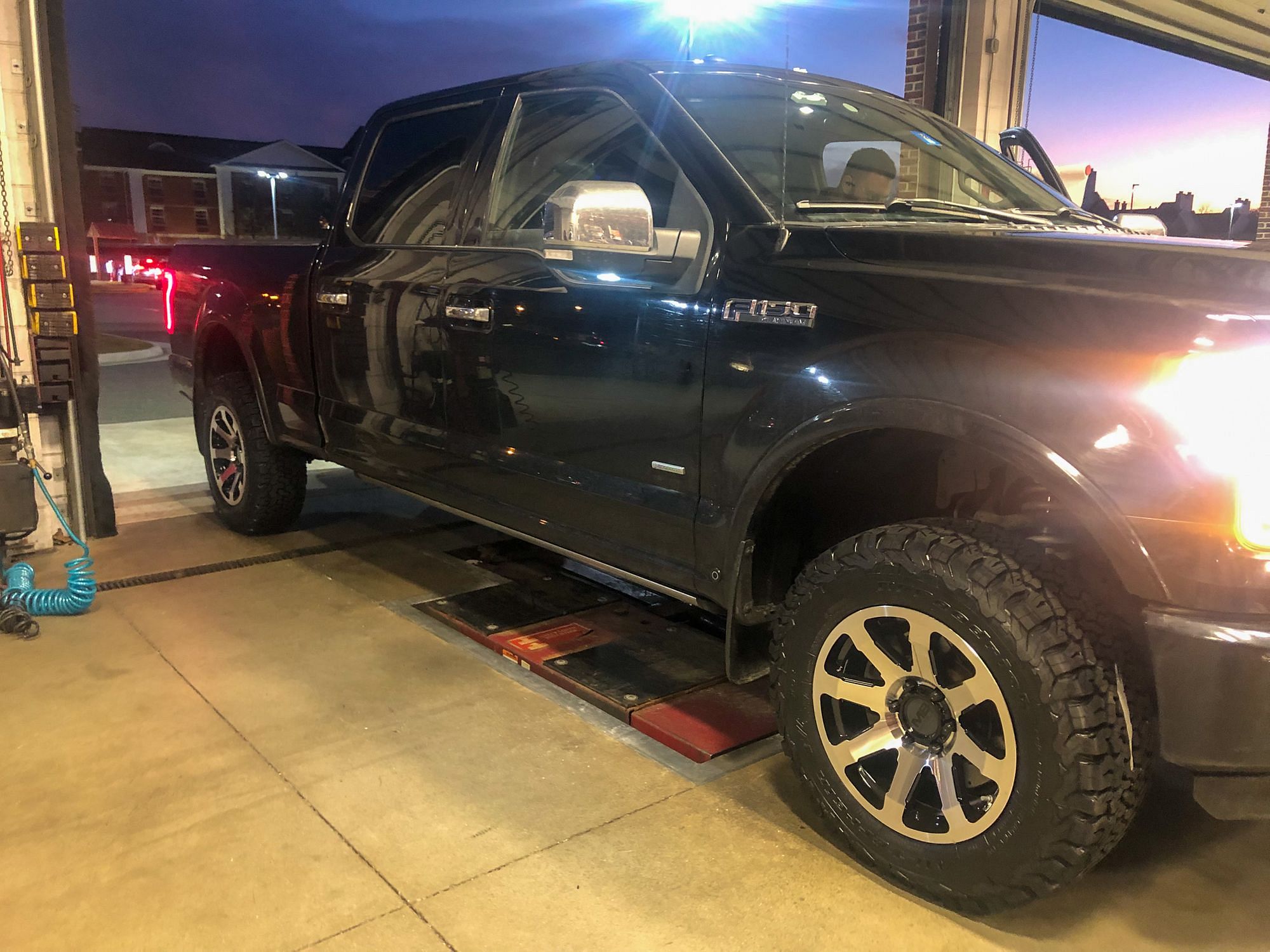 Summary
Reaching 6 digits on our odometer feels like a big milestone in the truck's life, and reflecting back on all those miles reminds us just how many adventures this F-150 has taken us on - from ATV riding to off-roading, daily driver to road trips, moving house to moving our RV!
We're often asked if we would recommend the F-150, and we absolutely would. A full-size truck offers unmatched utility that we've made full use of over the years from its 4WD to its cargo carrying capacity.
In future we'd love to move to an electric vehicle, but for our needs, things aren't there yet so for now we'll be sticking with our Ford F-150.