As an Amazon Associate we earn from qualifying purchases.
Introduction
We should probably start with a confession: we've been to White Sands before. Although White Sands National Monument is our 4th stop on our journey to visit every single National Park Unit in the US, we have been visiting National Parks long before we hit the road full-time in our RV in 2018 to start this journey. In fact, in the years after Diana and I met in 2014, we had visited well over 30 National Parks - and it was because we loved them so much that we decided to visit them all! And since we love a checklist, it made sense to reset the counter to 0 and visit every place in one journey - it's also a great excuse to visit some beautiful places again!
A question we're often asked is: what's your favorite National Park? Honestly, neither of us have a good answer to that question. The reality is that we haven't visited them all yet, and of the ones we have visited, each one has something special and unique about it - be it the wildlife in Yellowstone, the hiking in Yosemite, the dramatic landscapes of Death Valley, and so on.
That being said, I was really looking forward to coming back to White Sands. I'm certainly not the only one to find it beautiful - it's estimated that around 90% of car models produced in the US have been brought to White Sands to be photographed and filmed!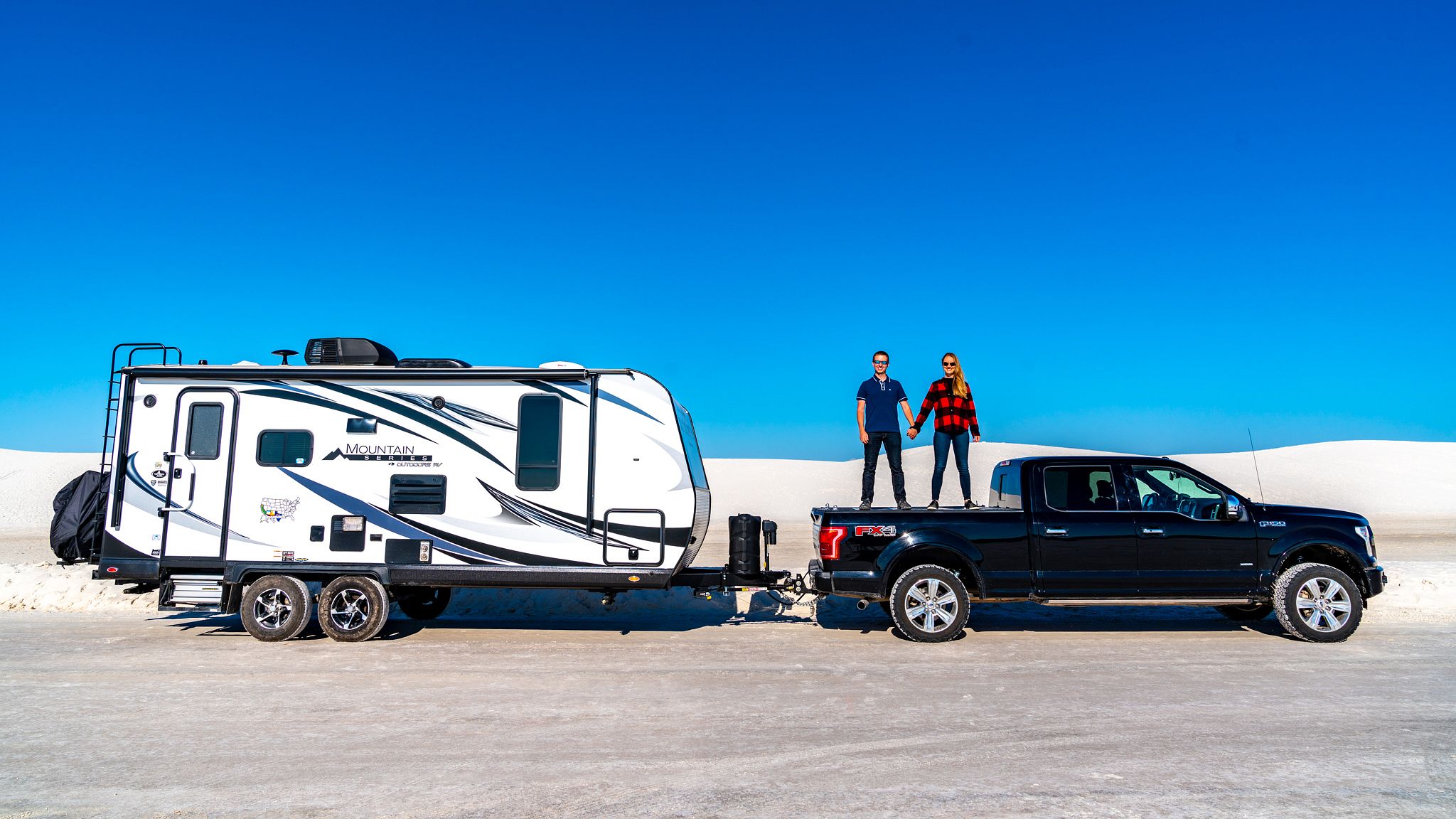 More than that though, we visited White Sands the week of Thanksgiving. We chose to give ourselves a day off on Thanksgiving Day itself (phew!), and we were looking forward to a relaxing day boondocking in one of the most beautiful places we've ever been!
But being us, we wanted to fit in as much as possible during the time we would be here - just 6 days including Thanksgiving! So if you're considering a trip to White Sands, then read on to learn more about things to do here - and if you're not, let us try and inspire you to visit!
Location
Picnicking
In a break with the norm, I'm going to start this post talking about food. We enjoy cooking and eating healthy food - in fact, we very rarely eat out and have a strong bias towards buying fresh produce rather than pre-prepared meals. Maybe we'll blog in future about eating healthily on the road, but for now, let me just say we were excited about the opportunity to picnic in White Sands.
Unlike some of the larger National Park Units, White Sands has an access road that goes deep into the heart of the park. The first section is paved but it quickly turns into an unpaved road on compacted gypsum sand that the park has to plow each day - don't worry though, it's well maintained and no challenge for any vehicle.
This road is punctuated with regular stopping points where you can park your car, get out and explore the dunes - some are mere laybys whereas others are large parking areas. Several of these large parking areas have picnic tables with shades - designed by the park architect Lyle Bennett in the style of Frank Lloyd Wright.
After driving in from Las Cruces, stopping a the Visitor Center to get our Park Passport stamped and watch a short video, we had worked up an appetite and it was time for lunch! Even though it was the day before Thanksgiving, we had no problems finding a picnic table when we drove into the park, with trailer in tow.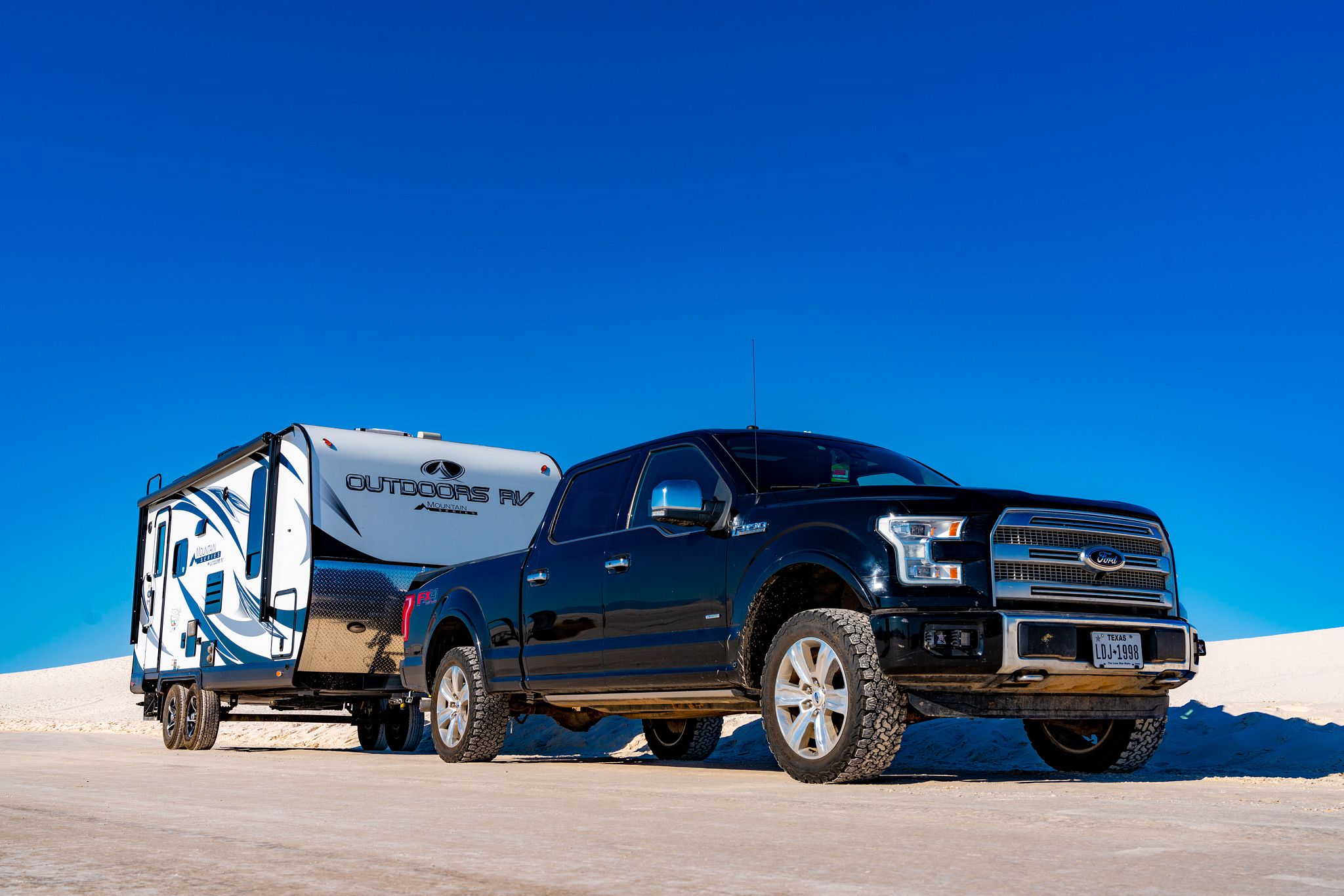 I realize I'm stretching the definition of "picnicking" when I talk about cooking lamb tacos in the fully stocked kitchen of our RV, but that's the point. It doesn't matter whether you're eating a backpacking meal, a picnic from the car or you have your kitchen with you - it's one of the most scenic picnic spots I've ever been to!
Photography
As I mentioned in the Introduction, White Sands National Monument is an incredibly popular photography location - with blue skies and glimmering white dunes, it can make any budding photographer's work look stunning.
Unlike with some other places where your choice of camera gear (camera, lenses, tripods, etc) can be critical, White Sands is very forgiving. The bright skies and white sand mean plenty of light, and there's an incredible breadth of subjects to choose from - wide angle landscapes to close-up plants and flowers.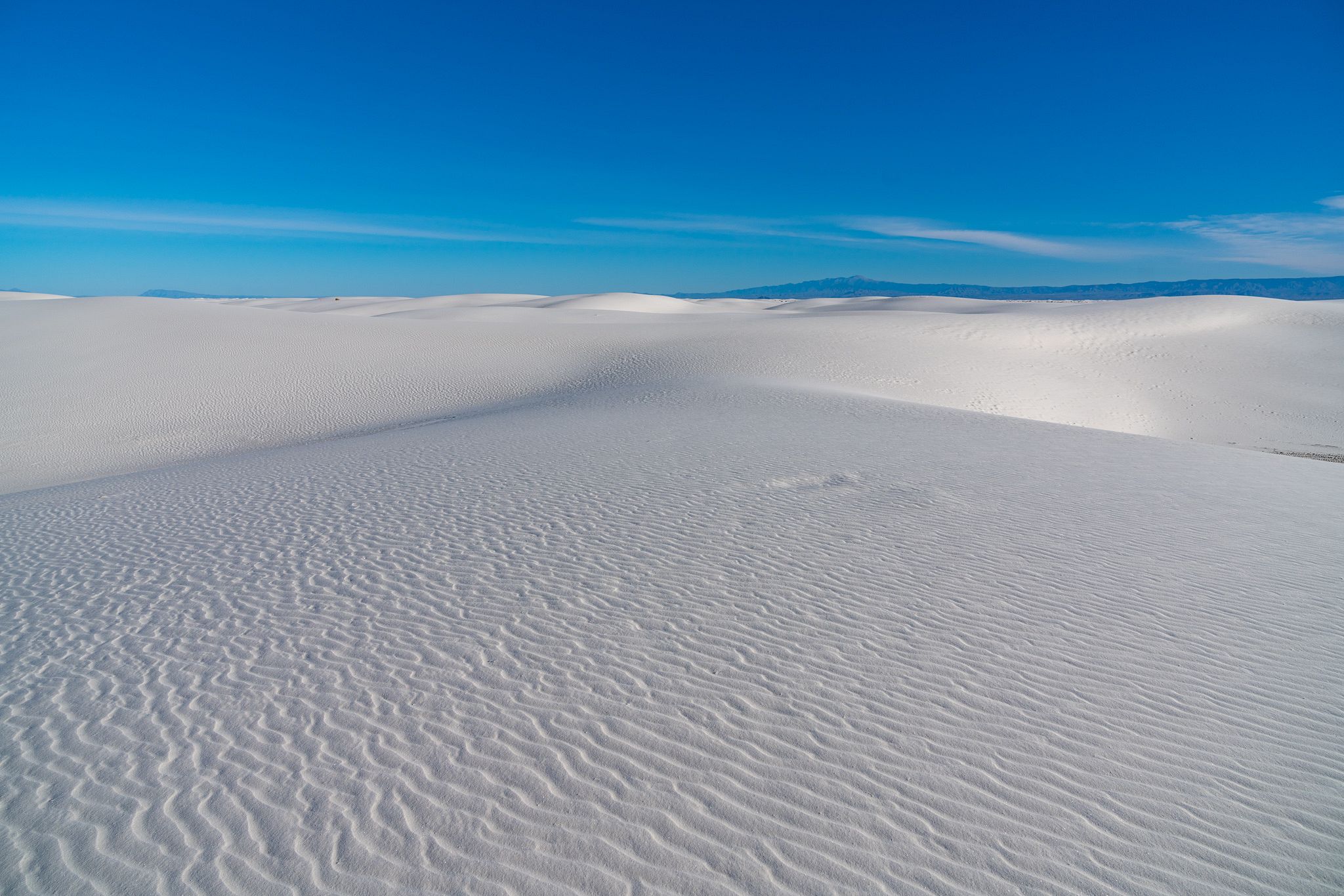 So if you enjoy photography, come prepared to have fun and explore!
Hikes & Trails
White Sands National Monument doesn't have any really long trails - they vary from just 20 minutes or so for the Interdune Boardwalk up to a few hours for the Alkali Flat Trail. The park is at over 4,000ft elevation, and summer temperatures can be extreme, so make sure you take plenty of water - this is a message the Park Rangers are serious about.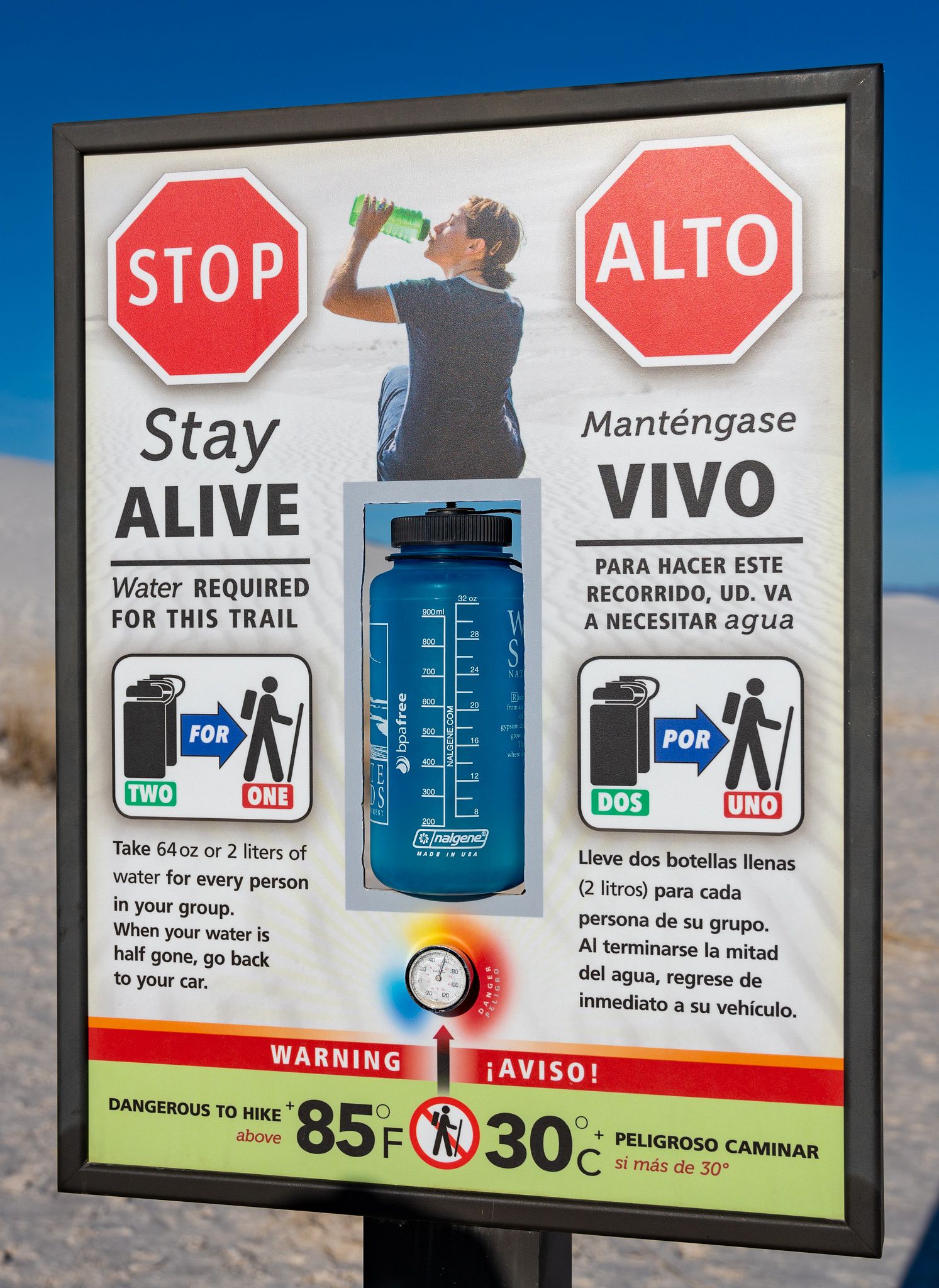 Since the hikes are all pretty short, we elected to do all of them in one day and finish off with a Ranger guided sunset walk. We started reasonably early, around 8:30am, but we were able to comfortably do all the hikes without rushing, and still have time to sit around and chill out (aka people-watch) before the sunset walk.
Alkali Flat Trail
The longest of the hikes in White Sands National Monument, this 5-mile circular hike is rated as strenuous. It takes about 3 hours, and having done it twice now (once when we visited last time, and once again this time), I'd have to recommend it as a must-do activity. The route takes you out into the dunes, and since there's no trail (the dunes are continually moving and changing), you're navigating by following marker posts along the way.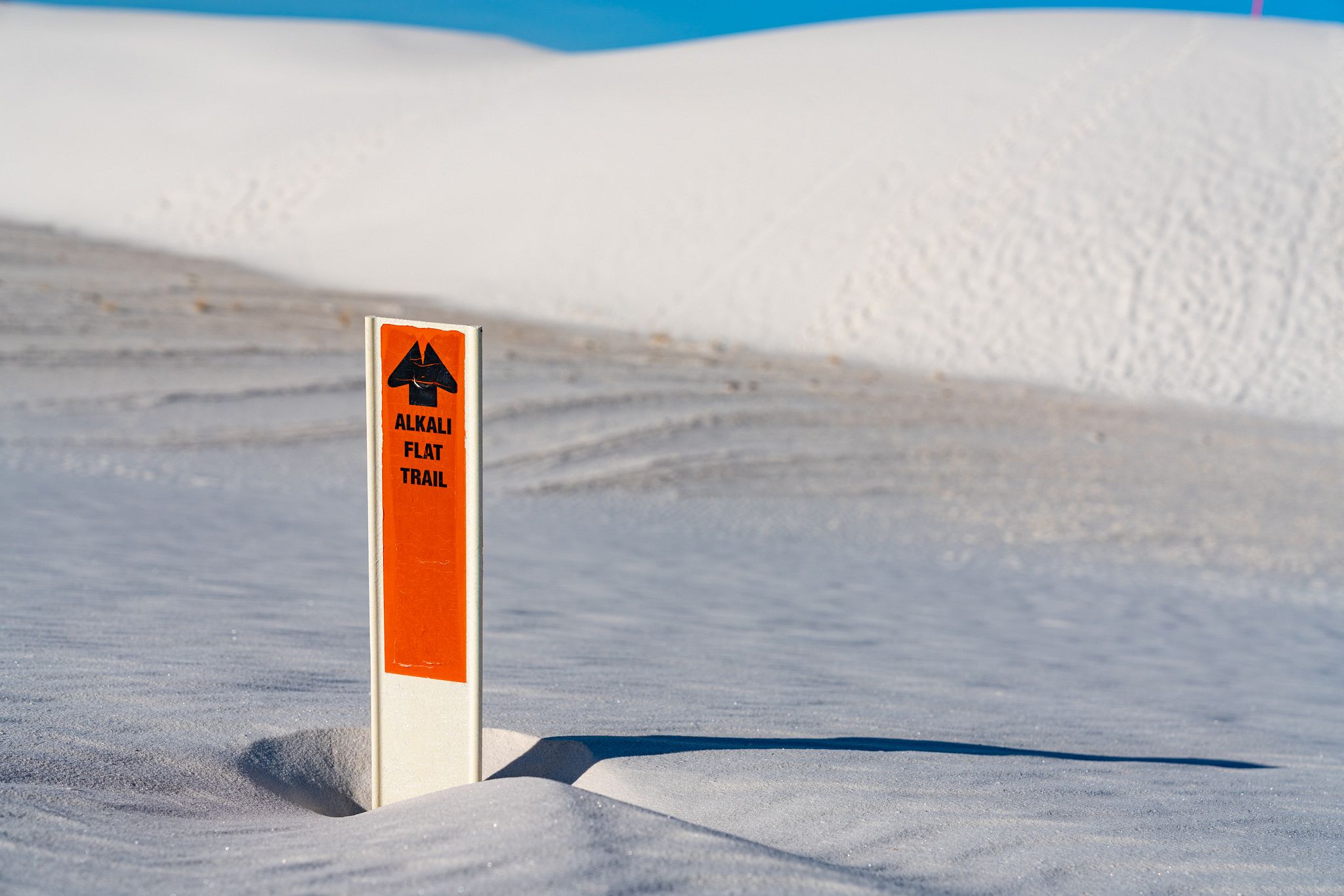 Despite the name, this trail is definitely not flat - you're continually climbing up and down the dunes. Maybe it's because both times we visited we had cooler weather (visiting, like we did, in February and November helps with that!), but I wouldn't have said this is a particularly challenging hike - although I can see that hiking in intense summer heat would make it harder!
The hike affords dramatic panoramic vistas of rolling dunes. Although I find it amazing that these dunes only started forming 12,000 years ago, there are plenty of signs of the constant movement of the dunes even today.
If you're looking for a good hike to get away from the road and explore the dunes, this is the one for you. My advice is to go early in the morning - not only do you avoid the midday heat, but being one of the first people of the day out on the dunes means you're hiking in virgin sand, rather than (literally) walking in other people's footsteps.
Backcountry Camping Loop Trail
Although most of White Sands National Monument is day use only, did you know that it is possible to spend the night in the dunes? Each day, a small number of permits are given out on a first-come-first-served basis to visitors who wish to camp overnight in the park. The permits go fast, so if you're interested in experiencing White Sands under the stars, then get to the Visitor Center early.
Permits are for tent camping (primitive, dry camping with no facilities, obviously) in specific marked sites that are at least 1-mile from the road - you will need to backpack in with your camping gear. There is a small fee for the permits.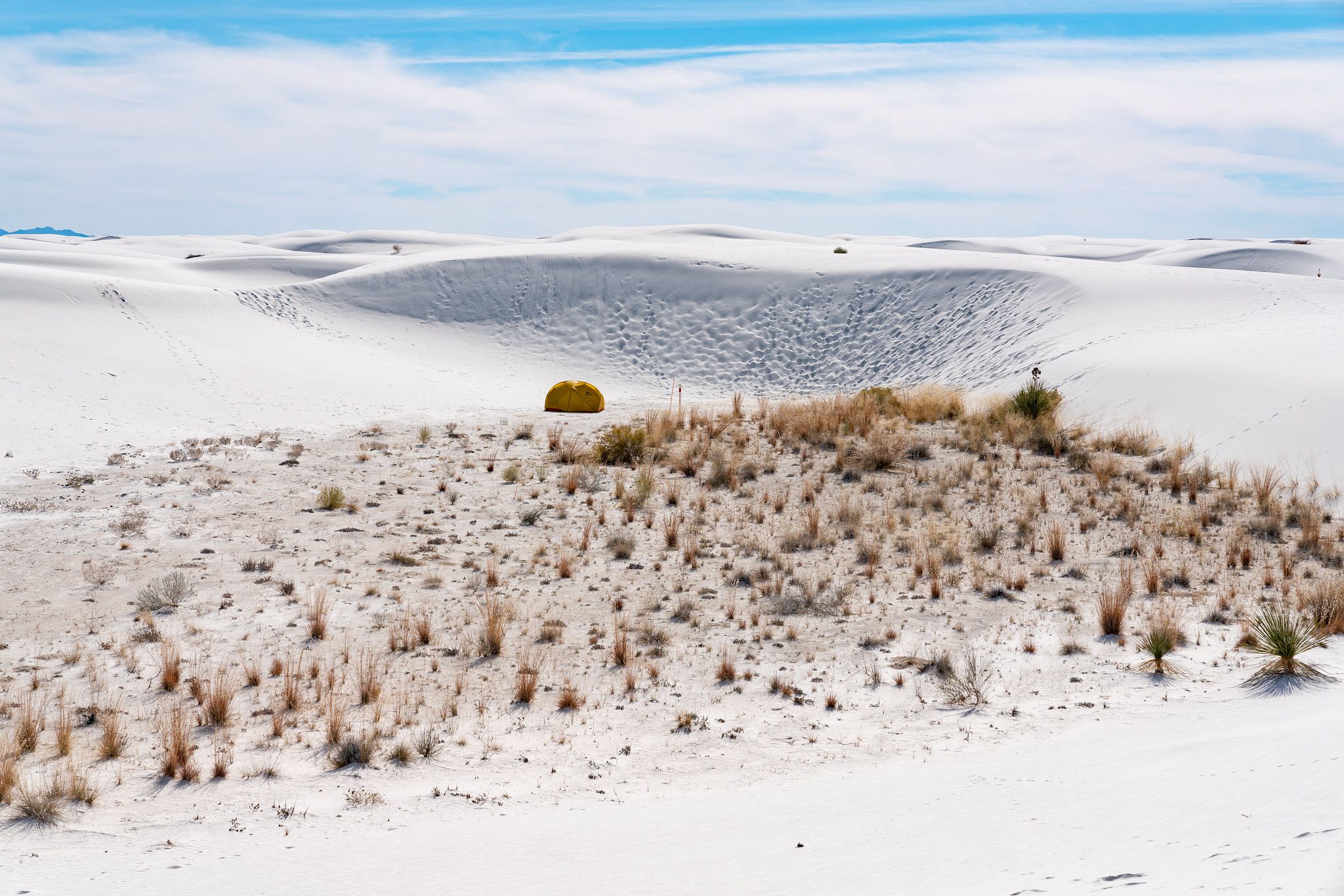 Because it gets cold at night in November, the RV has a propane furnace and a kettle, and we're a bit wimpy, we chose not to sleep in our tent in the park. However, there's nothing stopping people from hiking the Backcountry Camping Loop Trail - this is the route to access the camping spots on short spurs from the main trail.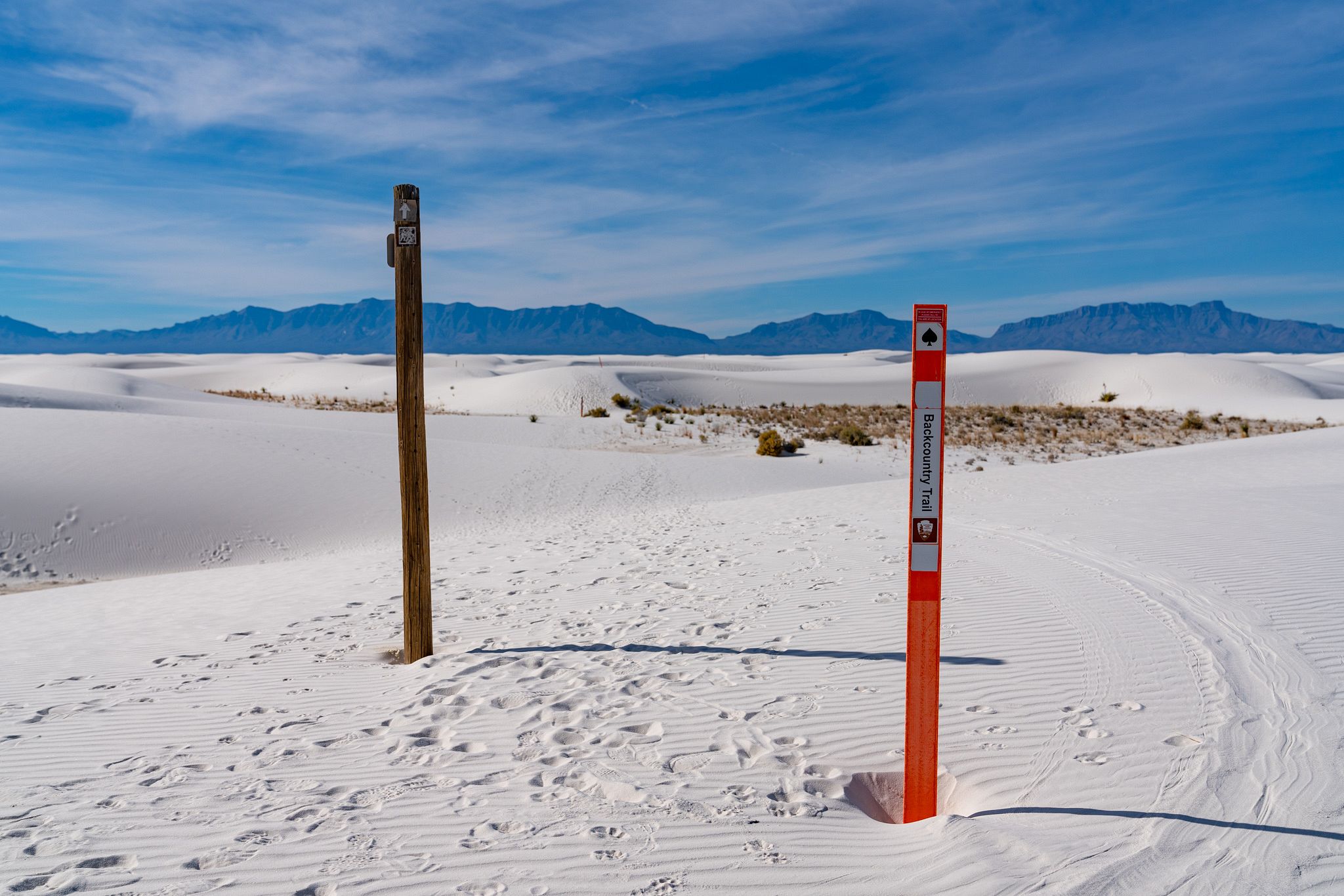 This short 2-mile hike takes around 1.5 hours, and if you're on the fence about whether or not to camp overnight in the park, this is a great way to see what the opportunity offers.
Dune Life Nature Trail
This short, 1-mile circular hike is clearly aimed at children and families. Along the self-guided route are markers and information signs about the animals that can be found in the dunes.
I'm not ashamed to say we really enjoyed this hike though! Most of the wildlife in the dunes is nocturnal, so although we didn't see any animals, it was fascinating to learn about the diversity of animals that do call White Sands their home.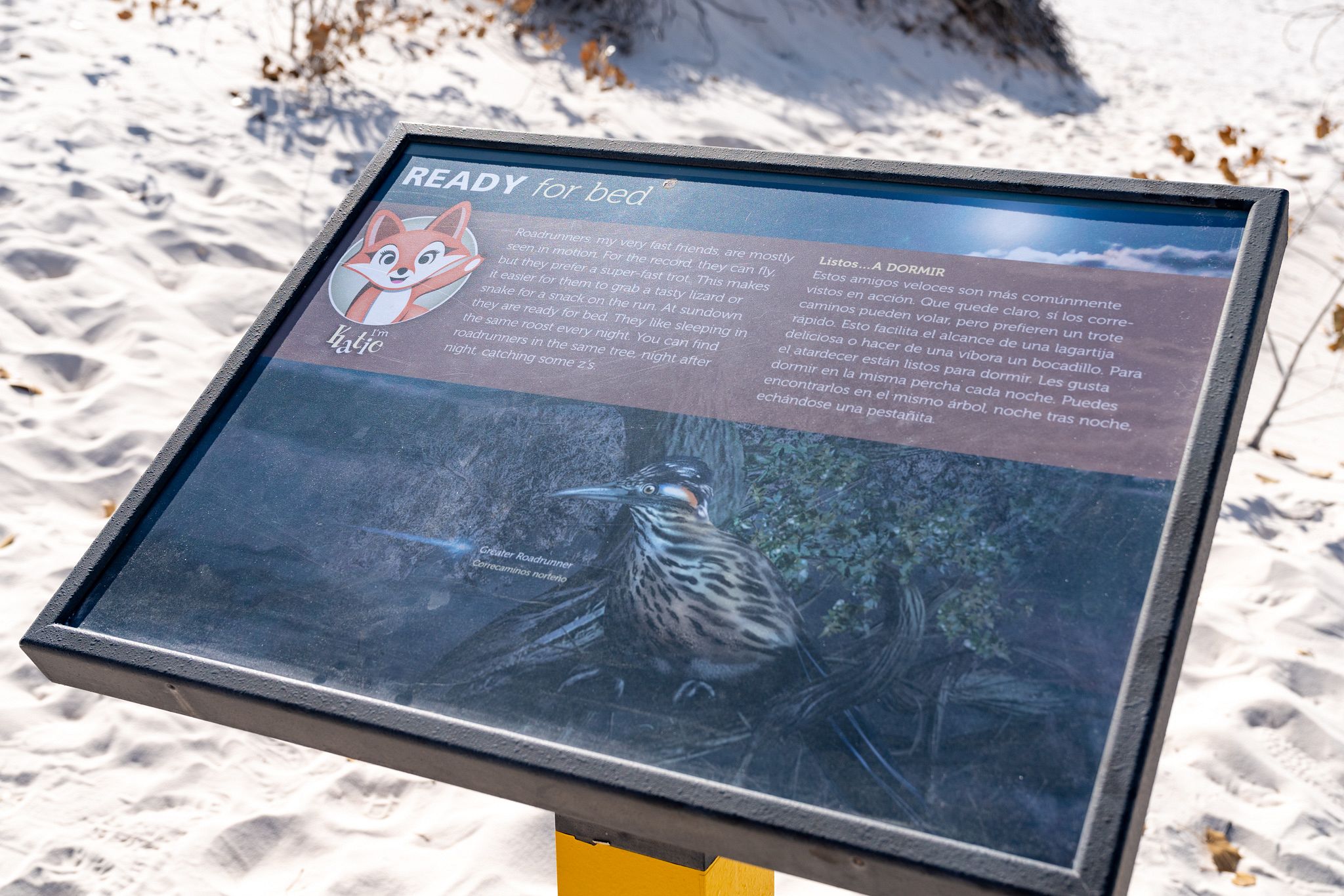 Although the dunes only started forming about 12,000 years ago, many of the animals have experienced rapid evolutionary change to become better adapted for life in the harsh, white desert sand environment. The most common adaptation is a fading of color, so much so that several species are unique to White Sands National Monument.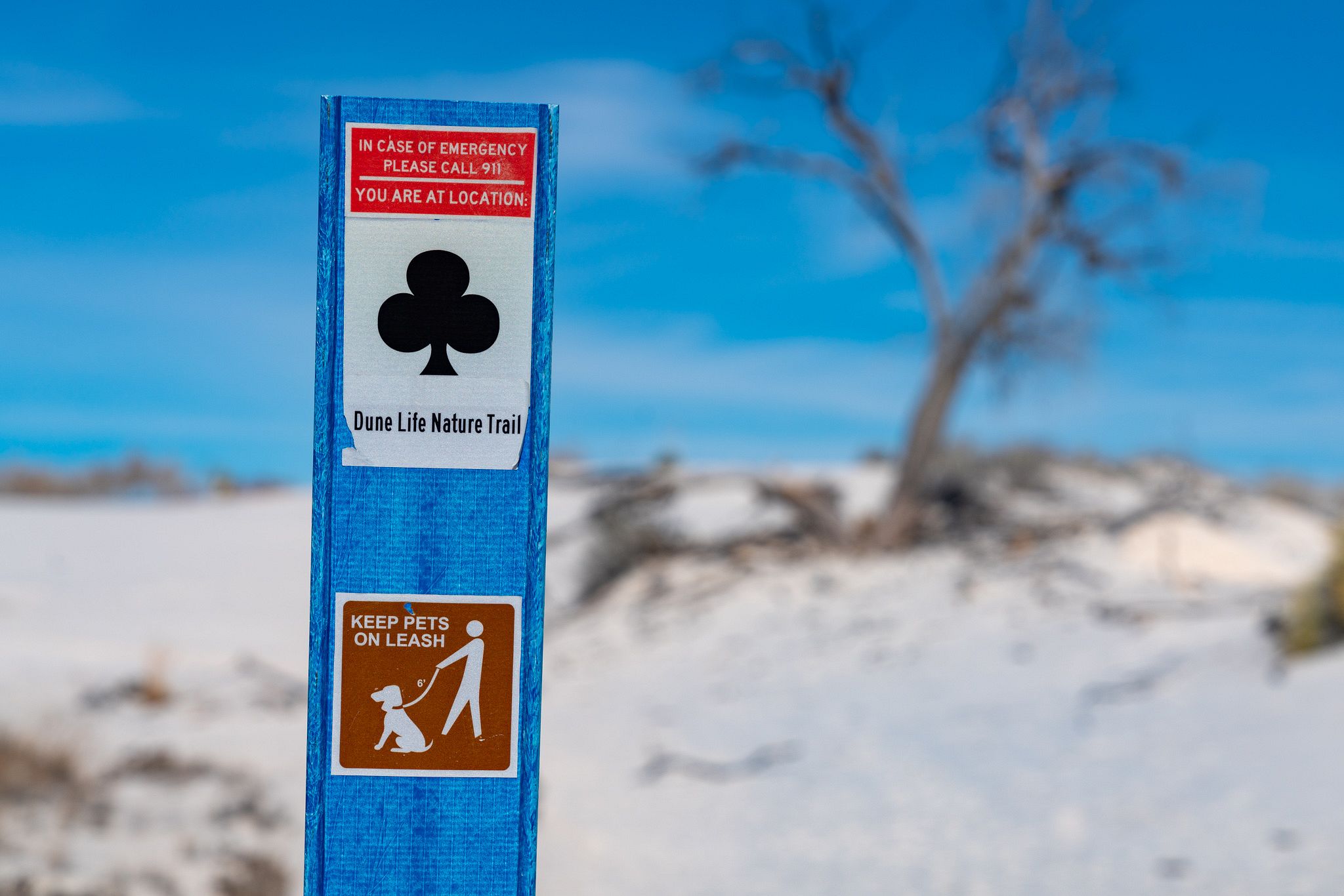 If you have children, or like us just enjoy learning about nature, then this hike is a must-do. I'd also recommend taking the time to watch the short orientation video at the Visitor Center which gives more background on the formation of the dunes and how local wildlife has adapted - in conjunction with this trail, there's lots to learn!
Interdune Boardwalk
This is a short and easy stroll along a boardwalk where you can venture out into the dunes without getting sand in your shoes - but honestly, we're still finding sand in our truck!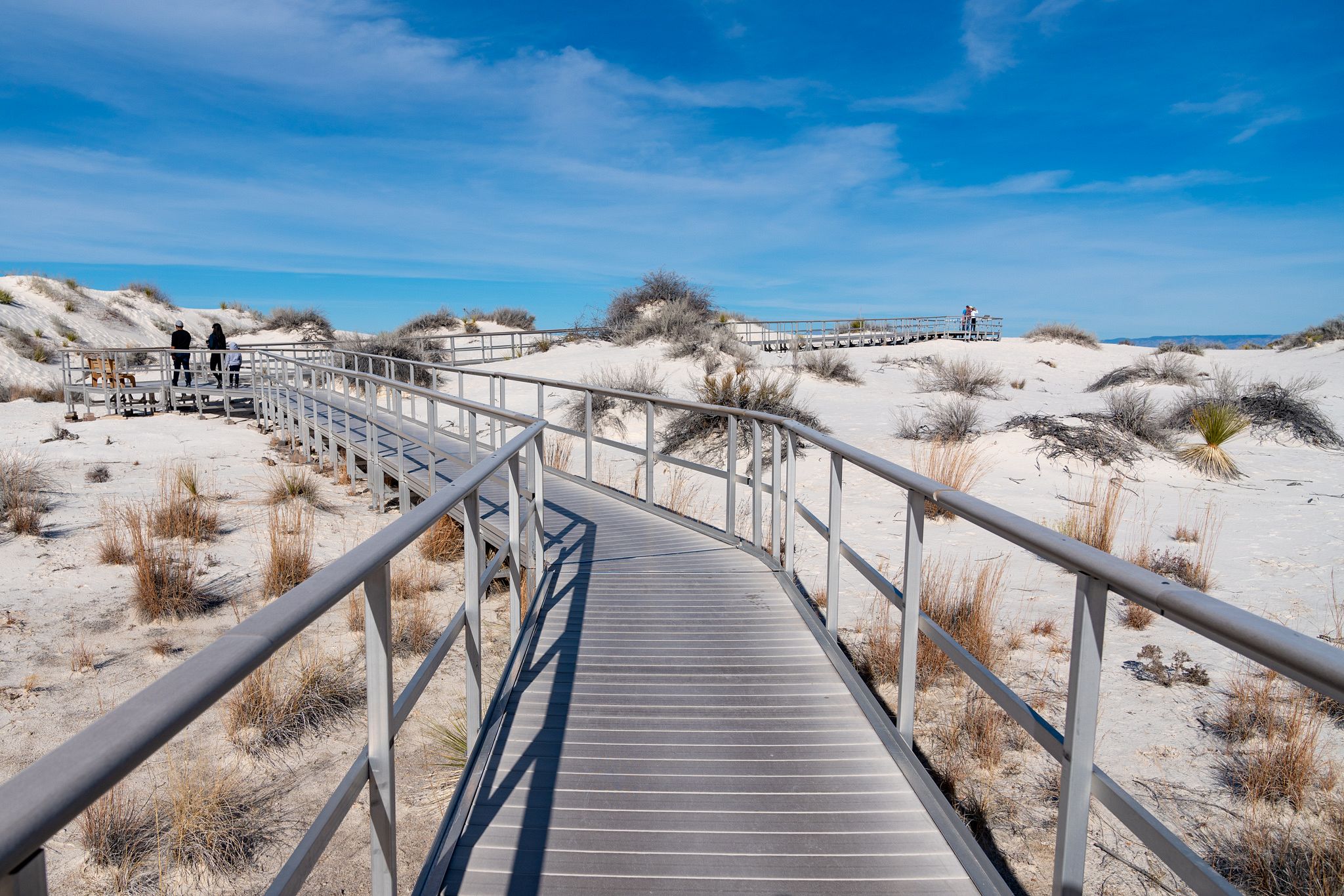 Once again, there are informative signs along the trail that teach you about the flora found between the dunes, as well as how those plants were used by past civilizations.
Playa Trail
At just 0.5-miles, the Playa Trail is the shortest (and easiest) hike in White Sands. Although we didn't hike this trail, if you're after a short and easy hike, this 30-minute round-trip trail could be perfect for you.
Sledding
If you look on YouTube for videos about White Sands National Monument, you won't get far before seeing people sledding on the dunes.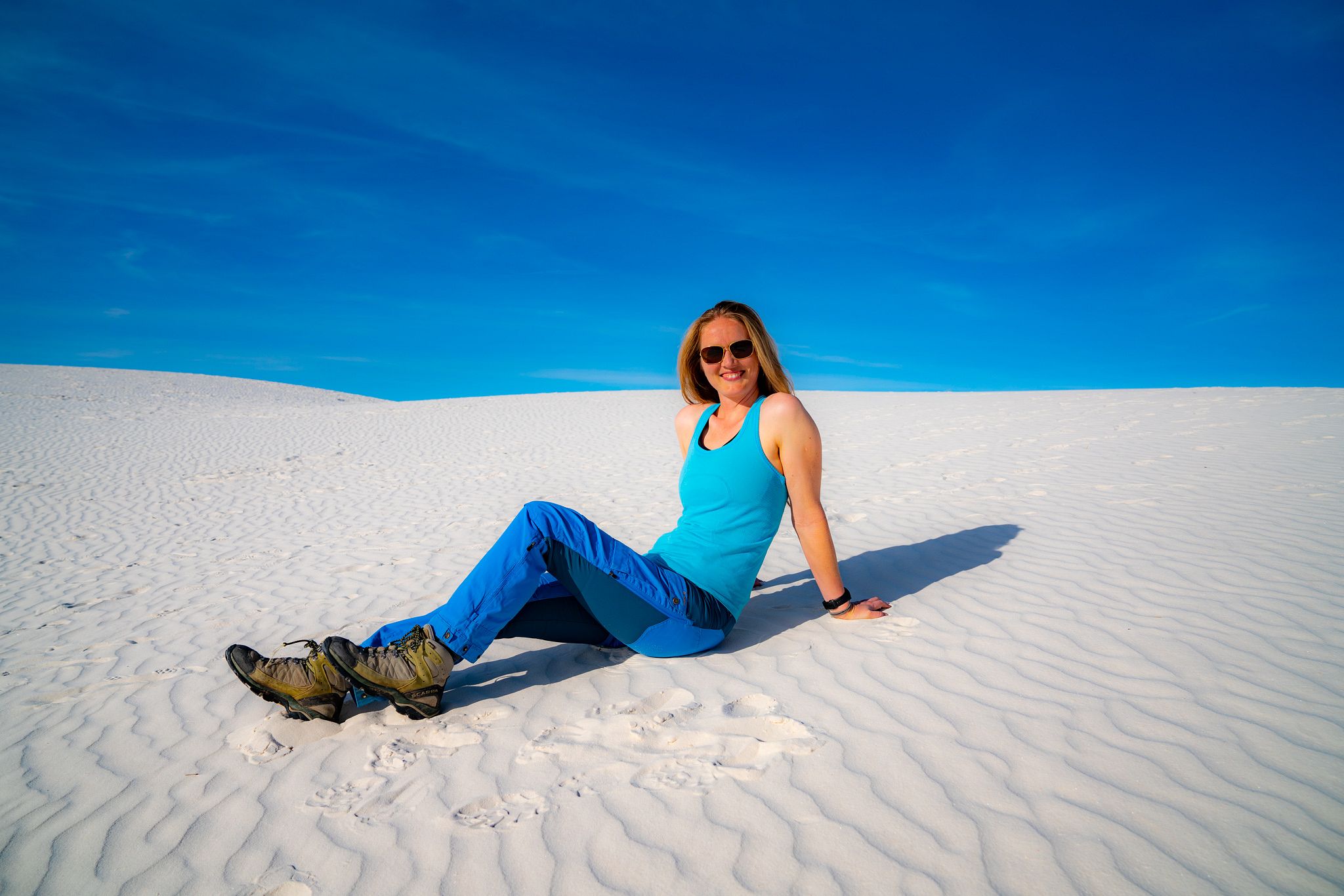 Not only is it perfectly allowed to sled on the dunes, it's encouraged! If you have a snowboard you hate then feel free to bring that - the sand will destroy it though, so you've been warned! A much better option is to use a cheap plastic sled. Don't have one? Don't worry, you can buy them at the Visitor Center gift shop.
Adventurous Tip: If you can buy a sled ahead of time, you'll likely save a lot of money!
Predictably, they're very overpriced to buy, but you can sell them back to the store afterwards - albeit at a much lower price. There's nothing stopping you from buying one somewhere else and bringing it along though - if you plan ahead that far!
There are loads of places where you can go sledding - look near any of the parking spots for the tell-tale stripes down the dunes.
Adventurous Tip:Waxing the sled makes a BIG difference - we waxed the bottom of the sled between each run and it helped it slide so much more easily.
Our plan had been to sell the sled back to the gift shop after we had finished with it. But as we were waiting in the truck for the sunset walk to start, a car pulled into the parking lot - the family inside wanted to go sledding but the visitor center had run out of sleds. Along with another family, we donated our sled so their children could have fun on the dunes - it was the day after Thanksgiving after all!
Ranger Guided Events
In addition to the self-guided tours, we also did two Ranger-guided tours - well, actually only I did the Lake Lucero Tour, but more on that later.
Sunset Walk
Every night, shortly before sunset, the Park Rangers lead a guided walk out into the dunes. The tour is free to join, no reservation is necessary, and there's no limit on the group size - it was very busy when we were there and the tour was well over 100 people!
We followed the rangers out into the dunes, and every so often they'd stop and give a little more information and history about White Sands. I won't spoil all the details, but with their help, we found water!
The walk is timed to arrive at the final stop - just a few hundred feet from the parking lot - just before the sunset. From here you can stay to watch and take photos as the sun sets behind the dunes. It's not the most scenic spot to watch the sunset - there are lots of visitors and the road between you and the setting sun - but it's still beautiful.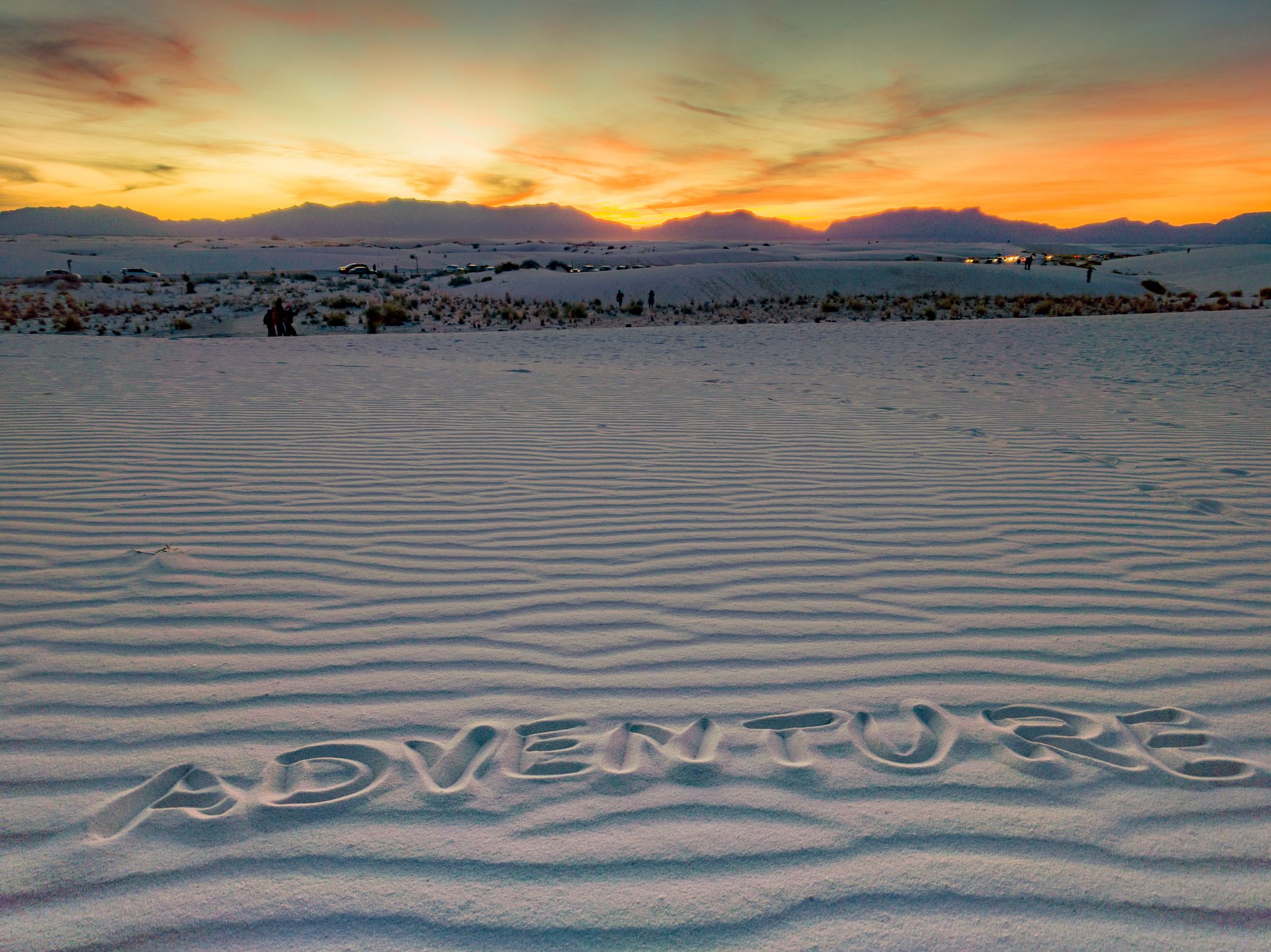 Adventurous Tip: If you really want to get some stunning sunset views, hike away from the road and other visitors to find your own spot in the dunes - it doesn't take long to get away from the crowds!
We were still on the dunes watching the sunset when we heard the Park Rangers announce that we should start making our way out. The National Monument closes the entrance gate shortly after sunset, and they drive through along the road with a loudspeaker reminding people to leave. You've been warned!
Lake Lucero Tour
Unlike the Sunset Walk which is free, requires no reservation and has an unlimited group size, the Lake Lucero is the complete opposite - although only $8, this once-per-month tour has limited spaces and sells out well in advance.
Unfortunately we hadn't planned our trip far enough in advance to book spaces on this tour, so by the time we knew we would be visiting, it had completely sold out. We spoke to the staff at the Visitor Center when we arrived to see if there was a wait list or anything. No joy. It's operated by a 3rd party who collects the payment online - if your name isn't on their list, you can't go.
And then, 2 days before the tour, a space appeared. Someone had canceled! But just one person - not two. We deliberated but decided in the end that we'd book it and just one of us would go.
The Lake Lucero Tour doesn't take place at the main National Monument site. In fact, the meeting point for it is 25 miles southwest down US-70, at the entrance to a military base - they give you details for where to meet when you book. Because it requires driving through the military base, only people whose names are on the list can go. And since Diana isn't a fan of driving the truck, especially on her own, we agreed I would go.
I would highly recommend this 3-hour tour - it's well worth the $8 price. We drove in a caravan, following the Park Rangers, to a location about 20 minutes through the military base. From here, we hiked down to the edge of Lake Lucero - in total a round-trip of about 1.5-miles. We had several stops along the way, where the Rangers told us the story of the Lucero family ranch.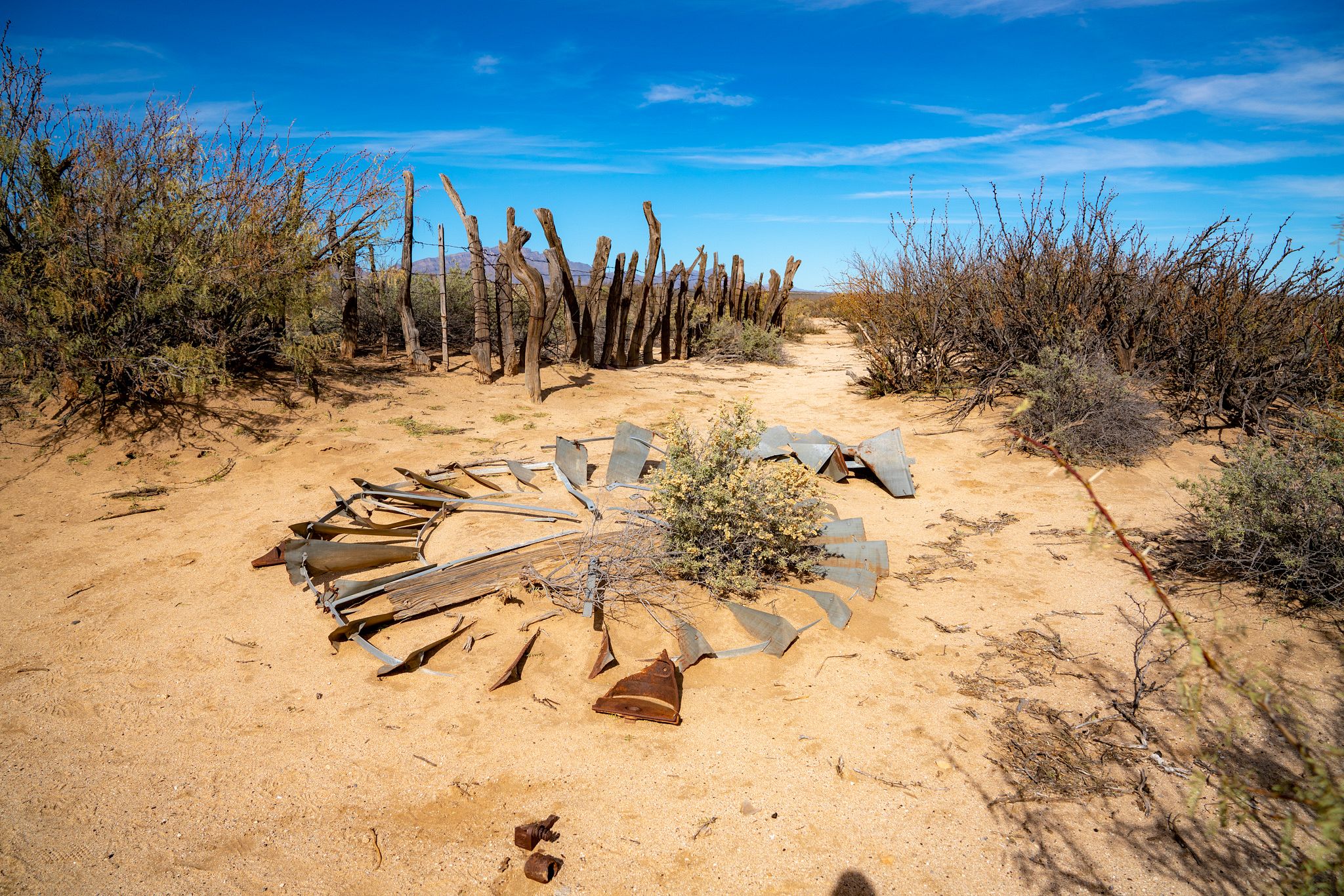 The hike's destination is Lake Lucero itself. We were privileged to see it with water - for much of the year it is completely dry. Lake Lucero is in many ways the birthplace of the dunes - it is the selenite crystals that form here which break up over time and blow east, forming the dunes themselves.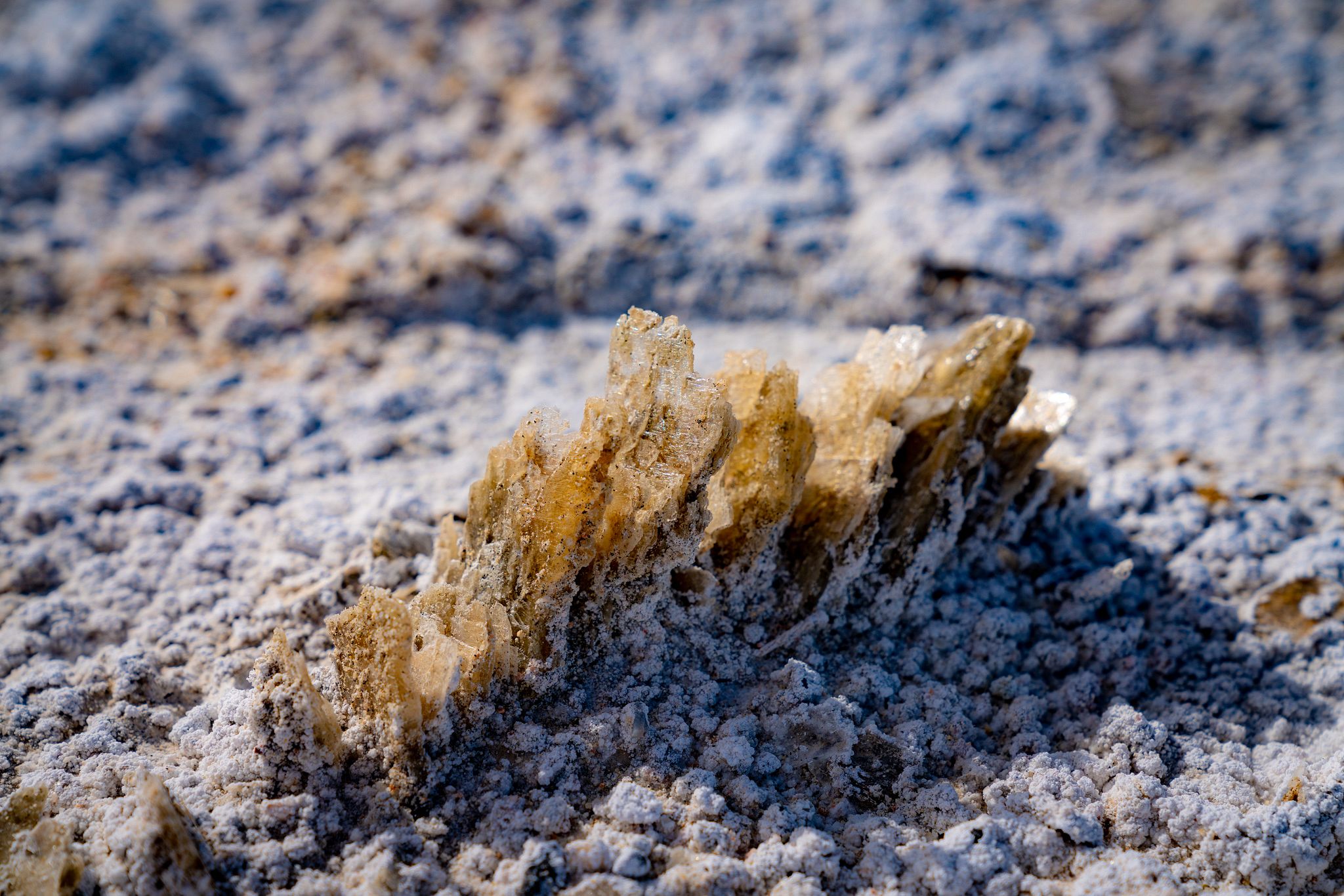 As always, the Park Rangers were incredibly knowledgeable, and I genuinely left with a greater appreciation of not only the geological history of White Sands, but cultural history of the National Monument. I have no hesitation in recommending the Lake Lucero Tour as a must-do activity.

Southern New Mexico Roadtrip
Several years ago, Diana bought me a book called The Most Scenic Drives in America. Inside, it has over 100 road trip ideas, and we keep this book in the car so that whenever we're driving through a new area, we can see if there are any drives nearby.
Not only does the book have clear directions for each drive, but it also gives context and a story about things to see along the way.
One of the drives in the book starts from Las Cruces, but since it takes you up past White Sands it was perfect for us. We spent a day on a beautiful road trip that took us up to Cloudcroft, then to Sunspot, before heading north up to Sierra Blanca Peak, and then back via Smokey Bear State Historic Park. It's a beautiful area, and I'd suggest taking the time to explore - either with the route from that book (which I'd highly recommend) or just exploring on your own.
Camping
Prior to visiting White Sands National Monument, we had spent a couple nights at a campground in Las Cruces we had stayed at before, Sunny Acres RV Park. Our typical pattern for camping has been up to about a week or so of boondocking or dry camping, then a night or two in an RV park to dump tanks, charge batteries, top-up our fresh water and do laundry.
Staying at Sunny Acres RV Park in Las Cruces meant we were ready to boondock for the week of Thanksgiving while we visited White Sands National Monument. We boondocked next to Holloman Lake, right next to Holloman Air Force Base.
The views next to the lake were stunning, and it felt very safe. We did hear a few distant gunshots from the nearby Air Force Base, but nothing disruptive. Overall we loved the boondocking spot and would definitely go back.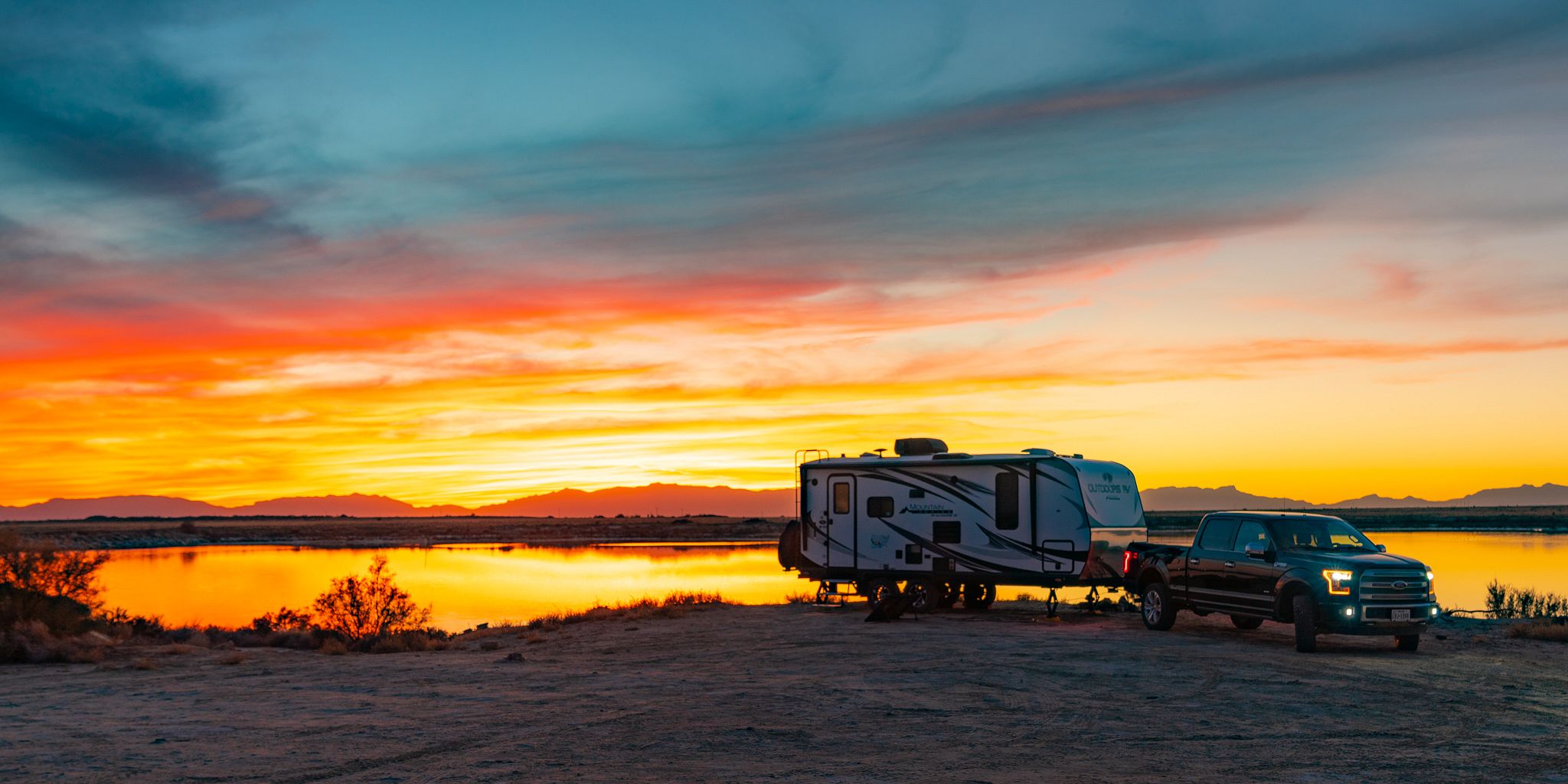 However, we did hear from someone else who stayed there the week after us that for them it was incredibly noisy with various aircraft flying overhead. This is in stark contrast to the experience we had, so either they were very unlucky, or we were lucky - perhaps flight activities were reduced for the week of Thanksgiving.
Either way, there's no denying that it's a convenient spot - you can't camp in your RV any closer to White Sands than Holloman Lake which is just a few miles down the road from the National Monument.
Conclusion
I love White Sands National Monument. I love its beauty. I love its uniqueness. I love its craziness - seriously, the first time you visit it'll take you a while to stop thinking it's snow.
We've been there twice now and I'd visit again in a heartbeat. Although the marked trails are short and it's easy to cover them all in a day, it feels to me like you could spend your life learning about White Sands.
So go along, have some fun, and learn about how it formed and what it continues to teach scientists even today!
White Sands National Monument was our 4th stop on our journey to visit all 418 National Park Units in the US. From here, we're heading further west, this time to Gila Cliff Dwellings National Monument, north of Silver City, NM, so make sure you subscribe to our newsletter and follow our journey on Facebook, Instagram and YouTube.