Introduction
I'm just going to say it - we love Costco!
Before we began our full-time RV journey in the summer of 2018, Diana and I had never shopped at Costco. In my mind, Costco was a discount warehouse, full of cheap, low-quality items that customers had to unpack from bulk packaging themselves.
I don't know where I got that impression, because in reality Costco offers great deals on really high quality items. As of 2015, Costco was the 2nd largest retailer in the world (behind Walmart), and as of 2016 was the world's largest retailer of organic produce! When people think of an organic grocery store, maybe Whole Foods comes to mind, but Costco is by far the market leader.
And last year, in the midst of the pandemic, they opened 9 more stores and net sales were up almost 10% on 2019!
Video
Costco Membership
Costco is a membership-only warehouse. Their basic Gold Star membership costs $60 per year, or for $120 per year the Gold Star Executive membership will also reward you with 2% back on everything you spend.
We joined Costco just after we hit the road in 2018, on our way to the Albuquerque International Balloon Fiesta.
Entrance tickets for the Balloon Fiesta were $10 per person per session (of which there are 1 or two per day throughout the 10 day event). But we found them on sale online at Costco in a 4-pack for $28, or $7 per ticket - a saving of $3. For two of us attending 10 sessions, that meant a total saving of $60, or the price of a basic membership at Costco.
So on our drive to Albuquerque, we stopped in at a Costco to join. From that moment on, we were sold.
Given we live in less than 200 square feet in an RV, people are often surprised that we shop at Costco, but in this article I'll explain how we make it work for us, what we buy at Costco, and some top tips to get the most out of your Costco membership for people living in RVs, tiny homes or even just a small apartment.
How often we go to Costco
There are more than 500 Costco stores around the US (plus 100 in Canada and more stores across Mexico, Europe and Asia), which may sound a lot, but by comparison there are nearly 5,000 Walmart stores! In other words, your nearest Costco may not always be that nearby.
Oftentimes, Costco stores can be found along major highways, which often works quite well for us on travel days as we move around the country in our RV. We'd plan ahead and ensure we were ready to do a big shop at Costco when we were passing by.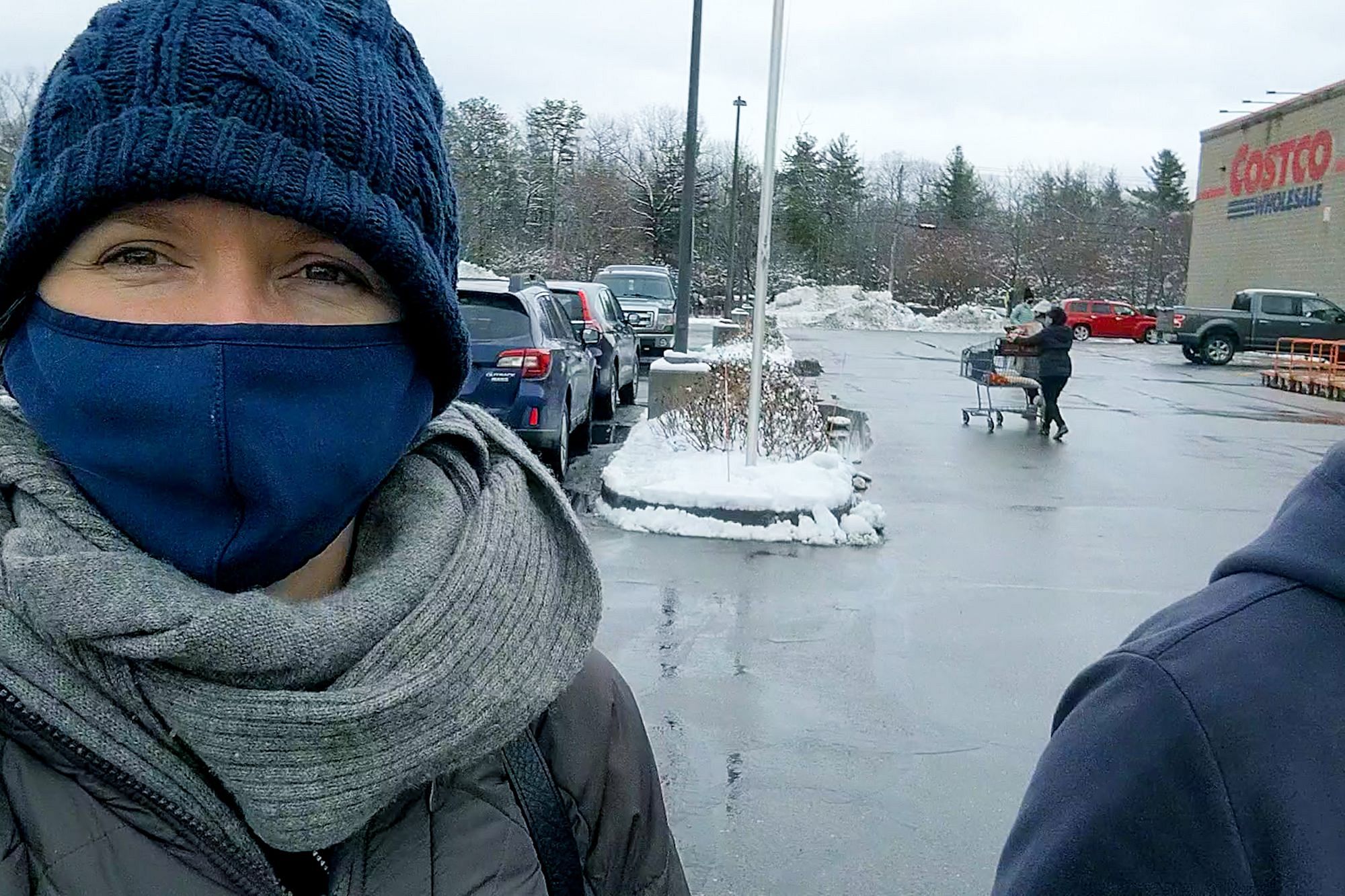 On average though, we probably shop at Costco every 4-6 weeks. Depending on how far away we are from the store, we find that a visit every month or two is about right for us, but if we're closer then we'll go more often.
What we buy at Costco
While Costco is known for their bulk items, they also have a great selection of very competitively priced produce, including a large organic selection.
Overall, they only have about 4,000 product lines, but these do change by location, season and just generally over time. Having shopped at Costco stores across the country (it's fairly unusual for us to go to the same store more than once!), we've found a set of products that we can fairly reliably find most of the time.
As you may have guessed, we've been keeping a record of a variety of products and how the prices compare between Costco and other stores. In general, we've found a simple rule: if Costco sells it, you probably won't find it cheaper anywhere else.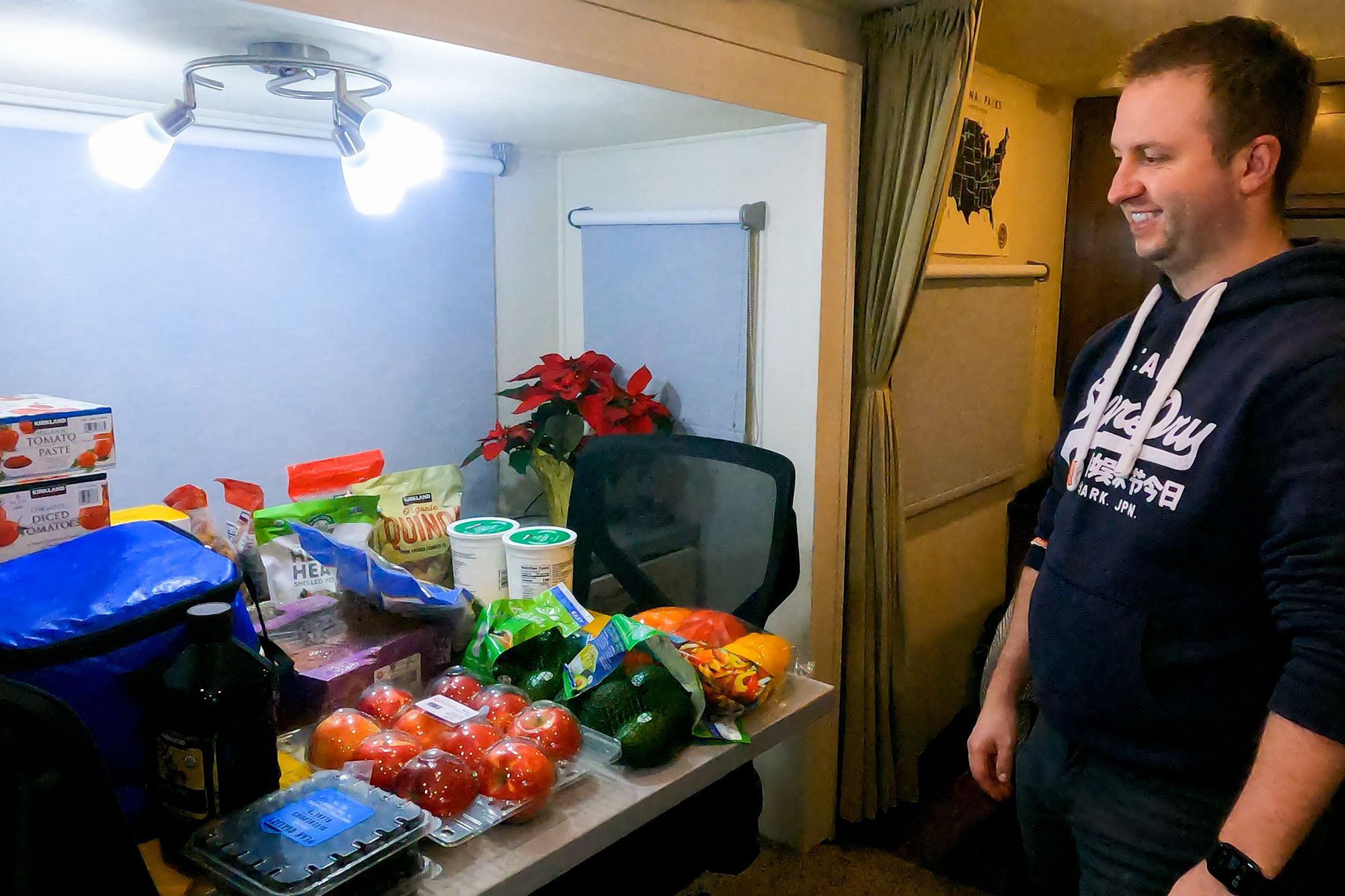 Produce
As the world's largest retailer of organic produce, it should come as no surprise that we like to buy as much produce as we can at Costco. Their range is pretty good, but by no means broad enough for us to buy all our produce there. Here are some of our favorites:
Apples
Avocados (6-pack)
Bananas
Bell Peppers (6-pack)
Blueberries
Carrots
Cucumbers (3-pack)
Raspberries
Spinach
Tomatoes
It's very rare that we've found any of those items missing at Costco, but there are others that are seasonal, less reliably found or that we don't eat as often, including:
Corn
Dates
Mushrooms
Potatoes
Zucchinis
In general, we've always found the produce to be excellent. The avocados in particular store really well, even in our RV fridge. The produce is all pre-packaged, but in general the quantities are pretty reasonable, even just for 2 of us. We usually buy enough to get us through the next week or so, which is about as much as we could fit in our fridge anyway!
Last, we also buy frozen produce too, including:
Frozen Blueberries
Frozen Mixed Berries
Frozen Mixed Vegetables
Meat, Fish & Dairy
Costco is also the world's largest retailer of choice and prime beef, and their famous rotisserie chicken. In addition, they have a good selection of other meats and fish - both fresh and frozen.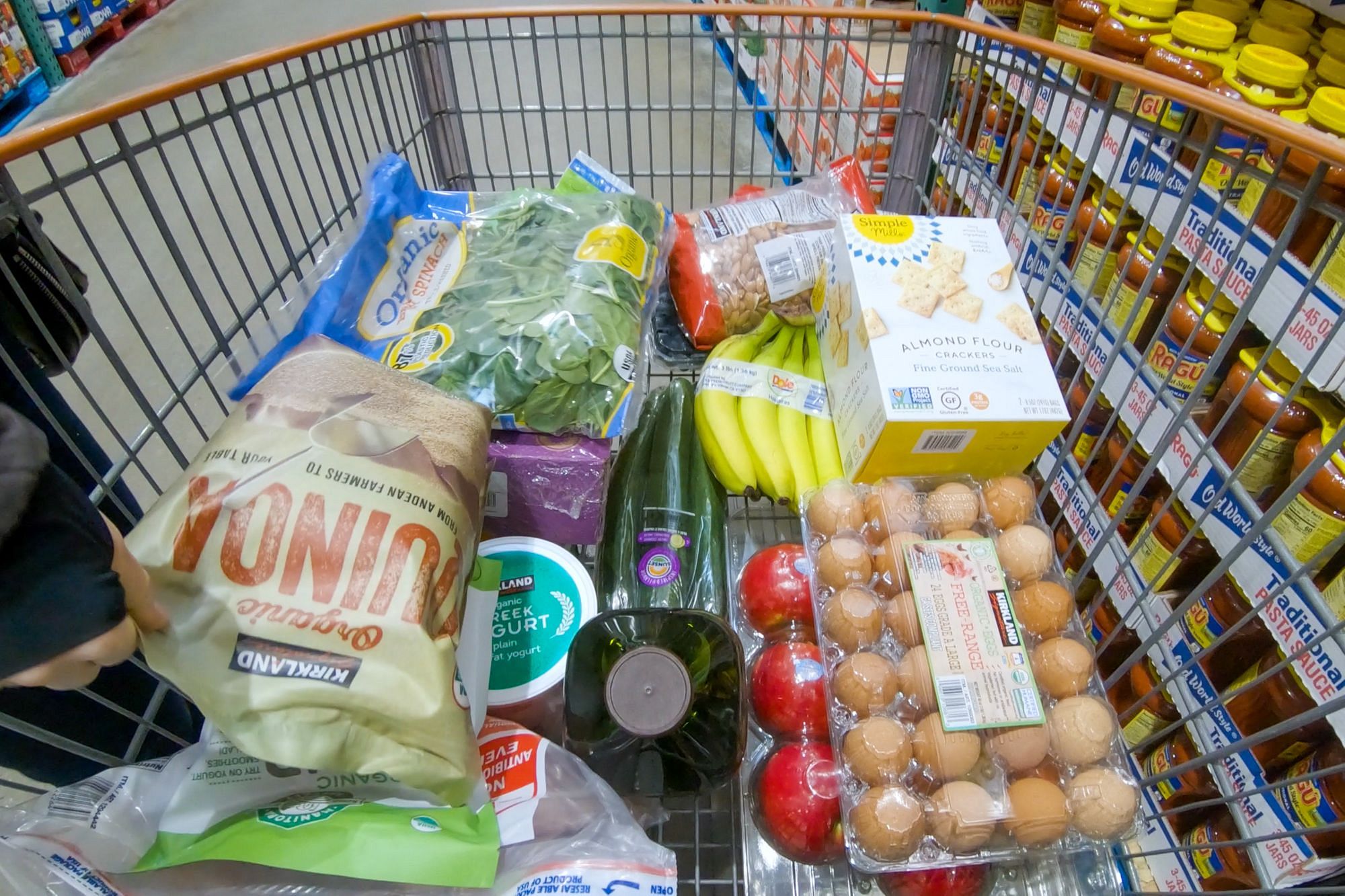 We don't have the fridge and freezer space to buy lots of different things, so we tend to buy just a couple of different meat items each time we go, then meal plan around those. In general though, we tend to buy:
Chicken Breasts
Eggs (24-pack)
Ground Beef
Ground Turkey
Pork Loin
Shrimp (frozen)
From time to time we'll also buy shredded cheese too, but it's such a large quantity that it lasts us for months. Likewise, we've never bought milk at Costco because it's just too big for our fridge. There are other items that we buy too, but just not as often, such as:
Crab Cakes (frozen)
Mozzarella Cheese
Salmon (fresh & smoked)
Salami (sliced)
Tuna (fresh)
If we had more space (e.g. a chest freezer), we'd happily stock up on a lot more meat and fish because they have some great deals!
Pantry Items
We like buying dried and canned goods at Costco because they are generally much cheaper than we can find elsewhere. One of the challenges here though is the size - some things come in reasonable quantities, but others are just too much for us!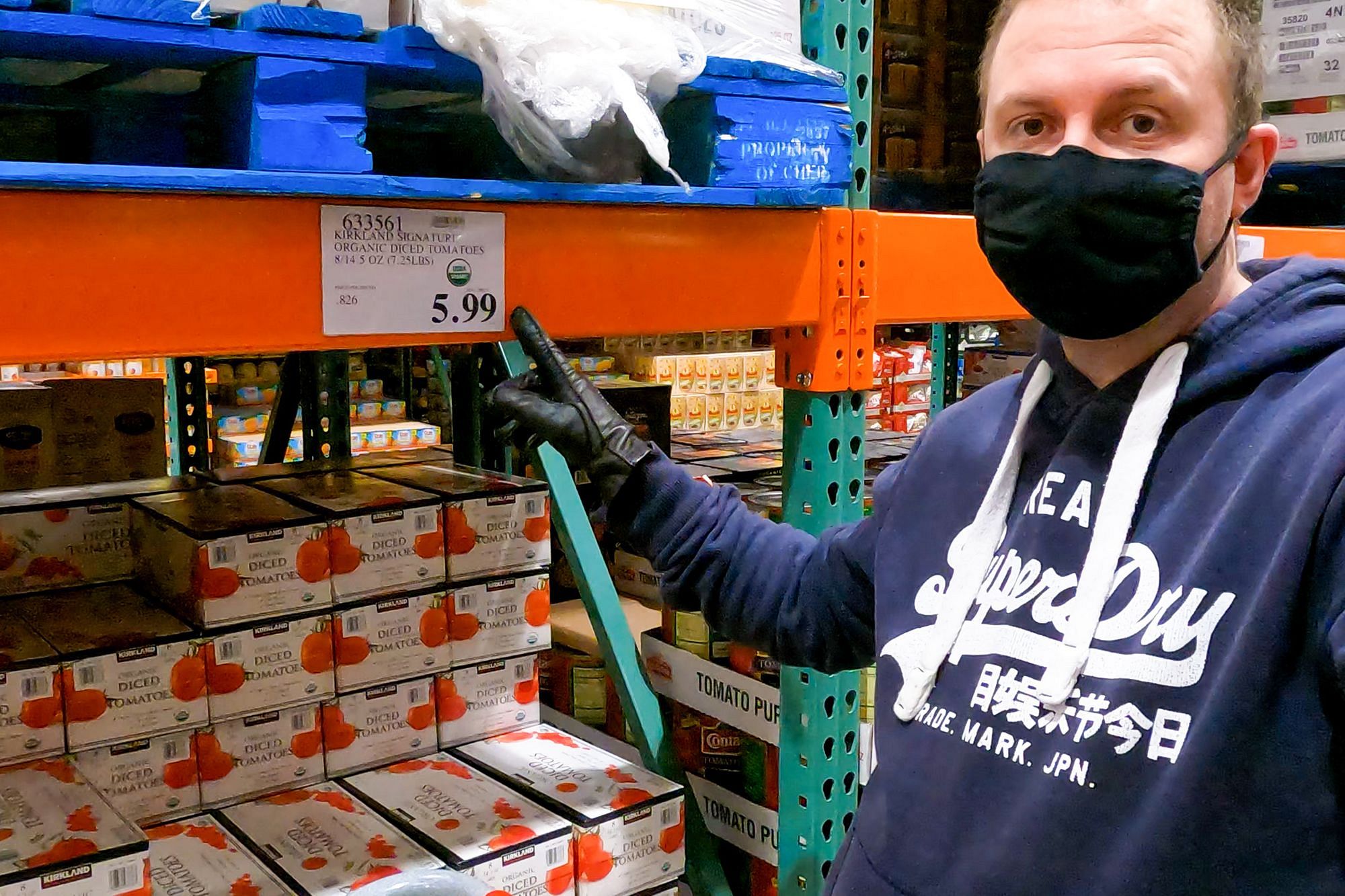 Things like beans, rice and flour aren't available in quantities less than 10lbs, or even sometimes 25lbs! That's too much for us, but we know of other RVers who can make this work for them - particularly if, for example, rice is a staple in your cuisine.
Some of our favorites are:
Almond Crackers
Canned Tomatoes (diced tomatoes, marinara sauce, tomato paste)
Cauliflower Rice
Chia Seeds
Edamame Pasta
Hemp Hearts
Nuts (almonds, cashews, mixed nuts, pine nuts, pistachios, walnuts)
Oil (avocado, olive)
Protein Bars
Quinoa
Seaweed (dried)
Spices (chili powder, cumin)
Vegetable Broth
Once we have a house and more space, we'll probably buy some of the larger-quantity items too like beans, flour and rice.
Household Supplies
By any measure, our household is pretty small - two people living in under 200 square feet. As a result, we don't get through household supplies very quickly, nor do we have the space to store bulk quantities.
Consequently it's not often we buy these items at Costco as we find the quantities are just too large for us to handle. In fact, the last time we bought the following items was 6 months ago and we're still working through them:
Dish Soap
Hand Soap
Zip-lock Bags
Notably absent from this list is toilet paper. Alongside the fact that we just don't have space to buy in bulk, we prefer to by septic-safe RV toilet paper from Walmart - it comes in packs of 4 and works well for us.
Gas
Because Costco stores are often out of town, they offer cheap gas to entice customers to drive out into the exurbs and visit. Their gas is sold almost at cost, and in 2020 it averaged about $0.21c per gallon below market price!
They don't sell diesel which may be an issue for a lot of RVers, but we have a gas truck and we try to stop at Costco for gas whenever possible. In fact, on our big coast-to-coast road trip last fall, we made an effort to stop at each Costco we passed to fill up with gas, which saved us a lot of money!
Other
Last are a set of miscellaneous items that we buy from time to time at Costco. The first is personal care items, including:
Advil
Cough drops
Emergen-C
Costco also has a pharmacy although we've never used it.
We've similarly never bought tires at Costco, but we did buy a new truck battery from there last year.
Overall, our rule is simple - if Costco sells it, we probably won't find a better deal elsewhere. So in general, we tend to check first to see if we can buy it at Costco, and if so, that's where we'll go.
Even as a couple with no kids, living in a tiny RV, the Costco membership is easily worthwhile. We have the $120 Executive Gold Star membership which gives us 2% back, and we find that gives us back a little more than $60 each year, making the upgraded membership worthwhile - in the last 6 months, we've earned $36 for example.
Top 5 Tips
Buying in bulk isn't a strategy that seems to make sense for people living in small homes, but we've proven that it can work. Here are our top 5 tips:
Focus your meal plan
We like to say that in our RV, we can have anything we want, we just can't have everything. With limited space and resources, it's all about focus - whether it's hobbies or gadgets, we have to be picky.
And meal planning is no different. We simply don't have space in our pantry, fridge or freezer for a huge selection of different items - especially in Costco quantities! So instead we tend to be more focused with our meal plan. For instance, we may plan several meals in a row using ground beef, or frozen shrimp. Next time we go to Costco, we might instead focus on meals with chicken or turkey.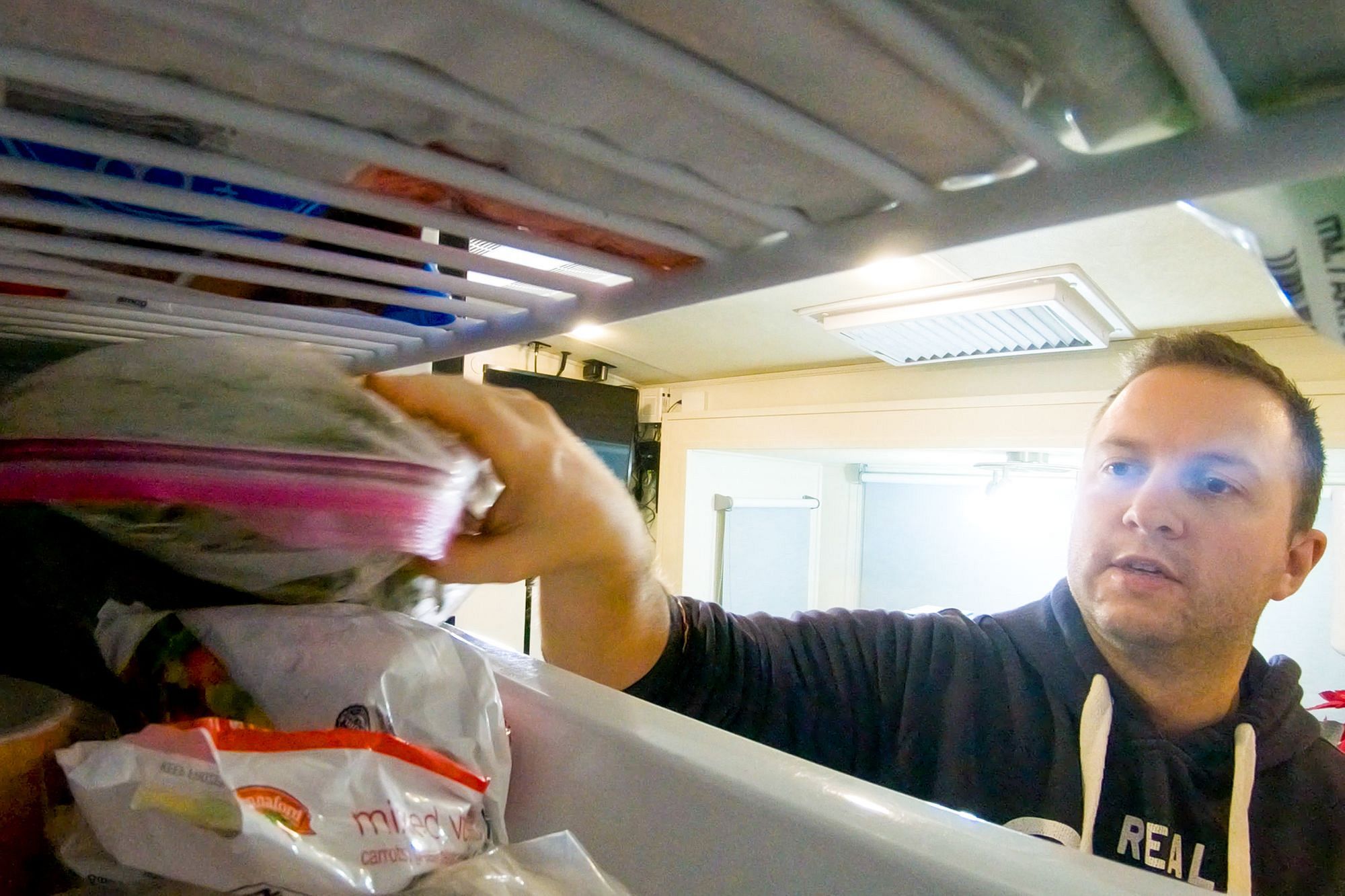 The same applies to dried goods like rice - our friend Chris and Aaron from Irene Iron Travels live in a Class B Airstream van but still manage to buy rice in 25lb bags from Costco! If you can do this then it's worthwhile, as the savings can be huge!
Split it with friends
Maybe you live alone or travel solo, or maybe you just don't have space. Either way, if Costco quantities are still too big for you, consider splitting with a friend.
Costco membership allows you to take a guest along with you each time you visit, so splitting your shop with a friend could be a great way to save money. It's not just Costco that this works for - we did it with POWWOW in Arizona too.
Buy fresh produce
Unlike the pantry items and household supplies, Costco's produce usually comes in pretty manageable quantities. If you have a Costco store nearby, or you're passing one on a travel day, stopping in to buy some produce is a good plan.
We've found huge savings on items like blueberries and avocados, and they don't take up too much space!
Stop for gas (and propane)
If, like us, you have a gas vehicle, filling up at Costco adds up to big savings. Based on the average savings of $0.21c per gallon, that's more than $7.50 per tank in savings for us! On a long drive, especially when we're towing, that makes a big difference.
We use the Gas Buddy app to find the cheapest gas in an area or on our route, and while invariably Costco is the cheapest, it's still worth checking to make sure.
As a side note, we've also found that Costco parking lots are very RV-friendly. We've never had a problem finding a space at the back of the parking lot to park the truck and trailer, even at busy times.
Speaking of gas, some Costco stores also have propane, and like other items they tend to be the cheapest in the area. We use Google satellite view to check it out in advance, and then stop in on a travel day to fill our tanks.
Don't shop hungry
We have two simple rules at Costco:
Never shop hungry
Don't buy candy, chocolate or pastries (except at Christmas)
Before COVID, Costco was renowned for offering free samples throughout the store. These are a great way to try out new products, and also super tasty too. But you still don't want to turn up to Costco hungry - if you're anything like us, your cart will fill up with things you really shouldn't be buying!
That said, Costco does have food available to eat in-store (although in-store seating has been removed during the pandemic), and it's really cheap! Their pizza is just $2 per slice and is AMAZING - we end up with a slice each more often than we'd like to admit.
Conclusion
Costco runs a very different business model to many of its competitors. It has just 4,000 SKUs (products) compared to 140,000 at Walmart. They don't aggressively mark-up individual items like Target. And their gas is sold at near-cost.
Instead, the majority of their income comes from membership fees - $3.5B out of $5.4B in 2020. As a result, Costco is incentivized to keep prices low and quality high - in fact, more than 90% of US members renew each year!
We count ourselves amongst the 59 million households who call themselves Costco members, and we'll be amongst the 90% who renew this year too. We've learned how to get the most out of Costco for our needs, and we've saved a fortune since we started shopping there in 2018.
If you've never shopped at Costco before, find a friend with a membership and see if you can tag along next time they go shopping. I'd encourage you to do your own price comparisons and see which items work for you - there are loads more that I haven't mentioned at all (clothing, furniture, kitchen appliances, etc).
Let us know in the comments what some of your favorite Costco deals are - we're always on the lookout for new ideas!