As an Amazon Associate we earn from qualifying purchases.
Before we jump in, I just want to take a minute to welcome you if you're new here. We've had lots of new subscribers in the past week, and we're excited about sharing our journey with you - welcome!
Basic Solar
Many of our newest subscribers joined us after seeing my Basic Solar presentation at the 2021 Online RTRs, hosted by the Homes on Wheels Alliance.
It was my first ever live streaming presentation on YouTube, and I was a little nervous about it! It seemed to go well though, and judging by the comments and messages we've received, people really enjoyed it.
"Wonderful presentation! I have a much better understanding of solar systems." - Susan Williamson
"Super! Even a dummy (me) can understand with a presentation like that. Thanks!" - Carmie58
So if you haven't seen it already, and are interested in learning a little bit about solar, be sure to check it out!
The feedback has been really inspiring and helpful as I continue to work on the RV Electrical Essentials course that we're hoping to launch in the very near future. I'm really excited with how it's progressing, and look forward to sharing more with you very soon!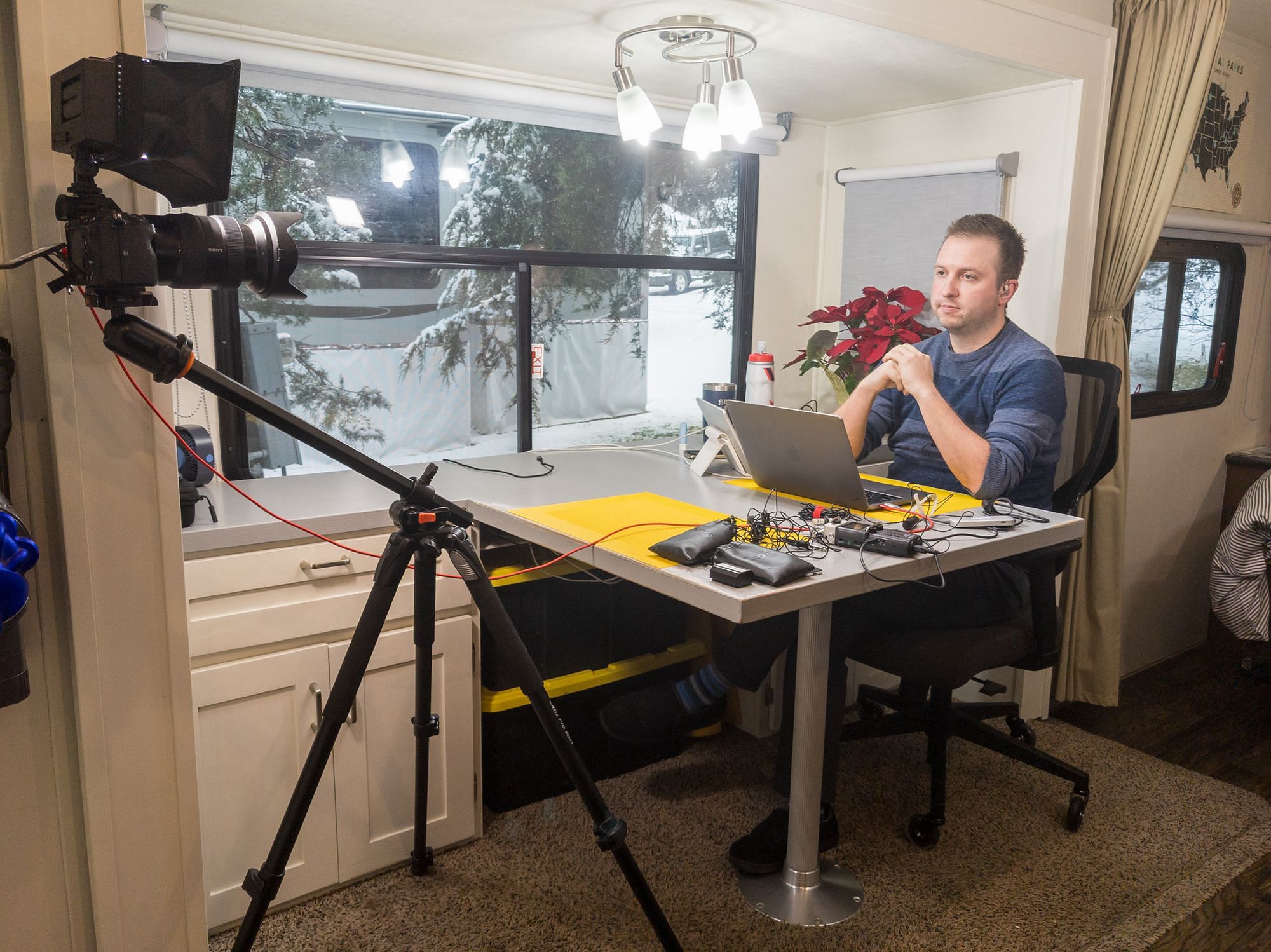 It was also a great opportunity for us to test out our new setup for filming in the RV!
If that presentation inspired you and you want to learn more, in the meantime check out a presentation I did last year at the Xscapers' Annual Bash, all about RV Electrical Upgrades.
RV electrical basics & RV solar explained (RV Electrical Upgrades talk at Xscapers Annual Bash 2020)
Winter Update
When we were looking at the long-term weather data before arriving in Vermont, we found that the coldest temperatures were typically in late January. And that's where we are now, so I think of this as being close to "half way" through the winter.
So this seemed like a good time for a bit of an update.
First, a disclaimer. As I talked about a few weeks ago, according to the National Weather Service, this winter has been unseasonably warm. Good for us in the RV, but not so good for skiing!
The graph below shows the last 30 days of temperature data from some of our sensors - just look at that outside temperature on Christmas Day!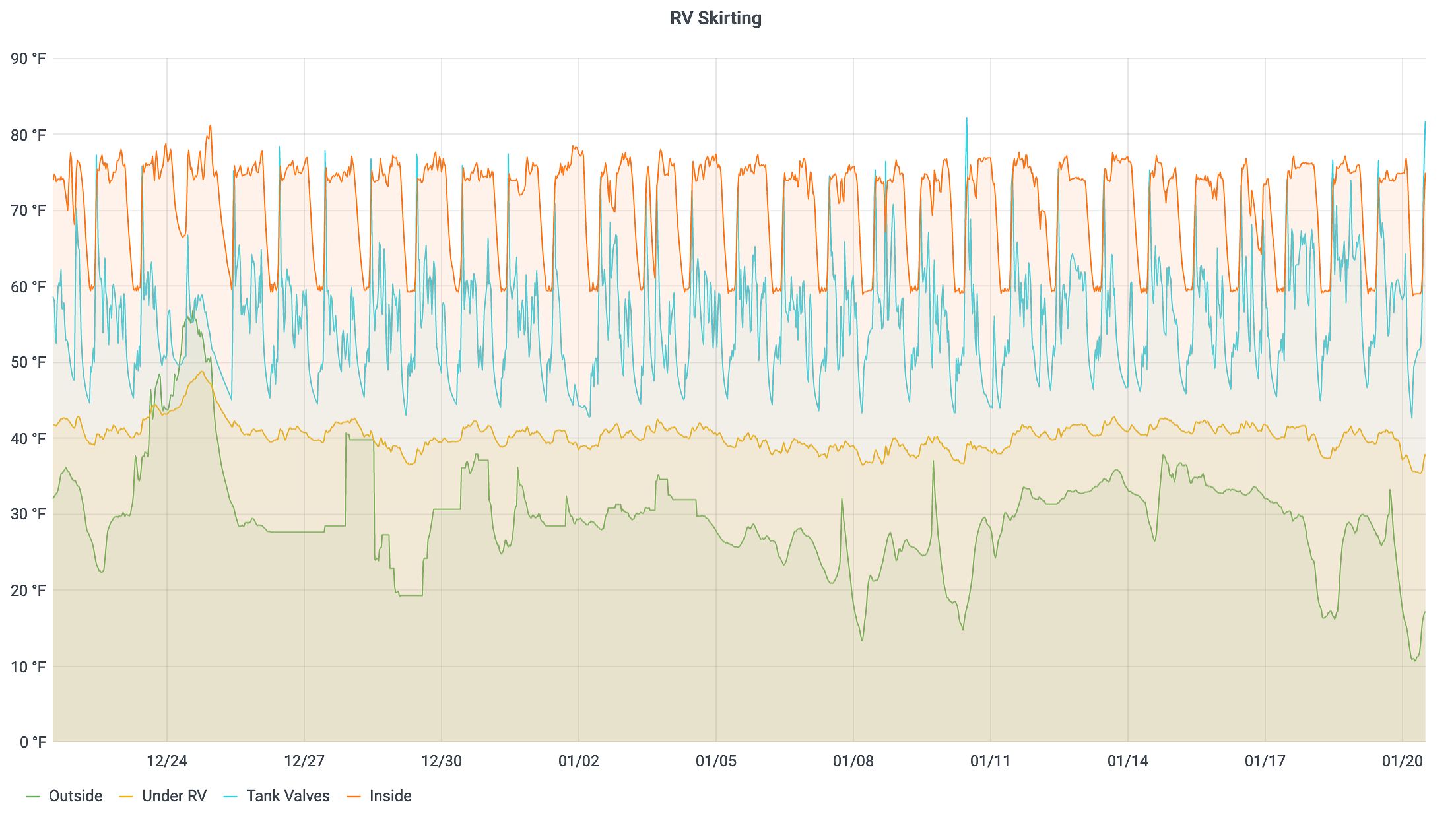 The green line is the outdoor temperature, and you can see it's been really quite stable most of the time. We've had overnight lows reaching down to 3°F, but it's been hovering around freezing for much of the last 10 days or so - although that it about to change and temperatures are forecast to plummet in the coming days.
Meanwhile, the orange line shows the temperature under our RV, behind the skirting. Just look how stable it's been! Our skirting is really doing it's job, keeping the cold wind and outside air from causing problems under the RV - the temperature hasn't dropped below 37°F under there.
Our RV has a sealed underbelly - a layer of coroplast that provides some protection from the extreme cold for our tanks and plumbing. The blue line shows the temperature in this cavity, near our tank valves.
In addition to the protection afforded by our skirting, this area also has ducting from our furnace, meaning the temperature here hasn't dropped below about 43°F, so no danger of our tanks freezing. In fact, it actually gets pretty toasty under there when the furnace is on - sometimes spiking to over 80°F!
Outside the RV, our heated fresh and sewer hoses are working great. I've been keeping an eye on power consumption and it's been pretty steady - around 60-70W for our sewer hose, and around 100-110W for our (longer) fresh hose.
It's been interesting to see how the snow forms and melts around the hoses. The insulation on these hoses is clearly working compared to our neighbor's non-insulated heated hose.
As we predicted, controlling humidity has been critical this winter. We bought a 35-pint residential dehumidifier before we arrived in Vermont, and we'd honestly be in trouble without it. It's been doing a great job, pulling up to about a gallon of water out of our RV each day.
Even that hasn't always been enough though. In the morning after a very cold night, or particularly after showing or cooking, we often find a small amount of condensation on the windows. But, our small USB fan quickly solves the problem.
One of our top tips for winter RVing was to always have a backup plan. A couple of times so far this winter, the water in the RV park has been shut off temporarily for maintenance and repairs. No big deal for us - we prepared for it by filling our fresh tank 2/3rds full. We just switch on the water pump and we're back in business.
We're fortunate that we haven't had any major power outages yet this year, but we have had a couple of blips for a few seconds. Fortunately, our hybrid inverter has kicked in each time and kept everything running, and our batteries will keep us going as a backup for quite a while if necessary.
But the worst thing you can do with a backup plan is never put it into action and check that it works! So, last week we switched off our shore power and ran the batteries down to about 50%, just to make sure everything is working the way it should - all good! Going forward, this is something we'll add to our regular SYLO day task list.
In my newsletter last week, I touched on our electricity and propane consumption. We'll do a thorough analysis of the data at the end of our stay here, but here are the highlights for anyone who missed the email.
In January, we're averaging about 0.85 gallons of propane and about 24kWh of electricity per day, which works out at roughly $65 per month for propane, and $120 per month for electricity. Since the weather is a little warmer than expected, I think our budget of $80 for propane and $150 for electricity was a pretty good guess!
Upcoming Fridge Mod
Last week our fridge was getting pretty empty and it seemed like a good time to defrost our fridge. As a reminder, RV fridges can struggle in a cold weather, so keeping the cooling elements free of ice will help keep things running smoothly.
For a while, I've been considering adding a fan inside our fridge to help distribute the cool air around. Not only will this help prevent ice from building up on the cooling elements, but will also help prevent such a large temperature differential in the fridge where things at the top can freeze.
After talking with our friend Tom Morton (from Mortons on the Move), aka expert on all things fridge-related, I decided to shun the RV-specific fridge fans which seem insanely expensive, and instead go for the DIY route.
So, this week I ordered a cheap but silent 92mm computer fan and mounting bracket for a fraction of the price. I'm looking forward to getting it wired in and hopefully improve our fridge's efficiency!
Tea Stains
Last, on a lighthearted note, we've been really struggling with something lately. You may have seen in several of our videos that Diana and I like to drink tea from our Outdoors RV stainless steel mugs. Unfortunately, tea bags never got the memo that they're not supposed to stain our stainless steel - especially my black tea!
It's really hard to clean off, made worse by the mugs being so deep, making it hard to reach all the way inside to scrub properly. This is a problem that's been plaguing us for a long time, but has been worse recently - whether we've just been drinking more tea, or the water here is causing us problems, I'm not sure.
There has to be a better way. There has to be a gadget to help. There is.
I present to you: a modified toilet brush connected to an electric drill.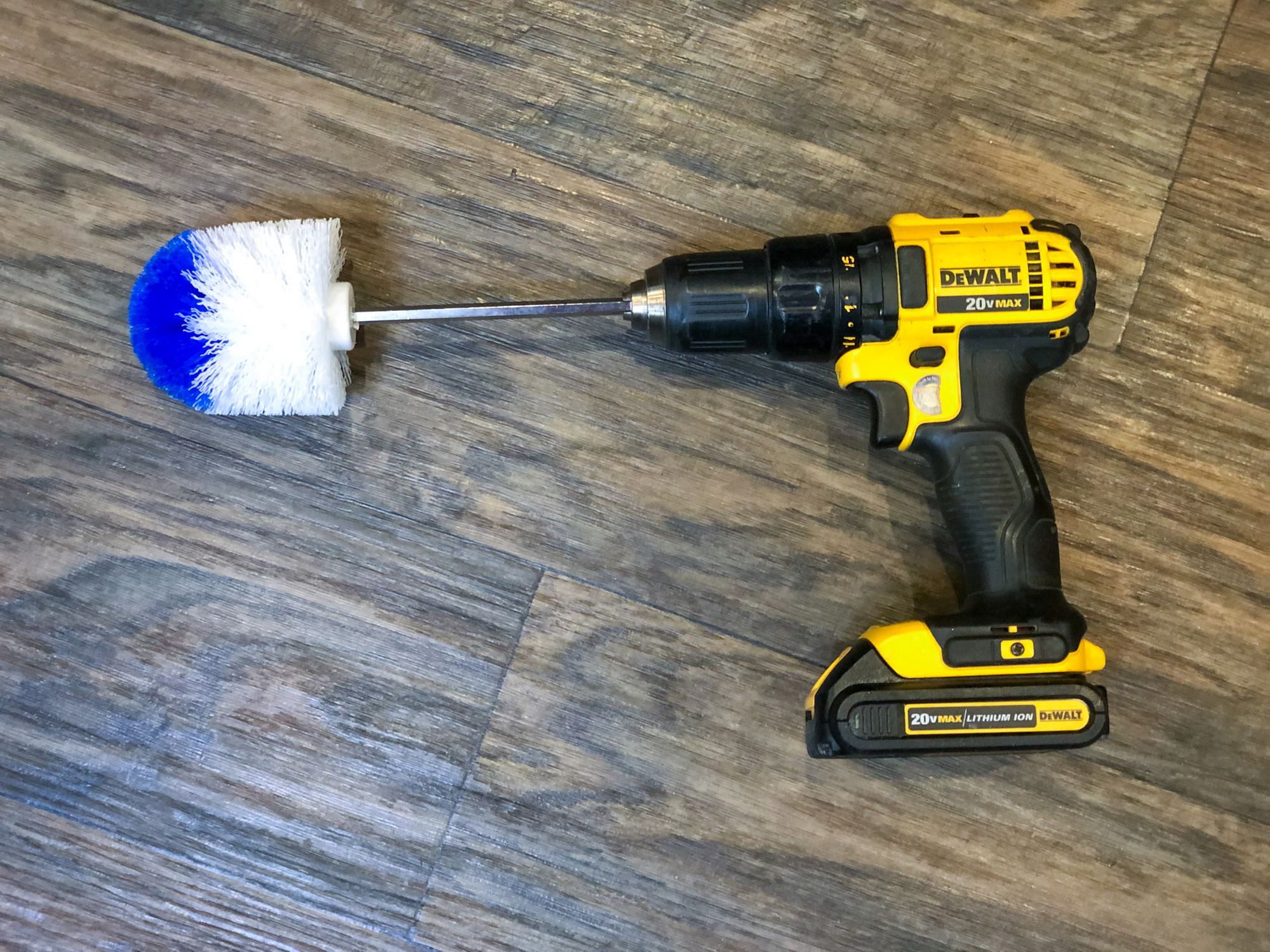 You can laugh, but this thing is legit! It takes less than a minute to remove even the most stubborn tea stains from our mugs now. Just, whatever you do, don't pull it out of the mug while it's still spinning unless you want brown water flung everywhere. Yeah, I learned that the hard way!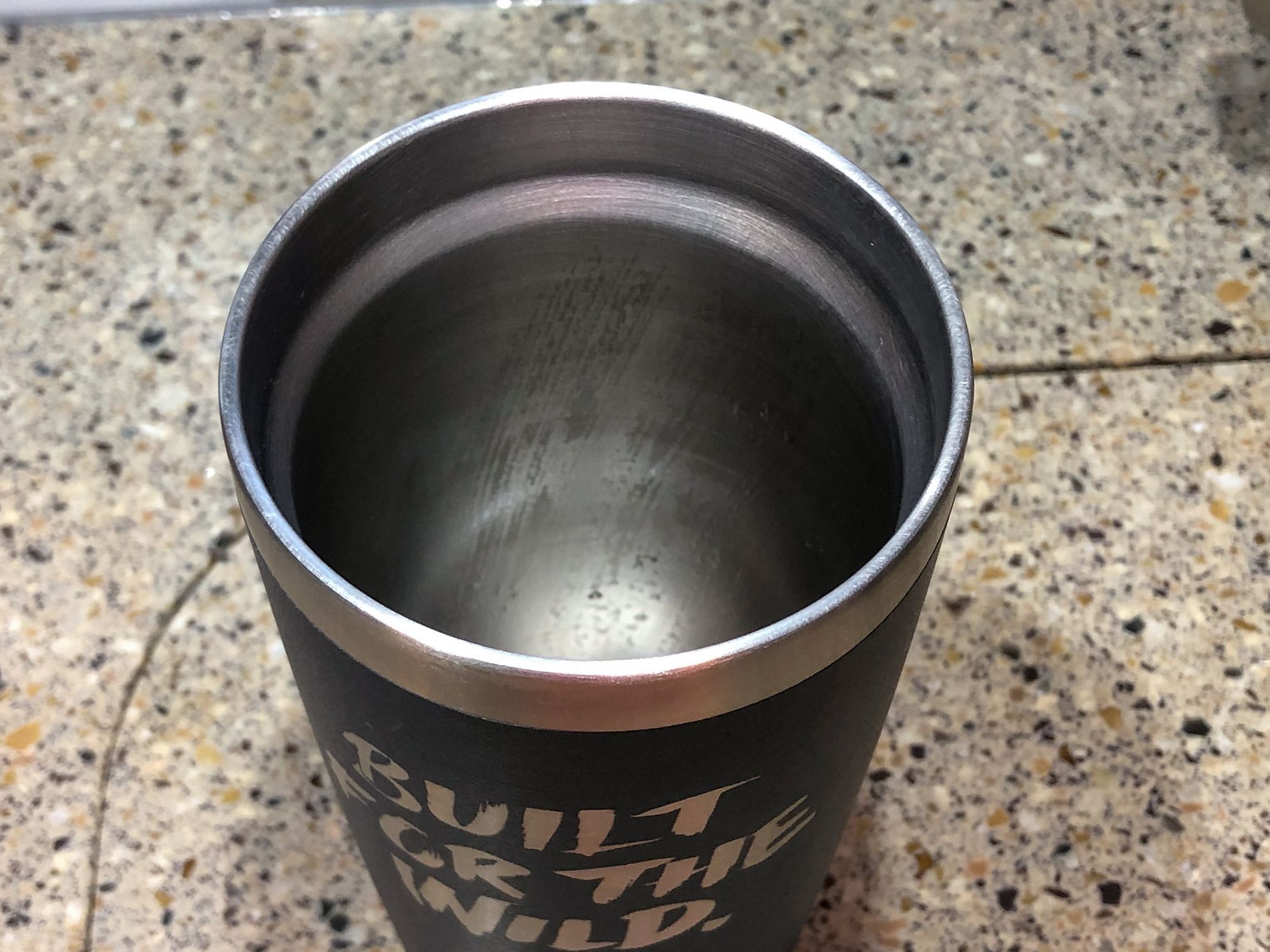 Anyway, that's all for this week - time for a cuppa!