Introduction
After visiting Sunset Crater Volcano National Monument in the morning, we drove barely 15-miles north to visit Wupatki National Monument in the afternoon. Visiting them both together is an easy day-trip from Flagstaff, AZ.
Wupatki National Monument is our 20th stop on our quest to visit ALL the National Park Units in the US.
Location
Wupatki National Monument is about 30-miles north of Flagstaff, AZ on US-89. That means it's just a short detour from I-40 as you drive past Flagstaff.
Video
Background
There are over 800 known ruins spanning more than 35,000 acres at Wupatki National Monument, but it is five of the largest (and most accessible from the road) that are best known: Wupatki, Wukoki, Lomaki, Citadel and Nalakihu.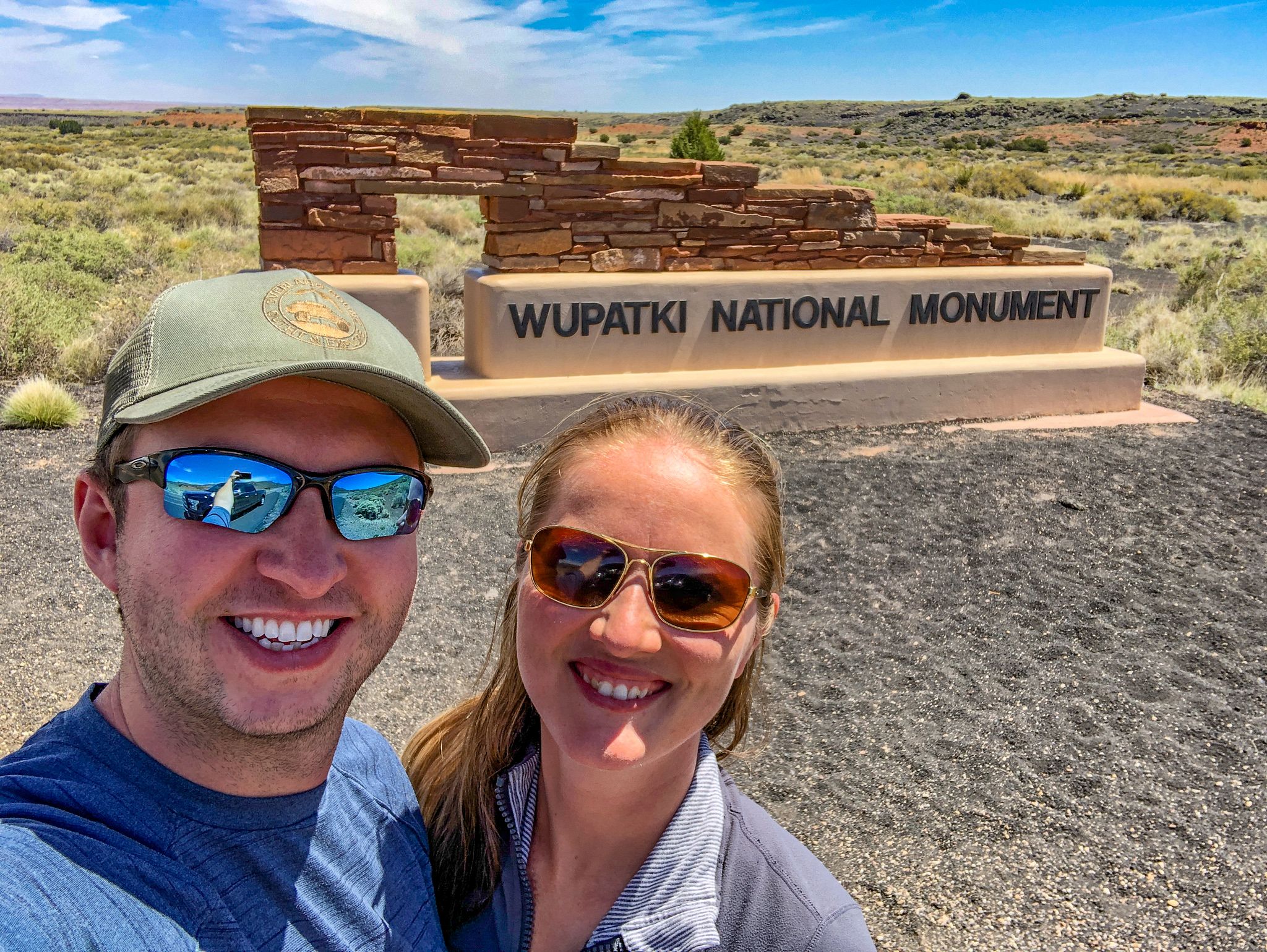 Ancestral Puebloans
They were built by the Cohonina, Kayenta Anasazi and Sinagua people who during the 12th and 13th centuries CE. While the area has been inhabited by humans for thousands of years, the area was only densely populated for less than 150 years.
This was the time after the eruption of Sunset Crater Volcano in 1085 CE. People who lived nearby were displaced - their pithouses and fields buried under layers of ash and cinder.
But just a short distance away, the ash had a more positive impact - it helped the soil retain moisture, leading to better crop growth. The area around Wupatki was one such place, and that's why its population grew in the late 11th century.
As with many of the Ancestral Puebloan sites in the area, Wupatki was suddenly abandoned. By 1225 CE, the people were gone.
National Monument
Wupatki was designated a National Monument on December 9, 1924, by President Calvin Coolidge. It was later listed on the National Register of Historic Places on October 15, 1966.
Today, it's operated in close conjunction with Sunset Crater Volcano National Monument. In fact, the per-vehicle entrance fee covers both units.
Itinerary
We hadn't planned ahead for this visit, but we had learned about the guided hikes that are run by the NPS staff and volunteers. Beyond that, our plan was just to show up and see what we could find!
The day before our visit (I told you we hadn't planned ahead) we called the Visitor Center to try and book a place on the FREE guided hike. Fully booked - no spaces left. And the guided hike the following day was the final one planned for the year! Oops!
Our only option was to show up and if some people didn't turn up, we could squeeze into the group. So that's what we did.
Guided Hike
We arrived half an hour before the scheduled meeting time, hoping that at least 2 of the 15 people booked onto the tour wouldn't show up!
I guess luck was on our side - only a couple of people who had booked actually turned up so we, and a few others, were able to join! In the end, it was just a small group of a half dozen or so people on the tour!
So what exactly is this guided hike? In short, it's very cool!
With our truck, we caravanned with the group to a location not identified on the map. The group parks up and then continues on foot out to explore for a couple hours, led by an NPS tour guide.
In small groups, you can visit places that would be damaged by uncontrolled public access, so the NPS are keen to protect them. Specifically, we were asked to disable all GPS logging on our phones & cameras. For that reason, I will be careful in what I write and the photos I share so as not to reveal the locations.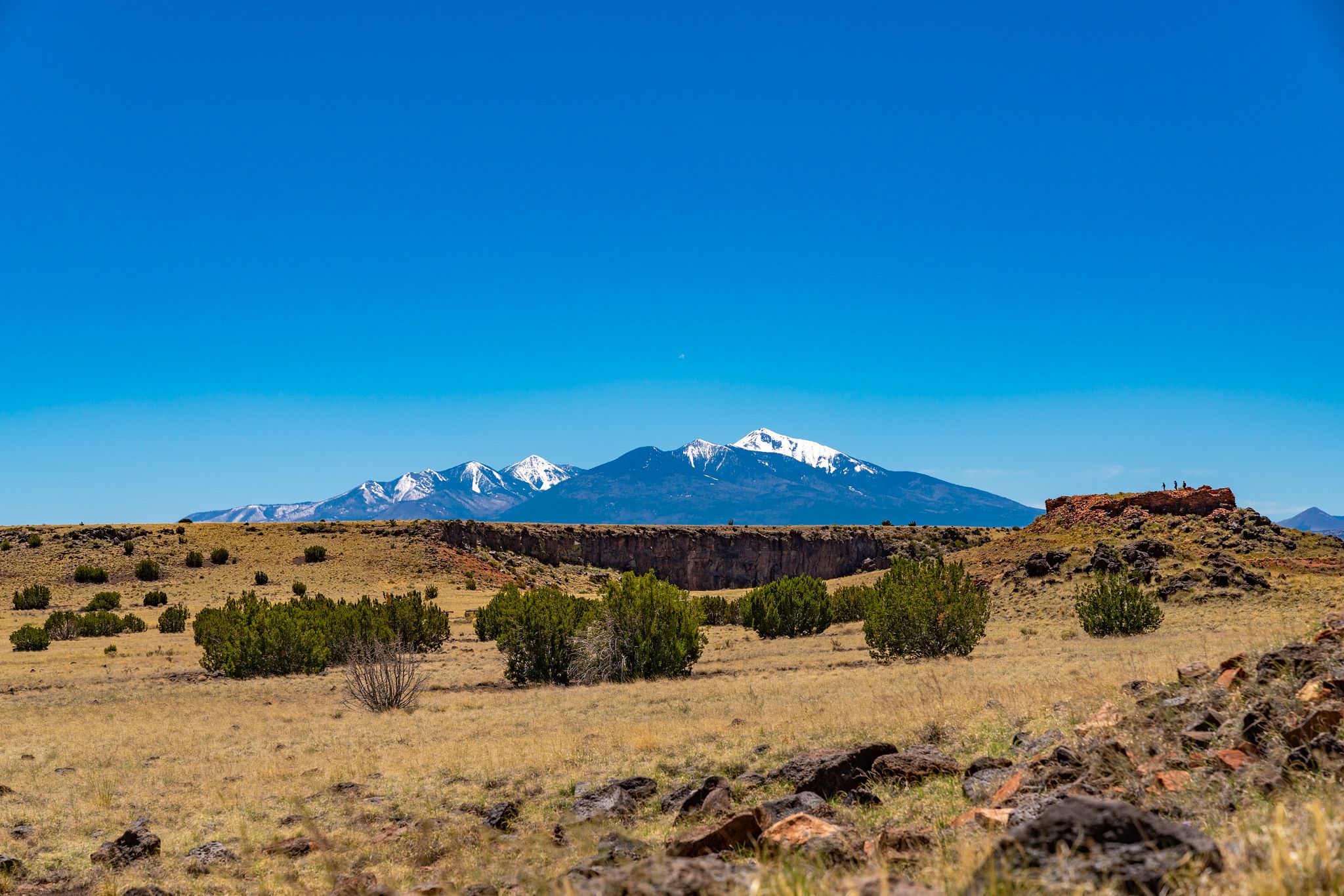 If you want to explore like this then contact the Visitor Center and book a place on one of the guided hikes!
Our guide led us out into the wilderness, asking us to spread out and not follow his footsteps to avoid creating a trail.
We kept our eyes peeled for pieces of pottery lying on the ground - and we were not disappointed! We couldn't take more than a few steps without someone finding more!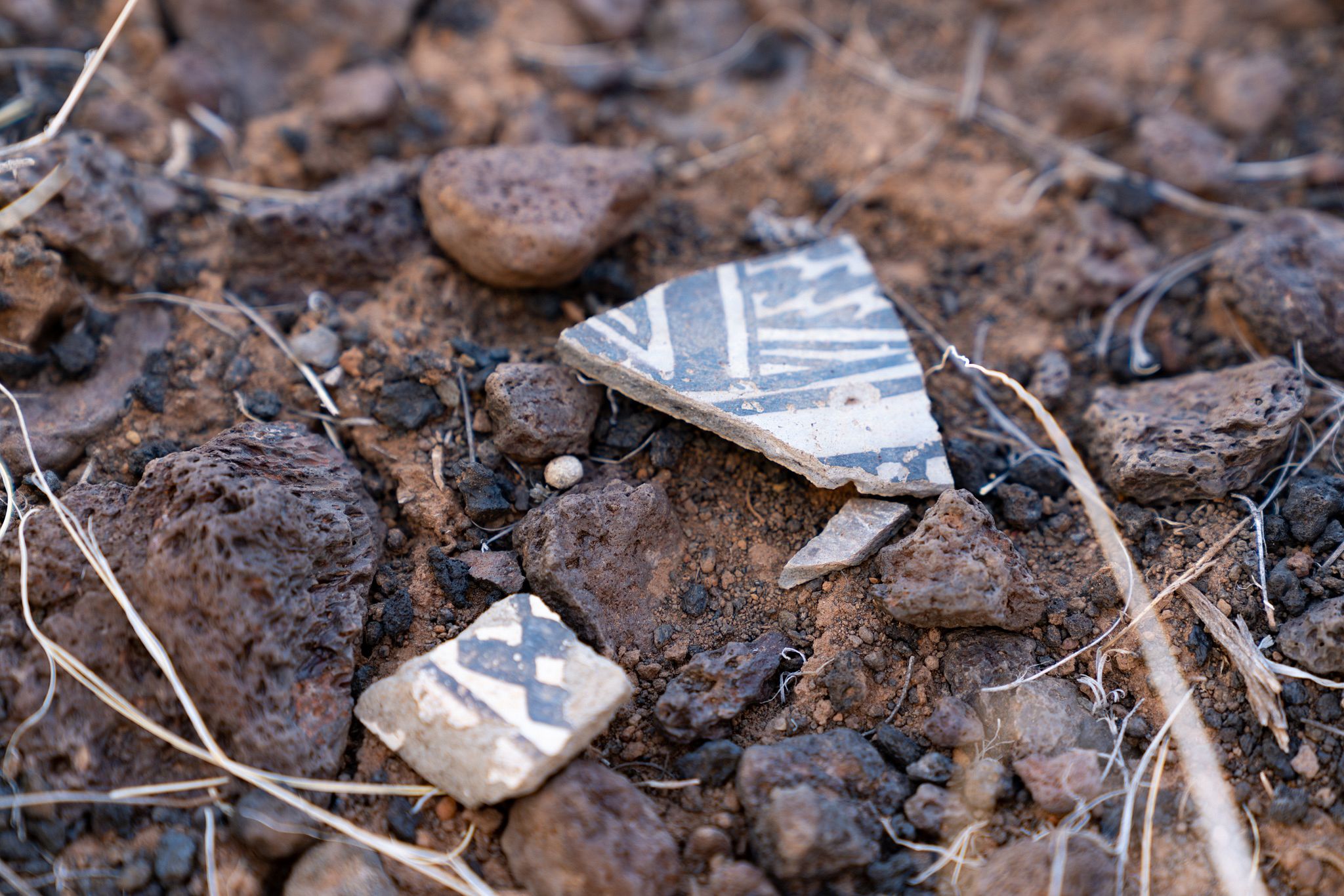 Our guide had an identification book that allowed us to work out where, when and by whom the pieces were made. Afterwards, we carefully replaced each piece exactly where we had found it.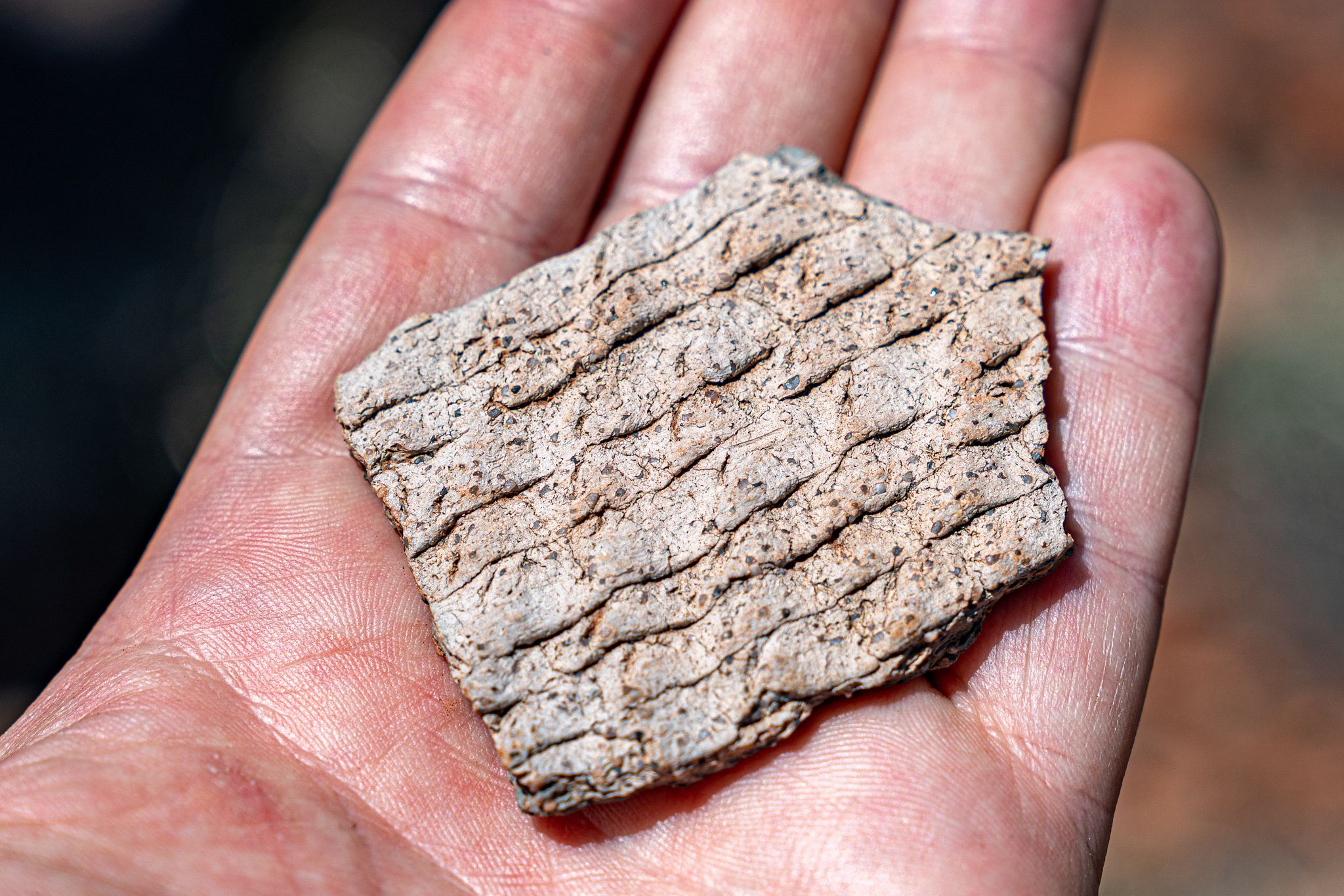 As we walked, we learned more about the history of the area - the people, the geography and the National Park Service's approach to its conservation. We were able to step inside ruins that were around 800 years old - a very humbling experience!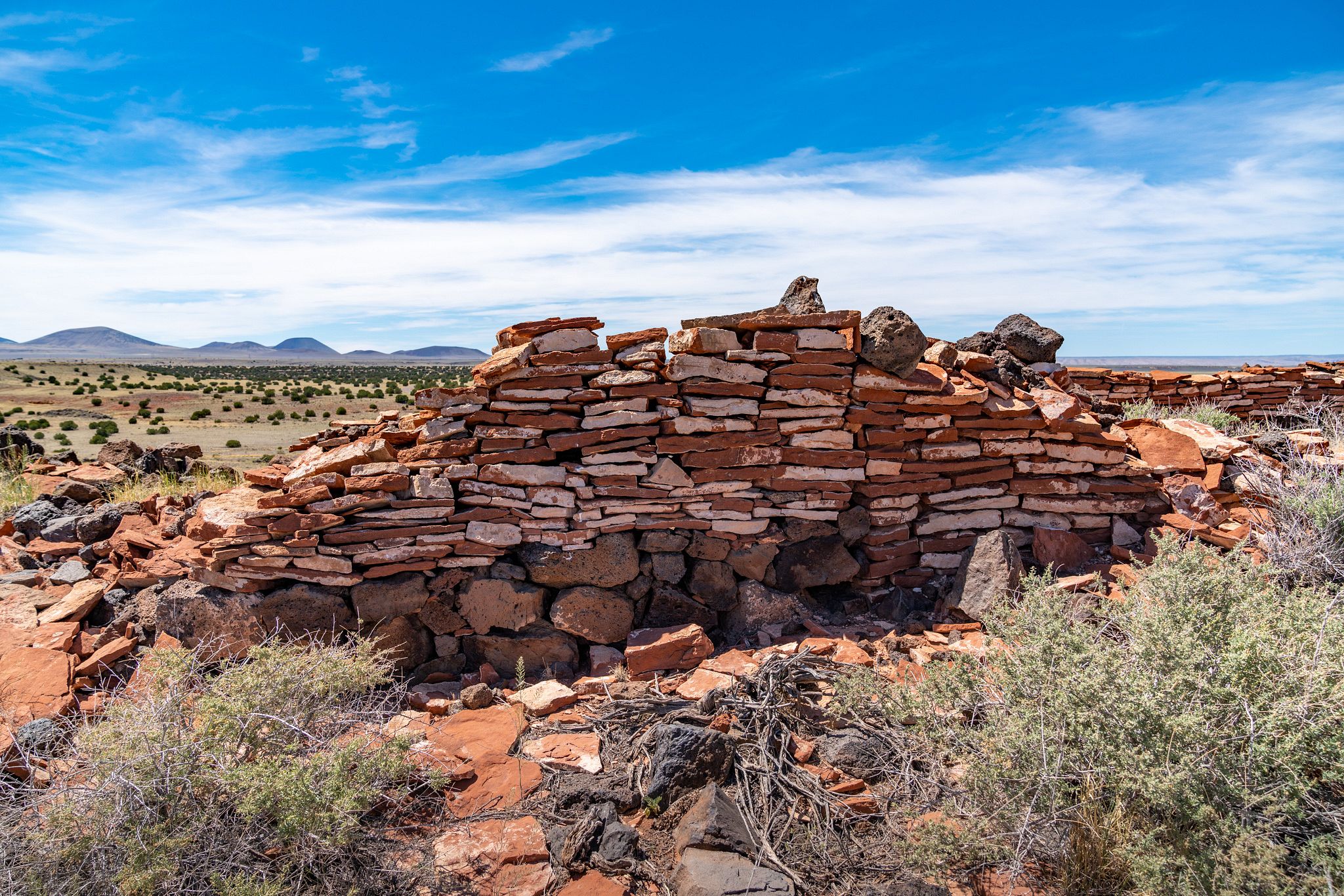 And lastly, we were shown the location of some petroglyphs, hidden up on the rocks.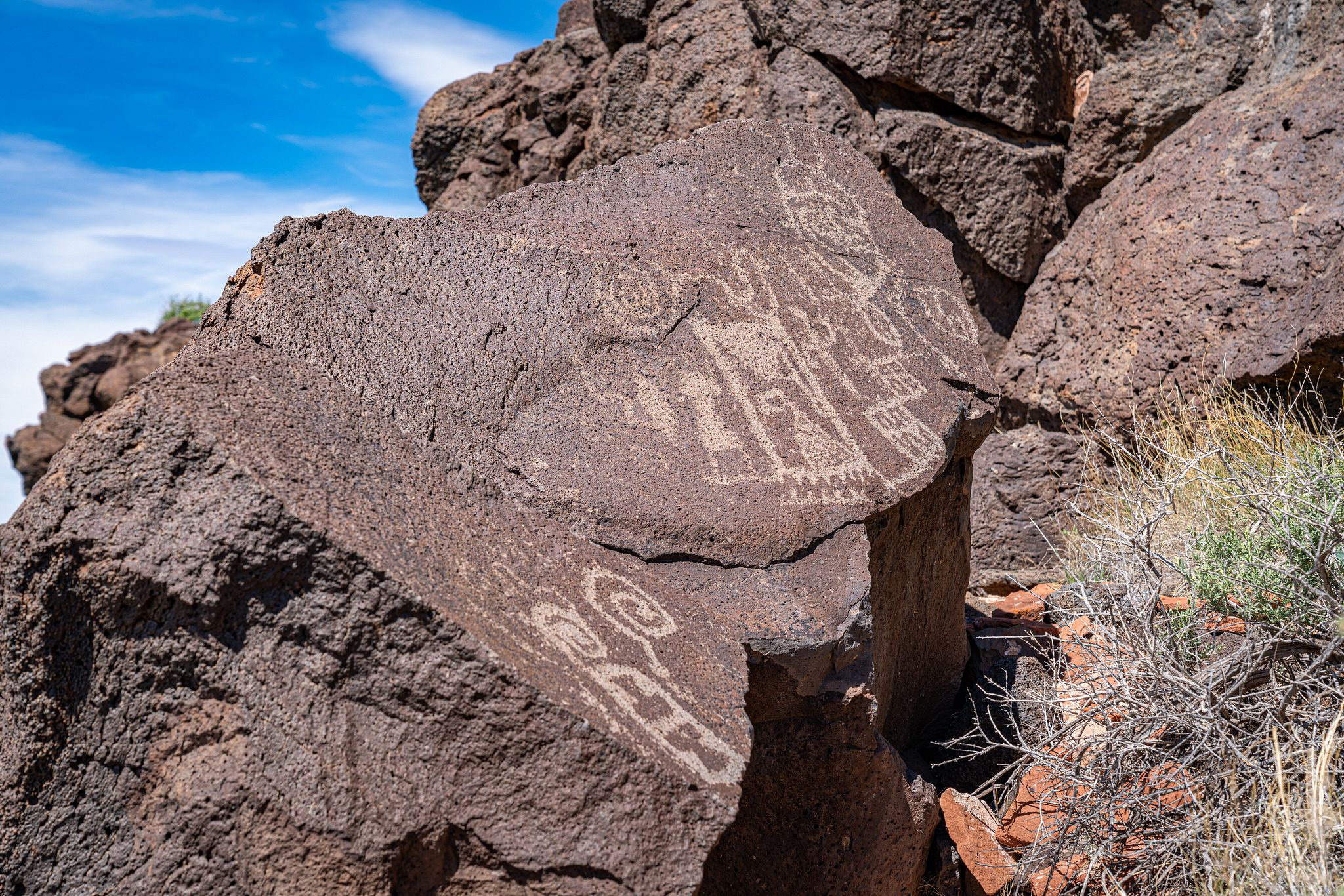 So often when we have an opportunity to see these historic sites, it's on well established trails with barriers and signs. This was a very different experience - up close and personal.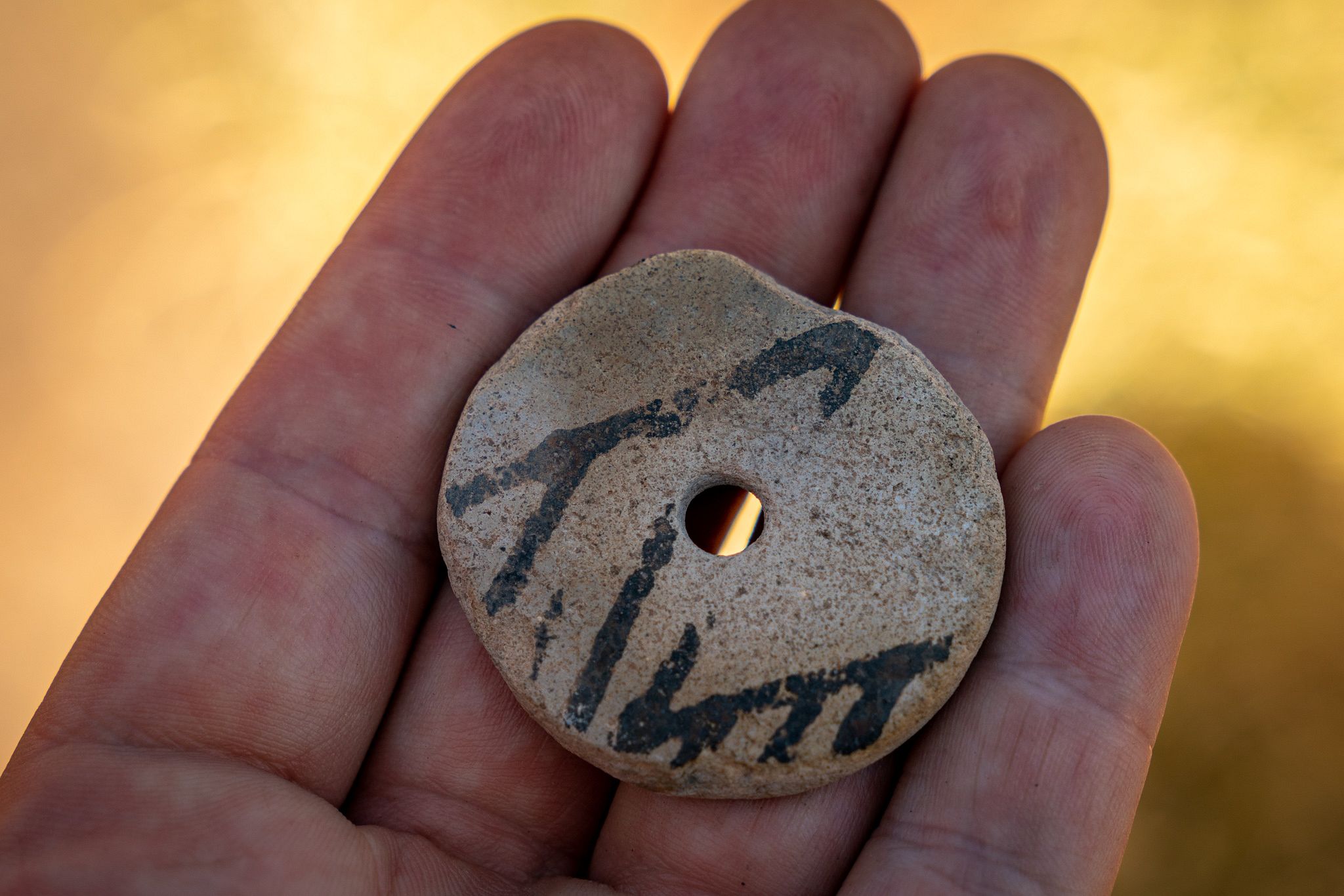 Although abandoned now, descendants of those who used to live here believe that the spirits of the inhabitants still watch over the area. It was a welcome reminder that we are guests in this place - it is our obligation to preserve it for generations past and future.
If you have an opportunity to join one of these guided tours...do it!
Citadel Pueblo
Several of the publicly accessible pueblos are along the road that heads up through the Monument.
We parked the truck in front of the Citadel Pueblo. Nearest the road is Nalahiku Pueblo. This one has been reconstructed, but the Citadel itself, sitting atop the hill behind, has only been stabilized - it's otherwise original.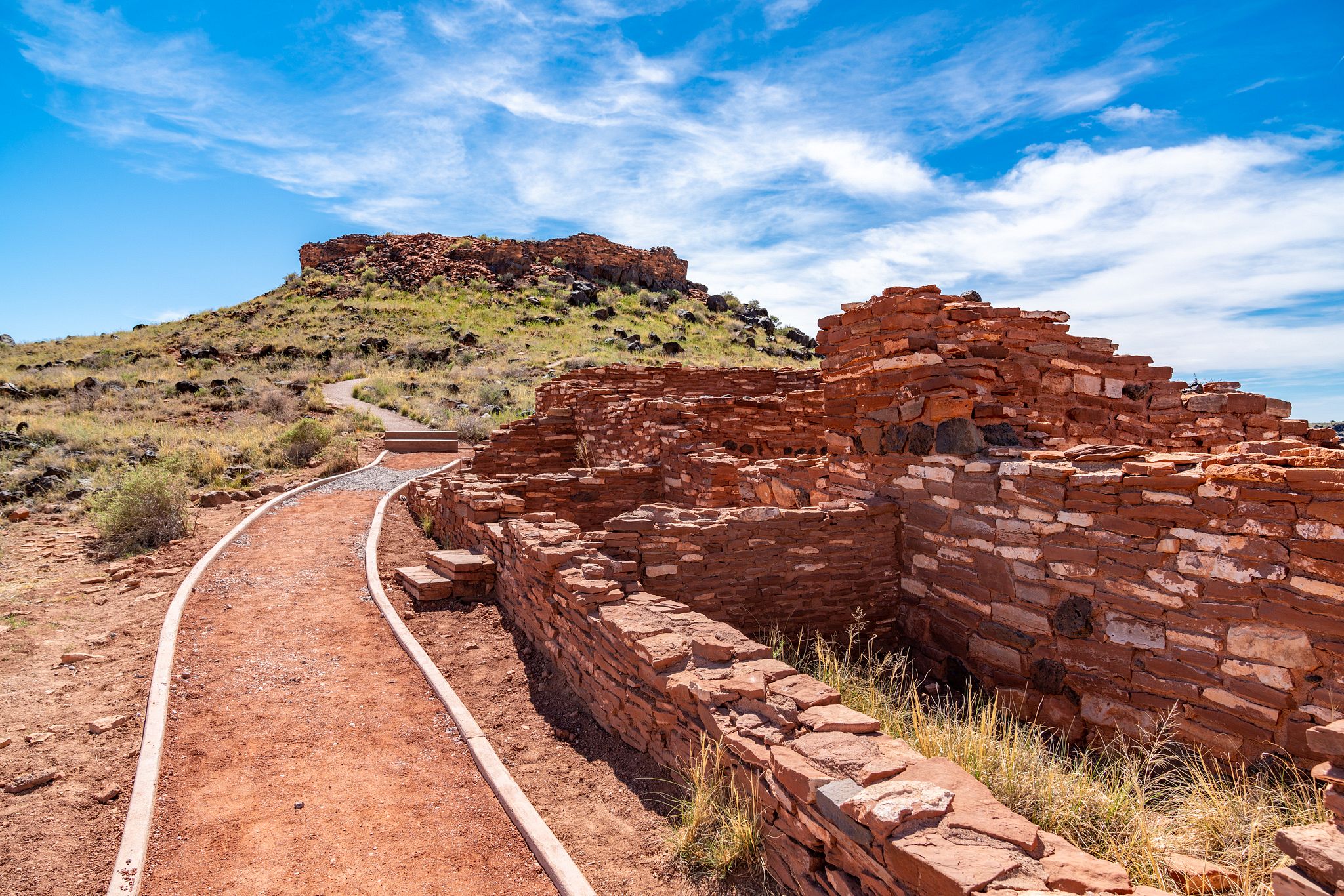 We hiked the short distance up the hill. The Pueblo at the top is, well, ruined. Despite the stabilization efforts, large parts of the walls had crumbled into piles of rock on the ground.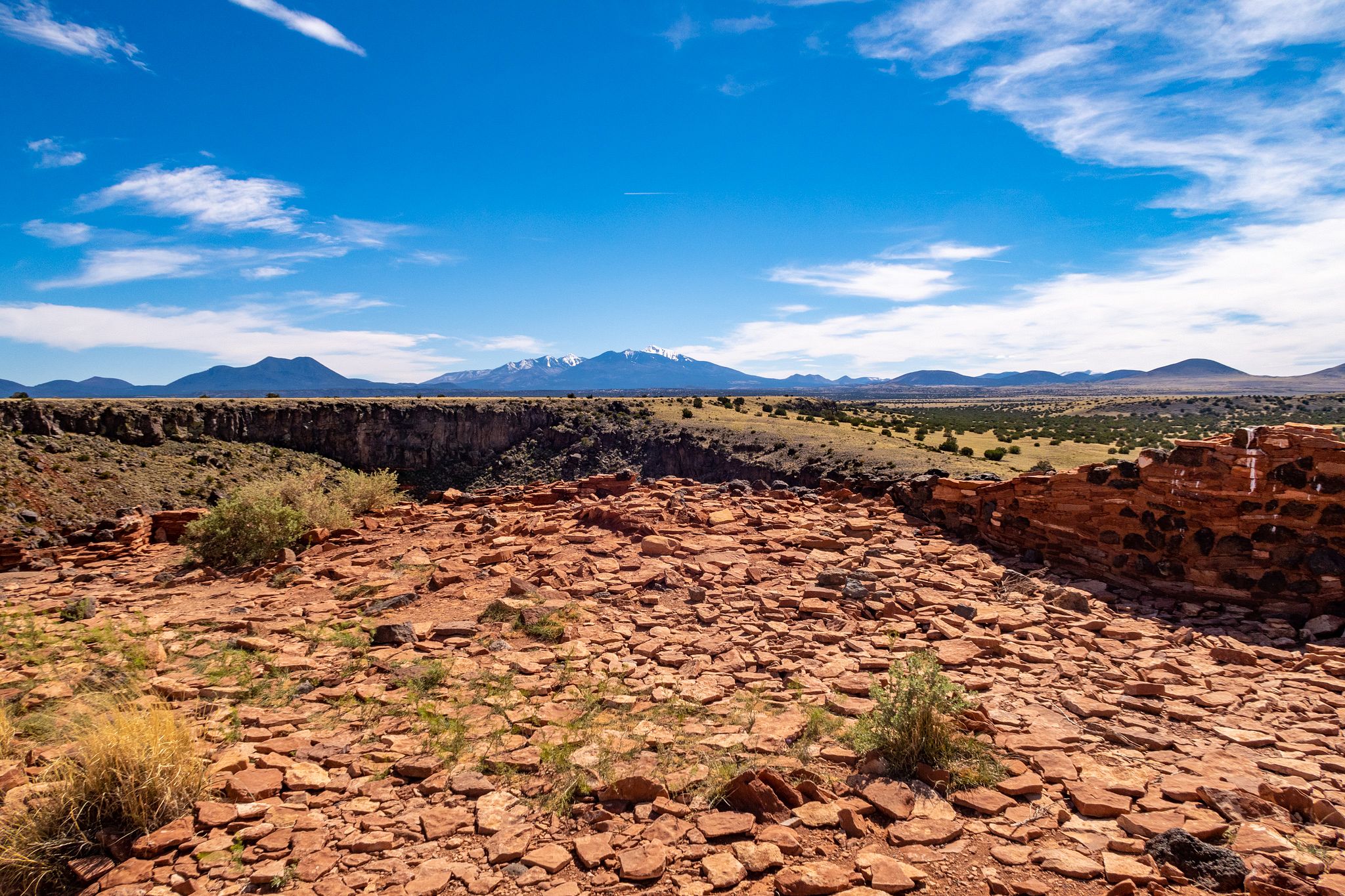 As much as I would have liked to have seen the original pueblo, I also appreciate that preservation is an important balance between protecting artifacts and leaving them unmolested - especially in an area so rich in cultural history.
Lomaki Trail & Box Canyon Ruins
A short distance down the road is another trailhead - for the Lomaki Trail. This 0.5-mile trail leads to the Lomaki Pueblo and Box Canyon Dwellings.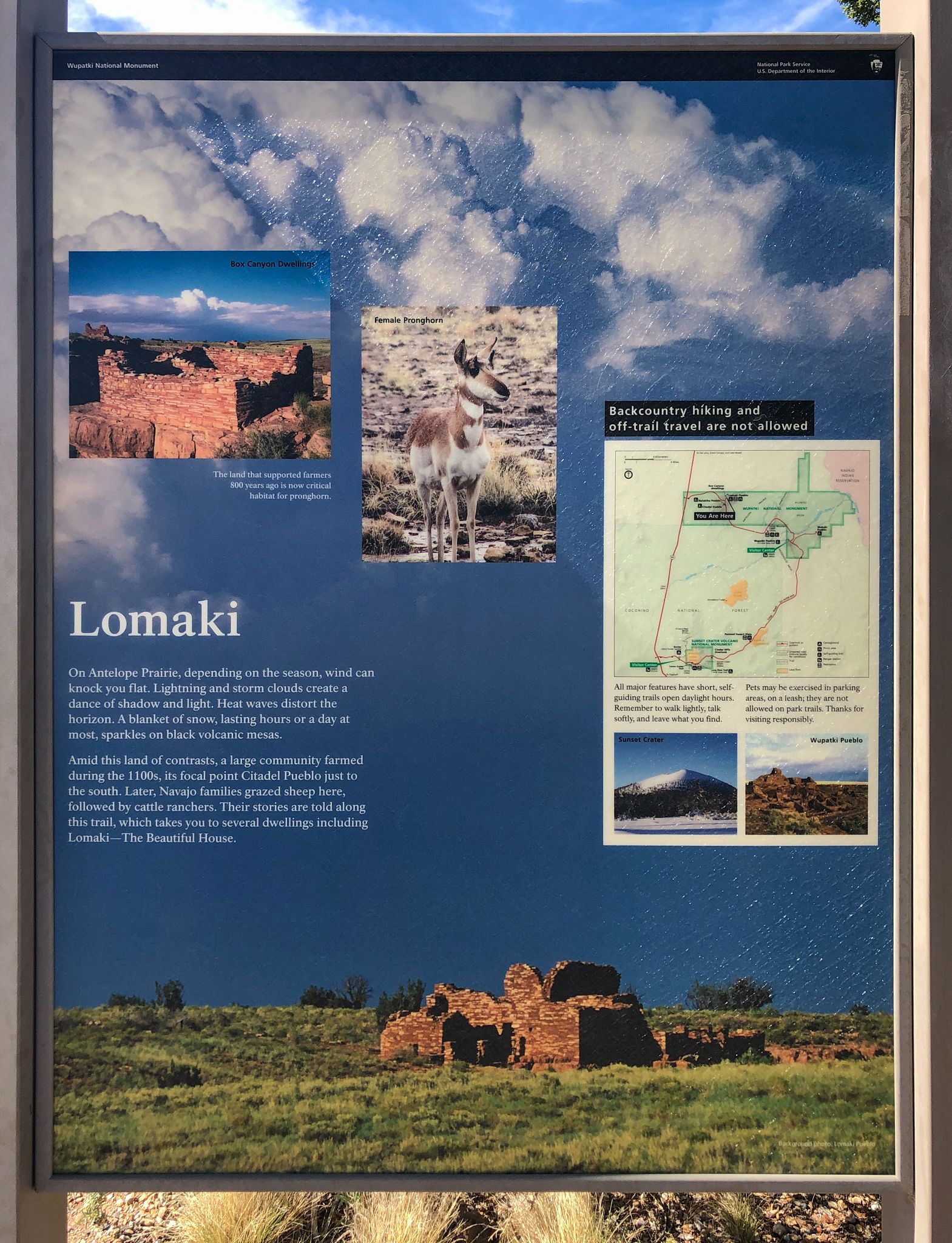 All that remains of the Box Canyon Dwellings are some ruins - pieces of wall on the edge of the canyon cliff.
The walls are built from sandstone and limestone quarried nearby, and soil while soil was used as a primitive cement. They would have had flat constructed with parallel timbers covered with branches and plastered with mud.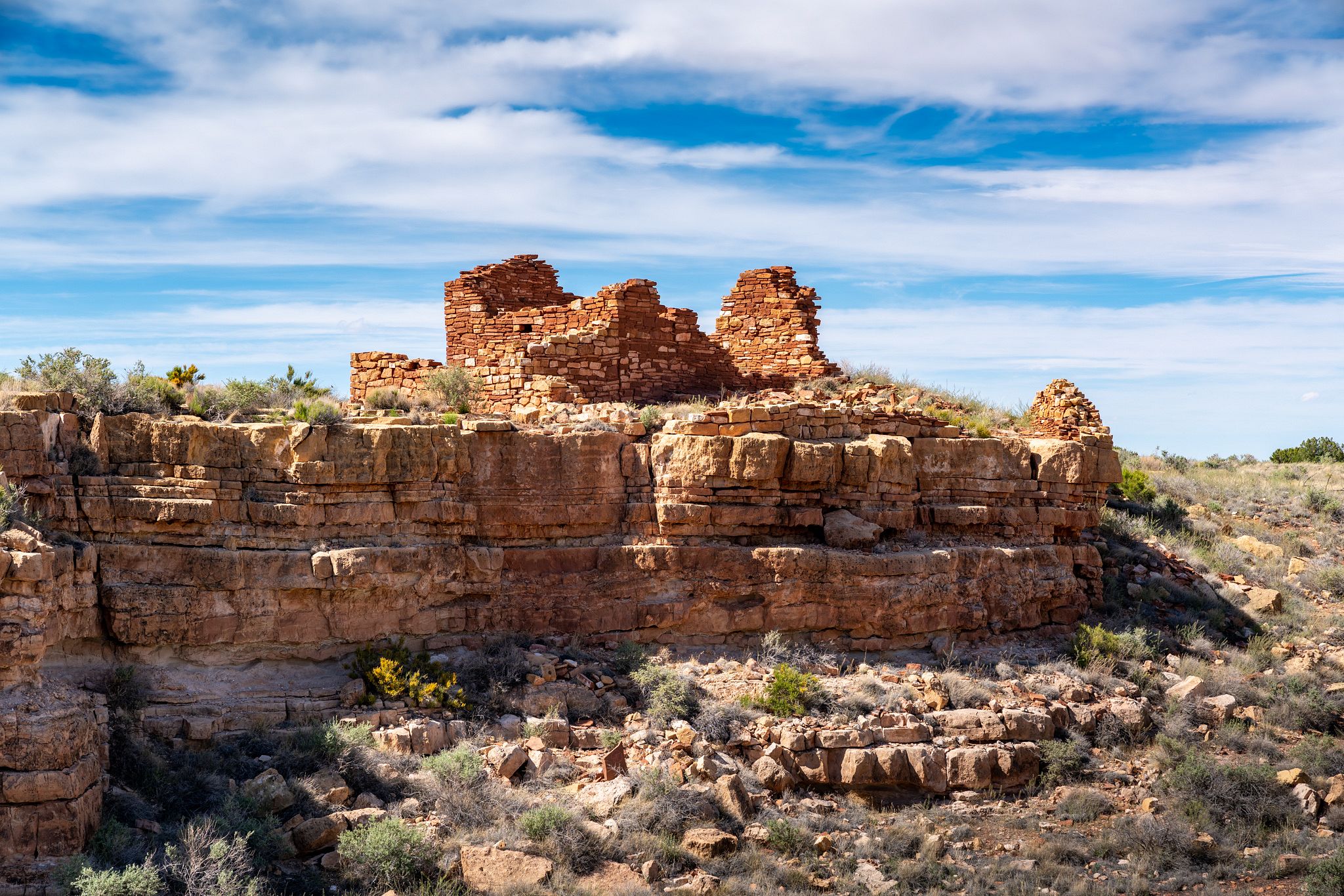 A square hole in the ceiling would have allowed smoke to escape, and in many of the rooms would have been the only means of ingress and egress. If they had doors they would have been small, and almost none had windows.
The ruins were discovered in the late 19th century and haven't been rebuilt - other than stabilization, these 800 year old ruins are untouched.
Wupatki Pueblo
Arguably saving the best for last, we headed back towards the Visitor Center for our final stop of the day: Wupatki Pueblo.
Wupatki, which in the Hopi language means "Tall House", gives this National Monument its name.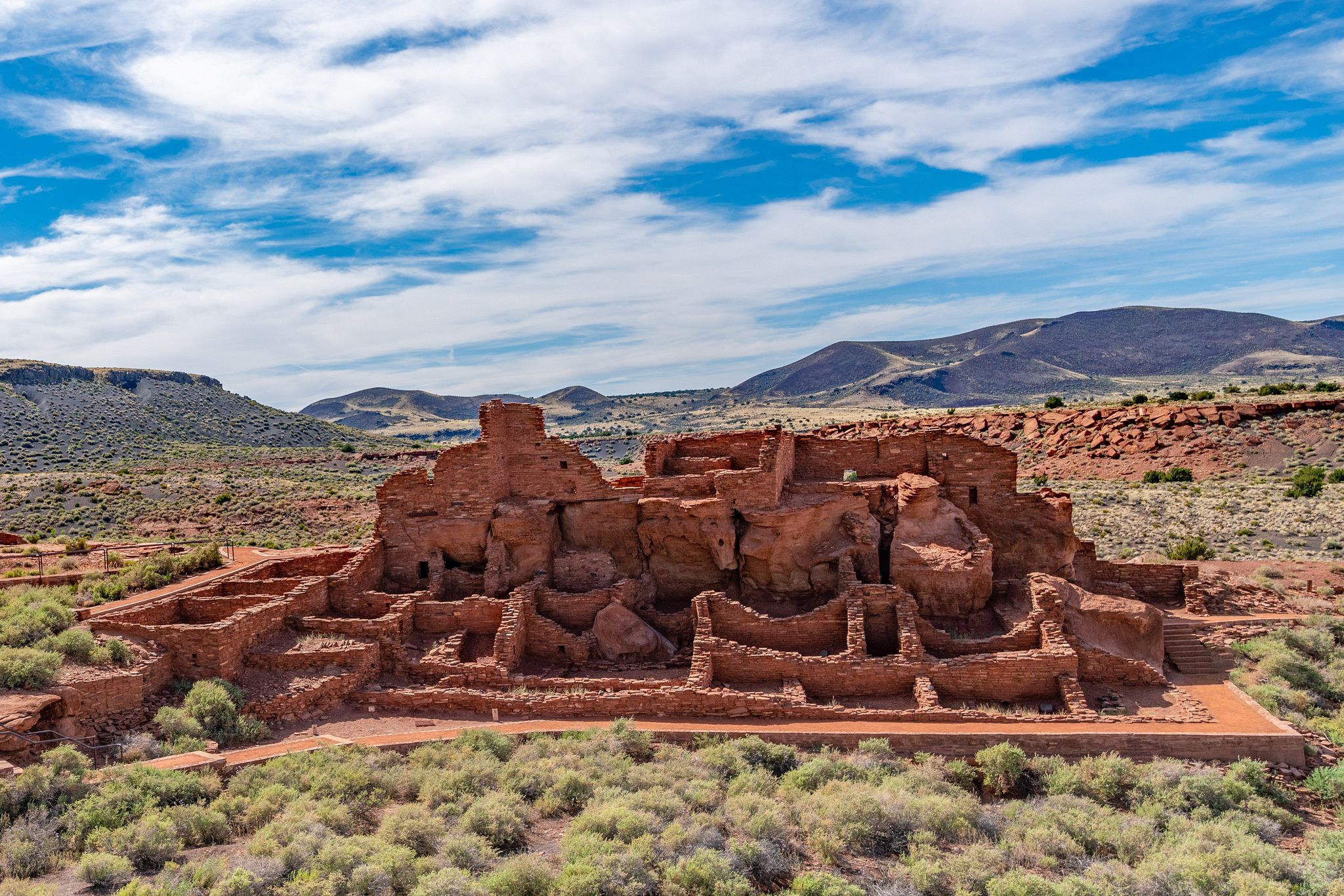 This multistory Sinaguan pueblo has over 100 rooms, a community room and the northernmost ball court ever discovered in North America. This makes it the largest Ancestral Puebloan site for almost 50 miles around - and is believed to be the region's tallest and largest structure for the time period. Local sandstone used for building gives the building its distinctive red color.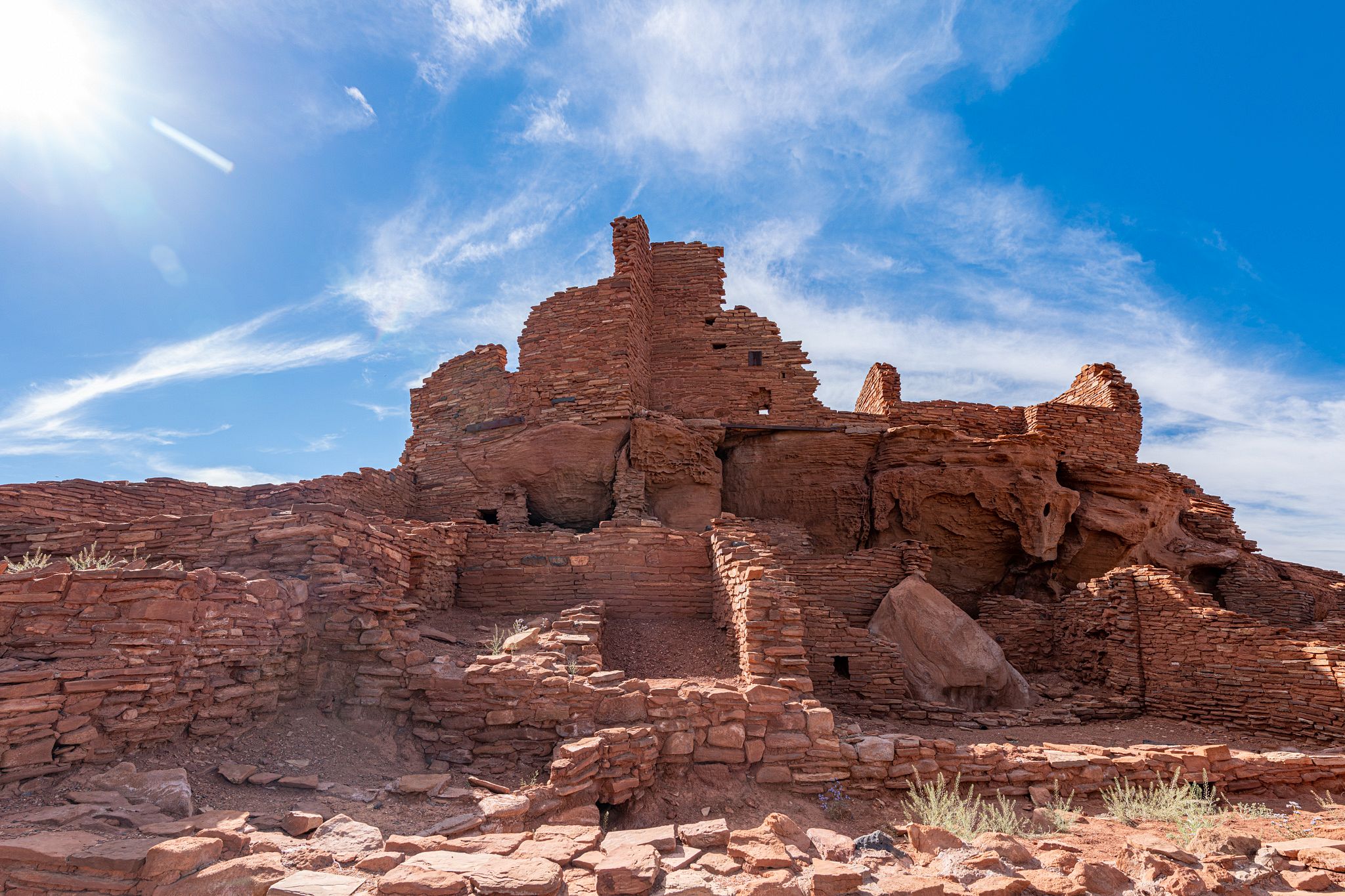 There is a very easy and well-marked trail leading out and around the pueblo. We picked up a trail guide and stopped at each of the numbered markers to read about what we were seeing.
I would always recommend these guide booklets if they're available - you can move at your own pace but it helps you to appreciate what you're looking at!
Conclusion
While we only spent a few hours exploring Wupatki National Monument (after spending the morning at Sunset Crater Volcano National Monument), I feel like we saw a lot!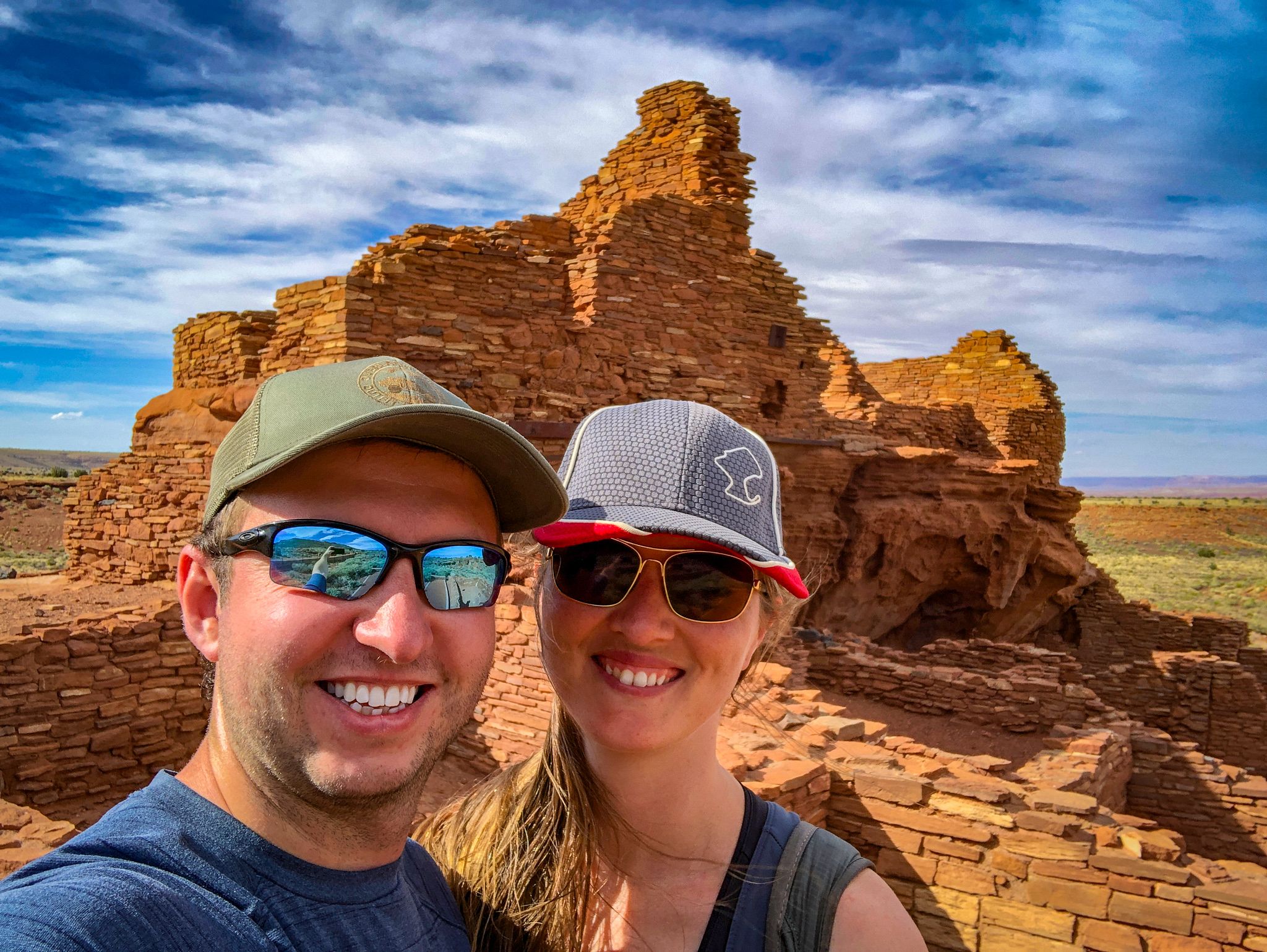 While our self-guided tours around the Pueblos let us see the "big-ticket" items, our guided tour with the NPS staff really gave us a deep appreciation of this fragile site.
Wupatki National Monument is just east of US-89, north of Flagstaff, AZ. If you're passing through the area, then stop in at Wupatki and learn more about the people who used to call this place home.