Neither of us had any experience with YouTube - unless you count tons of hours watching YouTube over the last few years. Since we cut the cord living in sticks-and-bricks, YouTube had become the major source of evening TV watch time.
Actually, I think it does count for something. Over time you start to notice what different channels do and don't, what you like and what you don't like, what keeps you engaged and what doesn't. From that, you get a bit more intuition what to do with your channel. It's like the old advice for writers by Stephen King: "If you want to be a writer, you must do two things above all others: read a lot and write a lot."
Why Did We Start a YouTube Channel?
There were multiple reasons why we started a YouTube channel and before attempting a big goal I usually like to get really clear and write down all the reasons for starting something. This is so that when going gets tough - I can look at the list again and get myself motivated to continue.
1. We were inspired
We had been watching YouTube channels of ordinary people doing great stuff - Gone With The Wynns sailing around the world; Keep Your Daydream, Less Junk More Journey, Drivin' and Vibin', We're the Russos, Heath and Alyssa and many others RVing full-time; Pure Living For Life building a house. If they could document what they were doing, why couldn't we do it?
2. To document our adventures
We are embarking on a once in a lifestyle journey to visit all 400+ National Parks. We wanted to document it ourselves for our friends and family. We definitely wanted to have a blog, but there are things that are just easier to show on video compared to photos or words.
3. To share the love of National Parks
There is a lot more to the National Park System than the big National Parks like Yellowstone, Yosemite, Grand Canyon, etc. Besides the 60 National Parks, there are 300+ National Park Units. We want to show that to people.
4. It sounded like fun
Matt had already been a hobbyist photographer for 10+ years. Videography is not the same, but perhaps an extension. I love learning new things. Being challenged is fun for me.
5. As a creative outlet
Words don't come as easily to me as to Matt, so blog post writing is always a slow going for me. I have enjoyed other hobbies that combine technique and art (like dancing), perhaps I will enjoy editing videos too as in a way it is an intersection of technology/technique (gear, videography, editing software) and art (storytelling).
6. YouTube is the future
For more than a year YouTube was our exclusive source of TV time. There is content for everyone. So it seems that the world is moving in the direction of less traditional cable networks and more individualized content. YouTube is the future and I want to be part of it. (And apparently, it is still not too late to start a YouTube channel).
7. A potential source of income
Starting a YouTube channel is not a get rich quick scheme (or even get rich ever scheme), but hopefully, it will add to our brand and business at some point in one way or another.
Strategy Employed
At this point, we had old footage that we had filmed but never edited. So I thought, first, I would edit few older videos to get some practice in so that by the time we get to current videos that are truly relevant to our mission, the video editing would be much better.
This way I hopefully won't care as much about the older footage and be able to make something good enough for the first attempt, instead of attempting perfection. The first couple, 10, or whatever number of videos will suck in any case, so I might as well just get them out of the way.
Getting to 100 Subscribers
We reserved the channel name in November 2017. We quit our jobs in July 2018 and in our farewell emails we did include our social media channels including YouTube. So that's where we got the first subscribers - even before our first video was published. We got a few more subscribers as we shared our plans for the epic trip, so before we had published the first video we had 45 subscribers.
October 23rd, 2018 we published the first video. We shared it on Facebook and we asked our friends to subscribe. That increased the subscriber count to 65.
We published the second video on Oct 30th and third video on Nov 16th. The third video was about our travel trailer and we posted it in an owners group on Facebook, of which we had been part of for a long time and had been actively participating in. Together with friends, we reached 100 subscribers on November 19th, 2018.
So you could count that it took us this amount of time to get to 100 subscribers:
1+ year since we established the channel, or
~5 months since we announced the channel publicly, or
28 days since the first video was published - I think this is the most relevant metric.
Lessons Learned
(The graphs below come from very few data points, so please take those with a grain of salt).
You have to ask people to subscribe to your channel - especially when you do so on other platforms, like email or Facebook as people there might not how important it is.
One avenue of views and subscribers can be from topically relevant Facebook groups in which you have been interacting and providing value for a long time.
Whenever a new video is uploaded, older videos got a few more views. So I could see how having more videos help to grow channel more, perhaps even exponentially more.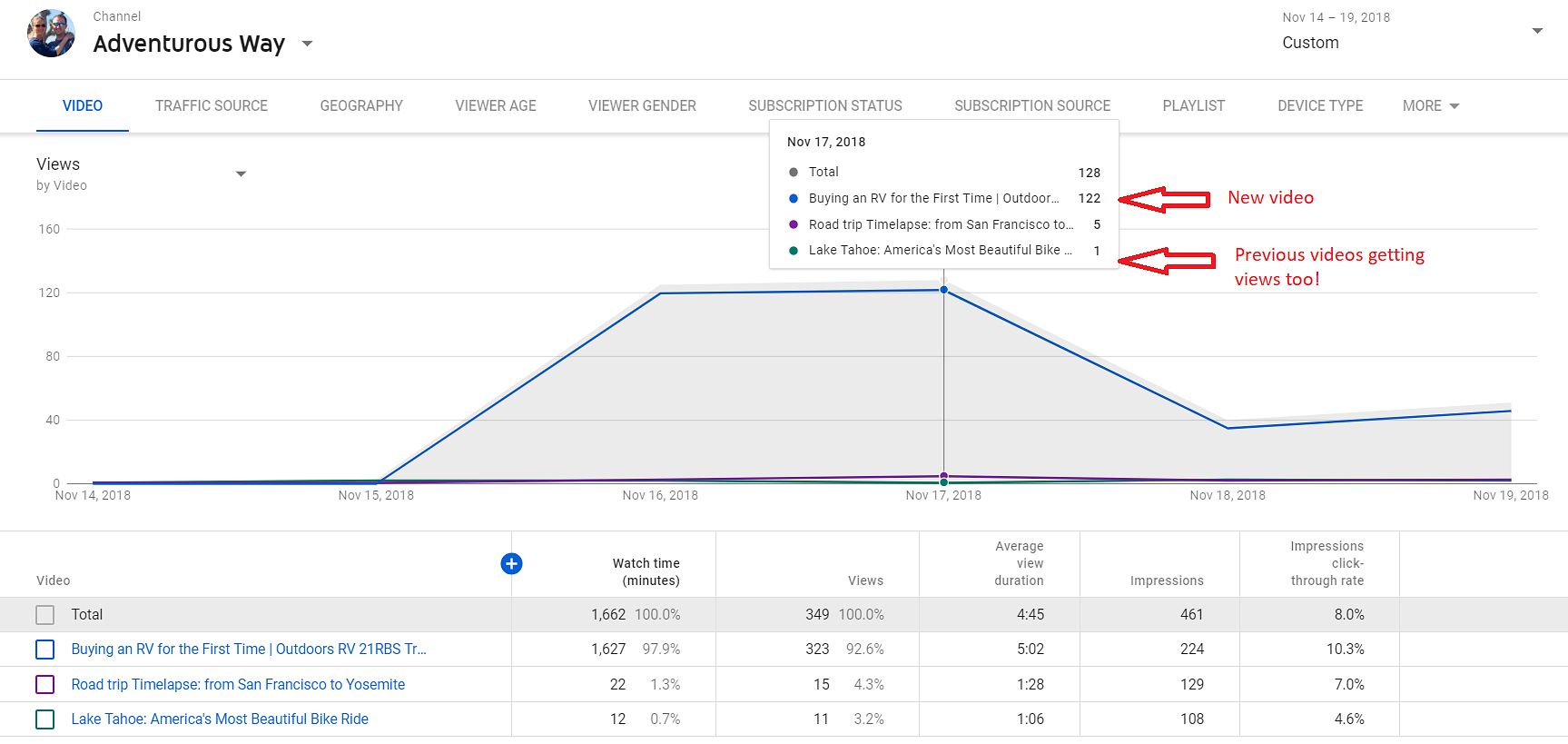 If people watch on TV (or Game Console), they watch a longer percentage of the video.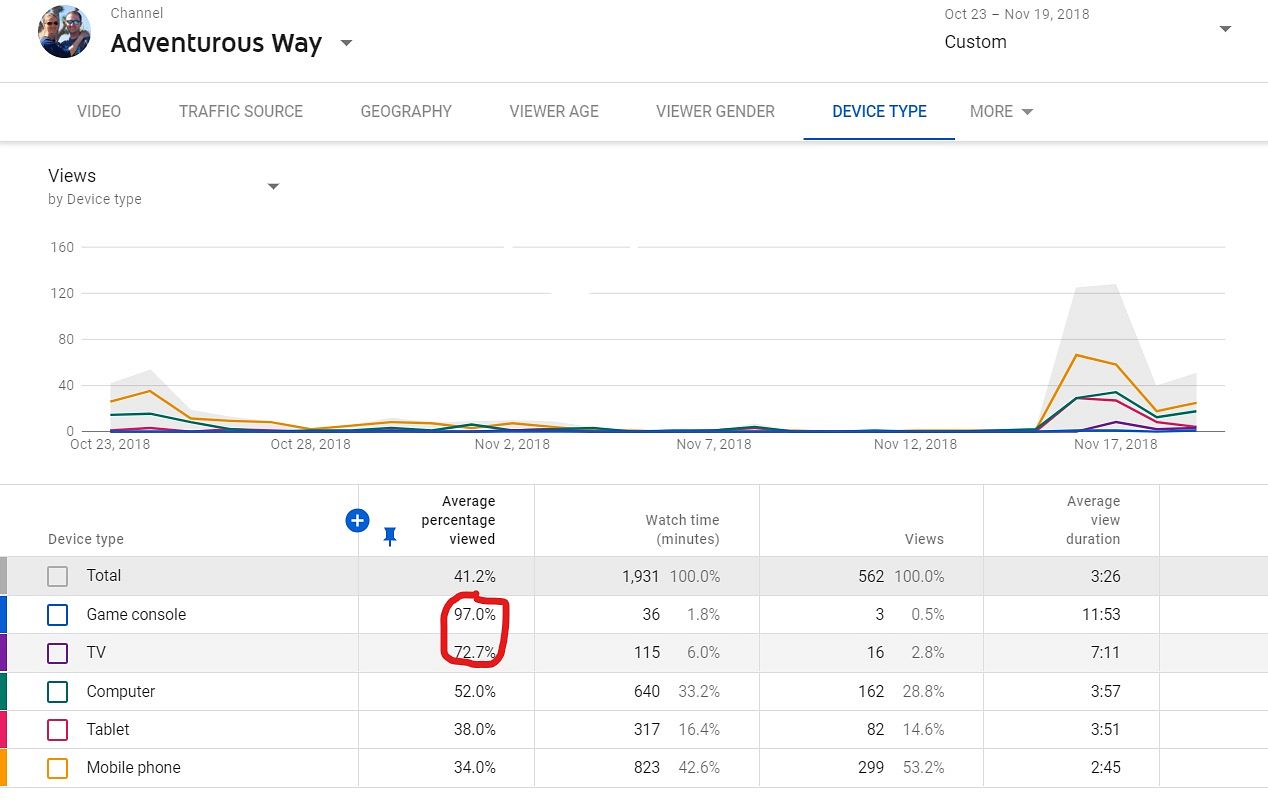 More than 50% of views come from Mobile + Tablet.
Learning Editing
Before I got to the point of editing videos for the YouTube channel I had edited a few videos on my phone. That was my way of testing the water to figure out whether I would enjoy video editing at all.
The result was positive - it was fun to create something and have a summary of a trip in video form. That was an indication that there is a potential for being able to stick with a YouTube channel in the long term.
If I was going to do it long term, at some point I would probably start taking it very seriously and would transition to using a "serious" video editing software. That would be a huge learning curve to switch to a more "professional" video editing software.
If I had to have that learning curve at some point, I decided I might as well have it in the beginning and get the learning curve out of the way and start with software like Final Cut Pro or Premiere Pro. I have a windows laptop, so Final Cut Pro is out. Matt is already using the Adobe suite for photos (like Lightroom), so Premiere Pro it is for me!
I started learning Premiere Pro with various tutorials on YouTube. Here are some examples:
On editing workflow:
On Prelude: How To Create a Rough Cut with Prelude
Since we already had Lynda.com subscription, I took a course there called Premiere Pro CC 2019 Essential Training: The Basics. It was definitely a time investment - more than 7 hours of content - but it was totally worth it (plus you can't really absorb it all at once so it took several months to watch it)!
From that course, I learned a bunch of keyboard shortcuts which makes editing faster. I learned that Premiere Pro has a lot of features that I otherwise would have tried to accomplish manually. I also learned some tricks that save time (for example, adjustment layers for color grading).
Overall, I totally recommend this course.
Lessons Learned About Shooting Video
Sure, someone can give you tips about how to shoot better video, but I found that I really internalized those lessons only after I tried to edit the footage and realize that it is garbage.
Here is what I learned:
Things in the foreground have to be in focus, otherwise, the footage is unusable.
If you do panning shots, do them very slowly.
If you want to film an animal that moves, stay steady, don't try to move with it.
For sunsets, a timelapse probably works better than doing a pan.
Strategy Going Forward
Here is what I will try to do going forward:
Produce and publish a video at minimum once a week.
Don't give up before creating a minimum of 50 videos.
Conclusion
100 subscribers felt like a big milestone. (Not only because you can then create a custom URL, like this one https://www.youtube.com/AdventurousWay.)
It's probably not hard for anyone to get to if you pester enough of your friends, but perhaps that is the point - sharing your work with friends or strangers is hard, but it's the most needed in the very beginning.
Onwards to the next 100!