Introduction
While you've likely heard of Mesa Verde National Park, its neighbor just down the road is far less well known: Yucca House National Monument.
The area is free to visit, but with no facilities or interpretive signs, going it alone may not be the best way. Instead, we chose to join a Ranger-led tour.
But if you're interested in doing one too, then plan ahead. The National Park Service (NPS) only ran four tours in the whole of 2019 - two in May and two in September! Although that's a big increase on the two they offered in 2018.
In early August, we reserved our spots ($10 each) on the tour scheduled for September 14, 2019, and penciled it onto our calendar. The timing worked out well for us - we were in the area on the way back to Colorado after visiting Outdoors RV in La Grande, Oregon, and Battle Born Batteries in Sparks, NV.
Yucca House National Monument was our 36th National Park Unit on our journey to visit them all!
Location
Yucca House National Monument is about 8 miles south of Cortez, CO, but it isn't the easiest place to find. It's surrounded by private land, and there are few (if any) signs.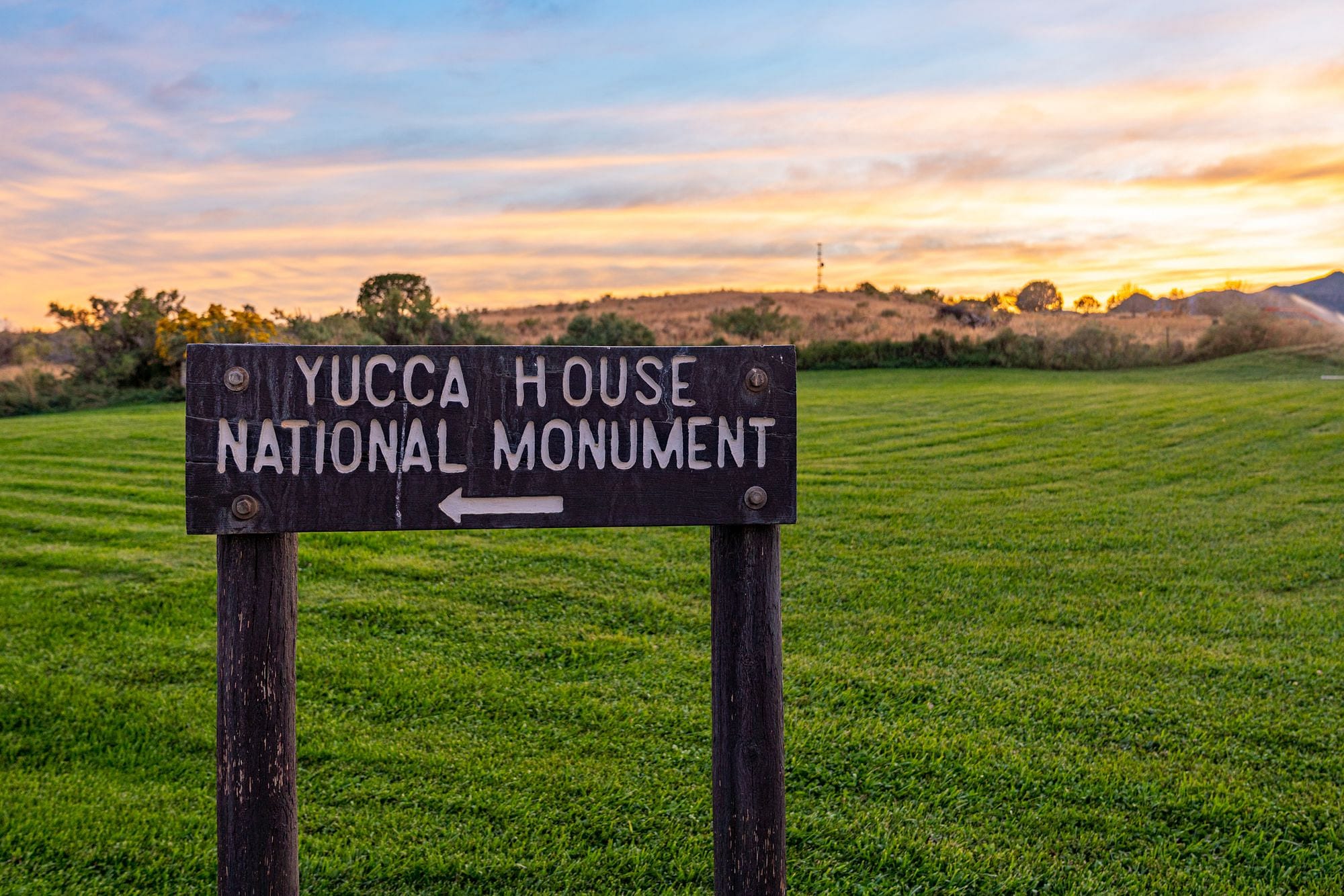 My best recommendation would be to contact the Visitor Center at Mesa Verde National Park and get their advice on visiting - the farm roads can make the journey tricky.
Video
Background
I've not seen any official visitation numbers, but that's not surprising - you'll need GPS to find this elusive park unit. And with no interpretive features, visitor center, or facilities of any kind, it's one of the most mysterious National Monuments.
Being so difficult to visit, I can't help but draw parallels with Hohokam Pima National Monument in Arizona. But where Hohokam Pima is impossible to visit whatsoever, at least you can visit Yucca House National Monument.
History
Yucca House National Monument preserves a huge Ancestral Puebloan site. But unlike other locations, very little has been excavated here due to pressure from descendants of the Puebloan people to protect this sensitive area.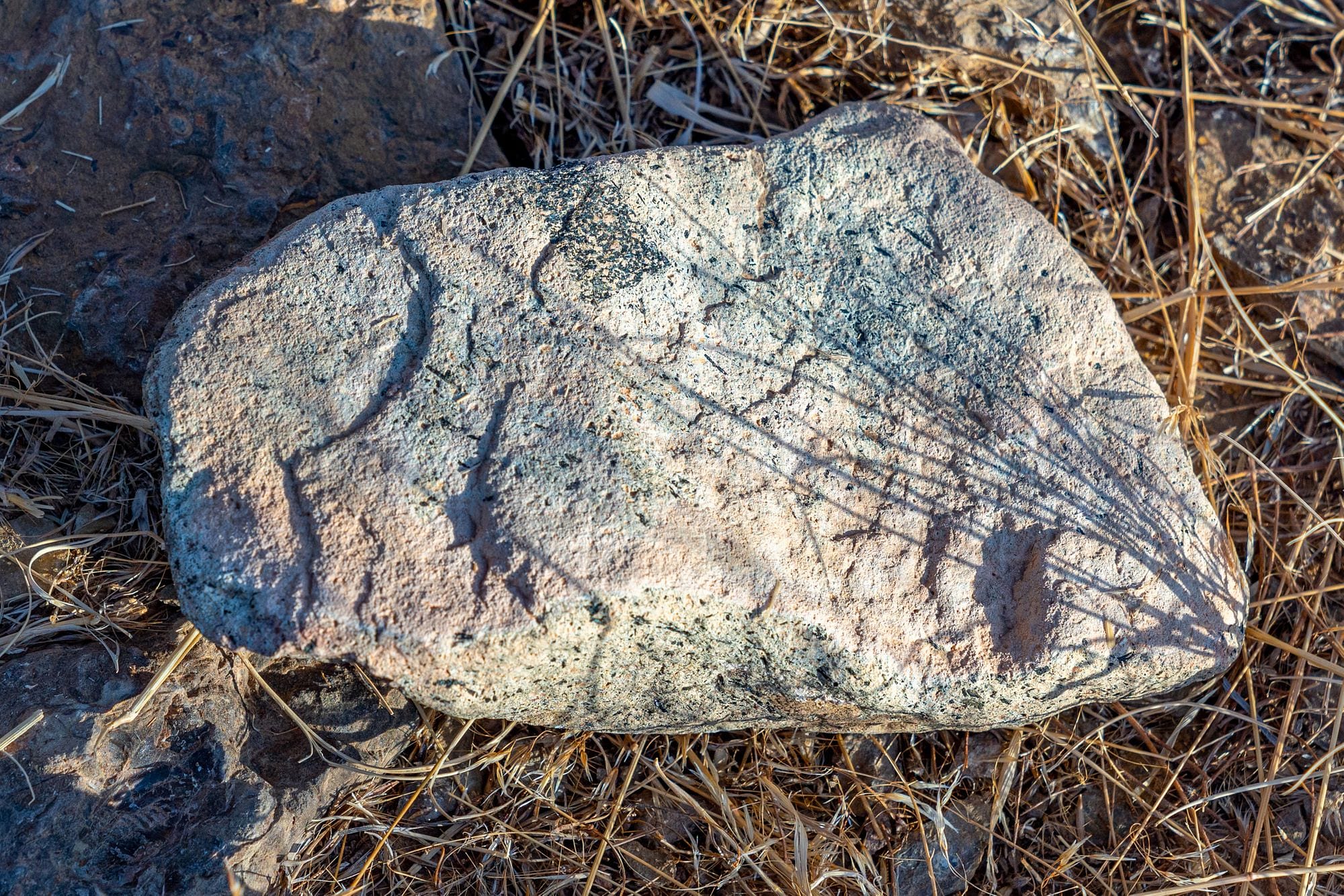 It would have been an important center for the Ancestral Puebloan people between 1150 and 1300 CE.
There are two main buildings at Yucca House - the Upper House and Lower House. The Upper House is huge, containing around 600 rooms, a great kiva and around 100 smaller kivas. To put that in perspective, Cliff Palace at Mesa Verde National Park has 150 rooms and 23 kivas.
The smaller, Lower House, contains 8 small rooms and a large kiva.
National Monument Designation
In the late 19th century, the area was visited by William Henry Holmes from the US Geological Survey who, believing the ruins belonged to a band of Aztecs, named the area Aztec Springs.
9.6 acres of land was donated to the federal government on July 2, 1919. Recognizing the historical significance of the area, it was designated as Yucca House National Monument by President Woodrow Wilson less than 6 months later on December 19, 1919.
In the 1990s, a further 24 acres were donated by Hallie Ismay, expanding the National Monument site to 33 acres.
In lieu of facilities on site, Yucca House National Monument is managed by Mesa Verde National Park.
Itinerary
Having reserved our places on the guided tour more than a month earlier, we were looking forward to our visit. That being said, we didn't really know what to expect. Since it was unexcavated, would it just be a field for us to interpret?
We'd find out soon enough!
Colorado Welcome Center
As per the instructions in our confirmation email, we met at the Colorado Welcome Center in Cortez, CO at 4:30pm. The tour groups are limited to 15 people.
We arrived at the rendezvous location a little early, but it wasn't long before our guide in distinctive NPS uniform arrived.
Inside the Colorado Welcome Center we were given a brief history of the area, referencing some of the artifacts inside.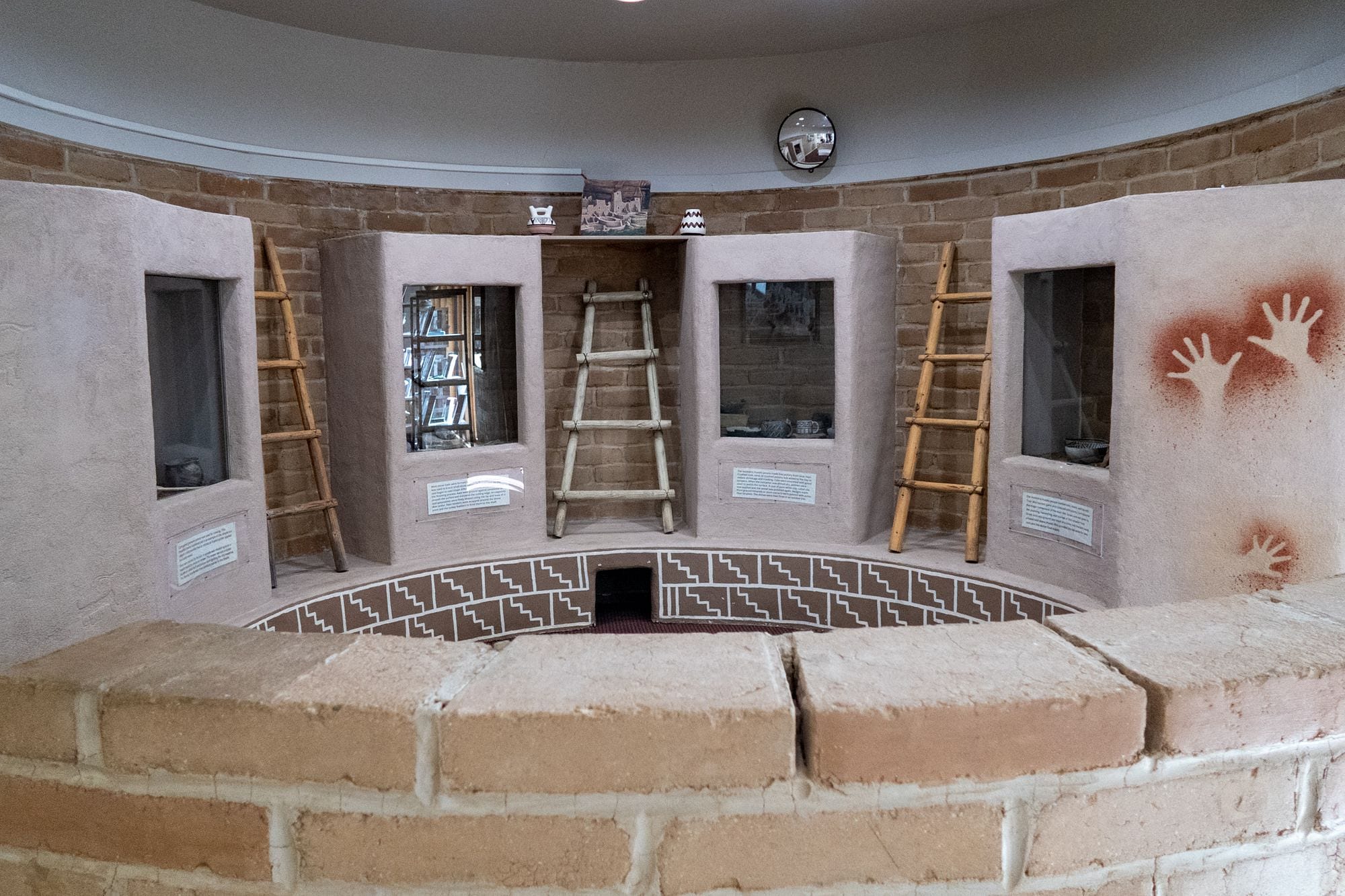 We were then given an overview of the logistics, largely reiterating what we already knew from the confirmation email. We were asked to carpool within our group to minimize the number of vehicles since Yucca House National Monument is surrounded by private land.
While we would be on-site at Yucca House for about 2 hours, the full tour time was listed as 3 hours to account for the initial orientation and drive-time to and from the monument itself.
Driving to Yucca House
We knew ahead of time that we were going to be car pooling, so we had cleared out the back of our truck to make space for other people if necessary. As it turned out, we ended up giving a ride to two sisters who were visiting the area. They were road tripping, and were happy to car pool with others!
The drive to Yucca House National Monument didn't take too long - it's only 8 miles - but we drove in convoy to make sure nobody got lost. You really want to use your GPS if you're visiting here alone!
When we arrived, we were asked to park as close as possible to one another and to the side of the road to allow farm vehicles to pass by. The parking was convenient though - right in front of the entrance!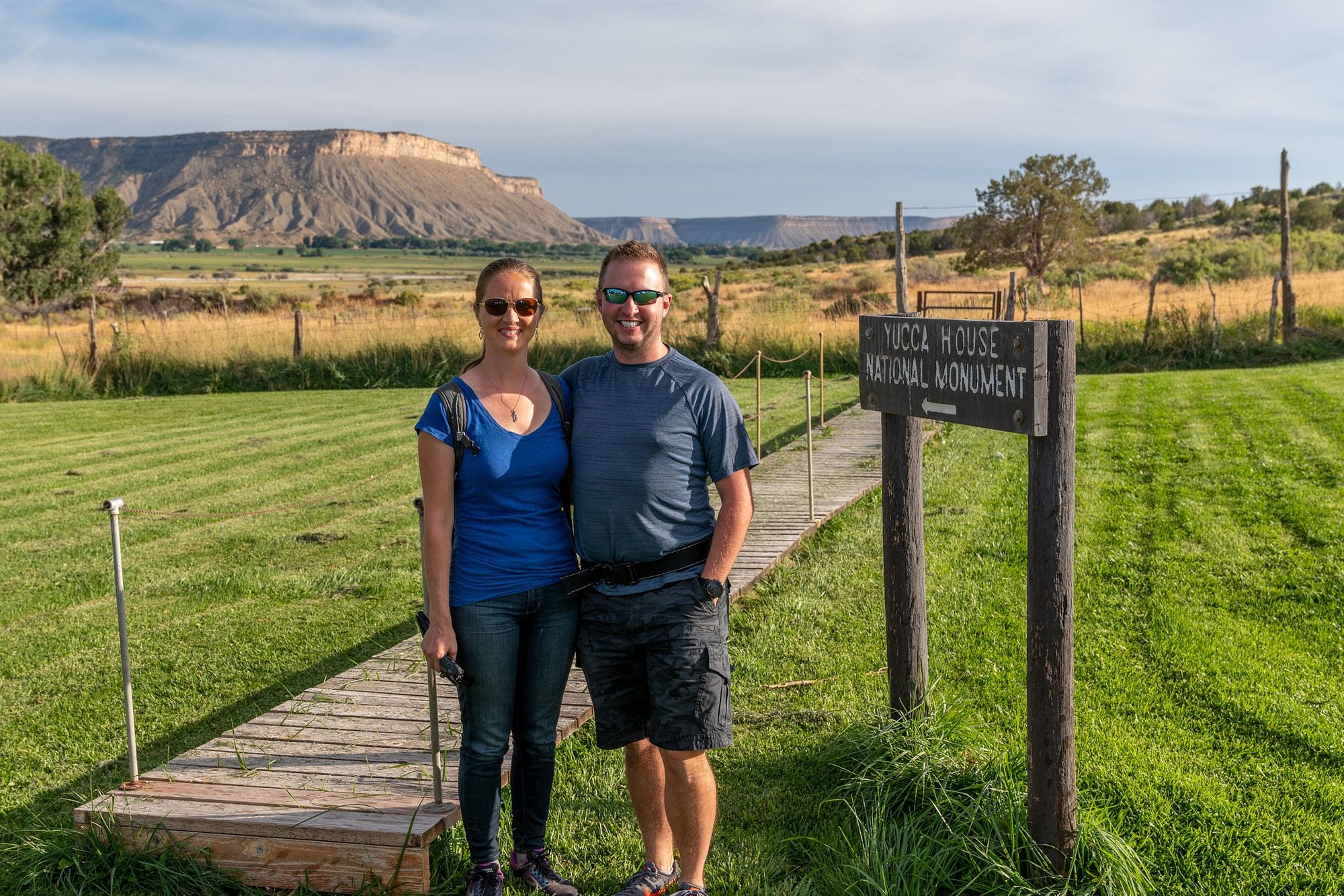 Touring the Ruins
After walking along a short, raised wooden trail, we opened a gate and stepped inside. Welcome to Yucca House National Monument.
To the untrained eye, it just looks like a field, albeit with a few rocks and bumpy sections.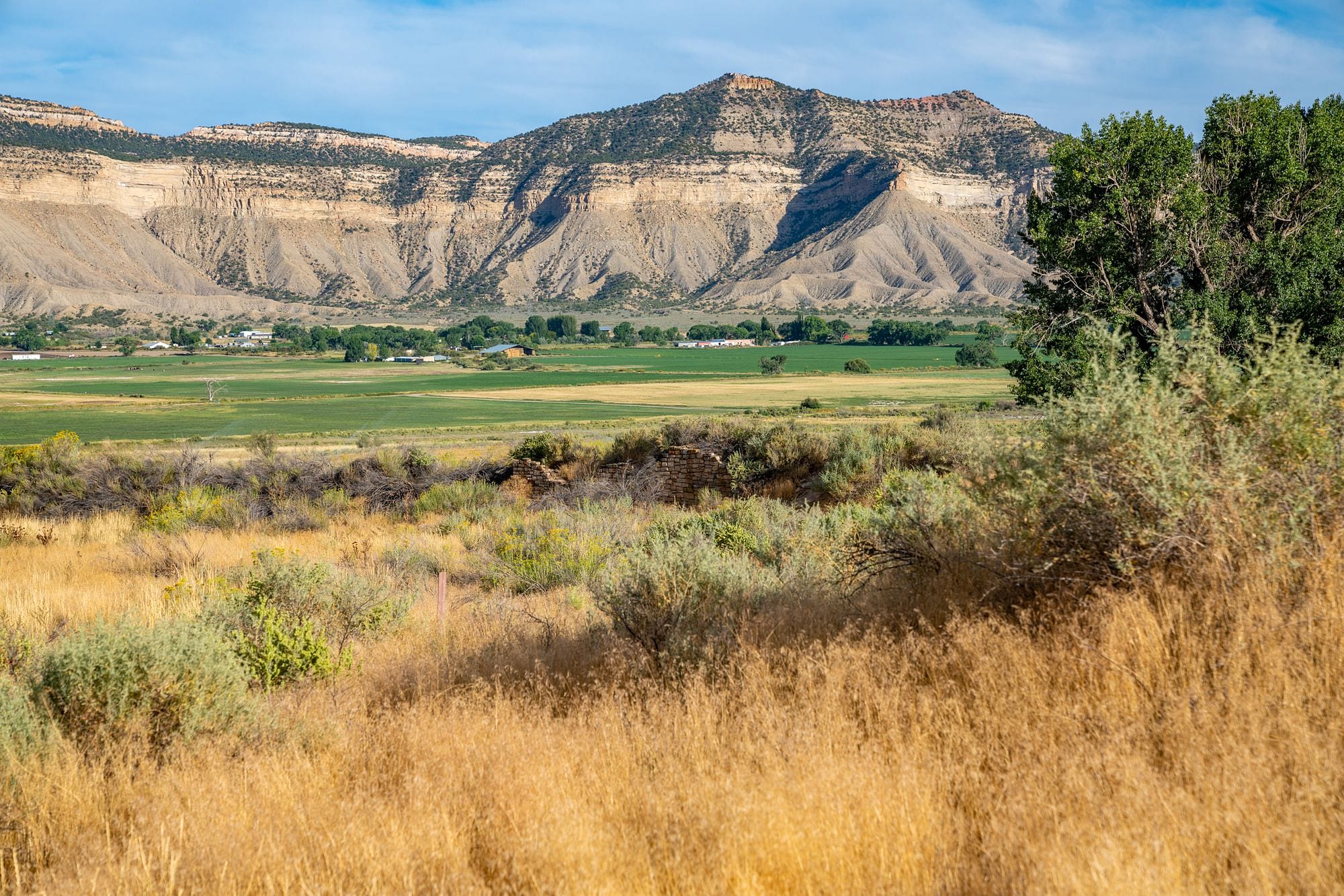 And our eyes are distinctly untrained!
Fortunately, our NPS guide was on hand to help. We were given a couple of maps of the area, showing the results of archaeological surveys over the years.
With these maps, and our guide's help, we were able to identify some of the more prominent features - including remnants of walls, kivas and the Upper Houses.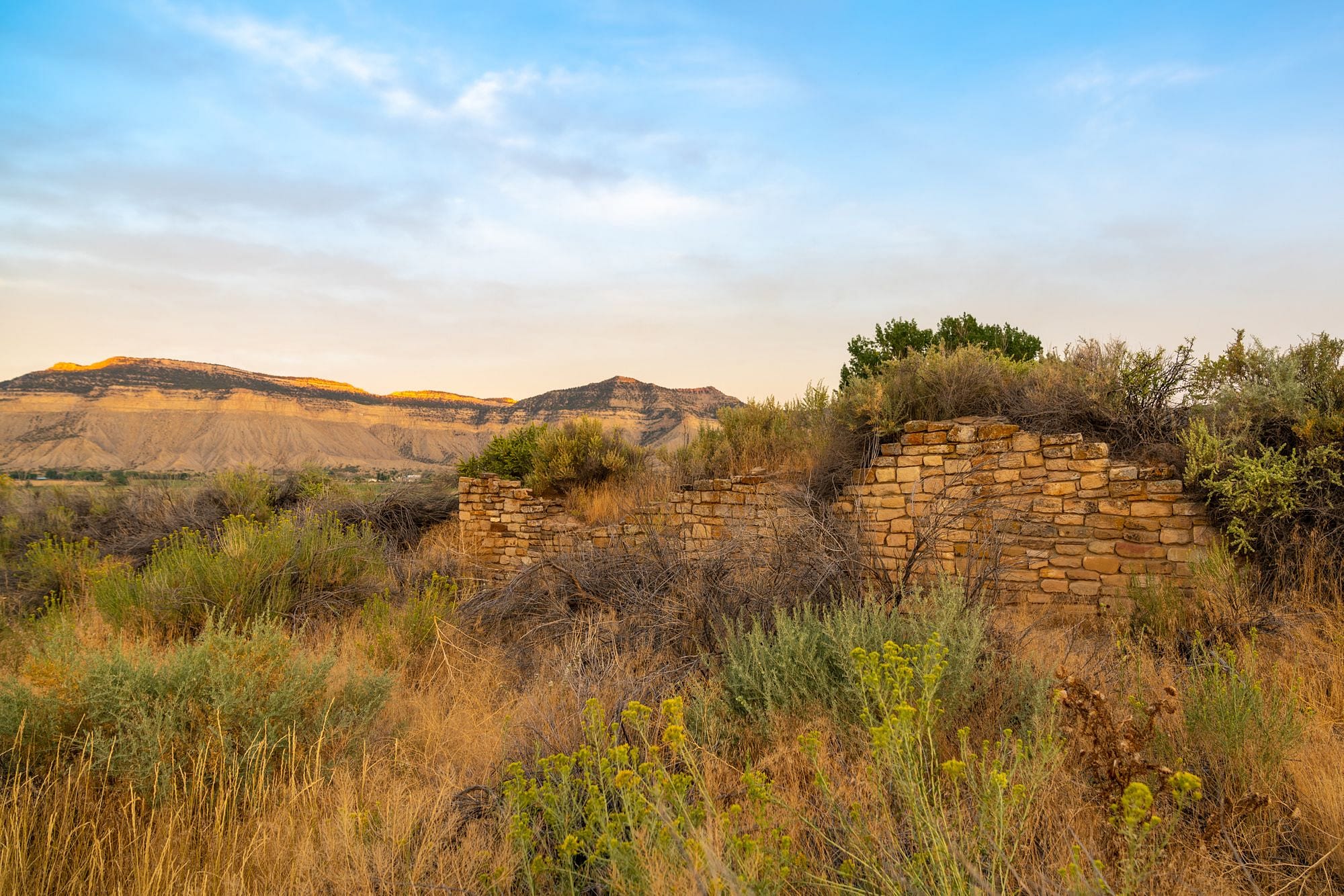 At one stage, the group split briefly into two. One group ascended a mound while we were invited to scour the ground for artifacts - although we were careful to ensure anything we picked up was replaced in the exact position we found it.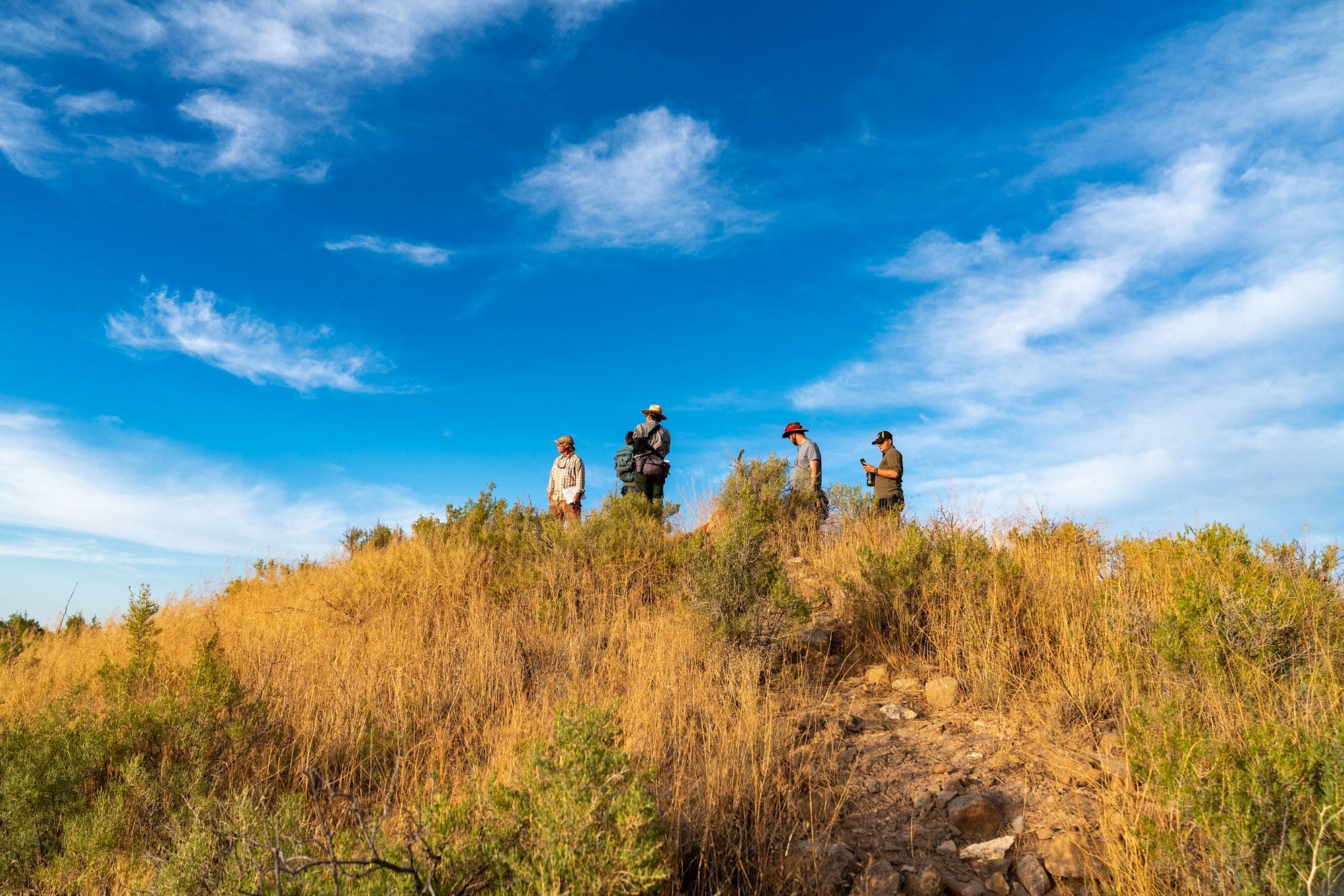 It reminded me of our visit to Wupatki National Monument, where we had joined NPS staff for a hike into areas not normally visited to look for pottery and ruins.
We did manage to find a few items, but I'll be honest that I was a little nervous about stumbling on a rattlesnake in the long grass!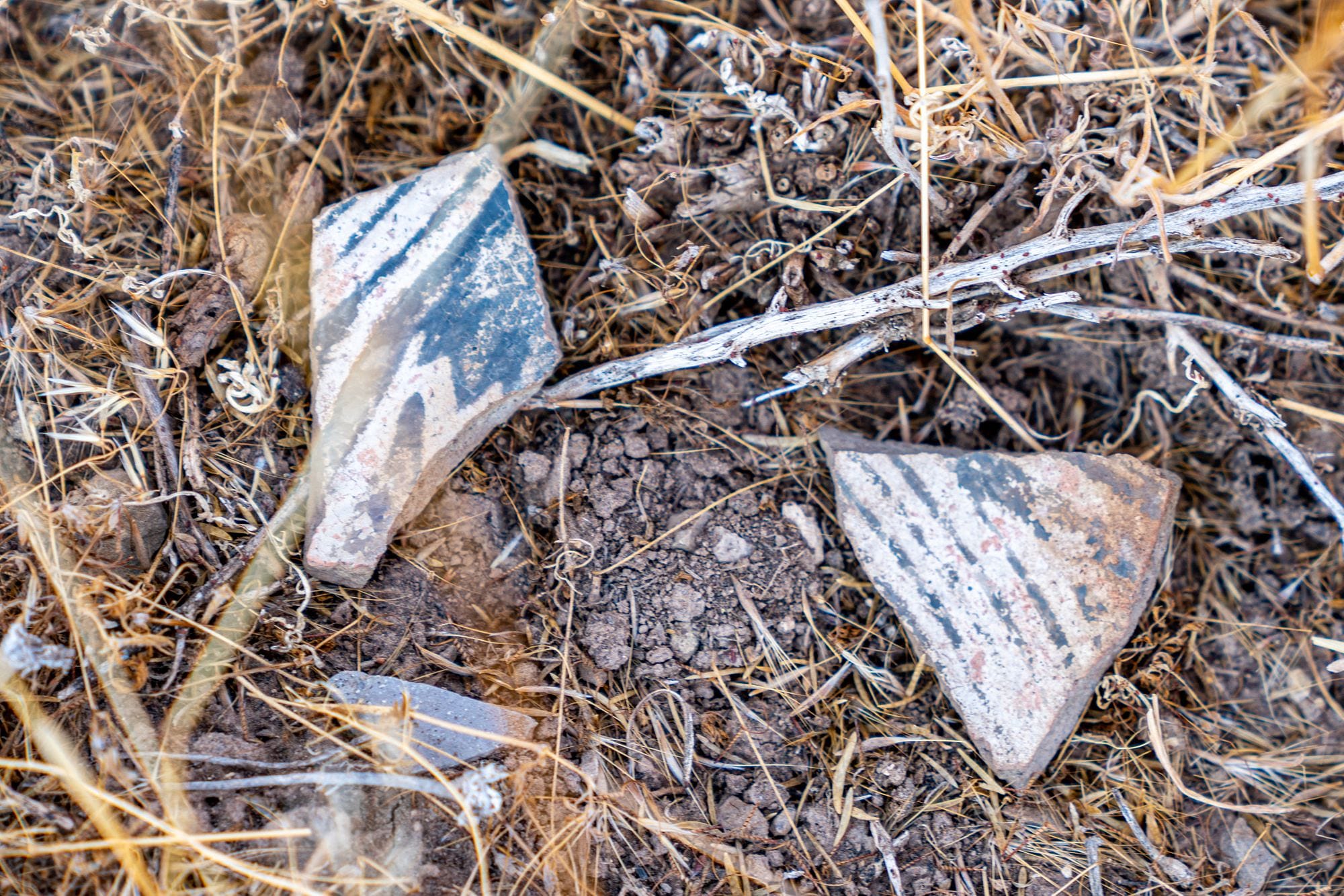 After several minutes, we swapped places with those on top of the mound. The views from here were fantastic! It was interesting to think how people who lived here around 800 years ago would have seen the land - where would their pathways, fields and neighbors have been?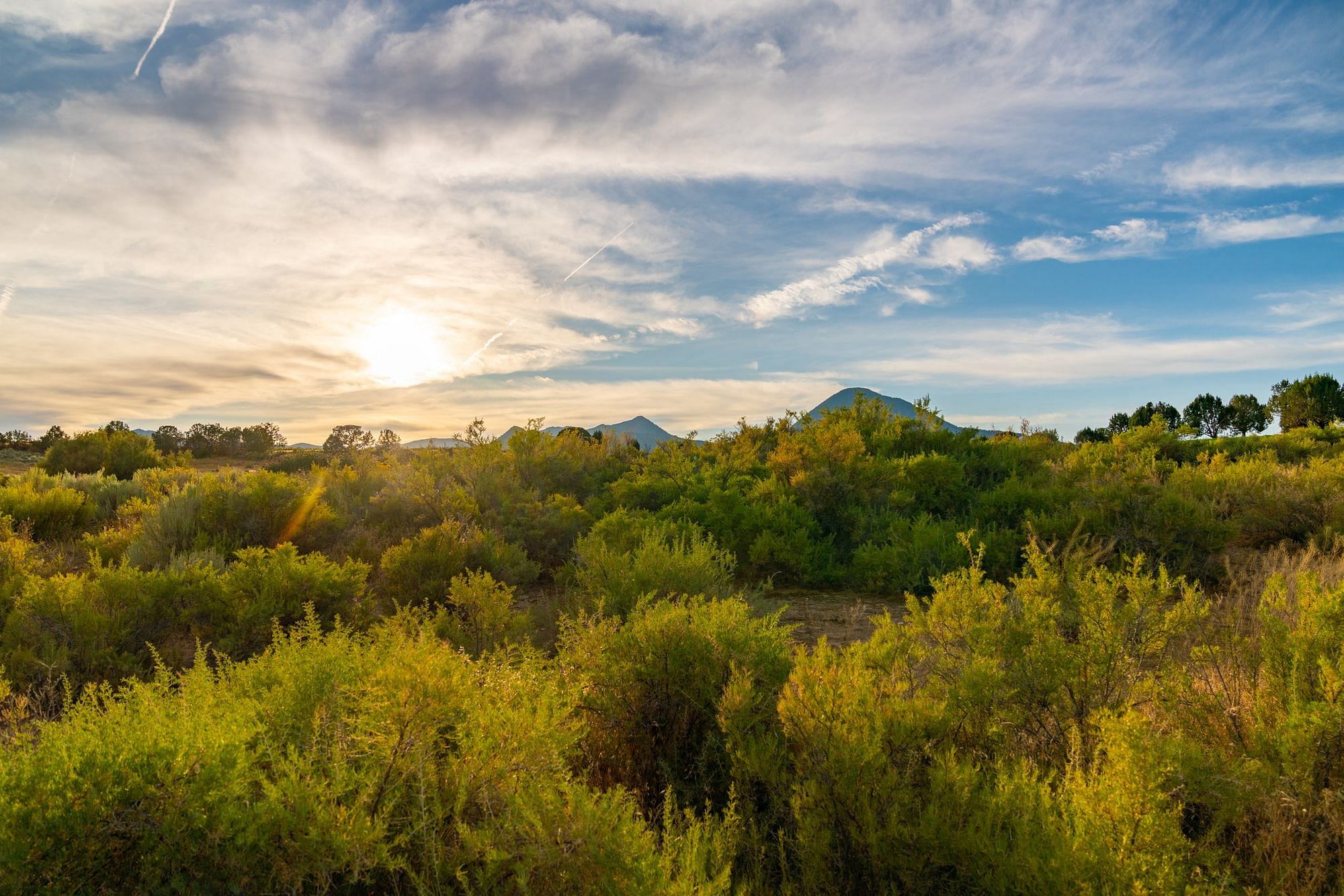 We kept walking around the field, trying to match what we could see on the ground with the maps we held. So much is unknown about Yucca House, but it was fun to try and interpret what we were seeing.
Why were things laid out the way they were? What was the purpose of such a large building? What was the social dynamic between people here and those nearby, such as those at Mesa Verde National Park?
Why did people leave?
Like many areas inhabited by the Ancestral Puebloan people, it was abandoned around 1300 CE. But like those areas, we don't know why.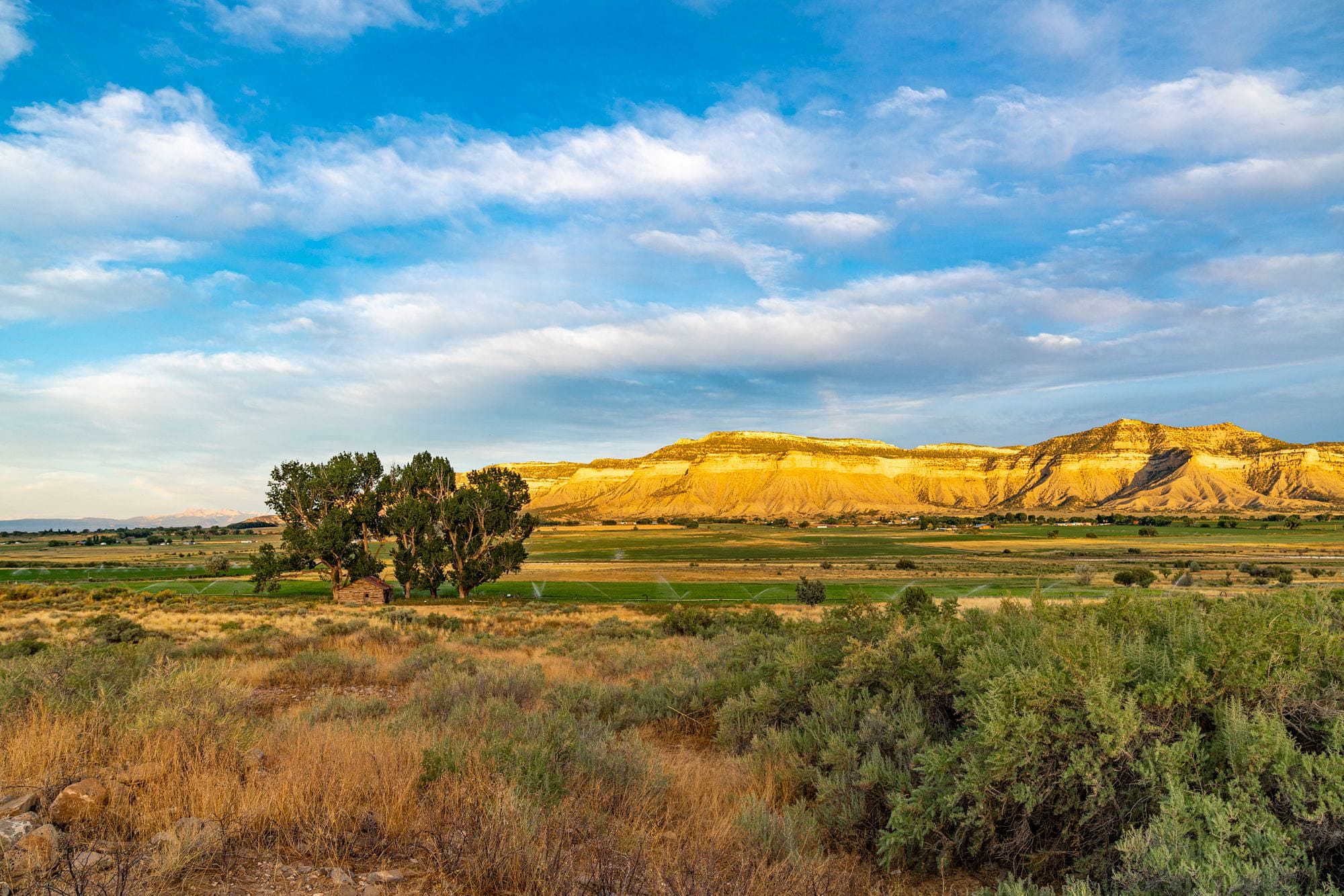 However there is speculation that in this area, there were some terrible events in the final years of people living here. It's thought there may have been conflict, perhaps warfare, and there are even archaeological indications of cannibalism.
Whatever happened here, descendants of the people who once lived here consider this a sensitive place. They prefer to keep the stories to themselves, particularly around the events of the final years.
And that's one of the reasons that this area hasn't been excavated. The National Park Service has a mandate to protect and preserve places like this, and at Yucca House National Monument, its preservation has best been achieved by leaving it untouched.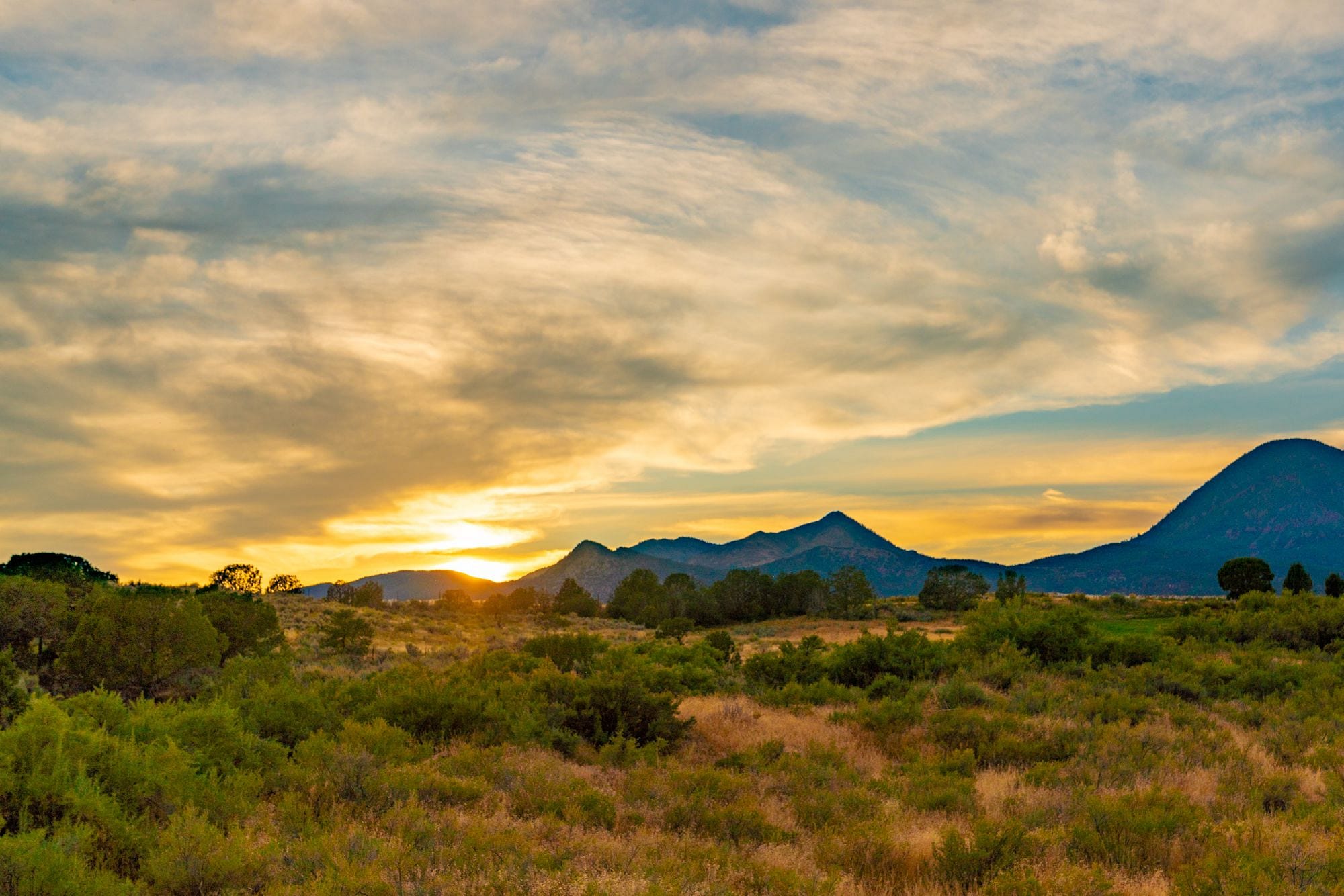 After a few hours of walking around the ruins, the light was fading from the setting sun and it was time for us to leave. We car-pooled back to our starting point at the Colorado Welcome Center, having had just a glimpse into the history at Yucca House National Monument.
Since there is no Visitor Center or similar at Yucca House National Monument, the Park Passport stamp is kept at Mesa Verde National Park. So, a few days later, we stopped by to get our passport stamped.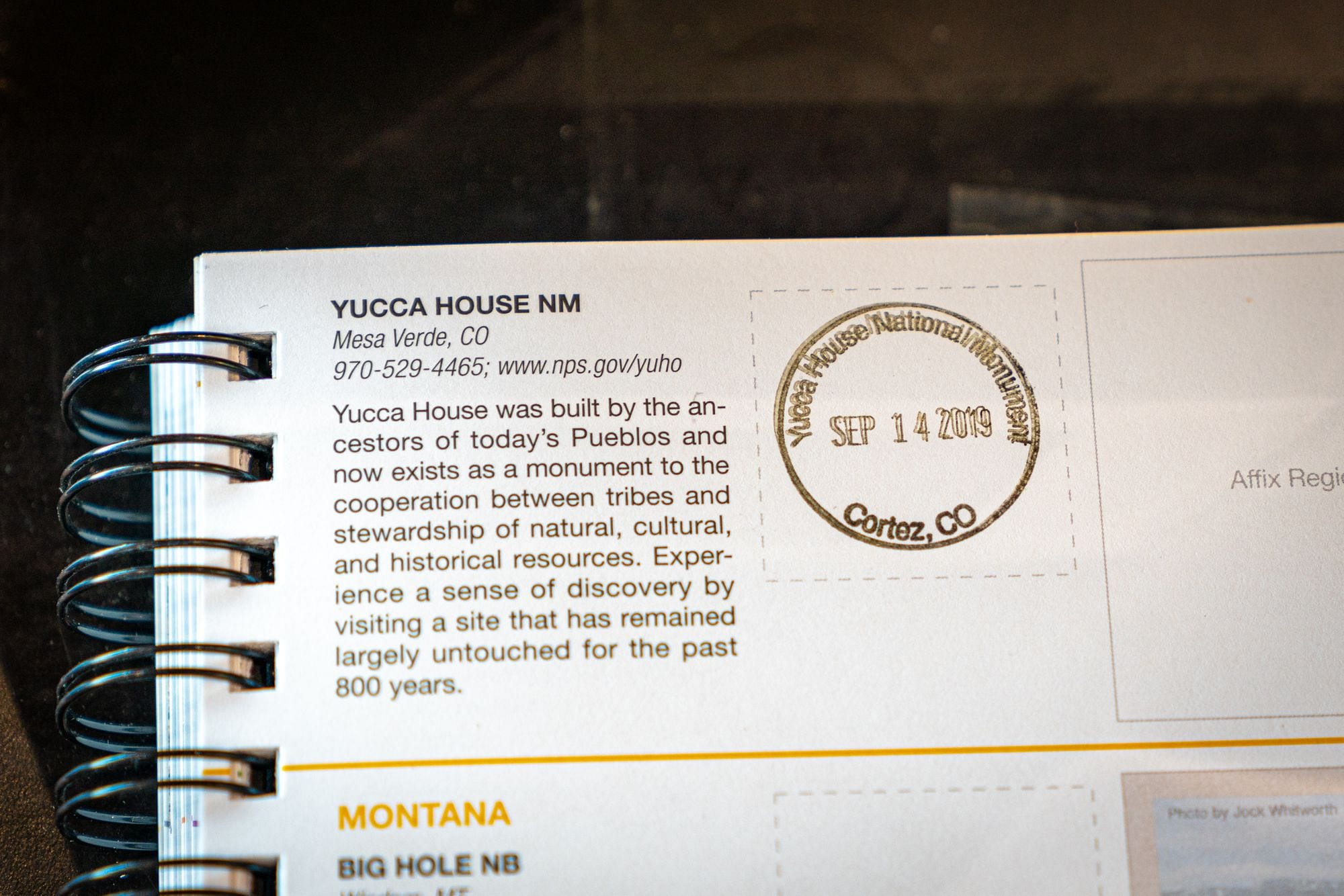 Conclusion
Do I recommend visiting Yucca House National Monument?
Yes and no.
It's unexcavated, undeveloped and there is very little for the untrained eye to see. Furthermore, with no facilities whatsoever, Yucca House National Monument is not set up for visitation. Without anyone ever saying it explicitly, it was clear to us that this isn't an area keen to attract visitors.
If you don't know much about the history here, or you aren't prepared to do the research ahead of time to help you interpret the ruins, you will be disappointed. All you will find is bumpy field of rocks with a poorly defined trail.
However, if you are interested in learning more about the history of the Ancestral Puebloan people, and particularly if you've visited other similar archaeological sites in the area, the historical importance of Yucca House cannot be ignored.
For us, the organized tour worked well. Without it, I honestly don't think we'd have understood what we were looking at, nor even known the questions to ponder about the mysteries it holds. But given the infrequency of the tours, we were lucky that the dates aligned.
Without a doubt, Yucca House National Monument deserves the protection it enjoys as a National Park Unit. But unlike others which are set up for visitors to explore and enjoy, maybe the best thing we can do for Yucca House is to just let it be.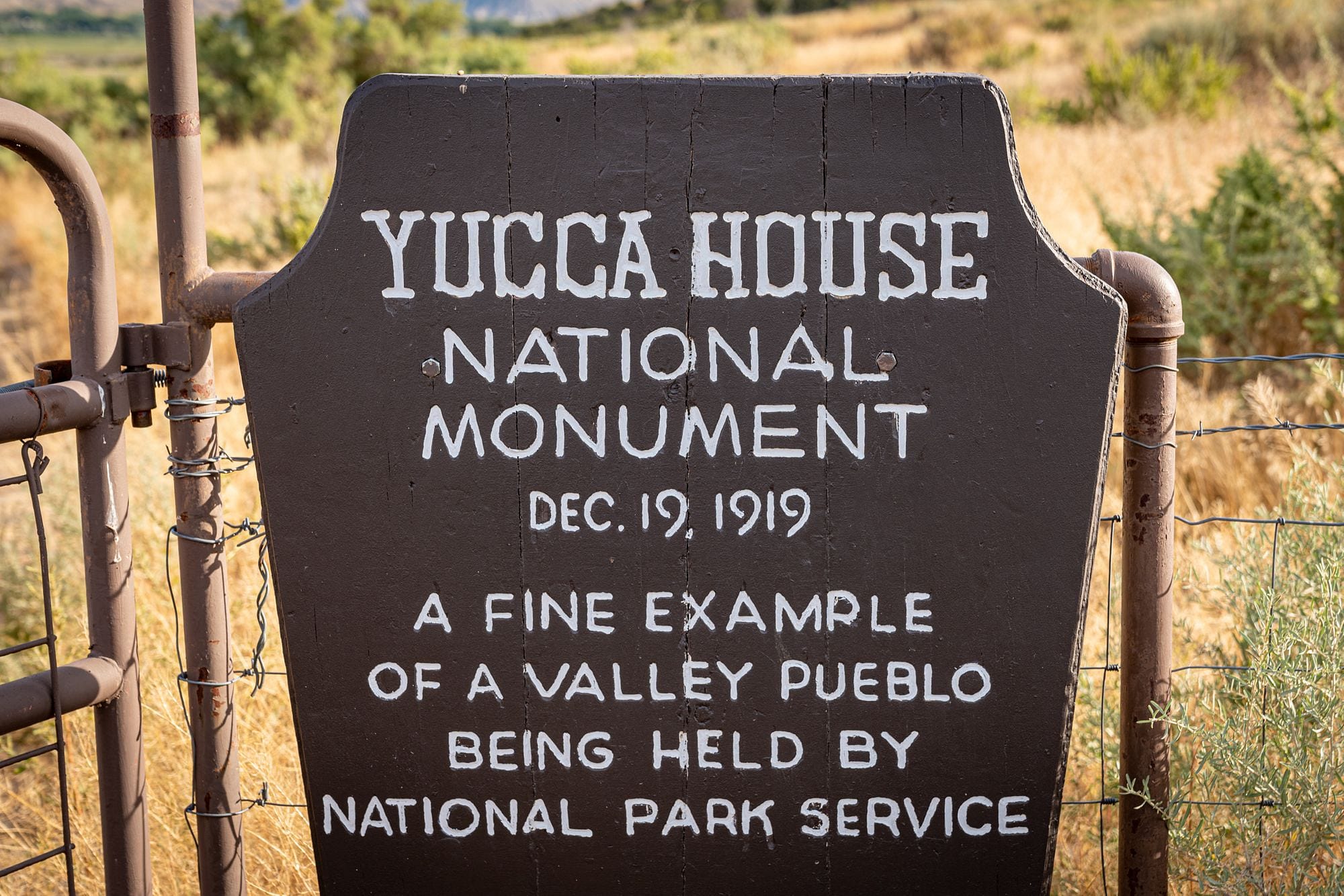 Have you been to Yucca House National Monument before? Let us know in the comments if you have and what you thought about it, particularly if you explored it yourselves without a tour guide.