A few weeks ago our Wastewater Permit application was approved. This was a huge milestone not just because it meant we had an approved septic system design, but because an approved Wastewater Permit is a prerequisite for submitting the Zoning Permit application to the town.
To be totally honest, the Wastewater Permit application was approved far quicker than we expected, and caught us slightly off-guard - in fact, we hadn't yet assembled the Zoning Permit application.
However, we quickly jumped on the task, filled in the application and submitted it to the town. I'm delighted to share that our Zoning Permit has now been approved!
Zoning Permit Application
Zoning requirements vary significantly across the country, and even within Vermont there is variation in what's required. So don't take what follows as exemplary for the process in your area, but this was our experience.
The Zoning Permit application for our town is a 3-page form that we were able to complete and submit digitally. In essence, we had to provide several pieces of information:
Location of the property
Description of the proposed construction
Distance of structures from property boundaries
Sketch of the site plan
Approved Wastewater Permit application
Even though we don't have final designs for the buildings yet, we had enough information to complete the application. There's also some tolerance in the application for small changes in the building sizes and locations as long as all the relevant setbacks are adhered to.
Site Plan
Our long-term vision for the property is a collection of individual buildings rather than one huge structure. There are several reasons we've opted for this approach, not least that we hope it'll make it easier and quicker for us to construct since we hope to do as much as possible of the work ourselves.
For this initial phase of the build, we plan to construct just two buildings - a utility building and the main house.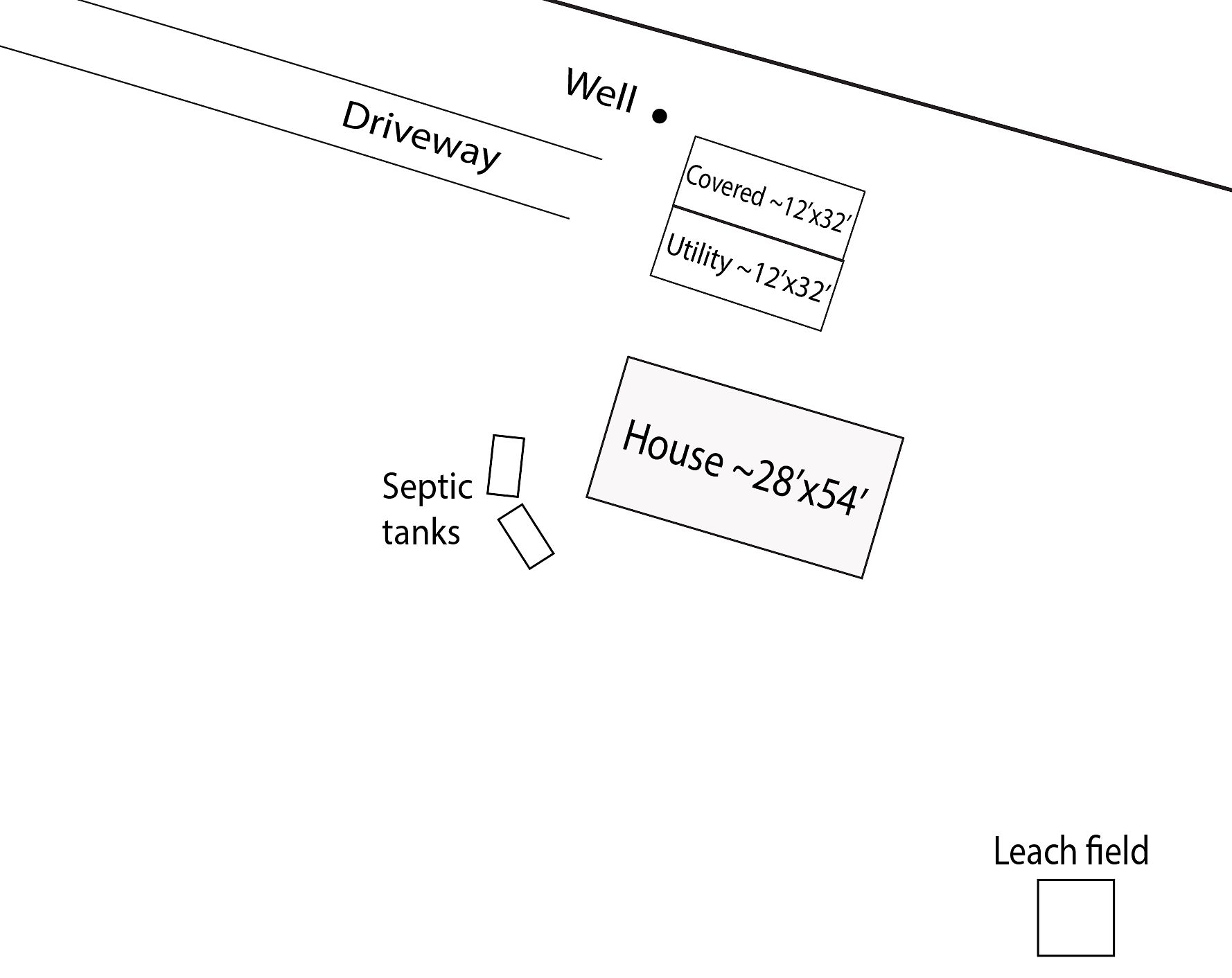 Utility Building
Our first priority, and our goal for 2022 is to construct the utility building, an integral part of our entire project.
Look out for a separate blog post about exactly what we're trying to achieve with the utility building, and of course we'll be sharing all the details of the build on our website and YouTube channel.
But in summary, the utility building will be about 400 sq ft, split into two discrete sections, a storage room and a terminus room for our utilities: electricity, fiber internet, sewer and water. Rather than being a shed or similar, this will be a sturdily-built, fully insulated building.
We currently have no utilities on-site, although we do have electricity and fiber internet at the road. We'll be living in our RV during the house build and the sooner we can get utilities available on-site, the more comfortable we'll be.
House
The plans for the house are far less developed than for our utility building, but in essence we're planning to construct a 3-bedroom house, somewhere in the region of 1,500 sq ft.
Our goals for the house are ambitious - we want to build with a focus on quality, health, energy efficiency and sustainability. Specifically, we're planning to build a Passive House, and are working with the International Living Future Institute to assess the feasibility of achieving the standards demanded by the Living Building Challenge.
These are lofty goals by any account - there are very few residential buildings that have achieved both of these standards - let alone for two people who've never built a house before! But we relish the challenge and believe in setting our sights high! As the old adage goes:
Shoot for the moon. Even if you miss, you'll land among the stars.
Hopefully we won't miss!
Current Use Exemption
The approved Zoning Permit means our building plans have been approved and the town is happy for us to start work. But, when we bought our property it was enrolled in Vermont's Current Use Program, so before we can start clearing trees and break ground we need to exempt a portion of our property.
Fortunately we've had some good news on that front too!